Do you ever dream about making money while sleeping from your YouTube videos?
If you usually recommend products to your subscribers, then that dream could start coming true.
No, we're not talking about YouTube AdSense this time. We're talking about YouTube affiliate marketing.
YouTube affiliate marketing lets you earn a percentage of any sales made through links you share.
And if you're asking yourself any of these questions:
Can you use YouTube for affiliate marketing?
Do YouTubers make money from affiliate links?
Can you make money with YouTube affiliate marketing?
You'll be excited to find out that the answer to all of them is yes!
Want to know how? Affiliate yourself with these tips to get started.
What Is YouTube Affiliate Marketing?
YouTube affiliate marketing is when you promote a product with a link on your YouTube channel, and earn a percentage made from the sale.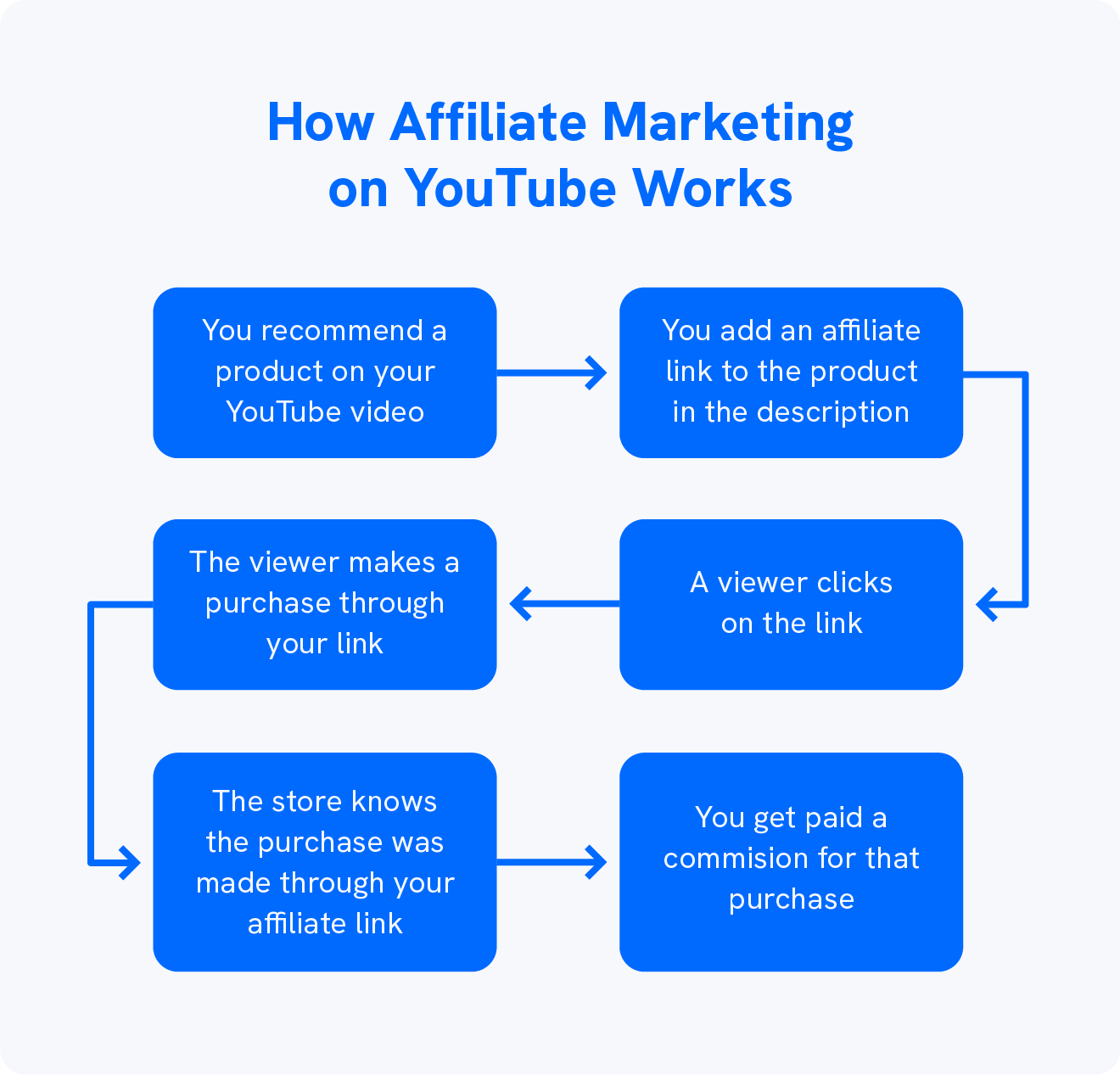 There are different affiliate programs out there with many brands that choose to participate. These programs will generate a unique link for a certain product and services for you to use.
Affiliate links on YouTube are usually included in the description of the video. Some YouTubers will include multiple links for everything they mention in the video and disclose that they get a percentage of the sale.
For example, if you're making a video about your new workout routine, and you recommend people try the workout band you're using, you can create an affiliate link for the product and include it in your video description.
Then, whenever someone uses the link to purchase the product, you will get a percentage of their purchase.
Affiliate marketing is also used on other social media platforms, websites, and blogs when doing product reviews or just recommending products in general.
Pros and Cons of YouTube Affiliate Marketing
There are some pros and cons when it comes to YouTube affiliate marketing.
If you're already used to affiliate marketing on other platforms, starting affiliate marketing on YouTube should be a breeze.
But even if you're just starting out, it's a fairly simple process that basically anyone who creates content can do.
That's because affiliate marketing works similarly to a referral program, in which you sign up with an affiliate program and get a custom link for the product you're referring to make a commission.
YouTube has over 2 billion users, which means YouTube affiliate marketing can bring more traffic to your links, especially if you know how to grow your YouTube audience and views.
You also get a wide selection of products to create affiliate links for, from clothing to cooking gadgets to coaching services. Of course, these products will differ depending on your content niche.
| Pros of YouTube Affiliate Marketing | Cons of YouTube Affiliate Marketing |
| --- | --- |
| Easy to start and for almost every niche | Commissions might differ between programs |
| Big YouTube audience and traffic potential | Video creation can be time-consuming |
| Wide selection of products to promote | Might take a while to get approved |
| Passive income potential | Payouts could take time to be released |
| Minimal investment | Not your own platform |
On top of having more control over what you want to promote on your channel, you're also able to track how these links are performing.
Lastly, YouTube affiliate marketing can be a great source of passive income to add on top of your YouTube's ad revenue.
However, depending on the product or program you're promoting, the commissions will differ and you might have more competition, so you'll have to keep that in mind when planning your videos and potential revenue.
Some programs will also have terms of service that are more difficult to understand, some will have a fixed or limited commission instead of a percentage, and some will take a while to get approved and to get your payout.
So, How Do I Become a YouTube Affiliate Marketer?
If you want to become a YouTube affiliate marketer, you'll have to sign up for an affiliate program with a brand.
Essentially anyone can be an affiliate marketer on YouTube, since most affiliate programs are free to sign up for, and only a few of them will require you to have an established following.
However, to be a good YouTube affiliate marketer, you have to recommend the right products and convince your audience to purchase through your link.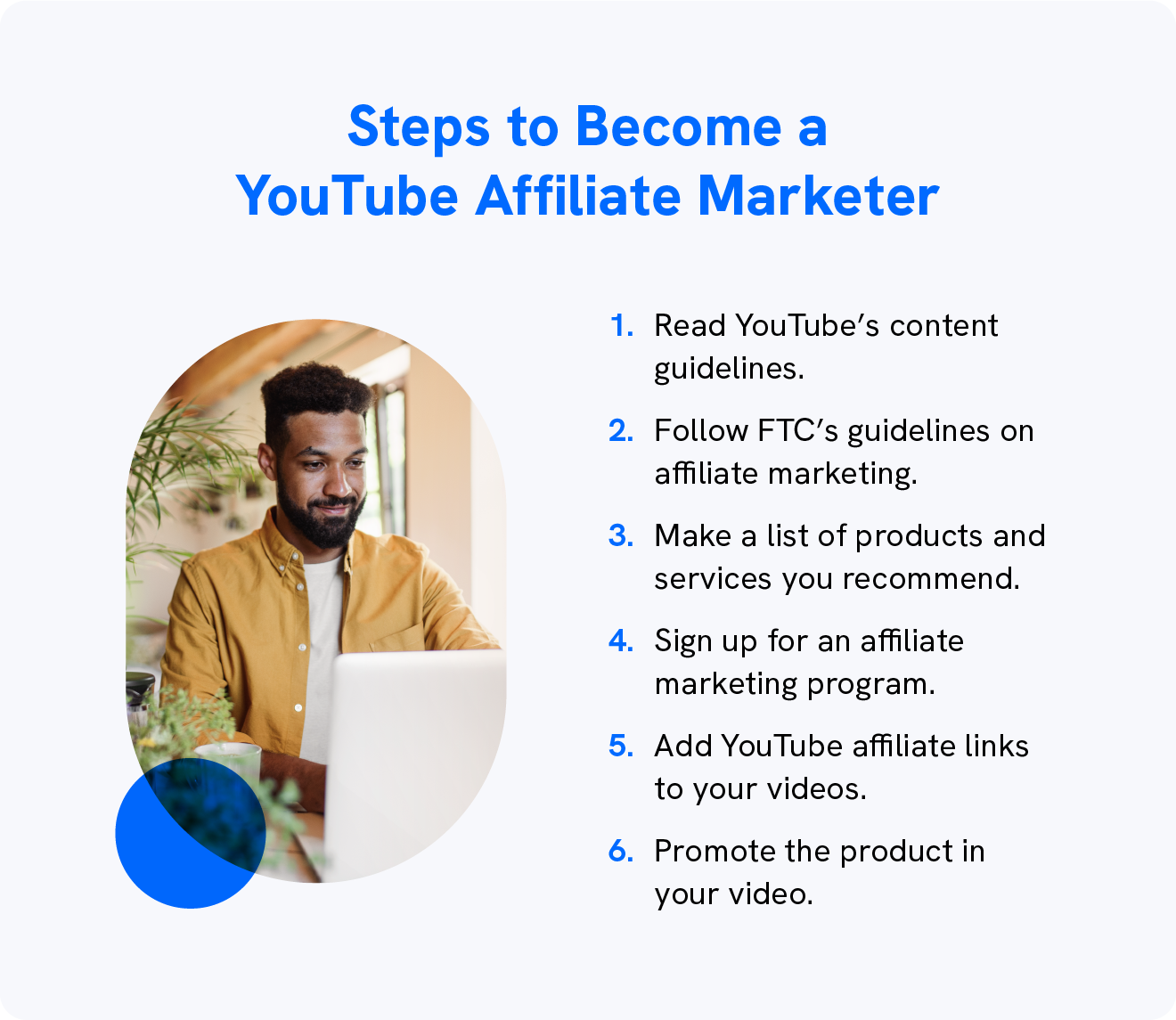 Here's how you can start YouTube affiliate marketing:
Read YouTube's content guidelines to see what you are allowed to promote on your channel.
Follow the Federal Trade Commission (FTC) guidelines on affiliate marketing.
Make a list of products and services you would like to promote and recommend to followers.
Research and sign up for affiliate marketing programs that offer those products or services.
Add YouTube affiliate links to your video description and in the videos themselves.
Mention in your videos that you have the links for the products in the description, and disclose that they are affiliate links.
You can also join the YouTube Partner Program, which will help you monetize your YouTube videos and let you include affiliate links in the end cards.
OK, What About Some Affiliate Marketing Video Ideas That Drive Revenue?
If you have creator's block, we have what you need.
Let's go over some ideas for ways you can include affiliate links. These are the most commonly used methods by creators who do YouTube affiliate marketing: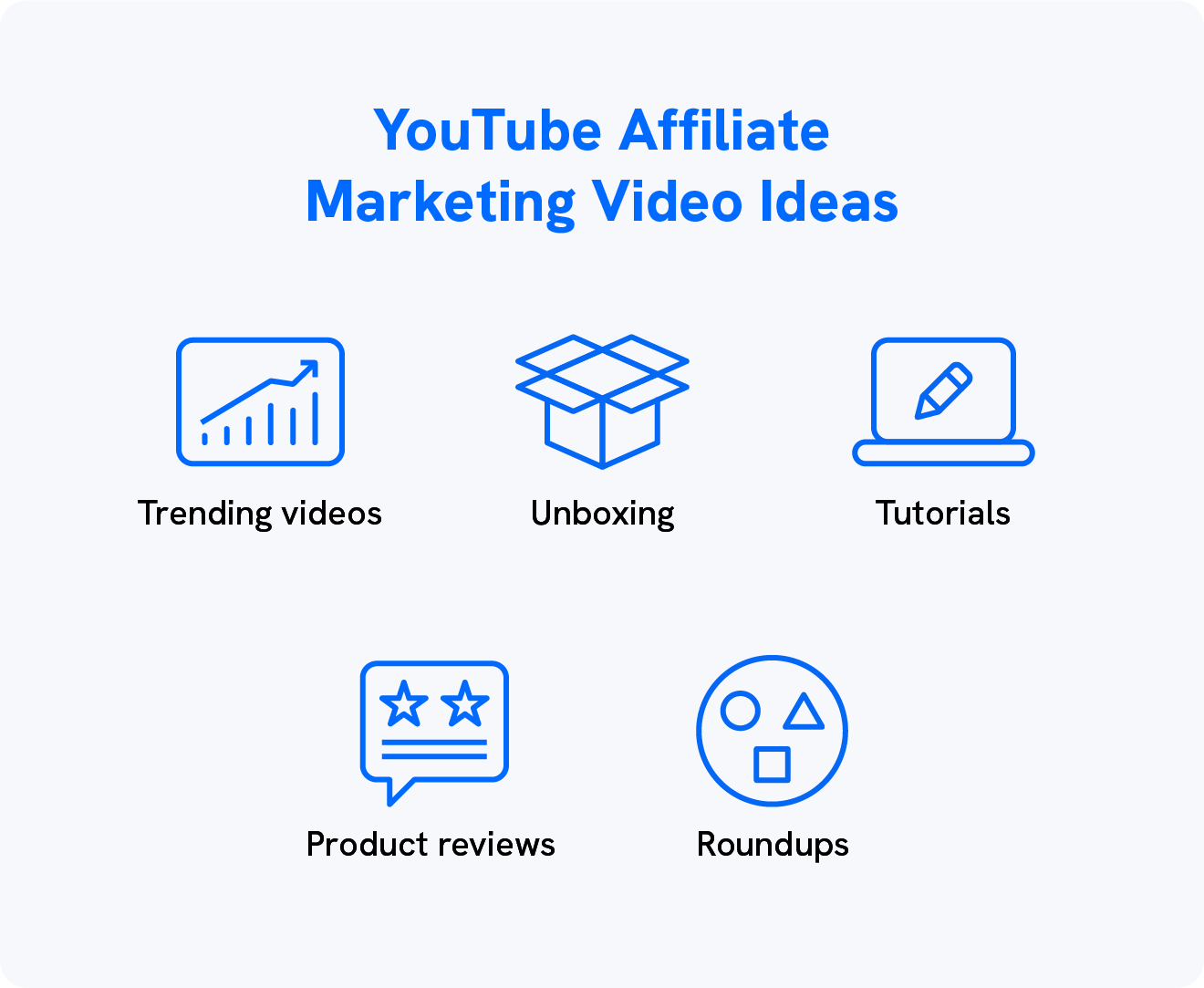 Trending videos: check which video formats are currently trending on YouTube, and consider creating similar videos to help attract more viewers.
Unboxing: unboxing videos are a great way to plug in YouTube affiliate links since you'll be overviewing everything that comes when you buy it.
Tutorials: when doing a tutorial video, include affiliate links to any materials, equipment, or things used in the video that you recommend.
Product review: if you do product reviews, add an affiliate link to your video description so viewers can also buy the product if you like it.
Roundups: roundups will usually include multiple products or services. Search for those products in your affiliate program and add them to the video.
Even if you're doing a different video than the ones we suggested, you can still include affiliate links in your videos.
For example, some YouTubers will add links to the outfits they wore during a vlog, or furniture and decorations they have in their home.
Others will also add a list of the equipment they use to film their YouTube videos or things people usually ask about to the description of every video.
Can I Get Some YouTube Affiliate Marketing Tips?
There are a couple ways to increase your revenue when it comes to using affiliate links on YouTube, and many of them involve bringing more traffic to your videos.
If you have more traffic coming to your videos, there are more opportunities for people to click on the affiliate links.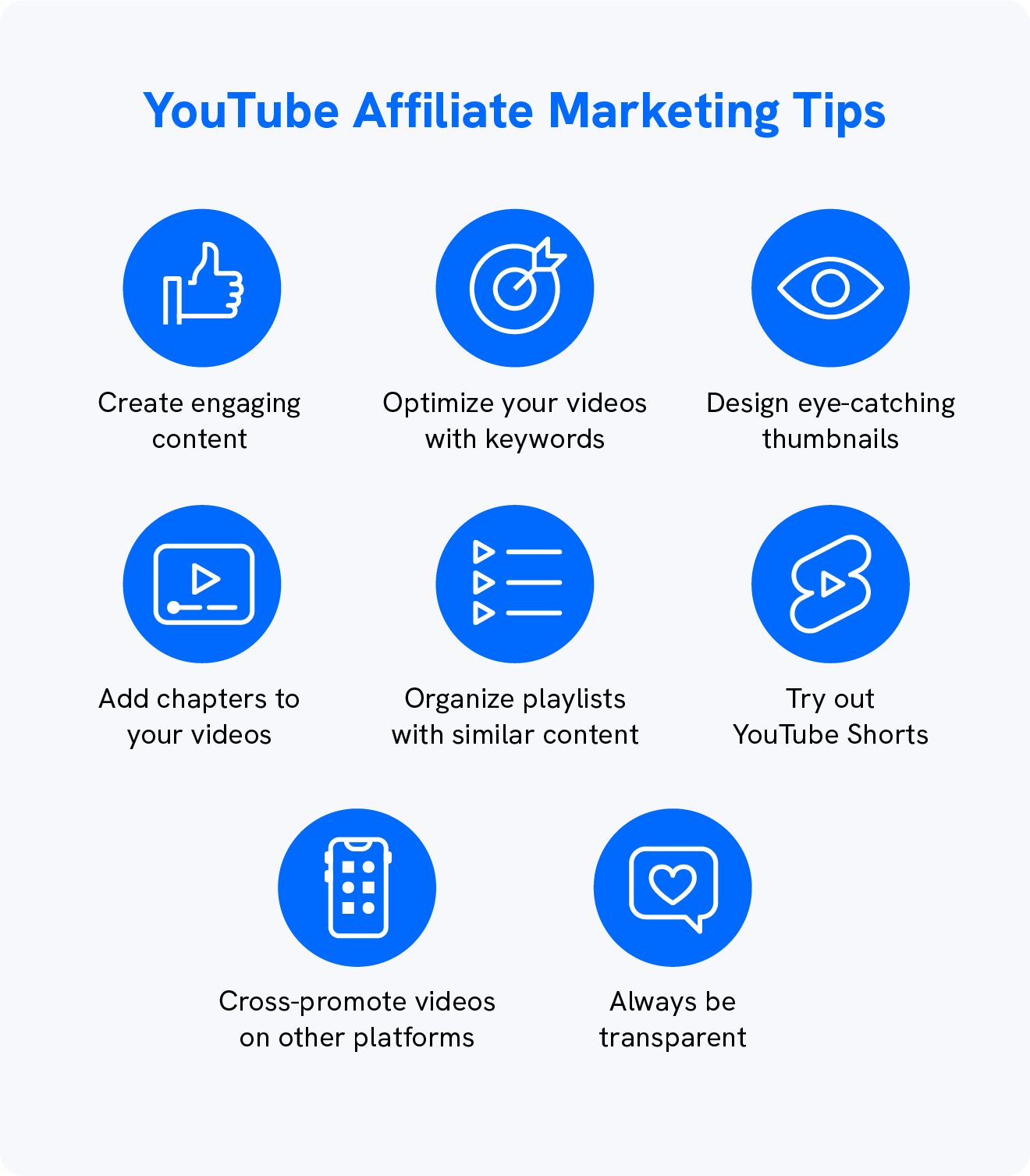 We'll let you in on all the secrets to make that happen, just keep reading to find our best YouTube affiliate marketing tips.
1. Create Engaging Content
If you want to attract the right audience to your videos, you have to create engaging content.
Plan and create quality videos that will encourage people to watch and interact with them. If your content interests them, they are more likely to click on your links.
Start by finding your niche and what's trending around it. Search for common topics that are trending, types of videos people are watching, and what your audience wants to watch.
You can do that by searching what's trending on YouTube, looking at what other content creators are posting, and even asking your current audience for feedback.
Then start producing quality videos using the right equipment, and recommend relevant products and services that you genuinely love.
Throughout the video, ask your audience to interact by commenting and liking, and have a call to action at the end to encourage them to subscribe or check out the links in the description.
💡Content Creator Tip
If you create cooking videos, and you always use certain cooking gadgets, you can review the products during your video and mention the links to purchase them in the description.
To make your video more engaging, ask viewers to comment what their favorite kitchen gadgets are or what they want to see you cook next.
2. Optimize Videos With Keywords
Another way to attract more viewers to your videos is by targeting the right keywords.
Since a lot of people use YouTube as a search engine to find answers to their questions, focusing on what people are searching for will attract them to your videos.
To find what people are searching around your niche, you can use tools such as Google Trends, Ahrefs, and Keywords Everywhere.
Then, optimize your videos by using those keywords to inspire your content and add them to your video titles and descriptions.
This way, when people search for certain keywords, there will be a higher chance that your video will be at the very top of the search.
3. Create Thumbnails That Get Clicks
If you've ever clicked on a video before even reading the title, you were probably influenced by the thumbnail.
Creating eye-catching thumbnails will make more people click on your video, since it will draw their attention.
Making a good thumbnail will vary by niche. Some will be more colorful, some will have a photo as the focus, and some will have big letters.
Doing some research will help you uncover the best type of thumbnail to use. But it will usually include some of these features:
Strong colors.
Descriptive text.
Arrows and circles.
Branding.
You can even use free tools, such as Canva, to create your YouTube thumbnails.
It's also a good idea to create consistent thumbnails, which means using the same colors, fonts, and style. This way, people will know right away it's your video when they see it on the page.
4. Add Chapters to Your Videos
One way to make people more interested in your videos is by using one of YouTube's most recent features: Chapters.
As we mentioned, many people use YouTube as a search engine, which means they want their results fast.
Some people will likely click through your video just to find the answer they are looking for, so if you make it easy for them to find, they will likely engage with it more and probably click on your affiliate link.
That's where Chapters come in. Organize your videos in chapters so people know exactly what you are talking about during each part of the video.
For example, if you're doing a roundup of the best cameras for content creators, you can add a chapter for each camera you mention. This way, if someone is looking for a specific camera, they'll be able to skip to that part.
If your video does a good job of convincing viewers to buy a product or service you recommend, they'll go straight to the description to find the link for it.
You can even add the time stamps for each chapter in the description, and add the respective YouTube affiliate links to each of them.
💡How They Do It
The channel Freakin' Reviews uses Chapters to divide each product they are reviewing.
In this video, they add chapters such as "Wine Opener," "Pocket Tripod," and "Neverstick Pan" so viewers can jump to the product they want to see.
They also add all of the YouTube affiliate links to a post about that video on their website, and link to it in the description.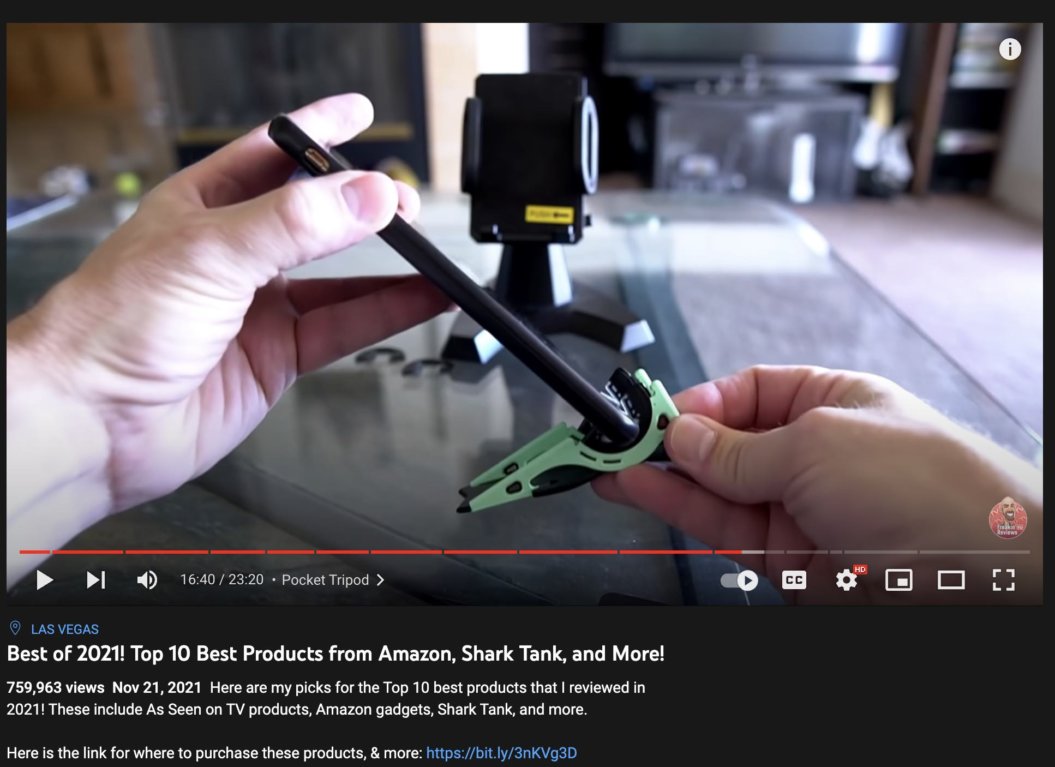 5. Organize Playlists
You also want to drive traffic to the other videos on your channel, since the more traffic you have, the higher your chances of earning a commission from your affiliate links on YouTube.
One way to do it is by creating a playlist with similar videos, so when someone is watching one of your videos, it will automatically play a similar one that they might be interested in watching as well.
This also helps when people are searching for something specific on YouTube, because they can look at your playlist that contains similar videos that will answer their question.
To create a playlist on YouTube, all you have to do is:
Make a list of videos that are related and open them.
Click "Save" on each of them.
Select "Create a new playlist" or add to an existing one.
For example, if your channel is focused on reviewing products of all kinds, you can group them into playlists divided by type of product or even brand.
6. Try Out YouTube Shorts
Short videos are becoming increasingly popular, and you can see them on almost every social media platform today.
YouTube has jumped on the bandwagon and released YouTube Shorts, which allows content creators to upload short videos or snippets of their own content to their channel.
Since a lot of people are making money with YouTube Shorts, you can also use it as part of your YouTube affiliate marketing strategy.
Create short videos in which you recommend a product, or get snippets from your longer videos, and share them on YouTube Shorts with a link to the product.
💡How They Do It
HealthnFitDrive started creating YouTube Shorts regularly with workout tips and healthy recipes.
They include YouTube affiliate links in the description of their YouTube Shorts, like in this video where they tell people about resistance bands.
7. Share on Different Platforms
To bring even more traffic to your videos, you should cross-promote them on different platforms.
If you already have a following on other social media platforms, such as Instagram and TikTok, post about your new YouTube video or share small snippets to prompt them to watch it on your channel.
Just make sure to keep interacting with your followers and posting regular content so they'll be more likely to watch your videos when you promote them.
Another way to increase traffic to your YouTube channel and encourage people to click on your YouTube affiliate links is by embedding the videos on your website or blog.
Add value by writing a blog post on the topic you talk about in the video, and include even more details and links in the blog post.
8. Always Be Transparent
The last tip we have for YouTube affiliate marketing is very important: You should always be transparent about the affiliate links you share on YouTube.
When recommending a product, you should let your viewers know what you actually think about it and only recommend something that you would use yourself.
This way, you will build your audience's trust so they'll keep coming back to find other product recommendations.
You should also make sure your viewers know that you're going to be making a small commission from the links they click and purchase from.
Mention in your video that the links in the description are affiliate links, and have a disclaimer in the description that it will help support you and your content.
This also builds more trust with your audience because they will feel like you care about them instead of "tricking" them into clicking on a link.
Wrapping It Up
Excited about starting your journey with YouTube affiliate marketing? We are too.
Hopefully, you can use some of our tips to help bring more traffic to your videos that include affiliate links.
If you're looking for another platform to monetize your videos and share affiliate links, Uscreen is the place for you.
With Uscreen, you can monetize your videos online by creating your own video-on-demand platform. Want to see how it works? Sign up for a free trial.
YouTube Affiliate Marketing FAQs
Still have questions about YouTube affiliate marketing? We've got the answers.
What's the Difference Between YouTube Affiliate Marketing and Brand Sponsorship?
YouTube affiliate marketing is when you include a link to a product that you generate from an affiliate program. Brand sponsorships happen when a brand reaches out to you and pays you to recommend their products. 
What Affiliate Offers Are Available on YouTube?
YouTube doesn't have an official affiliate program, but you can include links from other affiliate marketing programs in your YouTube videos and video description. 
How Do You Get Traffic To YouTube Videos?
You can drive traffic to your YouTube videos by creating content that's trending, using the right keywords, and cross-promoting it on other platforms. 
Can You Use Amazon Affiliate Links on YouTube?
As with any other links, you can use Amazon affiliate links on YouTube as long as you're following YouTube's guidelines and the FTC guidelines. 
Which YouTube Channel Is Best for Affiliate Marketing?
Any YouTube channel can be suitable for affiliate marketing, as long as you naturally recommend products and services. 
Where Can You Use Affiliate Links?
On YouTube, you can use affiliate links in the video description and on end cards. Outside of YouTube, you can use affiliate links on your social media platforms, blogs, and websites. 
Why Should You Start YouTube Affiliate Marketing?
YouTube affiliate marketing can be a good way to make extra passive income on top of your other YouTube monetization strategies. Affiliate marketing is an easy way to get a commission for products you recommend others use.