A great YouTube channel is the first step toward world domination.
Ok, that's maybe going a little far, but having a strong channel that's optimized to help people find you and packed with great content once they get there is a cornerstone of making money with YouTube.
If you've already started your YouTube channel, you'll know that it's both an art and a science to get it right, and the more tools you have the easier it gets.
With so many tasks that take time and skill, it's no wonder people have devised tools to make your content creation journey a little smoother. We're going to look at some of the best.
Here, we're going to check out:
So you can get your technology stack perfected, no matter the content you're creating.
Let's jump right in.
Disclaimer: The information below is accurate as of today (12/14/2021).
It's simple with Uscreen.
Build, launch and manage your membership, all in one place.
1. YouTube SEO Tools
YouTube is the second biggest search engine in the world and a great way for your current and potential audience to find your video content.
It may seem impossible to please YouTube's algorithm and get your videos to the top of the search results, but there are tried and tested strategies like optimizing your description and tags, for example.
When it comes to YouTube SEO, you're not on your own – here are some of our favorite tools to support your quest for the top rankings.
Tool #1: TubeBuddy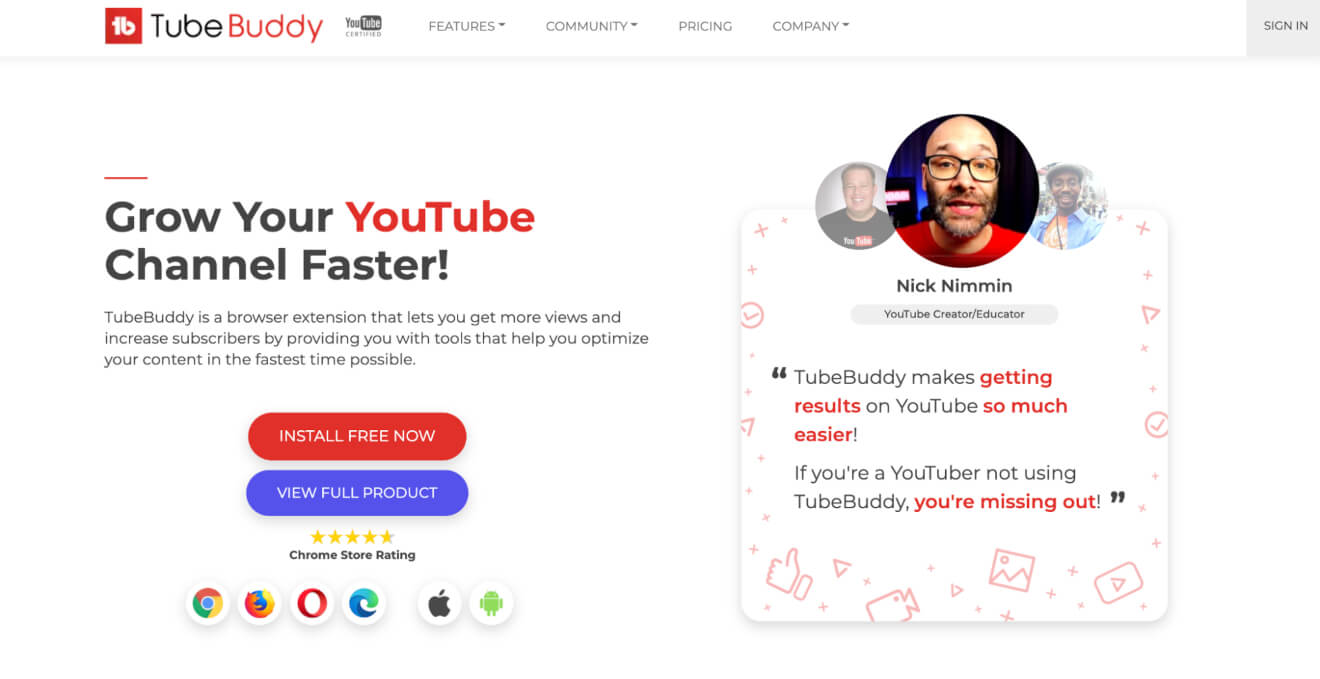 TubeBuddy is another free browser extension that lets you see information about every video on YouTube.
You can see the tags and other metadata your competitors use and take this as inspiration to do even better than them.
TubeBuddy features
Adding TubeBuddy to Chrome or Firefox means you can:
See the tags and search rankings for other videos in your niche to see what they do right and what you can improve on.
Automatically translate your video description and title into other languages, increasing your global reach.
Use their templates for cards and end-screens to improve your calls-to-action and engagement.
TubeBuddy pricing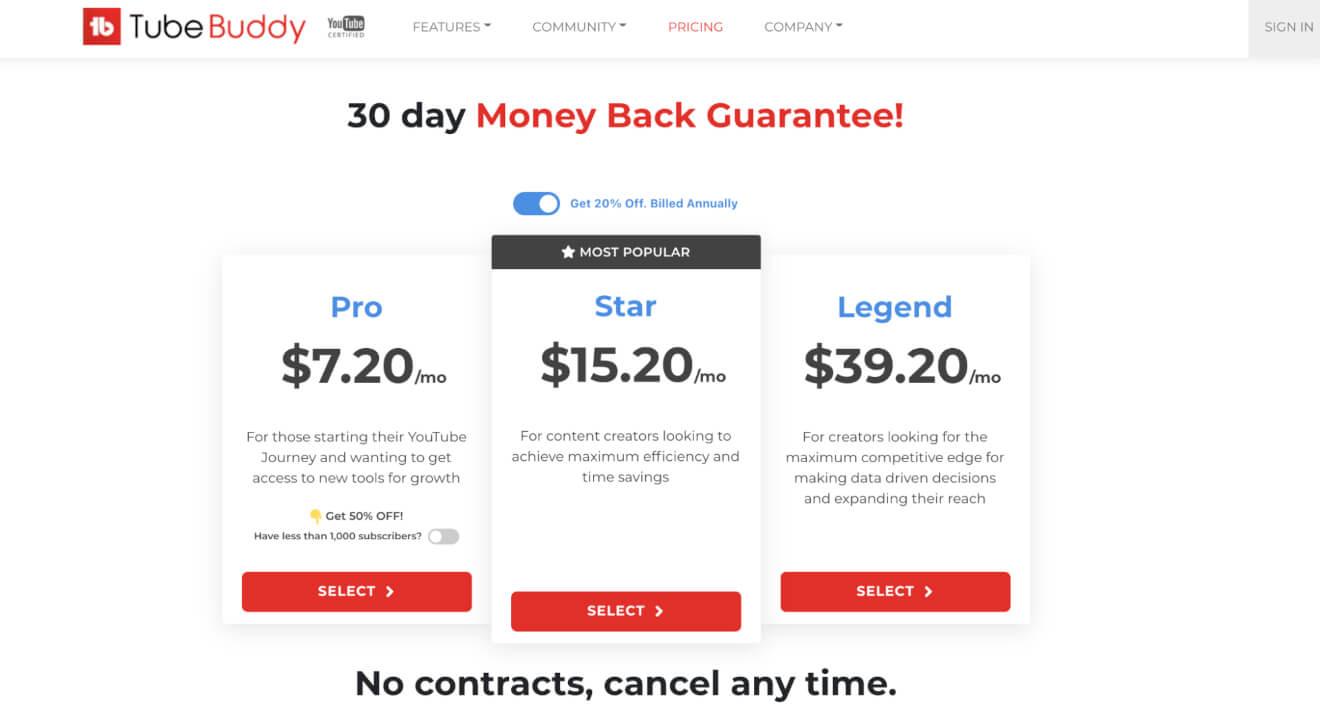 The basic TubeBuddy offering is a free tool and you can add on features across 3 pricing tiers.
You can access a whole bunch of tools at each level, but the data and research tools are reserved for the highest Legend tier.
Tool #2: TuBeast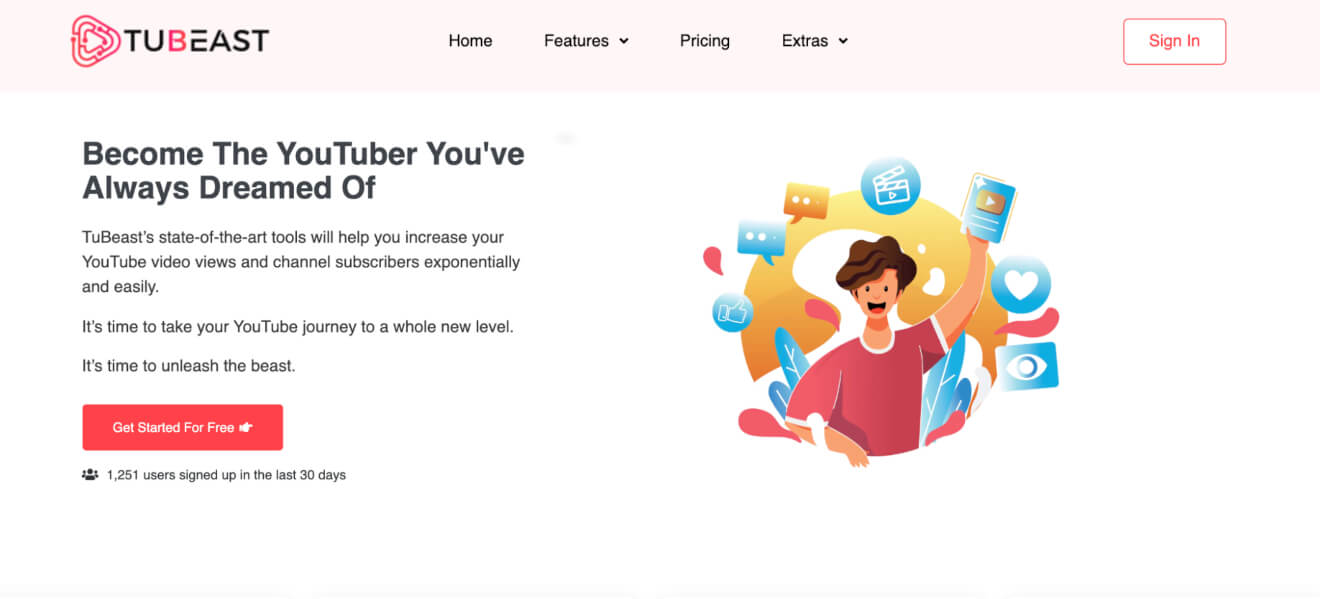 TuBeast is another plugin for your browser that helps with your YouTube video SEO.
It's a tool created by YouTubers who understand the challenges creators face when optimizing their channels.
TuBeast features
With TuBeast, you can:
Analyze your video using AI to spot issues that could cause SEO or YouTube algorithm issues.
Run your thumbnails through AI to ensure that it's optimized based on best practices.
Optimize your metadata and descriptions by getting suggestions from the tool.
TuBeast pricing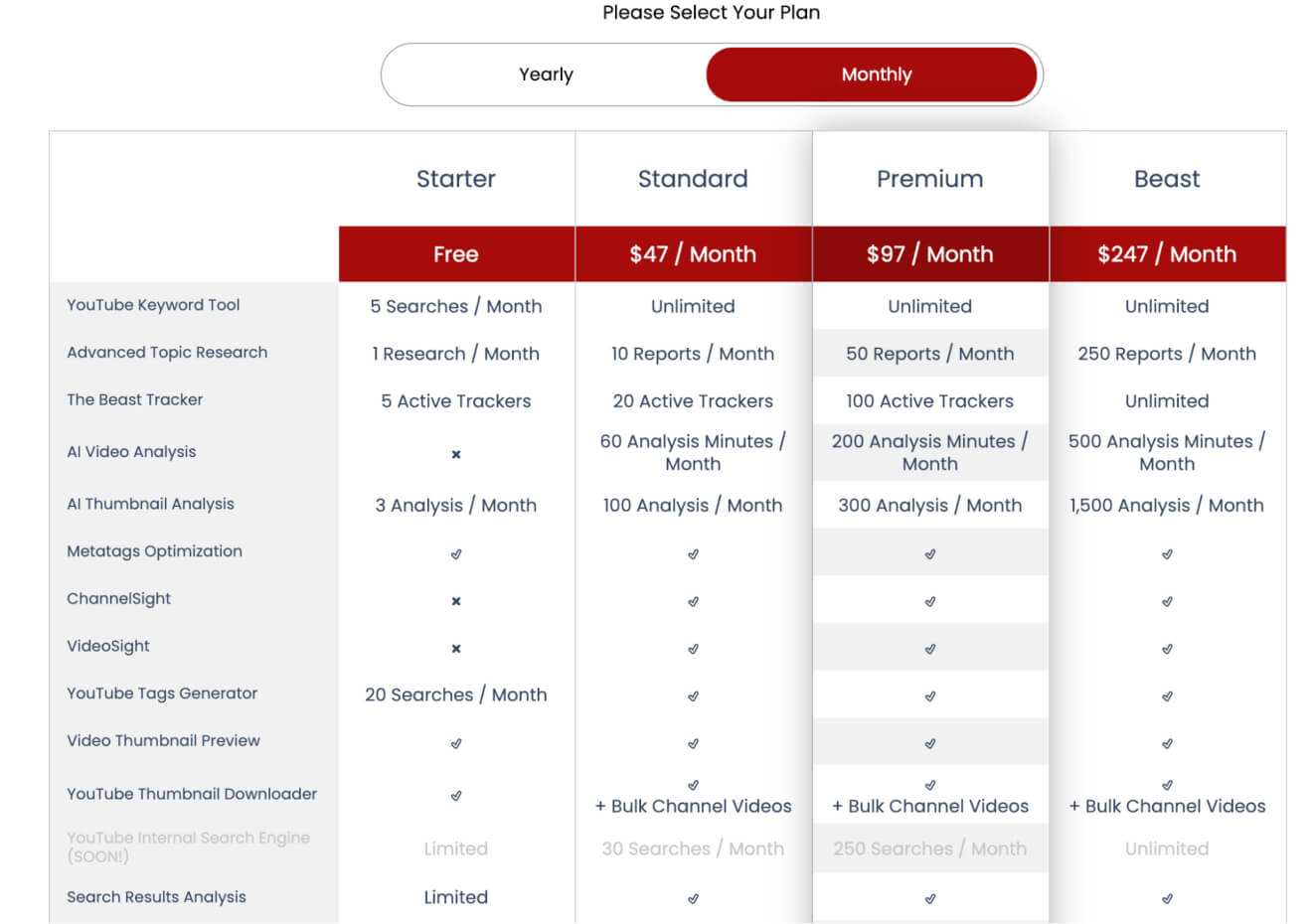 TuBeast has a free version and 3 paid offerings to choose from.
All of the features are available with each subscription tier, what changes are the number of searches, how much content can be analyzed, and how many reports can be generated.
Want to know how well your optimization is working? You'll need analytics tools for that.
2. YouTube Keyword Tools
Getting your content high on the YouTube search rankings is the first step to bringing people to your channel.
To reach the top spots for the terms your audience is searching for, you need to know the keywords they're entering into the YouTube search bar.
For that, you need a keyword search tool that lets you narrow your focus to searches done specifically on YouTube, and we've got some for you to check out.
Tool #3: Ahrefs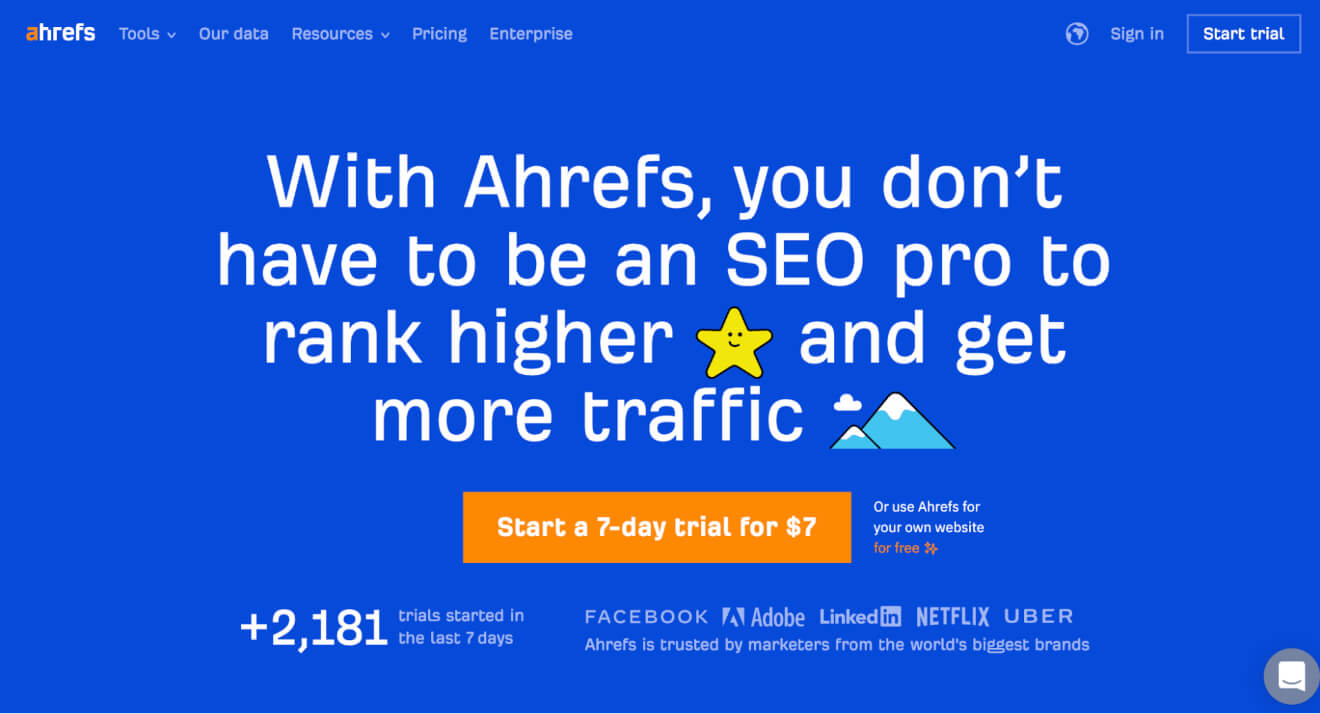 Along with lots of other functions, Ahrefs can help you run keyword research so you generate video ideas based on what your audience is looking for.
Ahrefs features
When you use Ahrefs, you can:
Check out the keywords your competitors rank for to generate keyword ideas.
Understand if the keywords you're targeting can help you get traffic by seeing how many people search for them each month.
Input one "seed" keyword and produce a list of linked keywords including their monthly search volume.
Figure out how easy or tough it might be to rank for a keyword by checking out the keyword difficulty.
Ahrefs pricing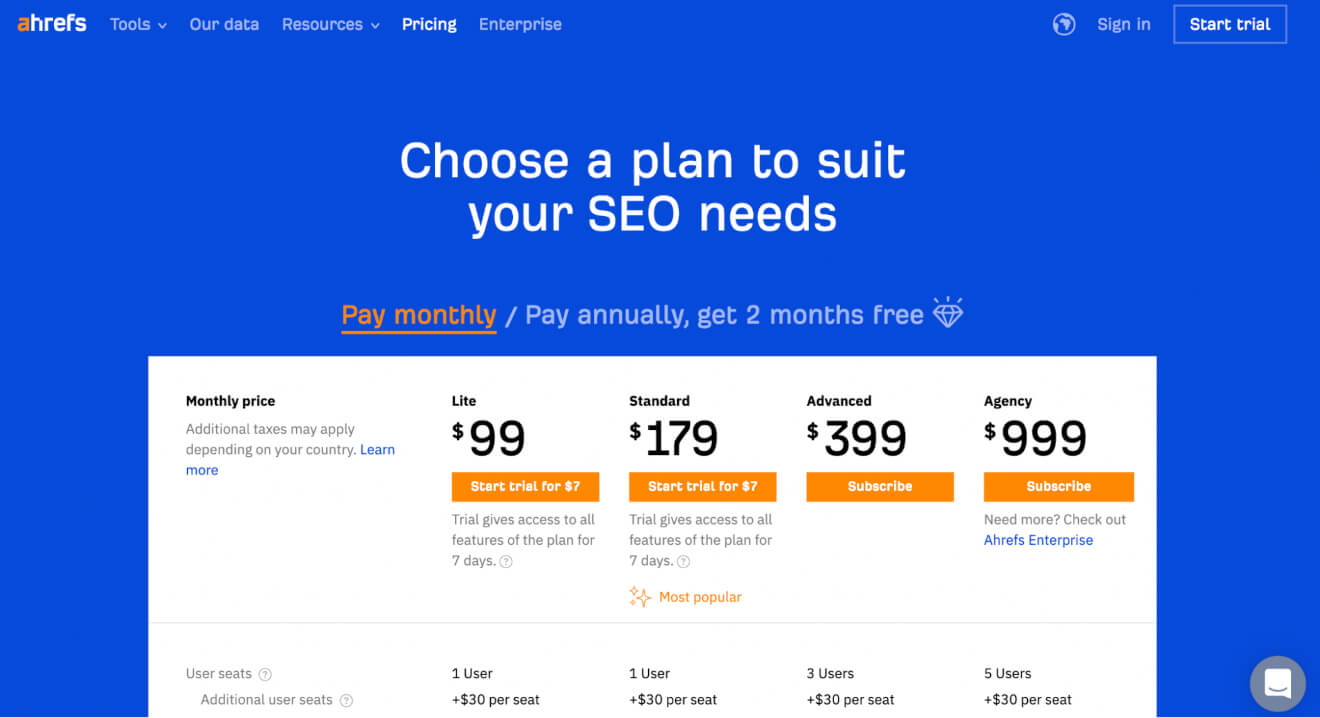 There are 4 pricing plans available with Ahrefs, ranging from Lite to Agency.
Nearly all of the features are available on every plan – the difference mainly lies in how many searches, updates, and report fields you can access.
Tool #4: Keywords Everywhere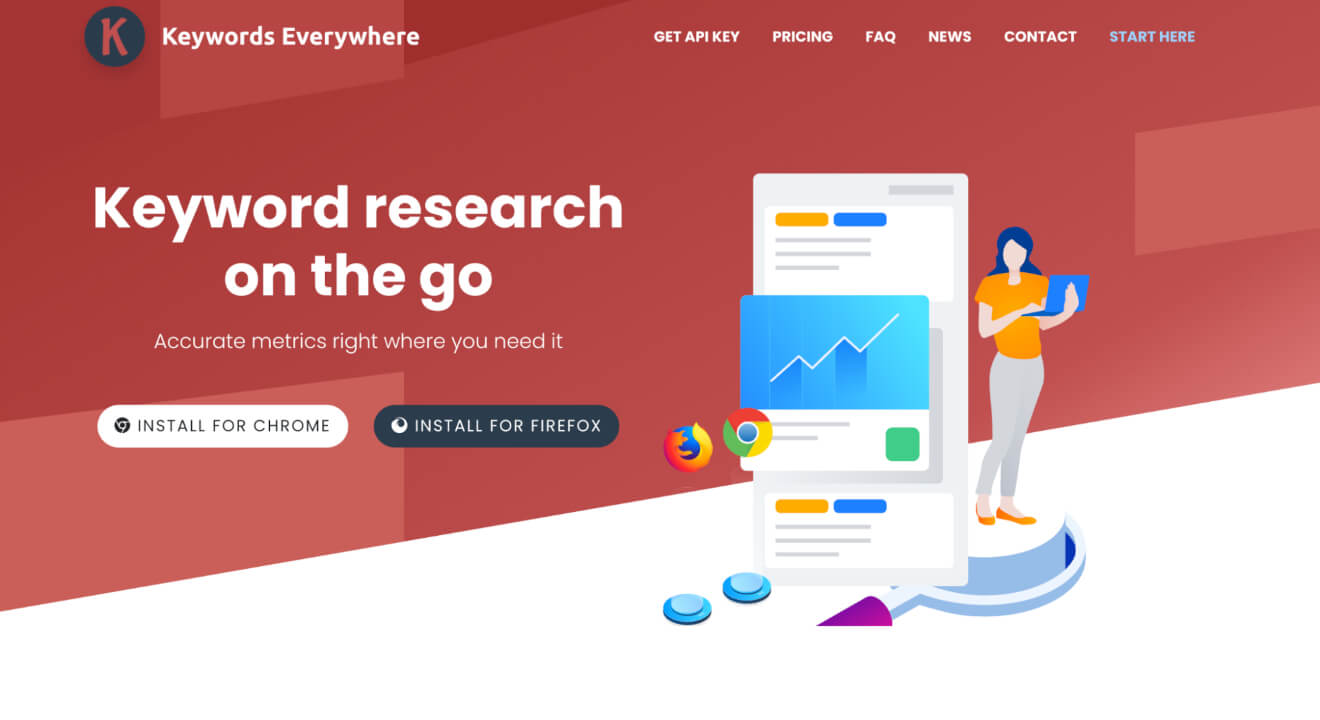 Keywords Everywhere is a Chrome extension and Firefox add-on that can help you find the right target keywords for your YouTube channel.
It's a case of installing the extension and clicking on the tool you want to use.
Keywords Everywhere features
Adding Keywords Everywhere to your Chrome or Firefox browsers let you:
Generate additional keyword ideas from your seed keyword.
See data for any given YouTube channel including its search volume and trend data back to 2004.
Check out data for your competitor channels.
Download keyword data for a range of search tools, including YouTube.
Keywords Everywhere pricing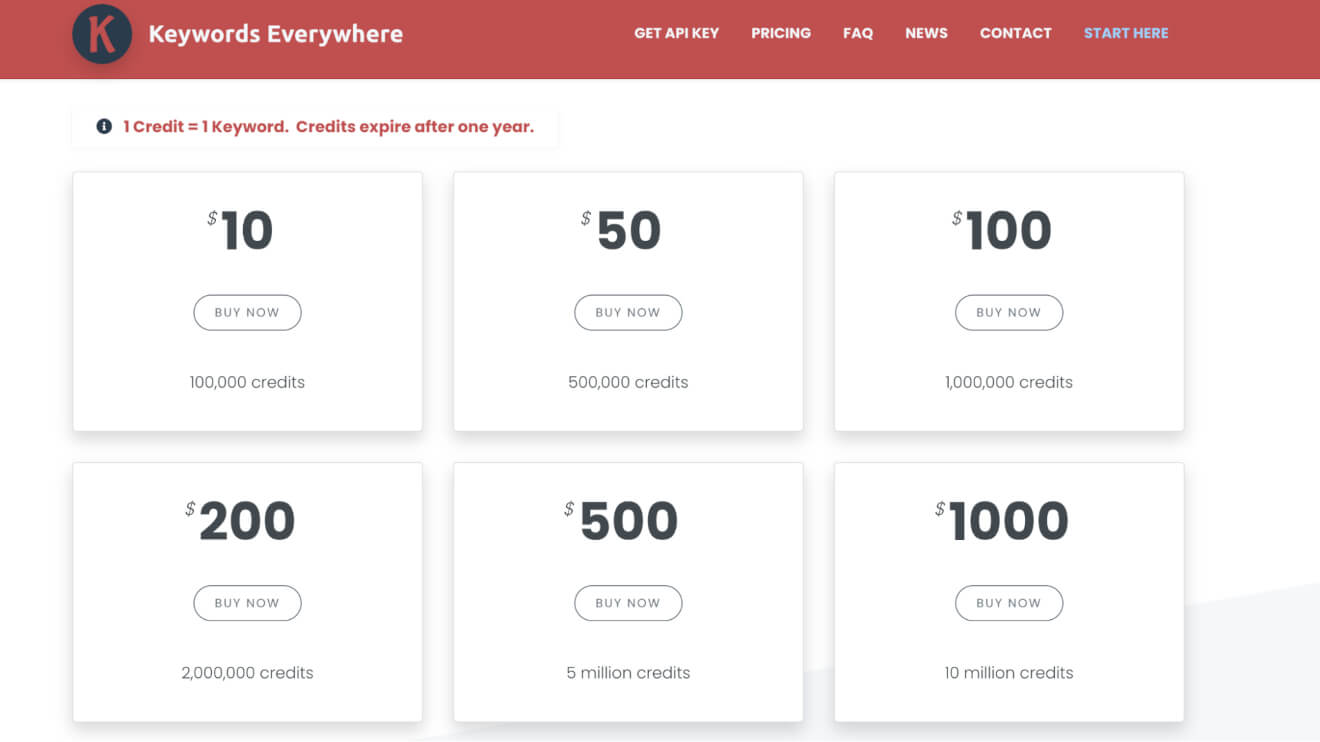 Keywords Everywhere is a free browser extension and you can pay extra for additional features.
Rather than paying a monthly or annual fee, you buy credits when subscribing Keywords Everywhere.
You can purchase credits in bundles starting at $10, and one keyword search is worth one credit.
Tool #5: Keyword Tool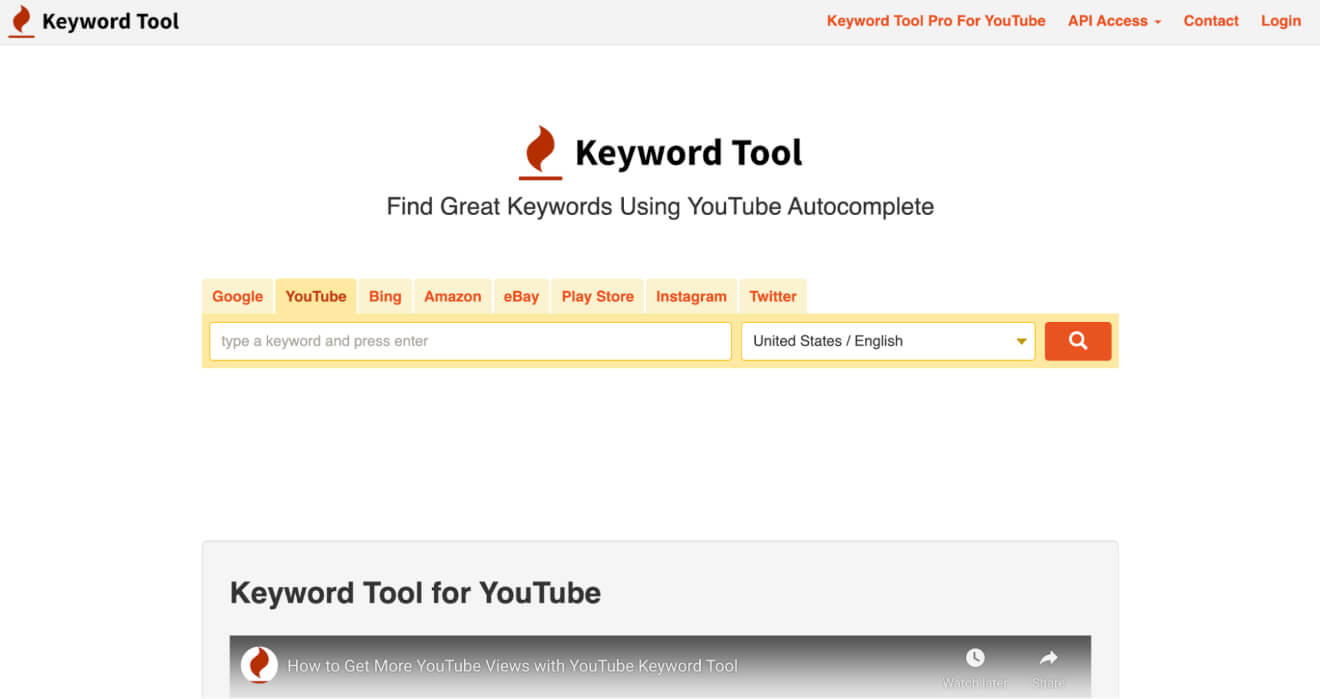 Keyword Tool pulls in information from YouTube's autocomplete to give you a range of longtail keyword suggestions.
You can use these suggestions to inspire your content and to write your titles and descriptions.
Keyword Tool features
The key features of Keyword Tool are:
It pulls a list of hundreds of YouTube autocomplete phrases for your seed keyword.
It gives data on the search volume for each suggested keyword.
It displays the trend, CPC, and competition data for each keyword that gets generated.
Exportable data so you can anal yze and track your keyword strategy.
Keyword Tool pricing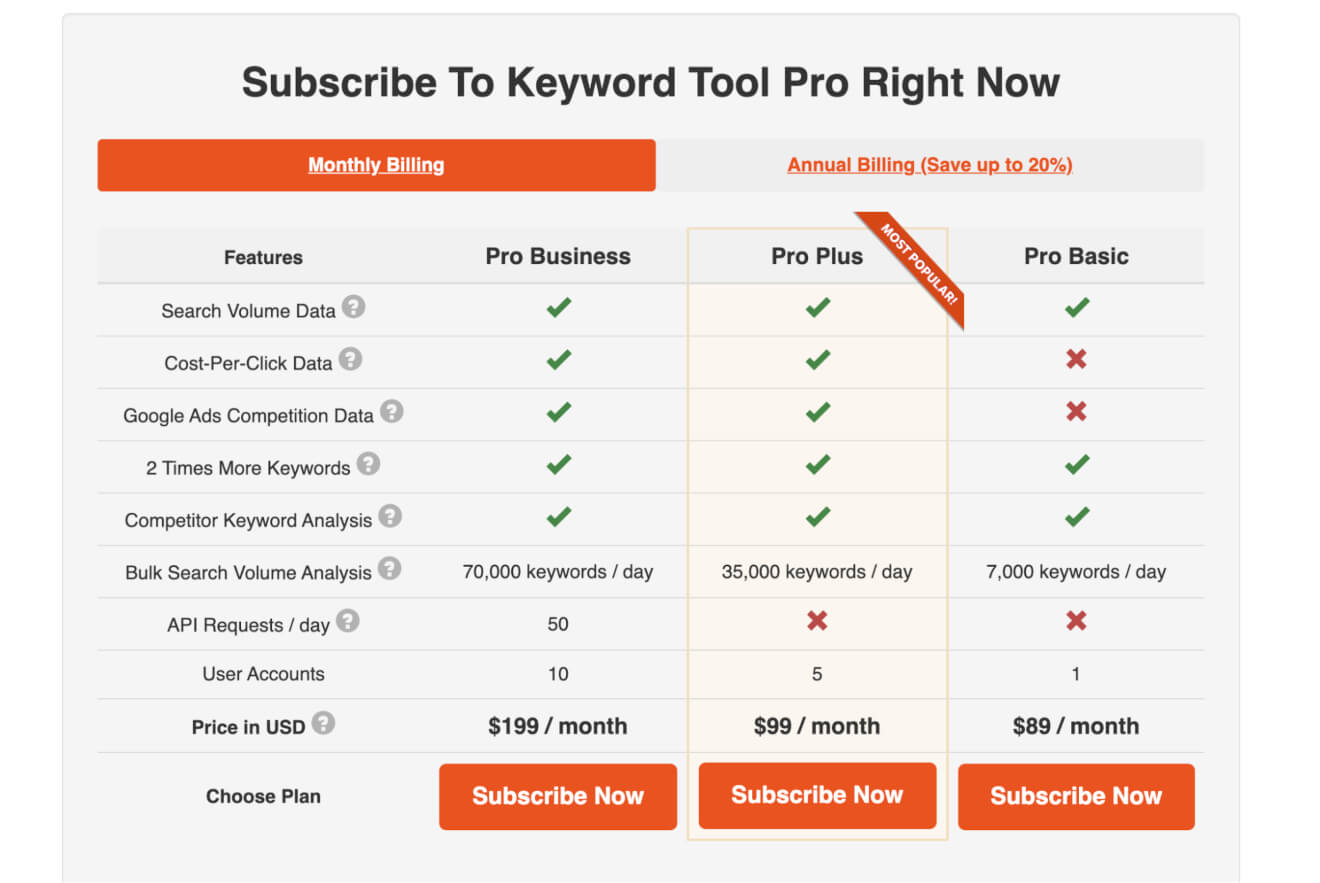 You can choose one of 3 packages when upgrading from the free version of Keyword Tool.
Whether you can see CPC and competition data, as well as how many searches you can do per day are the main price differentiators.
Once you've got the right keywords planned and ideas thought out, it's time to boost your search engine optimization (SEO) with some more YouTube tools.
It's simple with Uscreen.
Build, launch and manage your membership, all in one place.
3. YouTube Analytics Tools
YouTube itself has some pretty powerful analytics, but the data might not always be presented how you'd want or integrate well with other social media platform data.
As a YouTube creator, you want all the insight you can get – so using different analytics tools can help you track information like video views, social shares, engagement, and more.
Let's look at a couple of tools that'll help you understand your audience.
Tool #6: SocialBlade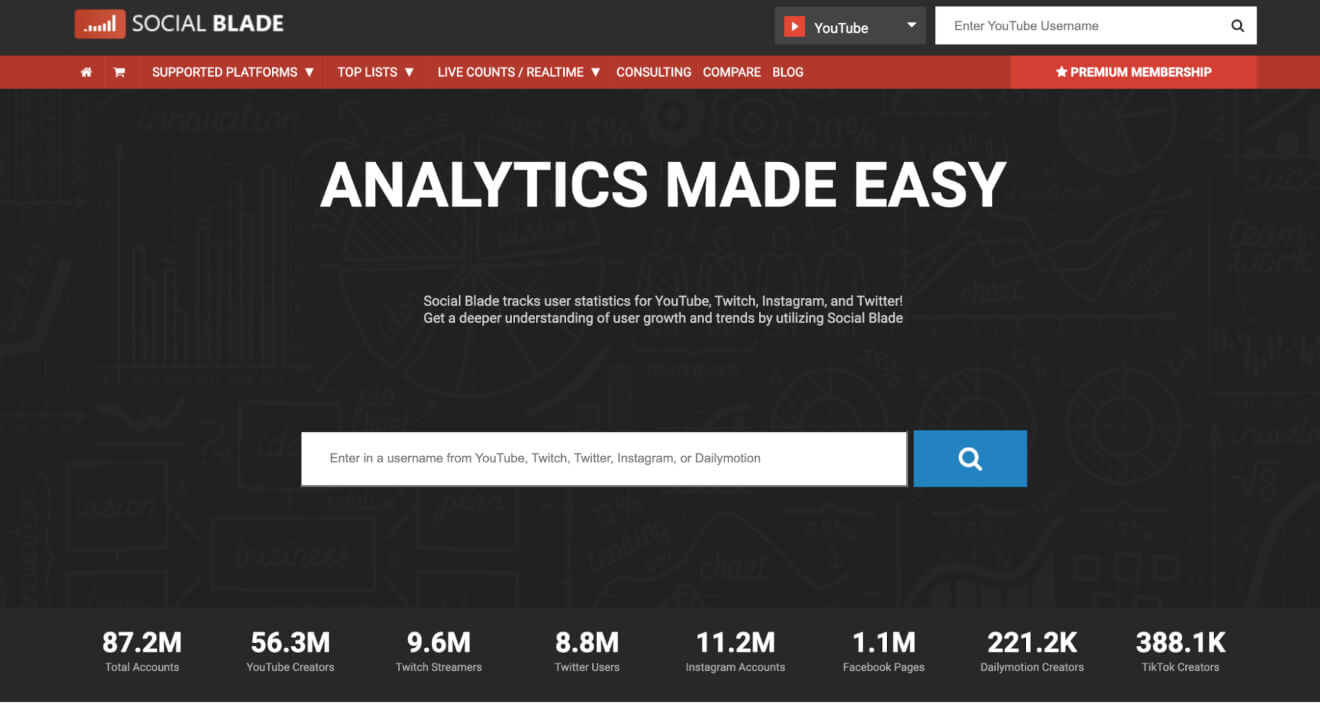 SocialBlade has its own database of YouTube information and engagement metrics that you can access to learn about your channel and competitors in your niche.
As well as having YouTube data, you can find information about accounts on Instagram, Twitch, TikTok, and more.
SocialBlade features
Some of the cool things you can do with SocialBlade include:
Searching creator accounts and accessing information about their subscribers, potential earnings, video views, and more.
Finding other channels in the same niche as you so you can find people to collaborate with or analyze.
Monitoring up to 500 channels to have data easily available.
Comparing information between 3 channels including earnings, views, and future projections.
SocialBlade pricing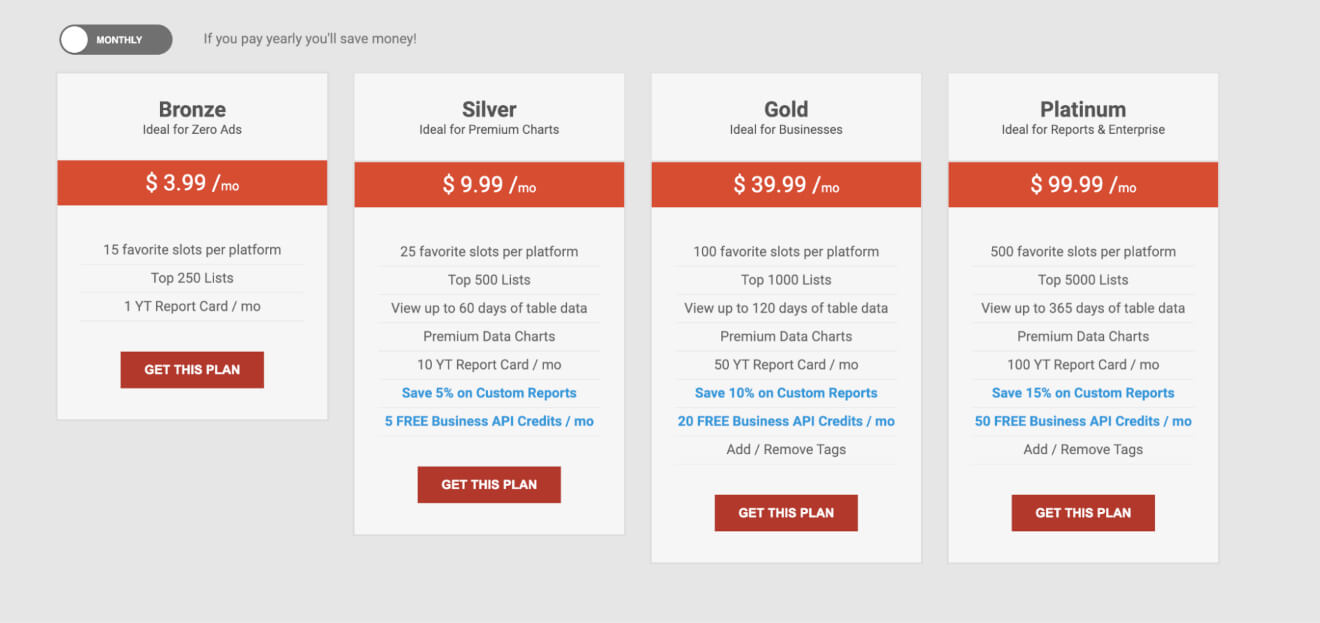 Along with free access to basic data, you can pay for one of 4 tiers of access to SocialBlade.
Most of the tools are the same but the number of accounts you can monitor and how far back your data goes changes with the price you pay.
Tool #7: vidIQ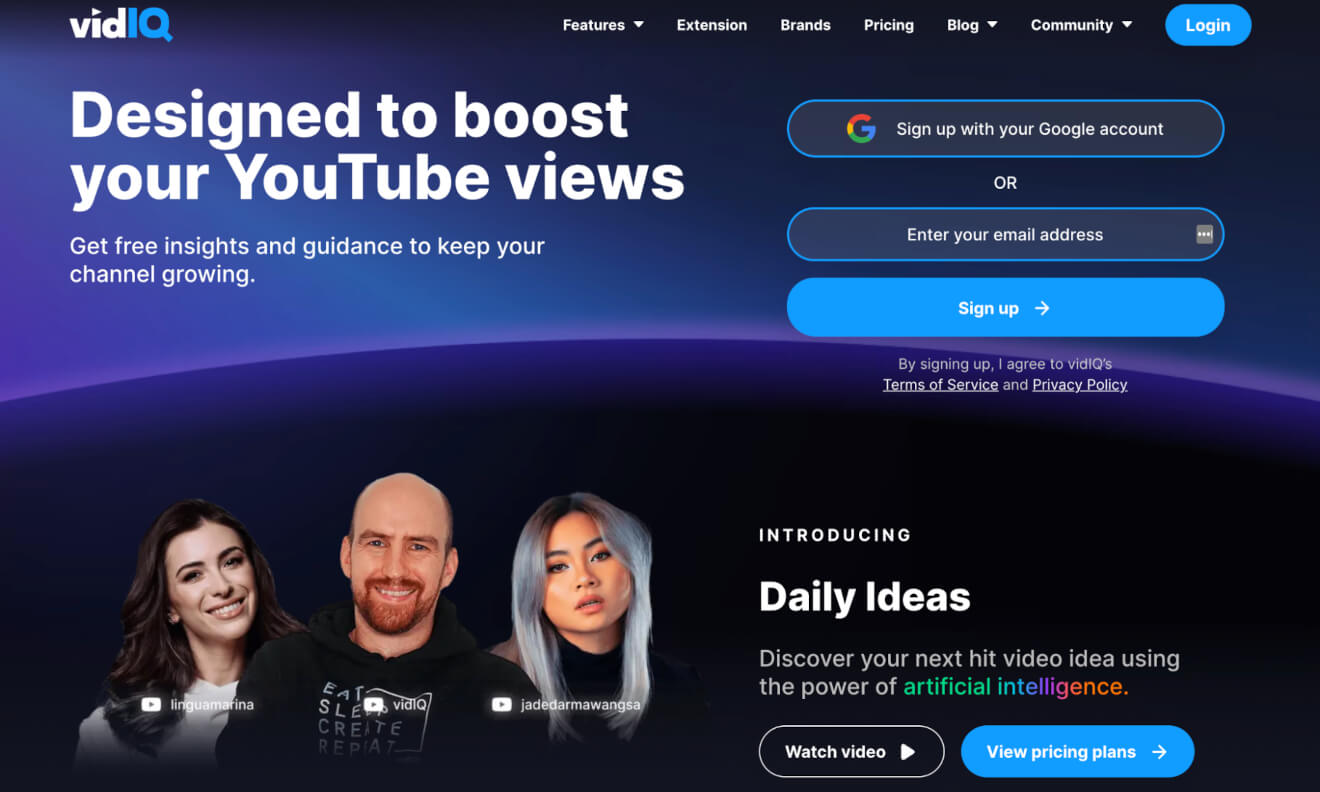 VidIQ offers a range of tools and could fit into a few of our categories, but we think it works really well to help you monitor your metrics to improve and grow your channel.
You can do this through the channel audit tool, which is what we're going to look at here.
VidIQ features
VidIQ has plenty of handy features – the channel audit tool lets you:
Analyze your channel growth over time in terms of views, subscribers, and watch time.
Get recommendations about content to double-down on – videos that generate engagement.
See a list of your content that needs improvement so you know where to focus your energy and make changes.
Analyze your metadata to see which tags, titles, and descriptions aren't working effectively.
VidIQ pricing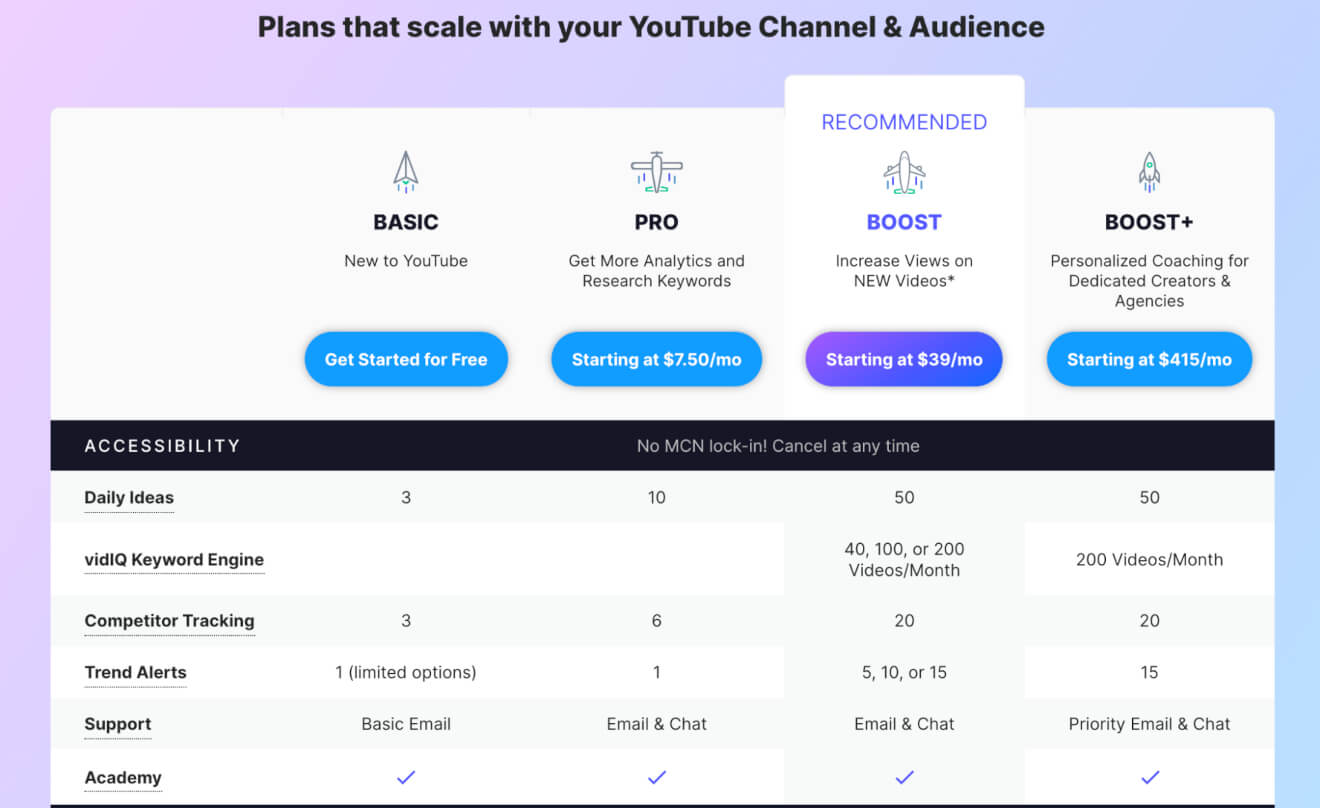 Along with a free option, you can choose between 3 pricing levels with VidIQ.
The amount of data you can access as well as the level of keyword research you can do increases when you choose higher subscription levels.
Video editing is key to improving your YouTube views, so that's next on our list of YouTube tools.
4. Video Editing Tools for YouTube
High-quality content is the key to running a successful YouTube channel, but you already know that.
When you first started creating video content, you may have gone with your phone's video editing software, YouTube Studio, or basic options that came with your Windows or Mac computer.
But as you step up your video content game, finding a video editing tool that can do everything you need will improve your channel to no end.
Here are some of the ones we like.
Tool #8: Movavi Video Editor

Movavi Video Editor offers an intuitive and adaptable platform, tailor-made for YouTube creators aiming to add that extra spark to their videos, regardless of their prior video editing experience.
Should you struggle with the basics or have time constraints for editing, the software provides ready-made templates, integrated backgrounds, and royalty-free audio options to streamline editing. Just upload your clip, choose your style, and let the app handle the rest.
Movavi Video Editor features
YouTubers reap rewards from Movavi Video Editor's advantages:
Enjoy industry-standard editing features, including 4K support, music tracks, chroma key, and an array of video filters, all adaptable to diverse YouTube content genres like gaming, tutorials, filmmaking, and vlogging.
Access to professional-grade AI editing functions like motion tracking, background removal, and denoising for vibrant visuals.
Utilize the fast Montage Wizard for swift video creation, combining clips, applying effects, adding transitions, titles, and music, and exporting projects within minutes.
With support for a wide range of formats and resolutions, you have abundant sharing options, including seamless direct uploads to YouTube.
Movavi Video Editor pricing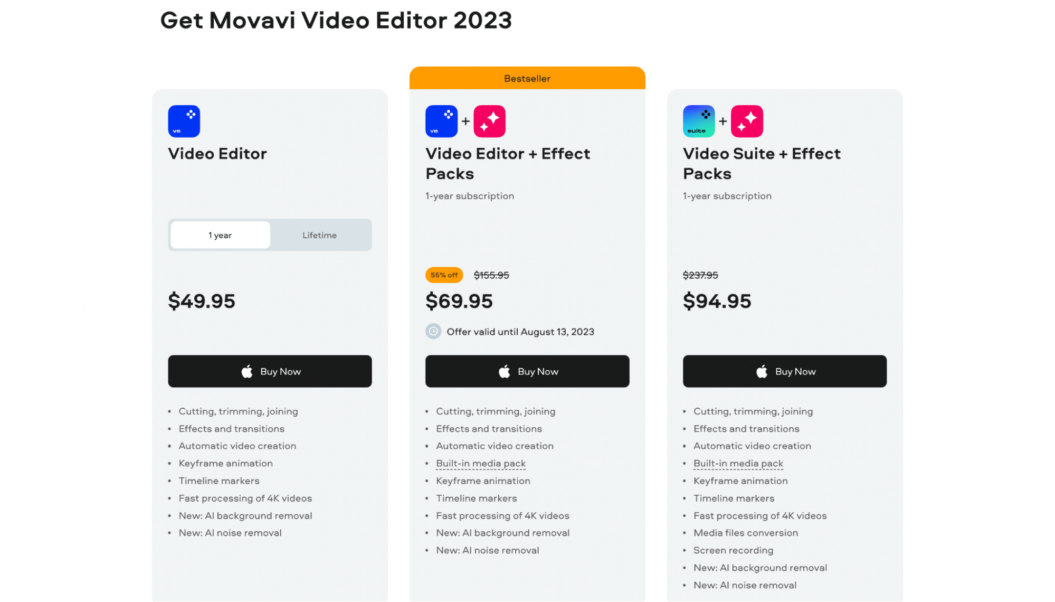 At Movavi Video Editor, a free version isn't on offer, but you can explore its capabilities via a 7-day trial, albeit with a watermark on the completed content.
For complete feature access, you can choose from economical options like yearly licenses and lifetime licenses. You can also consider video suit and effect packs for additional tools and effects to further enrich your editing toolkit.
Tool #9: Veed.io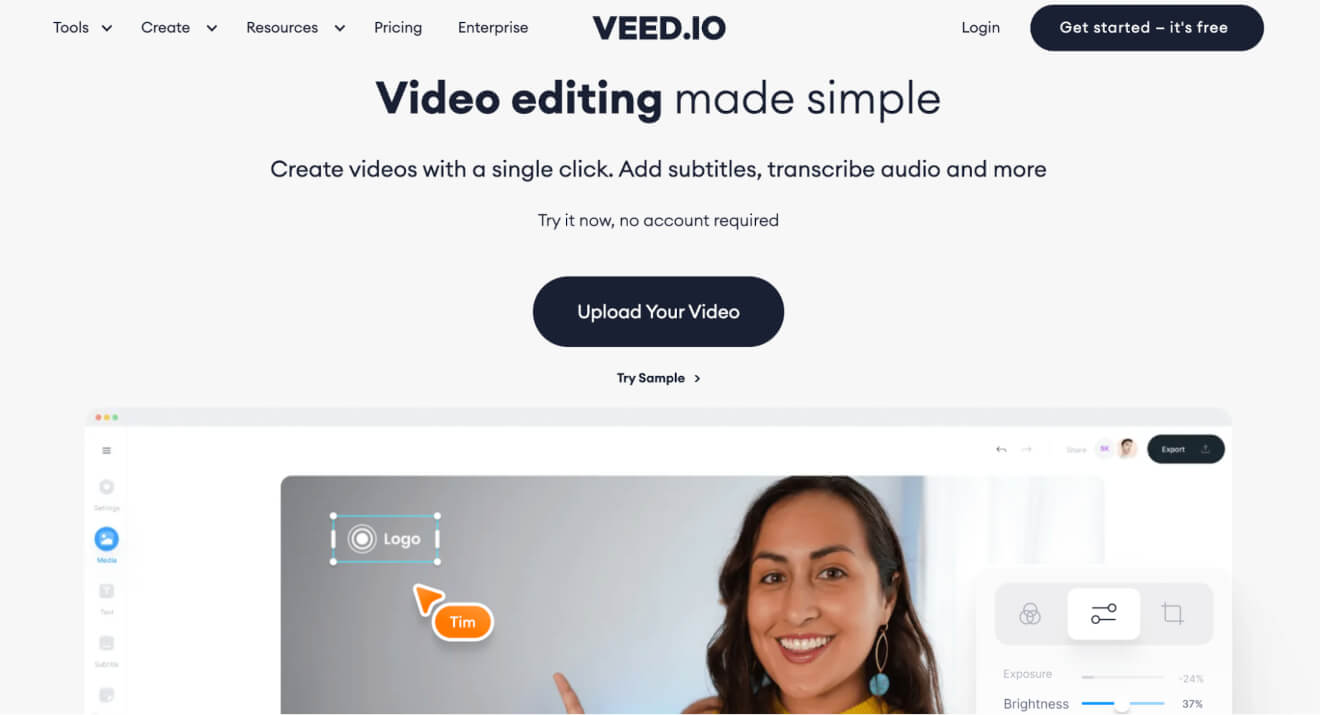 Veed is a browser-based video editor with a whole bunch of tools to help you up the standard of your YouTube videos.
As well as being a powerful desktop tool, it works really well on your phone's browser so you can edit your content on the fly.
Veed.io features
Content creators who choose Veed can:
Use all the standard editing tools you'd expect, such as cropping, merging, joining, looping, and resizing video.
Overlay images, text, and filters to video.
Take advantage of tools like a screen recorder, voice recorder, and webcam recorder.
Add subtitles, transcriptions, and translations to videos.
Veed.io pricing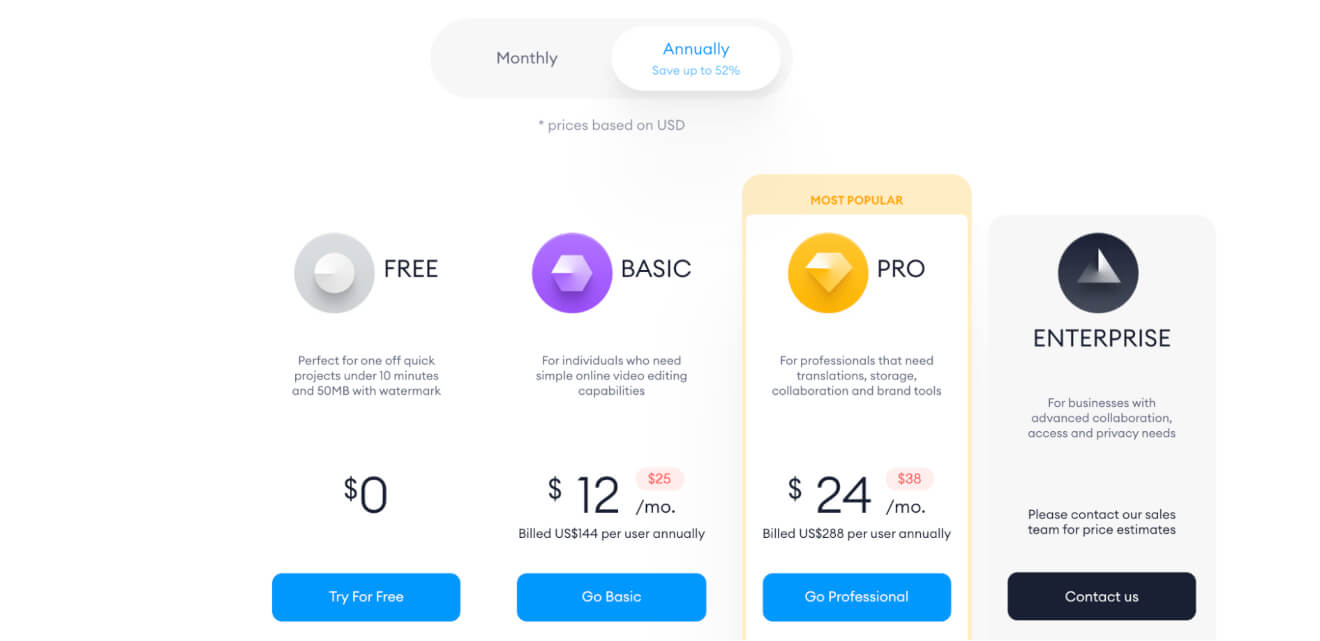 Along with a free option that lets you edit a video up to 10 minutes long and adds a watermark, you can choose between 2 plans with advertised pricing or opt for the Enterprise package.
The differences lie in the length of video you can edit, storage space, video quality, and whether you need to use branding and subtitling tools.
Tool #10: Wave.video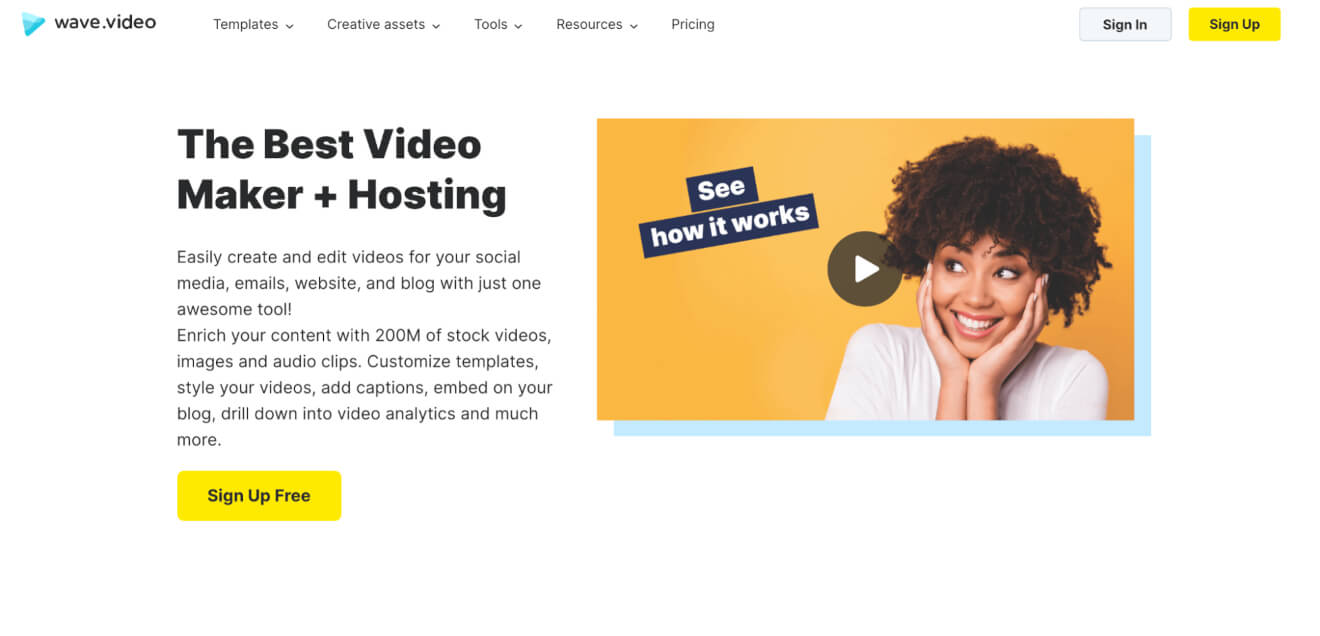 Wave helps you to create video content by giving you templates to work with and helping you add creative flair to help engage your YouTube subscribers and viewers.  
We should note that it offers a range of stock images, music, and video for you to include in your video.
Wave.video features
Users of Wave get access to:
A range of editing tools including text animations, filters, transitions, overlays, video frames, and more.
Options to trim, cut, resize, crop, and merge your video clips.
Tools for adding voice overs, captions, music, and more to your YouTube content.
Wave.video pricing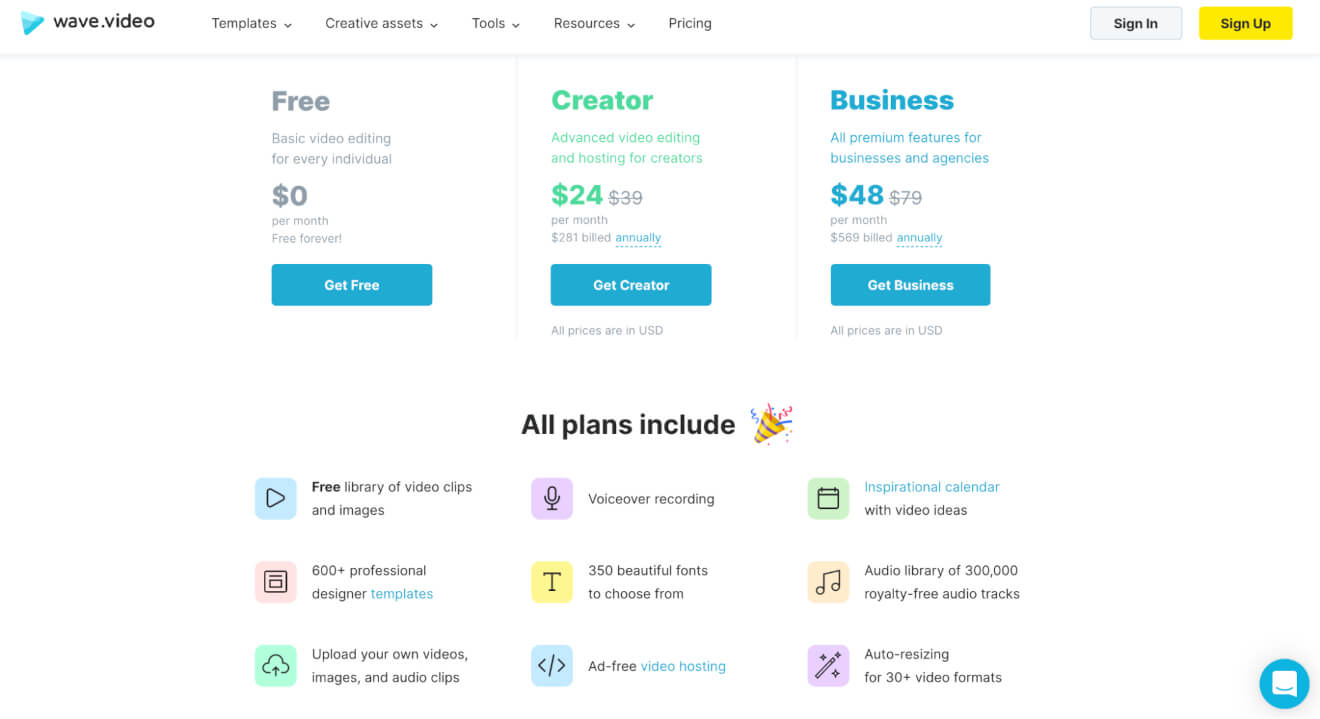 Some of the basic functions of Wave are free, like access to the royalty-free library, templates, and editor tools.
Paid plans give you access to more stock footage and images, higher video editing limits, more branding options, and more.
Tool #11: Rev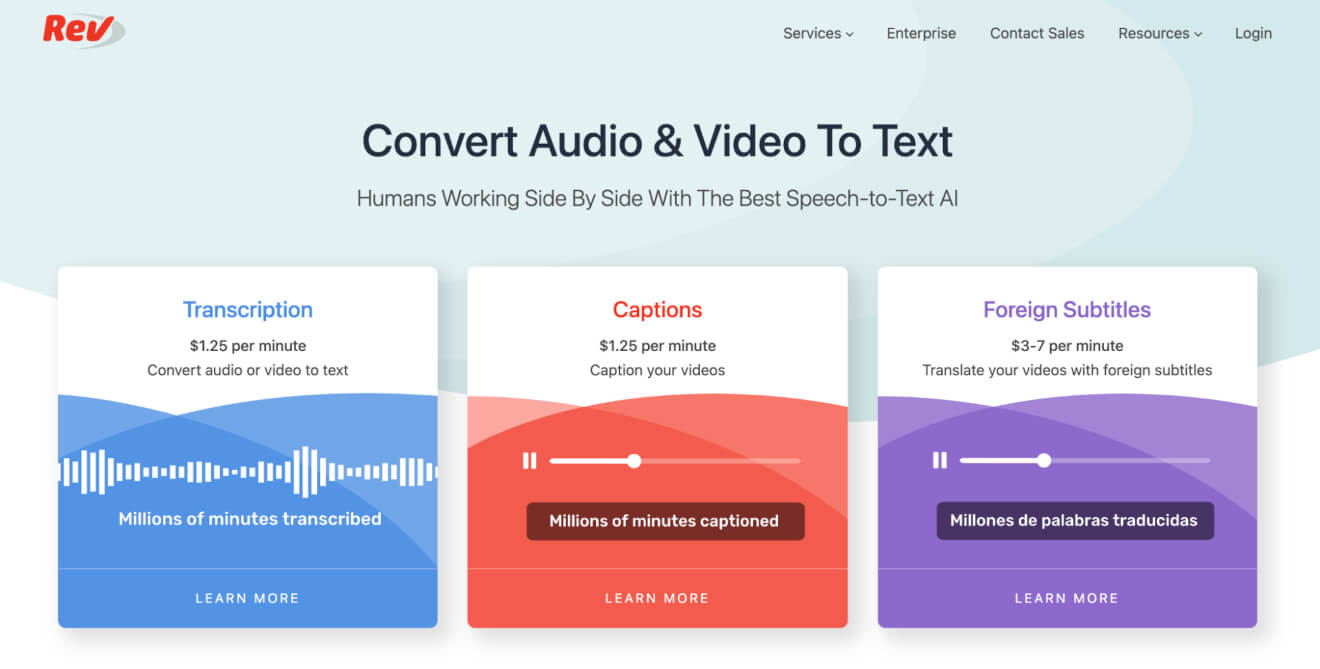 Although you can't use Rev to edit your content in the same way as the last 3 YouTube tools we've looked at, it still offers an invaluable service to add to your content. 
Lots of your audience will use subtitles or captions when watching your content, whether due to hearing issues or being in a noisy environment, and this is where Rev comes into play
Rev features
Using Rev means you can:
Have your video transcribed so you can add it to your description and boost SEO.
Add English-language captions to your YouTube video, making it more accessible.
Generate foreign-language captions so your video content can reach a much wider audience.
Rev pricing
As you can see in the screenshot above, Rev has a clear pricing structure for transcription and subtitling with a per-minute rate for each service.
Once your video content is edited and captioned to perfection, you'll want a high-quality, clickable thumbnail to boost your video performance.
It's simple with Uscreen.
Build, launch and manage your membership, all in one place.
5. Thumbnail & Banner Design Tools
Wouldn't the world be a better place if every social media and video platform had the same thumbnail and banner requirements?
Until we reach that utopia, you're going to need a tool that'll help you generate thumbnails, playlist covers, and channel banners specifically for YouTube.
Even without a graphic designer on your team, you can make engaging thumbnails that your audience will love.
Let's check out some of the most popular tools out there.
Tool #12: Custom Thumbnails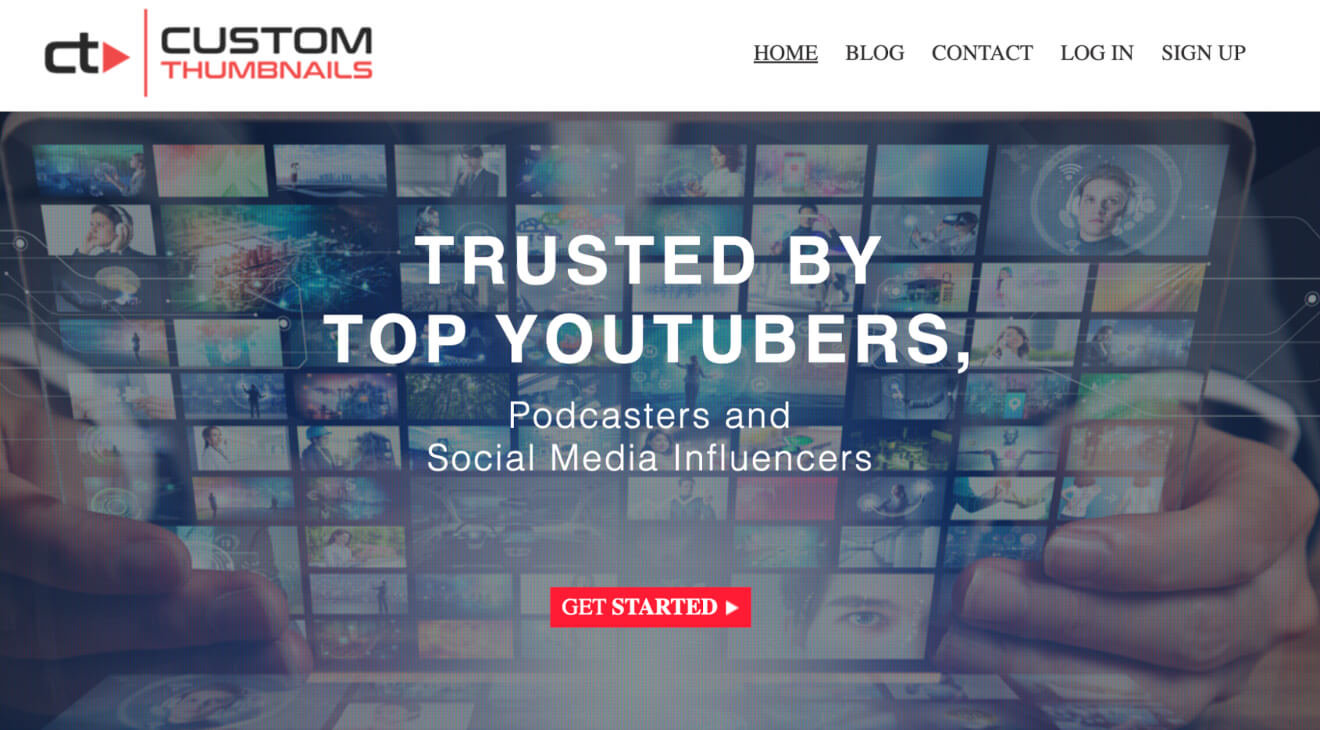 Rather than taking on the design for your thumbnails and banners yourself, Custom Thumbnails uses in-house designers to create your imagery. 
Not only do you get personalized designs, you also get graphics that are optimized with proven techniques.
Custom Thumbnails features
Users of Custom Thumbnails get:
Thumbnails and banners designed for them – no need to use templates or create anything yourself.
A personal service with fast turnaround times.
Options for thumbnails and banners for other social media and sales platforms.
Custom Thumbnails pricing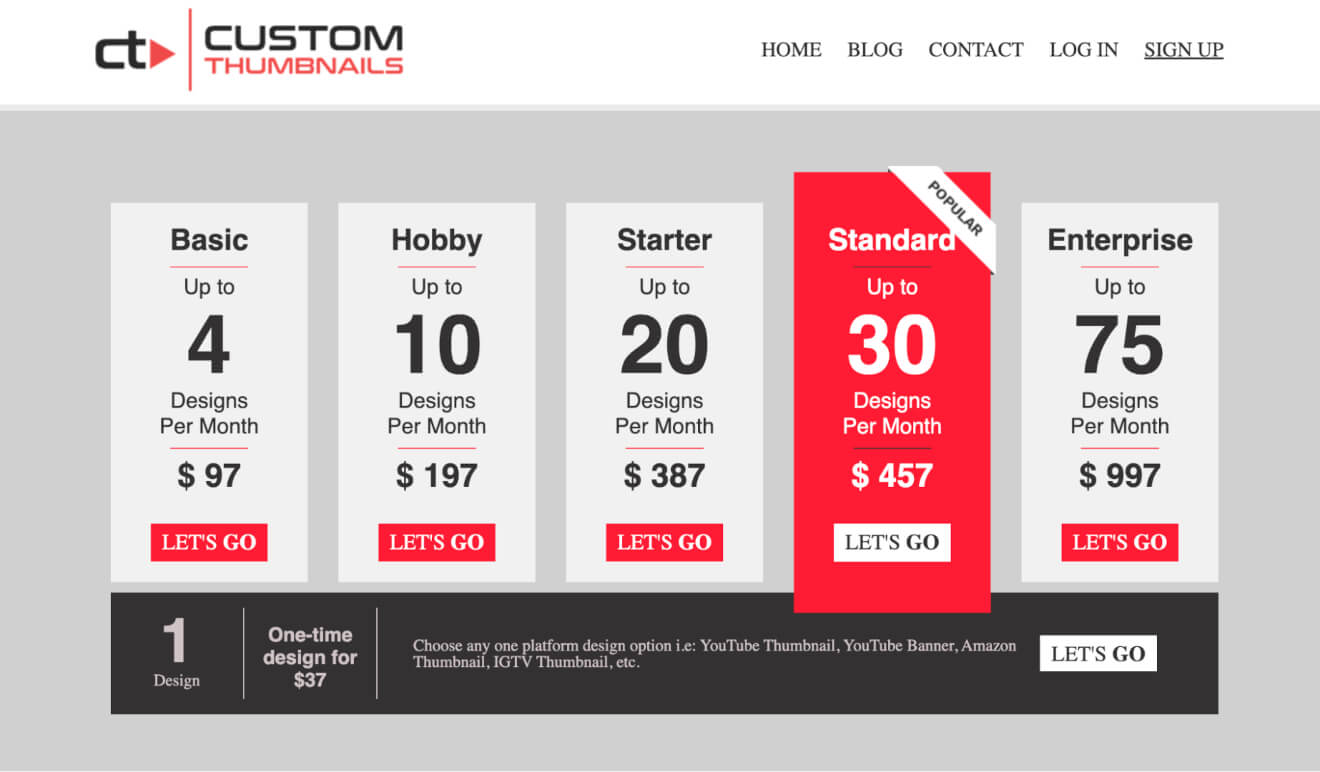 At Custom Thumbnails, the price you pay will depend on how many designs you want to get each month.
You can also purchase a one-off design if you want.
Tool #13: Canva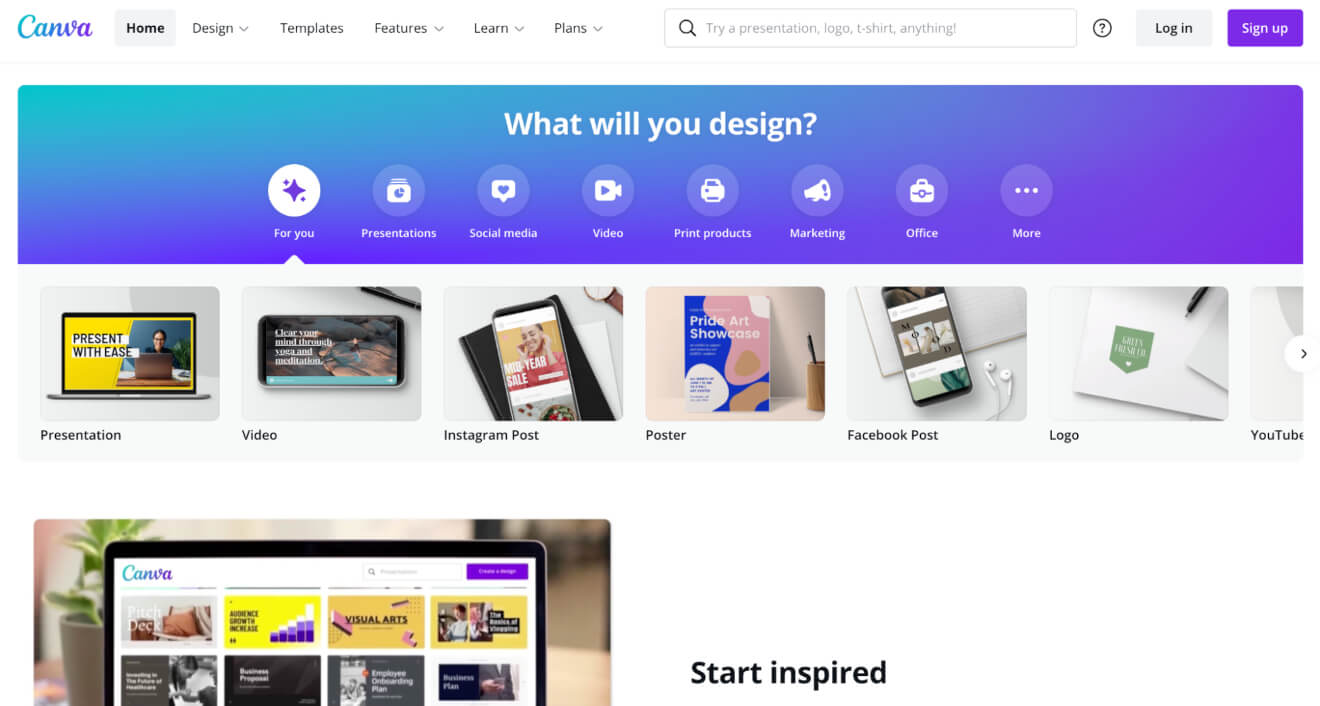 Canva is probably one of the most well-known browser-based design tools on the internet.
Here, you can create graphics for a range of purposes – including social media or YouTube thumbnails.
Canva features
You can do a lot on Canva, but in terms of boosting your YouTube content, you can:
Choose from hundreds of fully-customizable thumbnails and banner templates.
Store your brand colors and other assets, and save templates.
Invite team members to your workspace so you can collaborate on your designs.
Access millions of stock images to boost your designs.
Canva pricing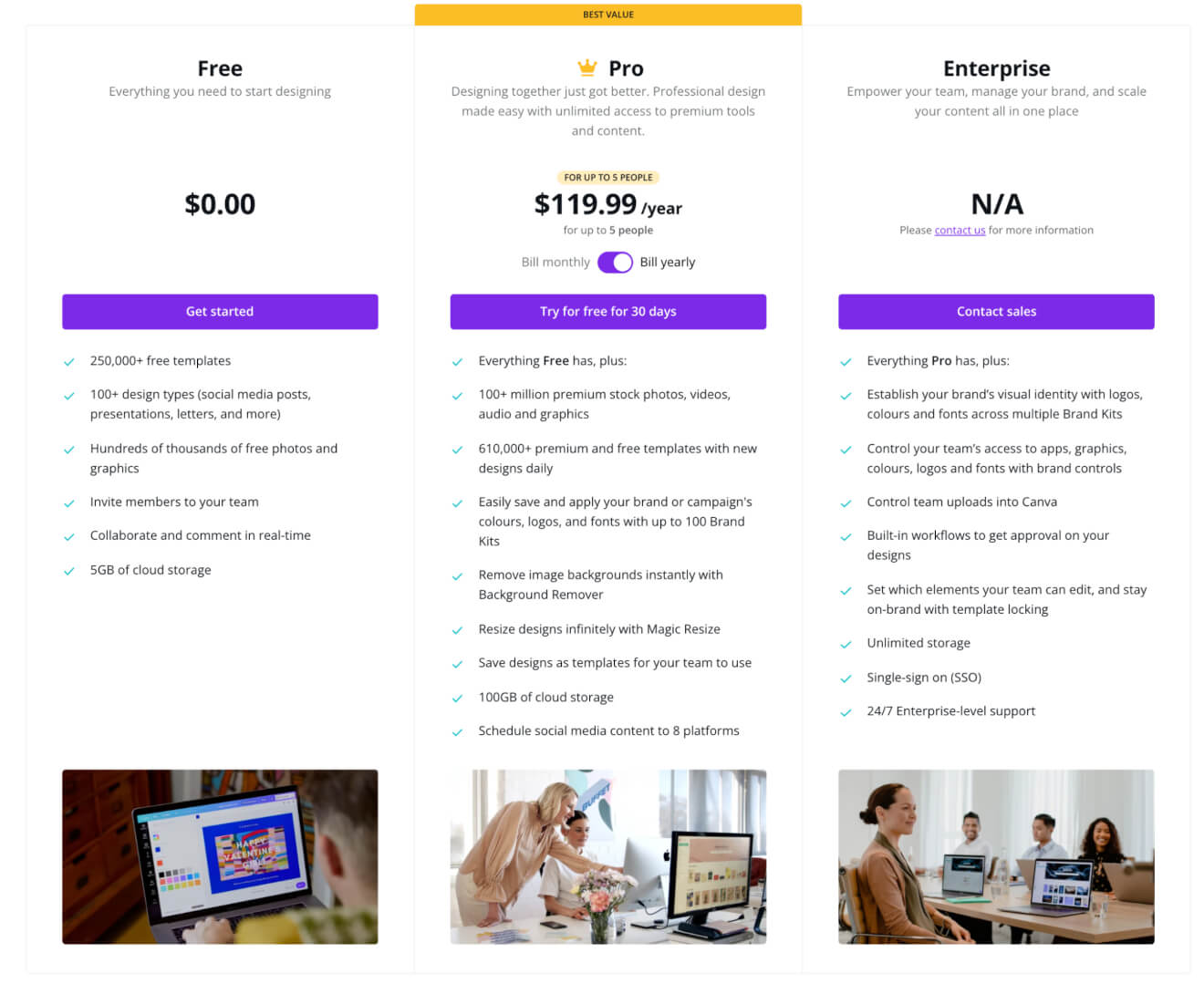 There are a range of free features available with Canva including access to templates and 5GB of storage.
When you opt for a paid plan, you can use stock images, save your branding, get unlimited storage, and more.
Tool #14: Visme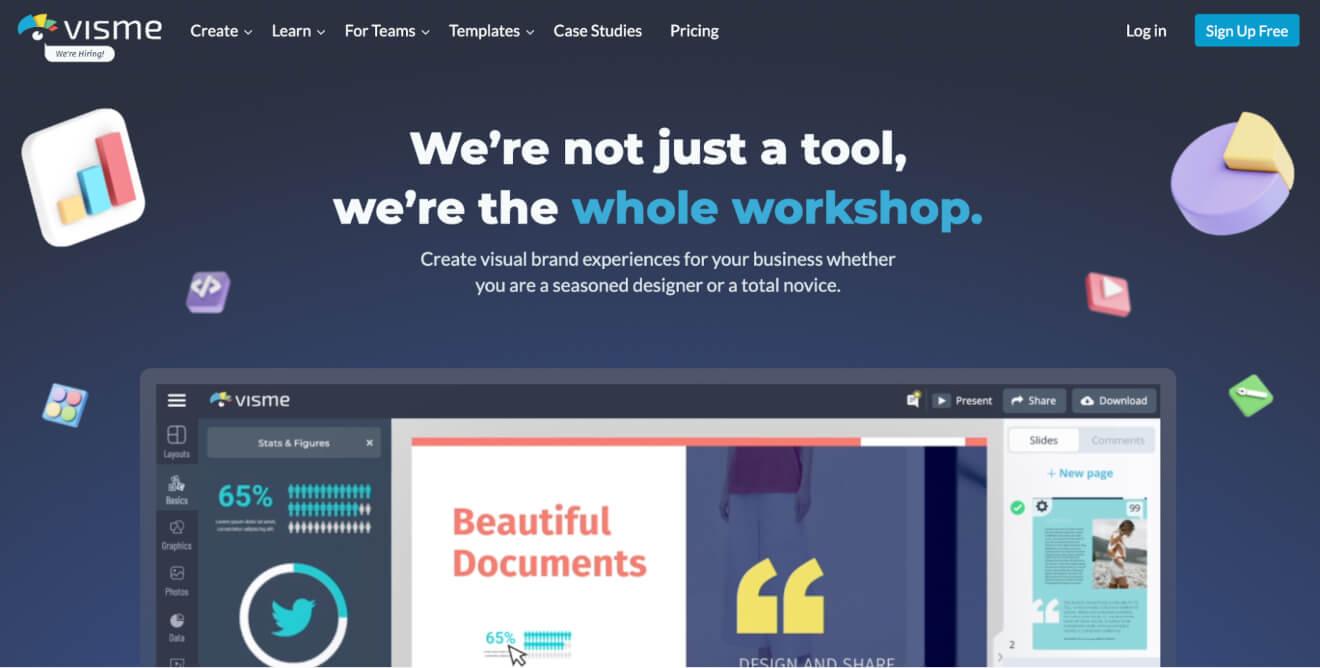 Visme is a SaaS design tool that helps you create professional graphics – including YouTube thumbnails and channel art.
The templates the platform offers help you unify the look of your channel with great design.
Visme features
Signing up to Visme lets you:
Access a range of both free and paid templates to get started with your thumbnail and banner image creation.
Fully customize all the elements in a template including images, fonts, and layout.
Invite collaborators to review and edit your images.
Store your own brand colors and templates so you can ensure your brand identity is preserved.
Visme pricing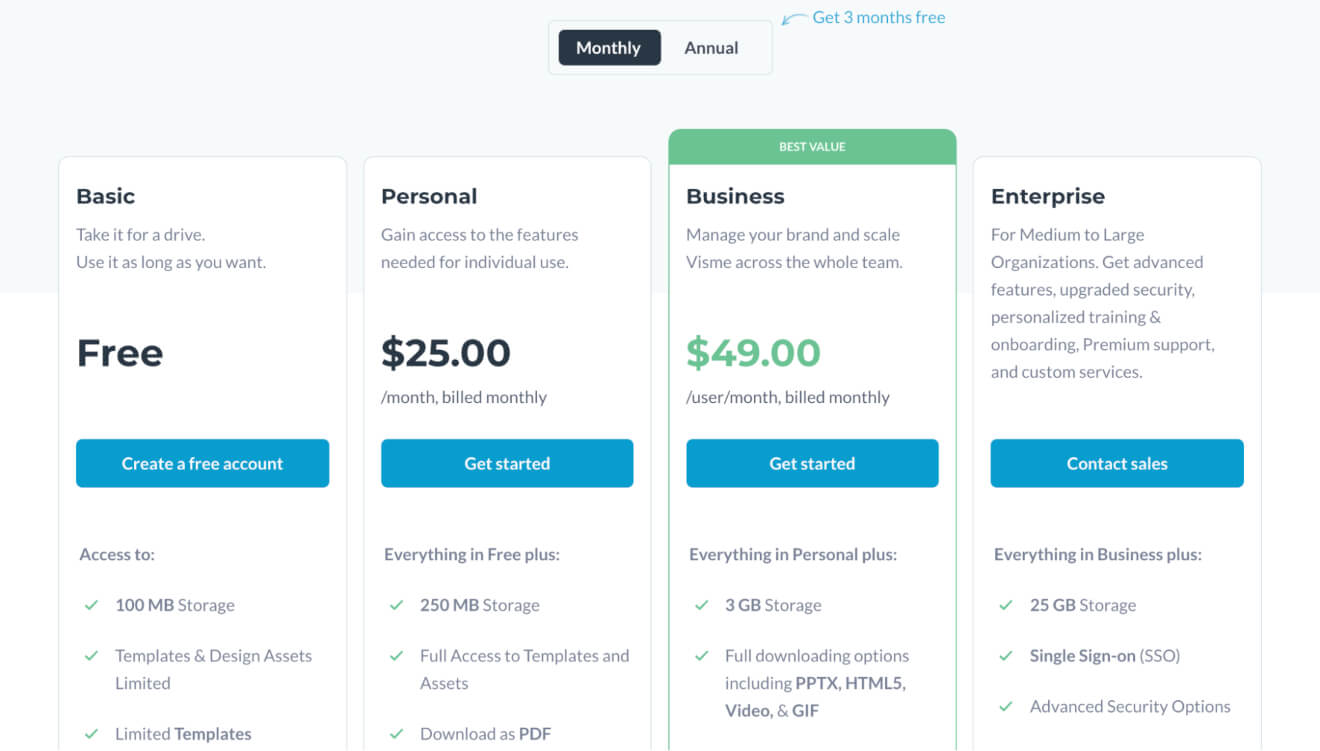 You can use the basic features of Visme for free and get up to 100MB of storage.
Paying for one of the subscription packages increases your storage, lets you access premium templates, gives you more download options, and lets you store your branding.
After getting your YouTube branding into high-gear, you're ready to start increasing your revenue.
6. YouTube Monetization Tools
Some people post video content on YouTube for fun – but content creators around the world are doing it to make money.
You can monetize your channel with on-site options like getting a cut of YouTube ad revenue or starting channel memberships.
But ad revenue isn't always reliable, so if you want to expand your existing income streams, it's time to explore how else you can make bank from your video content with monetization tools.
Tool #15: Uscreen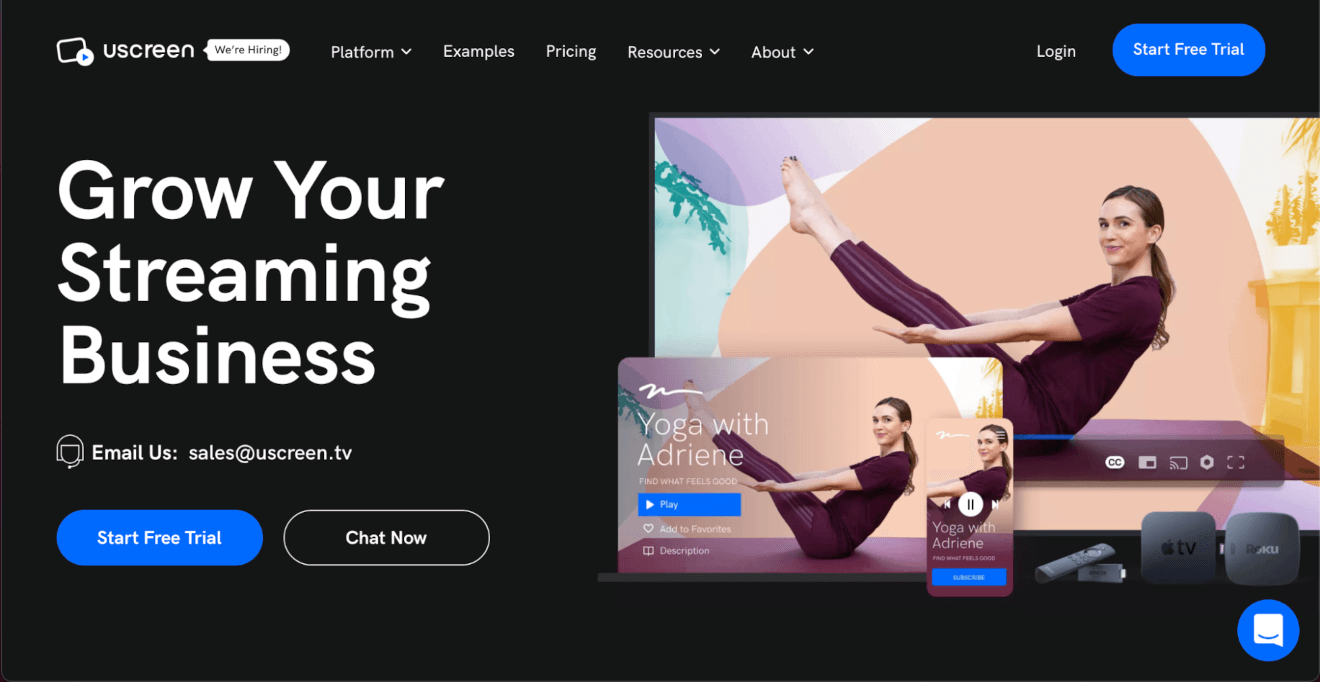 This is us – Uscreen – and we're an all-in-one video monetization platform that can help you convert your YouTube audience into a solid income stream.
Think of YouTube as your wider audience at the top of your sales funnel; with your valuable and engaging content, you want to encourage your most loyal fans to sign up to your Uscreen membership site or buy access to one or a bundle of your videos.
We have all the tools you need to communicate with your fans and present videos they'll be happy to pay for.
Uscreen features
Using Uscreen as your video monetization platform means you can:
Create your own video membership site with our drag-and-drop website builder, and build an app for iOS, Android, and smart TVs.
Sell your videos as subscriptions, bundles, or rentals and take payment with Stripe, PayPal, Authorize.net, or our own payment gateway.
Use a bunch of marketing tools like discounts, gift cards, upsells, "try it again for free", and abandoned cart sequences – and manage your affiliate marketing program.
Integrate all your business tools such as Mailchimp, ConvertKit, Google Analytics, and more.
Uscreen pricing
Uscreen's all-in-one platform has helped more than 11,000 creators, brands, and entrepreneurs monetize their content online and build a successful video business.
Learn more about our pricing plans.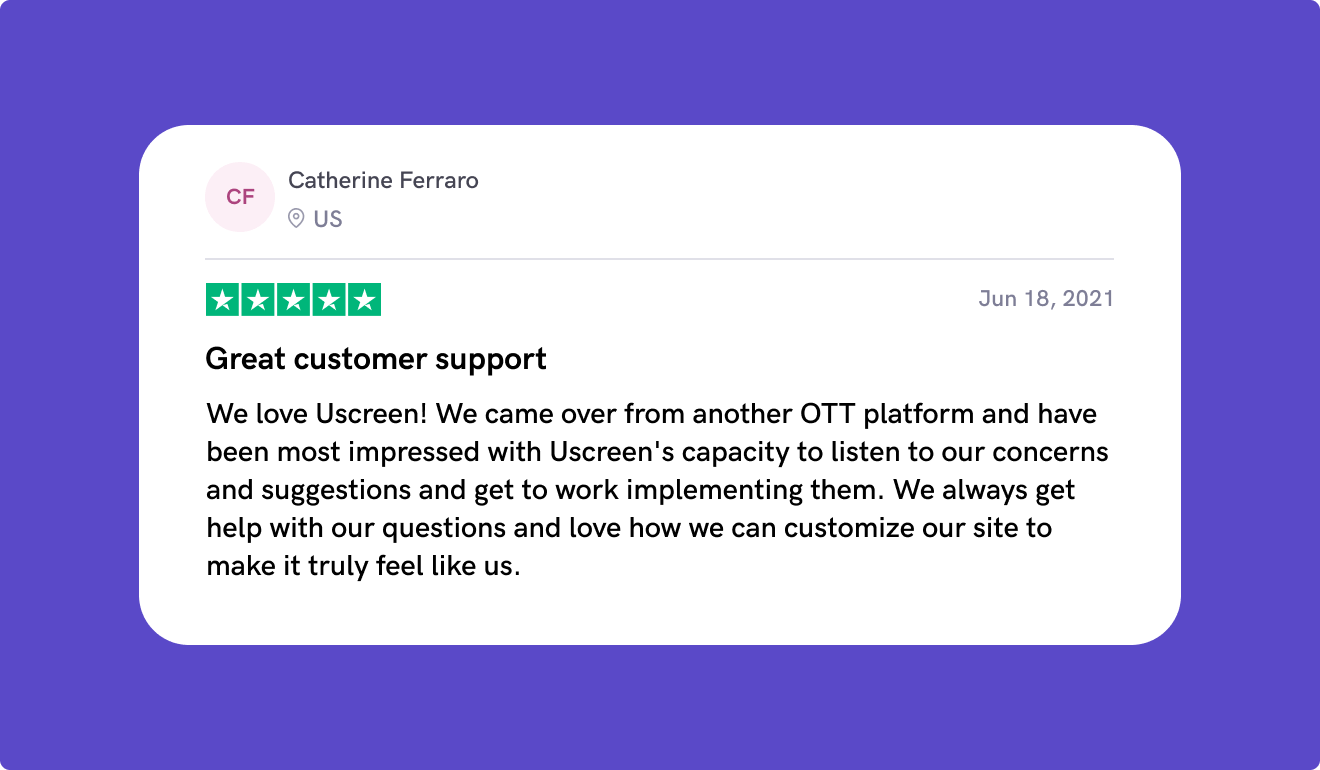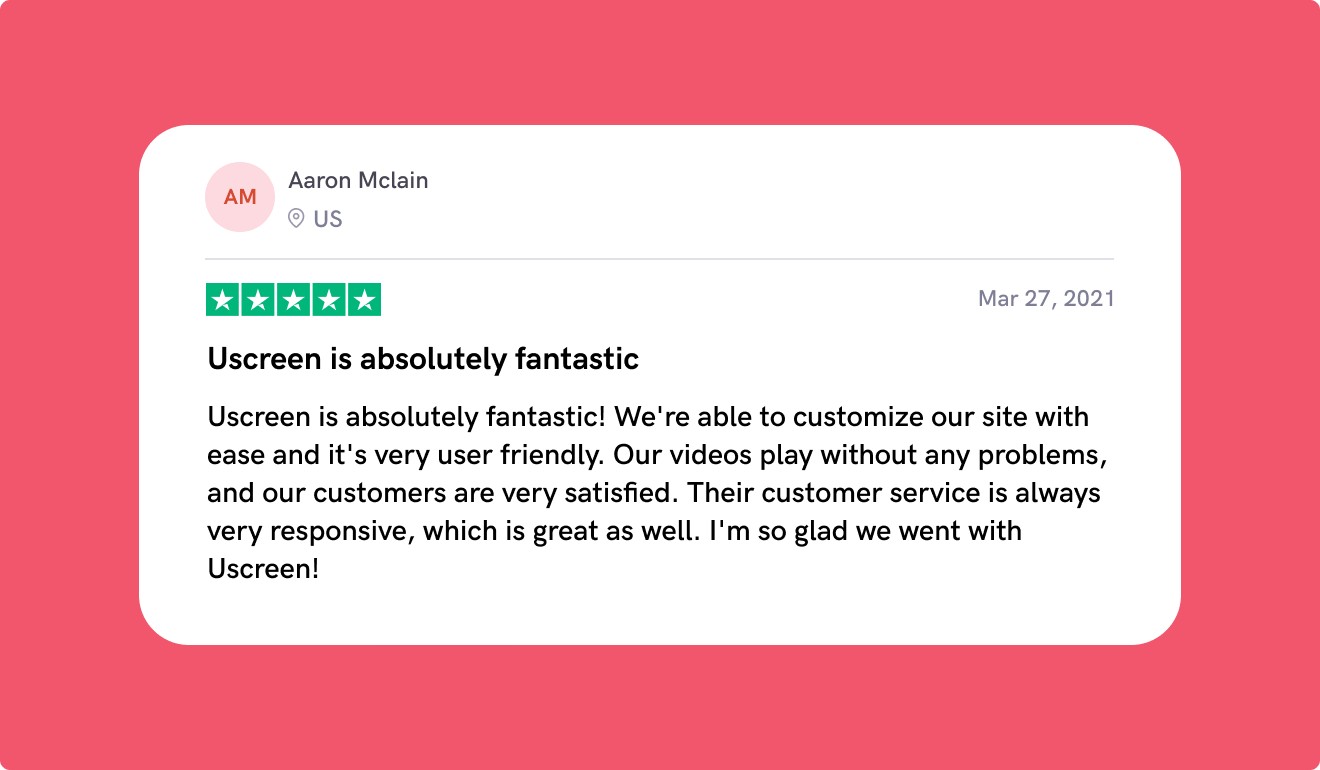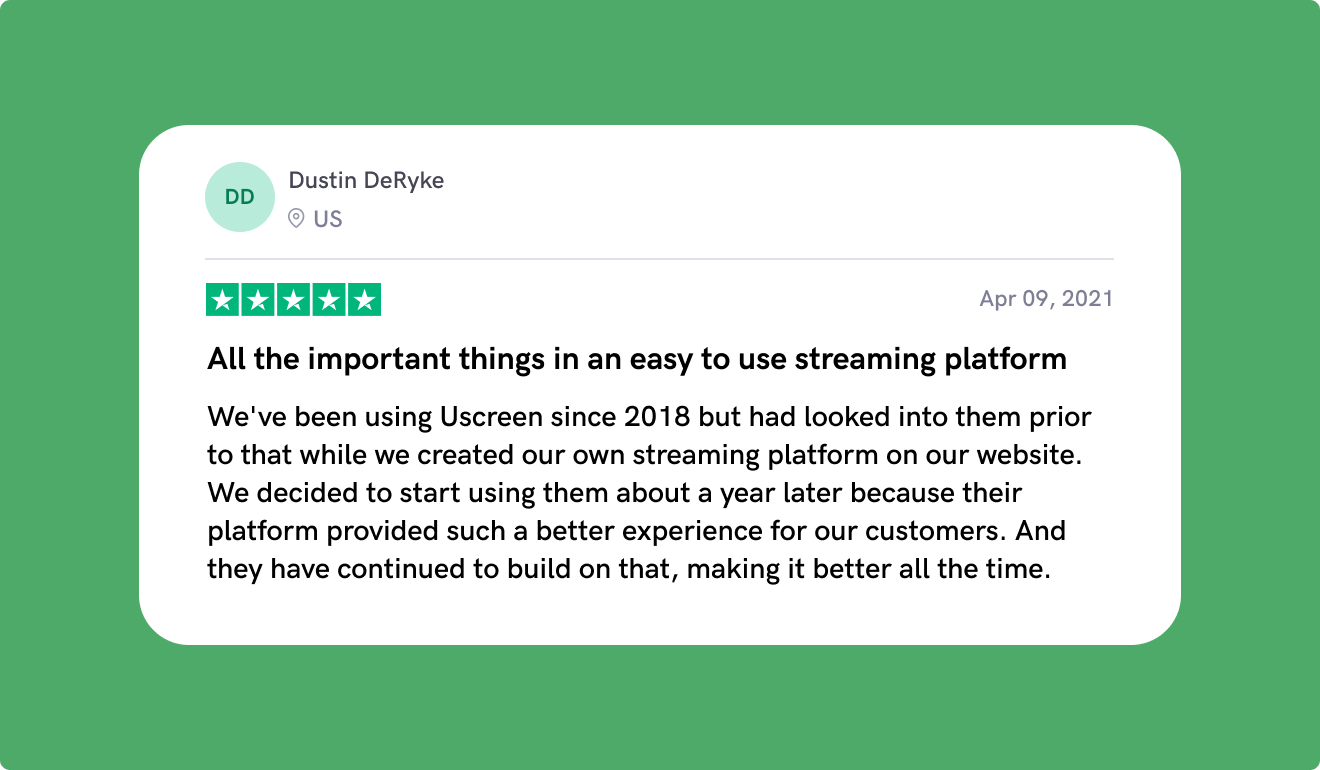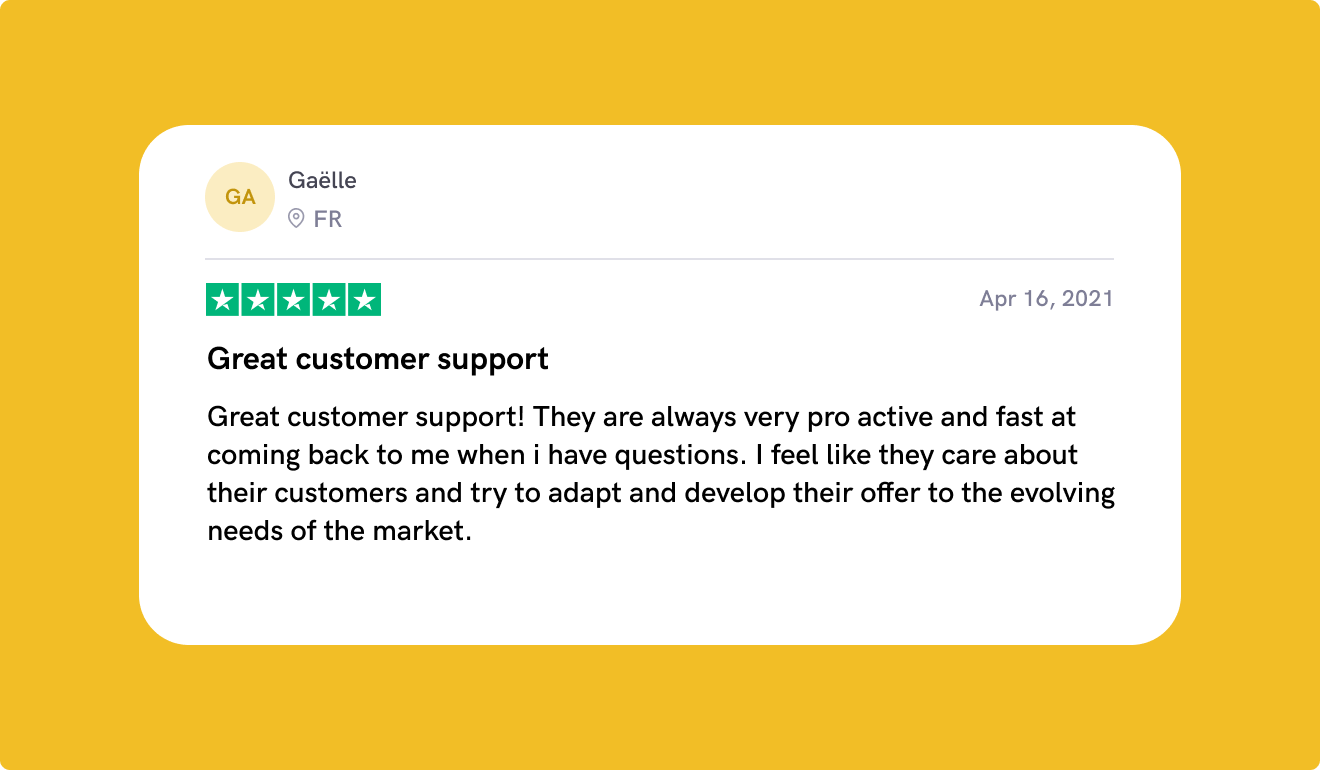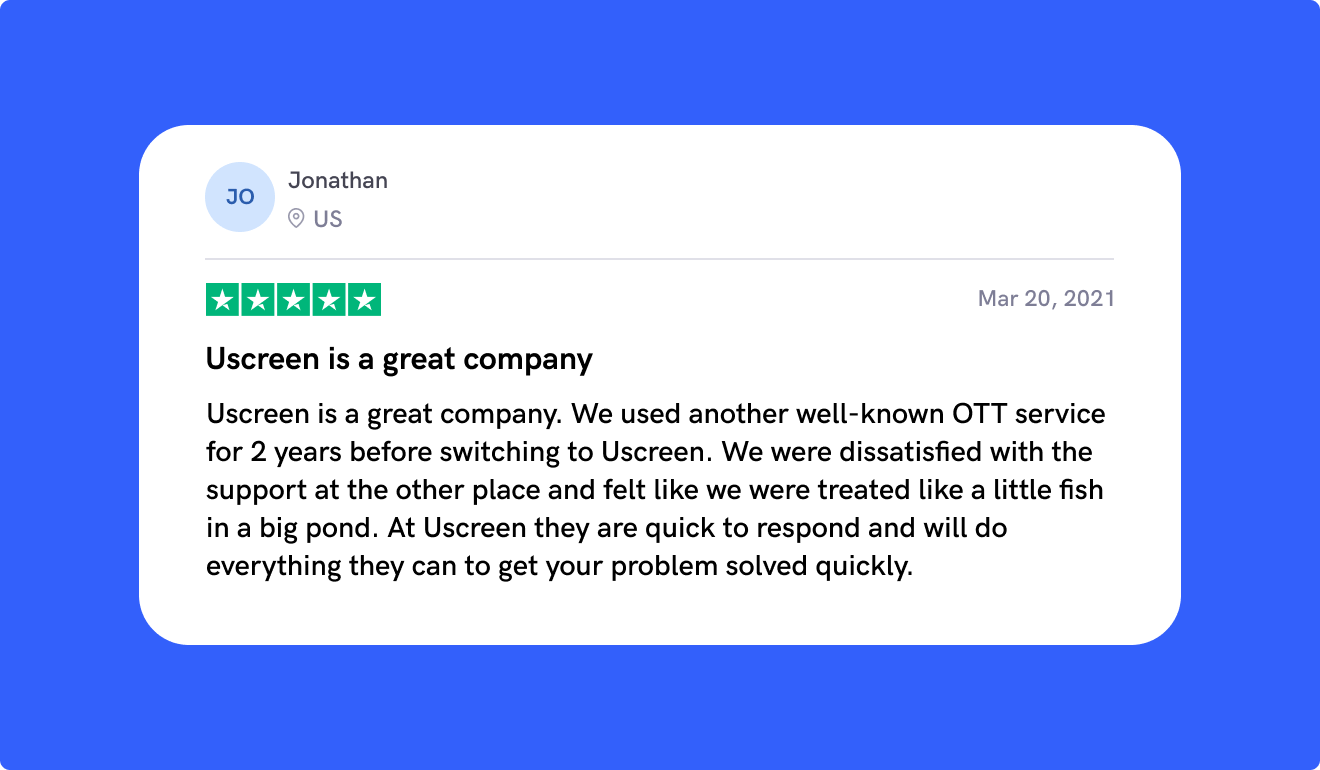 Source: TrustPilot
It's simple with Uscreen.
Build, launch and manage your membership, all in one place.
Tool #16: Shopify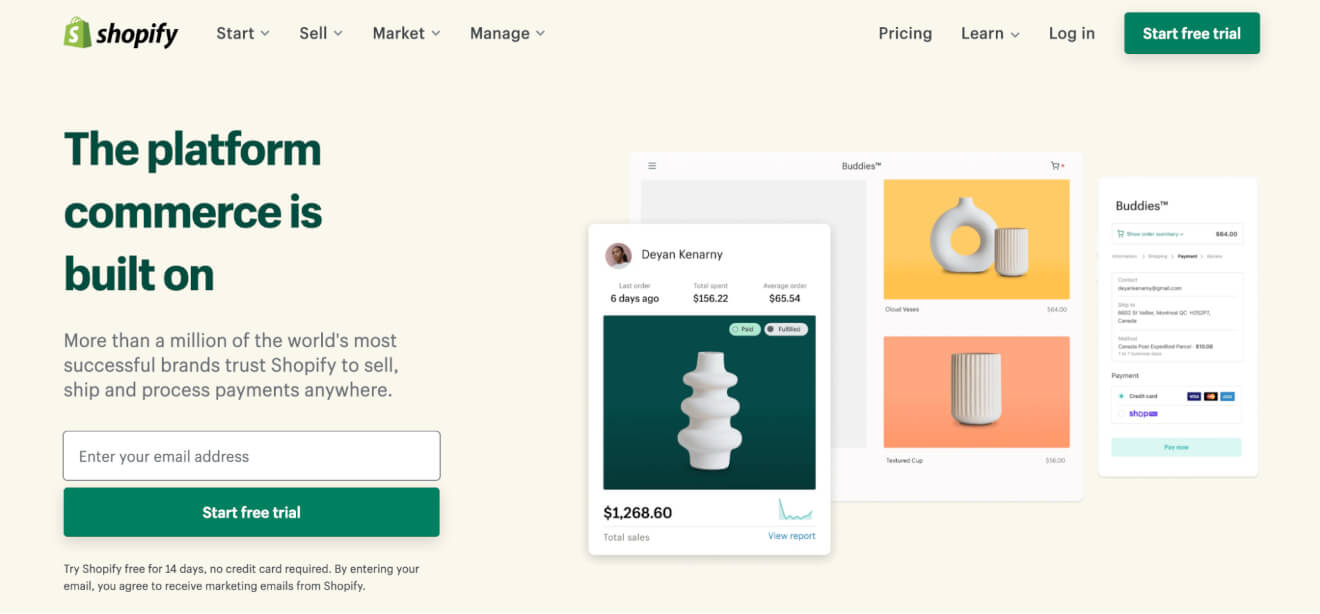 Want to start selling products to your YouTube audience?
Shopify is an eCommerce platform that lets you build a website to enable sales of your merchandise to your supporters.
Shopify features
Using Shopify lets you:
Build a website with a drag-and-drop tool where you can sell your products to fans.
Take payment through a multitude of payment providers globally.
Ship your items at discounted rates with some of the most well-known logistics companies.
Use email templates to engage with your audience and drive more sales.
Shopify pricing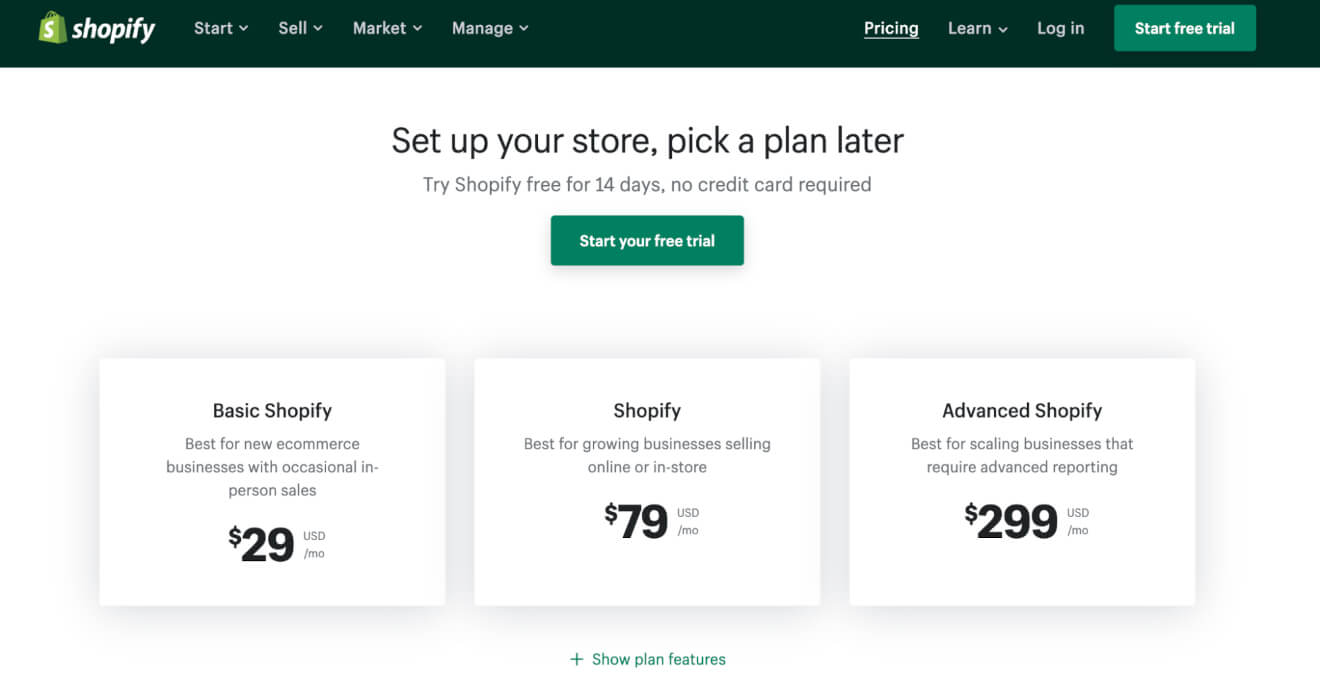 Your options range across 3 pricing tiers for Shopify, with the big differences being in how many people can admin your site, how many physical locations you can manage, your reporting tools, and other extras.
Want to boost your digital marketing skills and bring more people to your YouTube channel?
Here are some helpful tools that'll do just that.
7. YouTube Marketing Tools
To really kickstart your YouTube channel, you need to let people know it exists and tell your potential audience what you can do for them.
Managing the platforms that you can market on, like Facebook, Instagram, and TikTok – can be a full-time job.
There are tools out there that can make your YouTube marketing efforts easier to manage, which is what we're looking at now.
Tool #17: CoSchedule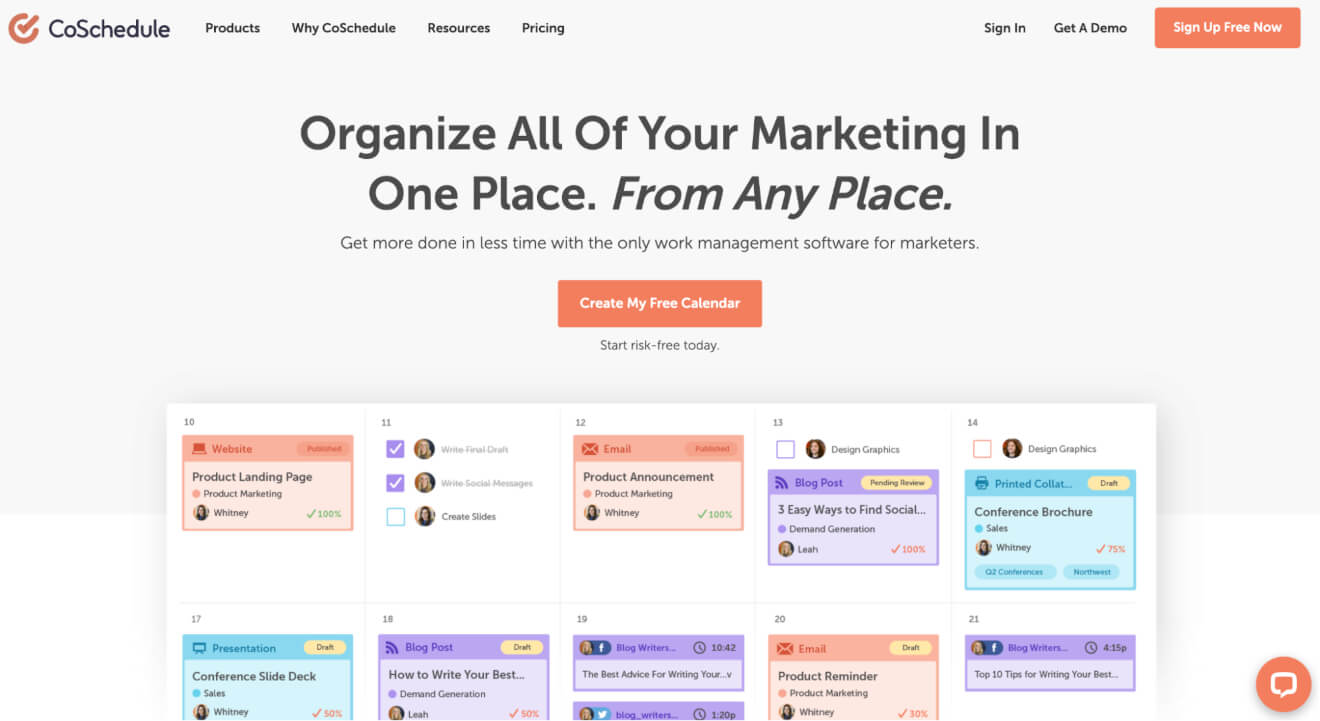 CoSchedule is a tool that helps you organize your marketing efforts all in one place.
It offers 2 main functions – a Marketing Calendar to help you stay on top of promoting your YouTube channel and a Marketing Suite to control and monitor your teams' workflows.
CoSchedule features
Having CoSchedule in your tool stack means you can:
Create a drag-and-drop calendar of your marketing efforts so you can get things done on time and prioritize your work.
Share your calendar with colleagues and clients to outline the work you've done to market your channel.
Manage your marketing team's time to get the most out of your work.
Brief and outline your requirements in the same place your team will go to find their work.
CoSchedule pricing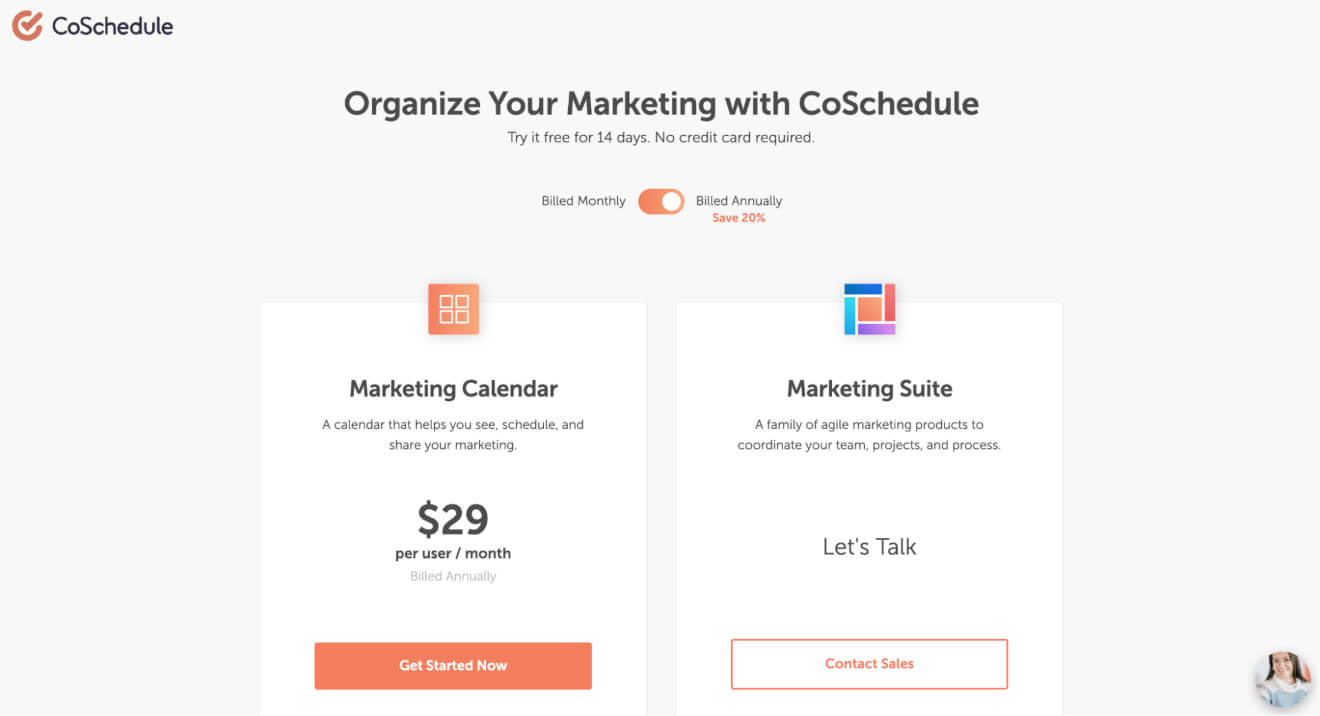 Rather than a tiered approach to pricing, you pay per person on your team using the Marketing Calendar.
To use the Marketing Suite, you'll need to contact CoSchedule directly.
Tool #18: Quicc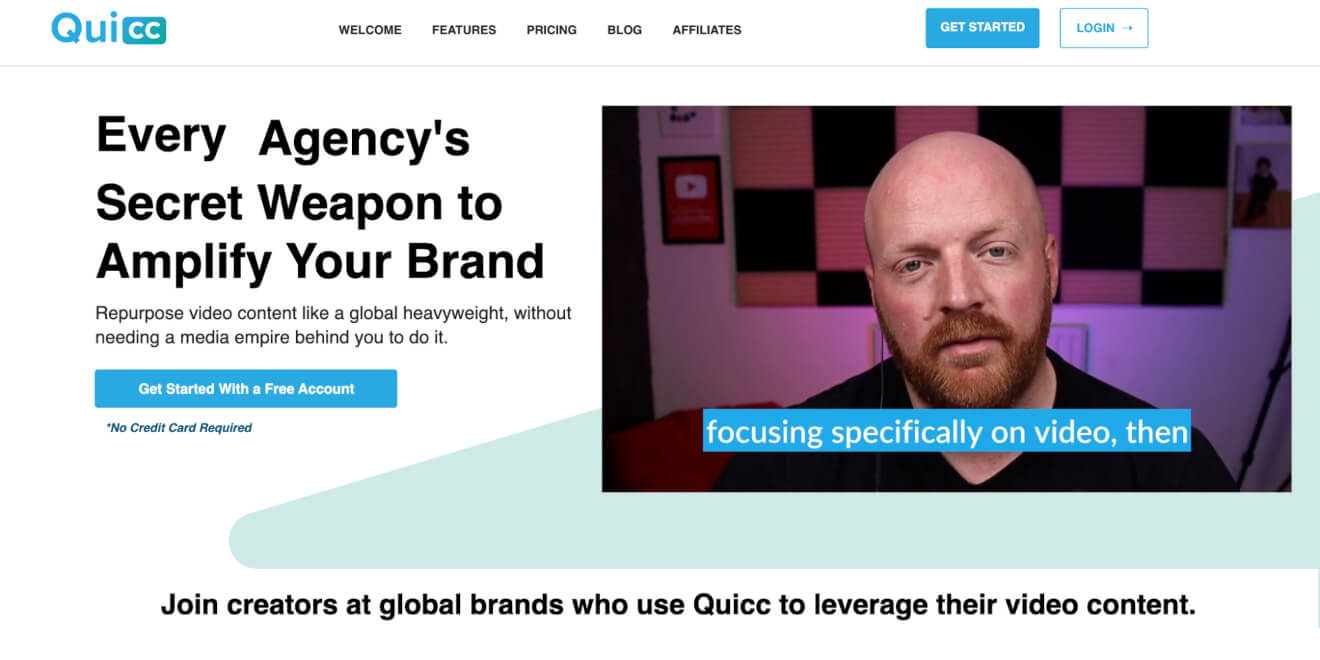 You probably already know that you should be repurposing content for different platforms, like shortening your videos for TikTok or using them to create podcast episodes.
Quicc helps you with content repurposing so you can use one video to make multiple posts for your website, social media, and email campaigns.
Quicc features
With Quicc, you're able to:
Quickly search and filter through your video content using its transcription of your content.
Clip the video in your library to use a short excerpt.
Add branded captions to your content, with fonts and colors chosen by you.
Quicc pricing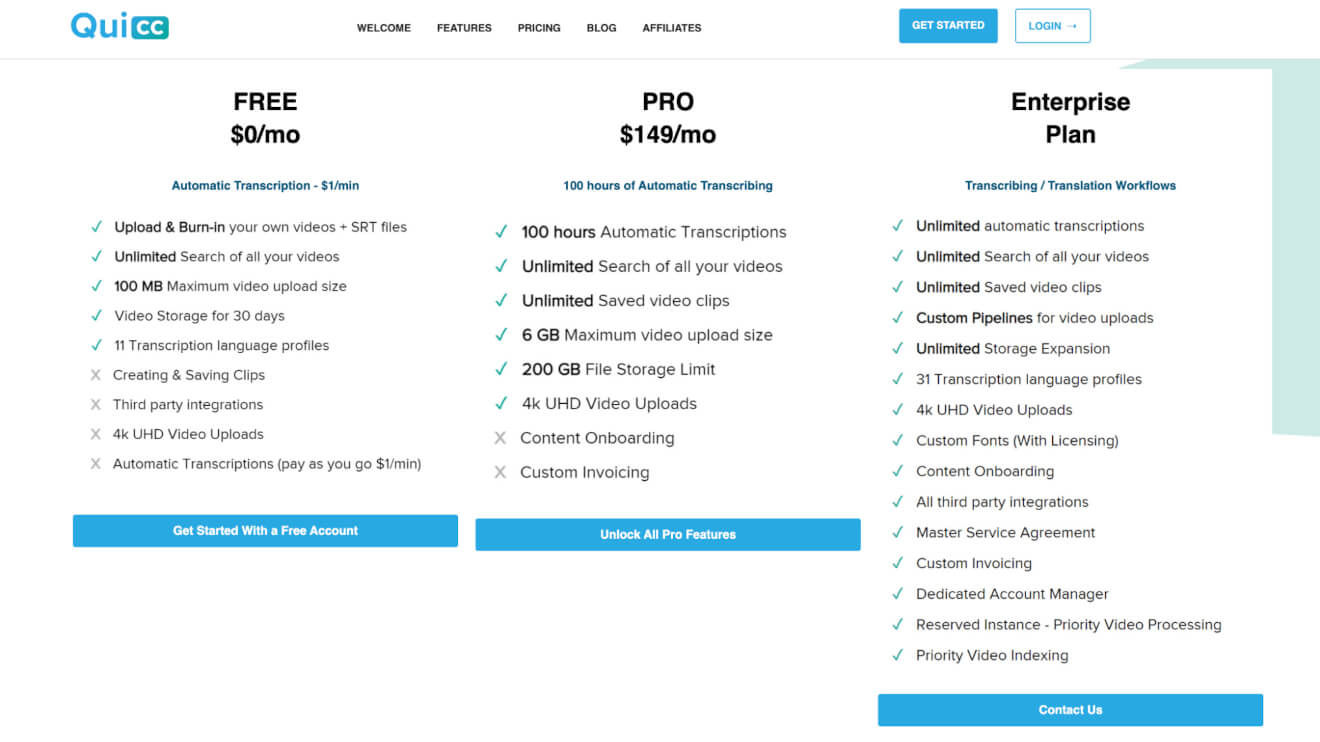 You can use the basic features of Quicc for free and just pay for transcription time, with a maximum video upload of 100MB and the option to add subtitles to your content.
Paying a subscription increases your maximum upload size, gives you storage space, and up to 100 hours of transcription, while the highest price tier also has workflows and an account manager included.
To give your YouTube content a fresh look and sound, you can use royalty-free content, and we're looking at tools that can help you there, next.
8. Royalty-free Content for YouTube
Sometimes, you need to add a little extra zing to your real-life or animated videos and you're not able to make the content yourself.
This is where stock content like…
…can help elevate your production.
By signing up to the services we're going to look at, you can add a broader range of sights and sounds that'll be more engaging and improve the quality of your content.
Tool #19: Epidemic Sound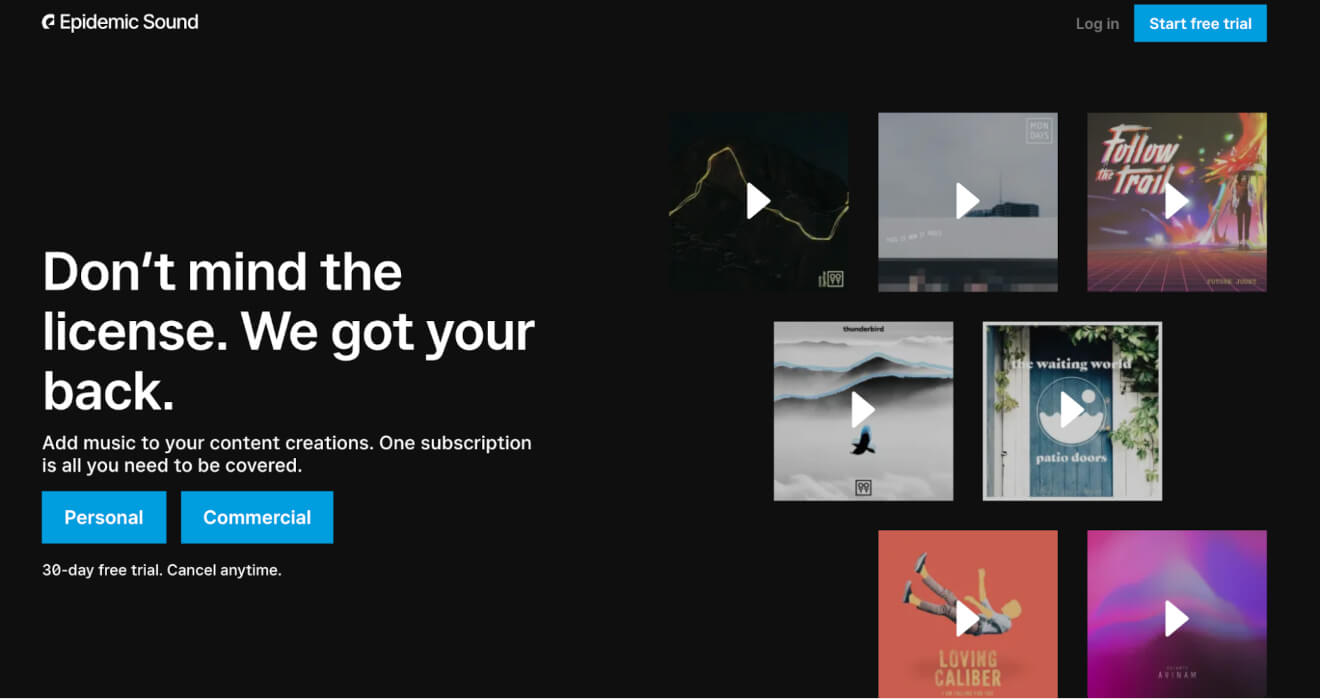 Epidemic Sound is a catalog of over 35,000 tracks and over 90,000 sound effects that you can access and use on any of your YouTube videos.
The genres you can access range from dance to hip hop and pop – so there should be a sound for each one of your videos.
Epidemic Sound features
Signing up to Epidemic Sound gets you:
Access to the full catalog of music and sounds with a license to use it across YouTube, Instagram, Twitch, and more.
Permission to use content in your other digital marketing efforts so you can promote your YouTube content with the same music.
Epidemic Sound pricing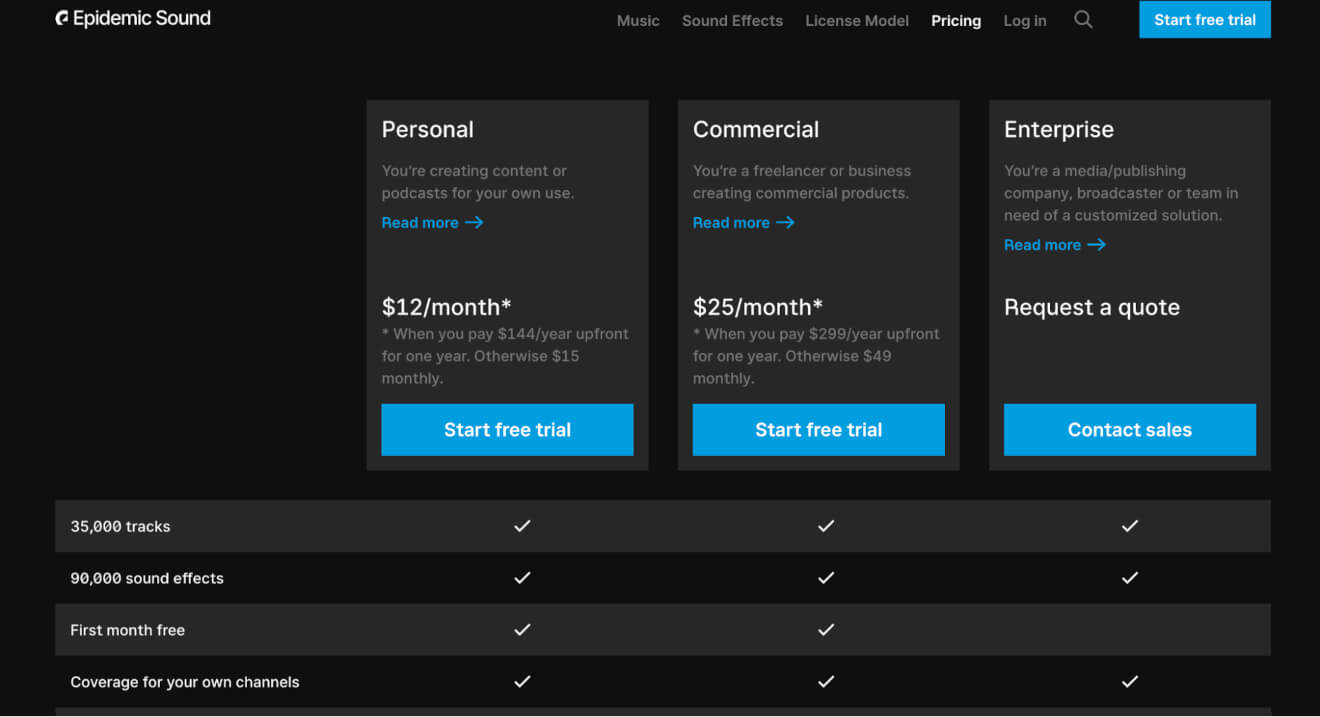 Where you want to use the music provided by Epidemic Sound will help you decide which subscription tier to purchase.
The more you pay, the more places you can use the music, and at the Enterprise tier, you even get an account manager.
Tool #20: Storyblocks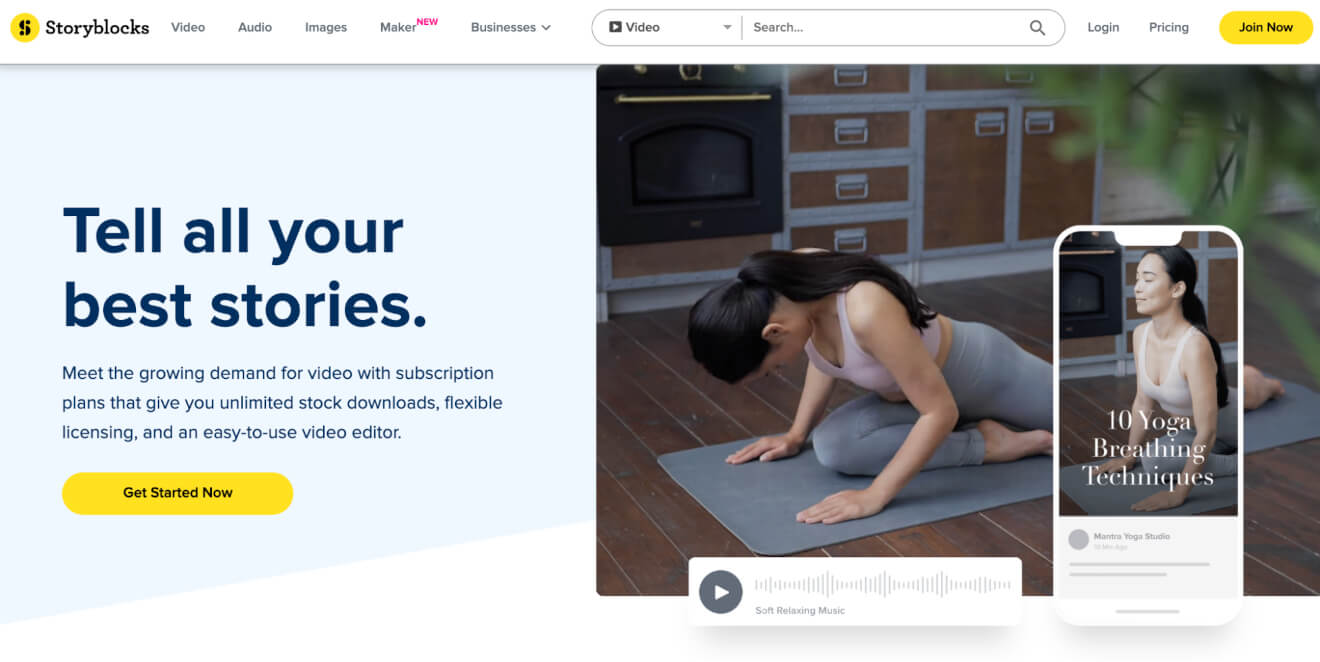 Storyblocks lets you download images, videos, and music to use in your YouTube – and other – content.
There's also a video editor and video templates that you can take advantage of when you sign up to use the tool.
Storyblocks features
Storyblocks users can:
Get unlimited downloads of the content they need with flexible licensing arrangements.
Access a diverse and growing catalog so they can find the stock content to match their needs.
Use the built-in video editor to quickly incorporate the content they want to use.
Storyblocks pricing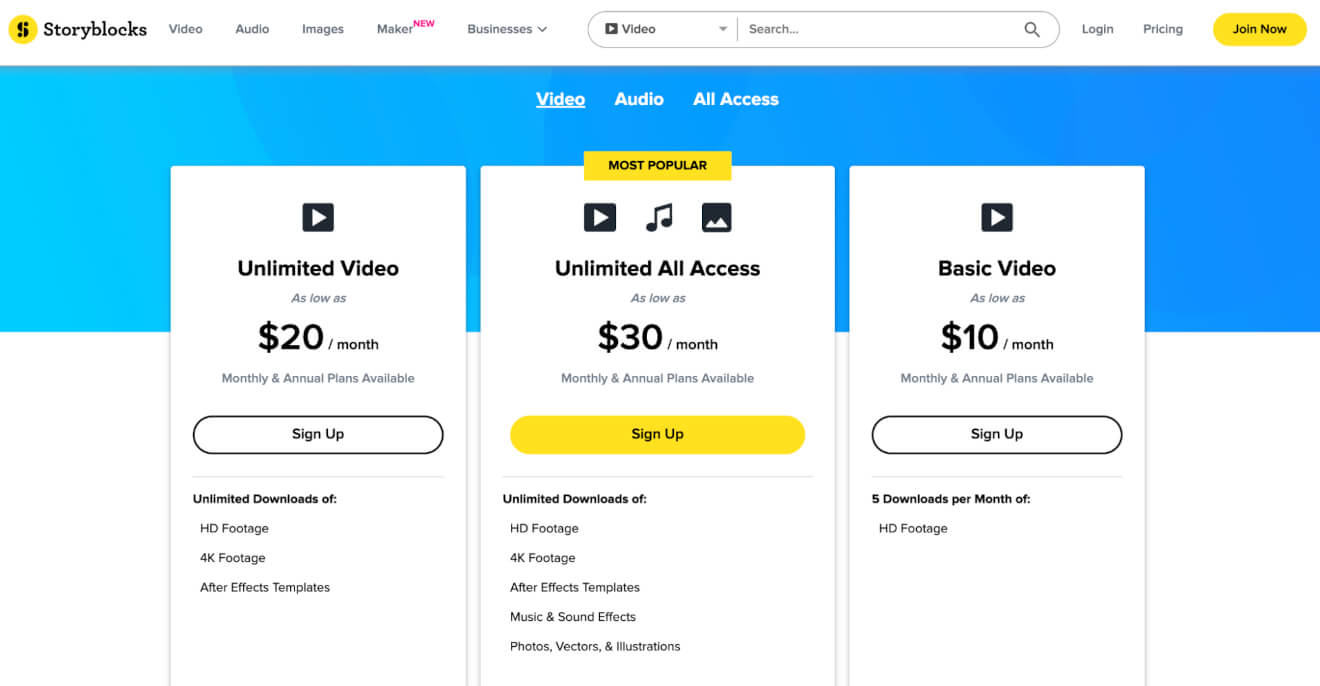 The different pricing levels for Storyblocks reflect the type of content you can access and how much of it.
You can choose video or audio plans, or choose the Unlimited All Access package that gets you video, music, and images access – all at the highest quality available.
Tool #21: Envato Elements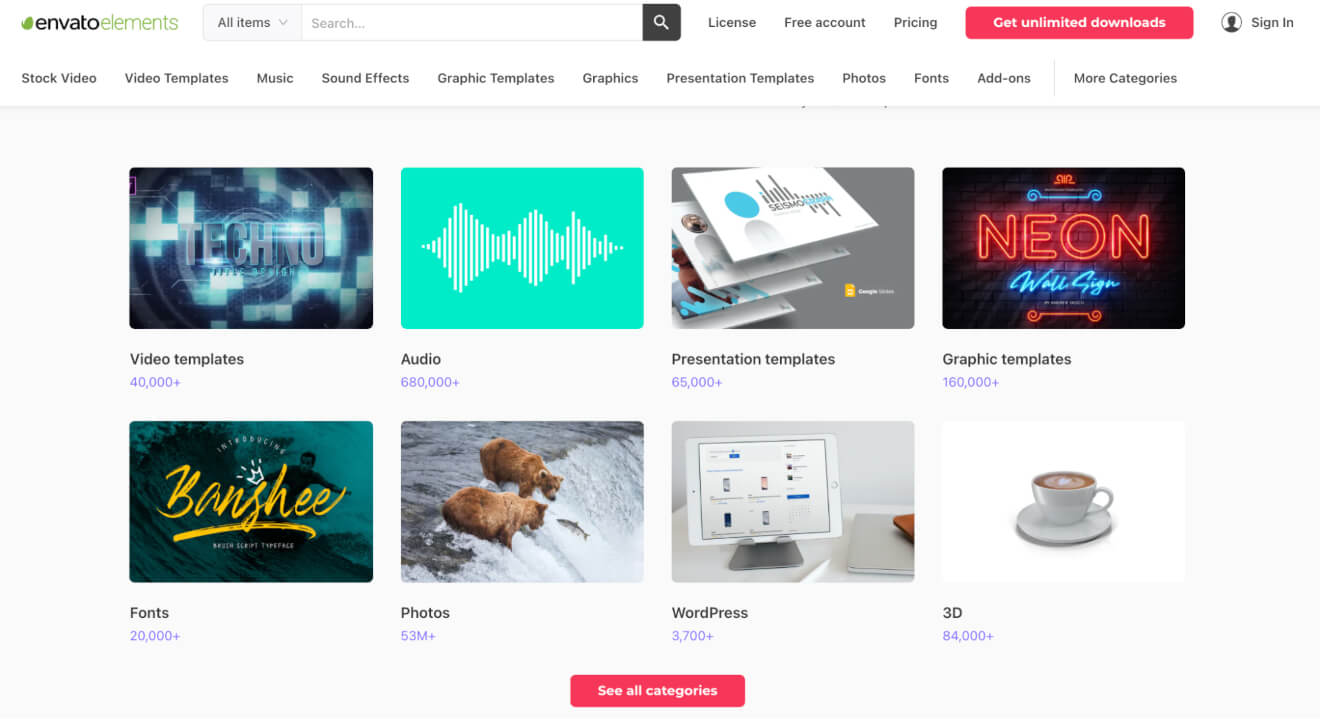 Envato Elements hosts over 56 million stock images and videos, plus video and graphic templates for you to power up your video content.
Envato Elements features
With Envato Elements you can:
Download stock content to be added straight into your next video.
Use templates for videos, graphics, or slides so you can harmonize the look of your channel.
Envato Elements pricing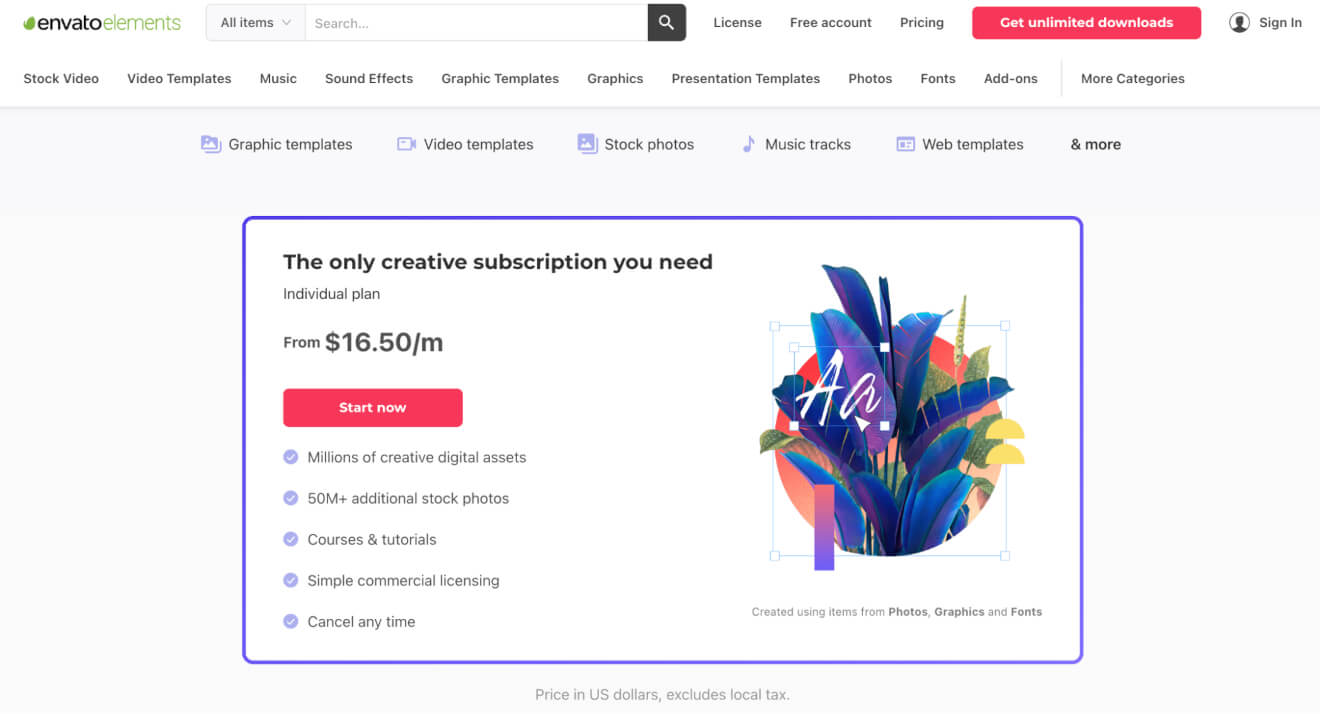 Everyone gets access to the same content library no matter the subscription you take with Envato Elements.
You can pay extra to give access to more people on your creative team and there's an Enterprise package that gives you custom licensing.
Tool #22: HookSounds

HookSounds gives you access to a highly curated catalog of royalty-free music from a range of selected artists.
You can sort through sounds and filter them by genre – knowing you won't get a copyright claim on your YouTube video.
HookSounds features
With HookSounds, creators are able to:
Use music, sound effects, and intro and outro music for their YouTube channel, along with lots of other content too.
Download content to your computer and add it to your video.
Make custom requests for music for your videos.
HookSounds pricing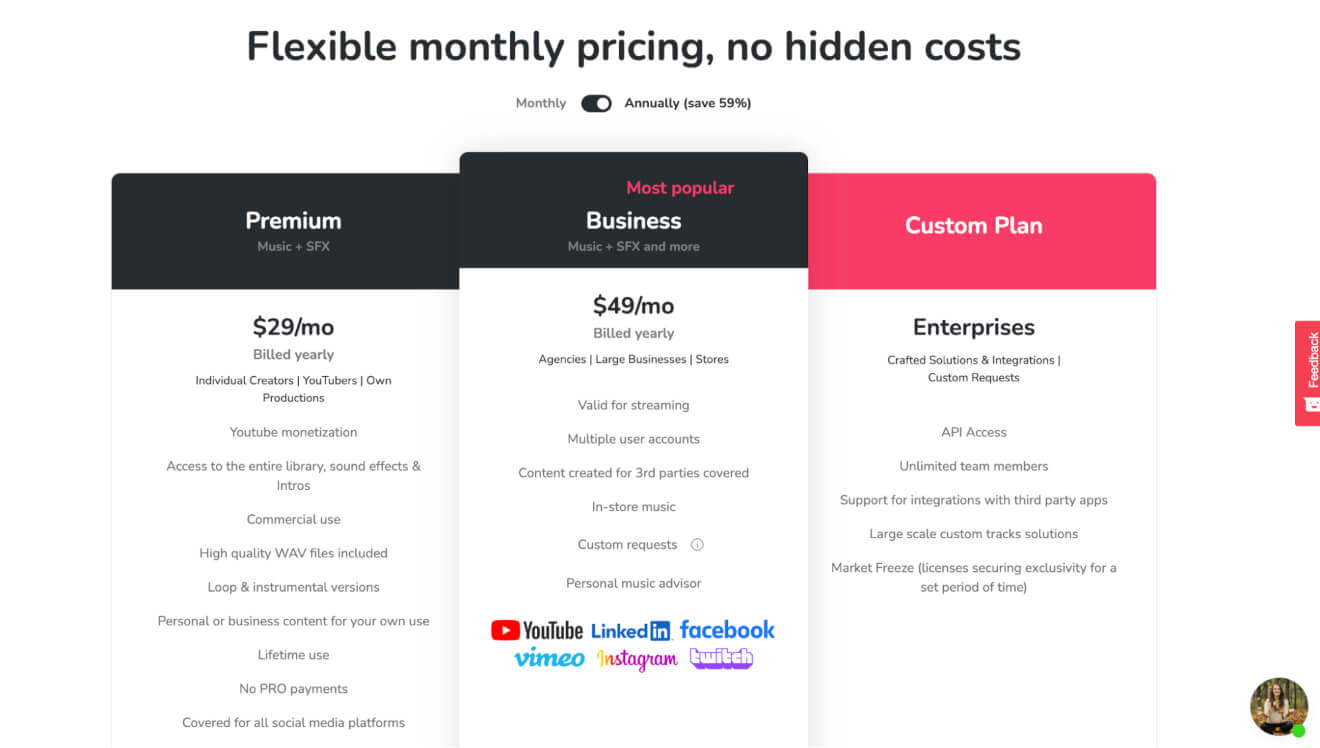 As the price increases, you get more options for where you can use the music you download from Envato Elements.
It's worth noting that you can't use the free version of the tool for videos that you monetize on YouTube; you need to subscribe to get the license.
Going live is a great way to make a connection and build trust with your audience, so the YouTube tools you need for that are up next.
9. Live Stream Tools for YouTube
Running a YouTube live stream from your computer is pretty easy, and there are a few simple requirements if you want to go live from your phone.
Live streams can be great for real-time content like:
Webinars.
Q&As.
Live shopping events.
Esports and gaming.
They get great engagement and YouTube has monetization tools specifically for lives like Super Chat and Super Stickers.
To give your viewers and subscribers the best live content possible, you should look into one of these tools.
Tool #23: Restream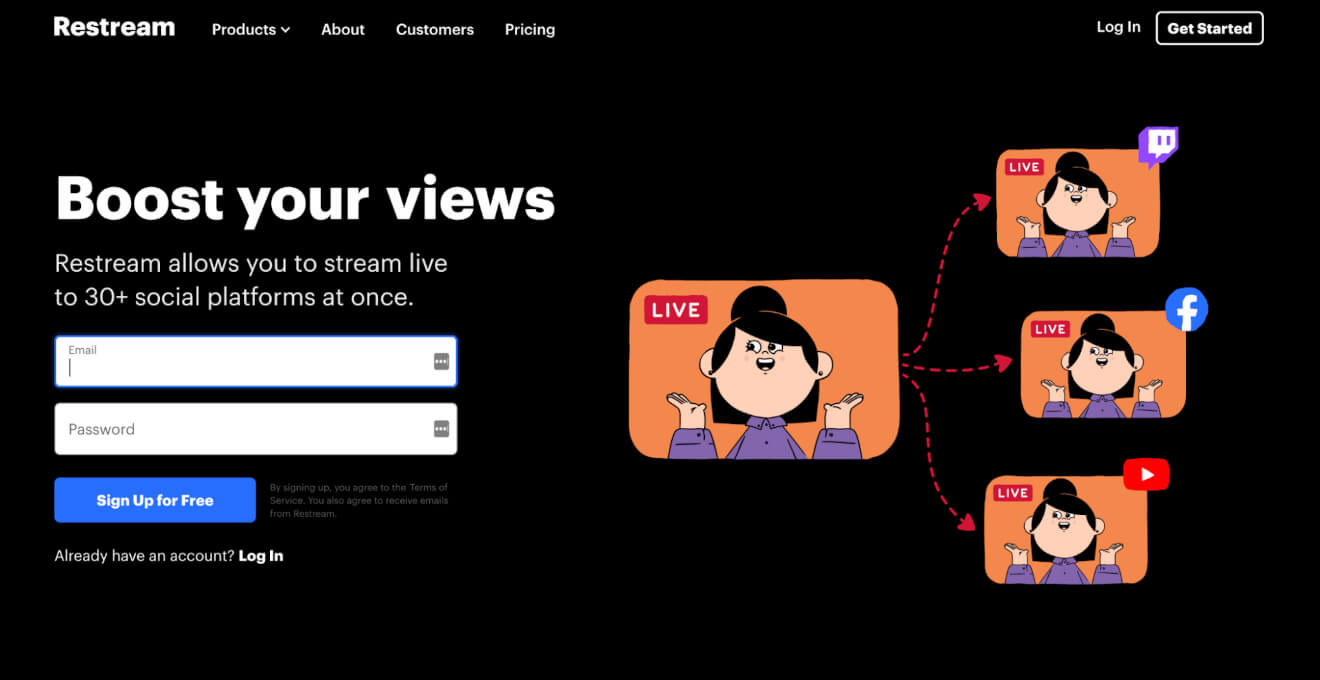 Restream is a software encoder that lets you live stream across YouTube and over 30 social media platforms – as well as custom locations like your Uscreen site.
You can add graphics to your streams and co-host streams with guests to give your audience exactly what they want.
Restream features
Users of Restream get:
Live streaming to more than 30 locations including custom locations compatible with RTMP streaming.
Overlays, logos, and backgrounds for their live stream content.
Call-to-action (CTA) buttons to drive engagement like YouTube comments.
Live chat features so they can build community and engagement.
Restream pricing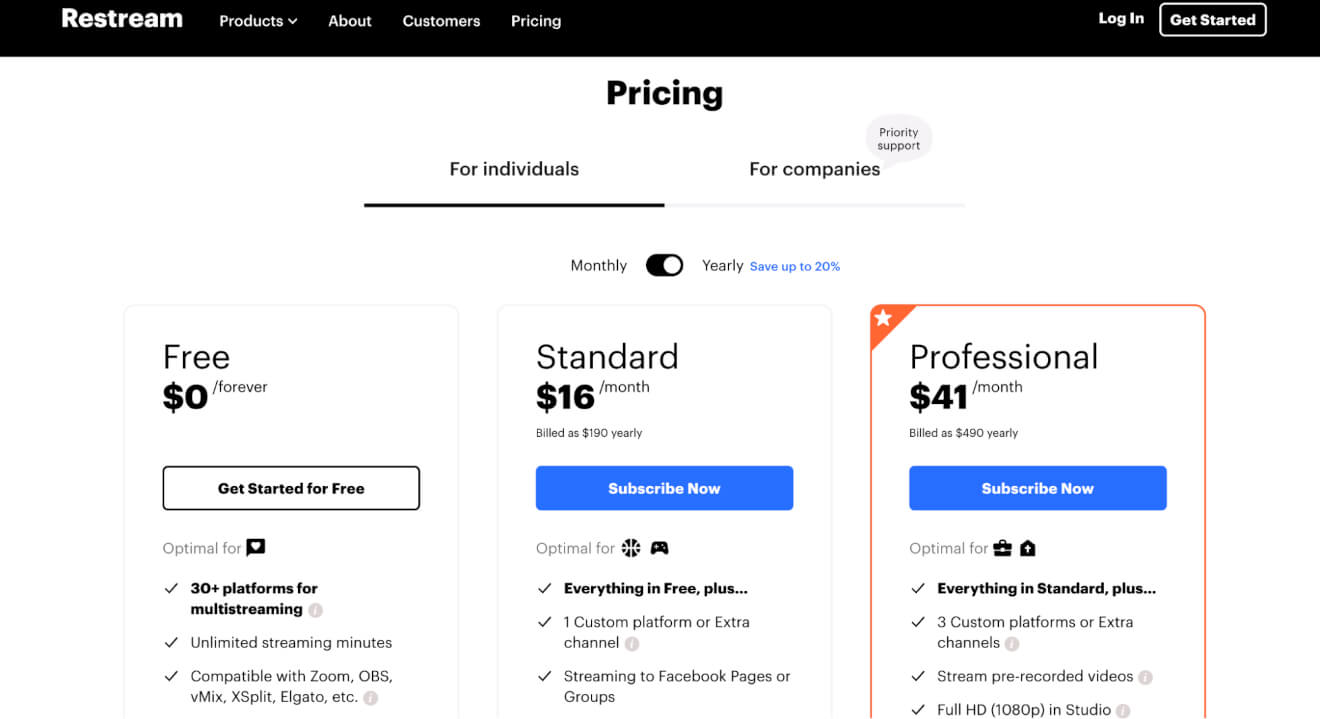 You can choose between the 3 most common pricing tiers – that you see above – or you can look at the plans that are designed to work for companies, depending on the features you need.
As you move up through the pricing tiers, you add on elements like screen recording, streaming to more places, more storage, a higher upload limit, and more.
Tool #24: Switcher Studio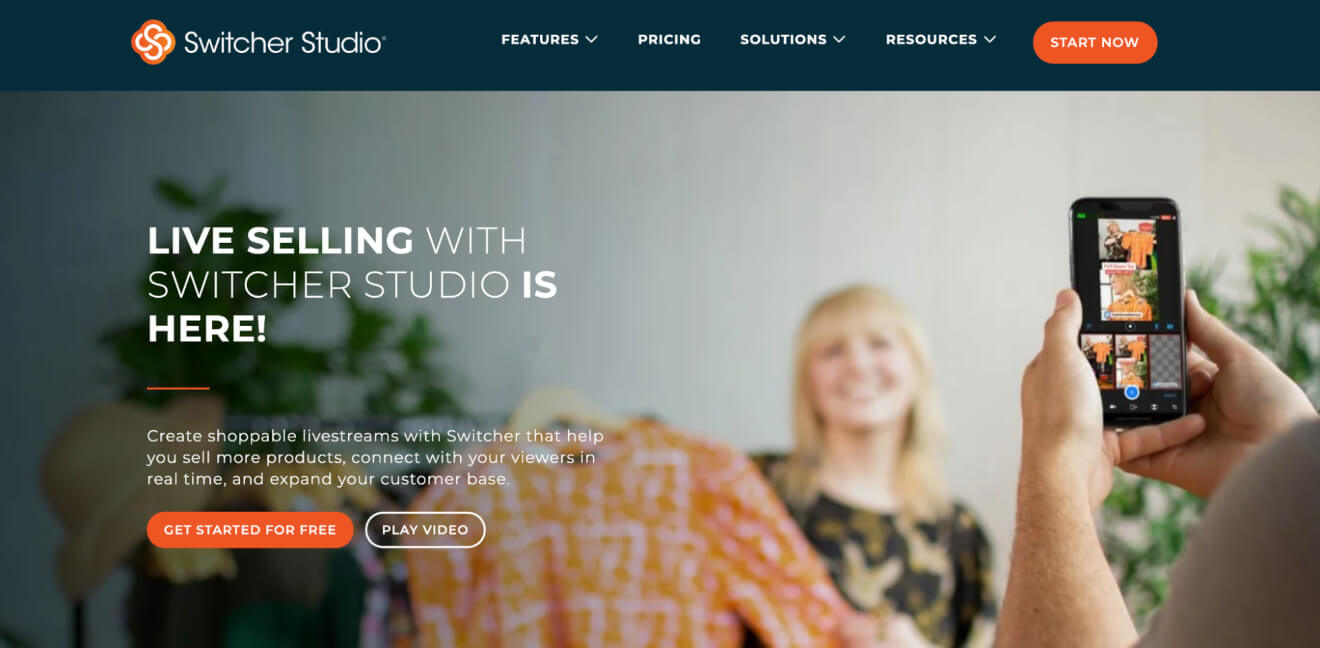 Switcher Studio is a live stream platform specifically designed for your iPhone or iPad.
You just need to download the app and you can create live streams to share on YouTube (and more) with graphics, guest-hosting, and real-time editing.
Switcher Studio features
Downloading Switcher Studio will let you:
Live stream from different angles – you can connect up to 9 iPhones.
Add logos, graphics, text, and pre-recorded content to your stream.
Bring in remote guests to build even more engagement through collaborations.
Add CTAs to your stream to encourage sign-ups and sales.
Switcher Studio pricing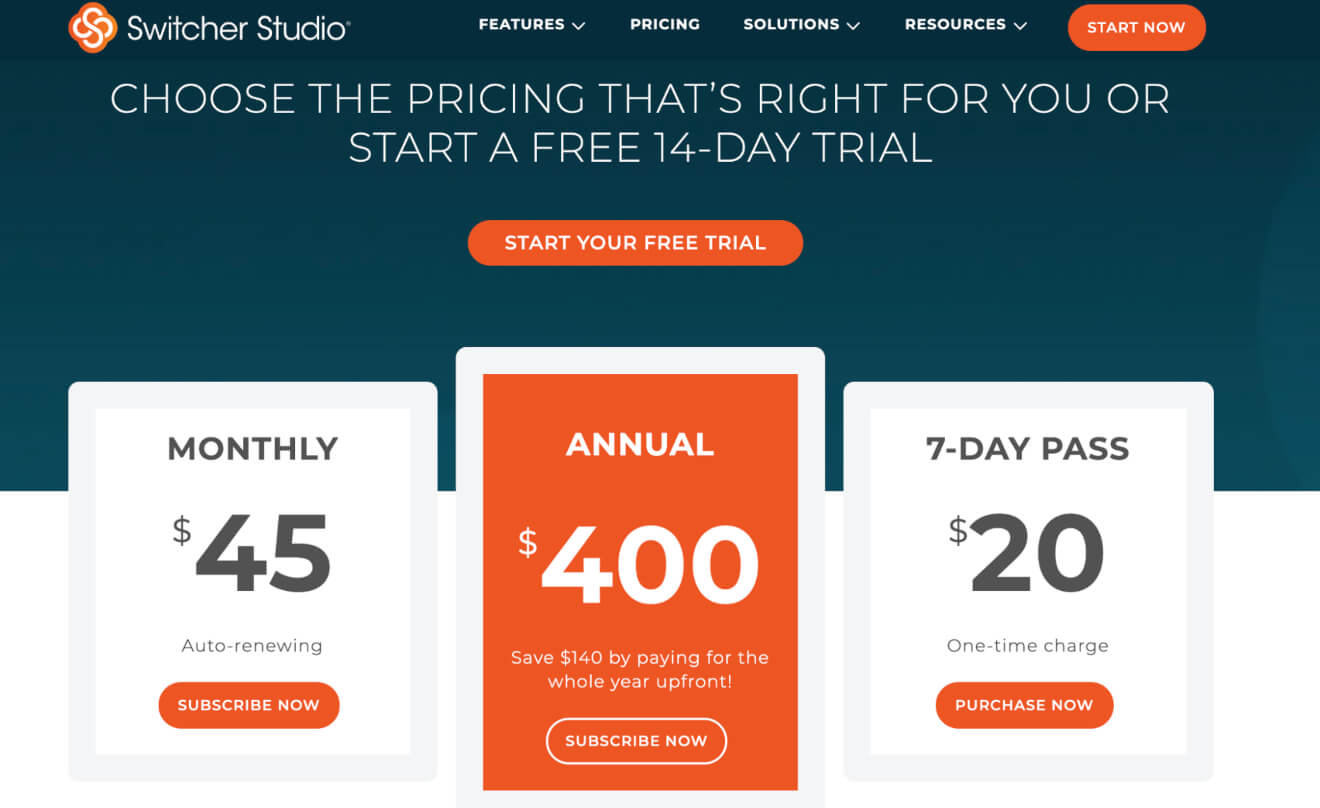 Everyone who subscribes to Switcher Studio gets the same level of access to all the features.
The price changes based on how long you sign up for, with a lower average cost when you take out a longer subscription.
Tool #25: ECamm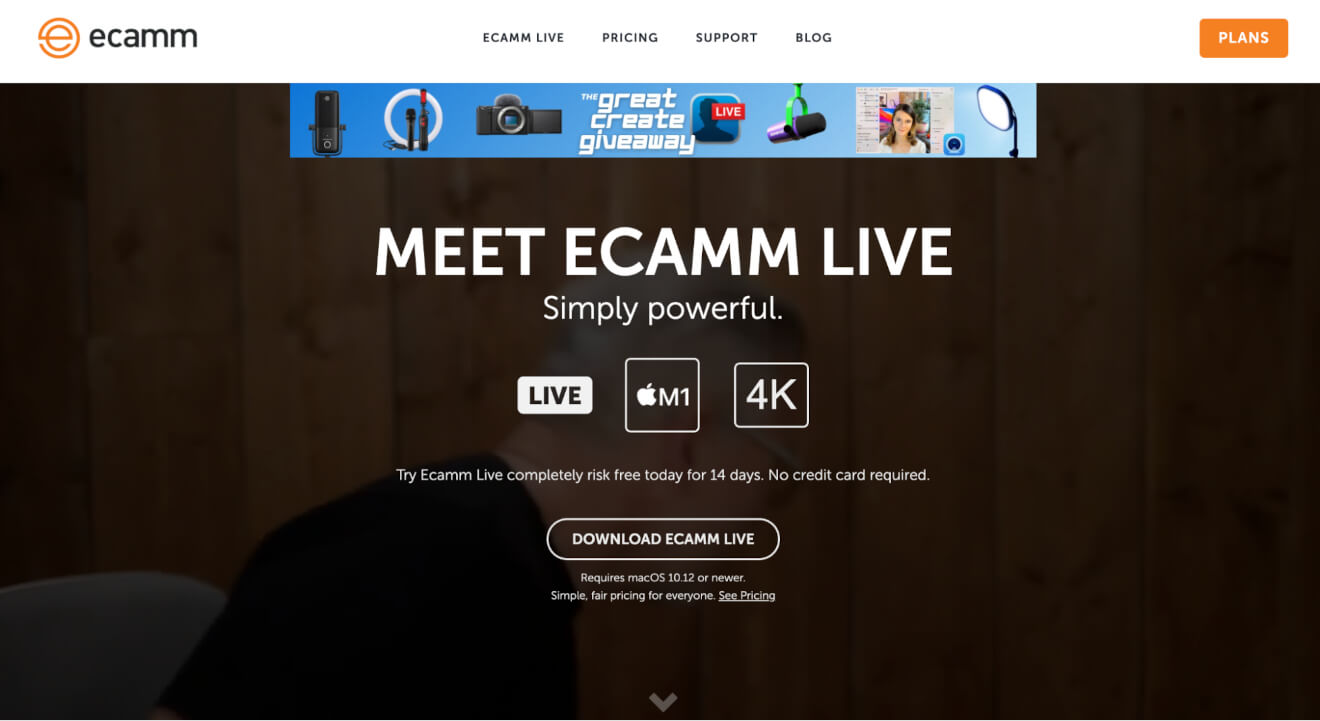 Ecamm is a live streaming platform designed to work with Mac computers.
You can stream your content in up to 4K resolution to places like YouTube and Twitch – and to custom locations like Uscreen.
Ecamm features
Opting for Ecamm gives you:
Options to roll pre-recorded content, share your iPhone screen, and add overlays, graphics, and logos to your stream.
In-app comments to display on your screen and engage your live audience.
Green screen use so you can add cool effects to your stream easily.
Ecamm pricing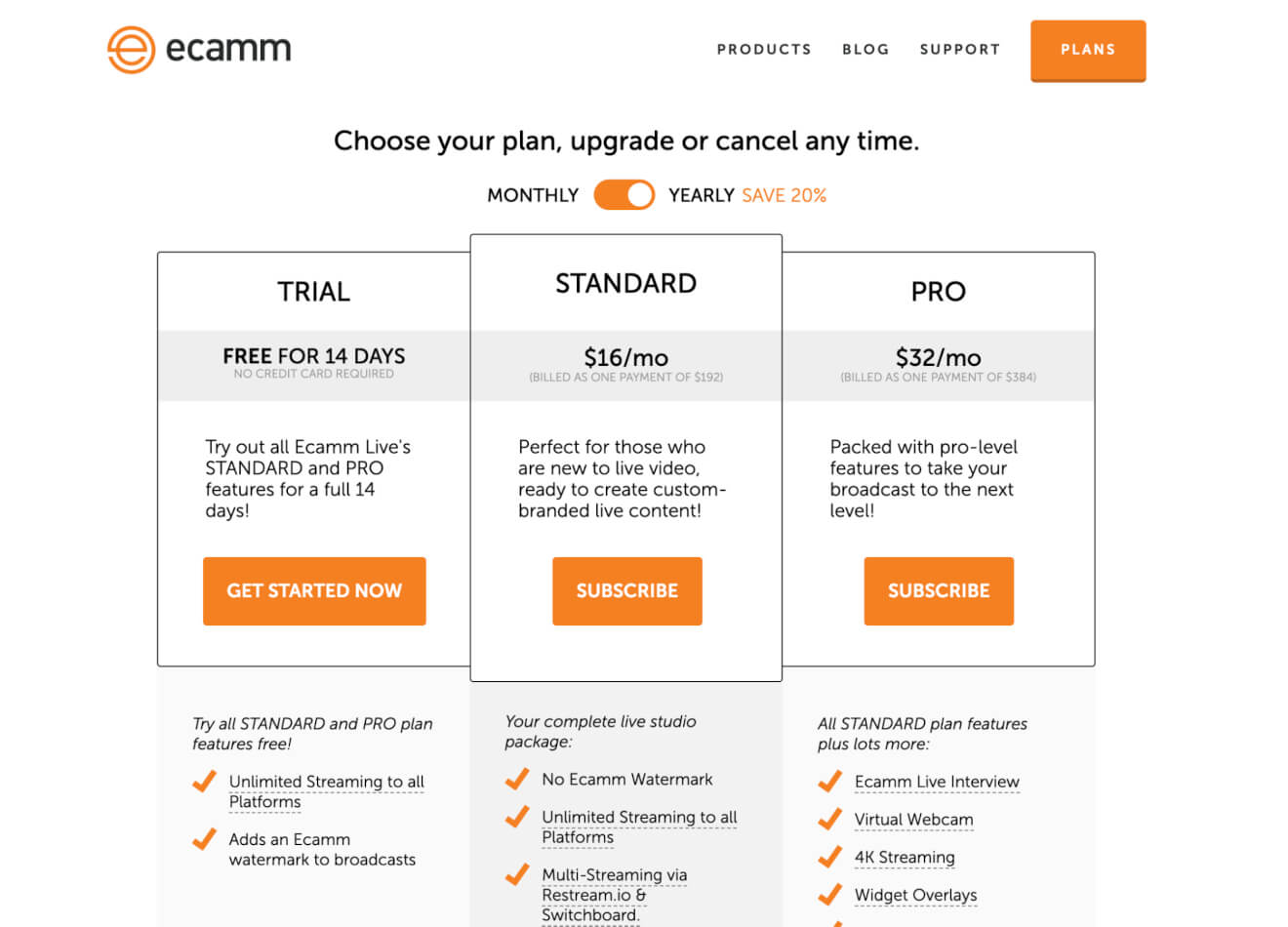 After the 14-day free trial with Ecamm, you can stream without watermarks, add graphics, screen-in-screen, and overlays when you go for the Standard plan.
With the Pro plan, you can bring in guests, use widgets, stream in up to 4K, post your YouTube stream to Facebook, and more.
These amazing tools could potentially take a team to run and need some production management – tools for which are coming right up.
It's simple with Uscreen.
Build, launch and manage your membership, all in one place.
10. YouTube Production Management Tools
Your YouTube channel could be your full-time job or just one element of your bigger business.
Whatever your business model, as long as you're managing a team it's important you keep your channel management and content production in good shape.
This is where communication, project management, and collaboration tools come in handy.
Some of the tools we've already looked at have communications or collaboration elements, but these tools are designed with one thing in mind – to keep your channel and workflow organized.
Tool #26: Notion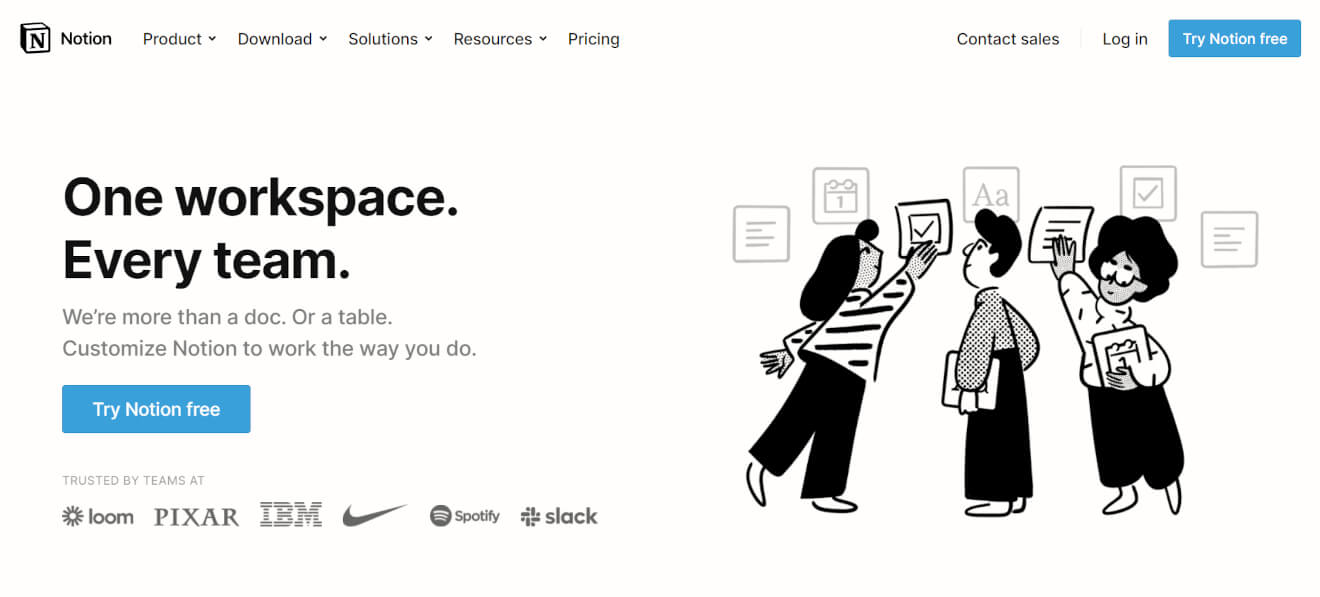 Notion is a place where you can keep all your project communications together and organized, helping you keep production on track.
It's a project management tool, letting you create Kanban boards and lists to track the progress of your videos and other elements of your channel.
Notion features
When you use notion you can:
Create workspaces for all your projects and control who has access.
Keep your important information and documents in one place, like your brand assets or design templates.
Drag-and-drop tasks to create workflows that everyone you work with can follow.
Notion pricing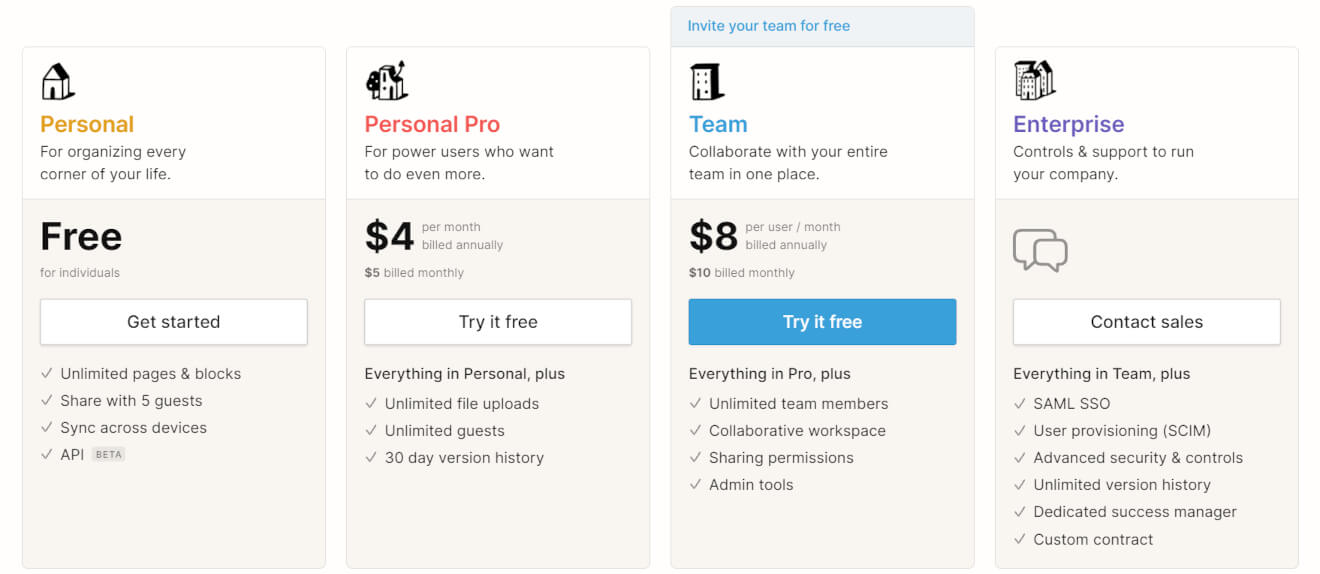 Notion bases their prices on the features you have access to and whether one person or a team will use them.
As your payment increases, you add on features like unlimited uploads, unlimited guests, permissions for sharing, and admin tools.
Tool #27: Prompt Smart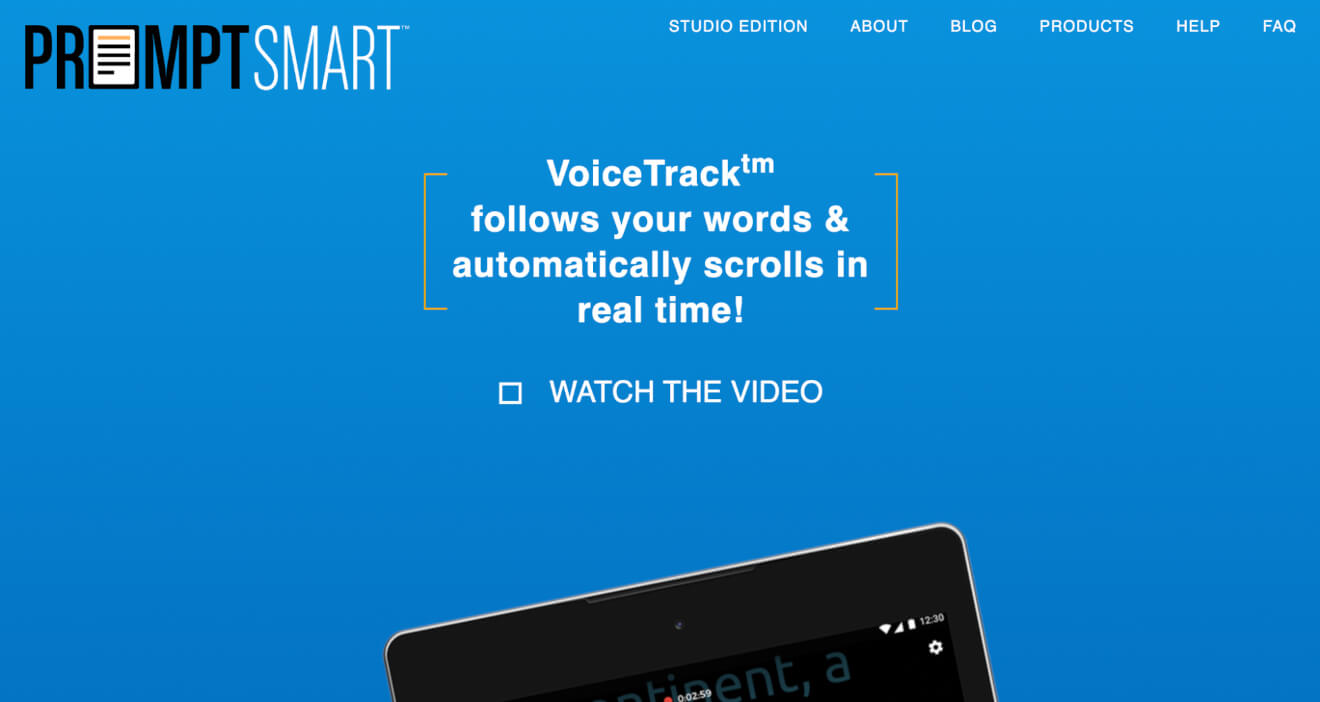 Prompt Smart is a different type of tool for helping you produce content – it's actually a teleprompter tool.
You can keep your production running smoothly without having to write out prompt cards for each episode by using the mobile app – it tracks the pace of your speech and runs your script on screen as you're recording, keeping you looking natural.
Prompt Smart features
Prompt Smart lets you:
Use VoiceTrack technology to present your script on a mobile device and move through it at the pace you're speaking.
Breakaway from the script, ad-lib, and jump back to the script without missing a beat.
Prompt Smart pricing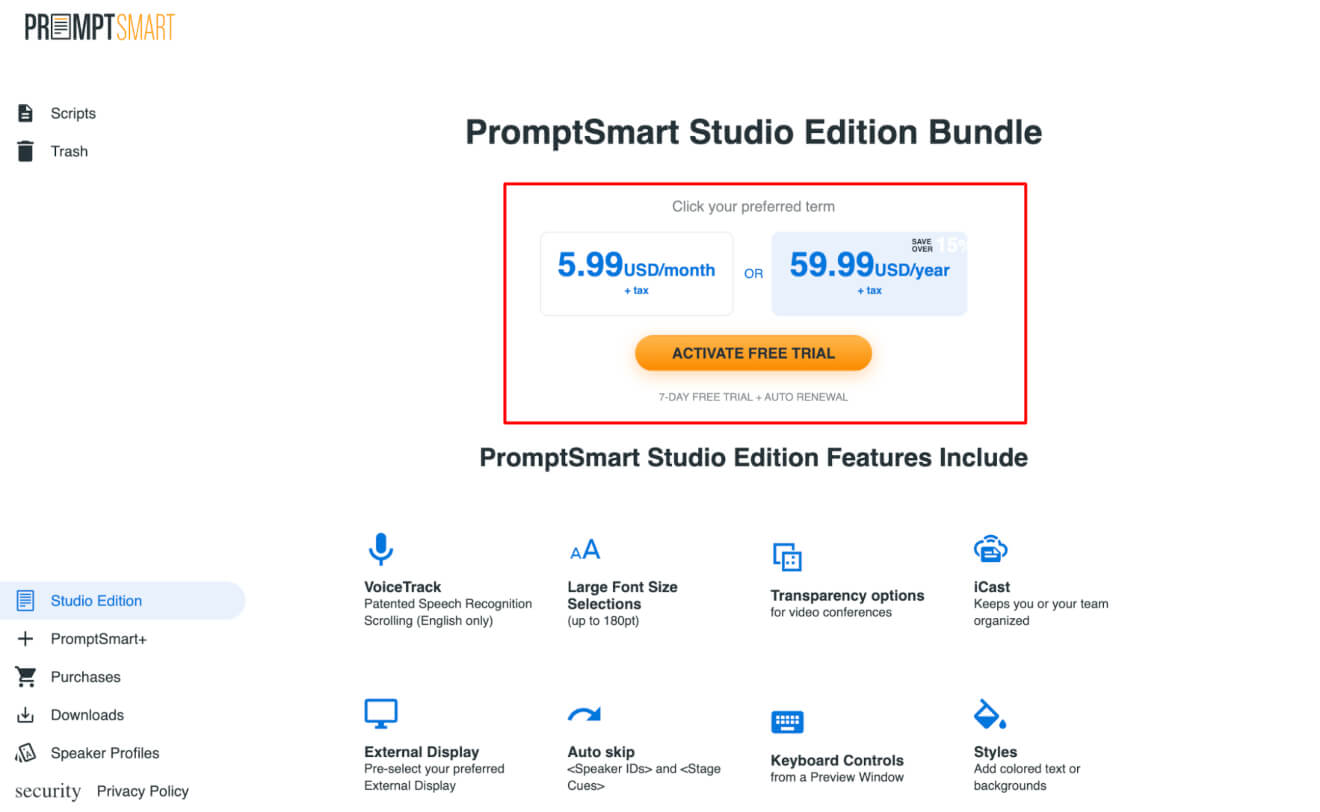 Prompt Smart has a few different products that you can choose from, depending on your needs.
The Studio Edition bundle (pictured above) is the highest-priced plan that comes with all the bells and whistles and works on desktop, while the Pro version is app-based.
Tool #28: HootSuite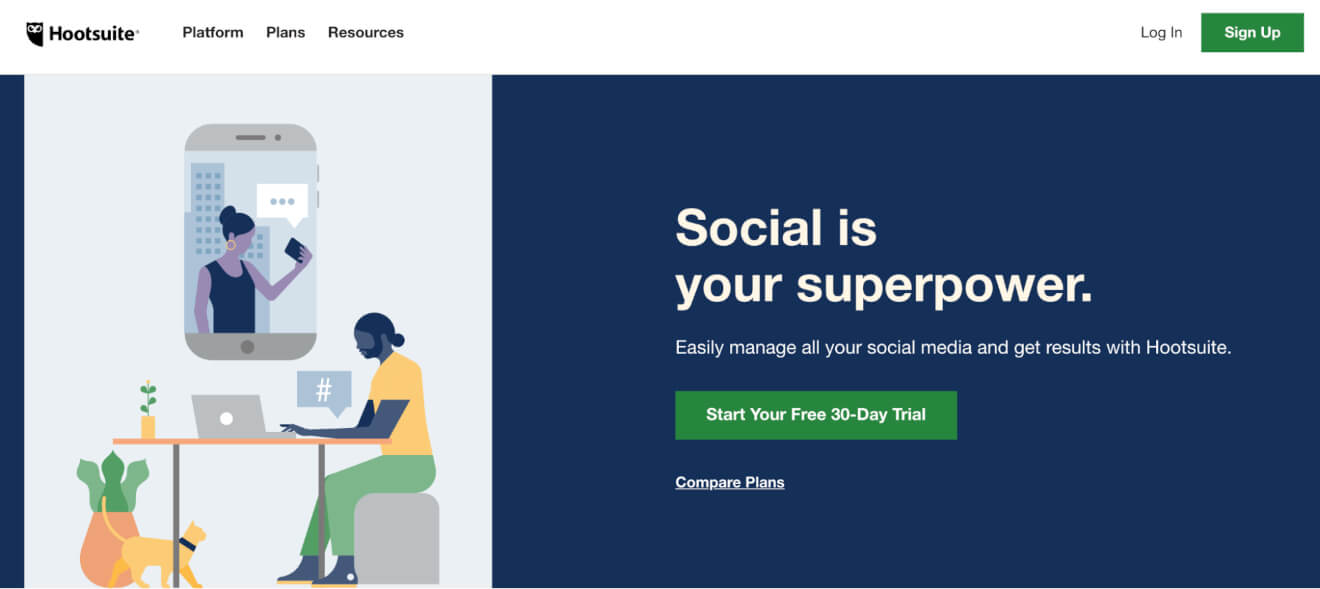 The last tool on our list is Hootsuite – a place to manage all of your social media accounts, including YouTube videos.
HootSuite features
With Hootsuite, you can:
Schedule your posts to YouTube and other platforms from one location.
Manage more than one YouTube account in one place and add your team as admins and moderators without sharing passwords.
Use the Hootsuite mobile app to run your account and monitor your analytics.
HootSuite pricing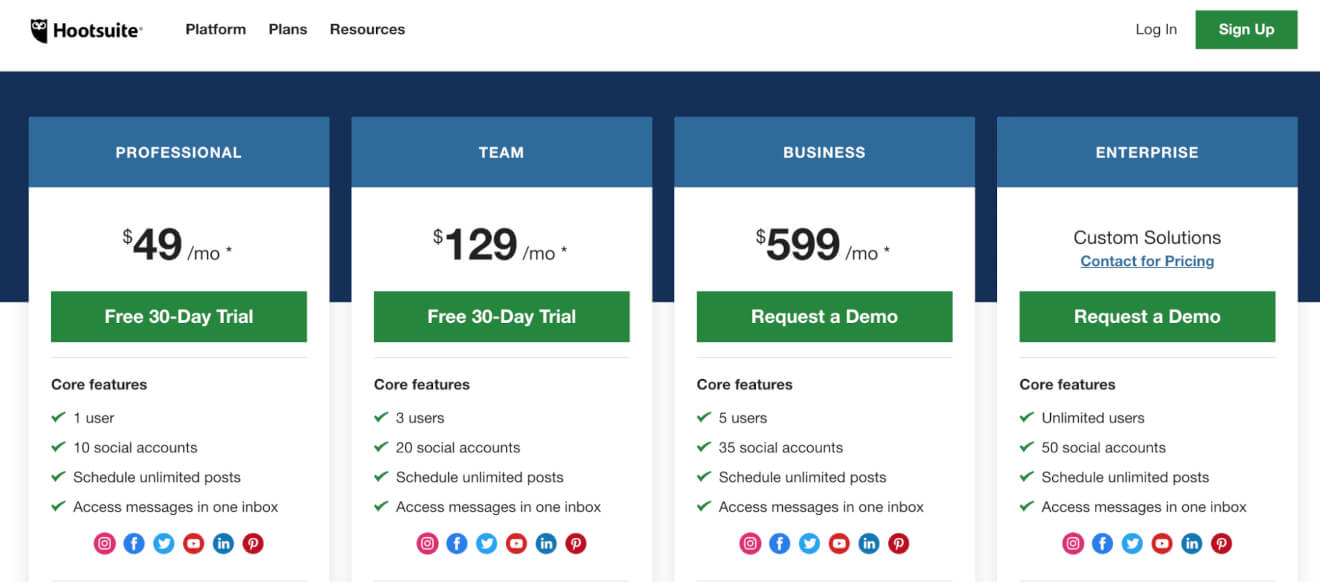 You can pick one of 4 pricing options with Hootsuite, offering increasing numbers of users and social accounts that can be managed.
That's all the tools we have for you, but before we wrap this up let's look at some resources that could further help you grow your YouTube channel and your revenue.
Bonus: Courses to Learn More About YouTube
Now you've got a comprehensive list of tools that are going to bring views, subscribers, members, and buyers to your YouTube channel.
It's not always easy to know how to put them together, though.
Lucky for you, people have seen YouTube success already and put together actionable courses that will help boost your performance.
Here's a couple that we really like.
The YouTube Formula by Derral Eves
Derral Eves is a serial entrepreneur and super successful YouTuber with over 600,000 subscribers.

His book, The YouTube Formula, gives you a complete guide to creating, building, and growing your YouTube channel.
The book has a 4.5-star rating on Amazon with more than 300 reviews – clearly, it's offering readers good value.
Oh yeah, and the foreword is written by MrBeast – one of the biggest YouTubers of all-time.
Tim Schmoyer's Video Labs
Tim Schmoyer started creating videos on YouTube in 2006 and began training YouTubers to grow their channels in 2011.

In this 8-week course, you get exercises to complete after every class and class sizes are limited to 20 members.
You also get a weekly call and a detailed channel review as part of the package when you sign up for the course.
Let's bring this to a close.
It's simple with Uscreen.
Build, launch and manage your membership, all in one place.
Now Over to You
Building your own stack of tools to build, grow, and monetize your YouTube content will take time, and finding the ones that work with your skills and your team will take a bit of testing.
We've covered the tools that lots of creators are using to plan, create, edit, market, analyze, and grow their channels – and you can do it too.
Want to take the next step with your YouTube trial and create your own video monetization website?
Start your 2-week free trial with Uscreen and get a feel for how it'll work for your business.