The truth is that running a charity and running a live stream are two totally different endeavors.
But if you put them together, you have an effective way to attract a new audience and raise donations.
That's because live streaming is everywhere today. With over 8 billion hours of live streams watched just in the beginning of 2022, people are choosing to spend more time interacting with others through their screens. 
Taking advantage of people's online presence can be an effective way to raise money for charity. After all, it's engaging, fun, and connects you with people from all over the world.
Charity live streaming is more than just bake sales (although we do love some yummy treats) — you can be creative and come up with new ways to get people to donate to a good cause.
Want to learn how to set up a charity live stream?
Just follow our steps for success:
Let's get this virtual bake sale started.
1. Start Planning Your Charity Live Stream
As with most events, planning is the key to a successful charity live stream.
Start by creating a plan with everything you'll need for your live stream, including equipment and a script.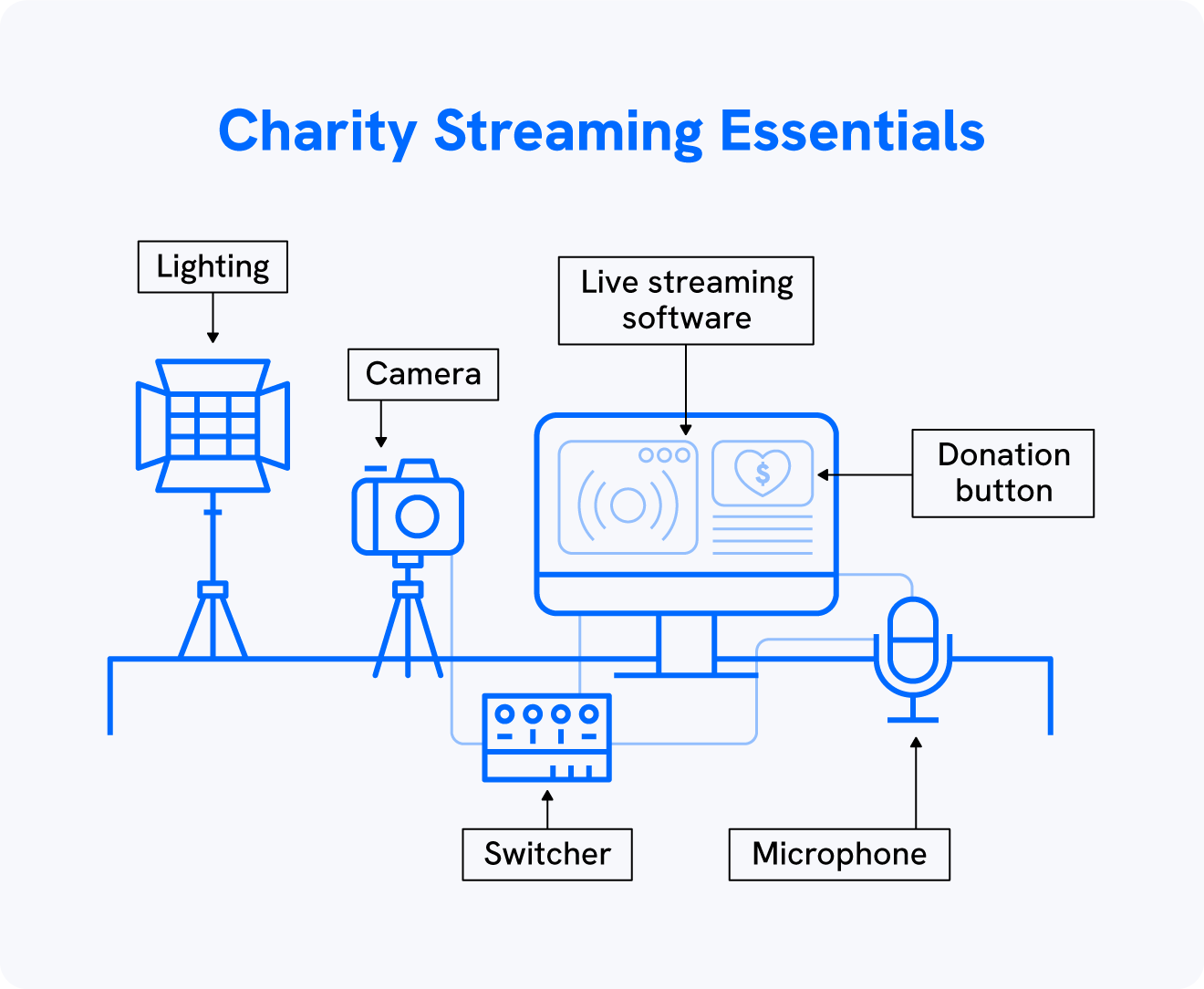 Here's the live streaming equipment you'll need:
Camera: you'll need a high-quality camera, or even your webcam or phone. Consider investing in a tripod to keep the camera stable.
Microphone: using an external microphone will give you better audio quality. Invest in a microphone with a frequency between 20 Hz and 20,000 Hz.
Live streaming software: pick a software that you're familiar with or that fits your needs, and make sure to have a streaming encoder.
Computer: ensure your computer is able to properly run your live streaming platform and is compatible with the equipment.
Lighting: good lighting is essential for high-quality video. Invest in some lighting equipment or live stream in a well-lit room.
Switcher: if you'll be live streaming with multiple cameras, consider getting a switcher so you can seamlessly change cameras.
Once you have all of the equipment, you should also create a video script.
Creating a script will help you know exactly what to say during your stream and make sure you're covering all the points you need to address.
Using a script will also guide you on when to switch your camera or display something during your stream. Plus, it's a great asset to have if you'll be interviewing someone.
2. Set Some Charity Goals
Now that you've started planning your charity live stream, you can work on setting some goals for your stream.
Setting a goal will give you a purpose for your live stream and motivate you to run your best live streaming event to date.
Write down your goals on a piece of paper or on your video script so you can keep them top of mind when running your live stream.
To help you set goals for your charity live stream, consider answering these questions:
Why am I raising money for this charity?
How many viewers do I want to have?
How much money do I want to raise?
How many followers do I hope to gain?
What do I want to gain from this experience?
At the end of your stream, you can revisit these goals and see which ones you were able to achieve, and what you can change for the next one.
3. Choose the Right Live Streaming Platform
Whether you already have a trusted live streaming platform or you're still looking for one, you need something that fits the needs of your charity event.
Since there are a lot of live streaming platforms out there, consider these things when deciding:
Whether it allows you to accept donations.
What live streaming features are offered.
What it costs to live stream.
What audience you can reach.
You can also decide if you want to live stream on a social media platform or a platform focused on live streaming.
Many people will live stream on YouTube, Twitch, and Facebook since these platforms allow content creators to reach a big audience and are free to use.
But live streaming on a subscription platform such as Uscreen can also be a great way to connect with a more tight-knit community.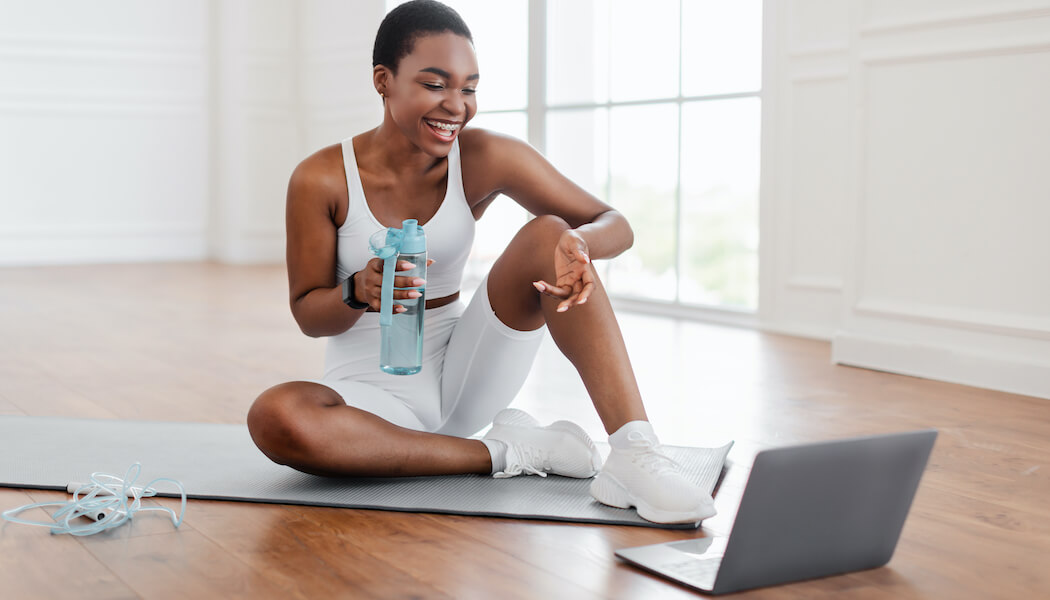 23 Live Streaming Platforms for Content Creators
4. Make It Attractive
Now to the fun part: how can you make your charity live stream more attractive to people?
The key to increasing the donations you receive is live streaming the right content for the right people to see.
In order to do that, you can come up with a fun theme for your live stream that will make people want to watch it.
Consider who your audience is before coming up with a theme so you can tailor the content to what they like to watch. Then take a look at what other streamers are doing as well as current trends.
For example, you can:
Host Q&As.
Do a presentation about a topic.
Interview an important person.
Start a challenge.
To make your live stream more attractive, you should also ensure people will understand the purpose and the content of your live stream.
You can do that by writing a descriptive and eye-catching title and description.
Keep the title short so it fits fully on the screen. The title should describe what the live stream is about and the benefit it will bring to viewers.
Then write a description that explains exactly what the live stream is about. You should include who you're donating to, describe the issue and how the charity helps, and what you'll be doing during the live stream.
You should also include a call to action in your description, and since you're hosting a charity live stream, explain how people can donate.
💡Content Creator Tip
When creating a title for your live stream, you should make it short, try to add numbers, and use power words.
If you need extra help, you can run your title through a headline analyzer tool that will give it a score and help you improve it.
5. Practice and Test Run
A lot of things can happen during a live stream, especially technical difficulties. To avoid this, you should do a test run and practice for your charity stream.
Before your live stream, you should:
Double-check you have all of the tools and equipment needed.
Test that your equipment is working properly.
Read your video script out loud a couple of times.
Practice what you'll be saying during the live stream.
Do a live test run on the live streaming platform.
This way, you will feel more confident and help ensure that your live stream is successful and professional.
If you have any issues during the stream, you can always address it with your audience and assure them that you'll be working to resolve it.
6. Schedule Your Stream
Now it's time to schedule your charity live stream.
You should schedule your live stream in advance so you'll have time to promote it and build some anticipation.
When scheduling your live stream, you should consider:
What times your audience usually watches your content: you can look at your live stream and YouTube analytics to find out.
If there are any major events or holidays happening: check for other scheduled live streams from big streamers or events that could prevent people from showing up to yours.
The best times to go live: although it varies by platform, you should consider live streaming on weekdays around noon.
You can also ask your audience if they have any preferences or time suggestions.
When you're scheduling your stream, remember to set up a donation tool.
You should have the donation tool as a feature, but it depends on the platform you pick. For example, with Uscreen all you have to do is toggle "Enable Donations" when setting up your stream and it will give viewers suggested donation amounts during the live.
If your platform lacks this feature, you can set it up with an outside tool like Tiltify that connects with Twitch, or a donations website like Donorbox.
7. Promote Your Charity Stream
Now you're almost ready to start live streaming for charity.
You need to make people want to join your live stream and donate, so the last step before you go live is to promote your live stream.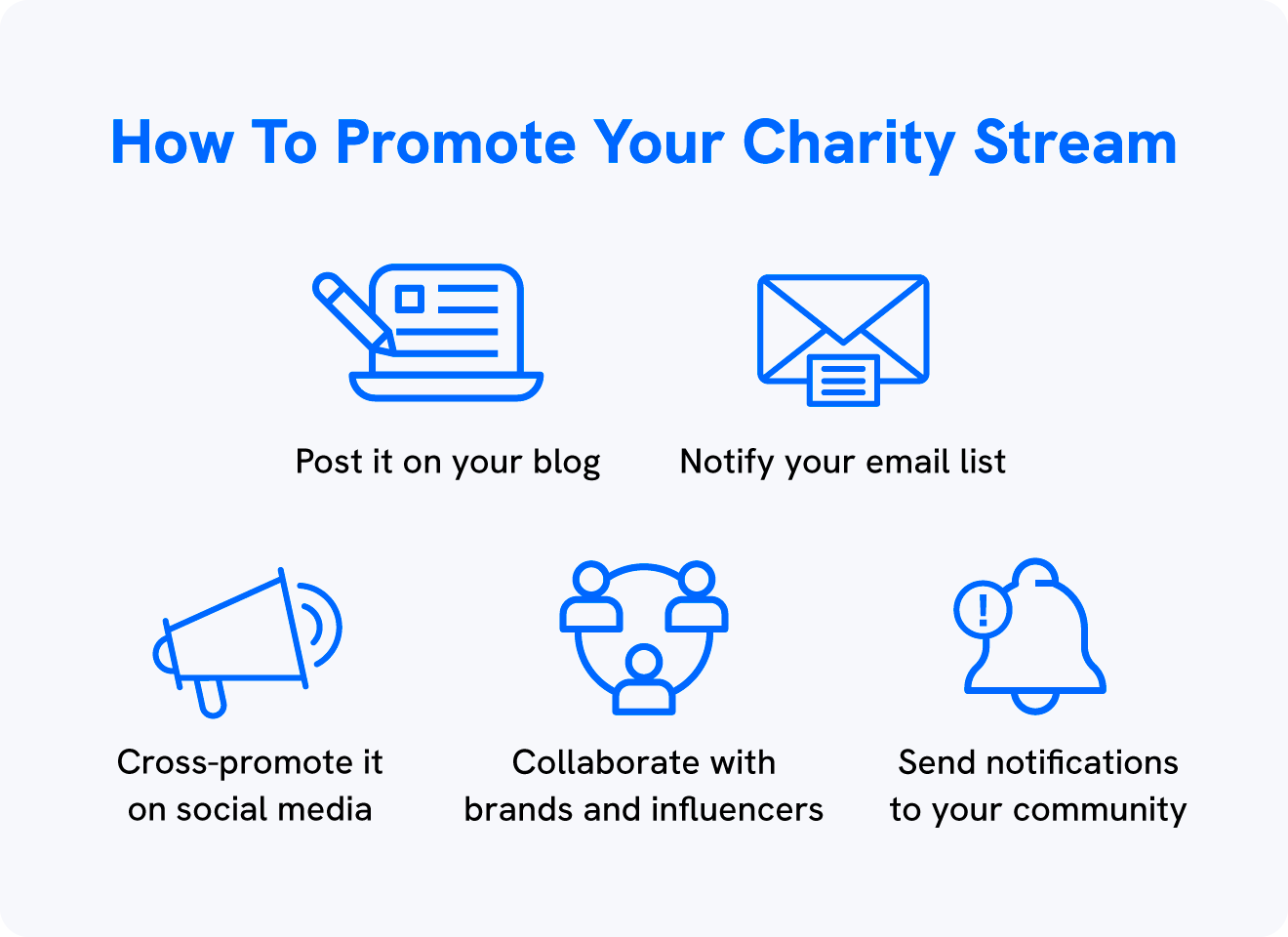 There are a few ways to promote a charity live stream, including:
Cross-promote it on social media: share about your charity live stream on Instagram, Facebook, Twitter, and YouTube.
Notify your email list: send some emails ahead of your stream telling your audience about the charity and the event.
Post it on your blog: create a post overviewing the charity you're donating to and the benefits of joining your stream.
Send push notifications to your community: if you have a community or platform, send a push notification to them before you start.
Collaborate with brands and influencers: collaborations can help you get the word out to a new audience.
You can even make your charity live stream event more interesting and creative by collaborating with influencers and asking them to join you during the live.
8. Interact With Viewers
Awesome, now you're ready to go live!
After pressing the "Go live" button, remember to have fun and make your live stream engaging, since this can help increase your donations.
During the live stream, it is very important to interact with the viewers — after all, they go there for a chance to feel closer to you and learn about your cause.
Whether you're hosting an interview or talking about the charity you're donating to, set aside some time to interact with your viewers by:
Welcoming new viewers and reading the comments.
Answering questions your viewers ask in the chat.
Asking viewers questions.
Hosting mini games or challenges.
Thanking people when they make a donation.
Remember to always keep checking the chat to see what your viewers are saying so you can mention any interesting comments you see.
9. Repurpose Your Live Stream
Your charity live stream content can still live after it's completed.
Take advantage of all of your hard work and stretch your donations by repurposing your live stream.
Save the live stream after it's over and repurpose the content by:
Creating small snippets of the stream and sharing it on social media.
Sharing quotes from the stream as posts on social media.
Turning it into a podcast, especially if you had a guest.
Sending the replay to your email list.
Embedding the live stream replay into your blog.
By doing this, people will be able to continue donating to your charity even after the event is completed.
Charity Stream Ideas To Inspire You
Want to feel inspired? Here are some ideas for charity live streams you can also try.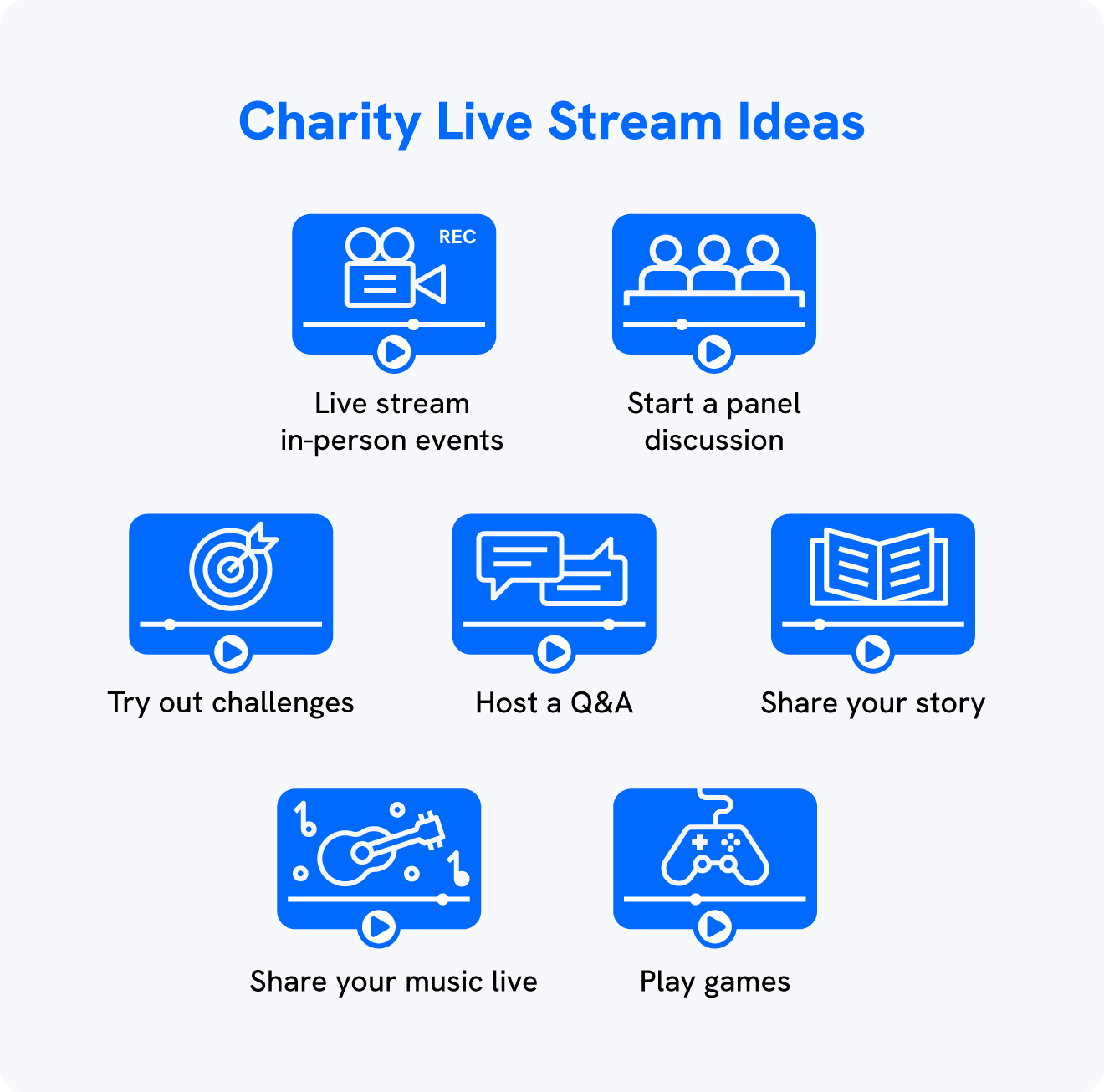 Live stream an in-person event: if you're already running a charity event in person, you can also live stream the event when it's happening. 
Share your music live: if you're a musician, you can live stream your music to raise money for charity. You might even do it for hours, like this 48-hour DJ set.
Try out challenges: be creative and come up with a fun challenge that people can participate in by donating. 
Host a Q&A or interview: host a Q&A and answer questions about yourself and your content, or interview an interesting person. 
Start a panel discussion: live stream a panel discussion with your charity and talk about how they are helping others. 
Share a story: tell an interesting story, or your story, in a live stream. You can even include some pre-recorded footage, similar to a documentary. 
Play games: simply live stream your gameplay. You can also invite an influencer or celebrity to join you and make it more interesting. 
There are endless possibilities of charity live streams you can try out, and the more creative you get, the greater the chances people will want to watch you and donate to your charity.
Wrapping It Up
Live streaming can be fun, but you can make it even better by raising money for charity.
Now that you know how to set up a charity live stream, you'll be ready to start touching people's lives with your content.
Want to start making money live streaming? Check out this ultimate guide to monetizing your live streams.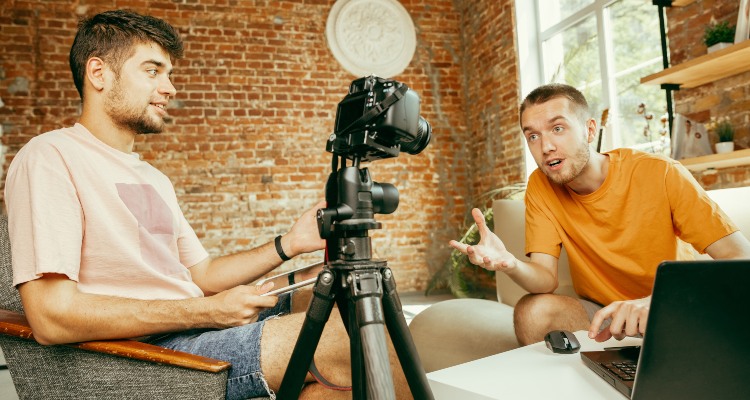 How to Make Money Live Streaming
How To Set up a Charity Live Stream FAQs
Still have questions about setting up a charity live stream? We've got the answers.
Why Start a Charity Live Stream?
Starting a charity live stream can be a good way to reach a new audience and raise money for a good cause in a unique way. 
Can Anyone Do a Charity Stream?
Anyone can start a charity live stream. All you need is to choose a charity that's important to you and start live streaming. 
Do Streamers Make Money From Charity Streams?
There are streamers raising millions for charity these days, and usually, they will donate all of it to the chosen charity. They could make money, however, if they are being sponsored or selling a product. 
What Do You Need To Start Streaming for Charity?
To start streaming for charity, you will need live streaming equipment such as: 

• Camera
• Microphone
• Computer
• Live streaming software
• Switcher
• Lighting
What Is the Best Donation Platform for Streaming?
The best donation platform for streaming will depend on what features you need. 

If you're looking for a free option, Twitch charity streams are very common. If you want a paid platform that lets you live stream to your community, Uscreen is a good option. 
How Do I Stream a Charity on YouTube?
Stream a charity on YouTube and add a donate button by following these steps: 

• Go to YouTube Studio.
• Select "Monetization," then "Giving."
• Create a fundraiser.
• Select a nonprofit to support.
• Add the details.
• Include your scheduled live stream. 
• Click "Publish."