Today is the day you become a live stream pro!
I'm going to show you exactly how to live stream, step by step.
You'll learn everything you need to know about:
The 4 main live streaming platforms you can choose from

What equipment you'll need

How to prepare for your first stream

What to do after your live stream
If your business has been affected by COVID-19, you're not alone. We have a helpful and free guide that has saved 1000+ businesses since the outbreak. No email required.
Let's go…
The 4 Live Streaming Platform Options You Need To Know About
The first obvious thing you need to figure out when it comes to live streaming is the platform you choose to live stream on.
There are plenty of live streaming platform options to choose from, so we've simplified them into 4 main options to choose from:
Let's take a look at each of them…
Platform 1: Social Media
All the main social media platforms allow you to live stream, and the difference between choosing either of them simply come down to where you have your audience following you.
Live streaming is currently an available feature on:
Facebook

Twitter

Instagram

LinkedIn (note: this is new and currently in beta-testing)
These provide a direct-to-audience way to live stream. When you go live, your followers on that platform will be notified and can tune into your stream if they are around.
Social media is great if you're looking to do some content marketing. If you want to promote products, broadcast events, or share a message directly.
NFL teams, like the LA Chargers, often use Twitter to cover pre- and post-game press conferences. This gives fans an insight into an area of the sport they would rarely see.
This also works particularly well for audience participation.
Benny Lewis, a language learning author and owner of Fluent in 3 Months, uses Facebook Live to host Q&A sessions with his followers:
Here, users can submit questions and Benny will answer them in real-time. This creates both high-value content and provides insights into his audience's common problems.
Platform 2: YouTube
YouTube is an entire platform option on its own.
YouTube offers a range of live streaming options. You can do it using:
Your webcam at a desktop or laptop

Your mobile phone (if you have 1,000+ subscribers)

A third-party encoder (more on those later)
Live streams on YouTube live cover every possible topic. Usually, they're an extension of the channel's content.
You can find 24/7 news live events, like this one from Sky News:
There are shopping channels, like this one from QVC, who have expanded their TV-focused offering into the online world:
And, there are the individual creators and streamers, like Your Book Of Memories, who use it share personal messages with their subscribers.
We firmly believe that YouTube is a marketing channel first. So, live streams here offer a great opportunity to promote products and services that you sell on your own site or platform.
Platform 3: Twitch
I couldn't write a guide about how to live stream without mentioning Twitch.
Twitch is a gaming-focused service and is the world's premier eSports broadcaster. It was bought by Amazon in 2014 for just $970 million. And, now…
It brings in 15 million daily active users. (Talk about a bargain, right?)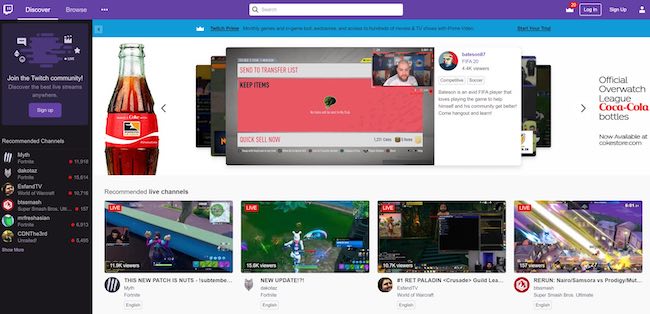 The majority of live streams on Twitch are free to watch, and channels are free to follow. But users can also support their favorite creators by "subscribing."
Subscription prices start at $4.99 and are shared 50/50 with the creator unless a unique contract with Twitch has been created. (This usually only happens for BIG creators.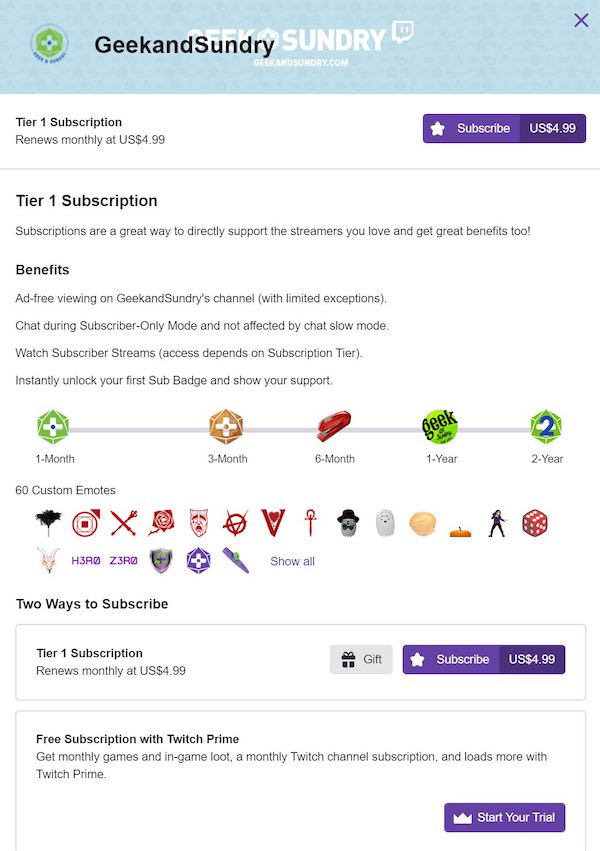 Subscribers receive unique benefits; creators get paid for creating. It's a win/win!
Despite the platform's gaming focus, there is a growing interest in other types of content. For example, the "Just Chatting" thread attracts thousands of people to watch streams on:
Shopping trips

Travel

General interest

Product reviews
If you're interested in eSports, this is the place to be. But it's worth keeping an eye on for other topics platform too. (I'll show you how to stream on multiple platforms later.)
Platform 4: Your Own SVOD
If you already have a video website, hosted on a platform like Uscreen, you can provide live streaming for your existing and potential customers.
RaceXR Plus (XR+) is a subscription video on demand (SVOD) service that hosts thrilling race sporting events from all across the USA.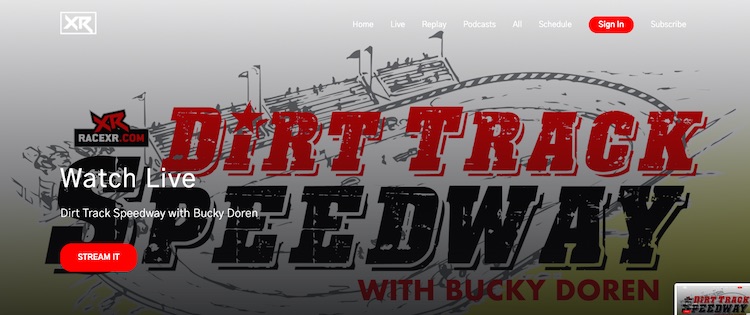 They use their membership platform in two ways:
They host live adrenaline-packed races you can watch anytime, anywhere
They offer exclusive access to their entire catalogue of races to paid subscribers
It's a system that's a step above what Twitch offers.
You can also use live streams to make more money and provide a better viewing experience for your paying customers. By giving them a one-on-one connection to you, their favorite creator.
How To Create and Launch a Live Streaming Website
Learn more about live streaming with Uscreen.
This Section In Short
There are four streaming platforms you need to know about. Each of them with their own benefits and uses. Here's a quick rundown:
Social media: connect with your followers by going live on their favorite platform. Great for content marketing.
YouTube: broadcast in real-time to your subscribers. Best used for promotion and marketing, but can also generate income.
Twitch: connect with gamers who are interested in the same topics as you. Or, take advantage of the growing need for other content. Get a 50:50 split on paying subscribers.
SVOD: use your own video platform to connect with your paying customers and provide even more value.
Tools Of The Trade: What Equipment Do You Need To Start?
This wouldn't be much of a guide about how to live stream if we didn't talk about equipment.
In this section, we are going to talk about the types of tools and gear you'll need to effectively live stream. But, you will notice that we don't recommend any specific makes, models, or products. Why?
Because what we recommend today will be out of date tomorrow. So, it's important you find what's good enough and fits your requirements. The rest will take care of itself!
Internet-Ready Camera
The first tool you'll need is a camera capable of broadcasting over the internet. This means you'll likely be using:
Your smartphone

Your built-in webcam

An external webcam
Or a combination of all three at different times depending on your location and what you're streaming.
It's possible to stream from a more professional camera or camcorder, but I won't be covering that in this article. (If you'd like us to, let me know in the comments.)
Tripod Or Stabilizer
It's important that your live stream remains still, or has a smooth transition as you move from location to location. The less it looks like a running scene from Cloverfield, the better!
You can achieve this using a:
Tripod: a large one that will keep your camera steady
Small tripod: like a GorillaPod that you can easily hold
Stabilizer: a phone handle that lets you move and keep the camera steady
It's also worth toying around with angles to see which looks best for your broadcast. Many choose an angle just above the line of their head, but you may find something else works better.
Open Broadcast Software
Open Broadcast Software allows you to stream on all four platforms we featured here at the same time.
If you have an audience that is scattered in different places, then you should definitely consider using a tool like this.
To explain more about how this works, and how to get the most out of it, I'm going to hand you over to our resident YouTuber, Nick Nimmon:
Stable Internet (Or Enough Mobile Data)
Depending on where you will be streaming from, you will need either:
A strong and stable internet connection

with sufficient bandwidth

Enough mobile data
The worst thing that can happen in a live stream is that you lose connection midway through. So, there should be enough internet for you to see it through to the end.
On Location? Get A Powerbank (Or Two)
If you're streaming from a location – like an event – where you can't connect to the main power supply, then I recommend you pick up a power bank to keep your devices charged.
Live streams can use a lot of power. So, that 50% battery may not last as long as you think!
This Section In Short
There are six tools you need to effectively live stream:
Internet-ready camera: your phone or a webcam
Tripod or stabilizer: to keep your live stream steady
Open Broadcast Software: so you can go live in on all relevant platforms
Strong internet (or mobile data): to ensure your stream doesn't cut off
Powerbank: keep your devices topped up when you're on the go
You can do all of this using your existing, free, or pretty cheap options. Or you can get a fully professional set up. It's up to you!
How To Live Stream: 7-Point Checklist Before You Go Live
I hope you're feeling confident enough to start going live. We've gone through a lot of theory up to now, so it's time to start taking action.
In this section, I'll take you through a seven-point checklist of everything you need to do before you go live.
1: Pick Your Platform
For your first stream, I recommend picking one platform. This will help you to focus your message, as well as reduce any potential technical errors.
2: Choose A Framework
Get clear on the type of content you're going to stream about. What will you talk about, and why is it relevant to your audience?
3: Create A "Script"
Live streams are great for those improvised in-the-moment ideas. But, this can also turn them into long-winded, rambly affairs.
Create a rough script of what you want to talk about to help keep you on track. This way, if you feel like you've gone off on a massive tangent, you can come back to a clear train of thought.
4: Promote Your Stream
Begin promoting your next live streaming event a couple of days in advance. Let your followers – no matter how many (or few) of them there are – know you're going to be streaming.
Be sure to mention the:
platform you're using (provide a link if you can)

time and date it's happening

topic you'll be discussing
If you are using a framework that requires audience interaction, you can also ask them to submit ideas and questions ahead of time. This way, you have something to start the stream with.
05: Test Everything
It's a good idea to test all of the technical aspects of your stream. This can be everything from your internet speed, through to the sound quality of your microphone.
Get ahead of anything that can go wrong!
06: Setup Your Lead Capture Software
If you've not already, create your mailing list and have a link or landing page to refer your audience back to. You don't want to lose out on any potential subscribers. If you're using Uscreen, you don't have to worry about this step.
07: Relax
Chill out. Enjoy it. After all…
This Section In Short
Here's a quick recap of our seven-point checklist for your first live stream:
Pick Your Platform: where are you going to stream? Pick one place to do it.
Choose A Framework: what type of content are you going to stream?
Promote It: promote your upcoming stream to your audience.
Create A "Script": create a one-page document to help you keep your structure
Test EVERYTHING: your internet, your video camera, the screws in your tripod. Be prepared
Prepare Your Lead Capture: know where to send people you want to subscribe
Relax: you got this.
The Aftermath: What To Do After Your Live Stream Ends
Woo! You just finished your first live stream. Feeling good?
If you're anything like me on my first live stream, it's a mixture of good and bad. Some things went well, and some things could have been better.
That's the life of a content creator. (Yay!)
In the hours after you finish your stream, you should:
Respond to any unanswered comments

Look for useful feedback

Save the video to your video library
This will increase engagement, and notify people to watch the recorded version of your stream. After that, it's time for the awkward part.
I recommend that you go back and watch the live stream for yourself with a notepad and pen. Go through and take notes of things you did well, things you didn't, and what you'd improve.
This is the number one way to get better at being on camera.
Monetize your live streams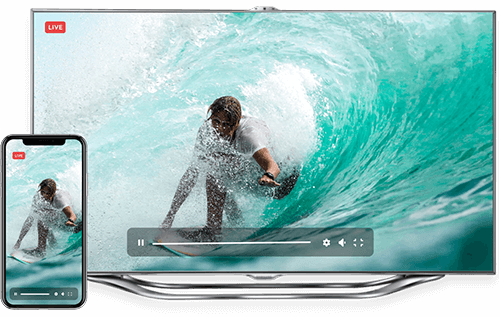 Wrapping This Up…
I hope you've enjoyed this ultimate guide on how to live stream. Here's what you should have taken away from this post:
Audiences are crying out for more live videos

You can live stream using social media, Twitch, Youtube, or your own SVOD

You can get started live streaming using basic equipment (but feel free to spend more!)