If you're not repurposing your live videos, then you're not expanding your social reach as far as it will go.
While live video is one of the most engaging forms of content, you shouldn't rely on live video alone. To reach your business goals, you need to create a variety of content in several formats across multiple platforms. But creating all that content takes time, right? Not if you repurpose the live videos you already created.
Not sure how or what to repurpose? No worries, in this guide, you'll learn 6 ways you can transform your live videos and 5 tips on repurposing content that will expand your reach and boost your brand.
What Is Content Repurposing?
Content repurposing is re-using the same content or content ideas in multiple formats across multiple content publishing platforms. Formats include blog posts, videos, live streams, or podcasts, and platforms might be YouTube, Instagram, Facebook, Twitter, LinkedIn, or Stitcher/Apple Podcasts.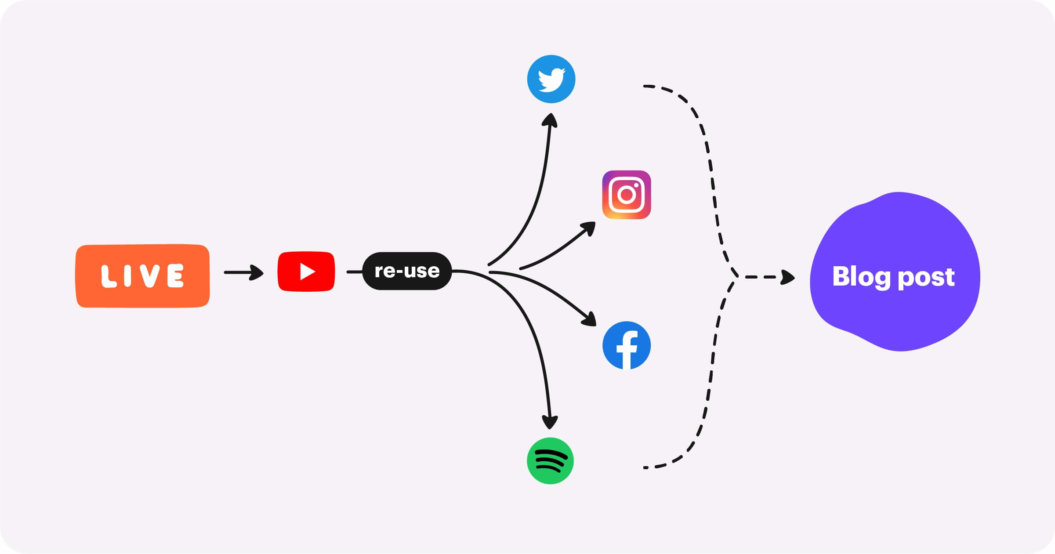 For example, if you live stream to YouTube, you can save the recording and edit it into shorter segments to share on Instagram or Facebook. Or you could write a blog post about your live stream topic and embed the replay in the blog post. Repurposing content works in both directions, too. You can use the topic of a blog post you wrote for a live stream.
Changing the way you present the same information allows you to reach more audiences. Not everyone likes watching live videos; some prefer listening to podcasts or reading a blog post. The goal behind repurposing your content is expanding your reach – which makes it essential for engaging on social media platforms.
Want to learn how to repurpouse your paid on-demand content for social media?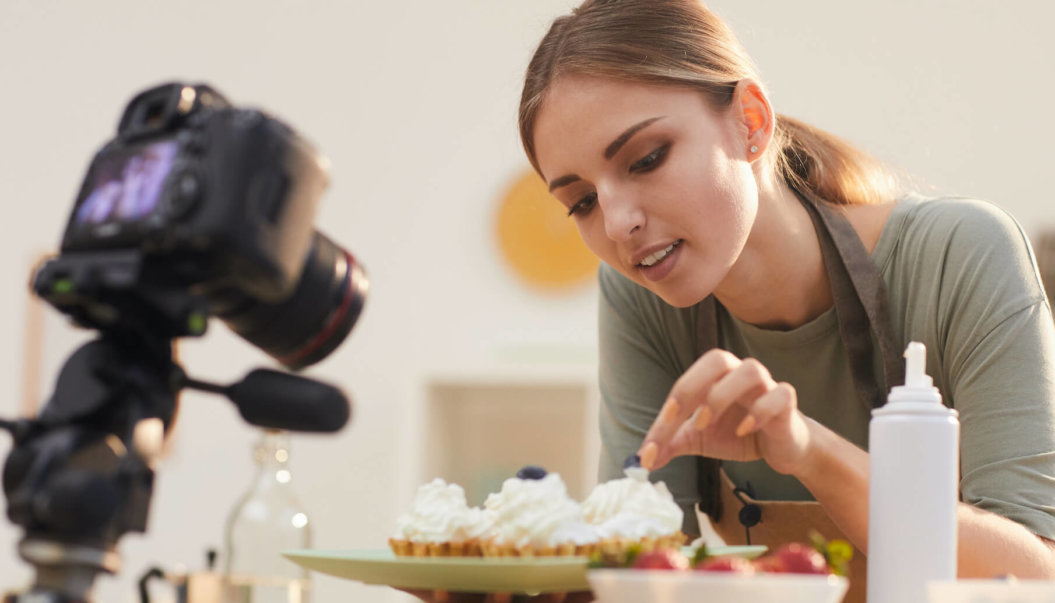 How to Repurpose Your Paid Content for Social Media
How Can Repurposing Your Live Videos Support Your Marketing Strategy?
92% of marketers consider video an important part of their strategy. Live streaming has become mainstream in 2021 and audiences will want more engagement from their favorite brands. Repurposing content helps you increase that engagement. According to the Rule of Seven, consumers must hear your message seven times for buying your product or service. How can you get your target audience to listen to your message seven times without seeming repetitive? By repurposing content.
You might think repurposing content creates extra work for you, but not repurposing your live stream into new content would be a waste of all the work you've already done for the live stream. You actually get a greater ROI from repurposing content because you spend less time and energy on content creation and more on engagement.
To avoid having to redo work, make content repurposing part of your overall content plan, not an afterthought. When choosing topics for your content, pick something that has depth, which you can explore from more than one angle and allude to multiple times. By re-posting and repurposing content on the same topic, you develop a deeper knowledge of it and position yourself as an expert.
6 Ways to Repurpose Live Content For Maximum Social Reach
1. Schedule broadcasts for later
Multistreaming is a great way to reach audiences across platforms at the same time, but if you're not multistreaming, then schedule your live stream for another platform for later. Twitch, for example, doesn't allow affiliates to simultaneously broadcast, so you could stream to Twitch, save the recording, wait 24 hours, then schedule the stream to go live on YouTube. Tools that let you schedule pre-recorded live streams for later, such as Restream Events, are essential for this kind of content repurposing.
When it comes to live streaming, the replay is just as important as the stream itself. Some viewers won't want to watch live, but they'll come back later to view the replay, and vice versa. Covering both ensures that you reach both audiences.
Example: Restream.io hosts a live talk show every Friday and streams it across multiple platforms. Those that don't tune in live, however, can watch the replay on YouTube or Facebook.
2. Edit small bits for social media
Even if you went live on social media such as Instagram or Facebook, you can still edit your live stream's recording into short videos to share on your feed. If you go this route, use a transcription service to add subtitles to your videos, as most social media platforms play videos in the home feed without sound.
You can also take screenshots from your live stream and post the images across social media. The goal of posting shorter videos or still images on social media is to promote your live stream and get people to watch the replay or tune in to your next live session, so always include a CTA with a link to your channel, the replay, or your website.
Example: Uscreen hosted a live webinar on launching an educational streaming service and posted a promo video along with a CTA and the event registration link, on LinkedIn.
3. Tweet quotes
Take some of the best or quirkiest quotes from your live stream and post them on Twitter. A study from Buffer showed that Tweets with quotes got a Retweet boost of 19%. But instead of just typing in the quote as your Tweet, take it a step further and add the quote over a screenshot from your live stream. You could also make a branded graphic with the quote.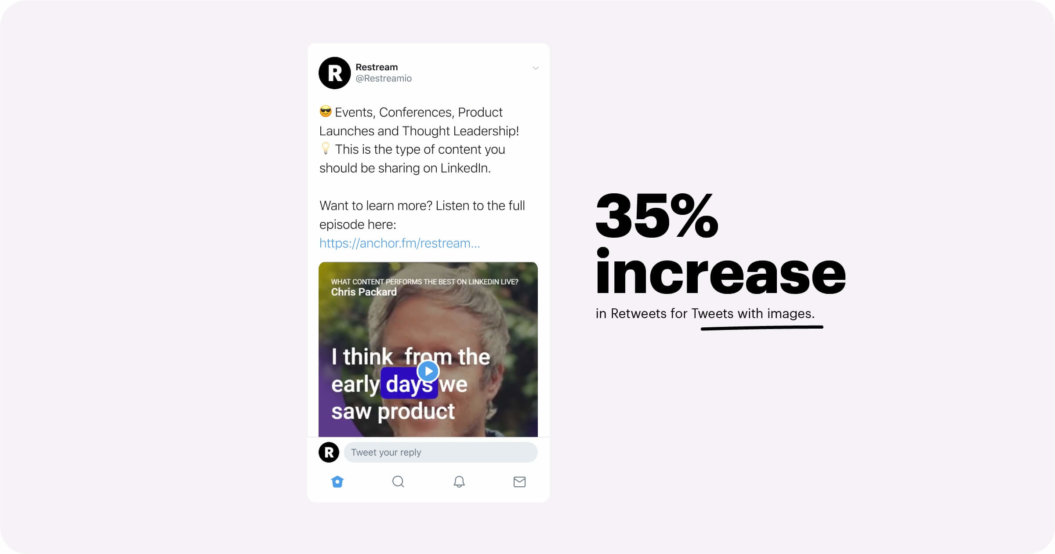 The same Buffer study saw a 35% increase in Retweets for Tweets with images. So combining a quote with an image makes for an effective strategy on Twitter. You can also share graphics or images with quotes on Instagram and Facebook!
4. Make it a podcast
Podcasts are an increasingly popular medium: 37% of the U.S. population listens to a podcast at least once per month. Podcasts can put you on even more platforms, such as Apple Podcasts, Spotify, Google Play, and Stitcher. You can also embed your podcast in a blog post or on your website with Soundcloud.
Podcasts let you reach people who don't watch live streams or videos at all, but your podcast should be of high quality if you want people to keep listening. If you're converting your live stream into an audio-only recording, you should edit out any silent spots, volume jumps, or annoying background noises. The best podcasts are around 20 minutes long (depending on the content), so cut down any lengthy streams.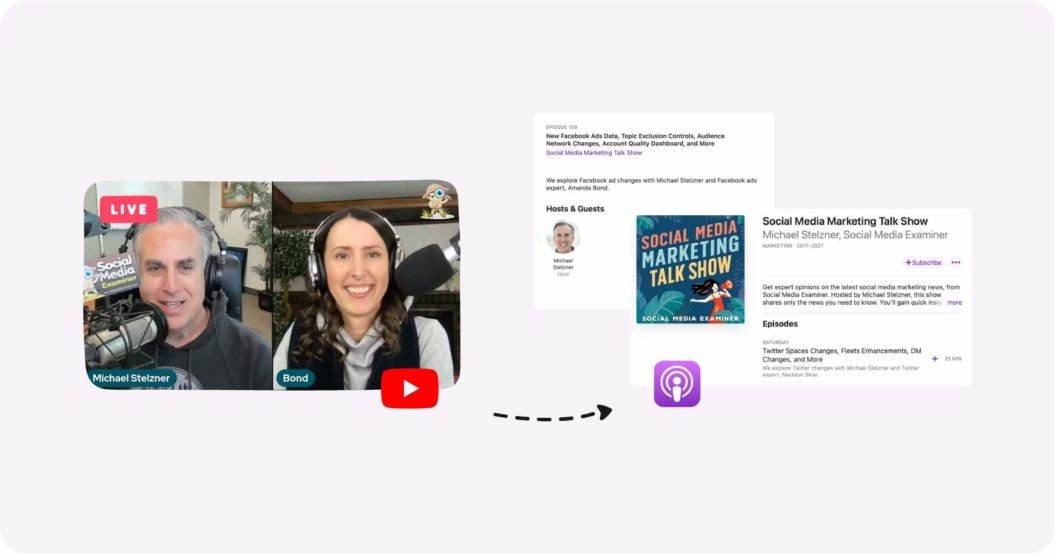 Example: The Social Media Marketing Talk Show from the Social Media Examiner is a live show on YouTube, which gets turned into a podcast as well.
5. Use email marketing
Email marketing is an effective tool. It generates $44 for every $1 spent, one of the highest ROIs for digital marketing. Good email marketing can boost your VOD business if you know how to repurpose content.
You can send an edited replay of your live stream to your email subscribers to promote your video. You can't embed the actual video in the email, but you can add a thumbnail or screenshots to give your subscribers an idea of what it's about. When you send the email, don't forget to put "video" in the subject line so your subscribers will be more enticed to open it.
Example: Twitch uses their live streaming content in their marketing emails to get users to visit their platform.
Looking for an easy-to-implement email marketing campaign?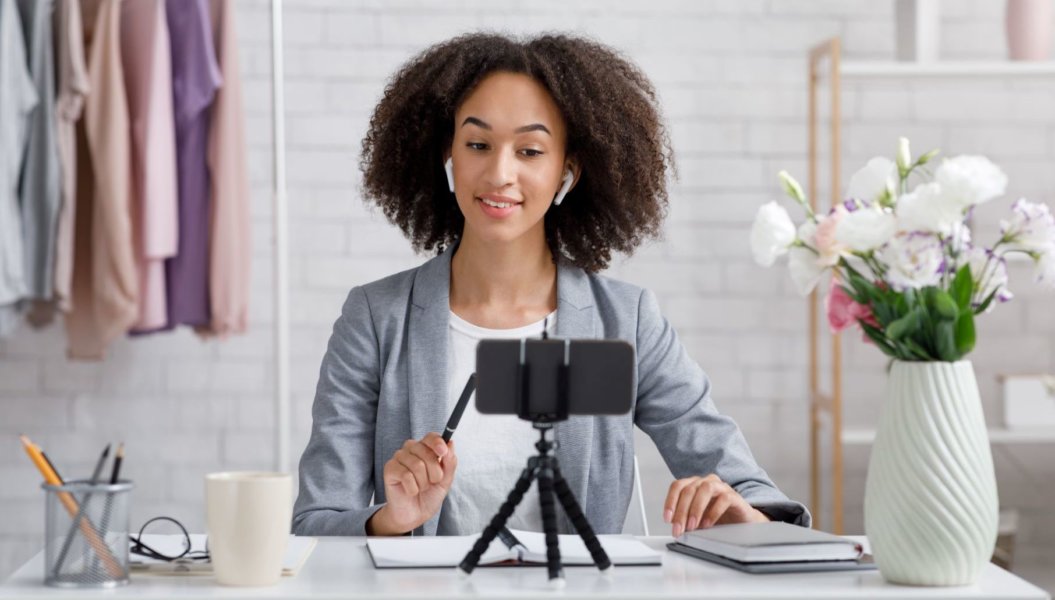 The 3 Emails Every Video Business Should Be Sending
(According To An Email Marketer!)
6. Write a blog post (then embed your stream replay)
After your stream is done, clean up the recording and get it transcribed. With a transcribed text, you can create a blog post on your website. You can either post the transcription itself or summarize your main points. In your blog post, be sure to embed the replay so users don't have to navigate to another page to view it.
Blog posts may not be as engaging as VOD or live streams, but they're extremely shareable. You can post the link to a blog post anywhere, plus having a text version of your stream is great for SEO. Your target audience can find you more easily in search results if you have an optimized blog post.
Example: SEMRush embedded one of their "Weekly Wisdom" tips videos in a blog post with an edited transcript and relevant screenshots from the video.
Tips for Repurposing Content
Although platforms and content formats differ, some general tips and rules of thumb will help you stay organized.
Transcribe your videos
A transcription of your live stream is a must for content repurposing. Having the text of your video is useful no matter what you plan to do with it – posting snippets on social media, putting it in a blog post, creating podcast show notes, or adding subtitles to your YouTube video. Transcribing yourself takes a lot of time, so use a service like rev.com to get your transcription.
Create an audio-only file for podcasts
An audio-only recording of your live stream is just as useful as a transcription. You can clean it up and make it a podcast, share small bits of audio on Clubhouse, or create small quote videos to share on social media. Tools like Audacity are great for ripping the audio from your stream and cleaning it up. If you're a multistreamer, you can use Restream to go live and Restream will save a recording of each of your broadcasts – including an audio-only recording.
Keep the platform in mind
When repurposing content, remember to make your content work for the platform, not the other way around. Keep the norms and expectations of the platform in mind before posting your repurposed content. For example, videos under one minute work well on Instagram and Tik Tok, but not on YouTube; hobby DIYs and tutorials are probably better for Instagram or Pinterest, not LinkedIn. Also, know each platform's video requirements, such as duration and format.
Stay engaged after posting
If you're posting content to social media platforms, don't forget the social part! Avoid posting your content and then leaving immediately after. Stick around so you can respond to comments and engage with your followers or subscribers. If you don't check in with your content occasionally to stay engaged, then it isn't serving its purpose.
Don't go overboard
If you're new to content repurposing, it's okay to start slow. You don't have to reformulate and upload content to five different platforms the first time you try it. Start small, with editing your live stream broadcast for a YouTube replay and see how it goes. Work your way up to sharing on social media or writing blog posts.
Content Repurposing – The Takeaways
Learning how to repurpose live videos for social media is a useful skill for any company, influencer, or brand. Here's a quick recap of repurposing techniques and tips:
Post your stream and VOD to multiple places
Edit small bits of your stream for social media
Tweet quotes from your stream
Make it a podcast
Drop it in an email
Write a blog post and embed your VOD
Transcription is your best friend
Audio-only files are useful too
Keep platform requirements and norms in mind
Stay engaged after posting your content
Start small and work your way up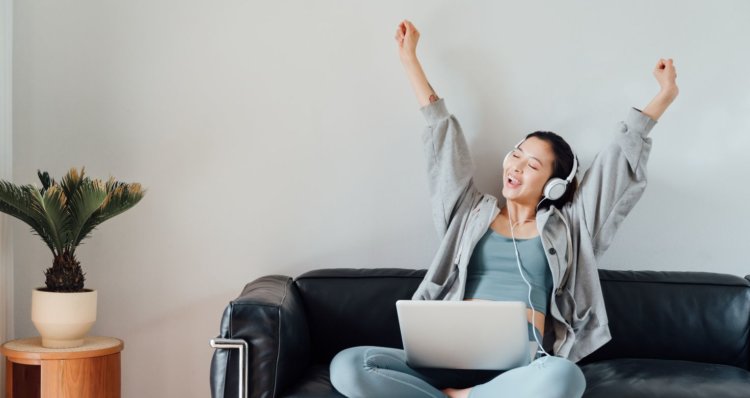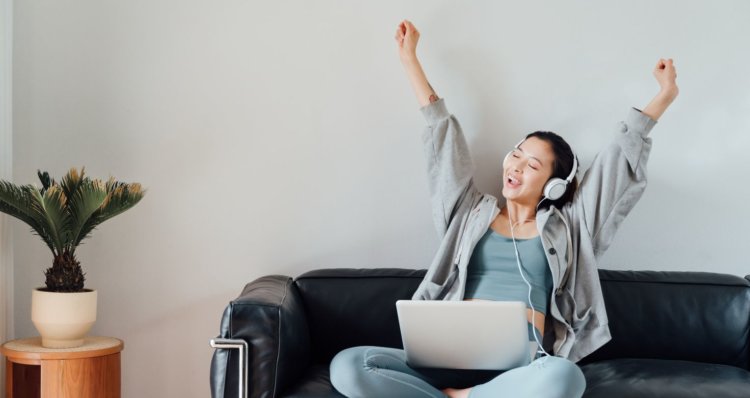 Top Traffic Sources for Attracting Consumers to Your VOD Platform