So, you've been creating fun, engaging short videos on TikTok.
And since you're here, chances are you've got access to the live feature and you've been loving it.
Your followers are growing, and you're on your way to becoming a TikTok influencer.
In this article, you'll learn how making money works on TikTok and 5 ways to monetize your TikTok Live streams:
Let's get into it!
How to Make Money on TikTok with Creator Next
Before we can dive into making money from your live streams on TikTok, we need to talk about Creator Next. 
Creator Next is a program you need to join to access all of TikTok's monetization features. It's designed to help creators grow their communities and earn money from their content.
To qualify for Creator Next, you must:
Be 18 years old (or 19 in South Korea and 20 in Japan).
Be in the U.S., U.K., Germany, France, Italy, or Spain.
Have a minimum of 10,000 followers.
Have posted 3 videos in the past 30 days.
Have at least 1000 views in the last 30 days.
Have a Pro Account.
Have a verified Paypal account to receive payment.
The Creator Next is the first requirement to access all the other TikTok app monetization features.
What is TikTok Creator Fund?
Okay, we've covered Creator Next. Now, what exactly is the TikTok Creator Fund? It's one of the monetization features that get unlocked, along with Marketplace and Live Gifting.
Creator Fund: you'll need a minimum of 10,000 followers and 100,000 views in the last 30 days. Creators are reported to make between 2 to 4 cents per 1000 views.
TikTok Creator Marketplace: you'll need a minimum of 100,000 followers and 100,000 video likes in the last 28 days. You'll be able to see open campaigns from brands and apply for them once you're in the marketplace.
Live Gifting: similar to Twitch, your viewers can send you virtual gifts during a live stream.
Note that total video view requirements are from pre-recorded TikTok videos.
According to K.M. Robinson, a TikTok expert and social media educator, "Live views don't count toward total video views, but engagement on live videos can help with your TikTok algorithm standing."
So, if you want to make money directly from your live streams, you'll need access to Live Gifts.
Receive Live Gifts from Your Followers
Once you have access to Live Gifts, viewers can send you virtual stickers during the live stream. These gifts let you collect diamonds, which can be redeemed for real money.
Here's how it works:
Viewers buy coins using real money.
Coins allow them to buy virtual gifts.
You'll then convert these coins to diamonds.
Diamonds can then be redeemed for real money.
Here's a quick breakdown:
$1 = 100 coins (cost to your viewers).
2 coins = 1 diamond.
200 diamonds to $1 (value of money you can redeem).
All amounts are in USD, and you'll need a minimum of $100 cash value before you can withdraw the funds to your Paypal. Lastly, TikTok takes a 50% cut.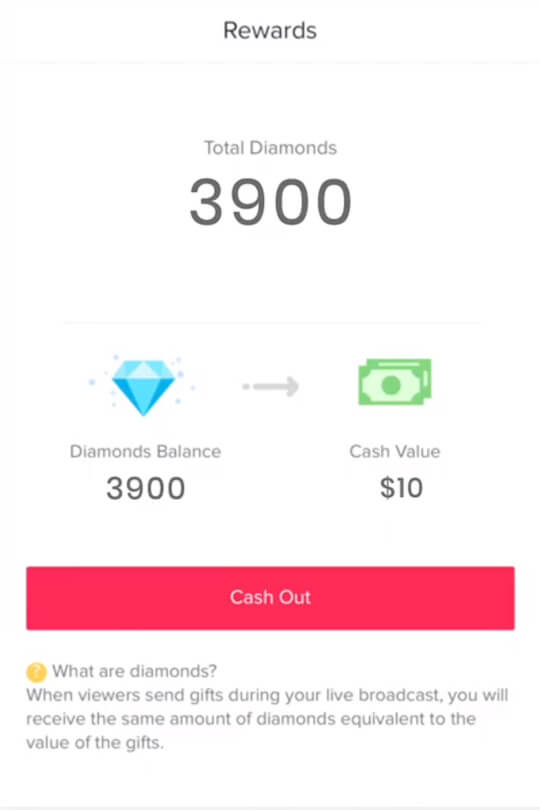 To get the Live Gifts feature, you must…
have 1000 followers
have a TikTok account that is in good standing
have an account that is at least 30 days old
…and must follow all the community guidelines.
Live Gifts is an exciting opportunity for creators who love to go live. But you'll have to go through hoops to meet the requirements.
Host Sponsored Live Streams
If you've been live streaming regularly but are still waiting to qualify for Creator Next and Live Gifts, scoring brand deals and partnerships is your next best bet. This is when brands pay you to host a live stream and mention their brand.
Here are a few examples of live streams you can do for brands:
Live Tutorial: show your viewers how to use a tool or product from your sponsors.
Live Shopping: sell items from sponsors directly on your live stream.
Live Q&As: interview someone from the brand's team and talk about a topic that resonates with your audience.
Here's a great video on how to do a split-screen or dual live stream on TikTok:
3 Things Things to Do Before Reaching Out to Sponsors
Create a list of ideal brands: ideally, you'll want to work with brands targeting your primary audience.
Check their existing influencer marketing campaigns: see if they're featuring influencers on their account and if they've produced a live stream together.
Prepare your media kit: include your TikTok account's statistics, number of followers, average live viewers, and live engagement.
You can always mention the brands you already use and love during your live streams. This is a great way to get their attention and start the initial relationship.
Nano-influencers (influencers with more than 1000 followers but less than 10,000) typically charge $5 to $15 for a sponsored post. Micro-influencers (10,000 to 50,000 followers), on the other hand, charge between $25 to $250.
Be on the lookout for brands who consistently run influencer campaigns on TikTok. Follow sponsored hashtags and TikTok ads from brands you'd love to work with.
Sell Your Own Merch
You may notice some of your favorite creators on TikTok wearing shirts or hats with their logo and catchphrases. This is because branded merch is one of the best ways to make money on TikTok live.

Plus, e-commerce platforms make it easier to create, print, and ship your merchandise.
How to Get Started Selling Your Branded Merch
Identify your first 3-5 items that will resonate with your audience.
Create the design or hire a designer who specializes in branded merch.
Choose a print-on-demand service that will take care of the printing and shipping of the items.
Order your first few items to test the quality and the shipping process.
Once you have the items, go live and showcase your merch. You can do a live shopping format where you talk about each item and sell directly to your viewers.
Another option is to show behind-the-scene live streams while wearing your merch. Make sure to promote your e-commerce shop link during the stream.
Julia Roblin, an artist from Canada, uses TikTok to showcase her hand-drawn merch and stickers. She uses LinkTree in her bio to direct people to her shop.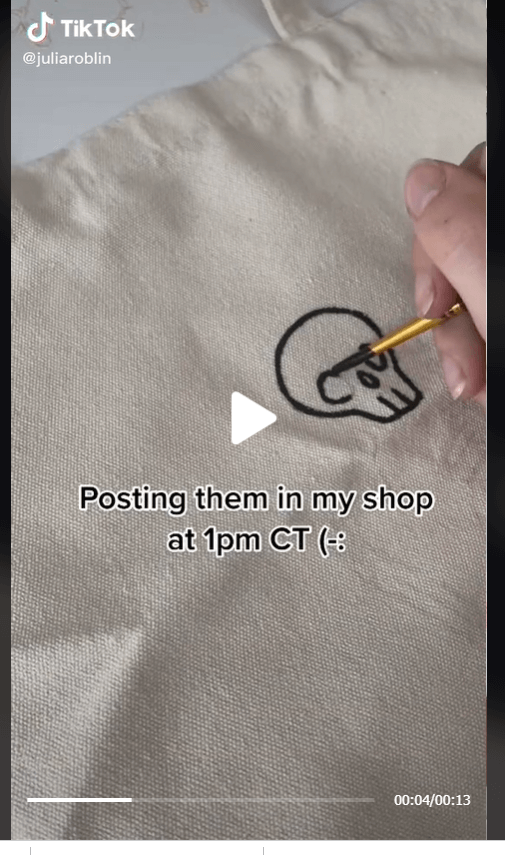 Read our step-by-step guide on how to start creating and selling your own merch if this sounds like a good path for you.
Promote Affiliate Products
If designing and selling your own merchandise sounds like a lot of work, you can promote other people's products instead. With affiliate marketing, you'll earn a commission every time someone buys from your affiliate link.
For example, you can earn up to 11% commission for every affiliate sale from Nike's affiliate program. If a pair of running shoes cost $100, you'll earn $11 for that sale.
It's small at first, but income from affiliate sales can add up quickly, especially as your TikTok followers grow. The more people click your link, the higher the chances they'll purchase something through your link.
How to Start Finding Affiliate Products
Search on Google " best affiliate marketing programs + [your industry]. For example, "best affiliate programs in health and fitness."
Sign up for the program. Most programs require you to share your personal information, website, and social media handles.
Wait to get approved.
Once you're approved, you'll get access to your affiliate link.
Once you have the link, you'll be able to promote this link on your TikTok live. You can put the link in the comments or in your TikTok profile.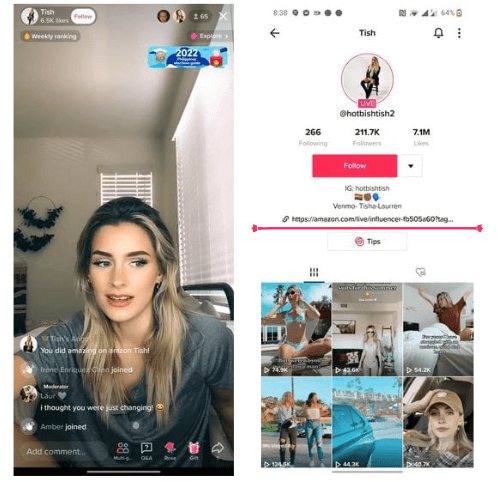 Ideally, you want to choose affiliate products you have experience using because your live streams will be more authentic and engaging.
The amount of money you earn from your live streams depends on many factors, such as the number of people watching your live streams, the commission rate, and the types of products you're promoting.
Start Your Own Live Streaming Platform
If you're serious about live streaming as part of your video business strategy, you should consider building your own live streaming platform!
As with any social media platform, everything is peachy until one day the algorithm changes, and you're pretty much screwed. The views start slowing. This means the earnings start slowing too.
A great strategy is to use TikTok live to grow your live viewers and allow them to discover your free content. Once they're engaged, you can bring them to a platform where you own and set your own rules.
That's where Uscreen comes in. With Uscreen you can:
Create your own branded live streaming platform without learning how to code.
Host live streams as part of a monthly or yearly subscription.
Or charge a one-time fee for each live event.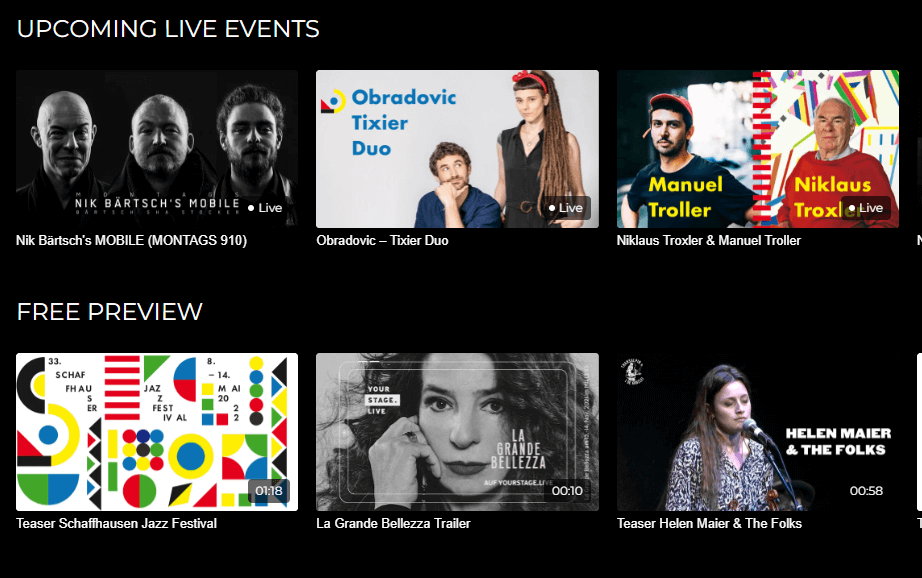 Based on our research, about 2% of your social media followers will convert to paying subscribers. If you have 6000 followers on TikTok, you should expect to convert around 120 people.
If you charge a $15 monthly membership fee, you'd stand to earn $1800 per month.
Since you own the platform and set the prices, you'll get 100% of the revenue.
Wrapping It Up
There are plenty of ways to make money online, especially on TikTok. But if you want to monetize directly on your TikTok live streams, it's only possible natively with Live Gifts.

The good news is there are other ways to make money on TikTok Live while waiting to qualify for Creator Next.
You can try scoring sponsorship deals, selling your merch, and promoting affiliate products.
However, if you're serious about your journey as a content creator, owning your own live streaming platform with Uscreen is the way to go.
It's simple with Uscreen.
Build, launch and manage your membership, all in one place.