Do you have a Facebook Group but need help finding the best way to grow it?
We got you covered.
There are many benefits to owning and growing a Facebook Group for your brand, such as:
Building brand awareness to let your members know more about you.
Promoting new content to sell products and services faster.
Getting feedback on your content or project you're working on.
Building relationships with your audience and learning from them.
Generating leads and conversions since you built their trust.
Increasing engagement organically, even on other social media platforms.
If you want to enjoy all of these benefits to the max, you have to bring more members to your group.
That said, here are 7 tried-and-true steps on how to grow a Facebook Group successfully: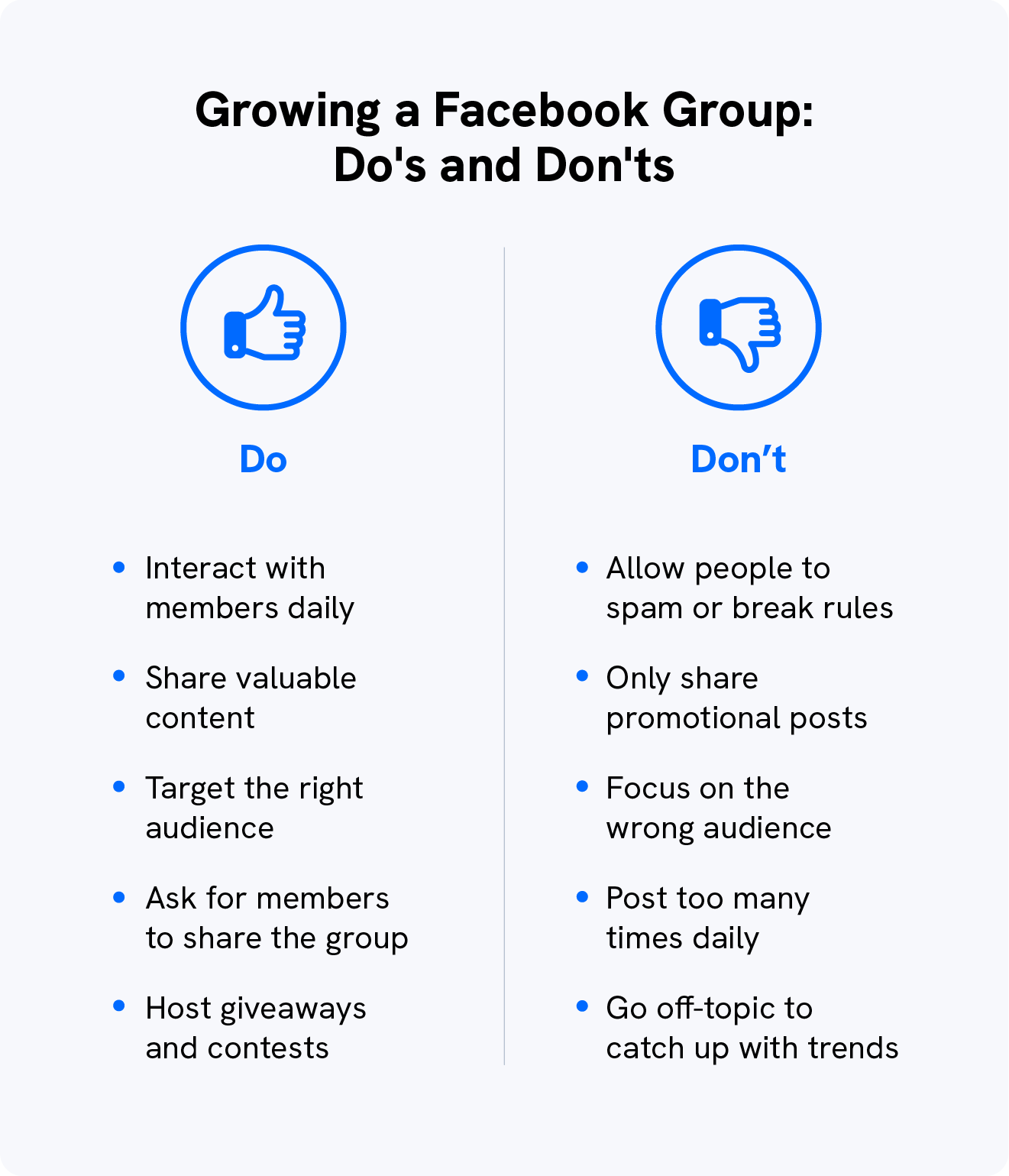 1. Determine the Goal of Your Facebook Group
The first step for growing a Facebook Group is to establish a clear purpose for it.
Why is that?
Determining the purpose of your Facebook Group will help you create an environment where members interact with other like-minded people and attract the right people to your group.
And the more specific your goal and purpose are, the more specific of an audience you'll be able to attract. In other words, if you build it (the right goal and purpose), they will come (the right audience).
For example, let's say you're a fitness instructor who wants to teach exercise classes specifically for pregnant women. You could create a group called "Fitness Tips for Women."
But you'll be a lot more specific and have an explicit goal if your group is called "Fitness Classes for Expecting Moms."
💡How They Do It
Take a look at Momma Strong as an example of how to grow a Facebook Group successfully. They have a video-on-demand platform and a Facebook Group targeting a specific audience: moms who want to be strong both inside and out. ?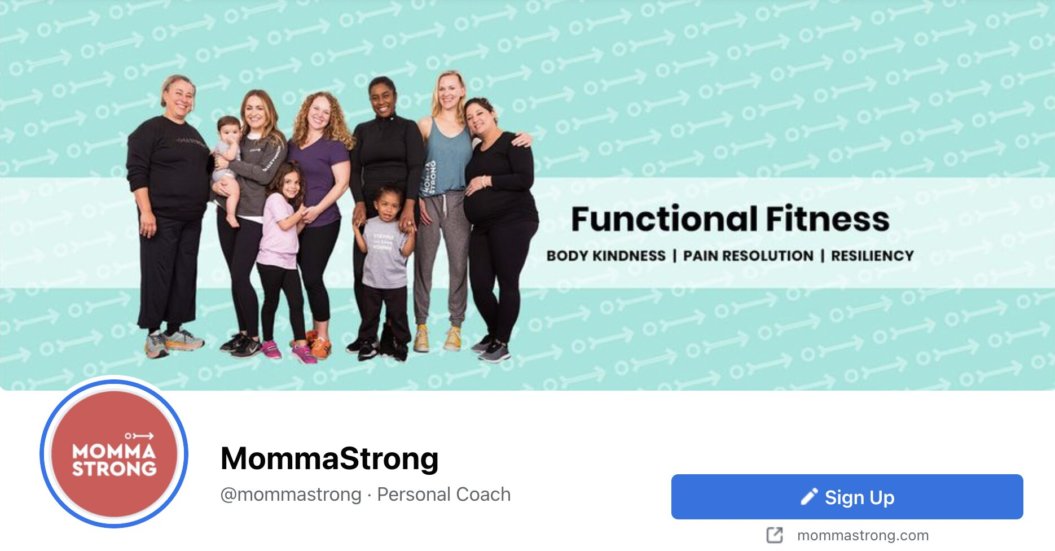 Still stuck on how to establish a goal for your group?
There are some questions you can ask yourself when establishing a goal for your Facebook Group:
What is my niche?
Do I want to promote a product or service?
How will an online community help me?
What would the perfect community look like?
Do I want to hear feedback?
Do I want to connect with my audience?
Once you have a clear purpose for the group, you need to create a compelling reason for people to join it.
You want to entice people to join your group just by looking at your about page.
Here's how to get people to join your Facebook Group:
Explain the group's purpose in the "About" section of your group. Make sure to include everything members can do in the group and list the group's benefits.
Come up with a creative name and theme for the group. Keep a branded theme throughout the whole page from the cover photo to the posts.
Give an incentive for signing up. You can offer a sample of your eBook, give access to content, or even mention you run contests monthly.
2. Target the Right Audience
Wondering how to promote a Facebook Group to, well, grow your Facebook Group? Similar to setting a specific goal for your group, you'll need to target a specific audience.
And that right audience can be anywhere, even on other platforms.
There are a few ways you can target a new audience to join your Facebook Group, including through:
Cross-platform promotion: Promote your group on other platforms. Share it on your Instagram story, Tweet about it, or make a video about your group on YouTube.
Guest-posting: Offer to write a post for popular blogs and link to your group within it. You can also create blog posts on Medium and share them on Pinterest.
Collaboration: Find influencers in your field to collaborate with or ask them to join and promote your Facebook Group.
Sharing on other Facebook Groups: Engage and post on groups in your field and mention how your group can help them as well.
Hosting live streams: Go live at the right time on other platforms and share your group with a new audience.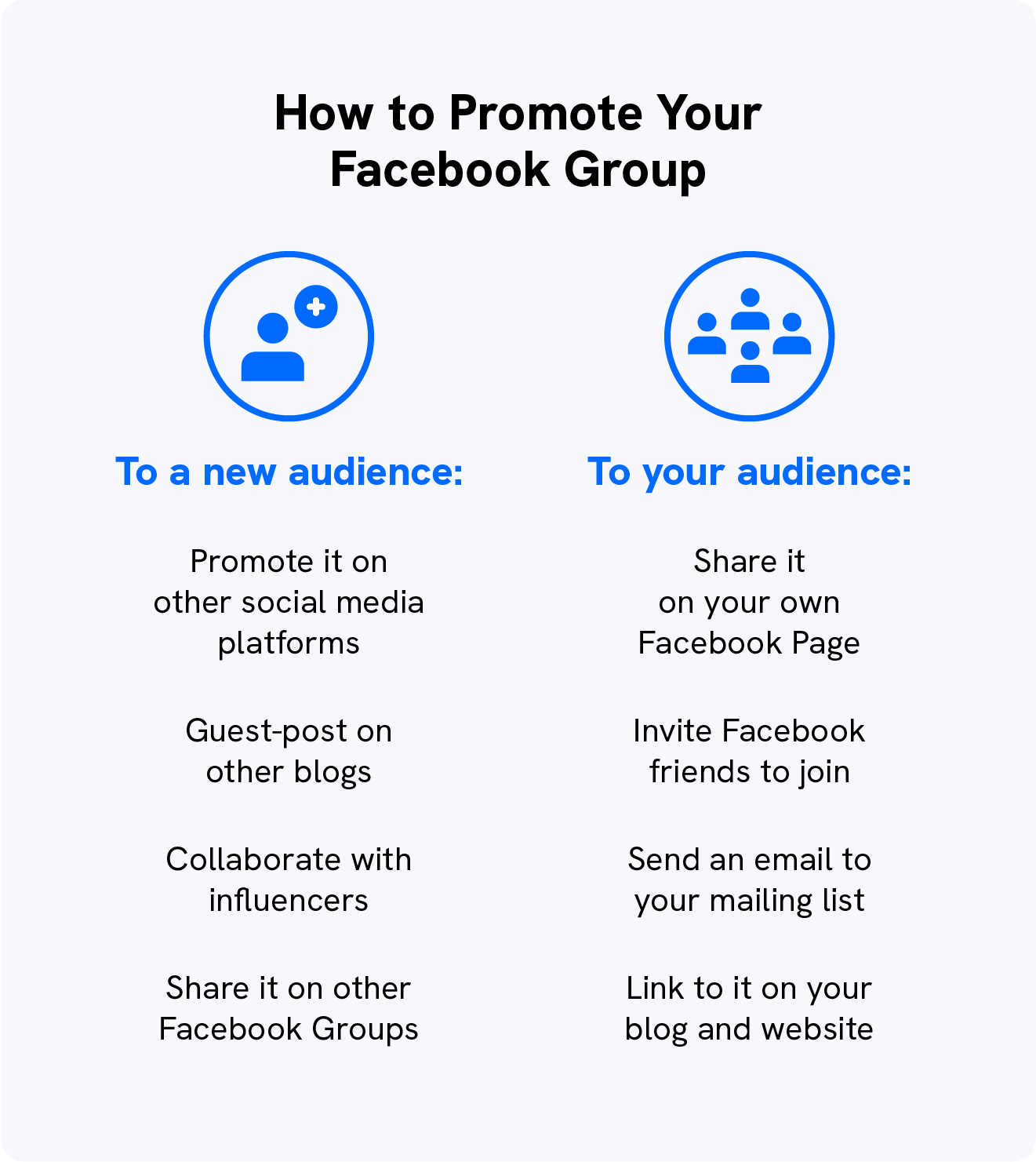 You also can promote your group to your own audience, which will be the most likely to join your group.
Promote your Facebook Group to your own audience by:
Sharing it on your Facebook Page: This is a quick and easy way to get the word out that you have a group. Your followers are also likely already within your target audience.
Sending invites: You can also invite your Facebook friends to join the group, and send emails to people you know by sharing what benefits the group will bring them.
Linking: Add the Facebook group link to your website, on blog post's CTAs, and on your email signature.
3. Create Content Regularly
Posting regularly can help you increase engagement and make members want to share your group with others. But you need to make sure that the content is also creative and relevant to your target audience.
Consider these creative content ideas to grow your Facebook Group:
You might also encourage your members to collaborate in the group by sharing their own points of view and experiences.
To make the process easier, you can create a schedule for posting on your Facebook Group, and plan your content ahead of time.
For example, you can create "Share a Tip Friday," where you start the post with a tip about a specific topic and encourage members to share their own tips in the comments.
4. Engage With Facebook Group Members Consistently
Your members want to be part of a group where they can connect with you, so it's important to also engage with them daily.
When scheduling or creating posts for your group, consider including questions for Facebook Group members to boost engagement. For instance:
Ask for their support on coming up with a business or personal decision.
Ask general questions about their life, choices, and experiences.
Ask members to share their own businesses or projects.
Ask for their opinions on a topic or project.
This way, you'll keep members engaged by answering your posts and liking your content.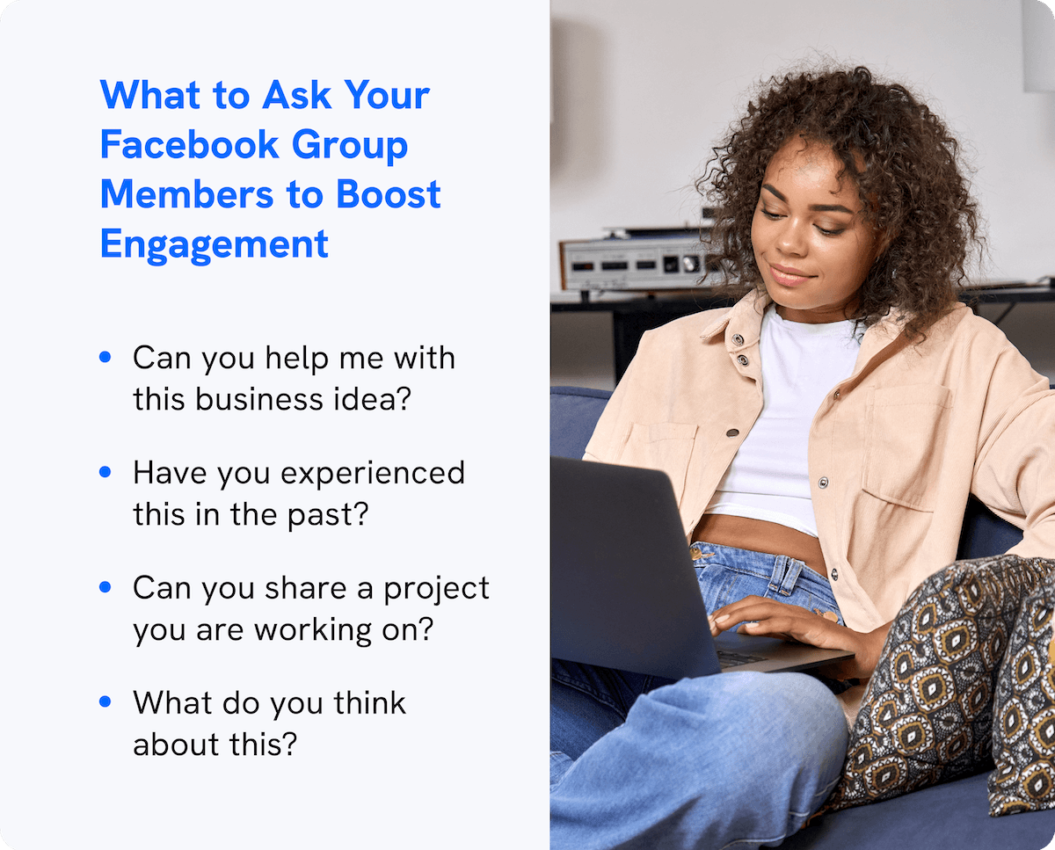 Then keep the engaging momentum by:
Mentioning members on older posts and referencing past posts.
Tagging new members and asking the group to help welcome them.
Spreading your engagement across different posts.
Celebrating milestones and achievements.
So, if your group just reached 2,000 members or you just got your 100th platform subscriber, share a celebration post. Then, prompt members to answer with an image or a fun gif to express how they feel.
If your members are enjoying the group engagement, chances are they'll invite others to join your group as well.
5. Evoke Word-of-Mouth Marketing
Word-of-mouth endorsements are a powerful tool when growing a Facebook Group since people tend to trust family and friends' opinions.
Having an engaged community will likely already bring new members in because of personal recommendations, but there are a couple of ways to encourage word-of mouth-marketing:
Make sure your content is both of high quality and relevant.
Have great member support by always answering their questions.
Continuously share the benefits of your group and engage with members.
Beyond these natural ways to encourage word-of-mouth marketing from your members, you also could openly ask your Facebook Group members to share it with others who might be interested in joining.
You might even create an incentive to do so by creating a referral program with exclusive perks for members who invite someone to join.
For example, create a limited-time referral program where the Facebook Group member who brings the most new faces to your group receives a prize, be it a gift card, free online course, or even an exclusive mentor meeting with you.
6. Host Giveaways and Contests
Giveaways and contests are another great way to grow a Facebook Group. To boot: They can also be fun and engaging.
Hosting contests and giveaways can also help you bring traffic to your social media, increase your email list, and drive more traffic to your website.
Similar to referral programs that encourage word-of-mouth marketing for your Facebook Group, you could run a giveaway or contest where members have to share the group with friends, recruit new members, or post about your group on socials.
Or you can make it even more fun by also asking to them share a story about a topic, guess an answer to a question, or participate in a photo and video contest. These are even more ways you'll be able to boost engagement.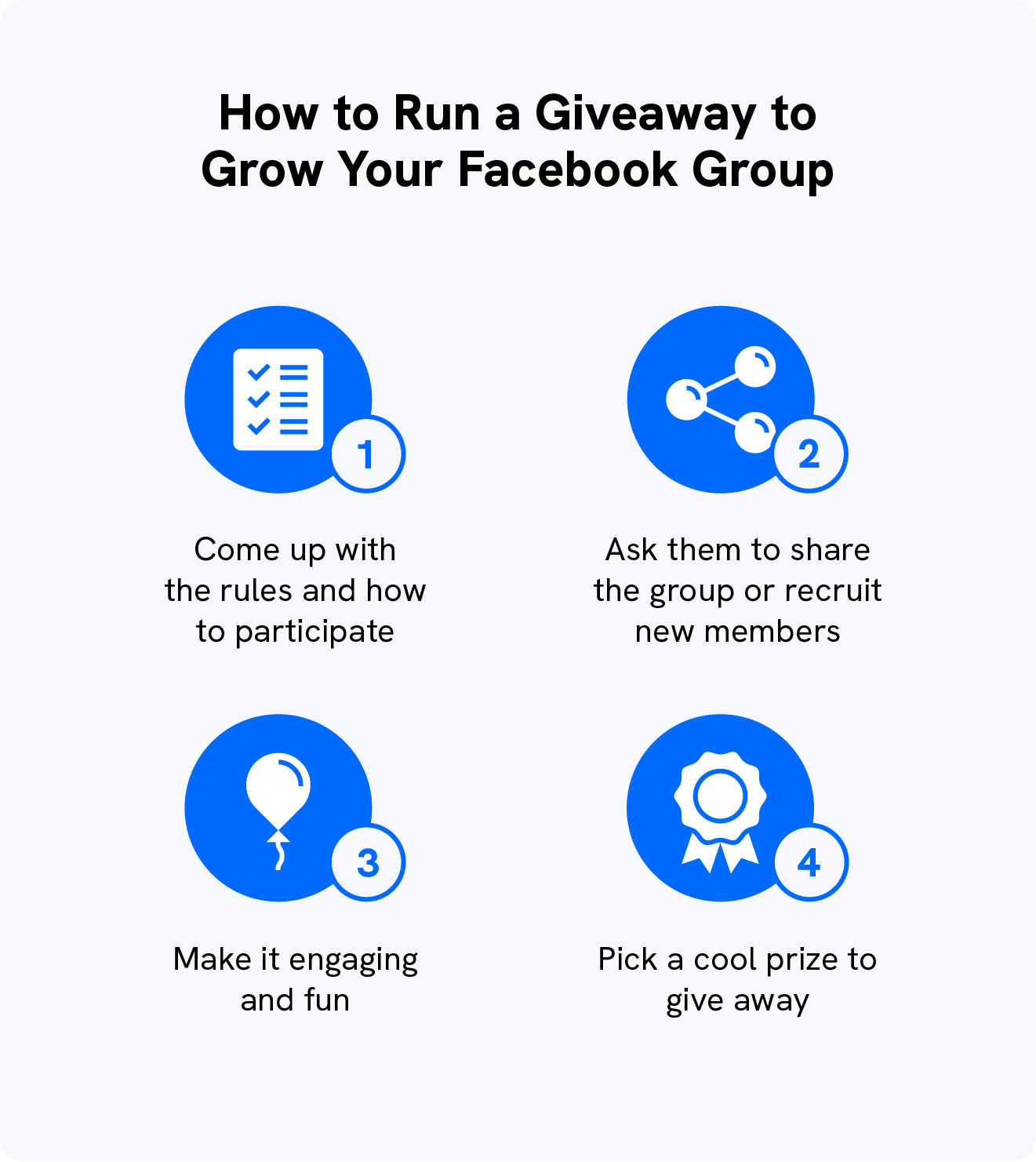 In return, you can come up with a cool prize to give away, such as:
You can even choose to host weekly or monthly giveaways and contests so members will have something to look forward to.
7. Create Facebook Ads
If you have the budget, another great way of growing a Facebook Group is by running targeted ads on Facebook.
Before doing so, it's important to make sure your Facebook Group shows up when people are searching for your group topic.
To do that, optimize your group description to target keywords people are searching for. Then, include those keywords on your website with a link to your group to prompt people to join.
This way, your group will be ready and optimized for Facebook ads. Here's how you can do it:
Go to Facebook Ads Manager, and click "Create Ad."
Choose a marketing objective, such as "Engagement."
Pick an ad campaign name and set "Page Likes" as your objective.
Choose a specific target audience, such as interests or job title.
Create your ad to prompt people to like your page and join your group.
Start with a small budget for ads, then work your way up once you start to see results.
Wrapping It Up
Now that we let you in on all the steps of how to grow a Facebook Group, you'll be ready to start welcoming new members.
Remember to keep engaging with your Facebook Group, so it really feels like members are part of a community.
Pro tip: You can use Uscreen to build a community and promote your Facebook group. Plus, you'll get a chance to make money with your own video-on-demand platform.