Shopping at a mall is so last decade. Now people want to shop with just the click of a button.
But even though getting your products delivered to your customers' doorsteps is a seamless experience, people still want to learn more about the product before they buy it.
That's where live shopping comes in.
This immersive experience combines the convenience of shopping online with the details you get from shopping in person, but all done through a live stream.
And it sure is profitable. Live shopping is expected to reach a whopping $26 billion in sales by 2023.
But how can content creators leverage this new way to sell products online?
In this post, we'll go over everything you need to know about live streaming shopping and how you can get started.
Let's hop right in.
It's simple with Uscreen.
Build, launch and manage your membership, all in one place.
So, What Is Live Shopping?
Live shopping is when you live stream to showcase your products and sell them in real time to people watching you.
Think of it as a modern spin on the Home Shopping Channel or QVC on your TV. But instead, it's delivered to viewers through live streaming.
An interactive shopping experience, live shopping is a creative and innovative way to show how your products work in real time while allowing you to interact with your viewers.
This format also allows you to showcase many different types of products, from clothing to digital products to home decor.
Live shopping events usually happen on social media platforms and can have a more casual feel, as if you're talking to a friend about a product you recommend.
And What Are the Benefits of Live Shopping?
Live shopping is an immersive experience with benefits beyond avoiding the crowds at shopping malls.
With live shopping, people can learn about the products they're interested in while still being able to interact with sellers in real time as if they were there in person.
In fact, 36% of people say the main reason they tune in to live shopping events is to learn about new products.
But what's in it for the video content creators looking to sell their products?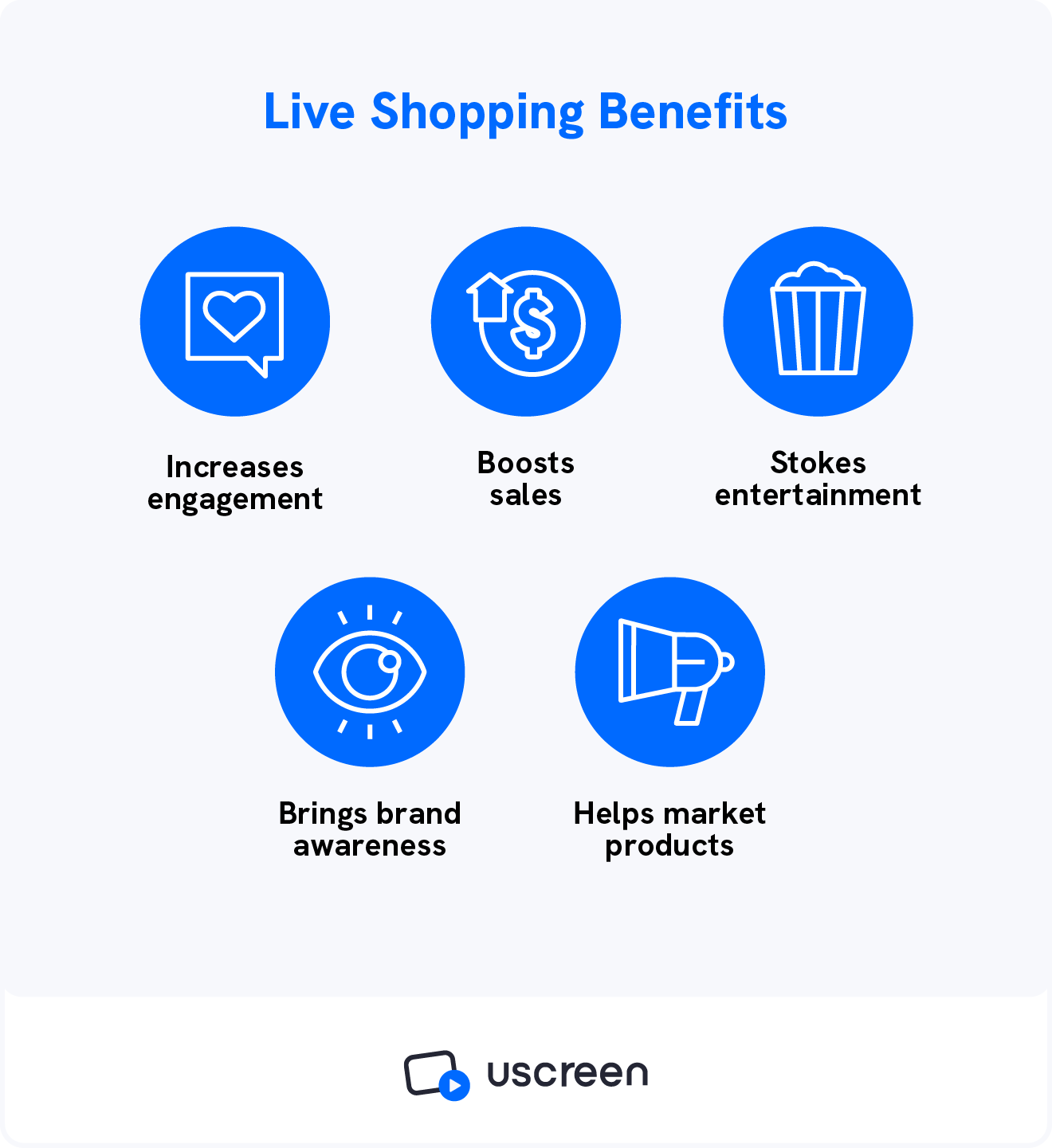 For video content creators, live shopping comes with many benefits. It can:
Increase engagement: live streams bring a personal connection, allowing people to ask questions and interact with you, which increases engagement.
Boost sales: with the right audience and high engagement you'll be able to create an urgency to buy and increase your sales.
Stoke entertainment: you can be creative with the way you showcase your products and interact with your audience.
Improve brand awareness: live shopping streams help you connect with your target audience enabling them to remember you and know more about your brand.
Help market products: you can identify some products that are underperforming, and showcase them on your stream to bring more attention to them.
What's more, live shopping makes it easy to shop online, and you can include calls to action with product links that help your viewers make the purchase right then and there.
But, Which Live Shopping Platforms Are There To Choose From?
Live shopping is streamed to people's phones, computers, and even TVs, so choosing the right platform to reach your target audience is essential.
When picking a live shopping platform, consider:
Who your audience is: this includes where they are from and their average age.
Which platforms they use: find out if they prefer using social media or a dedicated live streaming platform.
Your budget: figure out how much you're willing to invest in creating live streams.
There are 3 main types of platforms you can choose from when you want to start live streaming shopping. Let's take a look at what they are.
Your Own Platform
Whether you already have an established membership platform or online community (like Uscreen) or you're looking to start one, hosting a live shopping event on your own platform can be a good way to reach a more targeted audience.
Hosting a live shopping event for your subscribers and community on your own platform will allow you to:
Boost sales: your subscribers are already loyal to you, which increases the chances of them buying your products.
Be more creative: it's your platform, so you can choose how to customize your live event to match your brand and host it however you like.
Connect with your audience: hosting events exclusively on your platform will make your audience feel more special and closer to you.
Repurpose content: you'll be able to keep your live shopping events on your platform for those who missed them so you can maximize viewership.
You can also host these events on your own storefront if your website has the capability or you can use a plugin, like Channelize.io, to add it to your website.
Although this is a great way to host live shopping events, you will have to do some heavy lifting when it comes to marketing your live stream and bringing new subscribers to your platform.
It's simple with Uscreen.
Build, launch and manage your membership, all in one place.
Live Shopping Platforms
You can also choose to go for a platform that is dedicated to live shopping, like Bambuser or Livescale.
Since live shopping platforms are specifically designed for live retail, you'll get:
More features: they'll allow you to highlight and link to products on the screen and get detailed reports on sales.
Integrations: these platforms will usually allow you to integrate with other platforms so you can live stream to multiple places.
Unique opportunities: you'll be able to create connections with customers by providing them with one-on-one shopping experiences.
These live shopping platforms can also help you connect with a new audience who's already using the platform to shop live.
However, there are some downsides, too. Choosing a dedicated live shopping platform means you'll have fewer branding options and will have to manage a different platform aside from the ones you're already used to.
Social Media Platforms
Many people will choose to host live shopping experiences directly from their own social media platforms since they are easy to start and promote.
If you choose to live stream shopping on social media like Instagram and Facebook, you will be able to:
Reach a wider audience: everyone's on social media these days, so you'll have the opportunity to reach a lot of people.
Notify your followers: you'll be able to let your followers know that you're going live and increase the chances of them joining.
Easily set it up: most social media platforms will let you start live shopping with a click of a button.
Since you'll be reaching a wide audience when live shopping on social media, you'll want to also put some effort into promoting your stream to ensure you attract the right audience.
Cool, How Do I Start Live Selling?
Once you choose the platform you want to start live selling with, you'll be ready to start your event.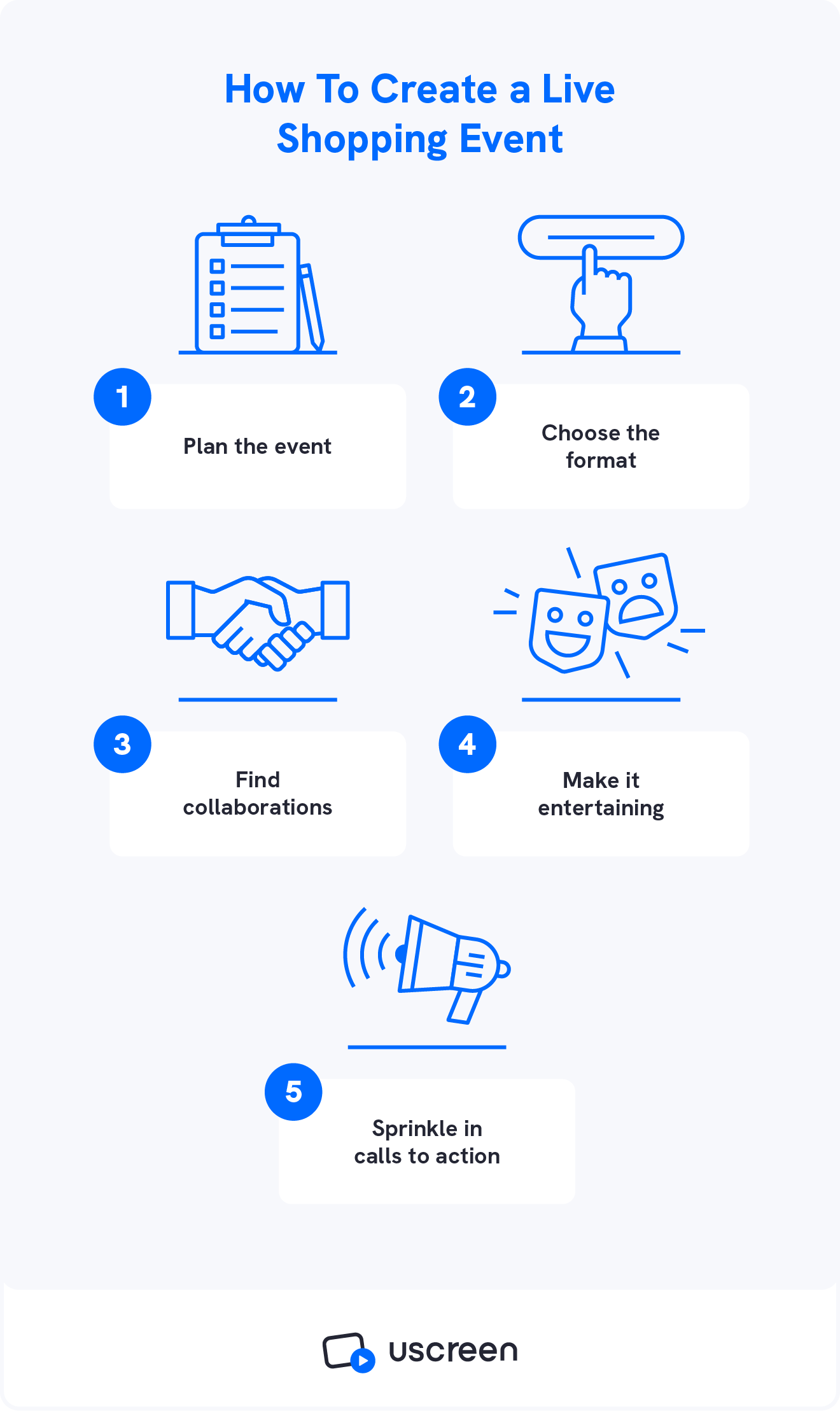 To run a live shopping event:
Plan the event: create a video script with the products you plan to showcase and rehearse what you'll say.
Choose the format: decide how you want to showcase your products. For example, you can do an instructional video, a behind-the-scenes look, or a Q&A.
Find collaborations: look for influencers and creators to collaborate with to bring a new audience to your live shopping event.
Make it entertaining: make your live event entertaining by thinking of creative ways to showcase your product and interact with your audience.
Sprinkle in calls to action: mention during the stream how to buy the products and how long they'll be available. Include calls to action to encourage people to buy.
Aside from ensuring your live event runs smoothly, you should also remember to have fun and connect with your audience on a more personal level.
Any Tips for Hosting a Live Shopping Event?
If you want to have a successful live shopping event, we've got a few tips that will help you boost your sales.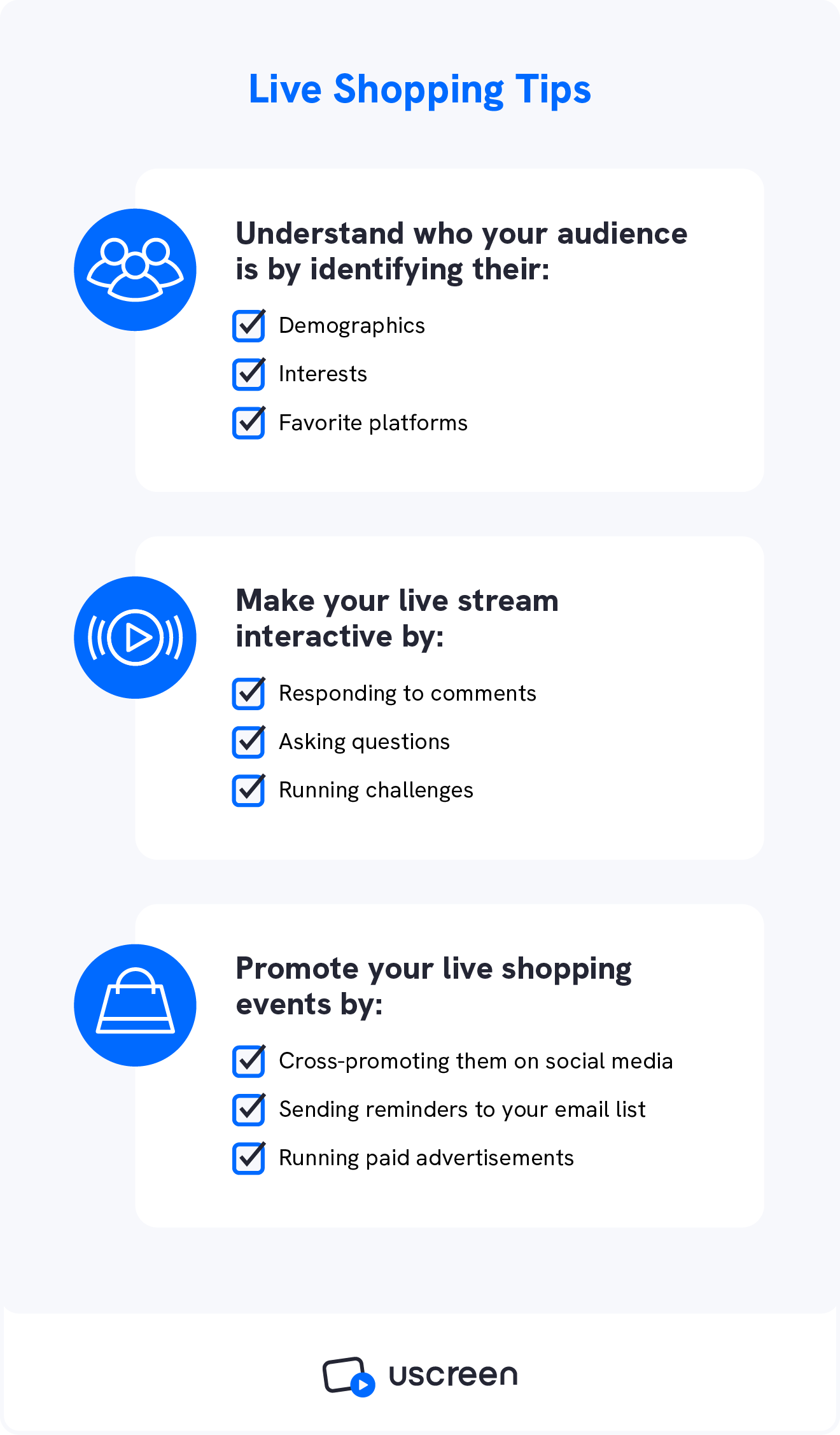 Let's take a closer look at what they are.
1. Find Out Who Your Audience Is
When you're hosting a live shopping event, you want the right audience to tune in, meaning the audience who will buy your product.
In order to attract the right audience, you need to first find out who your audience is so you can tailor your live shopping event according to their interests.
By doing this, you'll have a better idea of which products you should be showcasing, which platform to use, and how to present your products.
To find out who your audience is, you need to know details like:
Demographics: this includes who they are, where they live, and how old they are.
Interests: this includes what type of content they like most and what they usually buy.
Platforms: identify which platforms they usually use and interact with the most.
You can find this information by looking at your content analytics, your competitors, and even asking your audience about what they like and dislike.
Once you know who your audience is, you can consistently create content that's tailored to them and start to build a community in order to increase your audience's retention and loyalty.
2. Create Interactive Content
Aside from targeting the right audience, you have to ensure that your live shopping content holds their attention and keeps them coming back for more. You can do that by creating interactive content.
Live shopping should feel as if your viewers are shopping at your store in person, but better. This means you need to make them feel connected and entertained.
To make your content interactive, you should:
Respond to comments in the chat.
Answer product and brand questions.
Ask viewers questions.
Give sneak peeks of new releases.
Pause for a candid chat.
Run quick challenges.
You can also ask viewers to let you know which products they would like to see during the next live streams and which products they like the most.
3. Promote Your Live Shopping Events
Our last tip for a successful live shopping event is to promote it. This is how you bring the audience to enjoy your stream.
Start promoting your shopping live stream ahead of time by:
Sharing about the event on your platform regularly.
Creating a countdown calendar.
Cross-promoting on different platforms.
Posting about it on your website and blog.
Sending reminders to your email list.
Running paid advertisements.
When promoting your live shopping event, make sure to include the benefits of joining the live event. For example, you can mention you'll be releasing a new product or that you'll be giving special discounts for those who attend.
Wrapping It Up
There you have it. The future of ecommerce is changing and bringing new ways to shop online, and live shopping is a surefire way to make online shopping more interactive and fun.
Whether you have experience with live selling or you're looking to start, hosting your events on your own membership platform is a sure way to boost your sales.
If you want to take advantage of your loyal following, consider using Uscreen when running your next live shopping experience.
It's simple with Uscreen.
Build, launch and manage your membership, all in one place.
Live Shopping FAQs
Still have questions about live shopping? We've got the answers.
What Are Live Shopping Apps?
Live shopping apps are apps that allow customers to shop for products in real time during a live stream. 
Is Live Shopping the Future of Ecommerce?
ing could be the future of ecommerce since it's an immersive way to shop online in real time. Live shopping sales are expected to reach an estimate of $26 billion by 2023. 
How Do You Start Live Shopping on Instagram?
To start live shopping on Instagram, you'll need to have your Instagram Shop and your catalog set up. After that, you'll have to go live and select the products you plan on selling during your stream.
How Do You Start Live Shopping on Facebook?
Then add the products to your Playlist and go live.
What Is a Live Sale?
A live sale happens when someone buys a product or service during a live shopping event.