Whether you're an avid Twitch streamer or just starting out, understanding the "why" behind some Twitch trends can help you create more quality live streams.
That's where this roundup comes in. We've gathered 50+ Twitch statistics, from what Twitch streamers' favorite games are to who the average Twitch user is. We'll be looking at:
Plus, we'll help connect the dots on how to use each of these to inform your content strategy.
Are you ready?
It's simple with Uscreen.
Build, launch and manage your membership, all in one place.
Must-Know Twitch Statistics
Launched in 2011, Twitch has become a very popular live streaming platform in the past few years, gathering close to 15 million streamers.
The live streaming platform can be a great tool for content creators looking to reach a wider audience and new ways to diversify how they monetize their content.
In terms of live streaming, Twitch has a bigger market share compared to YouTube and Facebook, owning 76% of the market.
So if you're looking to expand your content to a streaming platform that can get to over 2 million viewers at a time, here's some other must-know Twitch statistics to keep in your back pocket: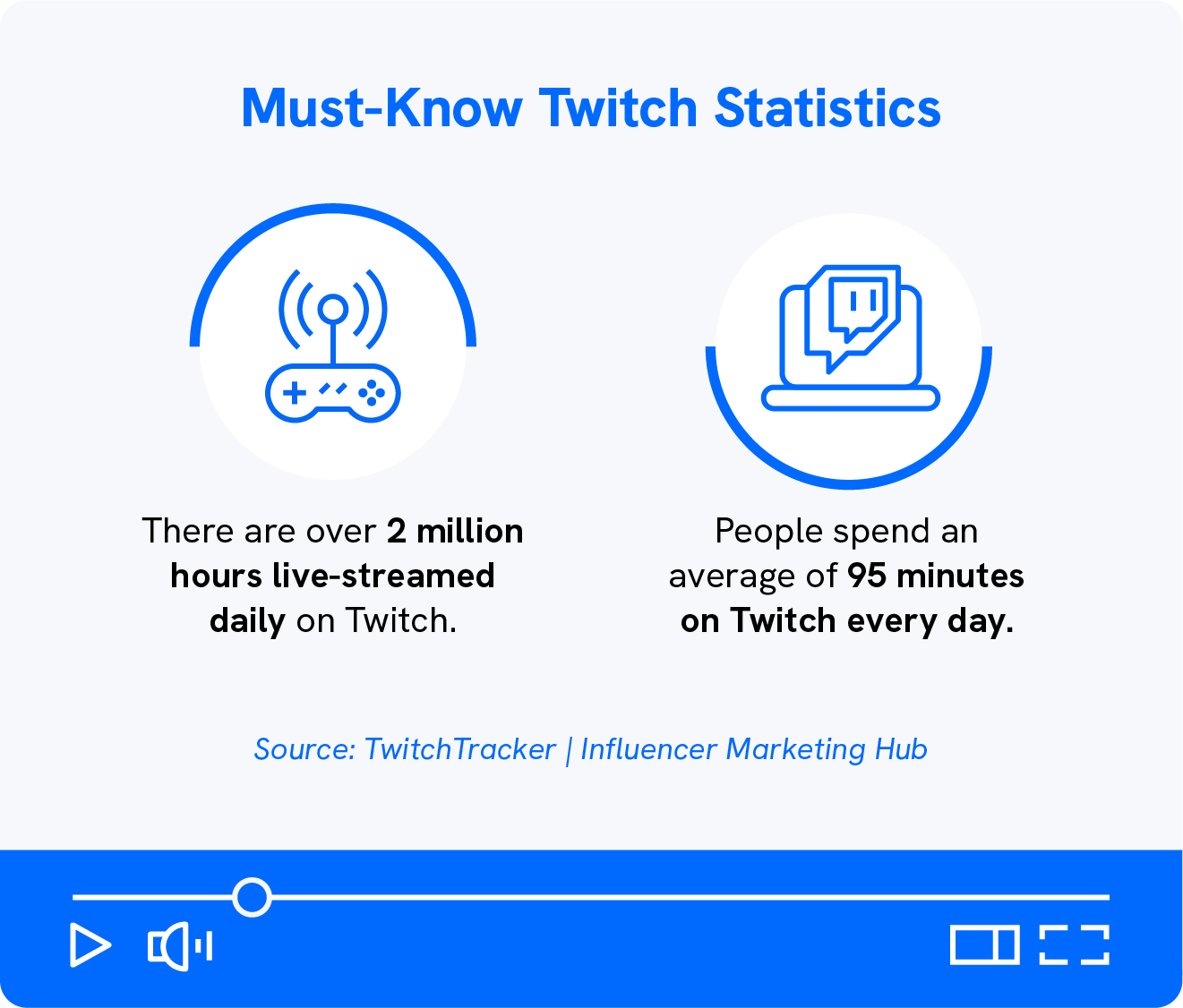 Twitch Growth Statistics
But is Twitch worth investing your time in? We would say so, because it's a platform on the rise.
People are spending over 3 billion hours each month watching live streams, and their eyes are definitely on Twitch, and they are staying there for a long time.
For perspective, Twitch has almost doubled its growth in only one year. Investing in a growing platform can take your content to new heights.
Let's look at how much Twitch has grown over the years, according to TwitchTracker, and how you could too: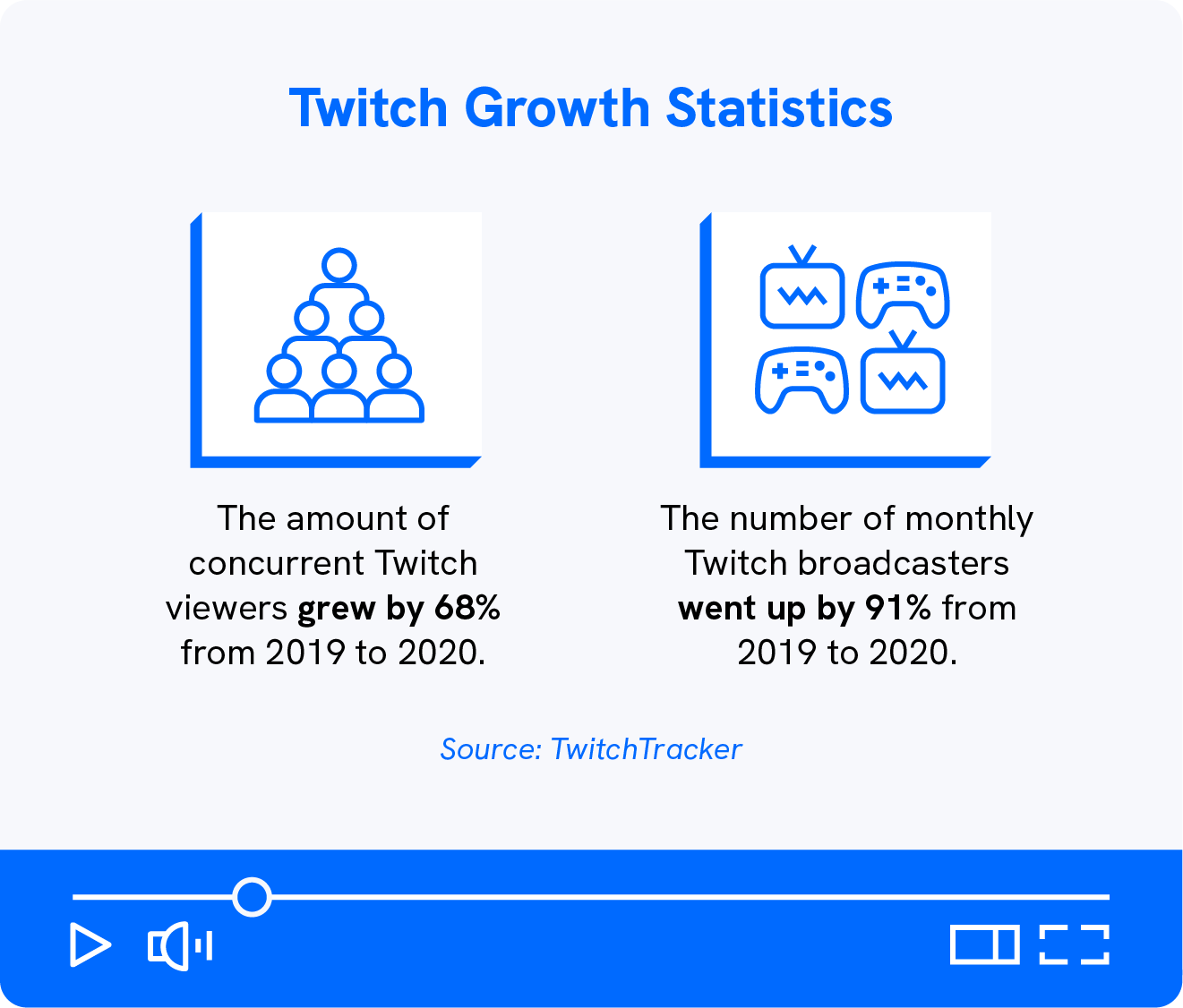 Twitch now has 130 million more visitors per month compared to 2015.
The number of Twitch Partners increased by 44% since 2019, going from 35,000 to 51,000.
Twitch saw the biggest increase in concurrent viewers from 2019 to 2020, increasing by 68%, from 1.2 million to 2.1 million.
The average number of monthly broadcasters also saw its biggest increase from 2019 to 2020, going from 3.6 million to 6.9 million, a 91% increase.
Talk about a growing platform!
Twitch Viewership Statistics
People soak up a wide variety of content on Twitch.
Whether that's watching gaming streams, chatting with their favorite streamers, or discovering new songs to add to their playlist, people are spending tons of time on Twitch.
Understanding when and from where viewers are tuning into Twitch can help you determine the best time to go live. (Pro tip: Block off your Sundays!)
Just look to these Twitch viewership stats for more context:
But who exactly is behind the streams on Twitch?
Twitch User Statistics
So, how many people stream on Twitch?
Twitch has 8 million unique creators every month, and 1.1 million active streamers daily. That's a lot of people that could potentially want to watch your streaming content.
As a content creator live streaming on Twitch, you need to also pay attention to the content you're delivering, taking into consideration that the majority of users are males in their 20s.
Here's more about who your potential competition (and your audience!) is on Twitch: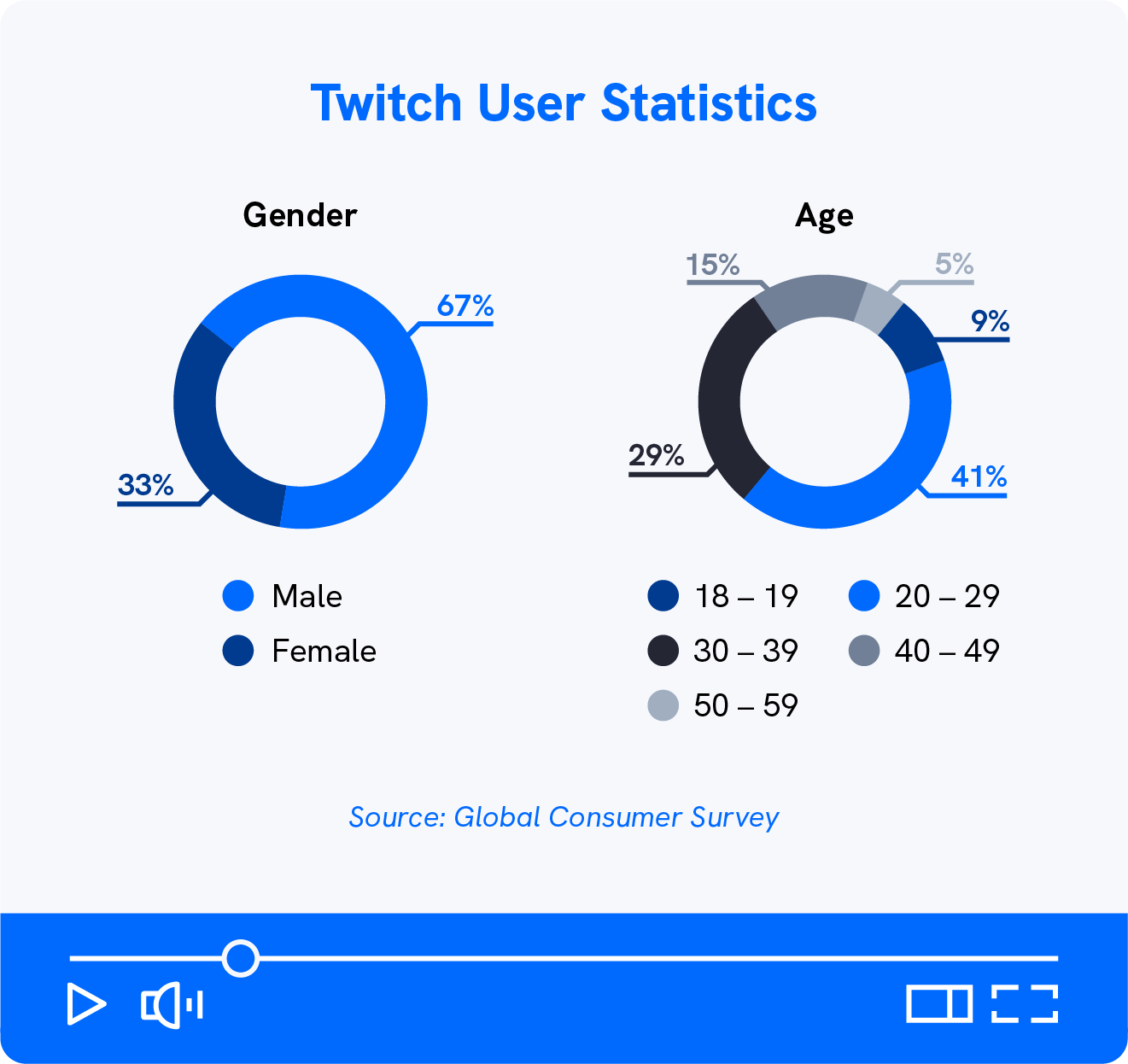 Now, onto Twitch channel stats.
Twitch Channel Statistics
So what are some of the biggest channels on Twitch?
Understanding what kind of channel and content is performing the best on Twitch will help you understand what kind of content you should be delivering to your audience.
Some of the most-followed and most-watched channels focus on gaming, but many streamers spend a fair share of their time just chatting with their followers.
Here's some other Twitch statistics to keep in mind:
10 Most-Watched Channels on Twitch
1. xQc
2. Gaules
3. auronplay
4. ibai
5. loudcoringa
6. summit1g
7. shroud
8. HasanAbi
9. NICKMERCS
10. TheGrefg
There were over 230 million hours watched in the music category on Twitch from 2020 to 2021. (Stream Hatchet)
The channel TheGrefg has the all-time highest number of viewers on a live stream on Twitch, with 2.4 million views. (TwitchTracker)
Pokimane is the female Twitch streamer with the most followers, with over 9 million followers. (TwitchTracker)
Fextralife is the channel with the most total views, with over 2.1 billion views. (TwitchTracker)
And of course, Twitch gaming needs to be mentioned.
Twitch Gaming Statistics
Gaming is a major part of Twitch and what people spend a good amount of their time watching and doing. So if you're a content creator in the gaming industry, Twitch is the place to be.
In fact, there are over 10,000 different games streamed on Twitch.
Pore over some Twitch game stats you should know: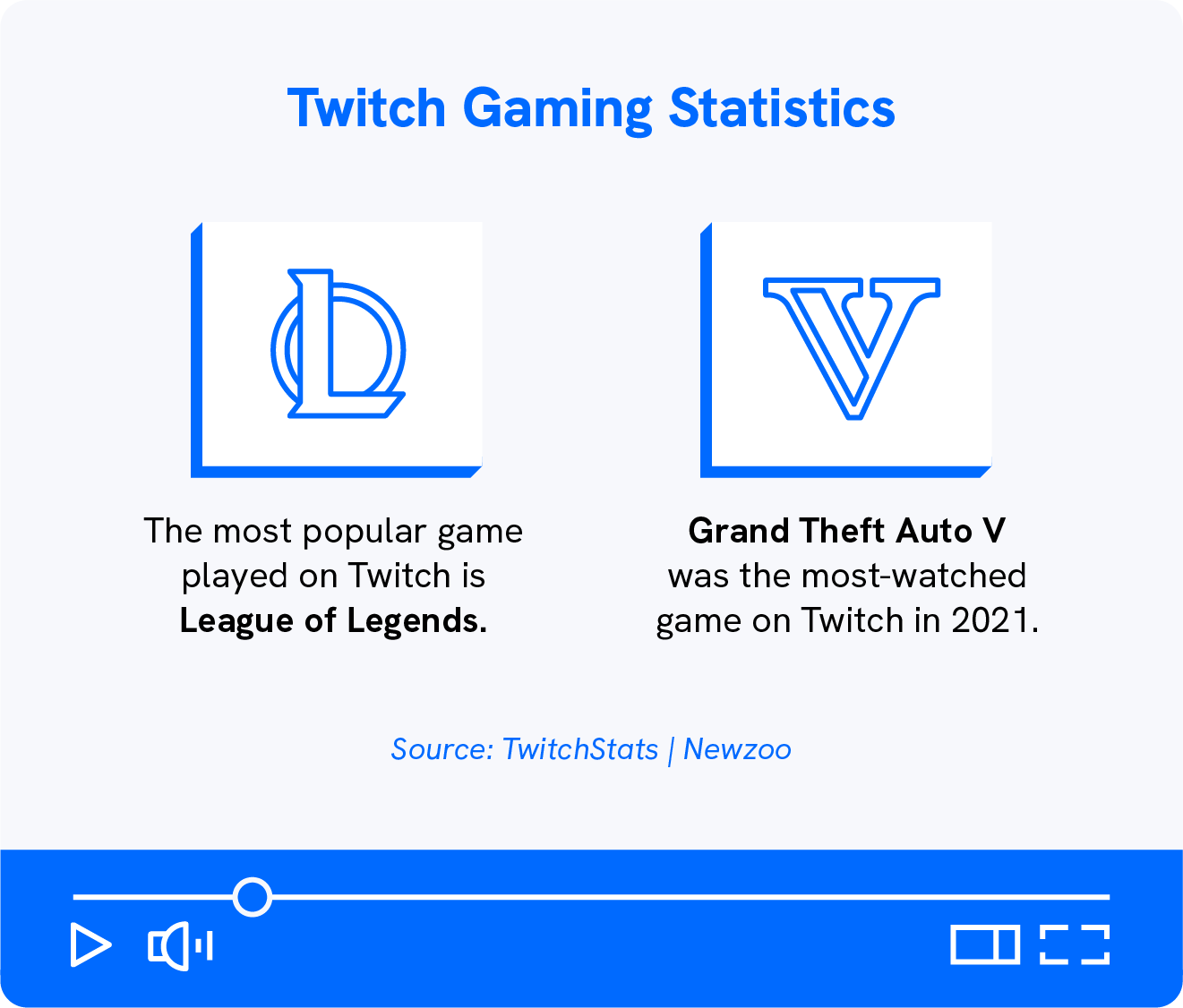 The most popular game played on Twitch live streams is League of Legends. (TwitchStats)
Just Chatting streams get an average of 350,000 average viewers per stream. (SullyGnome)
The top 3 games on Twitch of all time are League of Legends, Fortnite, and Grand Theft Auto. (TwitchStats)
10 Most Popular Games Streamed on Twitch
1. League of Legends
2. Fortnite
3. Grand Theft Auto V
4. Counter Strike: Global Offensive
5. Dota 2
6. Hearthstone
7. Minecraft
8. World of Warcraft
9. Overwatch
10. Rust
What about making money on Twitch?
Twitch Monetization Statistics
If you're looking to start making money with your live streams, Twitch can be a good place to start.
On Twitch, people get a chance to monetize their streams with the Twitch Partner Program.
This has helped novice streamers become extremely successful, like Gaules, which has the most paid subscribers.
Female streamers, such as ironmouse, are also going against the odds to become some of the channels with the most subscribers.
Here's how much people are making on Twitch: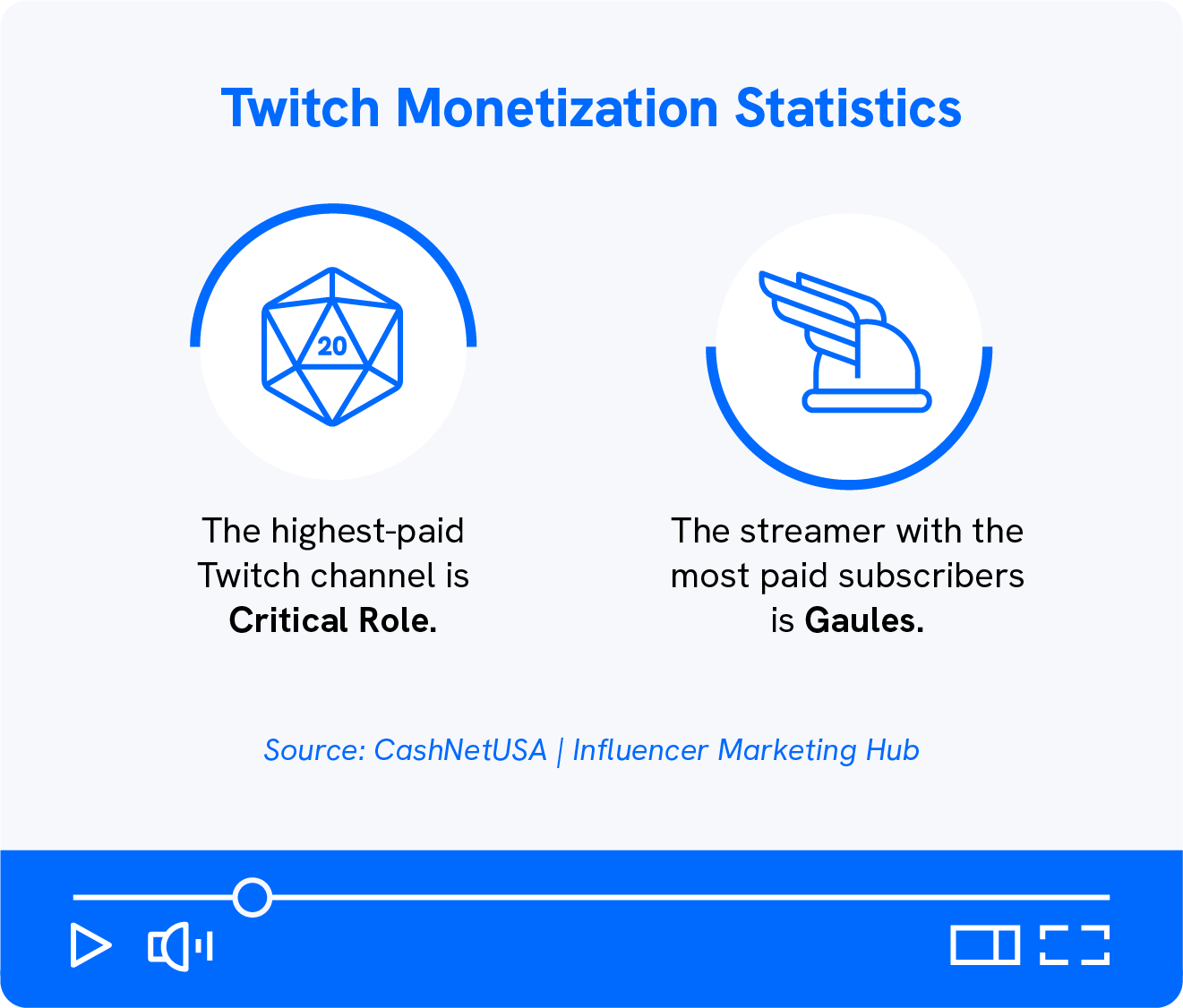 Want to learn more about Twitch? Pore over our Twitch statistics infographic.

Wrapping This Up
There you go: 50+ Twitch statistics to pore over and motivate your content creation.
Take advantage of Twitch data to start creating content on the platform and grow your audience and business.
And if you're looking to double down on how much you can make from live streaming, we have to recommend Uscreen for monetizing your videos and streams beyond just Twitch.
It's simple with Uscreen.
Build, launch and manage your membership, all in one place.
Twitch Statistics FAQ
Still have questions about Twitch statistics? We have the answers.
Which Channel Has the Most Total Views?
Fextralife is the channel with the most total views, with over 2.1 billion views. 
How Many Viewers Is Average on Twitch?
Fextralife is the channel with the most total views, with over 2.1 billion views. 
What Is Twitch's Live-Streaming Market Share?
In terms of hours watched, Twitch has 76% of the market share compared to YouTube and Facebook.
What Are Twitch's Peak Concurrent Viewers?
Twitch's peak concurrent viewers is 6.57 million, which occurred in January 2021.
How Many People Use Twitch Daily?
Twitch gets over 15 million unique visitors daily, and an average of 1.1 million active streamers daily.
How Many Minutes Do Twitch Users Watch Per Day?
On average, people watch around 95 minutes of Twitch content daily.
How Do I See My Twitch Stats?
To see your Twitch stats, go to Insights, then Channel Analytics, which will display the data for the last 30 days by default, but you can adjust it to see past dates.