As a content creator, you're probably pretty familiar with Instagram being a sure way to connect with your followers and share your content. But did you know it's also a great platform to sell your products?
If you're a content creator who also sells products online, Instagram can make shopping as simple as a single touch.
With over 2 billion people using Instagram today — and your existing audience accounting for some of them —expanding your content and products on this platform is key to making money online.
What's more, 44% of people use Instagram to shop weekly, which means you can get a bigger exposure for your brand and use your social influence to attract people to buy your products.
So, want to know how to sell on Instagram?
We've got all the tips and tricks so you can start selling your products while increasing your online presence.
It all starts with 4 easy steps:
Now, let's start selling.
1. Start an Instagram Business Account
First things first, you need to convert your Instagram account into a business account or create a new business account. This will give you access to selling tools and insights that will make the process of monetizing on Instagram a lot easier.
Here's how to do it:
Go to your profile and tap on the 3 horizontal lines.
Select Settings, then Account.
Select Switch to a Professional Account.
Easy, right?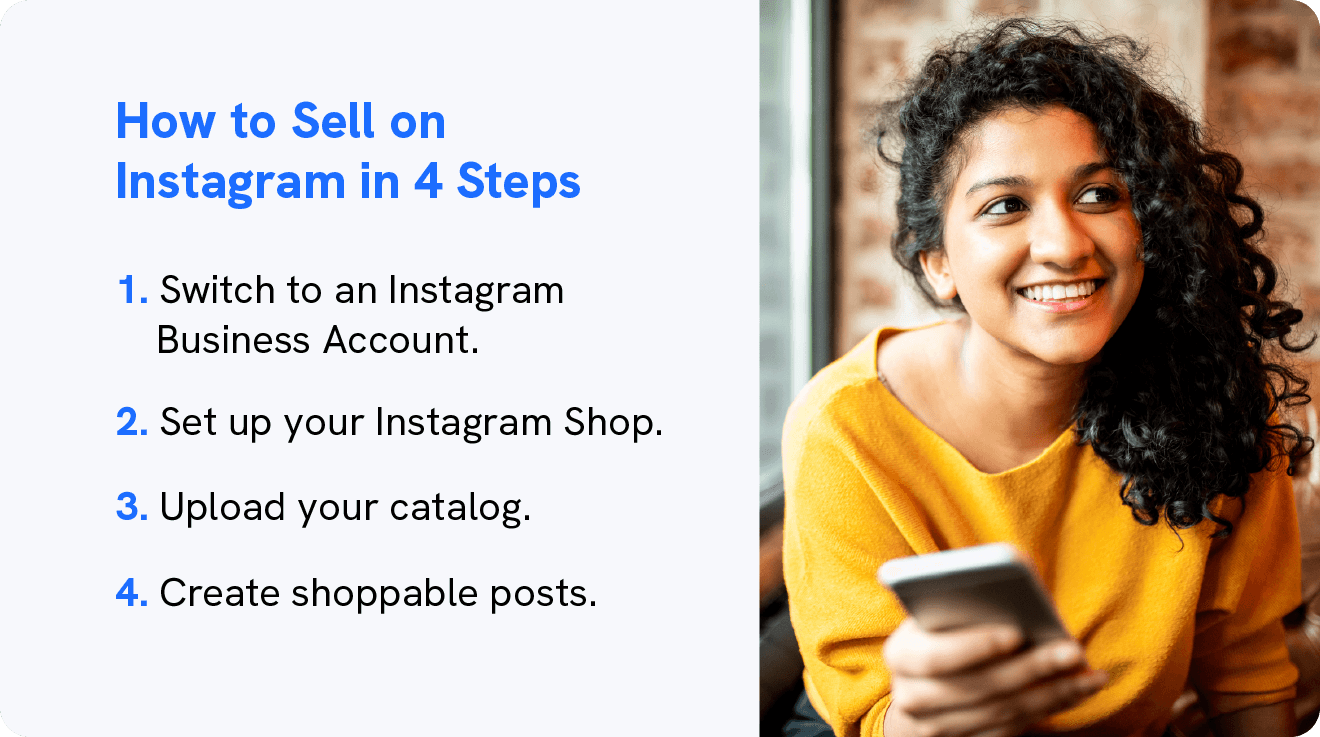 Now let's take a look at what the business account can do for you:
Adds your contact information and business category label to your profile so customers can easily access your phone and email.
Lets you use Instagram insights to understand who's engaging with your account.
Gives you access to the Professional Dashboard to track your performance and access professional tools.
Allows you to run ads by connecting it to your Facebook Business Account.
And, you get to create your own Instagram shop, which is what you need to sell on Instagram.
This brings us squarely to the next step…
2. Set Up Your Instagram Shop
OK, now it's time to set up your Instagram shop. You can do it in just a couple of taps.
Although you don't need a business license to make sales on Instagram, there are some 'selling on Instagram rules' you should follow before creating your shop:
If you can do those, you'll be able to start your Instagram shop.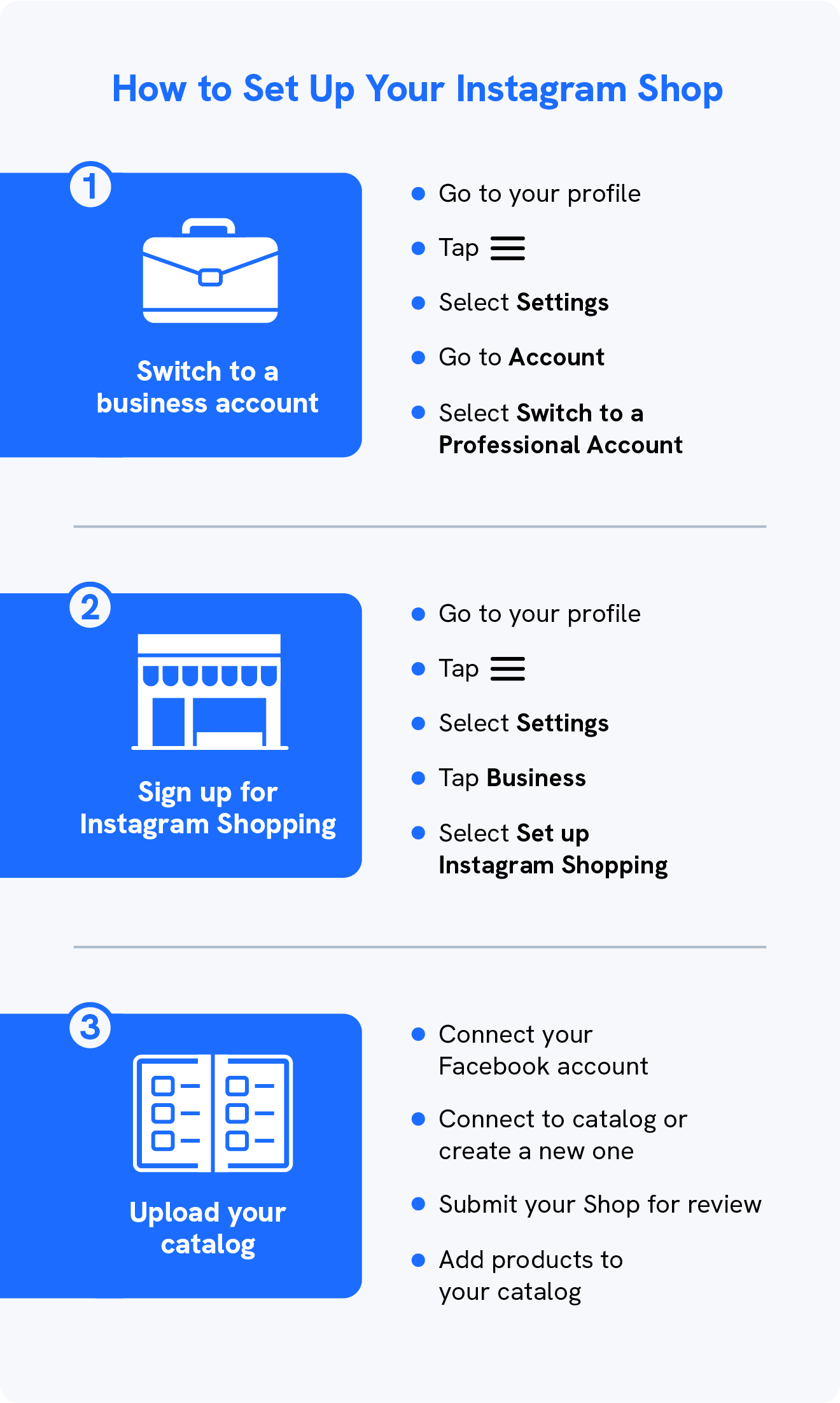 To do this, go back into your account settings, tap Business then select Set Up Instagram Shopping.
Now you'll be ready to connect your account to your existing Facebook Commerce Manager catalog or create a new one on the spot.
From there, you'll start setting up your shop by choosing a type of catalog and picking how you'll upload your catalog.
This is also where you can set up Instagram Checkout, which lets your customers purchase your products straight from the app.
Instagram Checkout is still in its beta version, but you can apply for it here.
3. Upload Your Catalog
Now that you've set up your Instagram store, it's time to upload products to your shopping catalog.
Here's what you'll need to upload your catalog of products:
A list of products you'll be adding.
Product descriptions.
Link to the page where people can purchase them.
Product photos
SKU numbers (optional).
When uploading your catalog, you'll have the option to upload it straight to Commerce Manager or connect it to a partner platform, such as Shopify and BigCommerce.
Then keep following the prompts and upload your catalog away.
Once everything is uploaded, you can submit it for review by going to your account settings and select Set Up Instagram Shopping. The review will usually take a few days.
4. Create Shoppable Posts
Once your account is approved, you can start creating shoppable posts.
Shoppable posts let you tag products directly on a post that takes customers your Instagram store, and let them find your products in the Instagram Shop tab.
The first step is to turn on Instagram Shopping on your profile settings and select the catalog you want to connect to your account.
Then you can start highlighting your products on your profile by: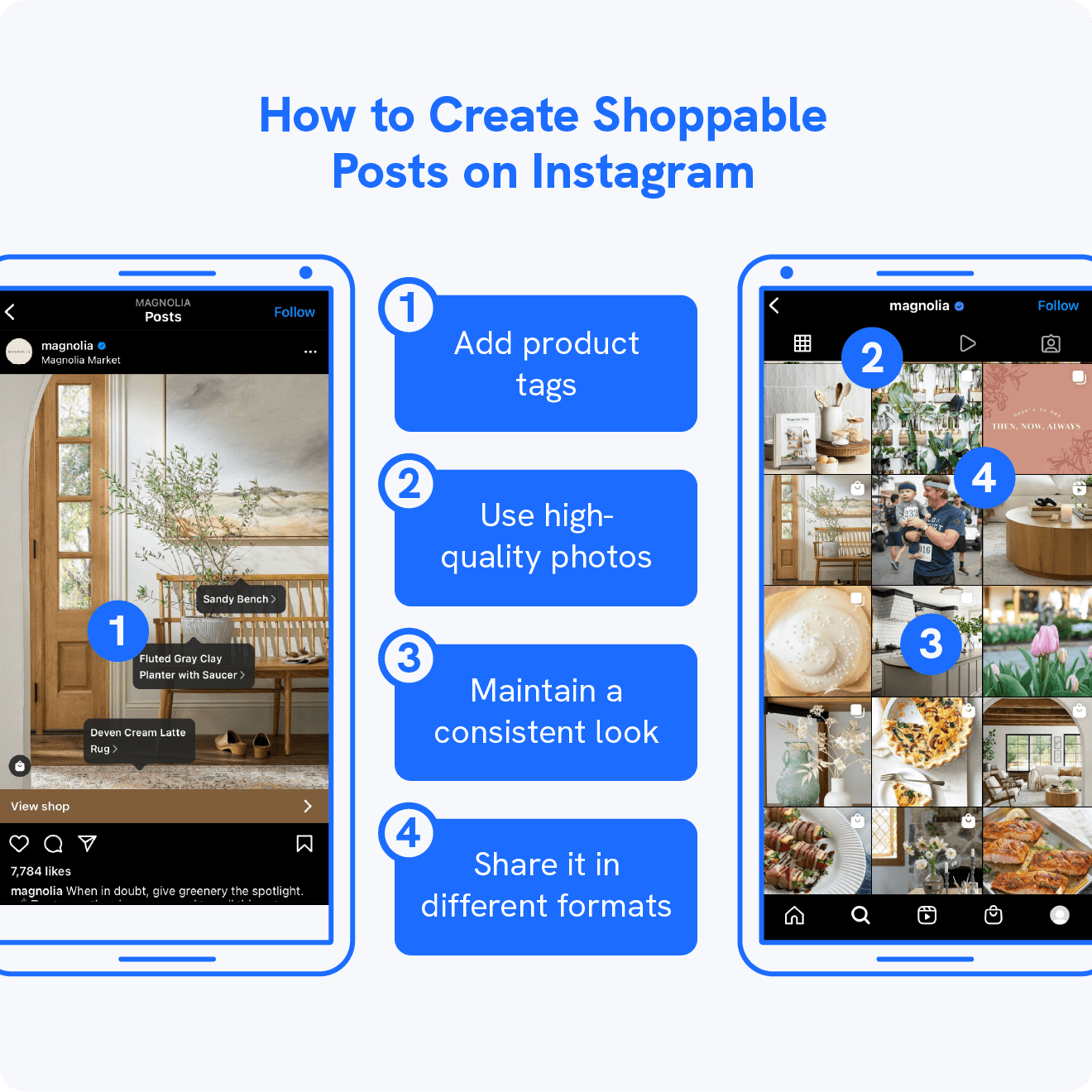 Here's a breakdown of each step:
Add product tags on your photos and videos so people can view the product information on their feed.
Use high-quality photos and videos to show your product's best angles.
Maintain a consistent look for your photos by using the same filters and background colors.
Share your products in different ways like on video tutorials or through customer photos.
And that's it! The 4 steps you need to start selling on Instagram.
Now you're ready to learn how to make money on Instagram.
8 Things To Remember When Selling on Instagram
Awesome, you have your Instagram shop all set up. But now you need to know how to start selling through Instagram.
Setting up your Instagram shop is just one side of the coin, the other side of the coin is marketing strategies.
Think of selling on Instagram like having your own physical store at a mall:
There are plenty of customers around, but you need to attract them to your store and convince them to leave with a couple of shopping bags filled with goodies.
So how do you stand out from the other stores?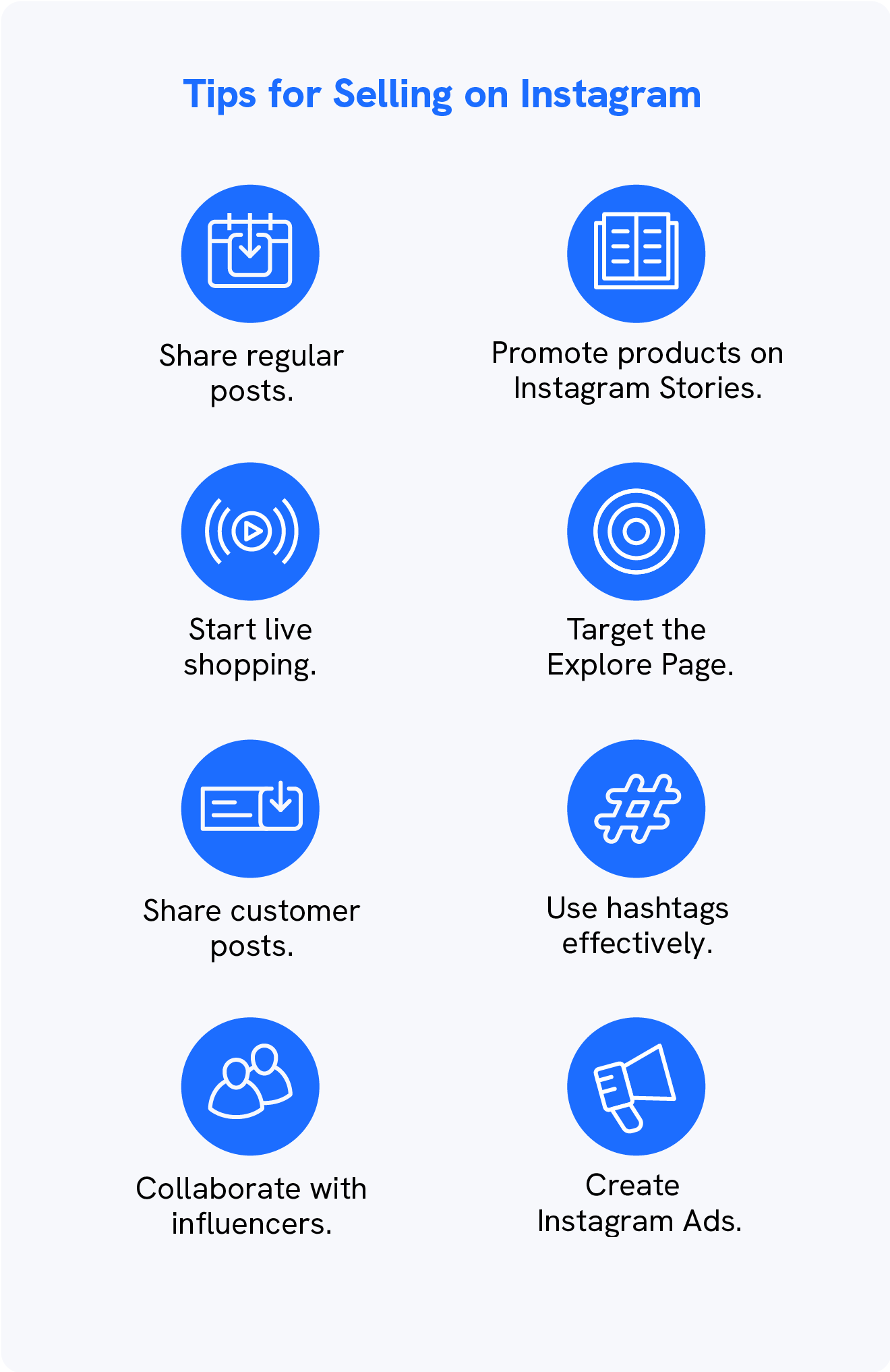 Let's take a look at some things you need to do to become people's favorite Instagram store.
1. Share Regular Posts
Your Instagram feed is where you showcase your products and where you connect with your customers.
So, you need to create a balance between posting regular posts and shoppable posts.
If you want to post on your Instagram store account 4 times a week, strike a good balance by sharing 3 regular posts and one shoppable post per week.
That way, you'll publish your product posts in a more natural way and get a chance to increase your engagement with regular posts.
If you want to keep your followers engaged and provide value to them, you can supplement shoppable posts with:
Showing the behind the scenes of your product creation or business.
Providing tips and educational content around your niche.
Asking people questions or for their opinion on a topic.
Sharing about your life and how you started your business.
Overviewing products and explaining how to use them.
To get a good balance between shoppable and regular posts, we recommend planning your content ahead of time.
You can also sneak some of your products in your regular posts to show users an example of how it can be part of their lives.
For example, if you're a fitness instructor and you sell exercise mats in your store, you can create a post about your daily morning routine while casually including your product when you mention that you stretch every morning.
💡How They Do It
Lululemon has a great balance of shoppable posts and regular posts, where they sometimes include their products and customers.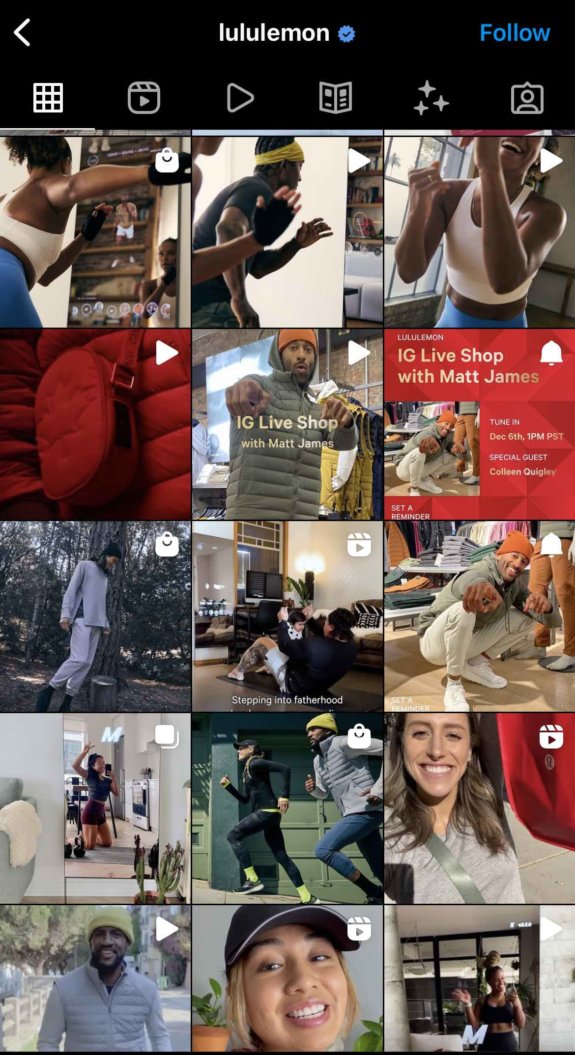 2. Promote Your Products On Your Stories and Reels
If you want to start selling products on Instagram, you need to make sure they are getting the attention they deserve.
The good thing about selling on Instagram is that you'll likely be ditching spinning a sign in front of your store for attention.
But you still need to promote it with a couple of clicks and shots.
A good way to do that is by sharing your products on your stories and creating Instagram Reels that feature them.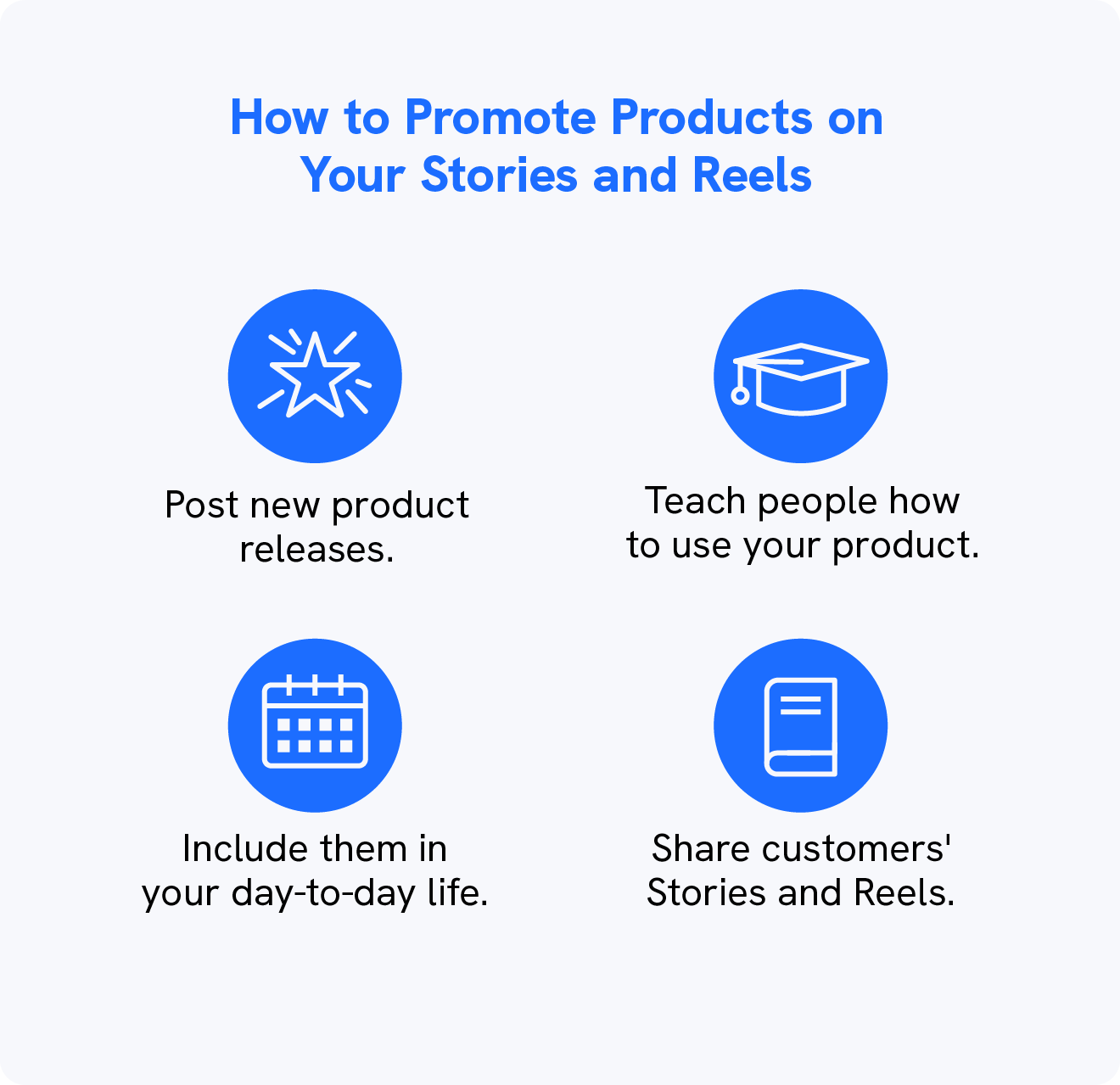 Make your products the star of your Stories and Reels by:
Posting about new product releases.
Teaching your followers how to use them.
Including them in your day-to-day life.
Sharing customers' stories with your product.
Instagram makes it even easier for you to highlight your product with product stickers and links to which products were included.
Since Instagram Stories disappear after 24 hours, make sure to create Story Highlights for your profile. Sort them into categories to make it easier for people to find your past posts.
Again, keep a good balance between regular and promotional Stories so your customers can also connect with you and your brand.
3. Start Live Shopping
If you like to live stream, you're going to love live shopping.
Live shopping works the same as it would when you're showing a product to your customer at your store. But instead you're live on your Instagram store.
With live shopping, you can sell your products directly from the app while interacting with your viewers, and potential customers.
The great thing about it is that you're already engaging with your audience in real time which makes it a great opportunity to sell your products.
You can schedule your live shopping experience and add products to your collection that you'll be showcasing. This is great for:
Product launches.
Featuring promotions.
Going over the benefits of the product.
Answering common questions.
Collaborating with brands and creators.
Instagram's live shopping feature helps you grab your viewers' attention and potentially reach a bigger audience.
Worried your followers will miss your live stream?
You can also promote your live shopping experience on your stories and save the live stream so they can watch it later and still shop your products.
4. Target the Explore Page
Another way to reach a new audience is by targeting the Explore Page.
The explore page is just like a mall, people browse around looking for stores and things to buy. If your store is appealing to them, they'll likely come in and check it out.
That's why targeting the Explore Page is a great opportunity to reach a new audience.
Instagram's algorithm recommends shops that users might be interested in. So, if they are searching for your niche, your store might get recommended to them in the future.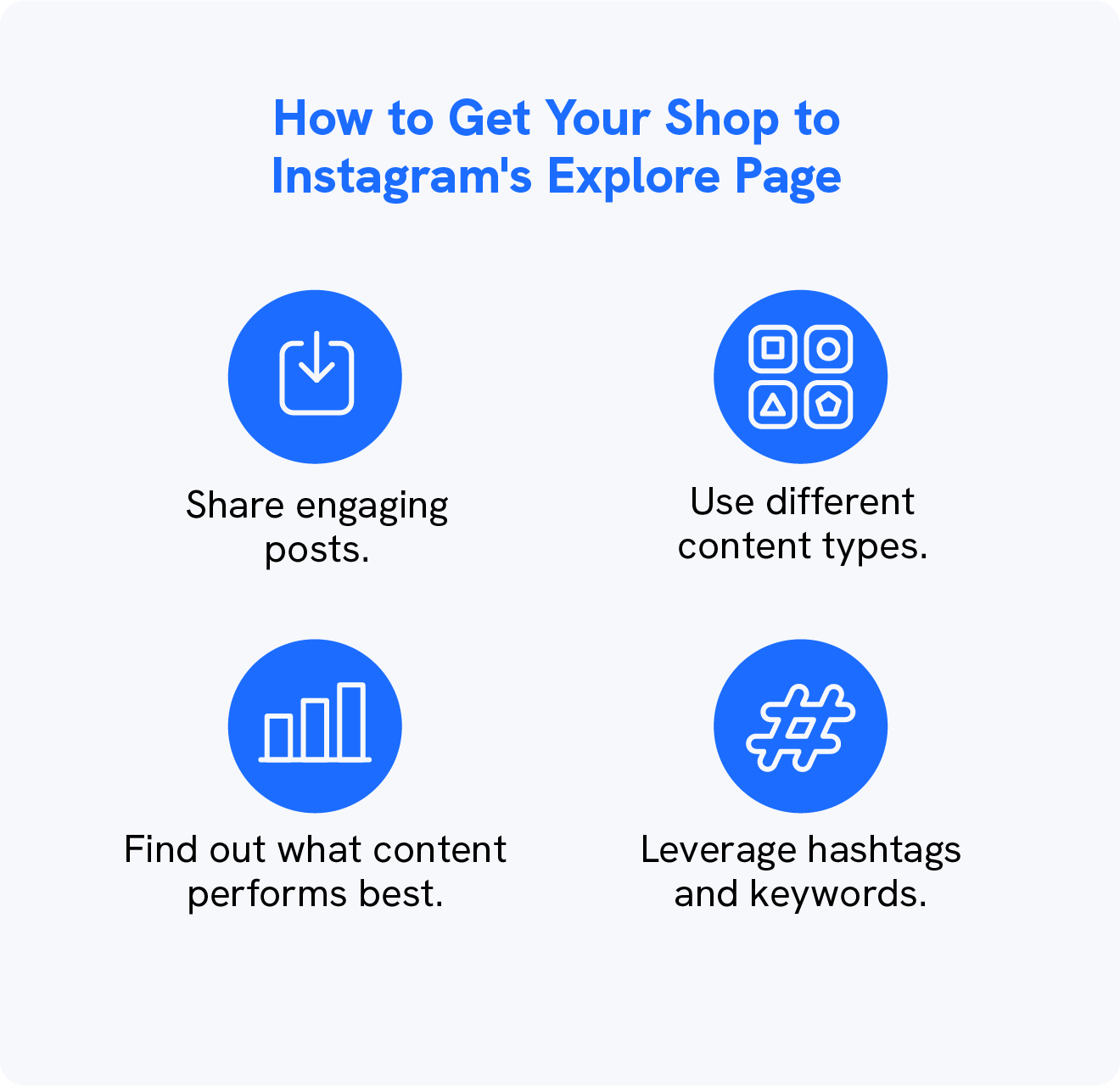 Here's how you can increase your chances of showing up on the Explore Page:
Create value to users by sharing engaging posts.
Get inspiration from other posts on the Explore Page.
Take advantage of all of Instagram's content types.
Post at the right time by looking at your followers' engagement data.
Understand what content performs best for your niche.
Leverage hashtags and keywords.
Consider using Instagram ads that target the Explore Page.
Being featured on the Explore Page will also help you boost engagement, get new followers and increase conversions.
5. Share Customer Posts
Your customers' photos are one of the best ways to share your products in action. Plus, you'll get a chance to build a more loyal and engaged audience.
Whenever a customer tags you or your products on a post, ask for their permission to share it on your Instagram account.
If they shared a story, you can repost it on yours which will serve as a promotion for your products, and show your followers that people are enjoying your shopping at your store. (It's a low-effort way to get customer testimonials!)
You can also personally thank them for buying and sharing your product and ask them for any feedback. This will bring you closer to your customers, help you improve your service, and likely make them want to purchase from you again.
If one of your customers shares a high-quality photo or video of one of your products, you can also consider adding it to your feed with a product tag.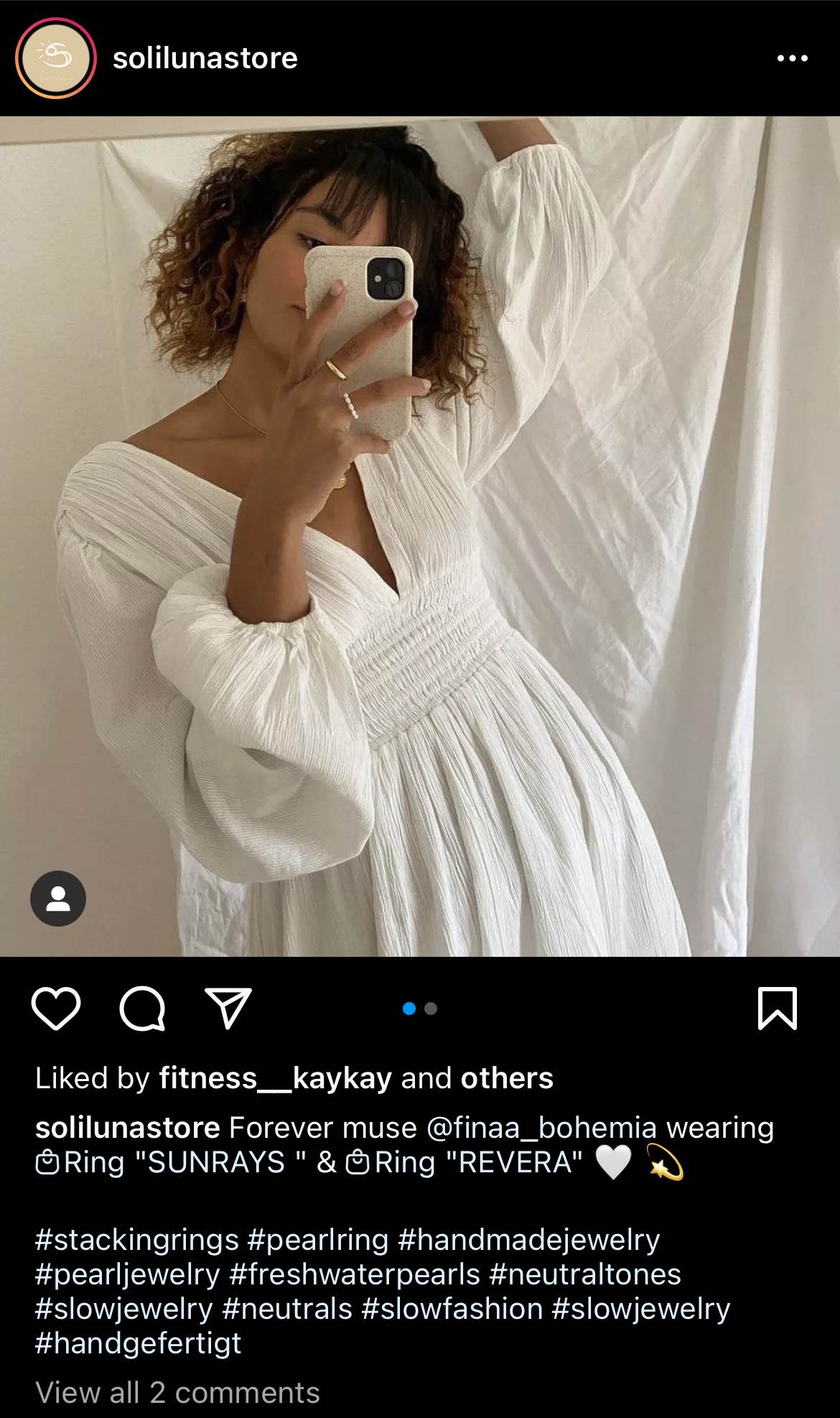 When sharing customer posts, you should:
Make sure you have the permission to post it.
Ask the customer for the original files.
Have the photo match your feed's style.
Tag your customer and the product featured.
Write a description about what they think about the product.
Showing your products in your customers day-to-day life brings extra attention to it and shows how it can be used.
6. Use Hashtags Effectively
We're used to seeing tons of hashtags on posts, but do they actually work?
The short answer is yes, but you have to use them correctly.
Hashtags will help you target a topic or audience so it gets recommended to them.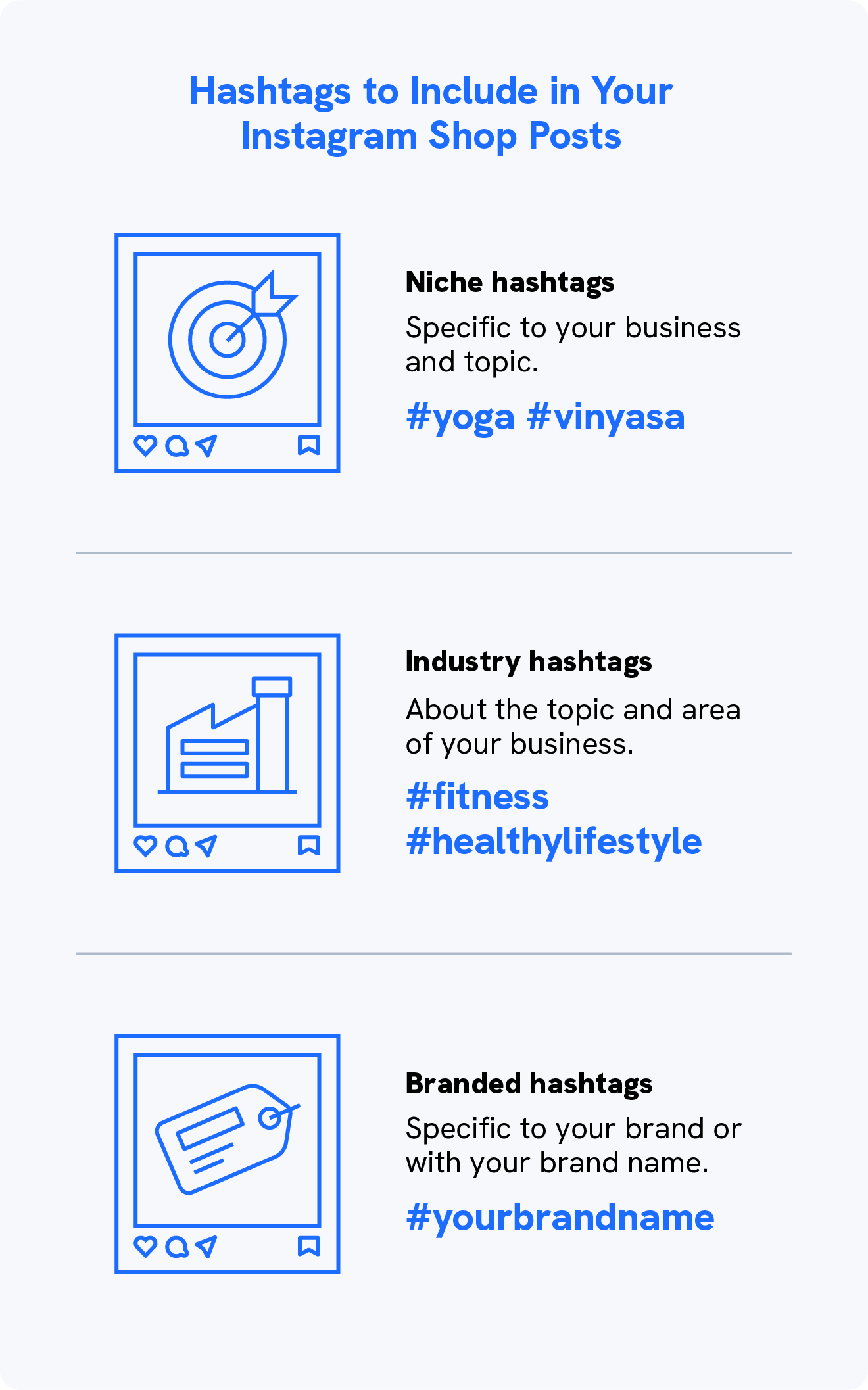 You should use a couple of hashtags on your posts and use a mix of niche, industry, and branded hashtags:
Niche hashtags: They are specific to your business and topic. #yoga #vinyasa
Industry hashtags: They are about the topic and area of your business. #fitness #healthylifestyle
Branded hashtags: They are specific to your brand to increase awareness, so create one specific to you. #yourbrandname
If you want to find hashtags specific to your niche, you can do some research by looking at the Explore Page. Search for Stores similar to yours and see what hashtags they are using.
You can also target some viral keywords and mid to low-volume ones by going to the search bar and typing a niche keyword to see how many times it was used.
Having an Instagram business account also lets you check how your hashtags are performing and see how many impressions each get. That way, you can pick the ones that are working the best for your business.
By using hashtags well, your Instagram shop will become more discoverable by people and show up on their Explore Page and Shop Page.
7. Collaborate with Influencers
Another way to reach a new audience and bring in customers is by collaborating with influencers.
By doing collaborations, you'll be in front of your partner's audience that might love to learn about your business.
You can choose to collaborate with another Instagram shops that complement yours. Or reach out to influencers in your niche that would be willing to share your products/store.
Start building a relationship with them by personally messaging about collaboration opportunities and engaging with their content.
If you're working with Influencers, you can also offer to send them some of your products for them to try out and ask them to share their thoughts or products with their followers.
And if they really like your brand, they'll likely start shopping from you and recommend it to their audience.
8. Create Instagram Ads
If you have the budget for it, you can also create Instagram Ads as anoher promotional strategy for you to sell on Instagram.
Instagram Ads are great if you're struggling to bring traffic to your shop or if you recently started and want to reach a new audience, since your sponsored posts will show up on people's feeds.
You can pick which of your posts to promote and you'll also be able to choose which audience to target, so you can be very specific about who you want to reach.
You can choose a specific goal for your ad, whether that is building awareness or leading people to purchase your product.
Instagram allows you to create:
Shoppable ads.
Video ads.
Photo ads.
Story ads.
Carousel ads.
Explore page ads.
You can also look at your competitor pages and see what ads they are running to pick the best format for yours.
To do that, all you have to do is go to your competitor's profile, click on "About This Account" and select "Active Ads."
Wrapping It Up
Learning how to sell on Instagram can help you bring more traffic to your shop that will hopefully lead to purchases.
But there are more ways to make money from your content other than with an Instagram shop.
For example, if you're a video creator, you can make money with your content by having your own video streaming platform.
Interested in how that works? Uscreen makes it easy for you to monetize your video content and get the perks of having your own membership site and premium community.
It's simple with Uscreen.
Build, launch and manage your membership, all in one place.
How To Sell On Instagram FAQ
Still got questions about selling on Instagram? We've got the answers.