Video is rapidly skyrocketing and dominating the world of online content. Video content in all its formats –pre-recorded, scripted, impromptu, professional, and amateur-created – has been with us for years now.
But just like TV saw a major shift as pre-recorded shows steadily cleared room for live broadcasts, online video is witnessing a similar pivot toward live content.
Since 2016, live streaming has been taking over the market. Since then, social media giants like Facebook, Instagram, and even WhatsApp, began jumping on the live video bandwagon.
Flash forward and this industry is now expected to have a turnover of $184.3 billion by 2027.
So, if you haven't become an avid live streamer at this point, we'll give you some food for thought.
For starters, these figures aren't that astonishing once you realize that video is the most consumed type of content across all age groups.
Live streaming in inherently unrehearsed, organic, and unedited. This is an instant plus for marketers of all types, as live video will help make your brand more authentic and human.
Authenticity and that human factor are the new "it" thing for countless thriving businesses, as they are now competing with bloggers, vloggers, local brands, and everything else you might imagine.
Daniel Mayer, the co-founder and CEO of Be.Live, believes that authenticity is king in the influencer community, which is why real-time, unedited video directly from the host or influencer can pack a powerful punch. He adds, live streaming fosters a more genuine form of connection.
What's more, live video provides a great chance to reengage with current customers, and get instant feedback.
Should You Promote Your Live Streams Before and After Going Live?
Whether you're a professional broadcaster or an influencer producing videos right from home, you should always aim to think like a pro.
Live video isn't meant to be content made just for the sake of having content or a way to fill in your social media channels. It should be an independent part of your marketing strategy. So make sure you put in the proper time and energy into creating and preparing them as a valuable marketing and business asset.
And a key part of your marketing strategy (perhaps the biggest part!) is promotion and distribution. You should always craft a solid promo plan for your live stream – before and after you go live.
Because without an audience, there's no point in going live in the first place.
Inherently, the goal of pre- and post- live-stream promotion is simple: you want to build and retain an audience.
The means of this end goal have everything to do with:
creating a sense of anticipation,

building up FOMO (fear of missing out),

sparking curiosity, and, of course,

creating an aftertaste that leaves them wanting more live content from your brand!
And of course, it makes perfect to promote your live video streams with well… video.
As we learned before, videos are the medium people want to see more of and expect from all content creators right now.
So, we'll be listing some top tactics you can use to promote your live stream with videos.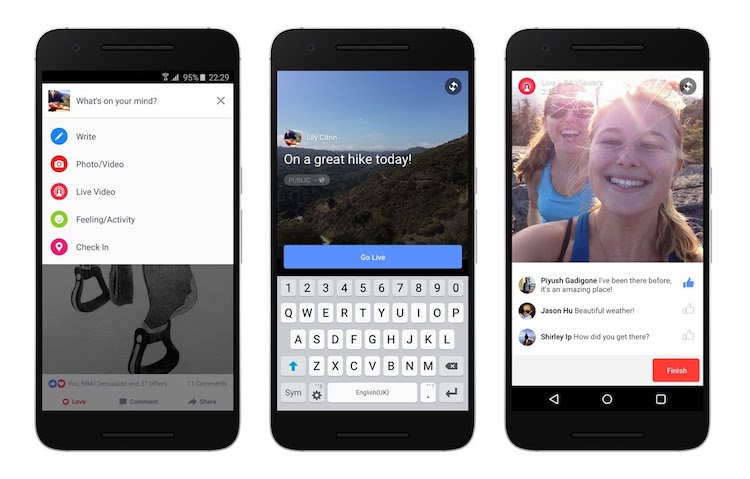 Top Pre-Event Promotion Tactics
The key to making sure your audience tunes in to your upcoming streams is to spread the word about your stream as efficiently as possible and to as wide of an audience as you can at the right time.
But it's not just about letting them know when it will take place – but also making them want to tune in and build up that anticipation.
Make sure to cover all bases when reaching out to your audience. You have to be as inclusive as you can and spread your invitation across multiple platforms.
Here are some basic rules to follow when hyping up your event before going live:
#1. Be Clear About the What, When, and How
Make a short video starring the future live stream's host with all the basic, essential details of the event and pin it across your social channels.
Be sure to mention:
The platform you'll be using (fetch up a link if possible and share it with the audience)

The live stream's time and date

The topic of the stream
What's even better is to employ the power of all your channels – social is obviously a must, but don't overlook your email list!
Just a week before your event is set to go live, send out an email invite to your subscriber base, and later a follow-up email the day of your video stream reminding those who opened the first email.
#2. Build Anticipation with Sneak Peeks, Teasers, and More
Your main goal when doing pre-event promotion is to get your audience curious about the live stream and make sure they don't want to miss it for the world.
You can. do this through:
Sneak peeks: Play with behind-the-scenes footage from the event in the days leading up to your live stream. Although the live stream goes in real-time, you can create a video sneak peek of some of the major topics that will be discussed throughout the live stream or show how you or your team prepares for the event.
Cliffhanger clips: You can use this TV trick, where you leave out the most important and juicy information hanging on. Ask the stream's host to build upon a few questions, but leave them unanswered. Then, announce that the answers will be given during the streaming. If you get your audience intrigued, they are more likely to tune in and finally get the answers.
Random fun moments: People respond to humor in very positive and engaging ways. Don't be afraid (even if you're all about being serious) to show some event preparation bloopers or funny moments from topics brainstorm. What's funny always stays in people's minds, so they'll feel more connected with your promotion and the event itself from the very beginning.
Here's an example of a simple teaser for a live interview by Wave.video:
#3. Offer Incentives & Show Exclusivity
As much as your audience can get excited about your live stream by viewing various videos about it, you can try to offer some tangible value for them as well.
If after the live stream, you'll be offering discounts, complimentary demos, or exclusive materials they can't get anywhere else, make sure to create a separate video highlighting that!
This will instill a sense of urgency for your viewers to tune in live. As we touched on previously, you have to give viewers a reason to take the time and watch your live stream.
Moreover, if what you offer is valuable, they will keep coming back for more.
#4. Involve Your Audience in the Making of the Live Stream
If you don't know what to live stream about, just go through this list of core content areas for going live. But don't forget that you can always get your audience involved as well!
Ask someone from your team to create a short video (can be a selfie one) to ask your audience to submit ideas and questions ahead of time.
You can even ask them what they want you to live stream about – and choose the most popular topics to cover.
#5. Create a Virtual Countdown!
Launch a countdown across various platforms is another great way to build up anticipation for your event.
Generally, you should always mix and match your channels. For instance, display the behind the scenes footage of your Facebook live stream on your Instagram story and then cross-promote it on Twitter.
Viewers from different platforms should be encouraged to cross-over to the one you'll be streaming from. And, across all platforms, start counting down a week before, then three, and finally one day leading up to the stream.
Top Post-Event Distribution Tactics
Once the streaming is over, it doesn't mean that your job is over too!
Your video recording has the potential to reach an even larger audience. Just keep promoting your video across all of your marketing outlets.
#1. Share the Recording Across Different Channels
You own multiple communication channels, so don't let your video hang on your Facebook page (or wherever you were streaming from).
Share it on other social media platforms, add it to relevant posts on your blog or to your newsletter.
#2. Create Bloopers and Turn Them into GIFs
Live streams never go smoothly. It's part of the fun of them!
Make the most out of these embarrassing moments by turning them into bloopers.
If something funny came up during the host's speech or actions, you can even create a "branded" meme and make a GIF out of it.
Then, share the content you created across multiple channels that are fun-content-friendly (so, probably leave out your LinkedIn page).
#3. Repurpose Your Video into Shorter Ones
Feel free to cut up your video in shorter bits and keep sharing them across your channels!
Your audience doesn't always have the time to watch a 30-minute live stream, so offering valuable snippets and highlights one by one will be extremely useful to your audience.
Check out an example of such short video from a live streaming expert, Stephanie Liu:
#4. Create a Short Post-Event Q&A
Most live video platforms support comments, so pay attention and read through them after the event is over!
If some questions were left out during the stream, have the host to answer them in a separate video and even tag some of the users so they can see you caught their question.
Your viewers are more likely to come back next time once they see that you're truly listening to your audience!
Let's Get Rolling!
At first glimpse, this whole live recording thing can seem really overwhelming.
But you don't need to hire a Hollywood-based video creation team to master video promotion, live shooting, and distribution.
Live streaming is bigger and only expanding, so make use of some tools that are specifically built to facilitate your real-time video efforts.
Use some easy-to-manage video creation tools like Wave.video, which allows you to create a video from scratch or use one of their Event Promotion templates. 
And if you're still unsure if there is real tangible value for live streaming, keep in mind that live videos can and should be monetized.
This is precisely what a platform like Uscreen is built for: to rid you of the technical issues – from uploading and organizing your live streams to distribution – and to help you monetize your efforts.
Now: Lights! Camera! Action!
It's show time! 🙂
How to Make Money
Live Streaming in 2020