For your video streaming business to succeed, you'll need to show your website visitors that your product is the right choice for them.
If you want to…
educate your prospects
convert more customers
reduce customer churn
improve customer support
…then you need to add an FAQ page to your video website.
FAQ pages are a simple and cost-effective way to help your customers answer basic and commonly asked questions. And, customers – both potential and existing – love them.
In fact, research shows that prospects are now using self-service FAQ pages just as often as speaking with an agent on the phone. That means they're an important part of your sales and customer journey!
In this article, we'll show you:
Let's go!
The 5 reasons your video website needs an FAQ page
There are 5 main reasons why you should have an FAQ page:
1. Save time for your support team (and customers!)
An FAQ page lets you speak directly to your potential and existing customers. It's an easy-to-access resource to answer simple questions about your product.
FAQ pages can save you time by filtering in the requests you get. This will let you focus on the more complex and demanding support queries as opposed to basic ones that can be answered in a few sentences.
2. Earn the trust of your potential customers
People like transparency from the brands they follow and use. In fact, research shows that 86% of Americans believe that transparency in business is more important than ever before.
So, when your information is readily available on your website, your visitors trust your brand more and feel more empowered to make decisions.
3. Have a smoother sales process
With more information about your product, you're leaving less room for your prospecting customers to be consumed by any purchase anxiety (the fear of potential buyer's remorse) or sales objections.
Thoughts like…
how long does my subscription last?
how can I cancel my subscription?
is this worth my time and money?
…can be easily avoided with simple answers directing the visitor to your business's free trial, cancellation policy, and testimonials from your favorite customers!
Better still, when you earn your visitors' trust and alleviate their purchasing anxiety, you're more likely to increase your sales.
4. Reduce negative reviews
An FAQ page is a great way for you to proactively reduce negative reviews because you're clearing up any potential confusion about your product.
For example, if you make it clear that you don't have a refund policy, then you'll reduce (or even eliminate) any negative reviews scolding your business for a lack of refunds!
5. Improve SEO
Having a designated page for FAQs is a great way for you to link to other resources on your website, like a blog or linking to a designated answer page for a specific question.
This will make your website more search-friendly and drive internal page views.
How To Find The Right FAQs For Your Audience
To find FAQs you'll need to get inside your customers' and prospects' heads.
Both of these groups are looking for quick answers about your product. The difference being that prospects do it before they subscribe, and customers are doing it afterwards.

As you'll see in this section, there's often overlap between the questions – you can have a question that works for both sets of people – but their intent is slightly different.

That being said, let's look at where you can start finding questions to answer on your FAQ page.
You probably have a designated email where you receive a lot of questions or requests This could be your company's general email or a customer service inbox.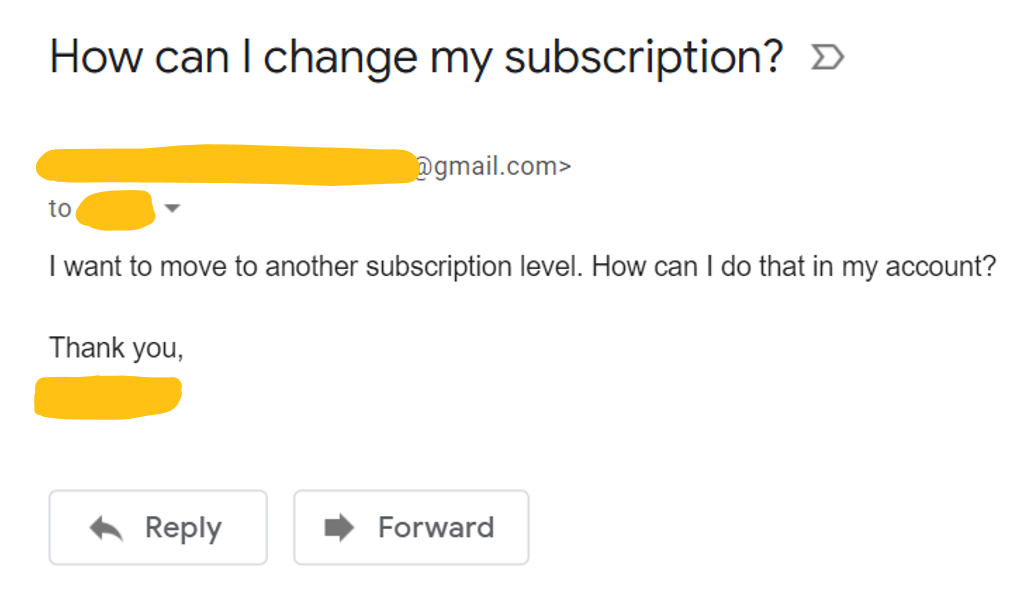 Use the questions your customers and prospects are already asking to your advantage. Chances are, multiple people have asked the same things. Whenever you see this, it's a must-answer question for your FAQ page.
These will typically focus on subscription-related problems and technical questions.
Subscription questions often relate to cancellation, account management, or billing like:
How do I cancel my subscription?
How do I update my billing information?
How do I change/reset my password?
Why is my credit card being declined?
These questions are easy to answer and can be summarized in a few sentences. You can make the answers as specific or generic as necessary for your video website.
There will also be people with technical questions about how and where they can watch your videos, like:
Can I watch videos using Chromecast and Airplay?
Can I watch videos on my TV without using an app?
How can I make my videos stream smoothly?
Can I watch videos on my phone or tablet without using an app?
Which browsers are supported?
These questions may require slightly longer answers (or links to relevant help guides) but they can also help increase conversions and reduce negative feedback by giving accurate information.
If you're a Uscreen customer with your Reduce Churn tool activated, you can also find questions by looking at the feedback left by customers who canceled their subscriptions.
Addressing these questions and concerns on your FAQ can help prevent users from canceling in the future.
You can check your Reduce Churn Stats and see a breakdown of cancellation reasons: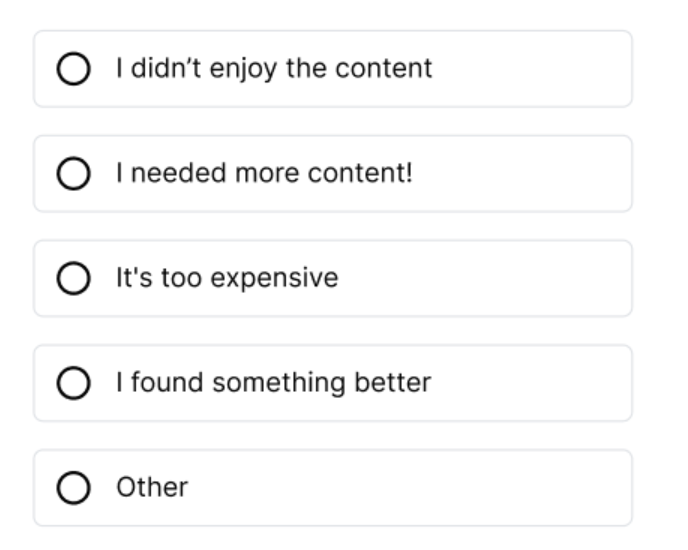 For example, if a lot of people checked that they needed more content, you can add information on how often you release new content. That way, customers know what to expect beforehand.
Another example is if a lot of people checked that your subscription is too expensive, or that they found something better, you can use that information to expand more on the value of your product and how it's different from your competitors.
You can use FAQs like…
What am I getting out of this product?
How does this differ from other products like it?
Why are subscriptions so expensive?
…to elaborate on the value of your product to the buyer, specifically why it's priced that way and how it can help them achieve their goals.
This is also a great time for you to position and showcase yourself as an industry leader, which will make buyers better understand the value of your content as well as how it's different from other products like it.
Finally, you can also check what your competitors have on their FAQ page and repurpose their questions for your business!
How to present FAQs and their answers
Now that you've collected your questions, you'll need to categorize and phrase them in a way that makes your website visitor feel understood.
We'll look at:
Categorization: how to order your questions and answers in a logical way.
Phrasing: how to write your questions and answers in a relatable way.
Let's start with categorizing, Kombo is a great example to look at: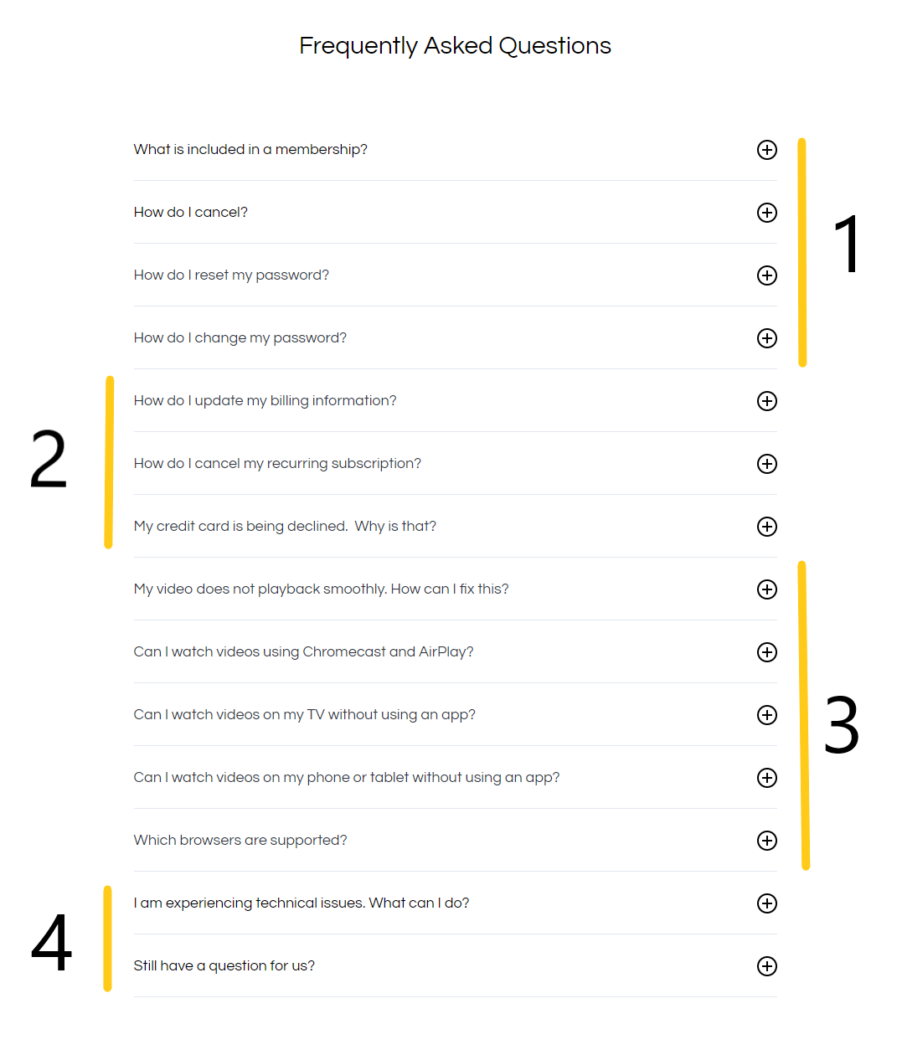 Their questions are grouped into 4 general categories that relate to:
Account details: how to use their account.
Subscriptions/payments: how to manage their payments.
Technical support: how to stream videos.
Contact us: where they can contact your business directly.
Even though these categories aren't explicitly outlined, readers can follow a logical pattern and find their questions/answers easily.
Now that you have your categories in place, we'll talk about how to phrase your questions and answers.
If your website visitor is on the FAQ page chances are they need more clarity. So, your questions and answers need to be short and simple for the best user-experience.
Your questions should be written in first person, from the point of view of the customer. That means using 'I', as though the customer was asking the question themselves:

You need to do this because your prospects or customers want to feel understood and heard; they need to see themselves in the question. And what better way to show you're empathizing with them than by speaking as if you were them.
Your FAQ page is the first point of communication with a customer or prospect. That means your answers should be written in second person as if you were speaking to them face to face.

Finally, it's best practice to give viewers a way to directly get in contact with your business if their questions weren't answered in the FAQ page.
Practice with Clara does this with a 'Get in Touch' section:

And Kombo has not 1 but 2 questions dedicated to this: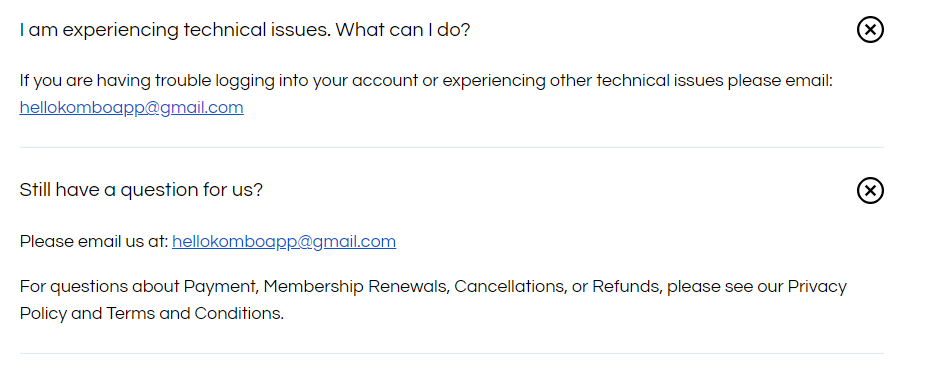 It's impossible to predict all of the potential questions you might be getting. And people get that! But they'll also want a place where they can contact you just in case their unique question wasn't answered.
How to create an FAQ page using Uscreen
So far you should be able to source, categorize and phrase your questions and answers. Now it's time for the fun part: presenting them!
There are 2 ways you can create an FAQ page for your video streaming website using Uscreen:
1. Landing Page Builder
Our Landing Page Builder allows you to quickly and easily create an FAQ page for your website. It's fully customizable, and can be set up in minutes.
You'll find it under Marketing Tools in your Uscreen dashboard: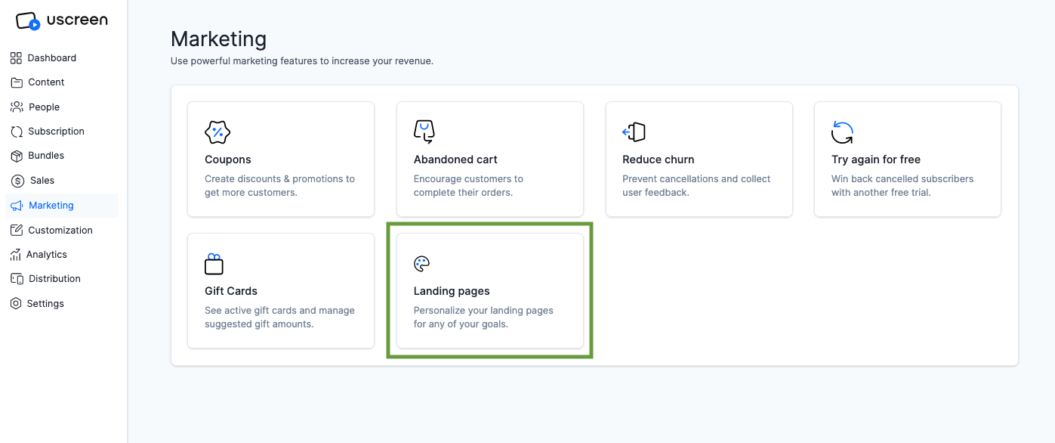 After you select one of our templates, you can then add an FAQ block (by clicking on the blue + sign) and start designing how the questions are presented: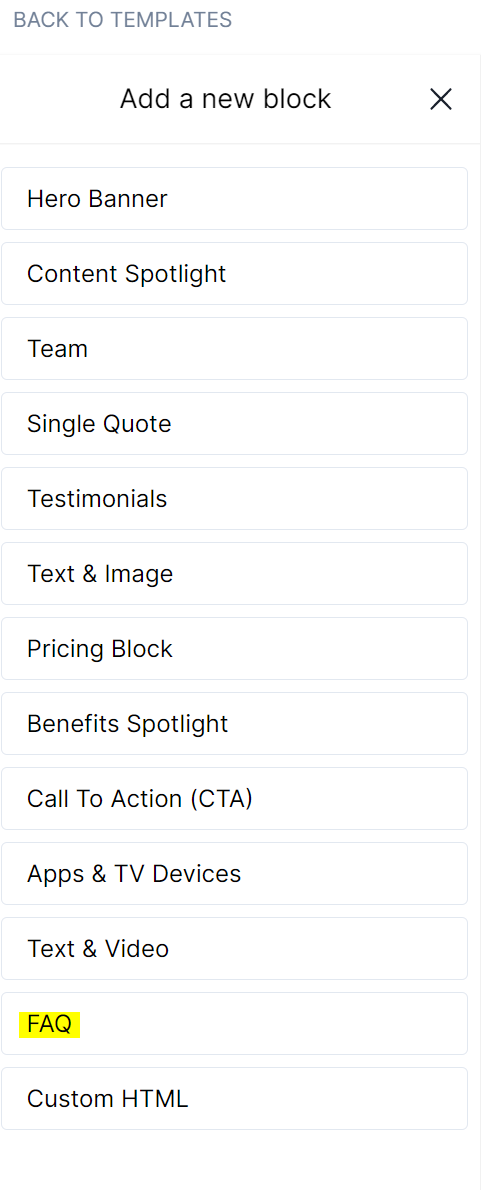 You can even use different colors to highlight the most important questions: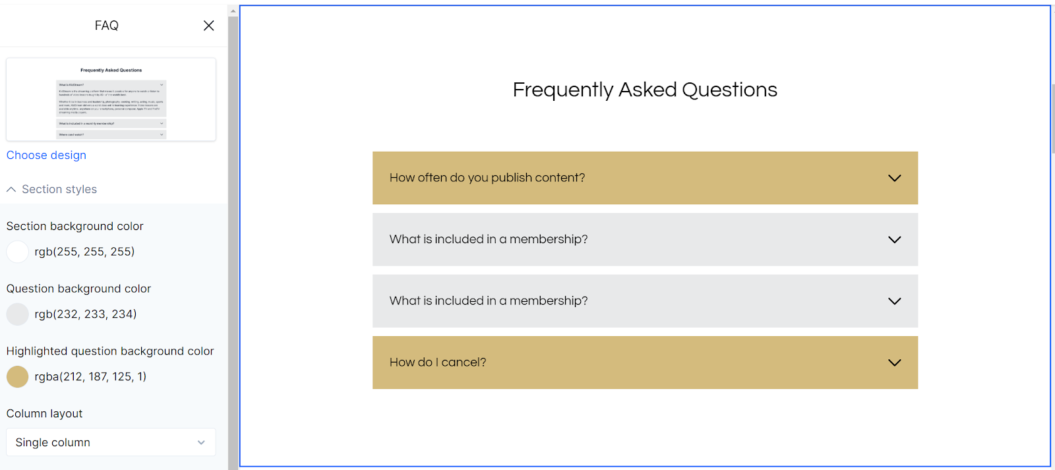 We recommend using the Landing Page Builder because of its simplicity and functionality! It's by far the quickest way to get your FAQ page online.

The tool lets you add a shorter FAQ section to any of your existing landing pages as well as create a standalone page dedicated to FAQs.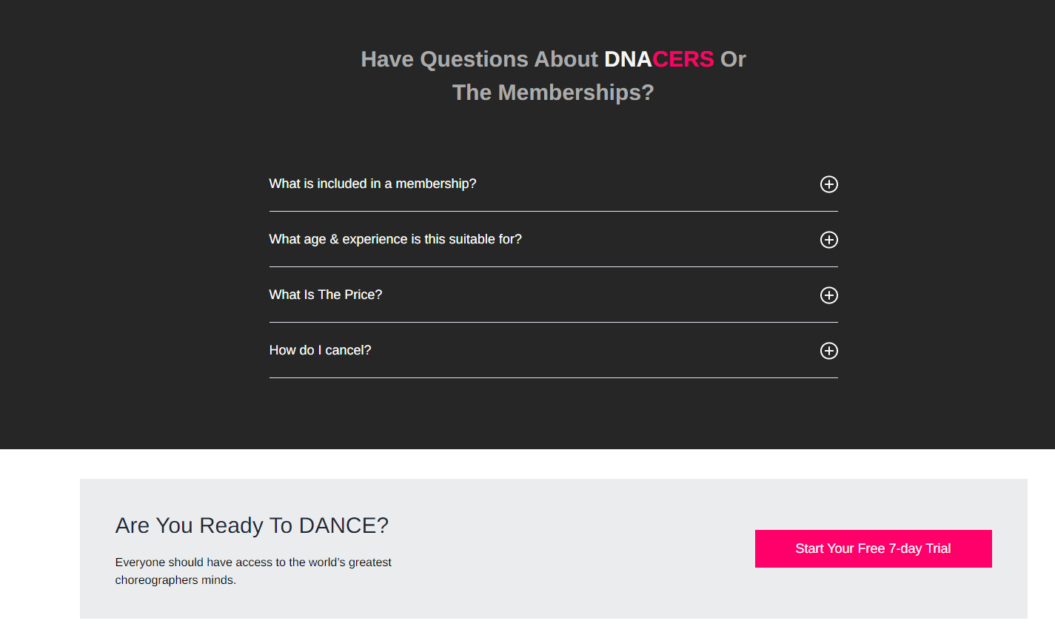 To learn more about how to use our Landing Page Builder check out our detailed guide which will show you how to build a standalone page and put it on your website. We're also releasing updates to the Landing Page Builder that'll make it even more robust and accessible, so keep an eye out for it on your dashboard.
2. Customization Page Builder
This is a more time-intensive way to add an FAQ page using the Uscreen platform.
Here you can use HTML to design your FAQ page. We understand that not everyone knows HTML, and you may just be looking for a plug-in solution with minimal effort.
The good news is, we give you a pre-written HTML code to use! The design of the page is basic where you just plug in your questions and answers and save the page.
Wrapping it up…
FAQ pages are really helpful for your business. You can use them to directly answer simple questions your customers and prospects have.
That way, you're increasing your chances of retaining customers and getting new ones!
And if you're a Uscreen customer, we make it easier than ever to build your own FAQ page that's catered to your video streaming platform.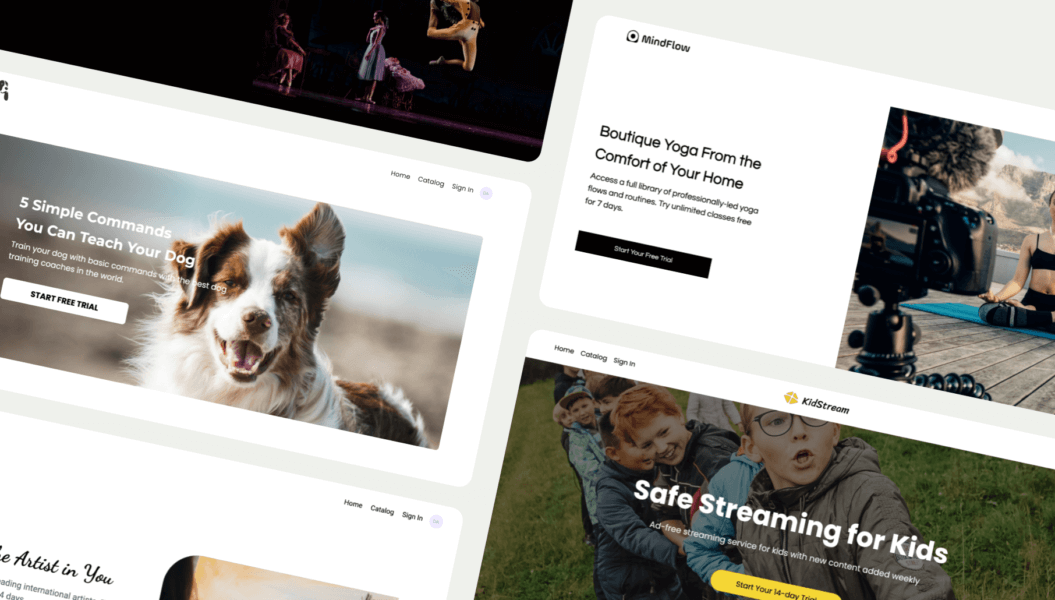 5 Essential Landing Pages For Your Video Website