What if I told you making a full-time living from your videos was easy?
That you could create content you love, for an audience you care about, through a platform you have complete control over?
You'd probably tell me I was selling a pipe-dream for people with big wallets and expensive cameras.
But I'm not.
By learning how to apply the Netflix business model to your online business, you can create an income and community around the videos you've always wanted to make.
Netflix has created an empire around a business model that every video creator can profit from. And, it's so simple to replicate, even he could do it: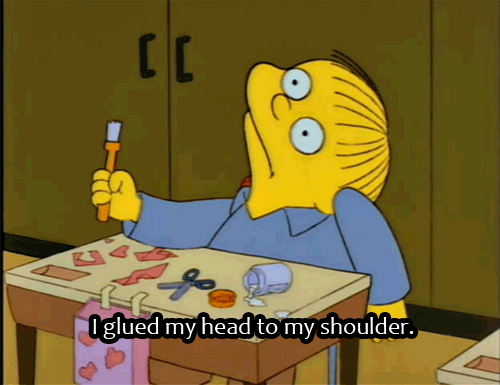 In this guide, I'm going to show you how to start your own streaming service like Netflix completely from scratch (even if you have no experience building websites and apps), and use it to generate a full-time income from your video content.
Let's look at what we'll go through…
What You'll Learn
Here's a little of what we're going to talk about in this article:
The Netflix Business Model – Here's What Makes Them So Successful…
Netflix has one of the most successful business models in the world. They're currently worth more than $100 billion and boast around 118 million subscribers.
They've worked their way into the daily lives of people around the world, end even found their way into everyday language. There's a 74.6% chance you've heard about Netflix and chill or been asked if that series you suggested can be streamed via their platform.
Simply put, they're a phenomenon in the world of subscription video on demand (SVOD).
But what is it that makes Netflix so successful, and what does that mean for you as a video content creator?
1. Subscription Business Model
Netflix has a simple, but extremely effective, subscription business model.
Here's a simple look at how that works:
Users sign up on their website
They get a 14-day or one-month free trial
They agree to pay a flat monthly fee (if they like the service)
They continue to pay as long as they use that service
They can cancel anytime (which stops access to Netflix)
This model allows Netflix to create a reliable income that's scalable. It also allows them to keep the cost to the user quite low. Why?
Because they can focus on growth and not on trying to convince customers to renew their contracts.
Their current customers have already purchased and are more likely remain customers. This, combined with the next four factors on this list, means they only lose around 9% of subscribers each year.
Thanks to their customers being "hooked", they can afford to offer hundreds of thousands of hours of video content for a reasonable $14 per month, seeing as the cost is being spread across so many users.
2. Accessibility
Netflix's platform is accessible to anyone, anywhere.
You can access your favorite movies and TV shows on any device from a location with an internet connection. That means mobile phones, tablets and, laptops. All through the click of an app or a link.
You can also use their over-the-top (OTT) apps to stream through your television using a Roku, Amazon or Apple TV device. Heck, my new television has a Netflix button on the remote that came with it.
All of this content is on-demand and can be watched whenever you want. Whether that's two in the morning or two in the afternoon, it's there waiting for you. Just switch on your device, open the app, and you're ready to go.
3. Original Content
The jewel in Netflix's crown is their original content.
They create remarkable award-winning shows, like Stranger Things or Master of None, that generate hype and buzz outside of their service. This then convinces people to subscribe.
You could wait and buy the content outside of Netflix on DVD or through an Amazon download. But why would you?
Take a look at this Master of None series one DVD. It costs more than their highest monthly subscription, and you could easily buy in a one-month subscription to watch all the available series.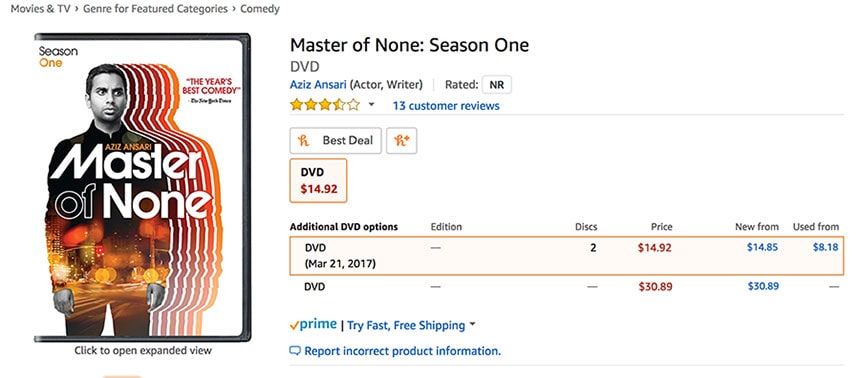 This original content also plays a part in keeping users "hooked" to their platform.
Let's say you're a big fan of Stranger Things. You're unlikely to cancel your subscription because it means you can't access new episodes when they're released. If nothing else, you'll rebuy a subscription for a month just to watch the latest episodes.
This can be a powerful tool for keeping people coming back for more.
4. No Advertising
Netflix has kept themselves separate from the problem that is holding back many content creators right now.
They aren't reliant on advertising revenue to run their business.
This means advertising guidelines don't dictate the type of content they create and broadcast. Which is a problem even independent content creators on platforms like YouTube are struggling with.
This allows them to focus on creating content that is dictated by the likes and dislikes of their customers, proven by real data they collect from viewers, and not the opinions of an advertising executive in a three-piece suit.
It's also a bonus for users to not have to deal with adverts in their favorite content. Which, let's face it, would just be spent getting snacks or taking a bathroom break.
Okay, that's why Netflix is successful. Let's now look at what that means for you as a video content creator.
Why The Netflix Model Is Perfect For All Video Creators
Netflix's business model is built on simple, easy to replicate principles, that all creators can use.
If you want to sell videos online in any niche or industry, you can use their model to help you enjoy the perks of a profitable online video business.
Let me show you an example.
Take a look at the Magician focused website, Magic Stream: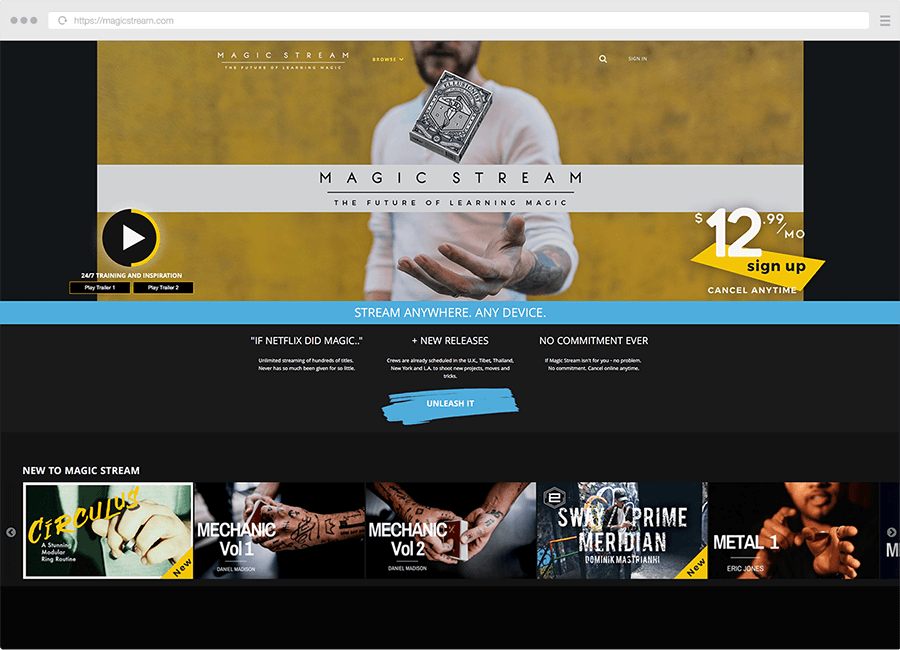 They provide training videos for different levels of magician and illusionists. Their back catalog ranges from the simplest tricks, to the mind-bogglingly impressive.
Their customers have to pay a subscription fee to access the content. It can then be streamed, on demand, using a mobile device, computer or television. Customers can cancel their subscription at any time, but they lose access to the content.
Starting to sound familiar?
It should, because Magic Stream even brands itself as "If Netflix did magic":

They even use a Netflix styled theme (more on that later) to display their content.
Each video has a striking image, a description of what it contains, and is displayed in familiar rows. Easy to search, find and consume the content you want to see.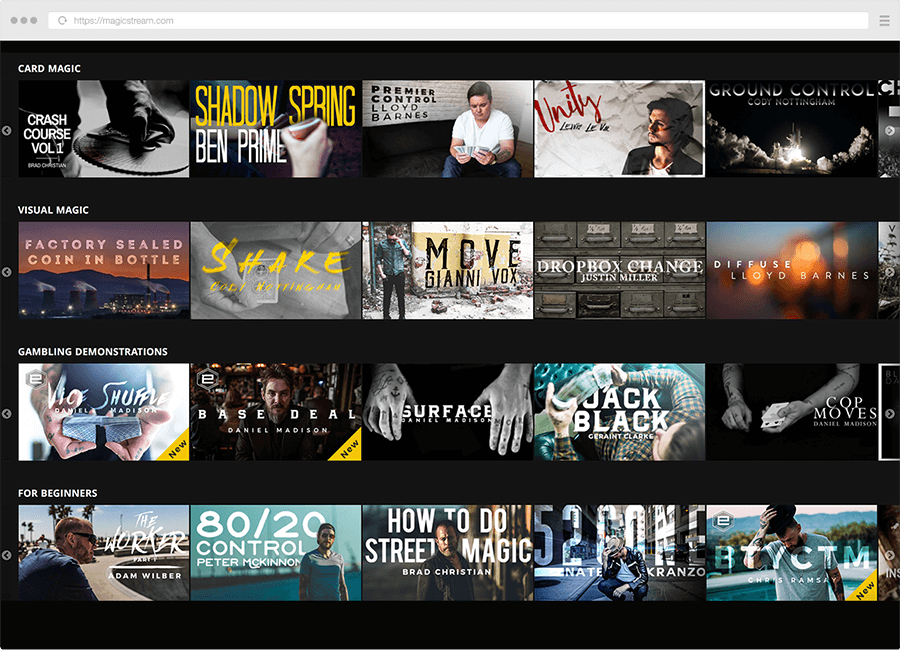 This isn't the only business out there that's running this kind of SVOD business. We've seen it be successful for many different businesses, in lots of different niches, from Dog Training and Yoga through to Electronic Music Production and Leadership Skills.
If this is starting to sound like the right option for you and your business, in the next section we'll show you how you can create your own Netflix from scratch.
Create A Netflix: How To Build Your Own SVOD Business And Sell Videos Online
It's surprisingly simple to create a Netflix style business.
There are just a few pieces of the puzzle you need to put in place before you launch. And a few processes you need to follow once it goes live.
Let's look at the five steps you need to follow to set yourself up for success:
Step #1: Choose Your Niche
Your niche is the specialized area you create content for.
If you're not sure what a niche is, this is usually a subsection of a much larger industry. Being in this niche creates scarcity, increases the price you can charge, and allows you to laser-target the right people. Let me explain what I mean.
Total Immersion is a "swimming" company. In essence, they help people to swim using their unique technique. But, their target anybody isn't just anybody who can throw on a swimsuit and jump into the water.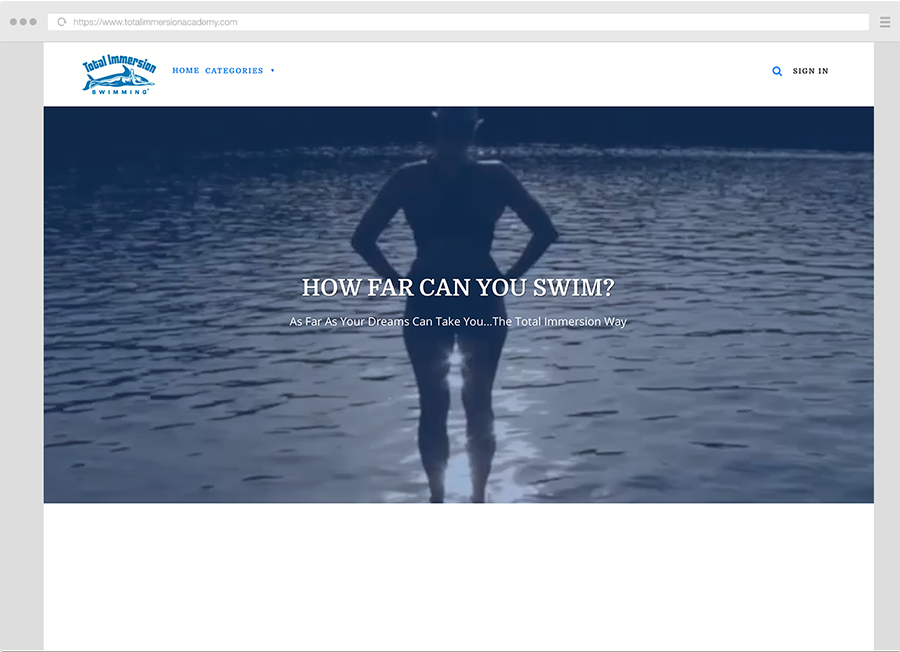 Instead, they're focused on beginner and intermediate swimmers who find their swimming technique to be difficult or exhausting. These people actively want to improve their technique and swim more efficiently.
Yeah, that's pretty specific. But they're a successful company because of that specificity.
You need to find this level of specificity for your own SVOD business, too. Even if you feel you have a niche idea, you should ensure it's refined and clearly defined.
This can be scary because it feels like you're closing the door to lots of potential clients. But, this can actually help you attract the right customers to buy from you.
When you're choosing your niche you need to look for what Steve Scott calls "the three Ps":
Passion: Are you passionate about this niche?
Personal experience: Do you have relevant experience in this niche?
Profitability: Are you able to make money from this niche?
Having these three in place will allow you to build your business on stable foundations. You'll also be able to see if you're creating something profitable before you start to create content.
Step #2: Plan Your Content
What videos are you going to create to inform, entertain or engage the people in your niche?
Getting clear on the content you're going to create – and how you're going to create it – is an integral part of your business's foundations. Basically, this is what your customers can expect when they invest in your services.
Here are some ideas to think about:
Will your videos be one-off episodes, or will they be part of a series?
Will they be short-form or long-form?
Will you create them, or will they be curated from all over?
Will you deliver new videos daily, weekly or monthly?
Will all of your videos be available to subscribers, or will they have to pay extra for certain content?
Will you partner with people, or are you going solo?
There are no right or wrong answers to these questions. After all, you have complete control over what you create. And any mix of answers to these questions has the potential to be a profitable SVOD business.
For example, Dive Gue create lots of standalone videos that belong to different parts of their diving sub-niche.
Sometimes these follow as part of a series, but are mostly designed for you to get all the value you need from each video: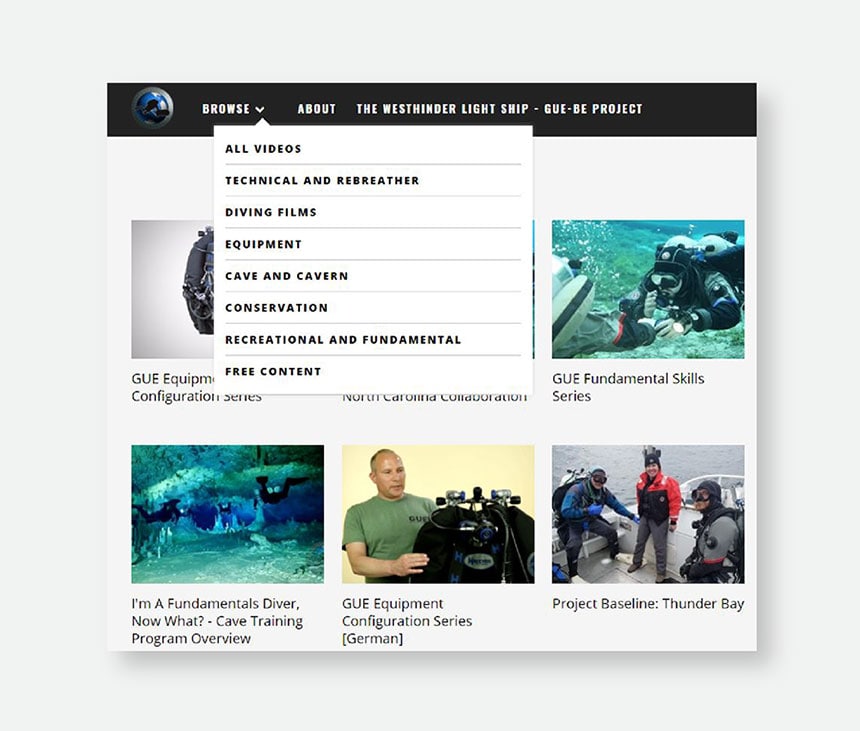 On the other hand, La Sonata Classes create content that works in a course format.
Students looking to learn more about the art of Flamenco can follow step-by-step tutorial videos and packs to learn specific skills. Each video, and pack, follows on from the last: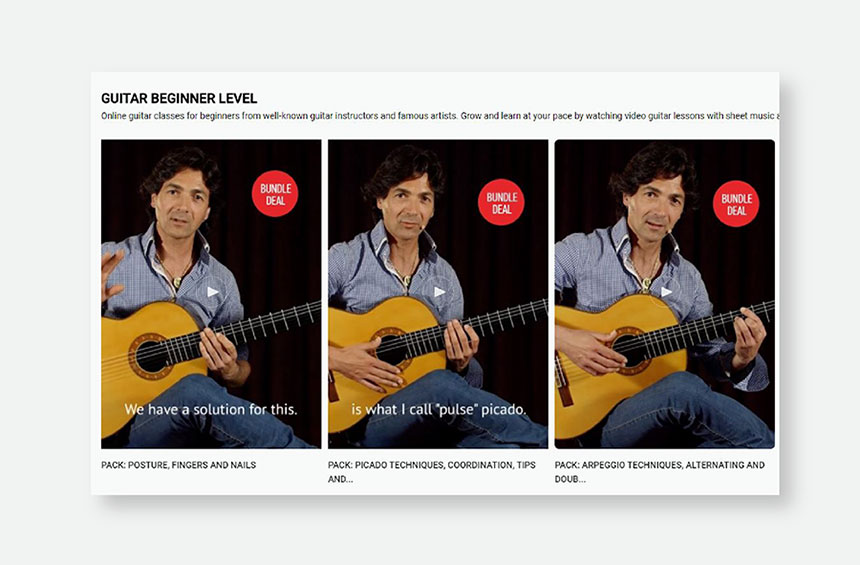 Both of these approaches work well for their audiences, and the style of content they wanted to create.
Want to learn all of this in more detail? Check out Uscreen's brand new Video Business School! It will guide you through the whole process of launching an online video business from start to finish.
Step #3: Create A Netflix Style Website
The ideal set up for a Netflix style video business is a Netflix style website, right?
There are two routes you can take with this:
Use a video on demand service: Here at Uscreen we help people build and grow Netflix style businesses. (More on that below.)
Do-it-yourself: You can piece together your own Netflix style service from scratch.
All of the examples of SVOD websites you've seen throughout this article have been created using Uscreen's services. And, we're so proud so many people choose us to help them create those businesses.
Our services make it simple to create a Netflix style website from scratch. We provide all of the tools you need to upload your videos, create your website, protect your content and sell your videos online.
It's kinda what we do best.
Take BFUNK, for example. They've used Uscreen to build a Netflix style website around their Bhangra and Bollywood choreography videos: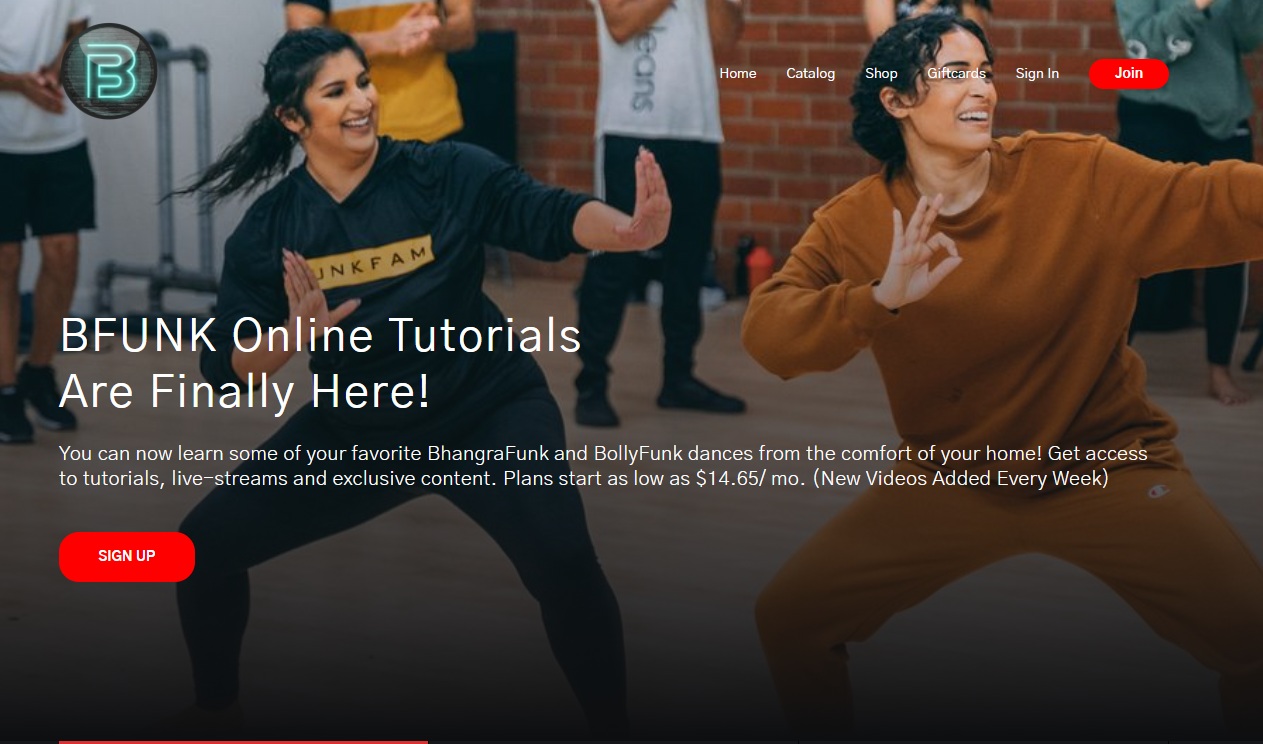 They use our custom templates to build a stunning website, where they can display their entire library of choreography tutorials for their dance students. If Netflix did dance videos, this is probably how it would look!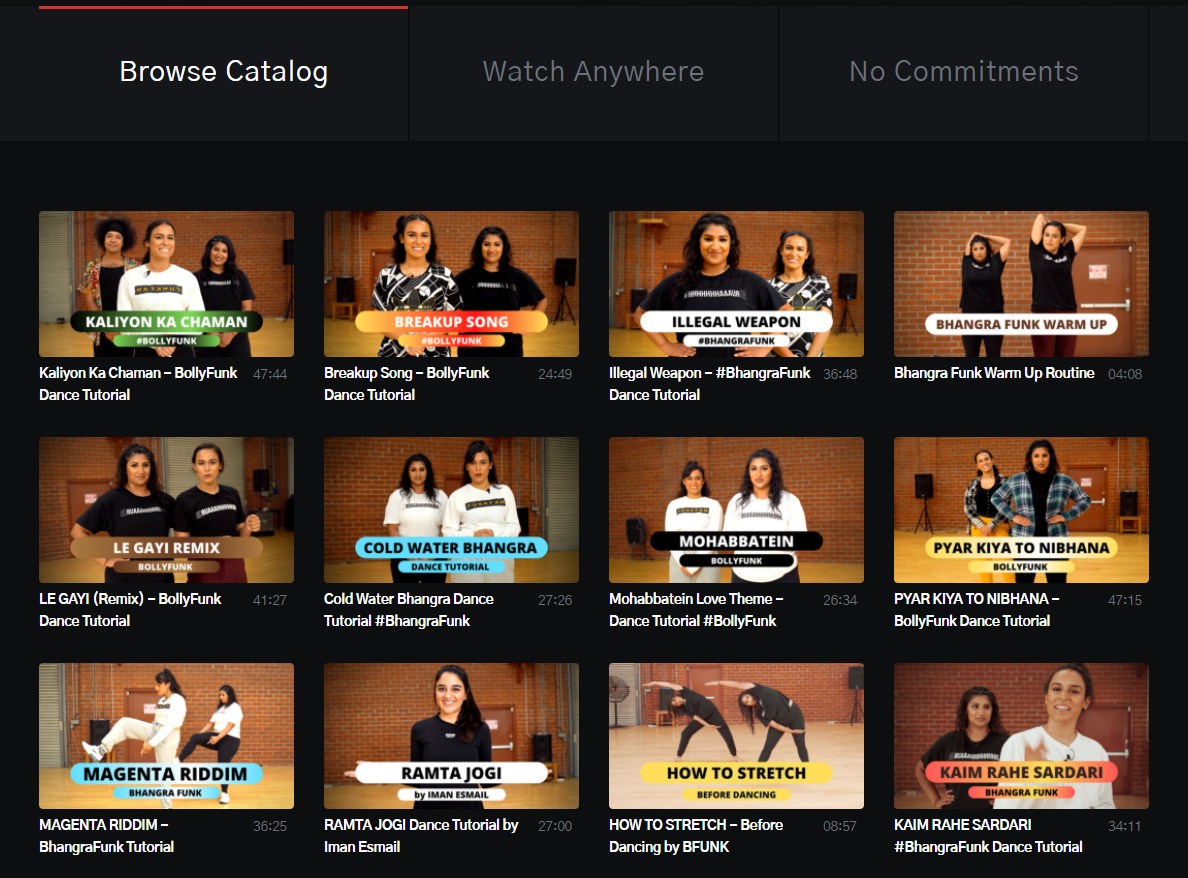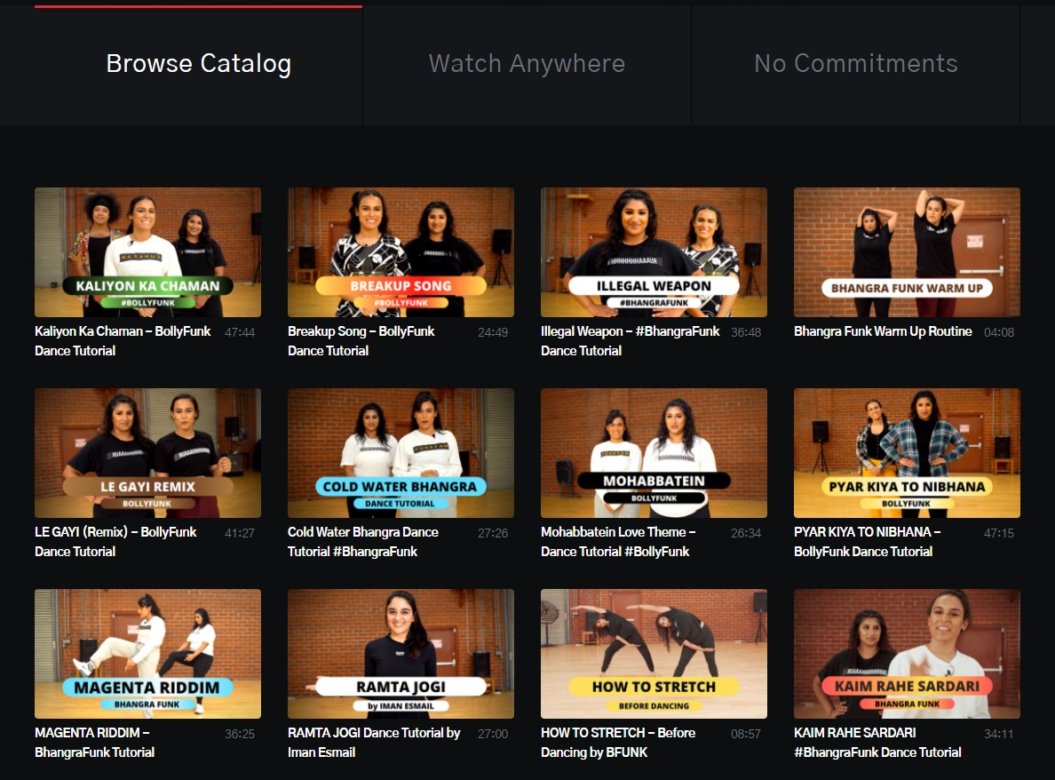 They also use Uscreen to help them handle subscription payments, build a community, and create marketing campaigns. Giving them everything they need to help them grow and manage their business!
But I'm also aware that Uscreen isn't for everyone. That's why I put together an entire article showing you how to create your own SVOD platform from scratch, too.
Because no matter how you want to run your business, Uscreen is here to help.
Step #4: Create Your Branded Apps (Optional)
Branded apps allow your customers to easily access your content on different devices.
They just click the app, log in, and they can access all of their video content in one easy-to-find place. Just like how you'd use Facebook or YouTube on your phone.
This step may be optional, but it's highly recommended. Why?
Well, there are a few reasons your online business needs an app: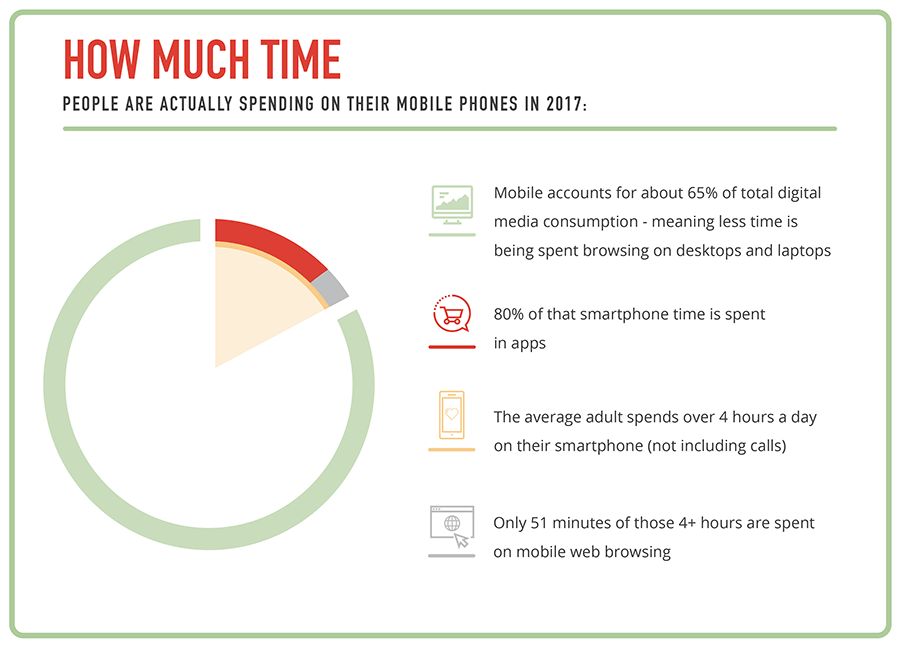 Which means if you don't have an app, you could be making it hard for your mobile-savvy customers to access your content. Even if they do use the web to access your videos, it doesn't have the same look and feel as a fully-branded app.
Uscreen customers are easily able to add OTT apps to their business – all they have to do is request the apps, and the Uscreen team takes care of the rest. You can also create apps that allow your customers to view your content on their television. You can create your own Roku channel, or an app for Amazon's Fire Stick and Apple TV.
These options allow you to reach more people and give your audience the opportunity to consume your content in their preferred way. And, if you think back to the earlier section about why Netflix was successful, this was a key reason.
Step #5: Find Your Audience
With your niche, content, website and, apps in place, there's only one step left to take – find your audience.
How you market your SVOD business will come down to your audience. You'll need to choose strategies that focus on where their attention is, and adding lots of value up front.
Here are some tips to help you get started:
Wrapping This Up…
I hope by now you can see just how powerful and profitable the Netflix business model is. And, that it's not just available to content creation giants.
Passionate video creators all over the world over can leverage this style of SVOD model and create a successful online video.
You just need to follow five simple steps:
Choose your niche: This is the subsection of your industry you want to target.
Plan your content: Get clear on what you want to create, and what your audience can expect.
Create a Netflix site: This can be done using a platform like Uscreen, or through your own DIY methods.
Create branded apps: This allows your users to access your content on mobile devices or through their television.
Find your audience: Use social media, leverage YouTube, build a mailing list and follow our VOD marketing advice to connect with the right viewers.
Be patient. Create good content. Build a community. And, in no time at all, you'll have a profitable video on demand business you love to run.