Wish you were making more money from your YouTube live streams?
Then you're in luck. Ways for live streamers to monetize just keep growing and the demand for live content is up. Cisco expects live streaming to make up 17% of all internet traffic by 2023.
In fact, industry analysts expect the live streaming space to grow by $25.19 billion between now and 2026.
What does all this mean? Demand for live-streamed content is getting higher and higher, and you're just in time to ride that wave.
Plus, get this: YouTube lets your biggest fans pay to stand out. Yes, using YouTube Super Chats, the feature you're looking to figure out.
It's a not-so-new feature by now, but that rise in demand means it has the potential to add to your earnings. It's worth another, more serious look.
So here's what we'll do for you today:
Give you a clear understanding of this feature, how it works, and how to set it up on your YouTube channel.
Share top tips for encouraging your viewers to buy them so you boost your earnings when you go live.
Let's start!
It's simple with Uscreen.
Build, launch and manage your membership, all in one place.
How Does Super Chat Work?
If you already know about this feature and just want tips for using it to make more money, skip right ahead.
A Super Chat is a paid message that makes a viewer's comment more colorful and eye-catching than ordinary comments. While new comments in the chat stream displace older comments, Super Chats are special and rise to the top of the chat window.
The purchase amount determines the duration of the pinned comment. For a $5-message, a comment stays stickied for 2 minutes — through to $500 for 5 hours. For less than $5, a comment still stands out but disappears as usual.

Basically, live viewers are paying for your attention. (Or maybe just to support you if they're really nice — probably both.)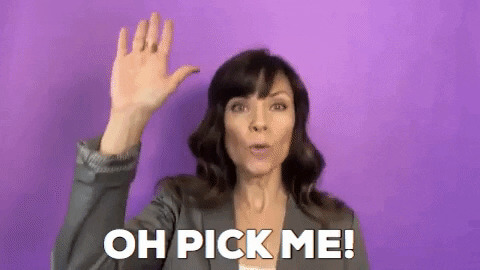 If you've ever been on Twitch you're likely familiar with this concept, as Twitch offers something very similar.
Super Stickers work the same way, except they're just — well, a sticker — without the personalized message. But the dollar amount still matches how attention-grabbing they are and how long they last.
Keep Super Stickers in mind because the tips you'll get in a sec work for them as well.
How to Set Up YouTube Super Chats
You have to be a YouTube partner with an AdSense account and all that jazz.
To meet the eligibility requirements, you need:
Over 1,000 subscribers.
Over 4,000 hours of watch time on your channel.
To be in an eligible location.
But, besides those conditions, the specific live stream must be publicly listed and accessible by all ages.

If you've already ticked all those boxes, follow these steps to enable the feature on your channel:
Click on the menu and select YouTube Studio.
Click on the Channel button to the left, right under Community.
Click Status and Features — you should now be seeing a list of features.
Scroll to where it says Super Chat. There should be a label saying "Eligible" on the bottom left.
Click on Enable, which will cause the sign-up screen to show.
Enter your information into the fields you're looking at, i.e. full name, title, email address, phone number, and company name.
Check the Terms of Agreement box (after reading the terms of course).
Done!
A message at the top of your screen should say you've enabled this feature on your channel. You're ready to make money with Super Chats, and we're ready to show you how!
4 Ways to Make More Money Using YouTube Super Chats
Now let's head straight into some tips to help you boost your income.
1. Do Interactive Activities
Attending a live stream is about engaging more closely with your audience. And that feeling is strongest when the viewer's input affects the content they're viewing. Or, when they're encouraged to take part.
Check out these ways to foster participation and engagement on your live streams.
Invite Ideas
If your content allows a little improv, make Super Chats a chance for the audience to influence what you do in real-time.
If you're a gamer, ask what strategy you should use next. And if you're an artist, say you'd like ideas for your next song, drawing, skit, recital, etc.
Ignite Discussion
You know your audience best, including the things that get them fired up.
Go through the comments on your YouTube videos and see what else your audience feels most passionate about.
If your viewers fall into two camps about a hot topic, that's a chance to get a friendly debate going within your community.
The most vocal ones will likely pull out their credit card to make their point the loudest — all in good fun.
Q and As
Fans of knowledge-based and how-to channels love the chance to pick their favorite personality's brain. And they'll definitely want their questions to stand out so you can address them with the expertise that makes them enjoy your content.
'Ask Me Anything' type videos are also great for personality-based channels. Your viewers find you interesting, so they're ready to pay to hear you spill the beans (or is it "tea" these days?) about more intimate details of your life.
2. Talk About How Your Viewers' Donations Can Help Your Channel
Some viewers get a lot of satisfaction from being part of fan funding campaigns. Knowing they're helping might be more convincing than simply getting attention.
If you need support from your fans, mention plainly that you'd appreciate their kind Super Chat donations. Then, explain what they'll go toward.
What exciting things can your viewers look forward to if you meet your goal?
More content? Better equipment? A new set? Let them know!
3. Promote Your Live Streams to Boost Attendance
Give your audience time to clear their schedules for your live stream. Make them feel a little anticipation. You'll see attendance shoot up as a result.
Here are 3 ideas for doing that: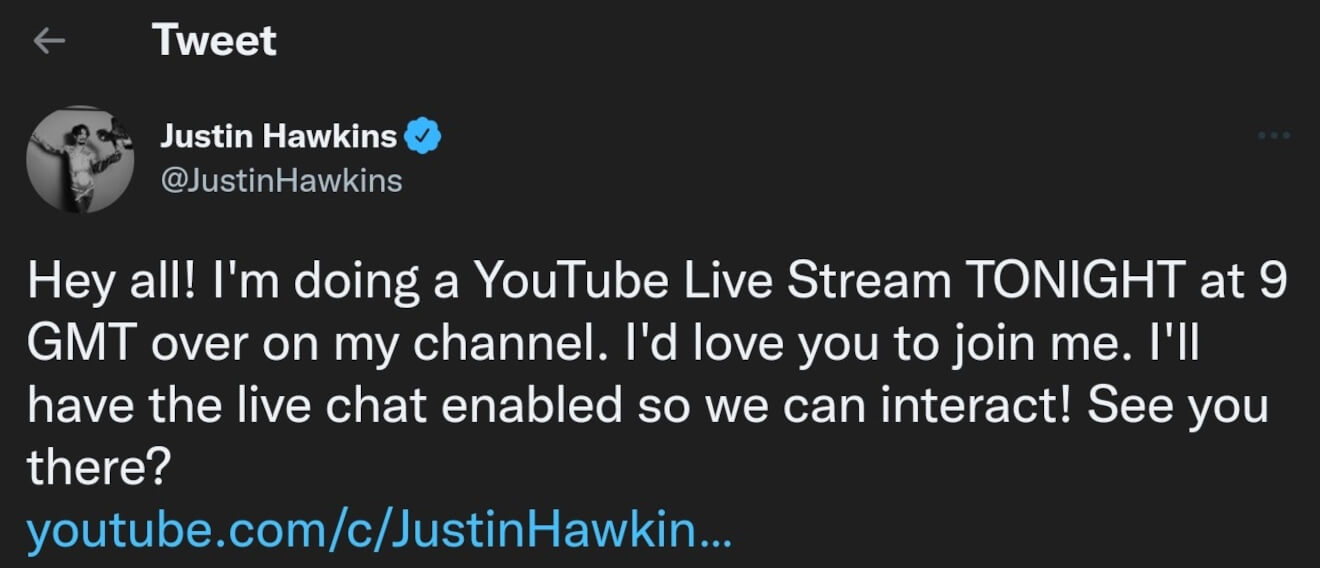 Spread the word about your upcoming stream wherever your audience follows you. This gives everyone who enjoys your content the best chance of catching your stream!
In fact, as many as 47% of live content viewers discover new shows through social media. In addition to getting your audience excited, you might also earn yourself new fans. So go on and ask for a good ol' retweet or share!
Also, mention that the live chat will be on so your fans expect interaction and get their wallets ready.
You can also use an email newsletter if you've been building a list. Add an iCal attachment so your viewers see it on their calendar and get timely reminders.
Encourage Subscribers to Turn Notifications On
When your subscribers have their notifications turned on for your channel, they'll get an alert when you go live. This is super important for keeping your live viewership high.
Because let's be honest, everyone checks their notifications.
So, ask them straight up to subscribe to your channel and hit the bell icon. And consider using a graphic like this on your videos.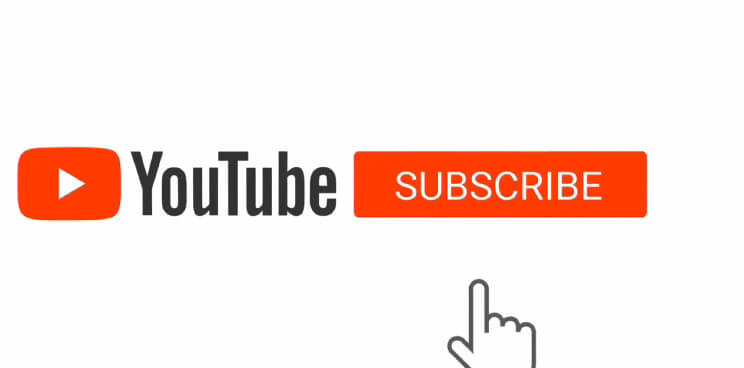 A Dramatic Countdown
Using a countdown overlay gets people excited about your event. It also helps them settle in. That's the kind of atmosphere and presentation that can make a stream feel like a big deal.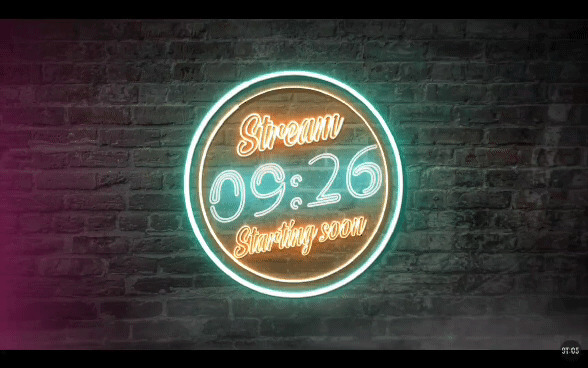 And when you kick it off with main-event energy, paying for some time in the spotlight with you feels totally worth it to viewers.
4. Make Buyers Feel Special
Thank them. Mention them by name. They're opting for a Super Chat so they can feel close to you and valued. In other words, make a massive effort to personalize how you show gratitude.
Personalization alone can cause brands to see a 40% increase in revenue. And remember, you're a personal brand. The thought of hearing you say their username out loud is a powerful motivator for your viewers.
When live streaming a premiere, do the same by @'ing viewers and responding to their comments while showing your appreciation.
3 Crucial Things to Keep in Mind
As cool as they are, Super Chats could use some improvement. It's better you find out now rather than later.
1. Your Live Stream Revenue Will Be Inconsistent
Lack of stability comes with the territory when monetizing your audience through YouTube. Super Chats bring about more of the same.
Your live stream revenue will depend on::
How many people will show up.
How many of them will buy Super Chats.
The kind that they'll buy.
Monetization options such as subscriptions and memberships are better for creating more stable live streaming revenue. And you'll still be able to supplement your income from the streams with Super Chats.
2. YouTube Takes A Cut
YouTube promotes the Super Chat feature as a personal way for viewers to support channels. Which is why it catches some content creators off-guard when they realize YouTube takes a 30% cut.
But now you know.
3. You Need to Moderate Your Live Stream Chat
Most fans are great people. The keyword here is most — but there's always a chance of somebody being willing to pay to put a damper on things.
You see where this is going: A troll or two might use Super Chats for the wrong reasons.
Hopefully, none of your audience will be focused on harassing other viewers on your live stream. Delayed action can potentially put your monetization status in a tricky spot. So keep watch, or make sure you've got someone on your team who can help with this.
One Final Tip
You can see how much channels similar to yours are making from Super Chats. One tool you can use for doing that is Playboard.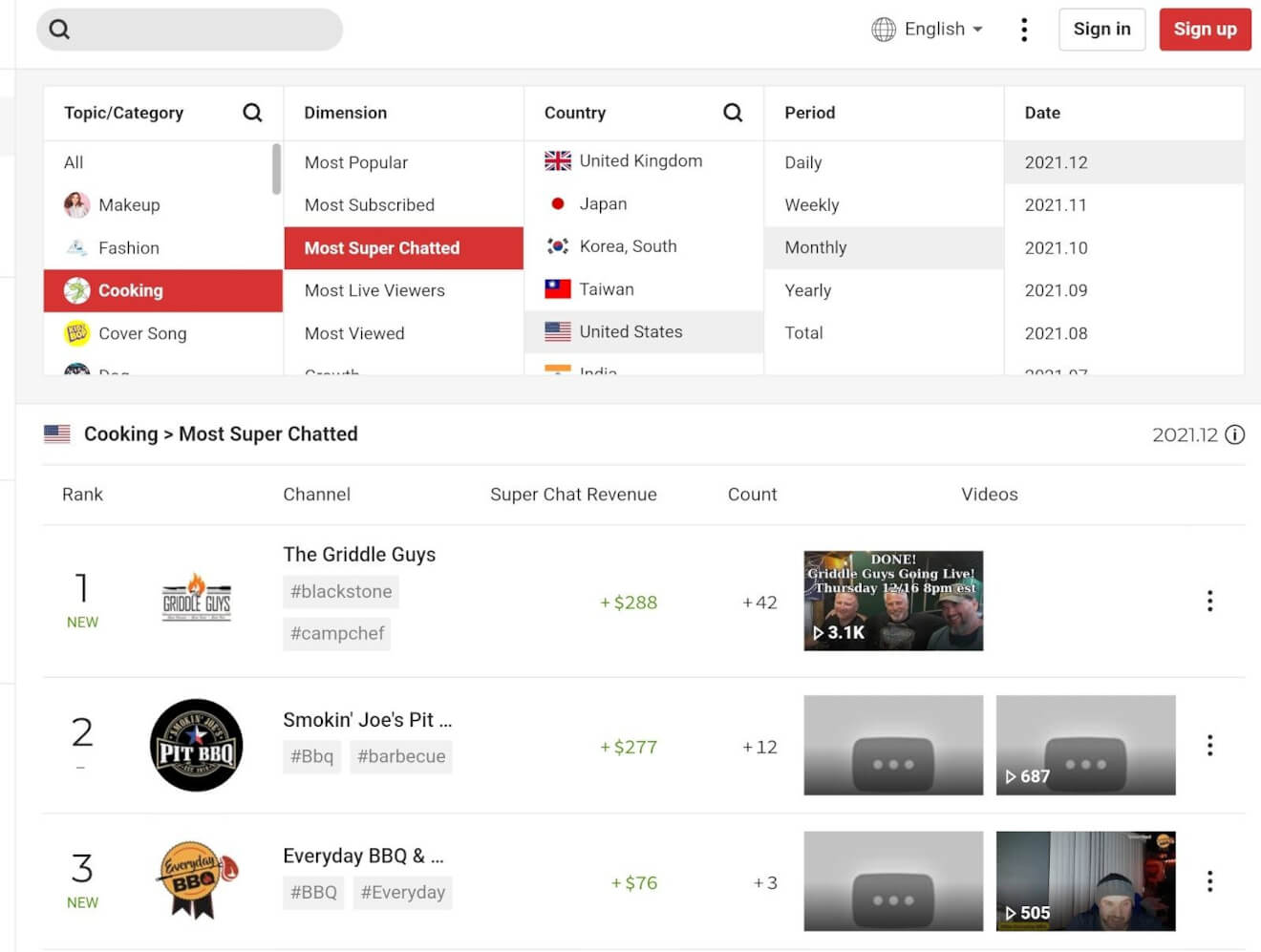 This makes it easier to get a rough idea of whether the potential boost to your income will be worthwhile.
Or, you can check out the top-grossing ones and see what they're doing right.
Wrapping Up…
Now that you know:
How YouTube Super Chats work
How to enable them on your channel
4 ways for encouraging viewers to buy them
…you have a new way to add to your YouTube revenue. Still, there are plenty more ways to make your video business more profitable with live streaming. So be sure to keep an open mind. For now, use your new knowledge to rake it in!