So you're ready to embark on your first video project and take your first few baby steps toward the making of your very own private Citizen Kane or Raiders of the Lost Ark.
Ok, you probably aren't looking to start off that big. Maybe you just want to edit those hours and hours of home movies you've caught so someone will actually want to watch them. Maybe you have a school video assignment that you are working on. Maybe you want to wow them at the office with a professional-looking training video. Or maybe you just want to try your hand at the editing process to have a little fun.
Well, thanks to the rapidly evolving world of personal computing, you're in luck! There is absolutely no shortage of video editing software applications to choose from. This software can instantly turn your desktop, laptop, tablet, and/or smartphone into a truly state-of-the-art editing suite. But with all of the digital video editing options on the market today, selecting the right platform for you can become more complex and convoluted than the plot of an M Night Shyamalan movie.
If you're having trouble sorting through the mountain of software choices that are standing between you and your dreams of small screen glory, fear not! Here are just a few top video software applications that will have you assembling your video masterpiece in no time.
Just take a few moments to consider your budget, the equipment that you will be using, your video-making expectations, and your level of commitment. Then read on to find the perfect video editing software platform for you.
Here are the best beginner video editing software for every situation:
The best beginner video editing software for cheap
Consumers new to the video-making game typically don't want to spend a lot of money on editing software, particularly if they are unsure how often they will be using it…or whether they will ultimately use it at all!
Although there are plenty of free video editing applications on the market (some of which frugal readers can read about below), these options often come with considerable legal and technical limitations. If you want to avoid these issues but don't want to break the bank with your very first video editing software purchase, you may want to take a look at Adobe Premiere Pro CC Review.
At just $20 a month, Premiere Pro CC packs a powerful punch for not a lot of cash. Although it includes virtually everything that today's professional video editor might need, it favors the novice with a streamlined interface that favors "point-and-click" functionality over complex button pushing. To make things even easier, the latest version of Premiere Pro CC is compatible with touchscreen computers and tablets to let you move clips and shot elements with a touch of your finger.
The best multi-format beginner video editing software for free
With plenty of powerful features and an interface that has been called "appealing but quirky," HitFilm 4 Express may look a little confusing at first, but after playing around with it for awhile, most users find their way around the platform with relative ease. In fact, with a bit of practice, you just may find HitFilm 4 Express to be one of the most user-friendly video editing software applications on the market today. Plus, to add to its user-friendliness, it is compatible with both Mac and PC.
As you get more comfortable with HitFilm 4 Express, you'll grow to appreciate its many advanced capabilities including its comprehensive compositing and tracking options, its sticking 2D and 3D effects, its highly precise speed controls, and its litany of audio tools. But, of course, the best thing about HitFilm 4 Express is its price (or lack thereof). If you ultimately decide that you don't like it, your pocketbook will be absolutely no worse for the wear.
The best beginner video editing software for versatility
Offering a wide range of sophisticated features and video output modalities, the cross-platform Adobe Premiere Elements 15 offers greater flexibility and adaptability than any of the other video editing platform on this list. Although it doesn't support certain emerging technologies, such as multi-cam editing and 360-degree video, its list of advanced capabilities is far too long to enumerate here.

Suffice it to say that, despite its comprehensive functionality, Adobe Premiere Elements 15 is exceptionally easy to learn and use. In fact, the vast majority of the "bells and whistles" that come with Adobe Premiere Elements 15 are extremely practical and often automated features that even a complete newcomer to the video editing game can fully appreciate. Focus adjustment, enhanced face detection, and haze removal are just a few elements that this innovative, touch-friendly platform delivers for a one-time $70.
The best beginner video editing software for Mac
Although PC computer systems offer significantly more video editing software options than those of Macs, there is certainly no shortage of Apple-compatible editing options for amateurs and experts alike. However, the inherently user-friendly design of the Mac is particularly well-suited to beginning video editors, and few Mac applications are easier to use than Apple iMovie.
Included free with every Mac that has been sold since 2011, iMovie is not only highly intuitive but surprisingly capable when it comes to producing videos with a professional flair. This platform may support just two video tracks, but its full roster of effects, from colorful chroma-keys to flashy wipe transitions, allows users to create slick, Hollywood-style productions with incredible ease.
Recent updates to iMovie have significantly expanded its capabilities with 4K editing/file sharing and the ability to process video shot at resolution rates as high as 1080p and speeds as high as 60 frames per second. These updates have also made video editing on-the-go that much easier with added Touch Bar support for the latest generation of MacBooks.
The best beginner video editing software for Windows
Yet another example of highly functional and easy-to-use free video editing software,
Microsoft Movie Moments is extremely short on fancy elements such as multitrack editing, overlays, and chroma keys. But if you're looking to craft short videos with the option to add simple elements like titles and background music, this is may just be the perfect application for you.
Available for free download in the Windows Store, Movie Moments allows you to trim footage from the middle as well as the end of each shot to compose simple but effective videos with an absolute minimum of effort. And because it is a Universal Windows Platform application, it works on Windows Phone and PC-compatible tablets as well as Windows desktop computers.
The best beginner video editing software for YouTube
If the principal goal of your video editing efforts is to ultimately share the fruits of these efforts on YouTube and/or other social media sites, VideoPad could be your best software option. A comprehensive cross-platform software package, this application allows you to upload your completed videos to the social media platform of your choice right from the VideoPad main menu. Your friends and perhaps even the public at large will be enjoying your little movie masterpieces in a matter of seconds.
While VideoPad lacks the flashy pizzaz of applications with an overabundance of features and effects, it remains a rock-solid choice for straightforward video editing. Plus, it is versatile and powerful enough to edit and upload videos that range from 480p to 4K. VideoPad isn't free, but at just $40 for full and comprehensive use, it won't soon have you filing for bankruptcy either.
Uscreen's top pick for video editing software
Re-branded as Filmora9 video editor, this video editing software has been popular around the world for several years. Filmora9 makes video editing simple with its easy-to-use yet powerful video editing features and tools, and its plentiful templates and effects.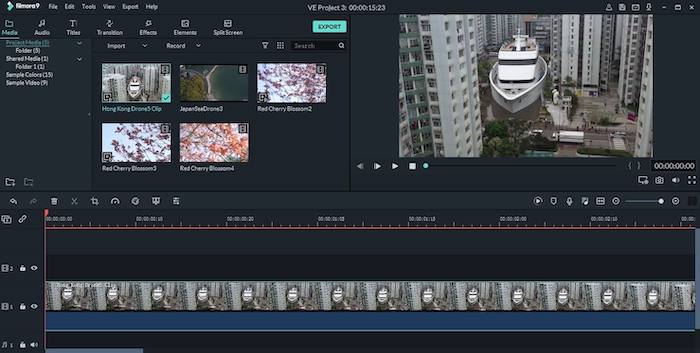 Filmora9 allows you to add up to 100 video tracks and 100 audio tracks so you can place the media in different tracks without considering the track amount issue. You can also adjust the track height, which is very considerate, since sometimes you may need to enlarge the track to fine adjust the audio clip.
Apart from the basic editing features such as trimming, cutting, splitting, combining, rotating, cropping and zooming, Filmora9 also provides Instant Cutter Tool which is very convenient for users who want to cut and merge large 4K videos without losing quality. And the Video Stabilization, animated split-screen effect, and Chroma Keying features empower more creativities in video creation.
One of the advantages of using Filmora9 to edit video is that you can use the built-in transitions, filters, overlays, visual effects, elements, title & text, opening & closing credits templates, music tracks and sound effect for free, which saves much time in making the video outstanding.
And the overall winner is…
For aspiring video editors who don't mind spending a little bit of money to create a quality product, the best beginner software platform is (drumroll please) Corel VideoStudio.
For a purchase price of just $60, this is an exceptional video editing package for beginners because it is extremely powerful, functional, and easy to use. In fact, many experts in the field think that Corel VideoStudio has the shortest learning curve on the market today when it comes to producing videos of all lengths and levels of complexity.
Forget the convoluted controls that go hand in hand with other video editing applications of this caliber. Corel VideoStudio features a sparse but inviting interface that supports an incredible array of features including a mask creator for the selective application of effects, full track transparency, comprehensive-time remapping, and the ability to handle 360-degree video for standard 2D playback. In short, this is a video editing software platform that promotes rapid growth, enabling absolute beginners to transform into seasoned experts with exceptional ease.
Now go, edit away!