Creating an online community is important to build your audience's trust and engagement. But what if you're stuck with the wrong platform?
Sometimes the platform you choose…
might be missing the tools you need
is difficult to use and find what you're looking for
has a price that's over your budget
… and it could affect your online community.
If you're still considering if you should go for Mighty Networks, or if you're trying to switch to a better platform, you came to the right place.
Let's jump straight into it and take a look at what we've unearthed as the best Mighty Networks alternatives.
But first…
What Is Mighty Networks?
Mighty Networks is a website builder that's focused on creating and building online communities. With their platform, you get a chance to create membership sites, online courses, or create a community under your own brand.
If you're already a Mighty Networks customer and want to find a better platform, you can skip straight into our list of alternatives to Mighty Networks.
Now, if you're still considering which platform to pick, we'll give you a rundown of the Mighty Networks platform to kick things off.
Features
Mighty Networks offers plenty of features in their community platform — but too many options can get overwhelming.
Let's take a look at their features:
Create your own website and community.
Build landing pages to promote your content.
Choose between free or paid community access.
Get member-level analytics and activity reports.
Use a personalized activity feed to engage with members.
Increase tool options with integrations.
And how much do they charge you?
Pricing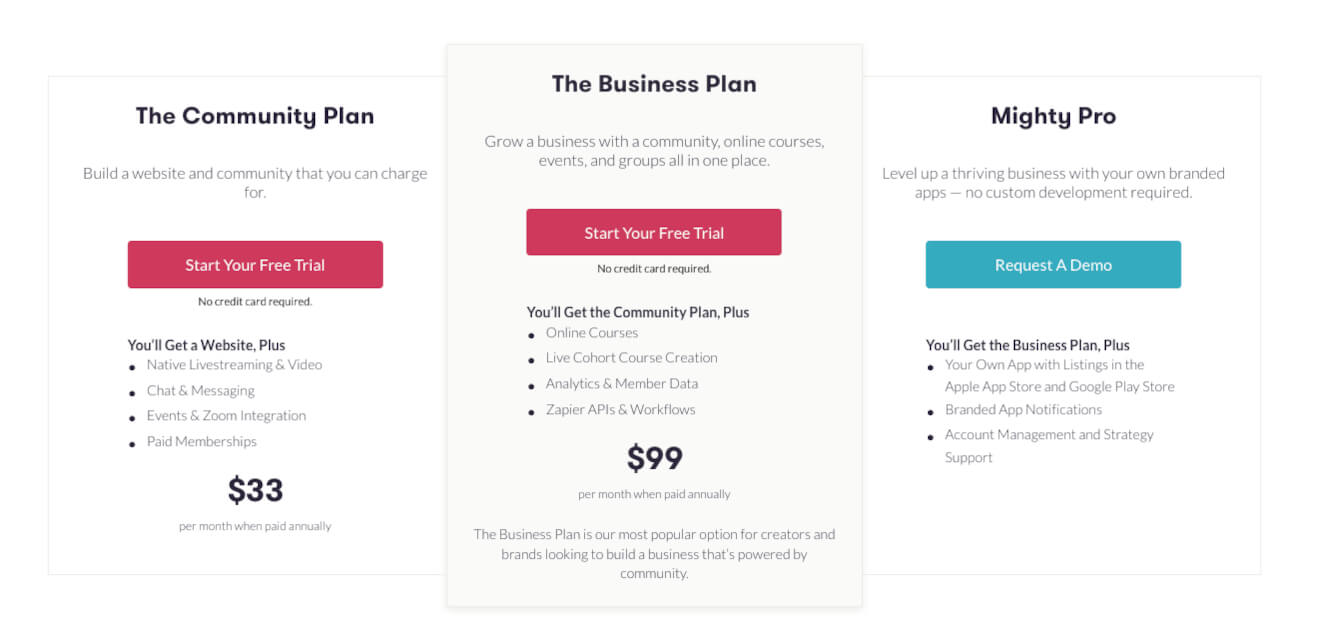 You'll get 3 pricing options with Mighty Networks:
The Community Plan: Build a website and community, and you'll also get paid membership capabilities, live streaming, and events. Price: $33 per month.
The Business Plan: Get all the features in the Community Plan, and you'll get to create online courses and access to analytics and workflows. Price: $99 per month.
Mighty Pro: Get your own branded app, plus an account manager and strategy support. Contact their team for pricing.
Although Mighty Networks' pricing is similar to the other platforms, there are some reasons to pick a different platform.
Why Choose a Mighty Network Alternative?
Their platform can be a little overwhelming to use.
Here are some drawbacks of the Mighty Networks platform:
Setup is not intuitive
2GB video upload limit
Limited sharing mechanisms that require embed links
Limited and non-intuitive developer integrations
Only one topic per post in the community
No coupon options for paid courses
Judgment Criteria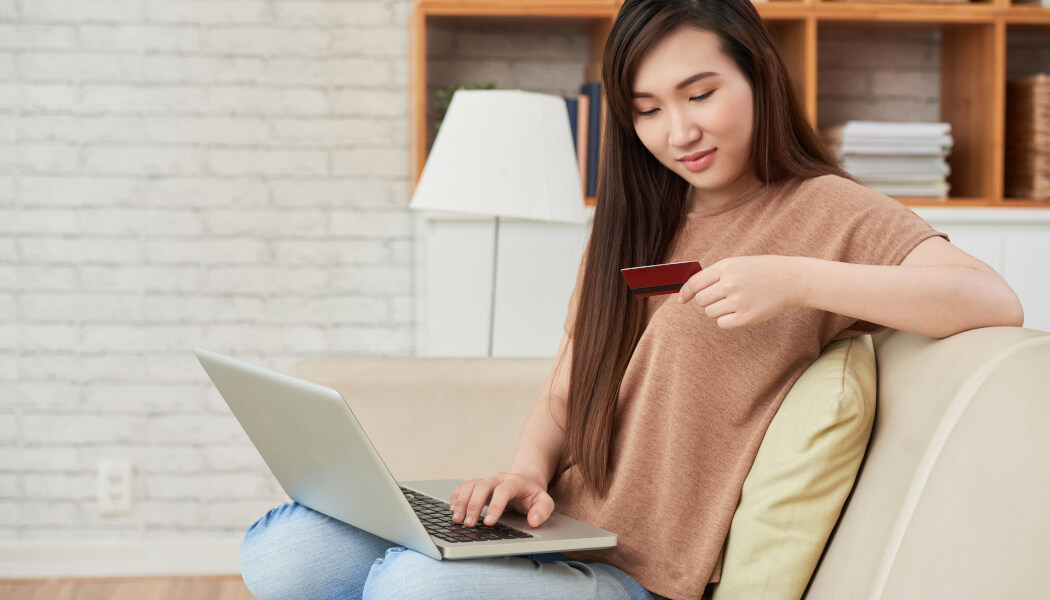 What to Look for When Picking an Alternative to Mighty Networks
What features do they offer?
What are the pricing options?
Is it easy to use?
Can you customize it?
Do they offer free trials?
When making our list of Mighty Networks alternatives, here is the criteria we looked at:
Features: if they offer features to help you through the whole process.
Pricing: if the platform is affordable or if they have different pricing options.
Usability: if the platform is easy to use and has customer support.
Customization: if you're able to customize your community according to your brand.
Free trials: if they offer free trials or demos.
Now let's go over some of Mighty Networks' alternatives.
1. Uscreen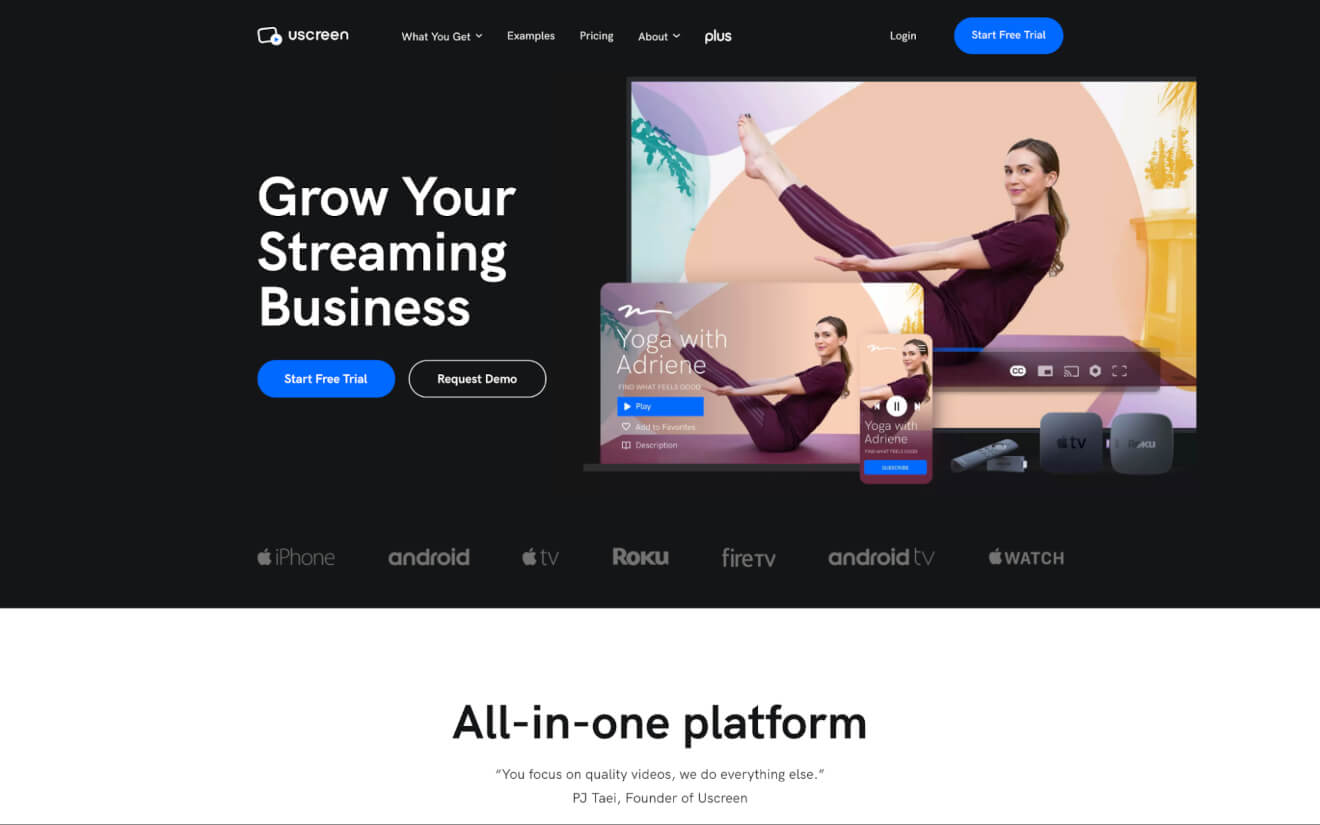 We're an all-in-one platform for video monetization. That way, you can use Uscreen as a community platform and as your own video monetization website and app.
With Uscreen, you're in control of your content:
Build your own website
Grow an engaged community
Create your own mobile and TV apps
Host live streams
Find out how your content is performing
Let's take a look at how you can do all of that.
Features
At Uscreen, we make building a community a breeze so you can blow your members away.
Here are some of our features:
Create free or subscriber-only communities
Engage members with challenges and achievements
Send push notifications to keep people coming back
Share your community with potential new members
Make posts easy to find with clickable tags
Learn more about your members with rich profiles
Live stream with advanced live chats
Customized your community to match your brand
What's more, we're always improving our community tools so we can bring the best tools to you and your members.
On to pricing.
Pricing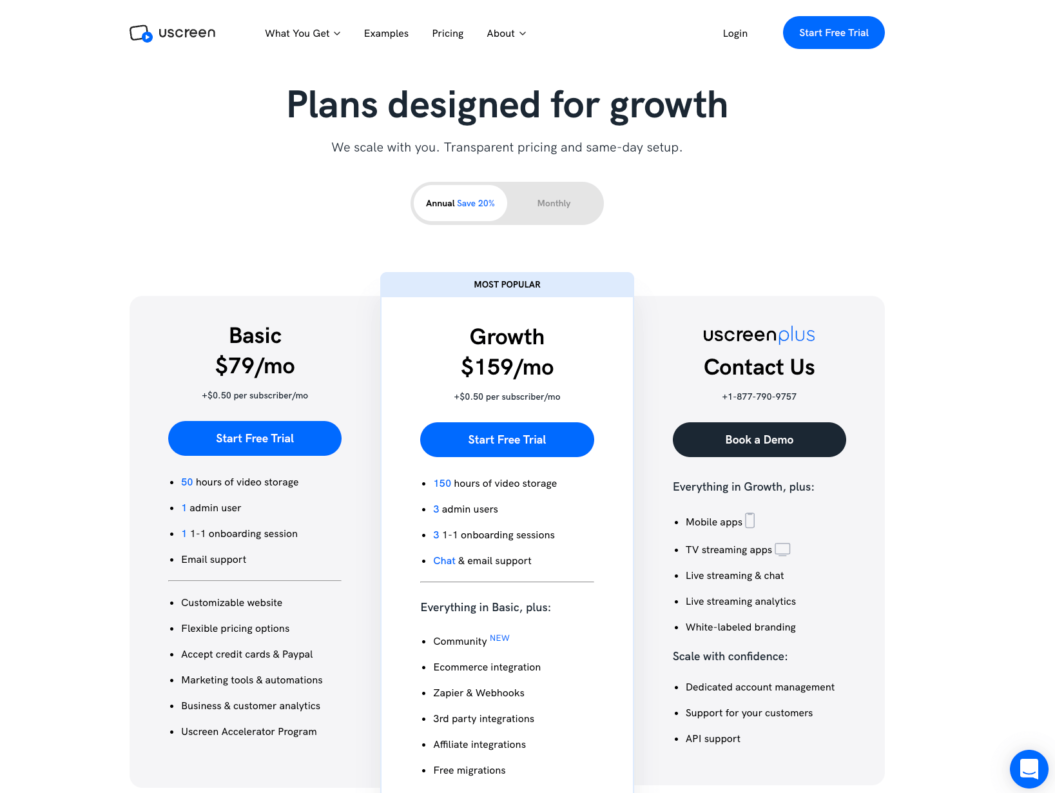 We have 2 pricing tier that offer our community features:
Growth: Includes 150 hours of video storage, 3 admin users, and 3 one-on-one sessions. You'll be able to create a community and add eCommerce elements. Price: $159 per month.
Uscreen Plus: Let's you live stream and engage with your audience through live chat. You'll be able to remove Uscreen branding and get dedicated account managers and API support. Contact us for more details on pricing.
It's simple with Uscreen.
Build, launch and manage your membership, all in one place.
2. Disciple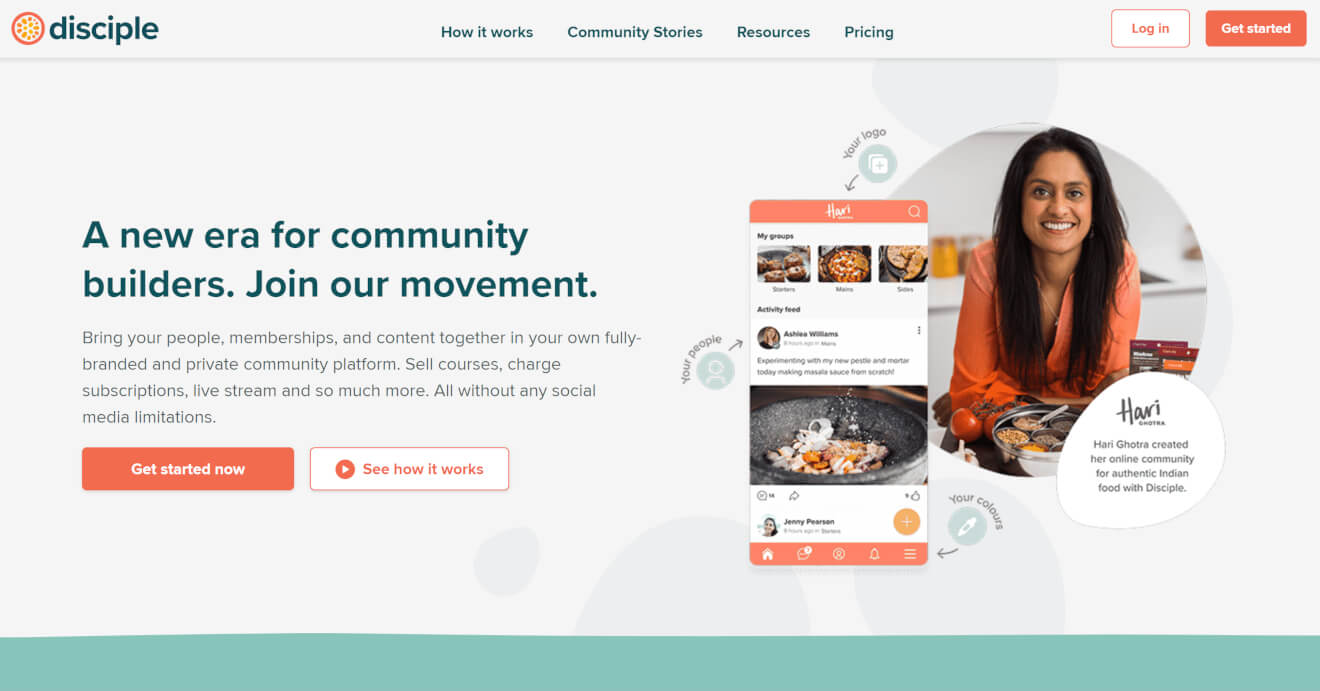 The next Mighty Network alternative is Disciple, a community platform driven by quality over quantity.
In addition to launching your online community platform, with Disciple, you can add courses to sell, host live streams, and charge for subscriptions.
Key Features
With Disciple, can increase your revenue by growing your online engagement with full control over your community platform.
Disciple's key features:
Take advantage of their open API and add app integrations
Connect with members through live streams
Keep it private with direct messaging
Understand your audience with analytics insights
Increase your earnings with their monetization tools
Here's how much it costs.
Pricing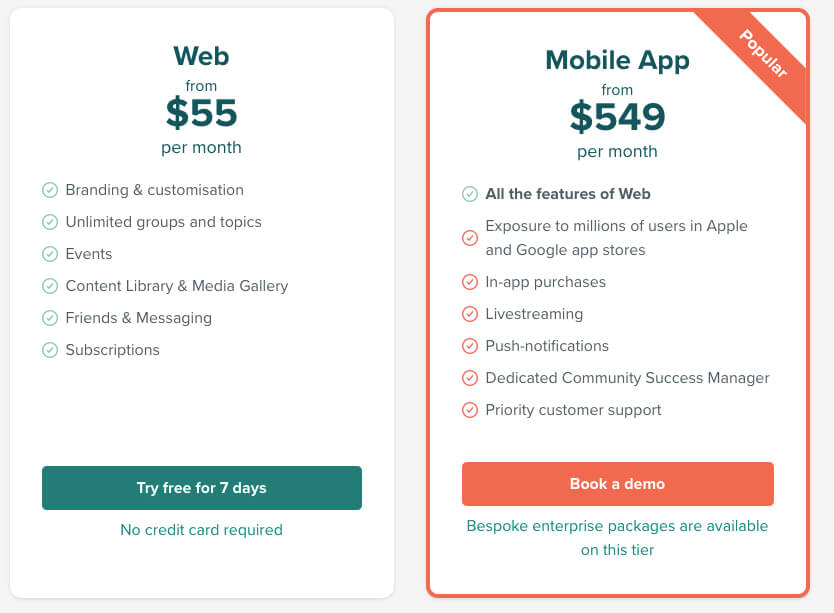 They have 2 pricing package options to choose from.
Web: Customize your platform with unlimited groups and topis. You get your own content library, events, and subscriptions. Price: $55 per month.
Mobile App: Get everything from the Web plan and also get live streaming, in-app purchases, and a dedicated community manager. Price: $549 per month.
Disciple also lets you customize your plan and add up to 50,000 members, add-ons, and services.
3. Podia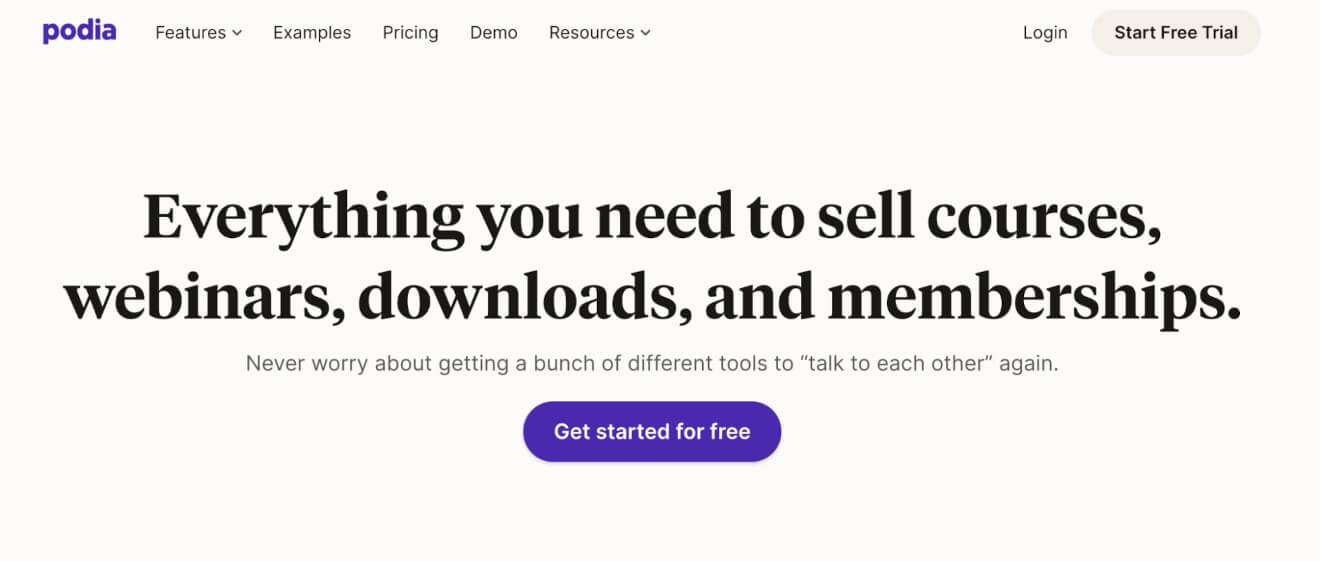 Podia is a great platform if you want to engage with your community while selling online courses and digital products. 
Let's see what's on their platform.
Key Features
On top of their powerful marketing tools, here are some of Podia's community features:
Engage your community with topics
Manage on the go with their app
Increase your revenue with affiliate marketing
Moderate your community with their tools
Keep members engaged with email marketing
Create your own custom website
Let's go over pricing.
Pricing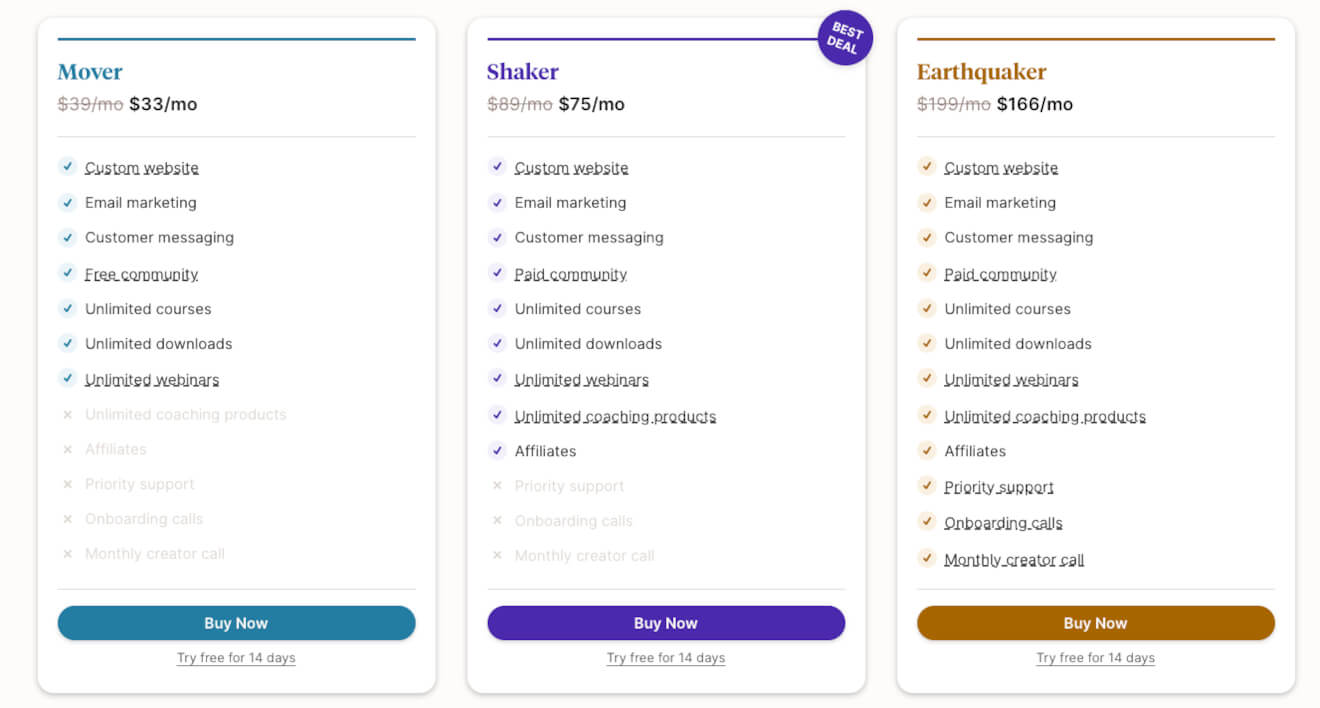 Podia has 3 pricing options. Let's take a look:
Mover: Allows you to have a custom website, unlimited courses, email marketing, and a free community. Price: $33 per month.
Shaker: Get all the features from the Move plan, and charge your members for community access and unlimited coaching products. Price: $75 per month.
Earthquaker: You'll have all the perks from the Shaker plan, plus onboarding calls, priority support, and creator calls. Price: $166 per month.
On to the next Mighty Networks alternative.
4. Tribe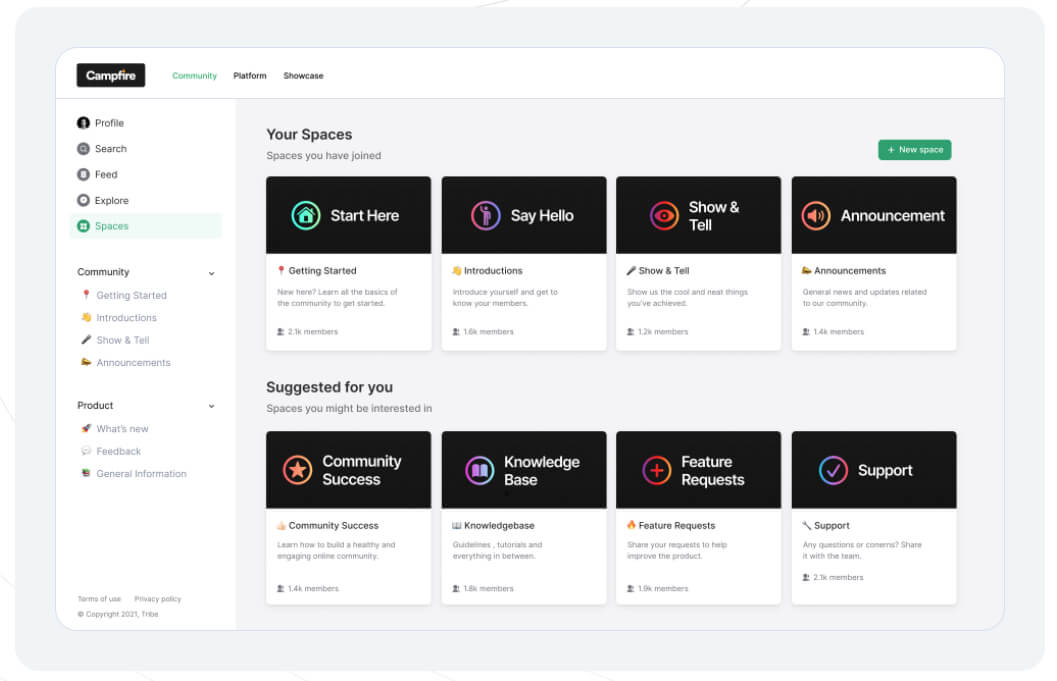 With Tribe, you can build a modern online community, even if you're a beginner. It's geared towards businesses to allow them to engage with their customers.
Some popular companies use Tribe, including Asus and IBM.
They also let you customize every part of the platform to match your brand.
Take a look at their features.
Key Features
Tribe also lets you customize every part of the platform to match your brand.
People love Tribe because they can:
Use a feed with personalized content
Customize themes to match your brand
Take advantage of built-in SEO best practices
Share posts through thread-based community
Use workflow automation integrations
Embed widgets to your community
Pricing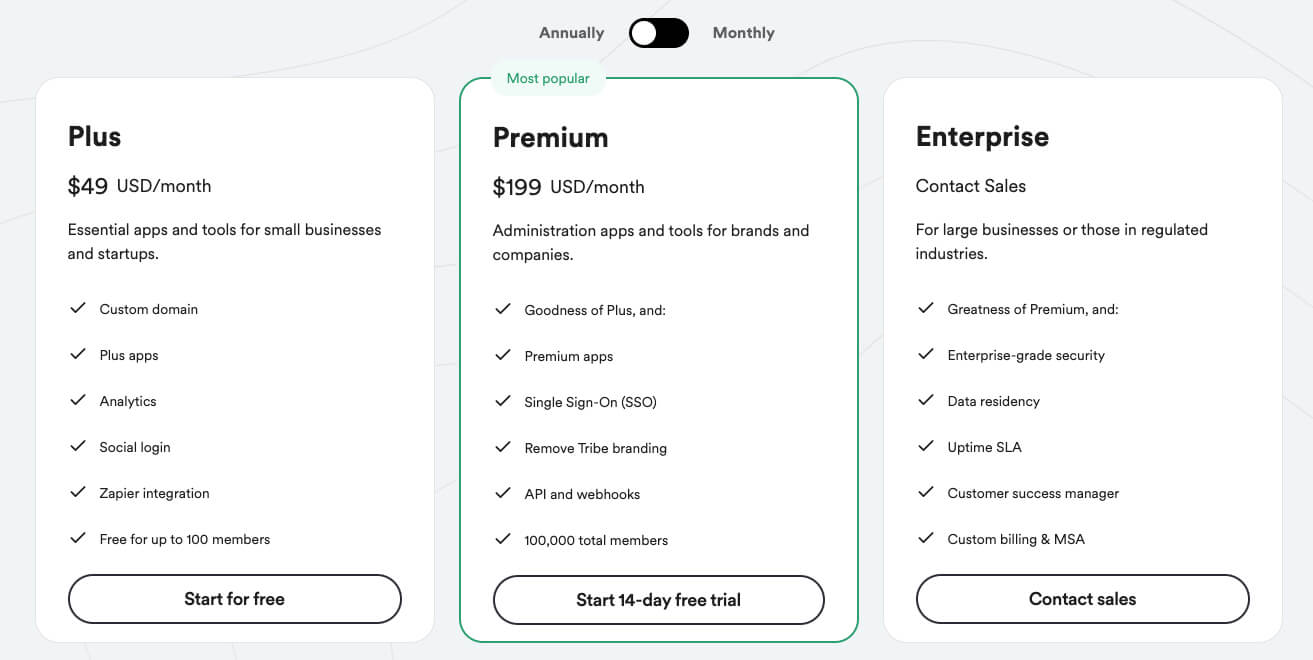 Tribe divides their pricing based on the size of your business:
Plus: Small businesses and startups will get a custom domain and apps with analytics, app integrations, and up to 100 members for free. Price: $49 per month.
Premium: Brands and companies will get everything from the Plus plan, together with premium apps, webhooks, and APIs. With this plan, you can have up to 100,000 members. Price: $199 per month.
Enterprise: A plan for large businesses, the Enterprise plan offers the same features as the Premium plan, in addition to enterprise-grade security, data residency, and provides you with a customer success manager and custom billing. Price upon contacting the Tribe team.
You can also set up your community for free for up to 100 members.
5. ToucanTech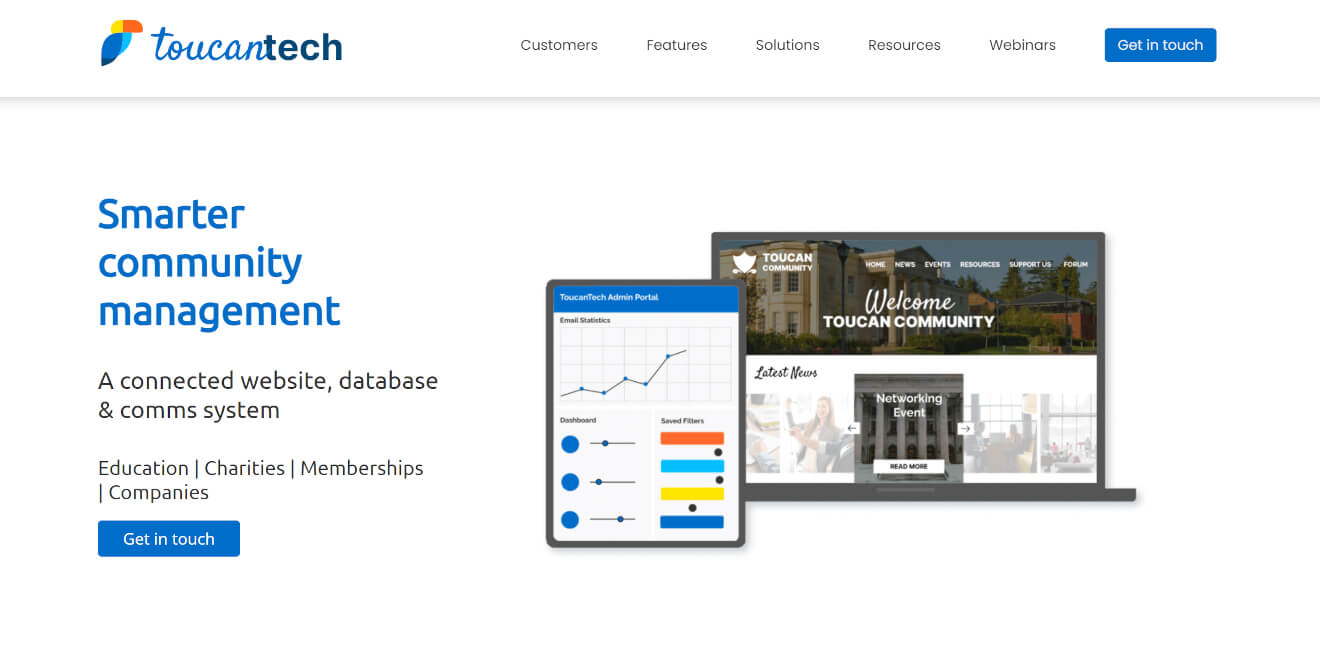 ToucanTech is a cloud-based community platform that's focused on institutions like schools, non-profits, and companies.
These institutions can manage all communications and data through their platform to bring their communities together.
Let's take a look at the features they have to help their customers.
Features
ToucanTech's smart system helps solve data management and engagement challenges institutions face.
Here's what they offer:
Public and private communities
Email, event, and website engagement database record
Fundraising campaigns
Track communication between members
Financial reports
Email opens, unsubscribe, and sign-up tracking
Social media integration
Customizable layout
They also have a mobile app so you can manage your community on the go.
Pricing
To find out more ToucanTech's pricing information, you have to contact their sales team.
6. Hivebrite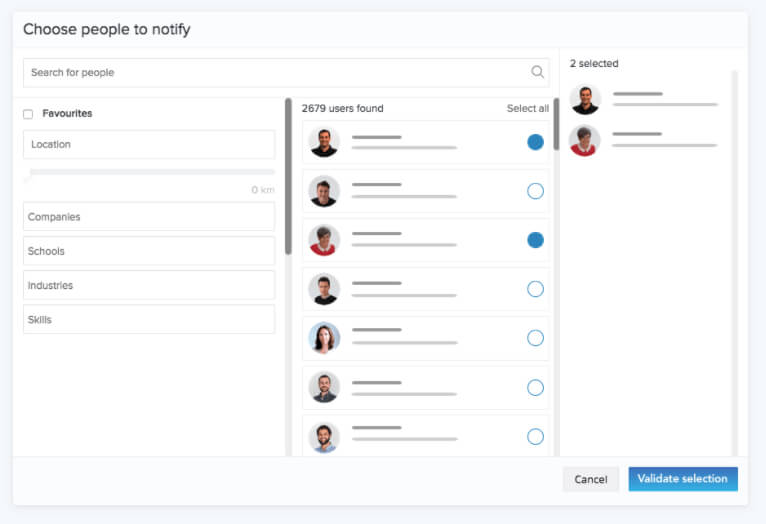 This Mighty Networks alternative focuses on organizations. Hivebrite gives you the tools to manage and engage members of your customizable community. 
Check out their features.
Key Features
They offer plenty of engagement features for members to access anywhere.
But they also have:
Different membership plans
Email campaigns
Event and payment management
Moderation tools
Profile and campaign trackers
Integrated CMS
Pricing
To find out how much it costs to run your community with Hivebrite, you have to contact their sales team.
7. Higher Logic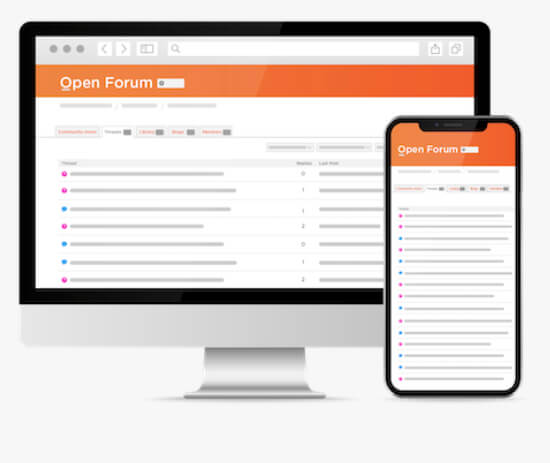 Higher Logic is another all-in-one platform that offers online communities, an in-house team for strategic services, and email campaigns.
Their online community is designed to keep users coming back.
Key Features
Their community platform offers:
Event management
Intuitive community structure
Nesting structures
Personalized content
Targeted messages
Q&A tools
Webinar and educational content
Microsites
Additionally, they are supporting over 350,000 online communities.
Pricing
Find out more about their pricing packages by contacting their sales team.
8. BuddyBoss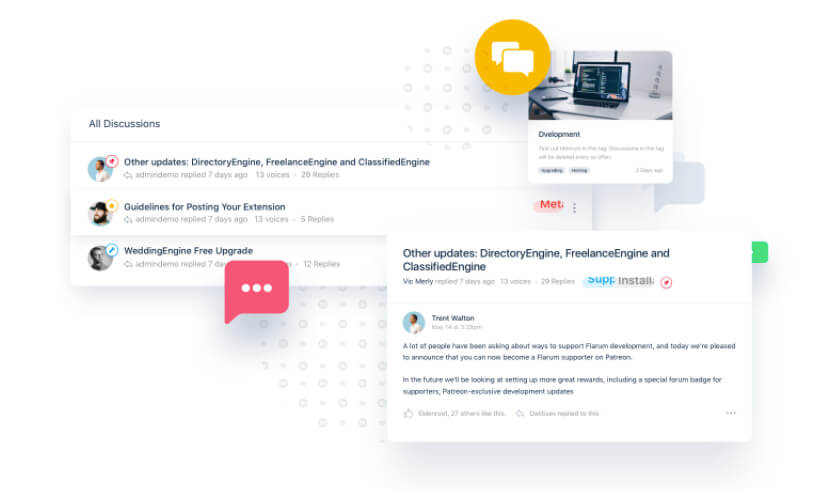 BuddyBoss is an open-source online community platform built on WordPress.
Since their platform is open source, you have the flexibility to extend their features with plugins and have full control over the platform.
Let's take a look at what their platform offers.
Key Features
With BuddyBoss, you can create online communities and courses, as well as sell memberships.
Here's are some of their features:
Create member profiles
Build social groups
Use forum discussions
Send customized emails
Integrate it with Zoom
Manage virtual classes
Add widgets
Customize your dashboard
If you already have a WordPress website, BuddyBoss is a great Mighty Networks alternative.
Pricing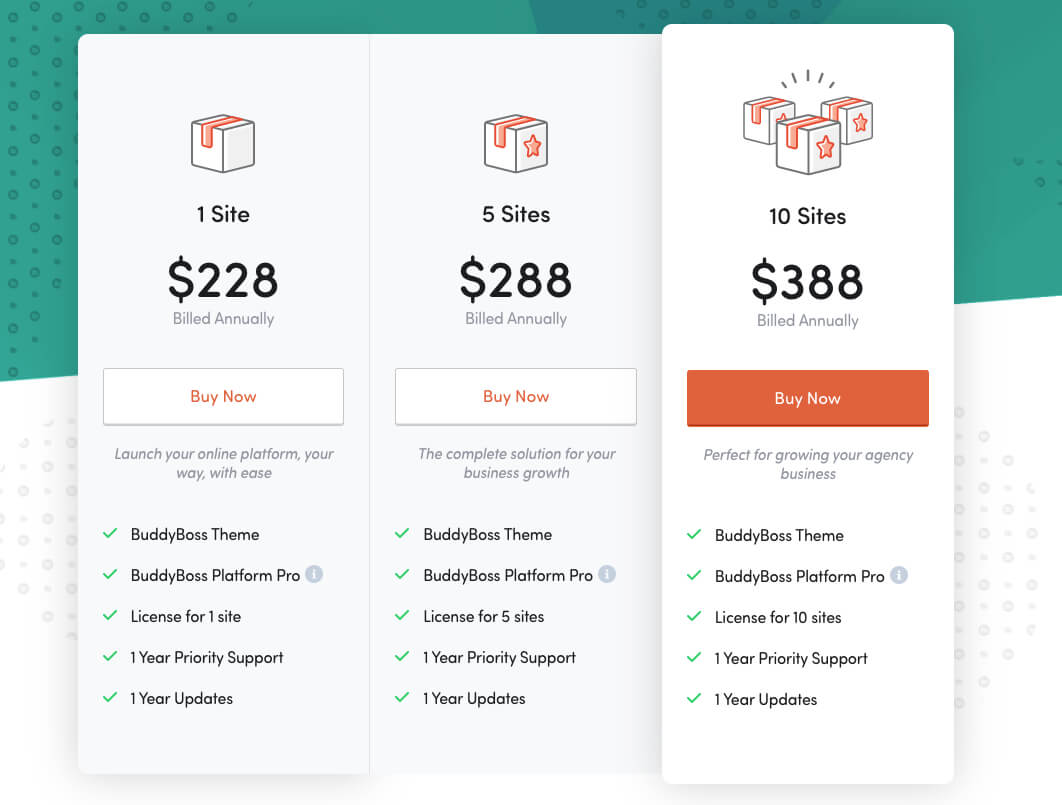 BuddyBoss offers 3 pricing options with a 100% risk-free, money-back guarantee:
1 Site: Launch one site with customizable themes, pro features, and one year of priority support and updates. Price: $228 per year.
5 Sites: License 5 sites to grow your business. You'll also get customizable themes, pro features, and one year of priority support and updates. Price: $288 per year.
10 Sites: Build 10 sites to grow your agency business. This plan will also give you customizable themes, pro features, and one year of priority support and updates. Price: $388 per year.
9. Circle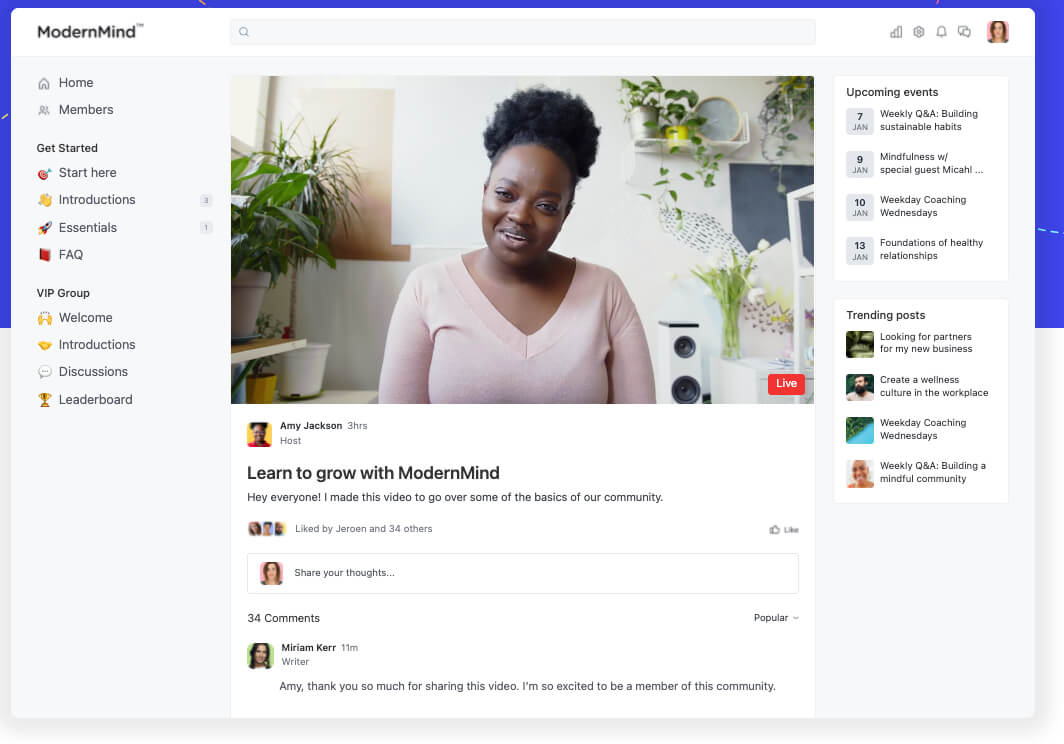 Circle is a perfect place for your online community and fosters engaging discussions and lets you host events and live streams. 
They allow you to monetize your community and integrate with Teachable, so you combine your community with online courses. 
Key Features
You can organize your community with spaces to help members host discussions and share ideas.
You'll also get:
Event live streaming
Rich member profiles
Group chats
Advanced analytics
Custom domains
Customizable platform
Monetization tools
Let's talk pricing.
Pricing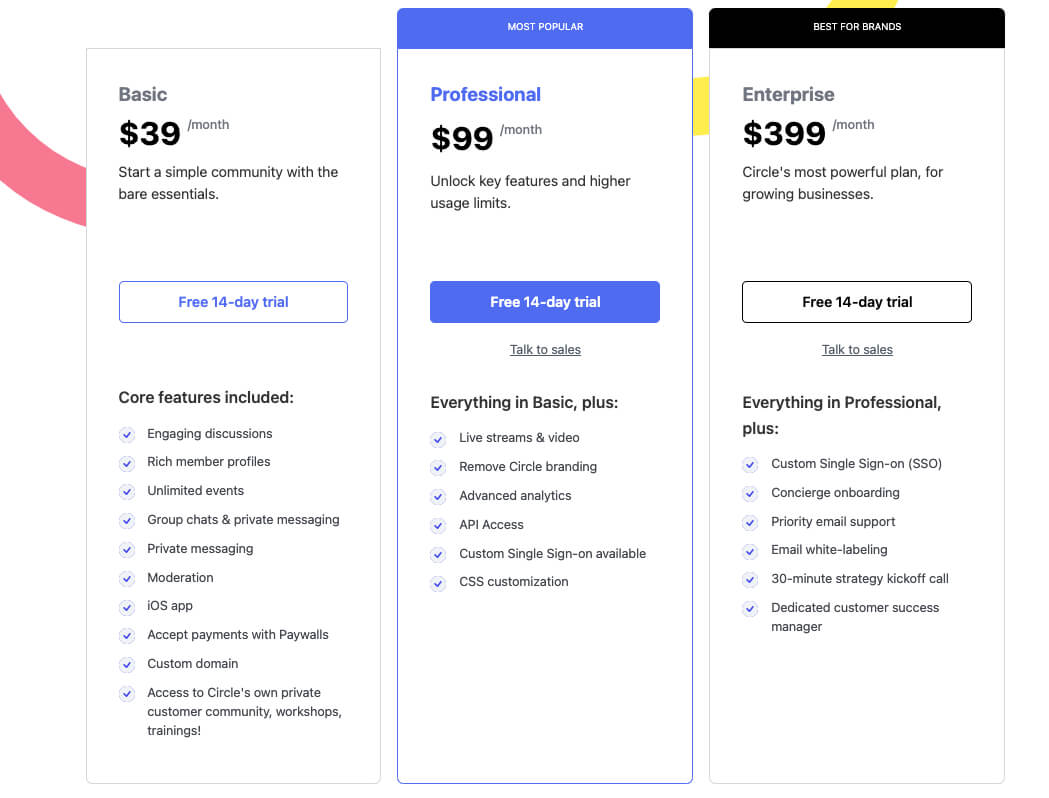 To use their platform, you have 3 pricing options:
Basic: You'll get a custom domain, private messaging, group chats, and events. Price: $39 per month.
Professional: Get access to everything from the Basic plan plus live streams, API access, and advanced analytics. Price: $99 per month.
Enterprise: You'll also get everything from the Professional plan, including concierge onboarding, email white-labeling, and priority email support. Price: $399 per month.
Now onto the last — but not least — Mighty Networks competitor from our list.
10. Kajabi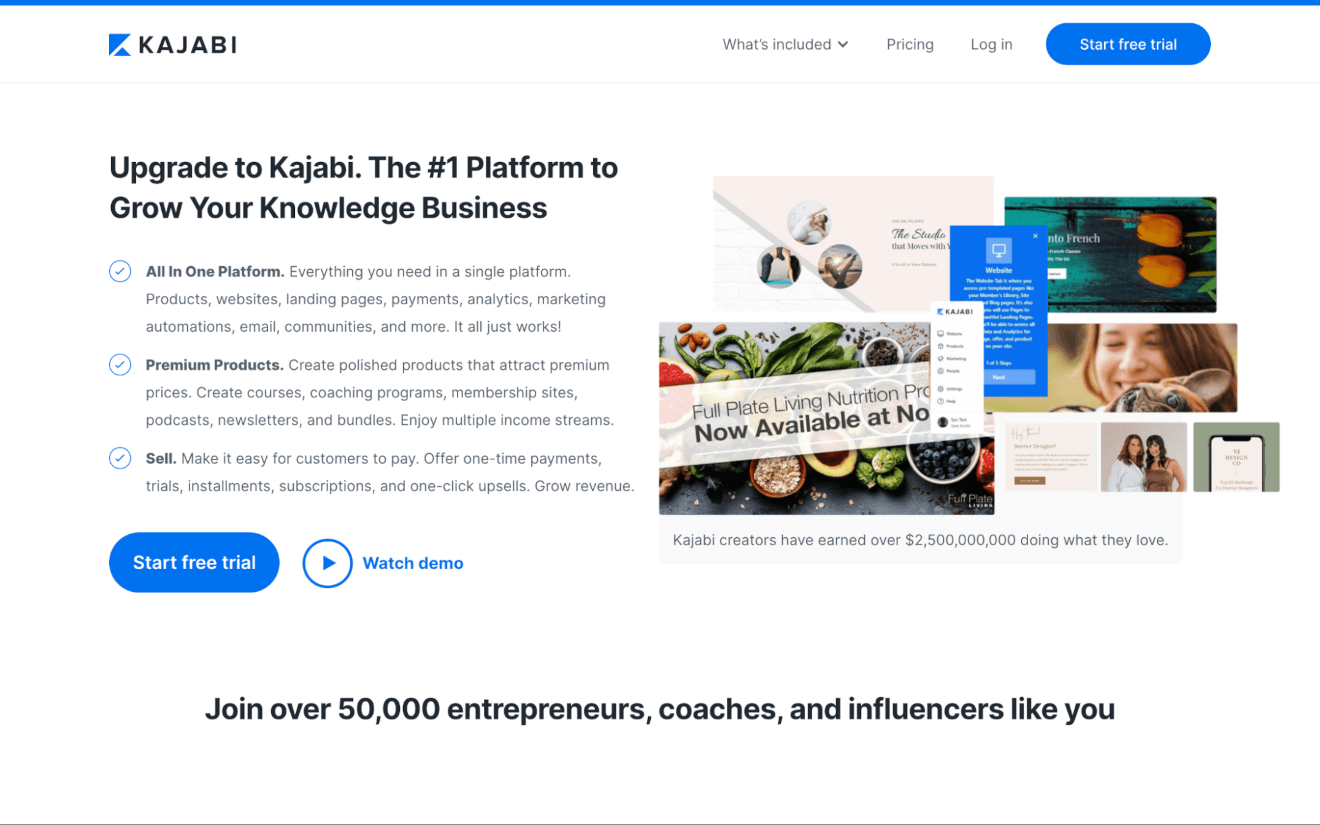 Kajabi is a popular all-in-one platform focused on online courses that also allows you to build your own online community. 
Their platform is easy to use, customizable, and gives you marketing tools to boost your content revenue.
Let's take a look at their features.
Features
Kajabi has many features that you can take advantage of, but let's focus on their community platform:
Paid and free community options
Payment integration with Stripe and Paypal
Fully-integrated website
Customizable theme to match your brand
Discussion topics
Announcements and direct messages
Q&A capabilities
24/7 customer support
Plus you get analytics reports so you can understand how you can improve your community.
Pricing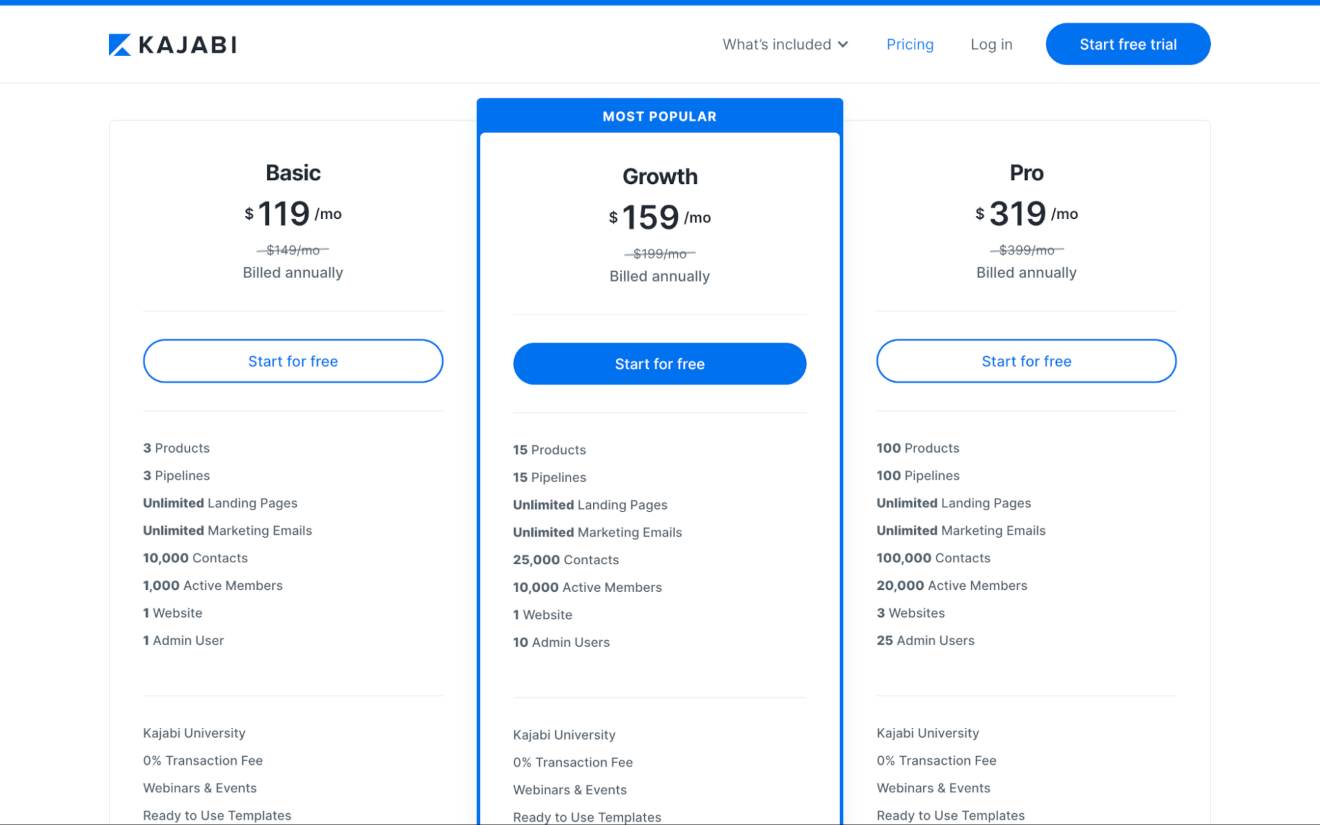 Kajabi has 3 different pricing packages to choose from:
Basic: Get 3 products and 3 pipelines, unlimited landing pages, and marketing emails. You also get 1,000 active members, one website, and one admin user. Price: $119 per month.
Growth: Get 15 products and 15 pipelines, 10,000 active members, one website, and 10 admin users. You also get advanced automation and the ability to remove Kajabi's branding. Price: $159 per month.
Pro: Get 100 products and pipelines, 20,000 active members, 3 websites, and 25 admin users. You also get everything from the growth plan, plus a code editor. Price: $319 per month..
Wrapping It Up
There you go! All of the best Might Networks alternatives for you to choose from.
We know there are plenty of options, but picking the right online community platform is important for your community to grow and feel connected.
Want to create a community for your non-profit organization? ToucanTech has the features for you.
Need an easy-to-use platform to host your community and online courses? Circle is the place to be.
Now, if you want to go beyond online communities and host videos on your own video-on-demand platform while monetizing your content (shameless plug alert) go for Uscreen.
Interested in how our platform works? We'll give you a demo that can help answer your questions — and you'll likely fall in love.
It's simple with Uscreen.
Build, launch and manage your membership, all in one place.