Whether you have a special expertise or you're trying to find the right niche that will yield the highest profit, choosing the right membership site idea is an important part of the journey.
And with so many different membership site ideas out there, it's natural to feel overwhelmed when picking the right one.
After all, choosing the right membership website niche that will provide value to members is key to creating a successful platform.
But if you're still stuck in the brainstorming phase, we've sped up the inspiration process for you and compiled some of our favorite membership site ideas that can make you money.
Let's dive in!
1. Online Art School
Are you a pro at painting, sketching, embroidering, or any other art form?
With folks turning to art to de-stress, escape, and unlock their creativity, you can help viewers embrace art as part of their everyday lives, and turn it into a profitable membership website idea.
This will be the place for you to share:
Tutorials on how to draw.
Mini courses on embroidery for beginners.
Follow-along painting live streams.
Community posts for members to talk to each other.
2. At-home Fitness
You don't need a gym to become a five-star trainer. Just a camera and a makeshift studio will do.
With the online fitness world booming like never before, this is the best time to start an online studio and help people around the world get fit.
This is your chance to:
Create fitness plans according to different goals.
Host workout challenges.
Offer exclusive eBooks with tips.
Sell branded workout equipment.
3. Online Yoga Studio
Are you a yoga enthusiast looking to make it as a full-time yogi? Online is the way to go!
There's already a huge market of folks who prefer practicing yoga at home instead of going to a physical yoga studio.
In the U.S. alone, 67% of yogis prefer a more casual approach — and you could be the one to teach them.
Whatever your take on this calming practice, there's a place for you online and a chance to launch a membership site that will make you money.
You can create a yoga membership site to share:
Daily yoga practices.
Monthly yoga challenges.
Beginner classes.
Morning yoga live streams.
4. Astrology Knowledge Hub
If you've got a gift for interpreting the stars, we see a life of abundance in your future.

That's because today's astrologers have entire platforms on which to share their cosmic insights — and you could, too!
Real astrology enthusiasts know that there is a whole world of intricacies to explore when it comes to the zodiac, and a sea of viewers hoping to get a piece of it.
You can help them by:
Hosting live streams talking about astrology.
Sharing an exclusive podcast on everything zodiac.
Provide one-on-one tarot reading consultations.
Release weekly horoscopes.
Onto the next membership website idea.
5. On-Demand Reality Show
Are you an indie film creator looking to create everyone's next big TV obsession?
Well, there's now a way to make it without the big networks. Create your own!
Big or small, you can create your own reality show that will get people hooked by:
Sharing weekly videos about the contestants.
Creating interactive challenges allowing people to vote.
Hosting live streams with weekly episodes.
Allowing the community to share their insights in a forum.
6. Online Music School
If you're a musician with a knack for teaching, you can stop hanging signs outside offering one-on-one lessons.
Instead, you can do it right from home and make it your full-time job.
Online music lessons allow musicians across genres to take their playing and writing to the next level. Whatever your instrument of choice is, know that you can make a living sharing your talent and skills with pupils everywhere.
Whatever the instrument may be, you can:
Create beginner courses.
Share tips for experienced players.
Host exclusive workshops.
Play music live to your members.
Want more membership website ideas? We have plenty.
7. Wine Workshops
Are you a wine connoisseur? Have you ever dreamed of having your own platform to share all of your sommelier insights?
Well, with this membership site idea, you can actually do that and make a very good living while you're at it.
The food networks you grew up watching have transformed into VOD memberships loaded with exclusive content beyond your wildest dreams.
You can share:
Courses on a specific type of wine.
A beginner guide to wine pairing.
Your journey through wineries.
Recommendations of best wines.
So whether you're into grapes from California, Italy, or Spain, food and drink is a profitable path for your membership site.
8. Coach Coaches
Are you an online coach looking to help other coaches run their businesses? Then you can create a membership site for that.
By coaching other coaches you can help them prosper in their new careers. And you can do so by providing them the materials and knowledge to help them succeed.
You can create a membership site that includes:
Coaching session templates.
Coaching workshops
Spreadsheet templates.
Live streams.
You can make coaches' lives easier by helping them organize their tasks and guiding them with your expertise.
More ideas for membership sites coming right up.
9. Culinary Courses
If you're happiest in the kitchen, why not make some great money while you're at it?
With so many people using YouTube to learn new recipes and cooking skills, there are also some viewers wanting to get exclusive content from other foodies.
So whether you're a home cook with your grandma's old recipe book or a trained professional wanting to share your knowledge, there's an opportunity for you to create a membership site.
You can share:
Beginner cooking courses.
Recipe videos.
Culinary documentaries.
Cooking eBooks.
10. Coaching Services
If you feel inspired to help others navigate through life or have a special skill you can teach, then creating a coaching membership site will be perfect for you. 
Whether you want to help people with entrepreneurship or find a new career path, a membership site will allow them to learn from you while connecting with other members.
On a coaching membership site, you can offer:
Exclusive webinars.
One-on-one coaching sessions.
Worksheets and templates.
An online community for members to interact.
11. Kids Content
Love telling mystical stories through videos? Content for kids is swarming the internet, from educational content to art tutorials.
And if you want to help kids develop their skills and unleash their imagination, what better way to do it than through a membership site?
This is also a great way to give parents peace of mind so they know their kids are watching content in a safe space.
The options are endless! You can:
Create video series.
Share art tutorials.
Provide learning materials.
Release interactive content.
12. Guided Meditation Classes
If you have a passion for meditation and a soothing voice that helps people find peace, you can try launching your own membership website about meditation.
Self-guided meditation platforms like Headspace and Calm have been helping people learn to meditate and fall into a routine, and you could, too.
With a meditation membership website, you can:
Create guided meditation sessions.
Launch a community to connect with members.
Share relaxing music and sounds to help people meditate.
Host informational sessions about meditation.
13. Beauty Tutorials
If you have experience with cosmetology, what about sharing your beauty knowledge to help people look and feel their best?
You can create your own beauty membership site sharing makeup and hair tutorials, or even teach aspiring nail artists how to give the best manicures.
This is your chance to:
Create mini courses and workshops.
Share your exclusive beauty tips.
Host weekly live streams.
Launch a cosmetology community.
14. Animal Training Course
Do you have experience with animal training and care? This is a great chance to share your knowledge and help others understand their furry friends.
Whether you're a professional animal trainer or have experience with pet grooming, you can create a membership site that helps people and their pets live in harmony.
As an animal lover with a membership site, you'll be able to:
Share tips and tricks on how to train a pet.
Create online courses on pet grooming.
Host live coaching sessions.
Launch an online community for pet owners to connect.
Continuing on with our membership website ideas list.
15. Your Favorite Hobby
If you have a hobby you're passionate about, create a place where you can share your knowledge and connect with people in the field.
With endless possibilities of hobbies to teach, get creative when launching a unique membership site and earn money doing something you love.
If you want to create a membership website for your favorite hobby, you'll be able to:
Share your tips through videos.
Launch exclusive workshops.
Create a community and talk to like-minded people.
Sell merch or products you make.
16. Exclusive News
If you see yourself as the next news anchor on TV, you can start your journey through your own membership site.
With so many people ditching cable TV and looking to find important news online, harness the opportunity to share everything you know on your site.
On a news membership site, you can:

Host live streams with breaking news.
Launch video series on specific topics.
Share opinion videos.
Write blog posts for your community.
17. Members Only Podcast
Is your podcast gaining traction? Do you want to start making money from it?
You can create a membership website to share your podcast content, including exclusive episodes and behind-the-scenes footage.
If you want to connect with your audience through a podcast membership site, you can:

Share exclusive interviews.
Host live podcasts.
Create a community for your fans.
Record behind-the-scenes footage.
18. Language Classes
Do you speak a second language or want to help people communicate in a different language?
You can make learning a language fun by launching a membership site to guide people through the ins and out of the language.
This is your chance to be creative and motivate people to learn by:

Releasing weekly lessons.
Sharing curiosities about the language.
Adding supplemental course materials.
Hosting workshops.
19. Medical School Tips
If you just went through medical school and want to help others thrive, consider creating a membership site sharing your tips.
Whether you're a medical physician wanting to share your knowledge or a science aficionado, you can help others understand difficult concepts through tutorials.
If you're considering creating a medical membership site, you can:
Release video series explaining concepts.
Host live streams with master classes.
Share supporting material.
Create study guides.
And What Makes a Great Membership Website?
Choosing a membership site idea that aligns with your goals and your knowledge is a great stepping stone.
But a great membership site is one that has:
A clear benefit: think about what the viewers will get from signing up.
A strong message: let them know how you're different.
The right content: offer your audience what they're looking for.
The perfect audience: target an audience interested in membership.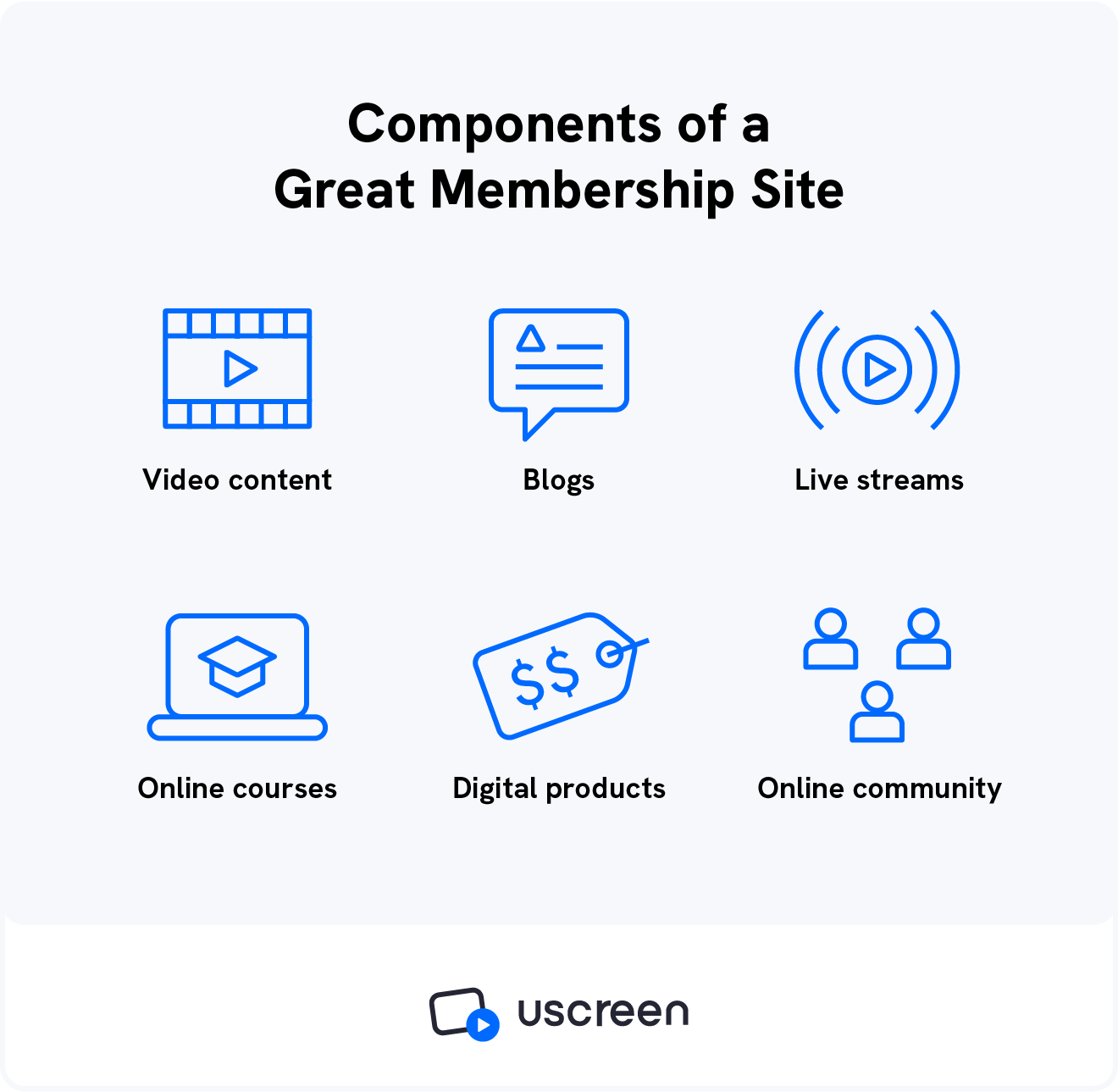 By offering different benefits to your members, it will help them find value behind the price they're paying for it. You can do that by offering content like:
Videos.
Blogs.
Live streams.
Online courses.
A community.
However, because members are paying a membership fee to access your content, you have to ensure that the content you're providing is up to date and high quality.

Wrapping It Up
By now, you've learned that when it comes to brainstorming for membership site ideas, the options are endless!
Now that you know all about the many routes you can take with your VOD membership site, we want you to know we're here with you along your journey, every step of the way.
If you want to learn more about how to launch your own site with Uscreen or simply have questions for us, our support team is here to help.