Have you been looking into how to start an online school, but you're not sure what steps you should take?
You're not alone.
COVID-19 has forced lots of people to look at how they can take their teaching skills online. And, many platform providers have been ready-and-waiting with their success stories.
But they often leave you thinking, "Yeah, but is it going to work for me?"
Well, let me give you the honest answer…
If you think you have a skill for teaching, and you're willing to help people educate themselves, then there's a great chance you can succeed.
More people than ever are looking for online courses to help them:
Learn new skills.

Reinvent themselves.

Escape the daily grind.

Educate themselves in a safe, online environment.
Better still, an online school is one of the cheapest businesses you can start, which also has an incredibly high earning potential.
In this article, I'm going to talk you through why there has never been a better time to start an online school and give you the 5 steps you can take to launch yours.
We'll cover:
Let's go…
Why NOW Is The Time To Start An Online School
The COVID-19 pandemic has disrupted pretty much every industry you can think of. And education (both formal and informal) has been affected in lots of different ways.
COVID-19 has pushed more people to look online for online learning. Google's data shows a rise in people looking for terms like "online course" as soon as lockdown measures began: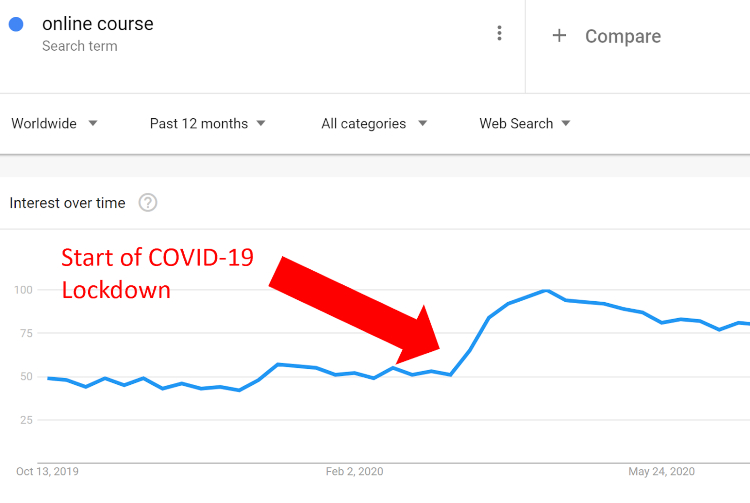 The pandemic has also created some new categories of learners who need access to these resources. Namely:
Those looking to grow and adapt to different ways of working.
Those looking to escape the pandemic through learning new skills and knowledge.
Those looking to learn in COVID-19 safe environments.
All of this adds to what was already a highly profitable self-paced online learning industry. (We've all been subjected to YouTube videos promoting eLearning platforms, right?)
This means demand is high right now! But, here's where the opportunity lies: the supply of online schools is still pretty low.
There are more people looking to learn online than there are online schools to serve them. And, that applies to more than just "traditional" types of education.
Your online school can be built around anything where you impart knowledge or skills to an audience! We've seen people create an online school around:
Basketball.

Cooking.

Dance.

Nutrition.

Magic.

Musical instruments.

Language learning.

Many, many more.
(We've also built our own online schools: the Fitness Accelerator and the eLearning Accelerator.)
So if there's a skill that you want to share with people, and you want to build a business around teaching it, there's never been a better time to start than right now.
Let's take a look at a successful online school in action…
A Magical Online School In Action – Example
Magic Stream is a great example of an online school.
They have created what they call the Netflix of magic; a platform where their students can access tutorials, tricks, and their community on any device at any time.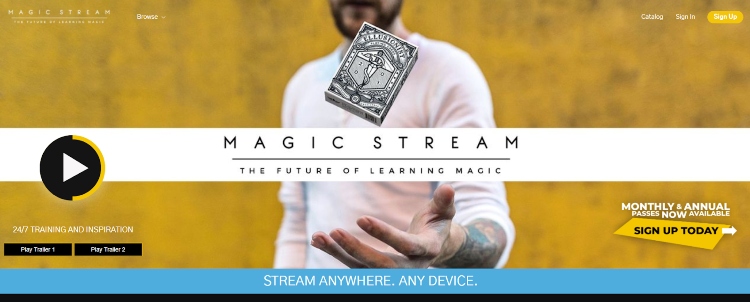 Magic Stream offers more than just access to a one-off online course. This is a constantly evolving library of content to help magicians perfect their skills.
I mean, just look at all of the tutorials students can access for a small recurring monthly fee:
Each of these tutorials is broken down into smaller segments, so students can learn in easy-to-manage chunks that fit their schedule.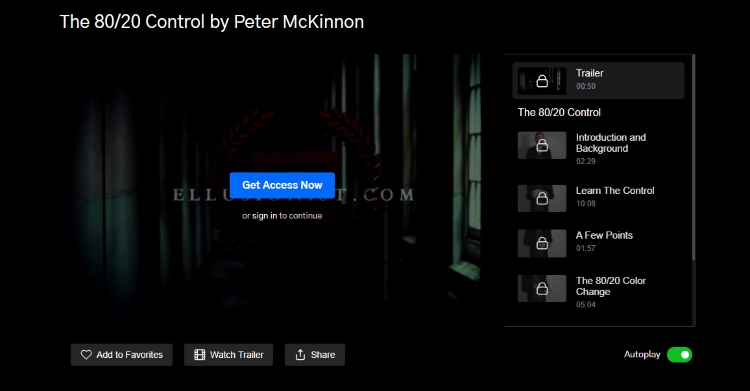 This business model comes with lots of benefits for Magic Stream as online school owners, too:
Evergreen content: once they've created a video they can keep earning from it, and serving their audience, for years to come
Easy to scale: they can automate marketing and sales processes (or hire people to do them) and focuses on the creation
Affordable prices: the compound effect of subscriptions allows them to keep initial prices low, without compromising on their earnings
Passive income: they receive a payment every month someone is subscribed for no extra work
Easy to manage: they can update modules and lessons with minimal disruption
Longevity: users want to stick around for upcoming videos
Community: they can cultivate a community that interacts with each other and influences their future content decisions
Now…
There's a good chance you've never heard of Magic Stream. If you don't have a penchant for magic, their product isn't for you. But within the magic and illusions niche online, Magic Stream is the online school everyone knows and talks about.
Imagine what you could do by following the same business model in your niche!
Speaking of which, let's dive into the different online school business models you can use.
The 3 Types Of Online School Business Model
There are 3 different business models you can use to monetize your online school.
They are:
The "night school" model: where students pay a one-time fee to access a specific course
The "academy" model: where students pay a subscription fee for access to a wide range of courses
The "combined" model: where students pay a subscription fee for access to your online school and have the option to pay for additional "premium" courses on top
The most profitable online schools hosted on Uscreen typically use the "academy" or "combined" models. Why?
Because they're both rooted in the subscription business model, which provides a somewhat reliable monthly revenue and allows you to focus on retaining customers, instead of constantly chasing new ones.
If you want to read a more in-depth analysis of these business models, take a look at this guide on how to start an eLearning business.
Now, let's take a look at how you can create an online school in 5 simple steps!
How To Start An Online School: A 5-Step Guide
In this section, I'm going to walk you through these 5 steps:
Identify your audience

Pick your cornerstone content

Plan your lessons

Create your online school

Market your school
I do recommend that you already have some sort of established online audience around the skills you want to teach before you start your own virtual school.
This will make earning money and creating solid elearning content much easier in the long run!
If that sounds like you, let's dive in…
1.Identify Your Audience
The first step is to identify the audience you want to teach.
Although this may feel like it's obvious – if you teach magic, your audience is probably magicians – it's worth digging down into the nitty-gritty of characteristics that make up your ideal student.
You should consider things like:
How old are they?

Where are they located?

What are they struggling with?

What do they want to do with the skills you're going to teach them?
This will help you to identify the people within your existing audience who would be willing to become paid subscribers to your online school
The more niche you can get with your answers, the better. Though "graphic designers" is a nice group, "graphic designers who want to start a freelance business" is more targeted.
Knowing this will make…
…much, much easier.
You can learn more about audiences and communities in our guide to tribe mentality right here!
2. Pick Your Cornerstone Content
Your online school needs what I like to call cornerstone content.
These are the core skills you're going to teach that you'll build your school around. This will help you to attract new students, and focus on doing a few things that will bring value to them.
Let's say you're creating a business school for graphic designers. You might create content around these 3 cornerstones:
Research: how to find potential clients
Outreach: how to effectively contact potential clients
Sales: how to turn potential clients into paying ones
The most important element here is that these topics are evergreen. The skills should be relevant for a long time and need minimal updating. Why?
Because if you focus on teaching trends you'll forever be chasing new content. And what you've taught in the past will become obsolete pretty quickly. That's a hectic school to run.
If you're unsure of this, think about the wants and needs of your tribe. What is the result they're looking for, and how can you help them get it?
3. Plan Your Lessons
With your audience and cornerstone ideas in place, you can start creating your first lesson.
Before you launch, it's good practice to have at least one "completable" lesson for each of your cornerstone ideas. This is a section they can start, finish and learn from before moving onto another topic.
Sticking with the graphic design example above, your first three videos might look like:
Research: how to find potential clients on LinkedIn
Outreach: how to craft the perfect pitch email
Sales: how to sell to a client on the phone
You may also want to add additional extras to these lessons. You can include elements like PDFs, audio tracks, and printable worksheets to add depth.
Now, you don't need to have a "finished" school before you launch. Just enough to make it feel like your students have enough to get their money's worth. You can then add (or remove) content based on their feedback.
You can learn more about how to find the optimal amount of content for your online school in this guide here.
4. Create Your Online School
The next step is to choose a platform to help you take your school online.
You might already be aware of some "education" platforms where you can host single courses, but I'm going to recommend you avoid them and look for a more comprehensive solution.
You need a platform that allows you to:
B

uild a standalone and customizable website.

Offer a wide range of payment options.

Set up recurring monthly payments.

Monetize in a way that suits your business.

Host your core video content.

Upload a variety of supporting materials.

Create a community area for your students.

Access detailed analytics.
You can do all of this – and much, much more – by using a video monetization platform, like Uscreen. You can find out more about us, and what we offer, by clicking here or watching the video below:
5. Market Your School
The final step is to market your online school to potential students.
The quickest and simplest way to do this is to promote your new platform on your existing channels. Take to social media, YouTube, or your mailing list and spread the word!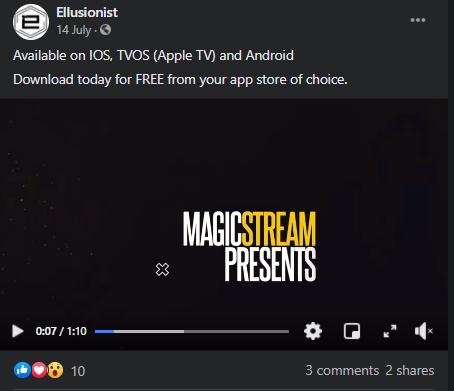 You should also consider using YouTube as part of your strategy. You can create a simple "funnel" where you share:
Top-level videos to rank for keywords in your niche.

Middle-level videos to convince potential students you know your stuff.

Bottom-level videos to convert them into paying students.
You can click here to learn more about how to create a YouTube marketing funnel.
And, you can supercharge your marketing strategy and build more comprehensive campaigns by using the marketing integrations provided by your chosen platform.
For example, Uscreen's marketing tools let you…
send abandoned cart emails

create "reduce churn" sequences

offer high-converting free trials

share promotional coupons

connect with 1000+ tools via Zapier
…so you can build tailored campaigns that fit your students and your school.
Wrapping This Up…
There has never been a better time to start an online school. The mixture of COVID-19 and the continuous growth of self-paced online education has created the perfect opportunity.
You can choose one of these 3 business models to create your online school, but options 2 and 3 are typically more profitable:
The "night school" model: where students pay a one-time fee to access a specific course
The "academy" model: where students pay a recurring fee for access to a wide range of courses
The "combined" model: where students pay a recurring fee for access to your online school and have the option to pay for additional courses on top
you can start an online school by following these 5 steps:
Identify your audience: find the audience of potential paying students within your existing audience
Pick your cornerstone content: identify the 1-3 major needs of your audience that will form the core pieces of your online school's content
Plan your lessons: create a structure for your lessons and record at least one completable course module before you launch
Create your online school: choose a platform to build your school on
Market your school: create a strategy to promote your school to your audience
And, if you want to learn all of the skills you need to turn your online school into a long-term business, you should consider joining Uscreen's eLearning Accelerator.