It's the most wonderful time of the year!
The days are getting shorter, the weather is getting colder, and people are putting their decorations up way too early.
Which all means one thing:
It's time to use the holidays to boost your sales, grow your audience, and finish out the year on a high note!
We're going to outline a tried-and-tested way to help you market your video business this Christmas.
Gift Cards: The Ideal Digital Gift To Promote This Year
Gift cards are a surefire way to increase your sales during the holidays.
They're one of those gifts that'll always be in style. In fact, Google Trends data shows demand for gift cards grows every year, with a big spike in the lead-up to Christmas.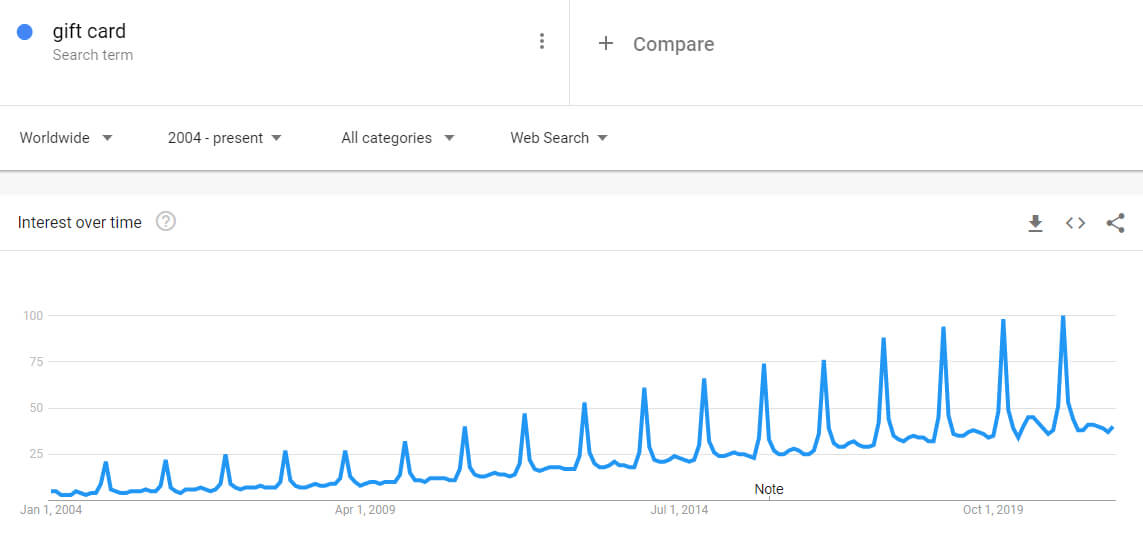 The end of that graph shows the next spike is coming right up, and if the last 17 years are anything to go by, it's going to be the biggest one yet!
Gift card purchases are expected to grow 11% each year until 2026 because of how the pandemic affected people's shopping habits.
Studies from FiServ show that:
In the United States, consumers increasingly want to use gift cards on websites and mobile platforms as well as in stores.
80% of consumers plan to purchase more gift cards this year.
58% of people want gift cards as an alternative to traditional products.
And, better still…
Gift cards are a proven money-maker for video businesses. Uscreen customers who offer them see great success, and you can too.
Let's look at how you can get started with them.
How To Set Up Gift Cards In Uscreen
If you're a Uscreen customer the Gift Card feature will already be active in your dashboard. You'll find it under your marketing tools tab: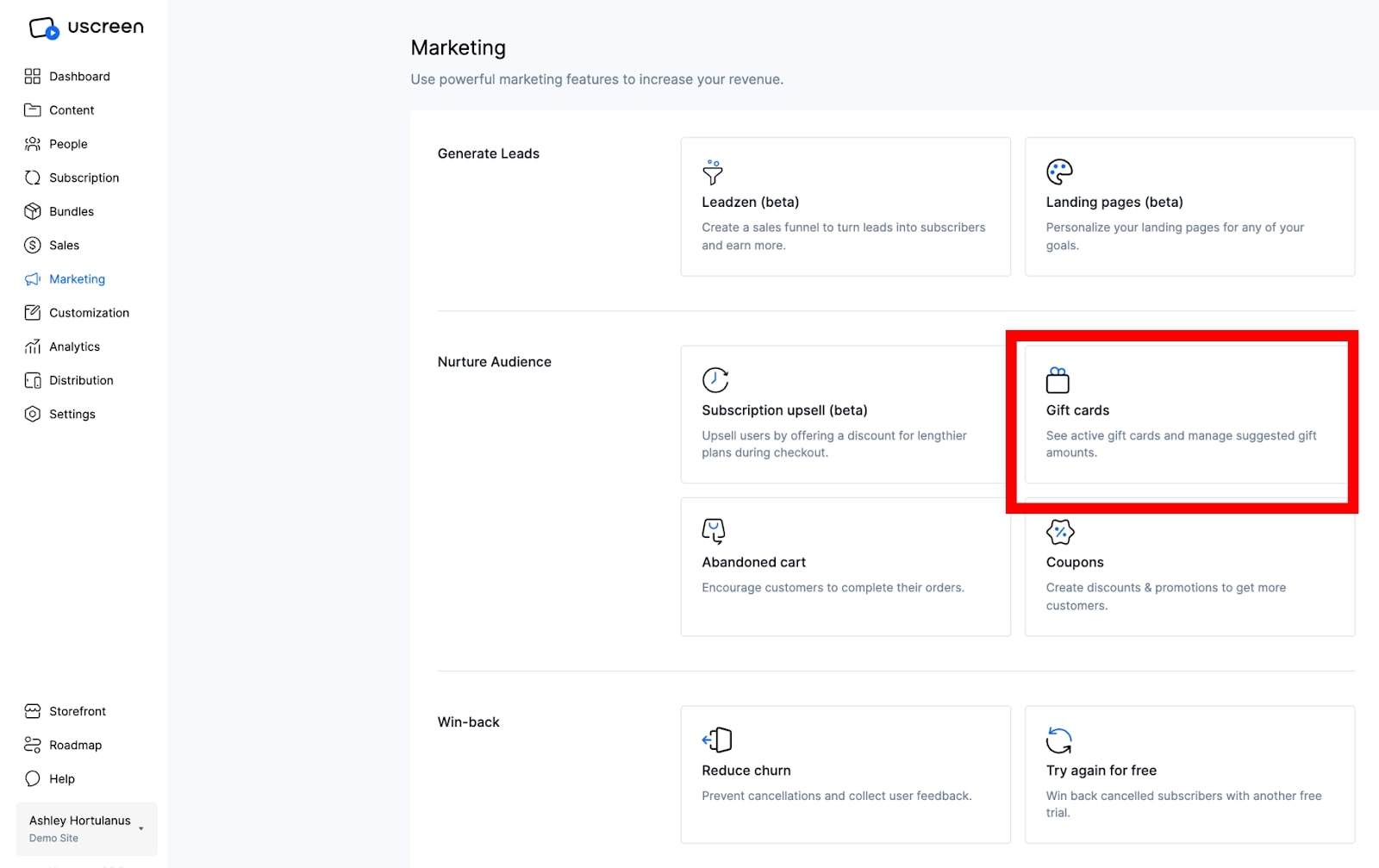 In the feature, select the "Settings" button. On the Settings page, click on "Choose Subscriptions" or "Choose Bundles" and select the gift card options you'd like to offer.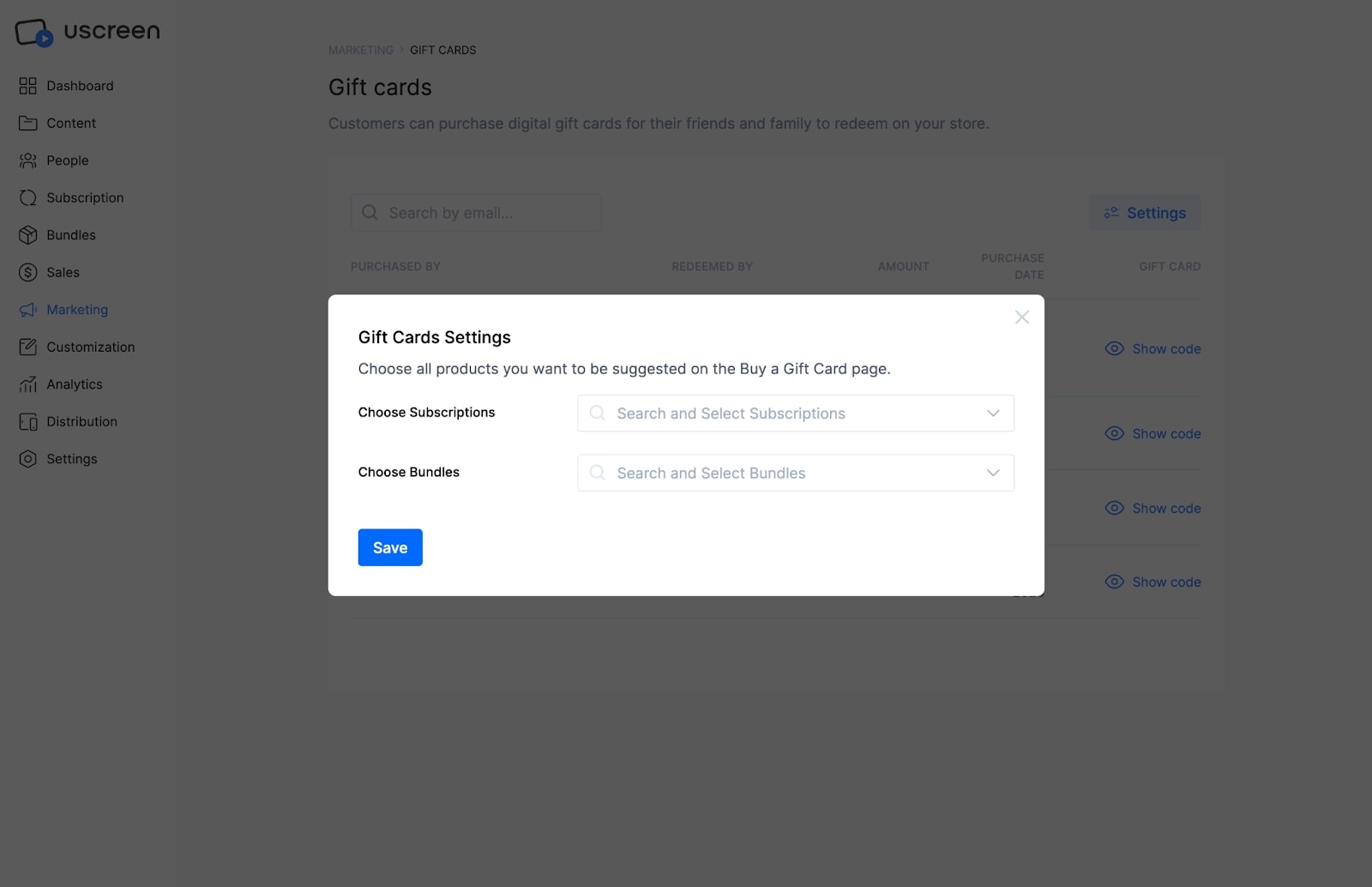 When you're done press "save" and these gift card options will instantly be ready to go and visible on any gift card landing pages you create. (More on those soon!)
You can learn more about how to set these up in our Uscreen help guides here.
The 5 Types Of Gift Cards You Should Offer This Christmas
When choosing a gift card for video platforms customers are looking to purchase either a suggested or custom amount.
Suggested amounts typically cover the cost of one or multiple purchases on your website. If you run a membership business, this could be a paid membership for a select length of time.
1-month subscription.
3-month subscription.
6-month subscription.
12-month subscription.
You can see how Lottie Murphy Pilates keeps this offer simple with a monthly or yearly option: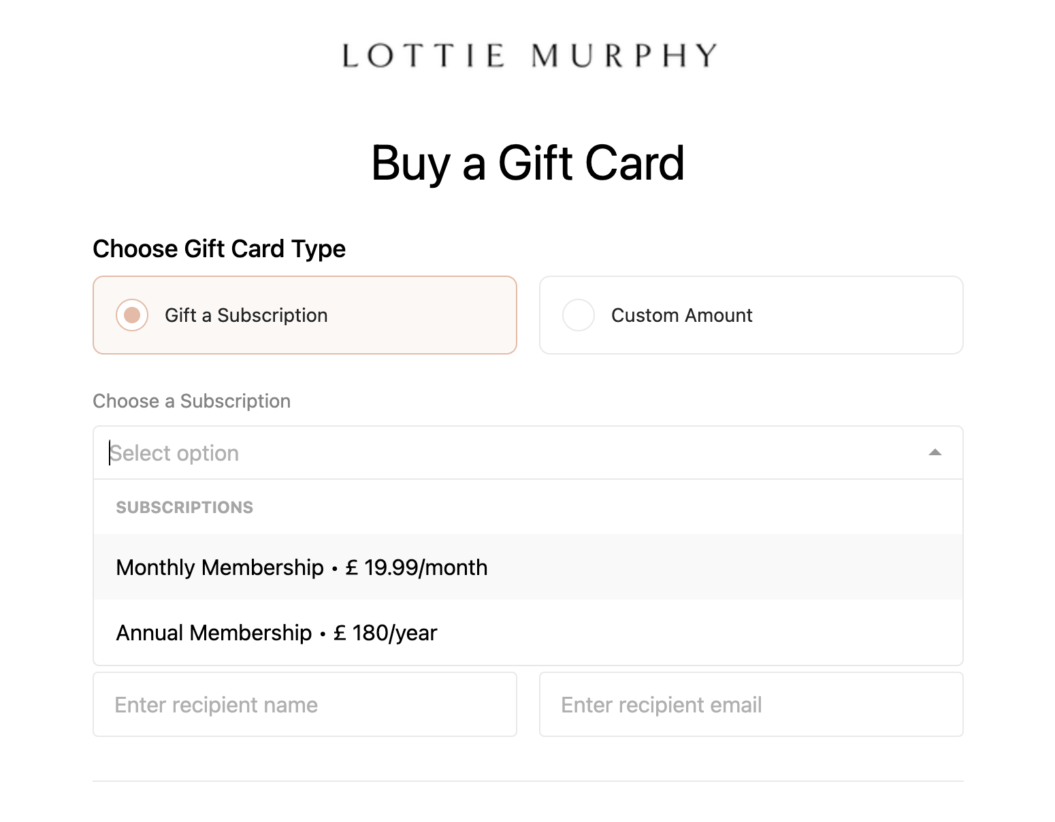 These suggested amounts can help potential customers make a quick decision and pick the amount that works for them.
People can even choose a custom subscription length: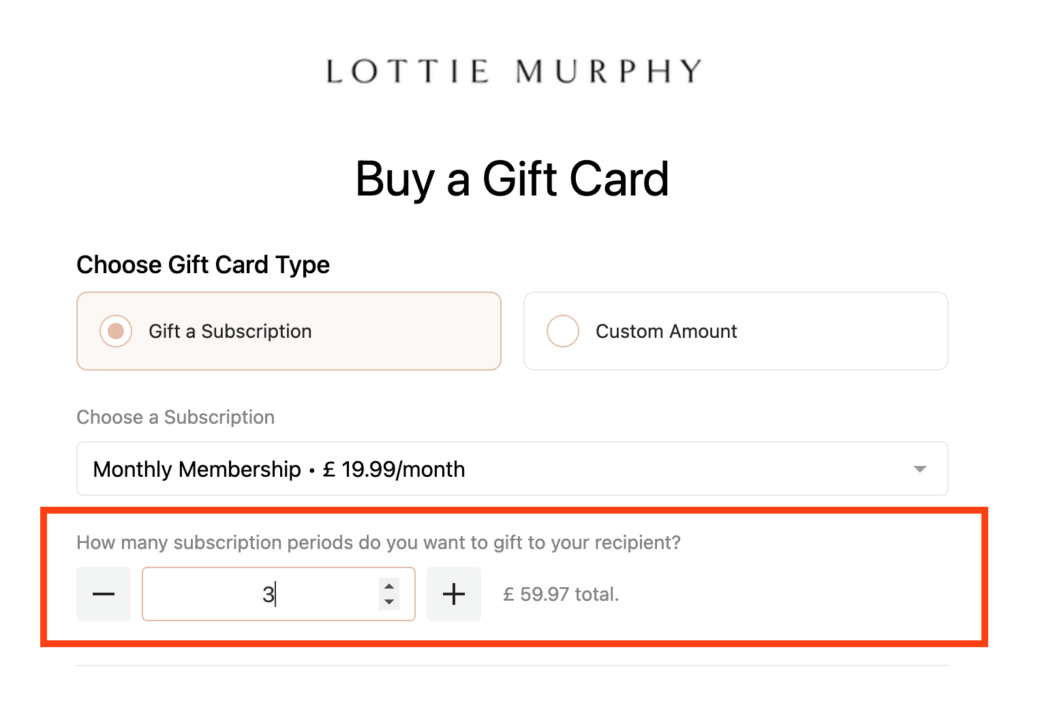 This makes buying a gift card even easier for people by giving options for any budget.
Shoppers can also create a custom gift card loaded with whatever amount of money they choose: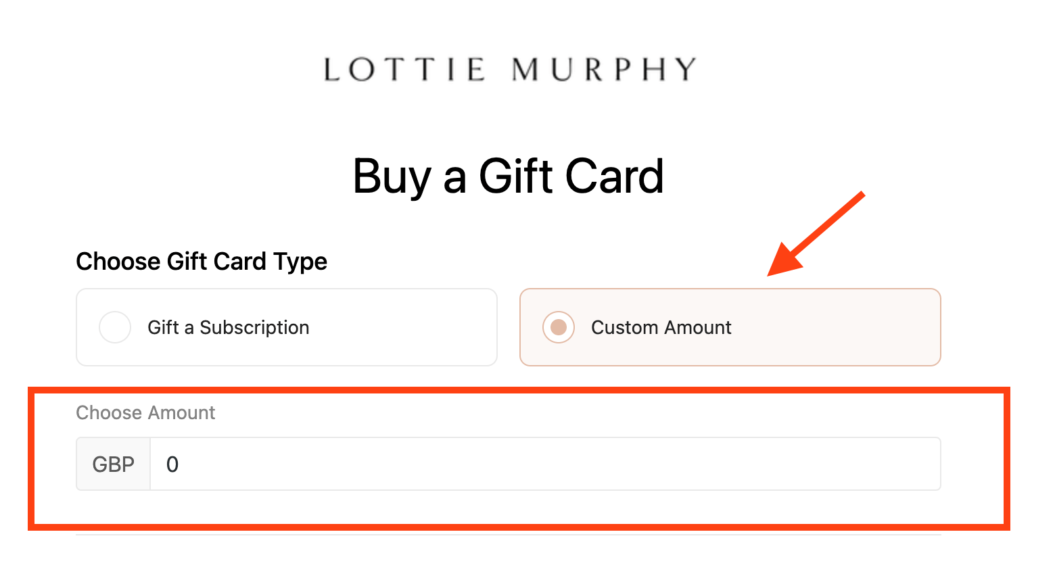 This will probably appeal to customers who have a specific budget per person – like, say, $50 per grandchild.
We recommend you create:
A suggested gift card for each membership option you offer.
A custom amount gift card.
This gives people enough options to find a gift card to suit them without creating analysis paralysis.
You'll then use Uscreen's landing page builder to create a promotional page that you can direct customers to. Let me show you how!
How To Create A Promotional Page For Your Gift Cards
In the Marketing section of your Uscreen dashboard you'll see a tab for Landing Pages: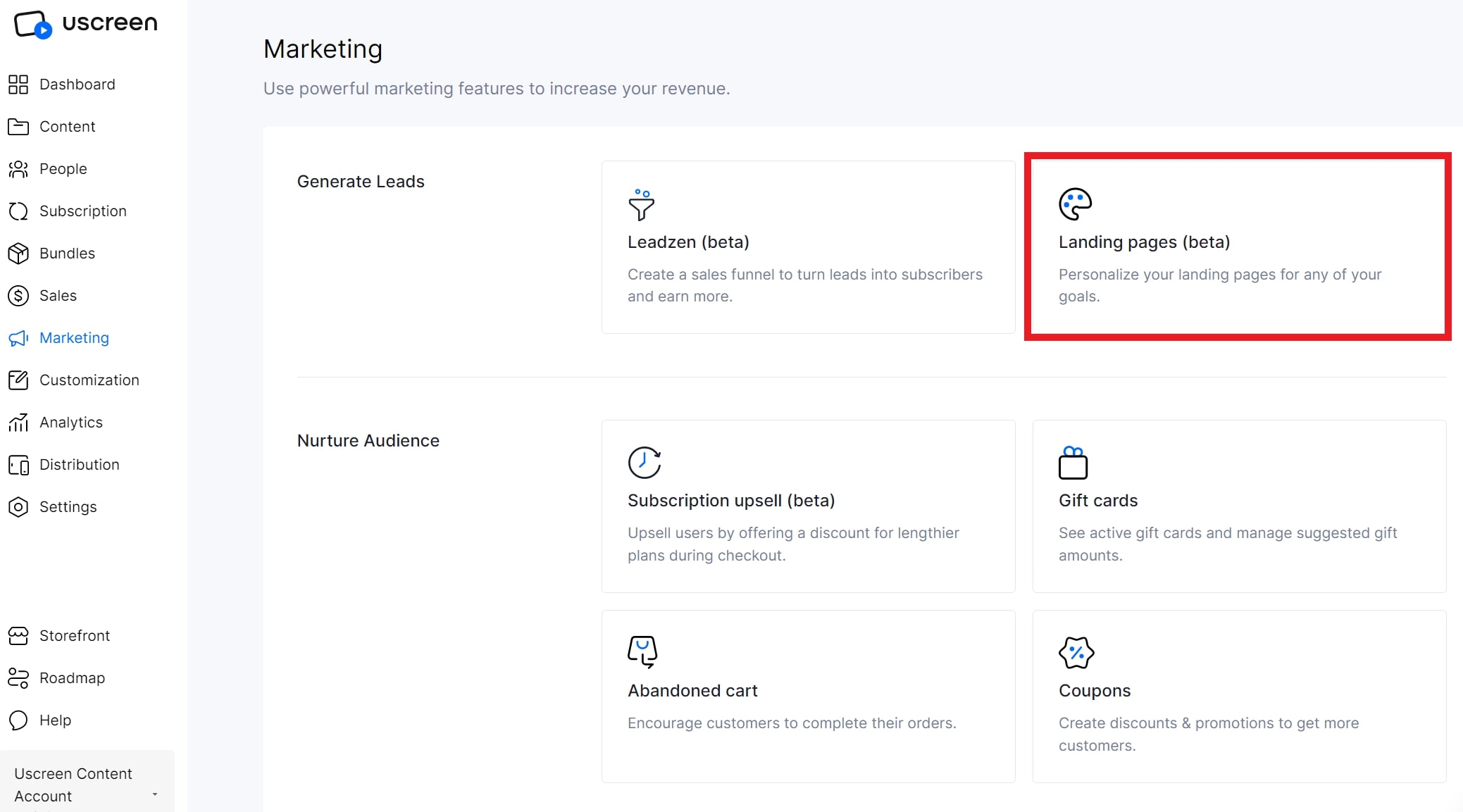 This page-building feature allows you to quickly and easily create sales and marketing pages for your Uscreen website.
We're going to use it to create a promotional page for your gift card offer.
Choose one of our templates as a base and then use the easy drag-and-drop system to customize the page to fit your branding.
Here's the page-builder in action:
You can include plenty of different elements like…
banners
CTAs
testimonials
reviews
…to create a powerful landing page that converts.
For your Christmas marketing strategy, we recommend targeting the specific holiday needs of your customers. Show people why your service is a great gift for their loved ones!
You can learn more about how to use the landing page builder here.
In the next section, we're going to look at how you can create a marketing campaign to promote this landing page and boost your sales from now until Christmas.
How To Promote Your Christmas Gift Card Offer
We're going to explore 3 marketing strategies:
Email marketing.
Social media marketing.
Paid advertising.
You can pick the strategies that will best suit your video business, or you can combine all 3 to create a supercharged marketing strategy.
Let's get into them…
1. Promote Your Gift Cards To Your Email Subscribers
Your email subscribers are often the most likely to buy your gift cards. There will be a good split of potential and existing customers in there, all of which could benefit from your offer.
31% of Americans already started their holiday shopping in June this year, and 59% say they're willing to start buying earlier too. So we recommend you start promoting at the beginning of December.
Here's a template for you to follow:
November 30th: send an email announcing your gift cards and the start of your promotion
December 7th: send a reminder email that you have gift cards on offer
December 14th: send a reminder email that you have gift cards on offer
December 18th: send a "one week until Christmas" email with a link to your offer
December 23rd: send a "last chance" email to get the gift cards before they're gone
December 25th: send a "Merry Christmas" email to your subscribers

Launching after these dates? That's totally fine. Just take it down to one email a week until the final week where you'll send 2. (Unless you already have a set email frequency for your business, then go with that!)
And if you're launching earlier for Black Friday, check out our guide to Black Friday and Cyber Monday marketing strategies here.
We also recommend you add a link to your promotion at the end of any other email communication, like: "PS: We have Christmas Gift Cards on sale now!"
2. Promote Your Gift Cards On Social Media
If you have a social media following, create some posts to promote your gift cards. Advertise them on the social media platforms where the majority of your business comes from.
There are 2 ways to do this:
Organic posts.
Boosted content.
Let's take a look at both…
Organic Posts
If you're reading this before the beginning of December, we recommend you post one piece of organic content a week to promote your gift cards until December 10th.
These should be simple, engaging posts that build hype for your offer. You can play around with this and look at sharing…
…that will draw attention to your campaign and get people talking. Be sure to include a link back to your promotional page at the end of every post!
When we asked our Social Media Specialist Madison about this, she said that you should definitely lean into Christmas-themed content for your promotions.
"People are in-the-mood for the holidays, so embrace Christmas colors, images, and even GIFs to fit in with the theme!"
Between December 10th and 18th, you can increase the frequency to 2 to 3 posts per week. These posts should be more promotional and highlight why your gift cards are an ideal gift.
In the final week before Christmas, you should shift the focus to "last chance" posts to create urgency for the last wave of shoppers!
Boosted Posts
Create a simple post on your page that you can "boost" to your audience. This should be a straightforward update that directs people to your promotional page.
Run this boosted post right up until the end of your campaign.
3. Promote Your Gift Cards With Paid Advertising
If you have the budget to run paid ads, we recommend you look at running a retargeting campaign.
This is where you export customer data from your Uscreen dashboard, and upload it to Facebook, so you can run adverts specifically to your customers.
You can do this by going to the People section of your Uscreen dashboard, and clicking the Export button:

This will give you a .CSV file with the information about any customers who have purchased a product or tried your service through a free trial.
Or, if you're using our Giveaway Funnel tool to help generate leads, you can also export their email information as a .CSV to contact as part of your offer. (Here's our help guide on how to do that.)
You can then upload this information to Facebook to create an advertising campaign.
Check out these 2 official Facebook help guides here and here to learn more.
Run this advert for the duration of the holiday period. You can learn more about paid promotions in our guide to paid advertising for your VOD business!
Wrapping This Up…
If you want to finish 2022 strong, we highly recommend running a gift card marketing strategy to take advantage of seasonal shopping trends. There are always people looking for them!
If you have any questions on how to set up your new marketing strategy, we'd love to hear from you! Please contact your Customer Success representative for more info.