Are your Facebook videos finally getting the views you've dreamt of? Then now might be just the time to turn those views into dollar signs.
From brand collaborations to video tips, Facebook now has multiple ways to help you become a full-time content creator without leaving the platform.
If you're looking to learn how to monetize Facebook videos, you're in the right place. This guide shares a step-by-step guide to the best Facebook video monetization options—regardless of whether you're posting Reels, live videos, or feed content.
Who can monetize Facebook videos?
Facebook has a number of monetization options that are available to content creators, but you'll have to meet a certain criteria. Consistently meeting these rules will put you in a great position to start making money.
You're eligible to make money on Facebook if:
Check your monetization eligibility in the Meta Business Suite to get a better picture of how to get paid on Facebook. Formerly known as the Facebook Creator Studio, this is where you can manage your Facebook video monetization and track its performance.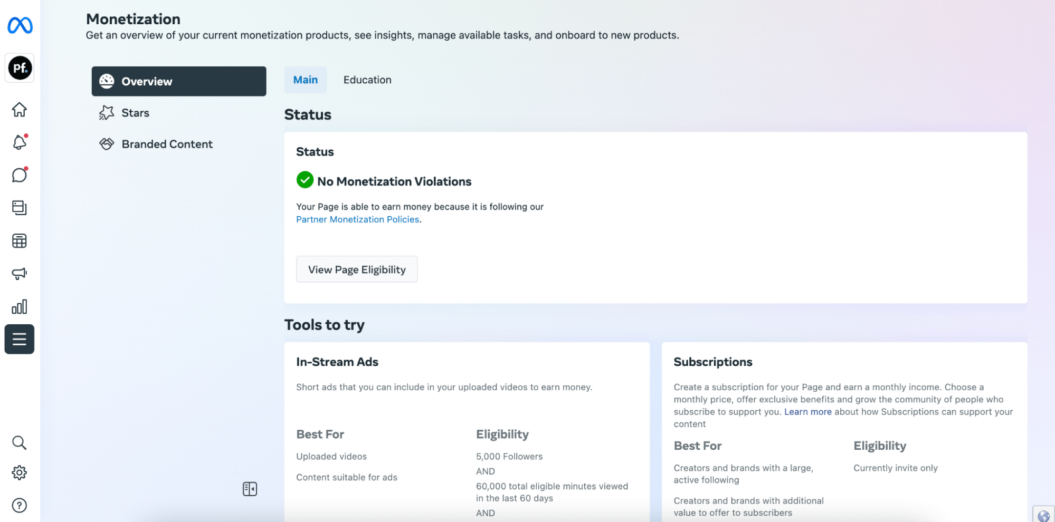 5 Facebook video monetization strategies
1. Use the Meta Brand Collabs Manager
The Meta Brand Collabs Manager connects influential content creators with brands to pitch their products and services.
Brands can search for creators that share the same target audience through the Creator Marketplace. You can also apply for project briefs—calls from brands who are looking for creators to work with.
Once you're connected with a brand, you can run Facebook videos that tag the brand's profile and label the post as a paid partnership. The brand can view Page analytics to track the impact of their influencer campaign.
To monetize your Facebook videos with the Brand Collabs Manager, you need to have at least 1,000 followers and one of the following:
15,000 post engagements over the last 60 days
180,000 minutes viewed over the last 60 days
30,000 1-minute views for 3-minute videos over the last 60 days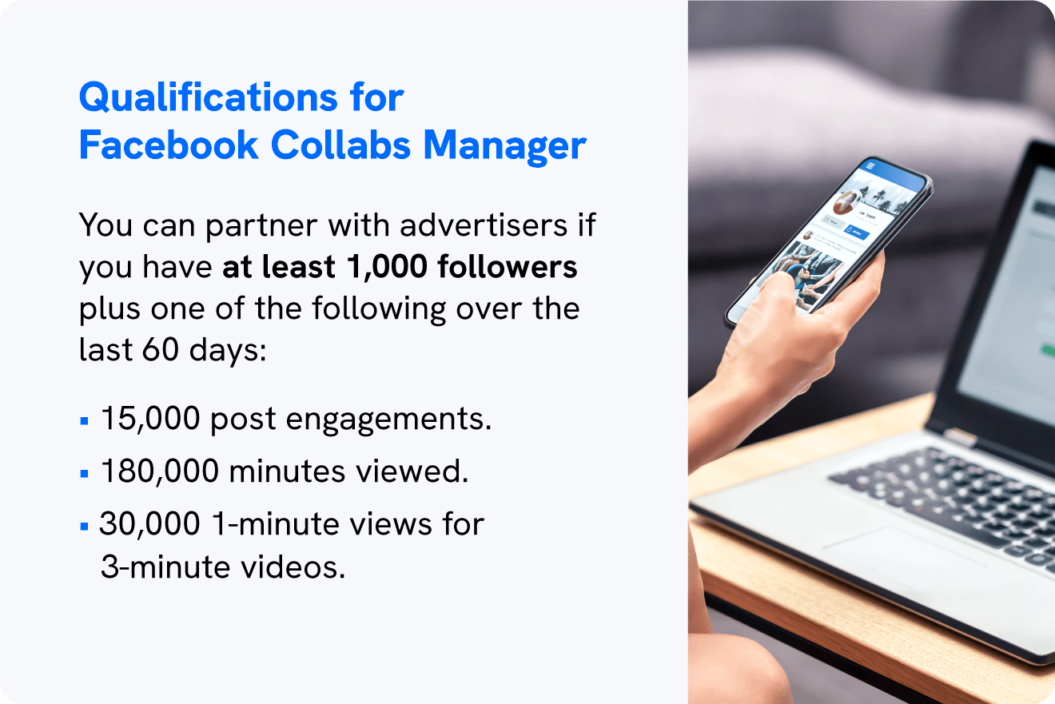 2. Set up Facebook Subscriptions
Maybe you're looking to avoid corporate partnerships and would rather stay independent.
Facebook Subscriptions, formerly known as Fan Subscriptions, puts your content behind a paywall so only Facebook followers can see your posts.
Subscriptions have stricter eligibility requirements than Brand Collabs Manager. To put up your paywall, you need:
At least 10,000 followers (or at least 250 return viewers)
50,000 post engagements or 180,000 watch minutes in the last 60 days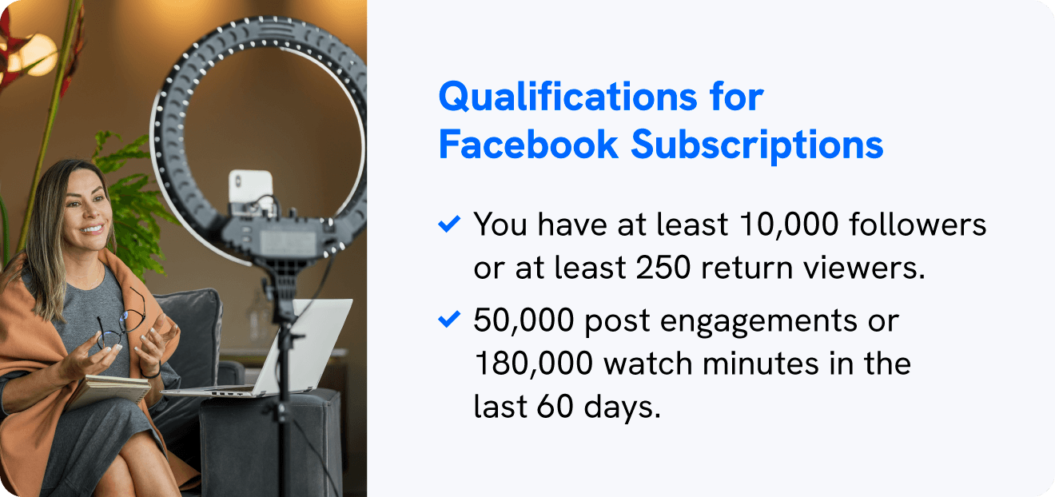 If you decide to put content behind a paywall, make sure it's worth the price of admission. Think about sharing exclusive content like behind-the-scenes videos, in-depth tutorials, or subscribers-only Q&A's.
Keep sharing free content, too, so that you're still engaging with the Facebook community at large and growing your followers.
How to set up Facebook Subscriptions
If your Facebook page is eligible for Subscriptions, set them up by following these steps:
Go to the Creator Studio on Facebook
Select the page you'd like to monetize and click "Start Setup"
Read and accept the Terms & Conditions
Setup your Facebook video payout account
Select the benefits the subscribers will get
Choose your subscription price
Wait for approval
Research what other video creators charge for their content if you need help deciding on a price. Setting the price too high may alienate followers, but setting it too low will have you missing out on well-deserved cash.
3. Enable in-stream ads
Creators can get paid by enabling in-stream ads on their Facebook videos. These are short ads that are played while your Facebook video is being viewed.
The 4 types of Facebook in-stream ads are:
Pre-roll ads: the Facebook ads that play before your video starts
Mid-roll ads: the Facebook ads that play during your video
Image ads: static Facebook ads that are displayed below your video
Post-roll ads: the Facebook ads that appear after your video ends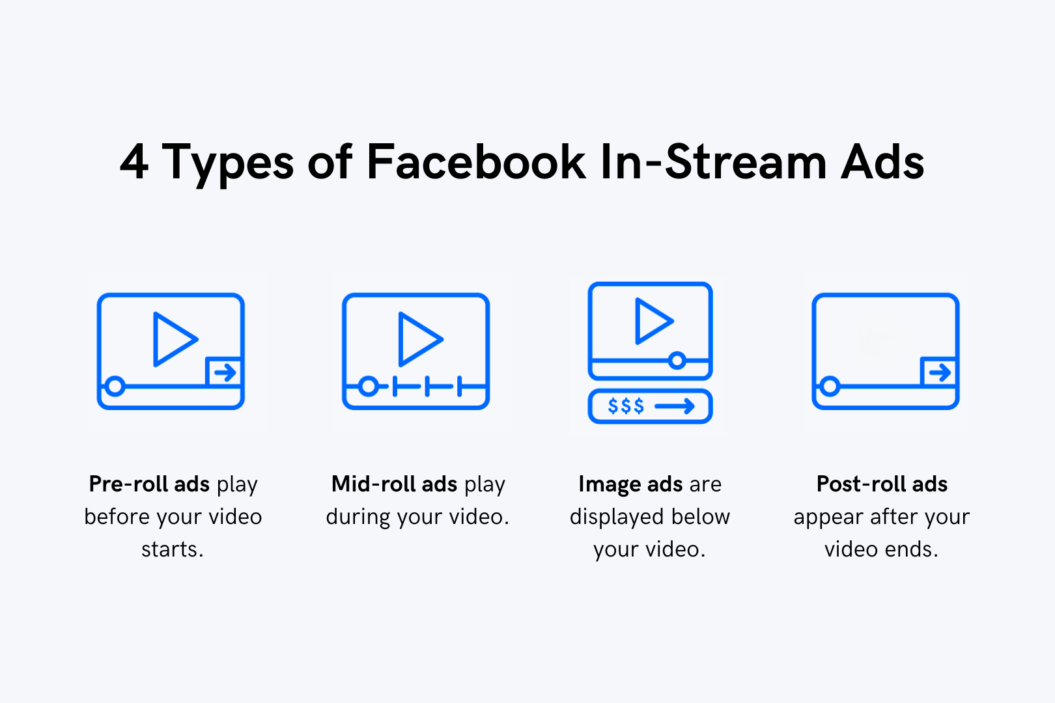 To be eligible for Facebook in-stream ads, you need to have:
10,000 page followers
Videos that are at least one minute long
At least 600,000 minutes of view-time in the last 60 days
At least 5 active videos
Facebook video monetization rates are also dependent on the cost per thousand (CPM) impressions the advertiser is charging. Your income is based on how many views you're getting and where they are being streamed.
Studies show that this hovers around $14.90 per 1,000 video views—though Facebook will need to take its cut before passing any royalties onto the creator.
"Enabling ad breaks can turn your video content into a source of income, provided you consistently create engaging videos that attract viewers and keep them engaged throughout the ad breaks." —Mark Blakey, CEO and advertising manager at Autism Parenting Magazine
Get the most out of your in-stream ads by strategically placing ads at natural breaks. You could also use cliffhangers right before the ad runs to keep viewers hanging on for what comes next—similar to TV shows.
How to enable in-stream ads on Facebook
Facebook can automatically place ads in your videos based on where they think it will have the best results. It's a great option if you want to save yourself some time.
To do this:
Select "Video" from the "Home" tab of the Creator Studio
Upload your new video
Select "In-Stream Ads"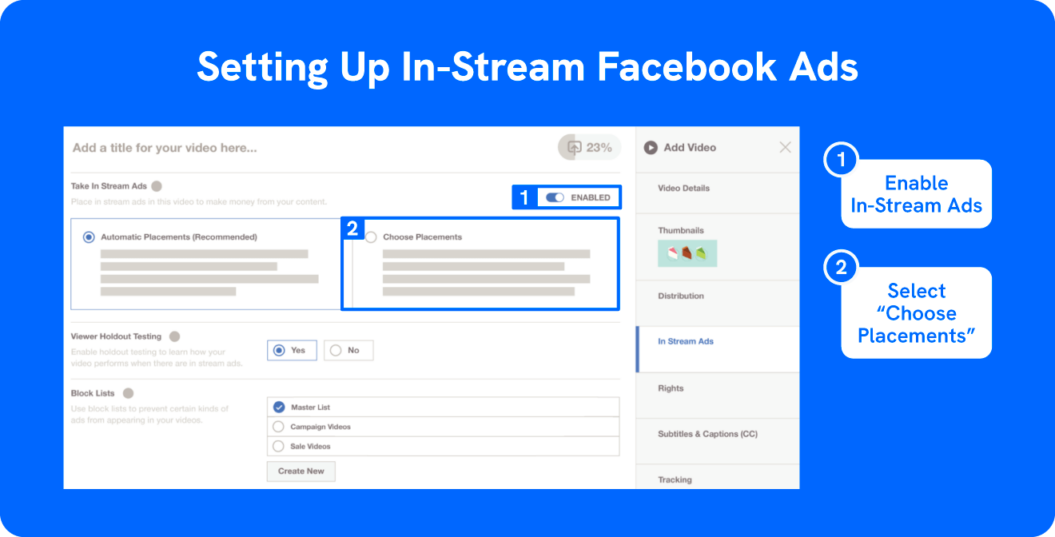 There is also the option to place ad breaks in the video yourself. To start, simply check the "Choose Placements" box in the In-Stream Ads section of the Creator Studio.
From there, you can:
Add the cue points to your video where you'd like ads to appear
Make sure the ads are spaced out by at least 2 minutes
Select "Publish" to finish placing your ads
You can still have Facebook improve your ad placements by selecting the "automatically adjust in-stream ad placements to improve your viewers' experience" box. This will move the ad by up to 10 seconds forward or back within the video to be in a better position.
4. Collect Stars from Facebook Live videos
Studies show that Facebook Live videos are watched 3 times longer than regular videos.
Alongside engaging your audience, streaming live videos is a big money-maker for Facebook creators. You can bypass the need for advertisers and get paid directly by your followers.
Facebook monetizes live streams by letting viewers tip streamers with Stars, which are kind of like a digital currency.
Viewers can purchase Facebook Stars for $0.01 and send them to their favorite creators during live streams. If you get 5,000 Stars from a live video, for example, you'd earn $50 from Facebook.
The best part: you can make money from Facebook Live videos long after the stream ends. If a viewer missed a live stream, they can still tip the recorded video—as long as the creator has Stars enabled.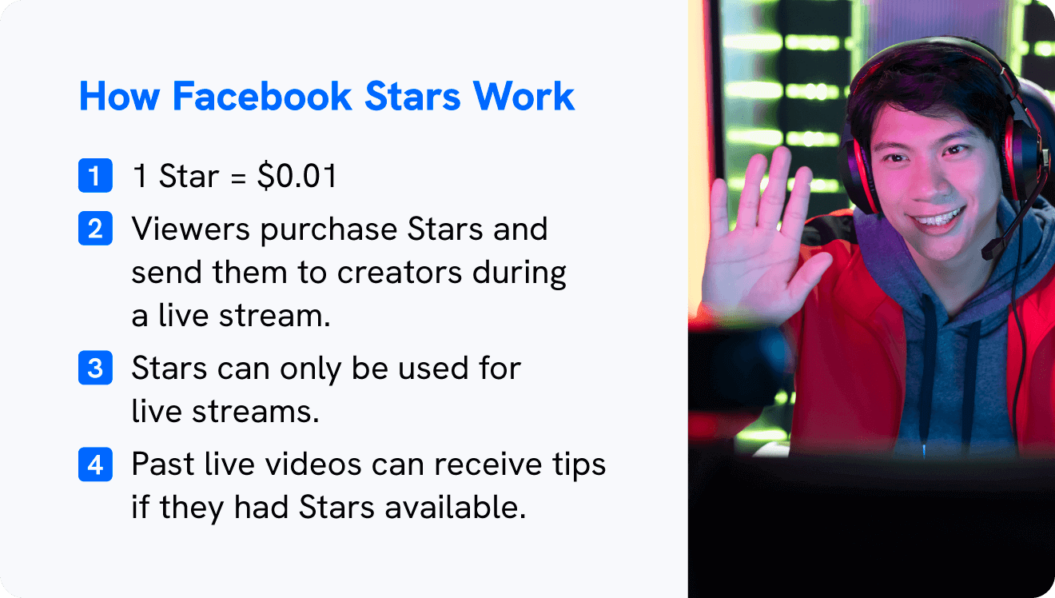 Your live streams will be eligible to receive Stars if you have at least 500 followers for 30 consecutive days and live in a country where the feature is available.
If you meet the criteria, enable Facebook Stars by:
Go to Creator Studio and select "Creative Tools"
Press "Live Dashboard"
Toggle the "Stars" button to on
Enter your payout details
Get more tips from your Facebook Live videos by giving exclusive content or shouting out your fans—the latter of which can be an enticing incentive to donate Stars. For example, you could:
Give viewers a shoutout after donating Stars
Use Stars as a polls (i.e. "donate a Star if you agree!")
Ask for followers to power your next stream by leaving a tip
5. Promote products from your Facebook Shop
Facebook Shop is the platform's built-in shopping feature that allows people to browse and buy items from ecommerce stores without leaving the Facebook app. It's a popular feature—some 37% of people buy on Facebook (comparable with TikTok and Instagram).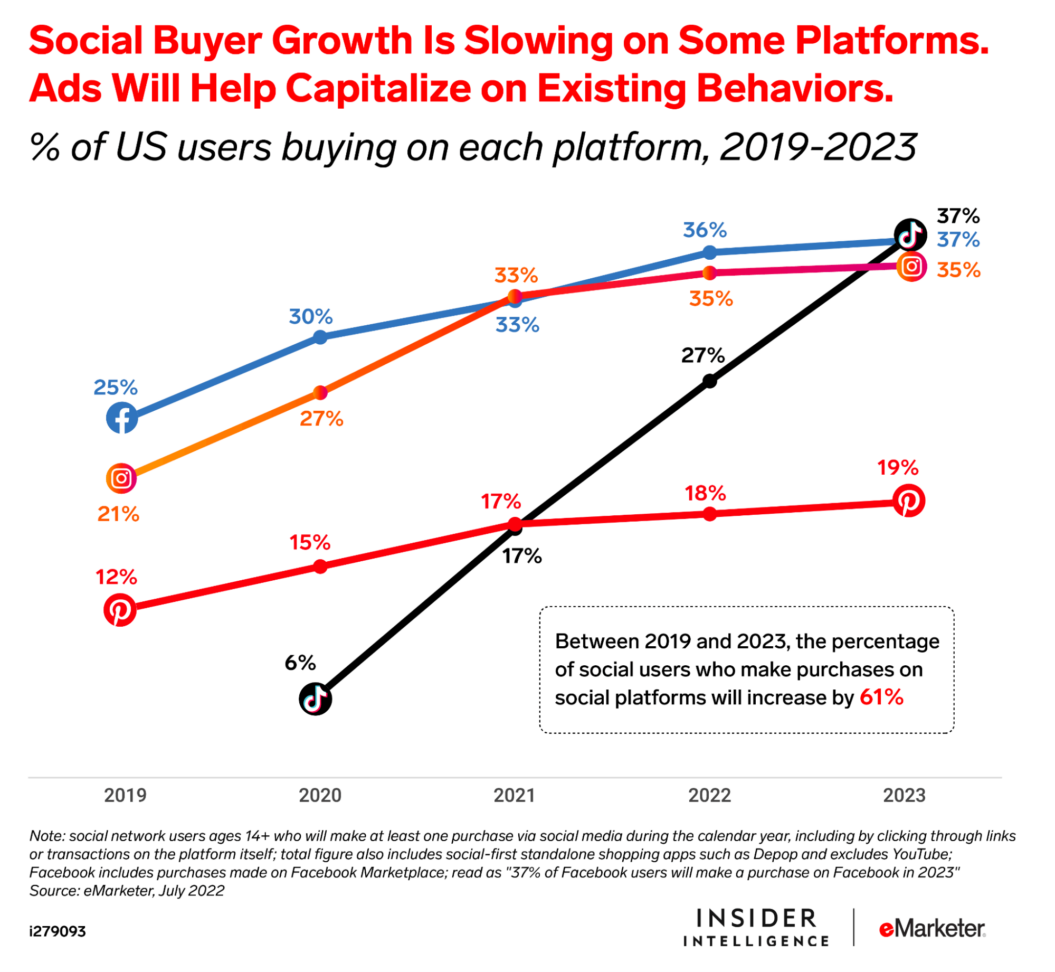 To be eligible for Facebook Shops, you must:
Comply with Facebook policies
Have an online store
Be located in a supported market
Demonstrate trustworthiness
How is this relevant to you as a content creator?
Well, you could use your business page to create your own Facebook Shop with the print-on-demand business model.
Design merchandise—such as t-shirts, hats, or mugs—and use a service like Printful to bring them to life. When you get a new order from your Facebook Shop, order details can be sent to your supplier, who will then print the design and ship it to your customer.
Once your Facebook Shop is set up, use Facebook videos to drive attention to it. You could:
Do a "try on" video to show what your merchandise looks like
Tell the behind-the-scenes story of how you created your creator merch
Wear your merchandise in a Facebook video
Just remember to tag the products from your Shop to monetize the Facebook video and make it easy for followers to buy.
Bonus tips to build a creator business around Facebook video monetization
Facebook has a bunch of creator-friendly tools to help you make money from your videos.
Supplement these features by expanding your monetization strategy to include the following techniques.
6. Recommend affiliate products in Facebook videos
Affiliate marketing works when you earn commission for selling a brand's product to your Facebook audience. Commission rates can range between 5% and 25%. If you sell $500 worth of products through a Facebook video, for example, you could earn an extra $125.
Introduce this technique to your Facebook monetization strategy by finding affiliate programs in your industry. You could do a Google search for "[niche] + affiliate programs", or see whether your favorite brands have a program. Apply to those with the same target audience as your Facebook Page.
Once you've been accepted into a brand's affiliate program, create affiliate links and share them in your Facebook video description. Make people aware of these links by calling them out in your videos.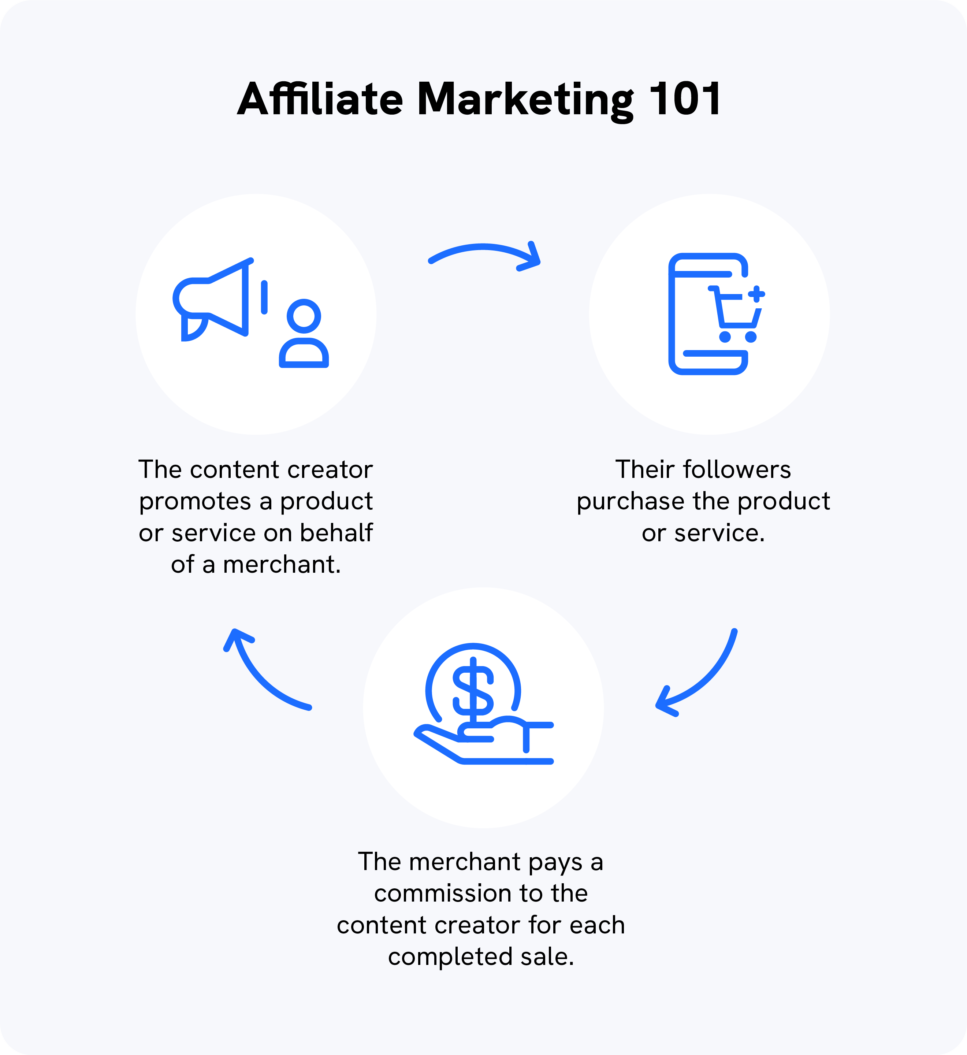 7. Secure independent brand deals
Not all creators rely on Facebook's video monetization features. Some 77% of creators depend on brand sponsorships rather than monetizing their content directly.
Reach out to brands you already know and love with the aim of securing a brand deal. Sponsorship rates vary depending on the size of your audience, but you could potentially earn upwards of $500 per month by posting branded content to Facebook.
8. Sell digital products
The eLearning market is set to make $400 billion by 2026. Find something your audience needs help with and create a digital product around it.
Popular examples include:
Online courses
Workbooks
Checklists
Private podcasts
Paid newsletters
Downloadable guides
Exclusive videos
Upload your digital product to a platform like Uscreen, and add a paywall so that people can only access your premium content once they've paid for it. Then recommend your digital products in Facebook videos to monetize them.
9. Build a membership site
Facebook monetization does come with a lot of risk.
Facebook is a social media platform with an ever-changing algorithm. There's always a risk of your Page being deleted, monetization features stripped from your account, or your organic reach being severely impacted.
Protect your creator business by treating Facebook videos as a way to attract an audience. Once followers are engaged, move them to your own membership platform.
(If you're uncertain whether people would pay to access premium content, one report found that 58% of online content consumers would pay up to $15 each month to access their favorite creators' content.)
Aside from building stronger relationships with your followers, posting content to your own video membership site offers benefits that Facebook can't:
You set a one-time or recurring fee for people to access your video content
You have ultimate control over the viewing experience
You can provide a premium, branded space for your community to interact
You can choose which sponsors advertise in your videos
You can upsell or cross-sell digital products, such as online courses, in the same membership portal
It's simple with Uscreen.
Build, launch and manage your membership, all in one place.
How to make money from Facebook videos FAQs
Can you monetize Facebook videos?
Facebook allows you to monetize videos with in-stream ads, viewer subscriptions, and brand partnerships. Eligibility requirements vary based on your viewership and location. Check your status in the Creator Studio to learn if you qualify.
How do I monetize my videos on Facebook?
Use the Brand Collabs Manager
Set up Facebook Subscriptions
Use in-stream video ads
Monetize Facebook Live video with Stars
Create Facebook Reels
Promote products from your Facebook Shop
Can I monetize a 1-minute video on Facebook?
Facebook videos must be at least one minute long to be eligible for ad revenue. You also need to be in an eligible country that allows ad-based payouts.