If you had to put a number on it, what would you charge for your content and creativity?
It might seem like a tough question but:

It's worth thinking about because people want to pay you what you're worth.
If you've chosen to use the subscription business model, you're already on the right path to earning a great living from your content.
But what exactly should you be charging?
In this article, we're going to help you find out.
Let's dive in!
How To Think About Subscription Pricing Strategy
Ready to get started? Skip ahead to the Subscription Pricing Models!
Pricing is one of the most important parts of your subscription business.
Your subscription pricing needs to do 3 things:
Reflect your overall brand.
Align with the industry you're in.
Resonate with the customer base you're targeting.
This will put your pricing in a sweet spot that appeals to customers and gives you a fair price for your work.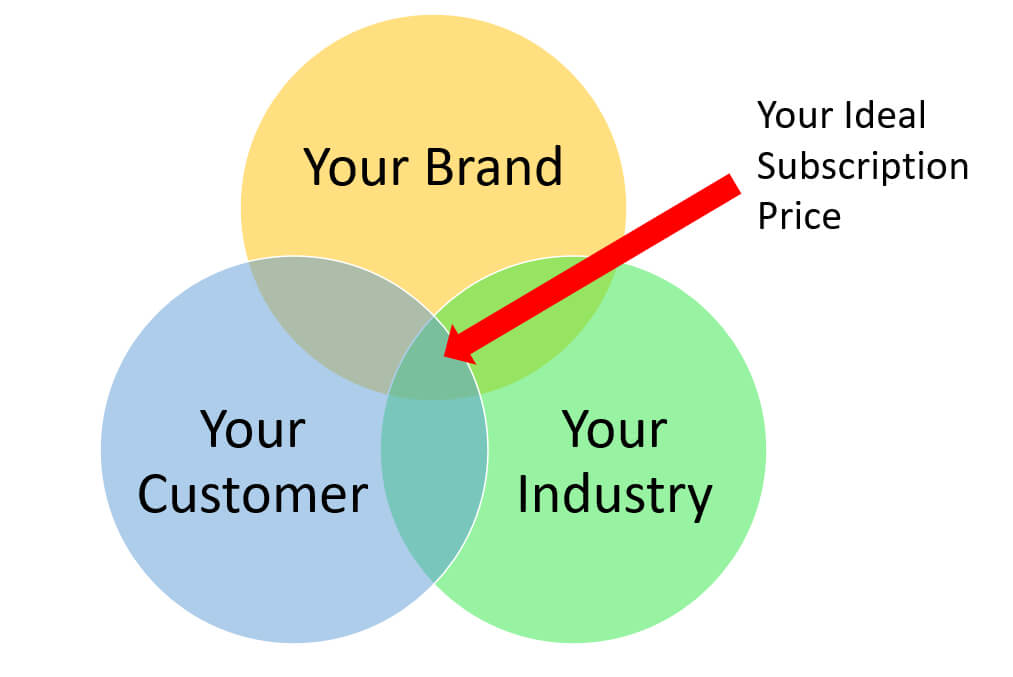 Establishing a price is about more than just numbers. It's about understanding your market, your customers, and the value subscribers place on your service.
Here at Uscreen, we specialize in helping content creators build their own paid subscription platforms.
In fact, our clients are generating over $100 million dollars in revenue and growing their audiences every day:
That means we know a thing or 2 or about subscription pricing. We've run the gamut of all the different subscription service approaches and seen what works best!
In the next few sections we're going to talk you through the 3 core ways to structure your subscription business model, and give you a way to find the price for your business.
Let's go…
Ready, Set, Subscribe: Pick The Right Subscription Pricing Model For Your Service
Picking your subscription business model is the starting point for pricing your subscription service.
Here are the 3 most popular models for subscription services:
1. Flat Rate Membership
A flat rate membership gives subscribers unlimited access to all content on your platform for a single recurring fee.
This pricing strategy is simple, straightforward, and easy for your customers to understand.
Everyone pays the same amount and gets the same benefits. They know that they're getting the full package for a fixed price. Netflix is a well-known example of flat rate pricing.

For a monthly recurring fee customers can view the entire library of content on any device.
With flat rate subscriptions, you can still offer different prices based on the customer's payment period.
You can sell quarterly, bi-annual, and annual subscription packages, each of which sold at their own flat rates. This can:
Give you more revenue upfront.
Provide an option for every level of customer commitment (which can increase retention.)
Increase customer lifetime value with longer payment periods.
Reward long-term customers with a discounted monthly rate.
For example, Practice With Clara offers a discount when purchasing a quarterly or annual subscription. Her pricing page shows customers exactly how much they can save: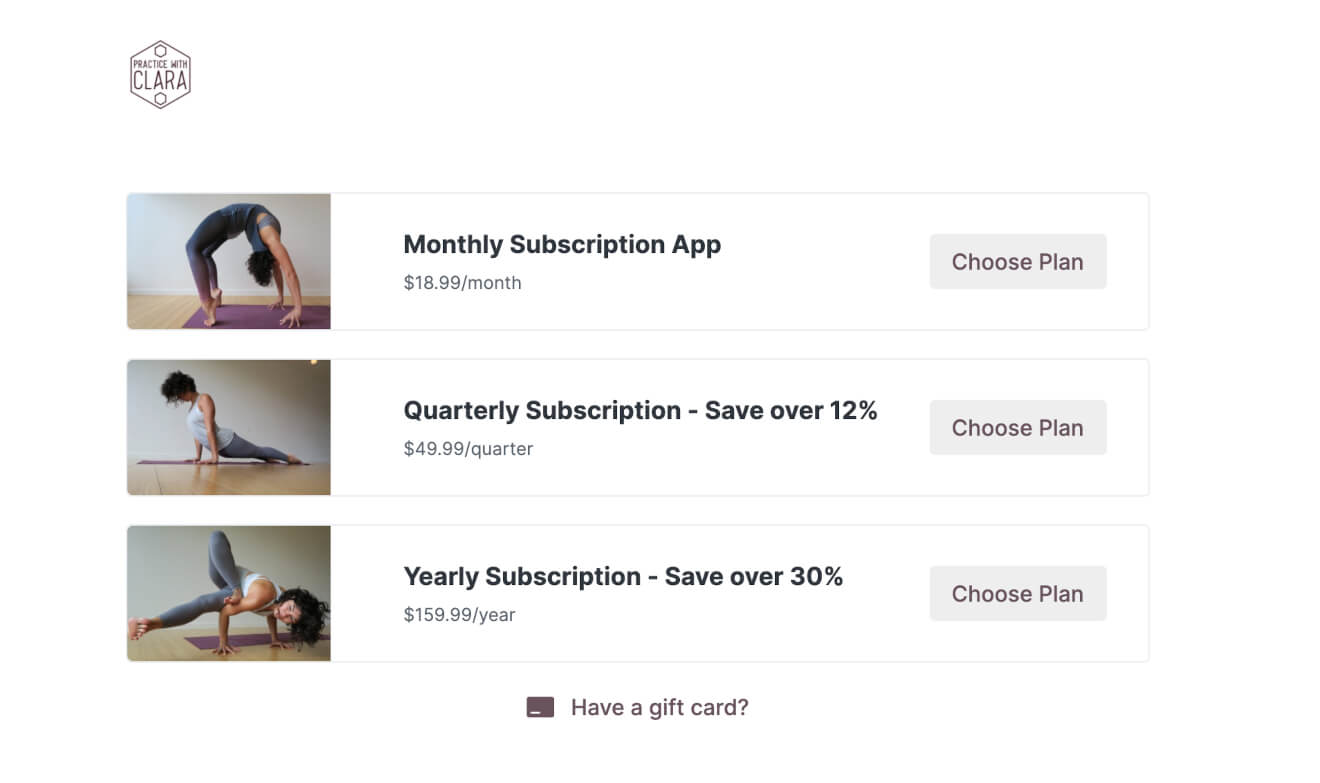 Pros: Customers appreciate the simplicity of a flat rate fee.
Cons: A single membership option might not reflect the needs of all potential customers. Some people may not want to pay an umbrella price if they know they won't use certain parts of your service.
2. Tiered Membership
The second option is to sell what are known as tiered-memberships.

This is where you sell access to different membership plans at different pricing tiers. The more expensive the plan, the higher the access.
Offering multiple subscription offerings lets customers choose what they want to pay for, which lets you reach a wider range of customer segments.
You can see how Spotify does this here: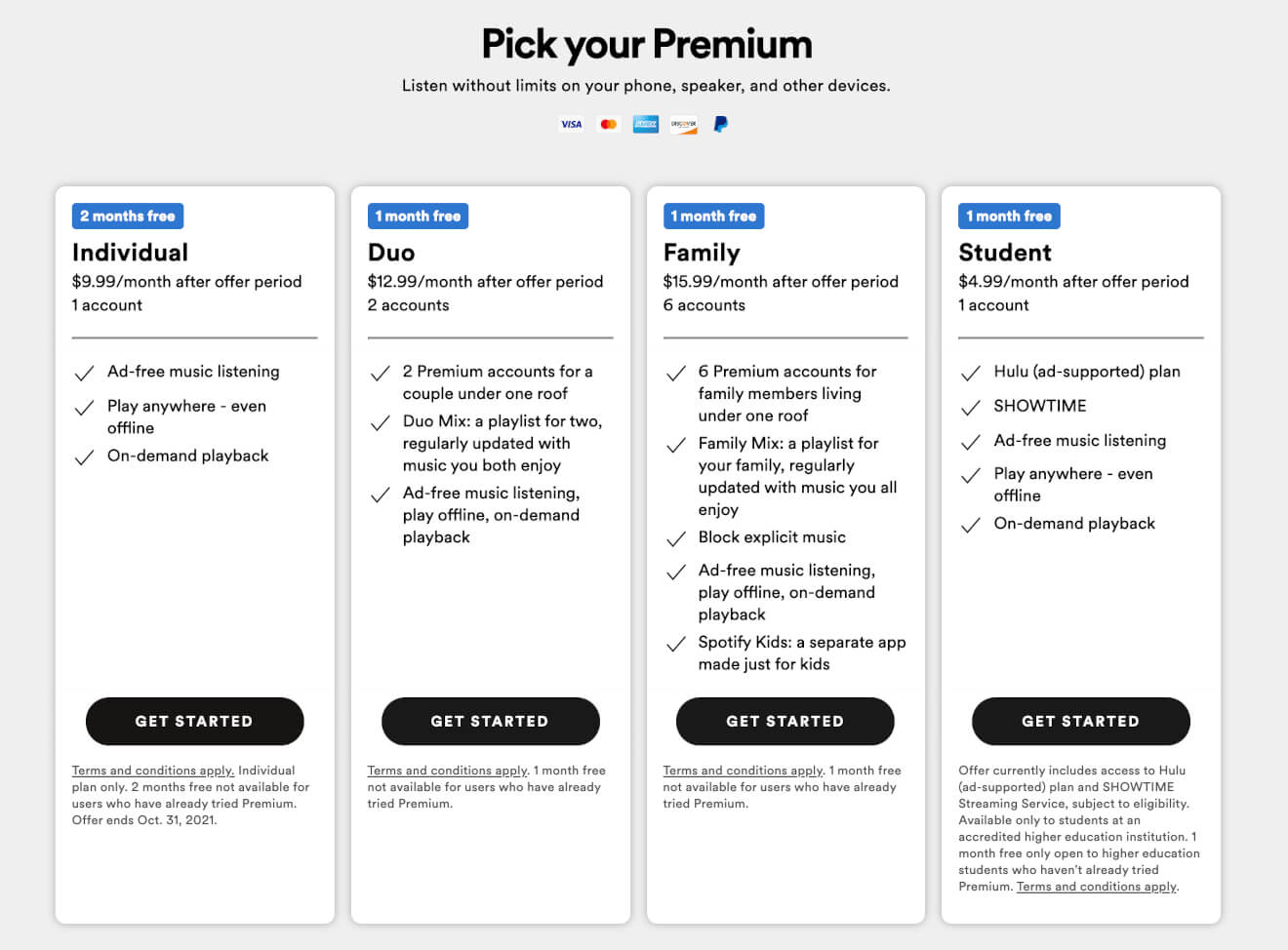 There can be real psychological benefits to using this multi-tiered option, which can increase conversions and result in more happy customers.
By removing the binary "yes or no" choice, you open customers up to exploring their options. And, by framing a core offer with a more expensive option you can make a price seem more valuable and increase your conversion rates.
In fact:
When presented with 3 options – a low-, middle-, and high-priced one – 85% of people choose the middle-priced one because it gives the impression of quality and value!
That's why we recommend offering these 3 pricing tiers:
Basic plan: access to video on demand content.
Mid-level plan: access to VOD and live streaming.
Top plan: unlimited access to all your content, plus downloadable resources that are usually sold for a one-time price.
By giving people the ability to choose the right price for them, you can make sure every customer's needs are being met and pricing becomes less of a barrier to sign up and stay on board.
Pros: By offering multiple membership options, each customer can decide on an optimal pricing strategy and level of access for them. This also means customers can eventually upgrade their accounts.
Cons: Too many options can cause "analysis paralysis" for consumers. While you want to give your audience choices, too many choices may overwhelm them.
3. Hybrid Memberships
Hybrid models offer a combination of both flat rate subscriptions and the ability to purchase content for a one-time fee.
This model will help you bring in more money on top of recurring revenue from subscriptions.
Amazon Prime Video is a great example of a hybrid membership model.
Video-only subscribers pay $8.99 a month for access to a full video library, including a variety of popular movies and TV shows.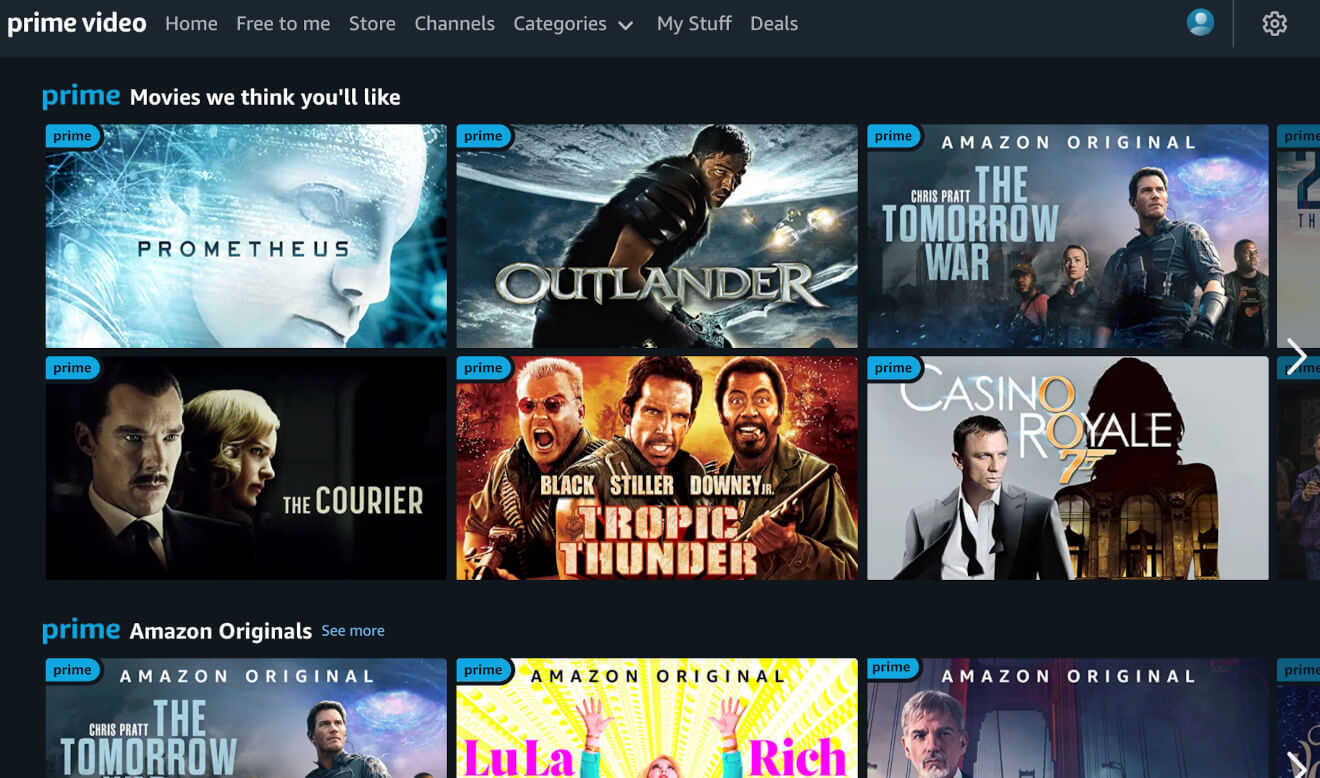 Amazon also gives all customers the option to rent or buy premium add-on channels, new release movies, and more, for an additional fee.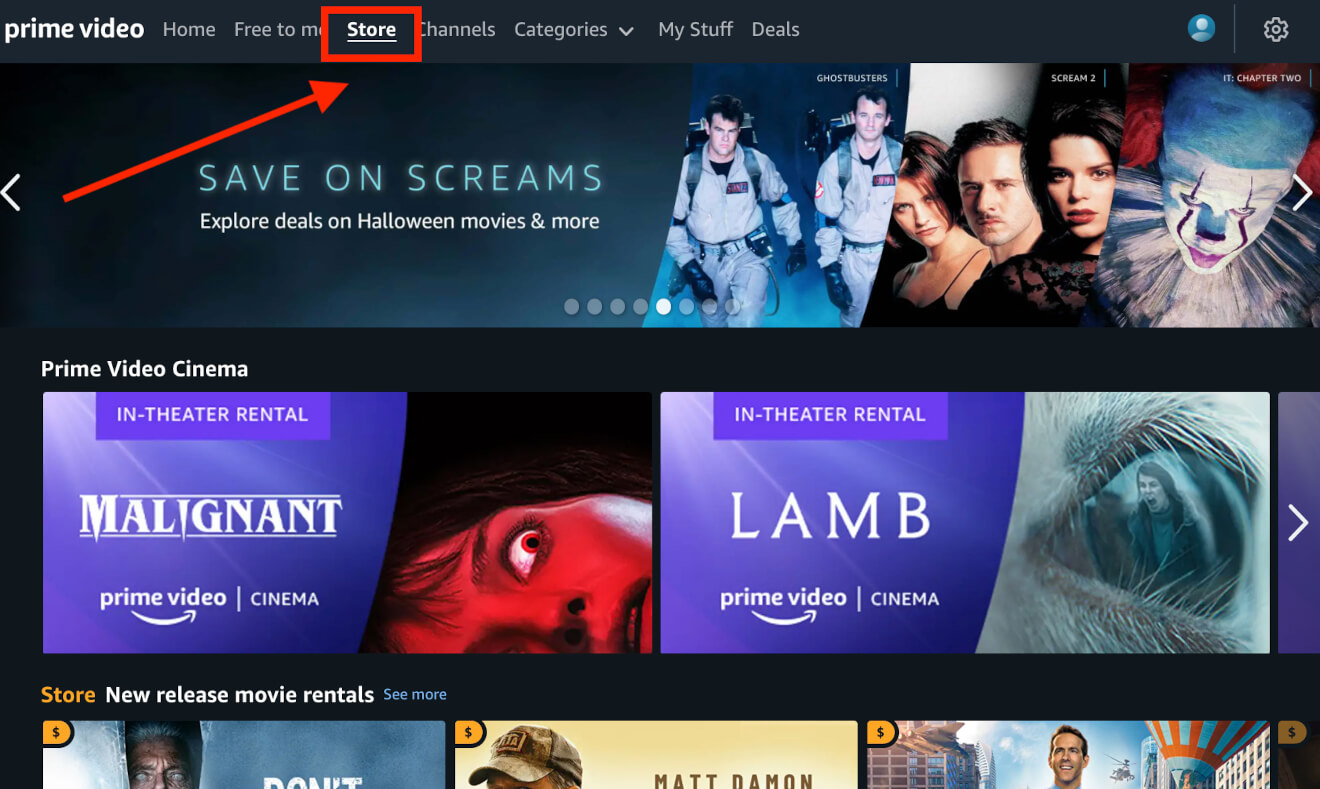 This subscription pricing strategy goes way beyond selling movies and TV shows online, too.
HighVibeTV is a spiritual TV network that provides astrology-focused content to their subscribers. They offer multiple flat rate options to join their service: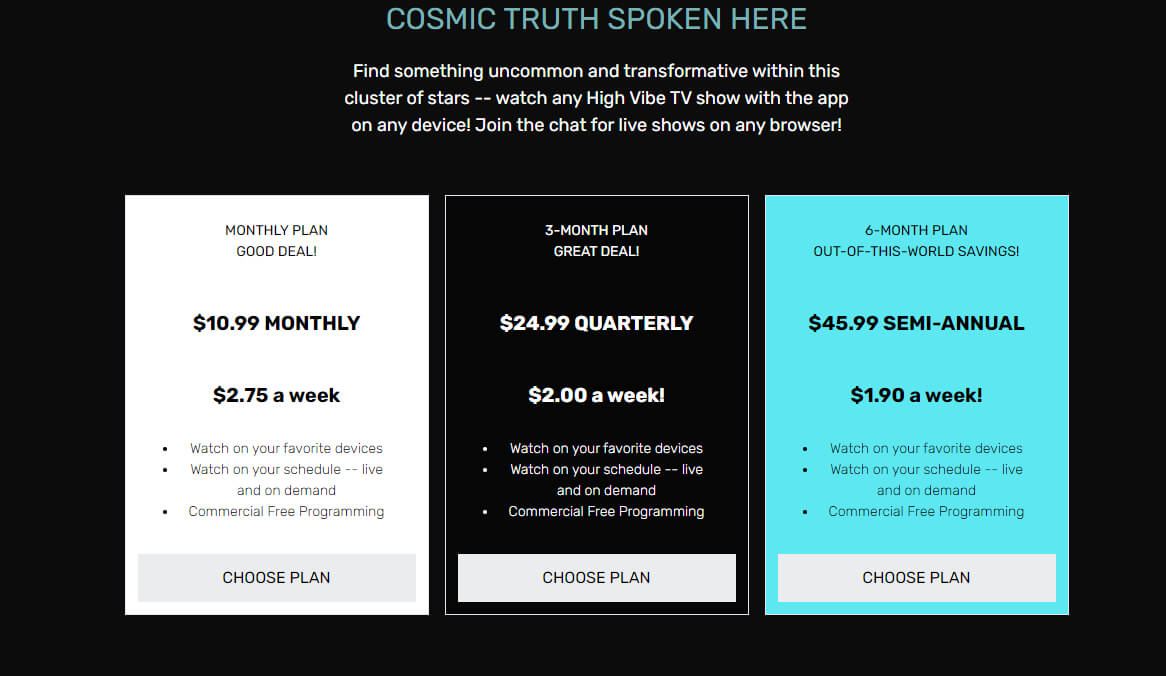 But they also periodically include pay-per-view specials that need to be purchased in-addition to their subscription service. This gives them an additional revenue stream from their content!

Pros: By offering a hybrid membership you'll cater to both long-term and short-term customers. Also, your existing customers can feel like they can personalize their membership buying premium content bundles.
Cons: Since subscriptions and one-time purchases can be seen as competing pricing plans, you'll need to market both and show their values to your customer base.
How to Price Your Subscription Service in 5 Steps
Now that you've chosen your business model, we'll get down to pricing and show you how to measure your value in 5 easy steps.
Let's go!
1. Research Your Market
Start the pricing process by doing some market research and checking out the competition.
Here are some good questions to ask yourself:
What are your competitors offering, and what are they charging for their services?
What is the average cost of similar services in your niche?
You want to offer a comparable value to other businesses to stay competitive, but also offer a price that allows you to run your business at a profit.

Speaking of which…
2. Define Your Revenue Goals
Now that you've got a frame of reference for how much you should charge, you need to figure out how much money you want to make.
Keep in mind the competitor price averages you found during your industry and customer research.
Your revenue goals should factor in your costs (more on that later), and the number of customers you plan on selling your streaming videos to. For example:
A larger audience means you can set lower prices.
A smaller, more niche audience means you can set higher prices.
Then, you can come up with some hypothetical revenue scenarios. Try different combinations of…
number of subscribers
price charged per subscriber
…that will let you meet the revenue goal you've set.
This leads directly to our next step.
3. Evaluate Your Cost Factors
You'll also need to figure out how much it costs to launch and run your business.
This will tell you the minimum amount you need to cover to keep your business afloat. Your overall cost should be factored in your revenue goal.
To determine your costs, evaluate factors like:
Once you add up the time, work, and financial resources you're putting into your business, you can find out what your profit will be using the equation below:
Monthly Revenue Goal – Estimated Monthly Cost = Monthly Profit
Make sure your revenue exceeds your costs so you can turn a profit.
4. Conduct Audience Research
Next, research your customer base.
To get an idea of how they spend their money and what their spending expectations are, figure out:
The average age and demographic of your target audience.
What other services they subscribe to.
What they like and dislike about these services.
What they value that they're willing to pay extra for.
You're doing more than selling a service – you're selling skills, convenience, and a better quality of life.
So by figuring out what your customers need from you, you can determine the dollar amount they're willing to pay for it.
5. Put It All Together
Now you have a frame of reference for your…
Average industry price point
Revenue goals.
Cost factors.
Price point within your customers spending power.
So, you can use these metrics to find your perfect subscription price point.
All the research you did will point you in the right direction – You can also plug some metrics in the equations below and play around with them to find your sweet spot:
If you have a revenue goal and subscription price, you can see how many subscribers you'll need to reach that using this equation:
Monthly Revenue Goal / Monthly Subscription Price = Number of Customers Needed per Month
If you know the numbers of subscribers you'll get and have a revenue goal, you can see what your subscription price will be (and if it fits industry standards) using this equation:
Monthly Revenue Goal / Estimated Number of Customers per Month = Monthly Subscription Price
And to help you out, we've included a pricing calculator below:
Once you get a monthly course price, compare it to the industry standards you found in Step 1. Make sure you're within the range of the lowest and highest priced subscriptions in your niche.
Here's one final piece of advice:
Now that you've got a price nailed down, remember that you can always change it later.
Prices that work well in the early days of your subscription business might become unsustainable if your business grows (especially if you set a low price at first, and then start scaling quickly.)
As your product or service improves, you can alter your prices to reflect your growing value.
Just make sure you clearly communicate that value to your customers.
How Uscreen Can Support Your Subscription Business
Do you want to build a subscription business around your video content?
Then we can help.
At Uscreen, we have everything you need to start, launch, and grow your video business. With us, you can:
Create your own video website.
Upload and organize your videos with ease.
Distribute your content with OTT apps on TV and mobile devices.
Monetize your content, your way.
Accept worldwide payments.
Use live streaming to reach audiences on any device.
Track subscriber growth and churn.
Own your audience.
Better still…
We're currently the number one platform in the industry and our customers earn an average of $12000+ a month!
If you'd like to learn more about how Uscreen can help you, we'd love it if you gave us a try. You can sign up for a free trial below:
It's simple with Uscreen.
Build, launch and manage your membership, all in one place.
Conclusion
Pricing your subscription service is a breeze once you've got the framework down. To recap, these are the 5 steps to follow to find your price your subscription:
Determine industry average.
Define your revenue goals.
Evaluate your costs.
Conduct audience research.
Put these metrics together.
It's about finding the sweet spot between profit and fair value. And we hope this guide helped you find the perfect price for your business.