Want to boost sales by up to 30%? An over-the-top (OTT) app could help you do that.
But how?
Our most successful creators agree that while app store optimization (ASO) is important, an app marketing strategy centered around social media and your website works better.
Here's why:
With regular apps, the app is the product. People want an app that serves a function. So if they find one with good reviews, they'll download it and give it a try.
With video content apps you and your content are the product. People are looking for a transformation championed by someone they can trust.
Our creators have built six to seven-figure businesses using this strategy. So set a release date at least 2 weeks away, bookmark this post, and work through each step!
Pre-Launch (The Awareness Phase)
The pre-launch phase helps you establish credibility, and build interest before you launch your app. That way, you get the best returns on your marketing efforts.
Research market needs and where your customers hang out
Four words; right message, right place.
Market research helps you understand the pain points and challenges your ideal customers face.
This, in turn, helps you align with your audience's values and goals. That way, you can position your app to reflect those values and demonstrate how you help them meet their goals.
And this is crucial today because you want people to pick you over your competitors, which they'll do if they sense that you understand them and reflect their values.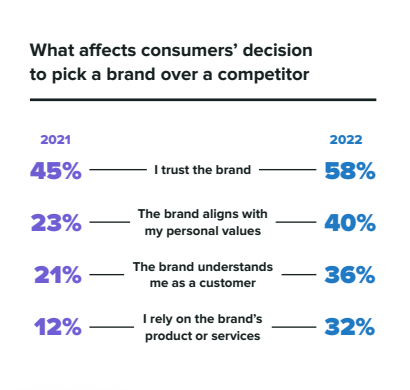 Done right, you'll also discover the best marketing channels for you to reach ideal customers.
You'll learn the right type of app to prioritize for your users too. For example, a mobile app may work best for a 9 – 5 professional on the go, but a weight loss program would need a TV app that allows subscribers to see each move on a big screen.
For example, Adjuster TV's Matt Allen makes five figures monthly in a niche market, and his biggest piece of advice is to do your market research:"…find out where your best members hang out… because where they hang out is not something you can influence."
If you're starting from zero, reach out to friends and family who fit your ideal customer profile and talk to them. Ask questions like:
Where do you go to find new products or services? (where they hang out)
Who do you read, watch, and listen to about [market]? (who they trust)
What's trending in [market] right now? (what to pay attention to)
What are your challenges with [market]? (market gaps)
Why are you looking into [market]? (emotional triggers)
What influences your purchases? (decision making)
How do you feel about [competitor], [popular brand in the market], or [popular product in the market]? (competitor strengths and weaknesses)
What do you think is a fair price for a [market] app? (pricing expectations)
You can also use a tool like SparkToro to find where your audience hangs out based on your competitors' profiles. Here's what it shows when I research Sarah Beth Yoga's audience.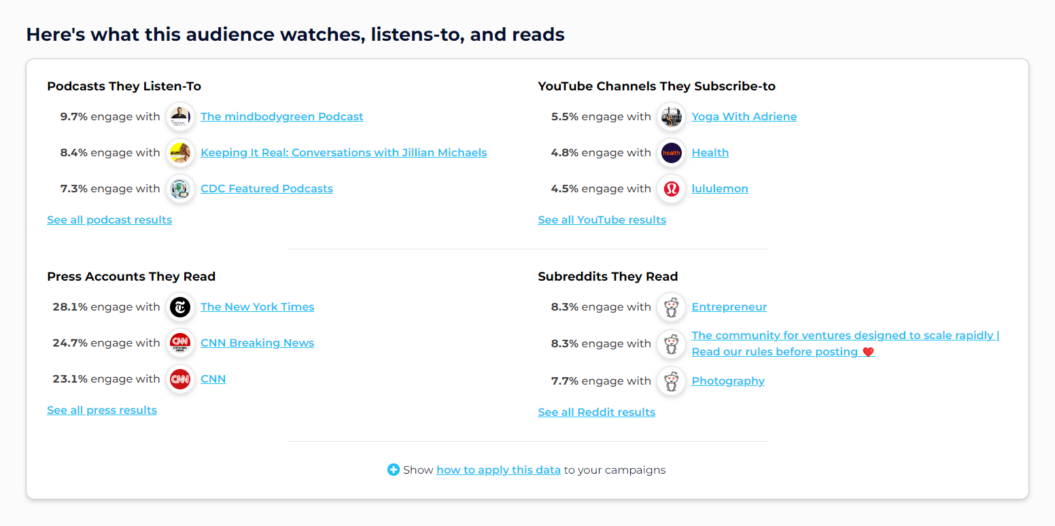 If you're more established, Cristobal from Film Makers Academy says you should survey your users — tweak the questions from earlier to meet your needs.
Compile your responses and analyze them for common themes.
Create a website and landing pages that reflect customer transformation
Your website and landing pages are a teaser for people who want to learn more about your app. A website also speeds up your approval into the app store.
A good website should have clear messaging, and feature your audience in a before and after story. This website home page from My IELTS Classroom is a great example. It clearly calls out the offering, shows who it's for, and describes the before and after.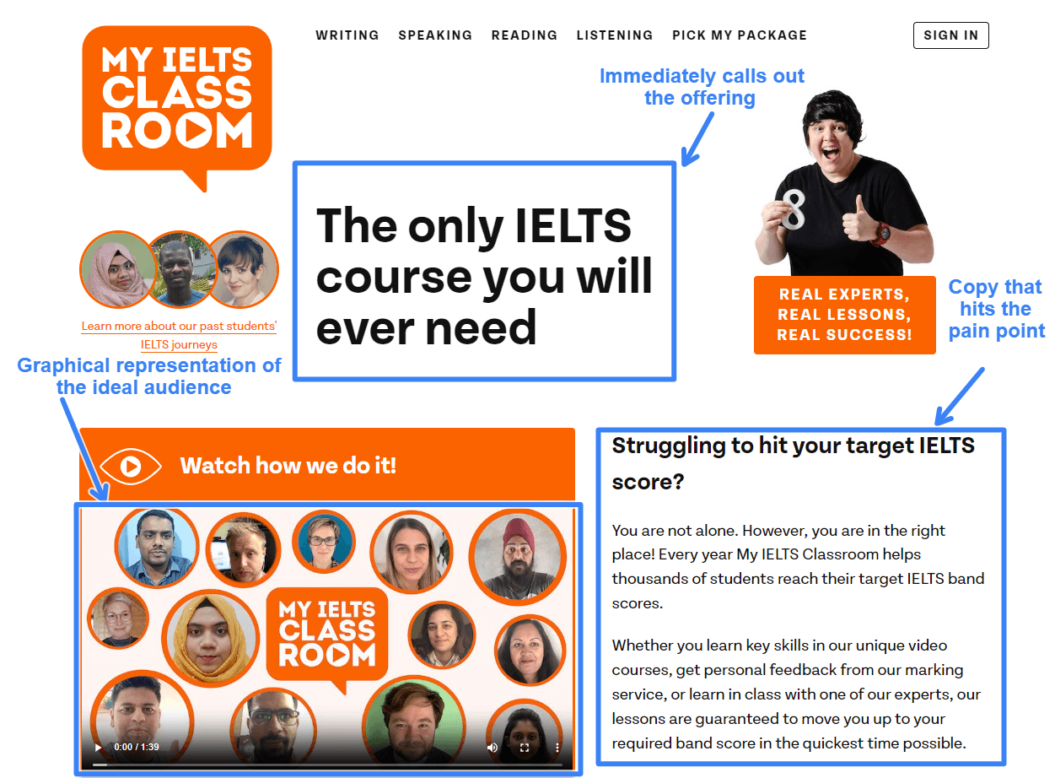 Other elements your website should display include:
What people get with your app (e.g. videos, live streams, community)
Some free-to-watch content
Social proof or reviews
Pricing information
Contact information
To create your video website, you'll need a domain name (you can get one from namecheap.com), a website hosting platform, and a landing page builder.
Note: If you're a Uscreen customer, you don't need a separate website hosting platform. Your app comes with a free responsive website, video hosting, and unlimited landing pages that you can customize.
Share free content to build an audience, trust, and credibility
When people feel like they know you, and have come to like and trust you, it's easier for them to become subscribers.
We love how Tyler from Consider the Dog puts it:
Allow people to see your value for free… that way, it's not a leap of faith for them to sign up for your premium app.
Here's how to create a winning content marketing strategy:
Narrow down your platforms
Since you're selling video content, it makes sense to promote your work on video-friendly platforms like YouTube, Facebook, Instagram, and TikTok. In fact, most of our creators say that the majority of their members find them on YouTube or Instagram.
But it's not a one-size-fits-all. The platforms you'll use depends on where your unique audience hangs out. Here are two ways to decide:
Use your customer research from earlier to decide what platforms to focus on.
Hint: it's in the answer to 'Where do you go to find new products or services?'. If most of your ideal users say they go to TikTok to find new products, then you should take Tiktok seriously!
Find the platforms where successful creators in your space spend the most time.
Do successful content creators in your niche share more on one platform than others? It's because that platform is working for them.
A good start would be to search for well known creators on YouTube and all the popular social media platforms: TikTok, Instagram, Facebook.
I'll use Ashley Deleon as an example. If you search 'Ashley Deleon pilates' on each platform, you'll find she hasn't posted on Facebook since 2021. On Instagram, she's posting several times a week.
Tip! You don't have to be active on all the platforms successful creators in your niche use. Instead, choose a channel you enjoy using so you don't find it difficult to consistently post. Because as our creators tell us, consistency is one of the most important aspects of your mobile app marketing.
Share a mix of educational, promotional, and personal content
Once you've narrowed down your social media channels, start posting:
Before and after videos – Show the full transformation — not just the problem, or end result — when you educate your audience. You can see how Tyler from Consider the Dog does this in his video here:
Course snippets – Share small cuts from your premium videos then invite people to subscribe to view the full video. Just make sure the cuts you share offer standalone value that people can implement without the rest of the video. That way, your content doesn't come across as pushy or overly promotional. Tyler often shares snippets of his courses on Facebook, here's an example.
Live chats and behind-the-scenes – When people get to see you unscripted in real-time, it reminds them of the human behind the content — improving know-like-trust. Kara Duval from Range went from 4,000 to 8,000 followers in 3 weeks of showing up live on Instagram. She also shares photos of herself and a day in the life videos like this one.
In addition, Kara does Weekly Q/As on Mondays and says " Many members have now called that Chicken Soup for the Soul… that consistency of that Weekly Q/A has been the most influential way that people have actually come into their trial on Range." "…all it takes is one question, one answer, something for somebody to just bond. For many it's been, we know how much Cara loves her dog and I love my dog this much…" she continues.
Blog posts for SEO – Brooke Cates runs a fitness program for moms and swears by search engine optimization (SEO). Brooke uses blog posts to attract potential subscribers who are actively searching for solutions on Google. As she says "Preach your method on social networks, optimize for search."
Note: There's so much you can share, but Yan Zhu of Etchr Studios shares an important tip; balance free and paid content. "Too much free content will hurt your conversion rates," says Yan.
You'll need to test to find what works best for your audience. Most of our creators lean towards sharing the whats and whys on social media and blogs for free, and reserve the major hows for their paid program. As Ashley says "show something aspirational on social media platforms, then share the how in the paid videos."
RELATED: Learn to drive social media traffic to your video business.
Offer free videos in exchange for people's emails
Our creators say email marketing yields some of the best returns for them.
It makes sense. With social media, the algorithm pretty much decides when you show up in your users' feeds, and if you show up at all. Emails give you a direct way to contact people!
Create a premium-style video to give away for free.
Host it on an app hosting platform like Uscreen, and mention it when you share free videos on social media, blog posts, or YouTube.
Create a landing page for your free video and link to that page in your social media captions and descriptions. Here's an example: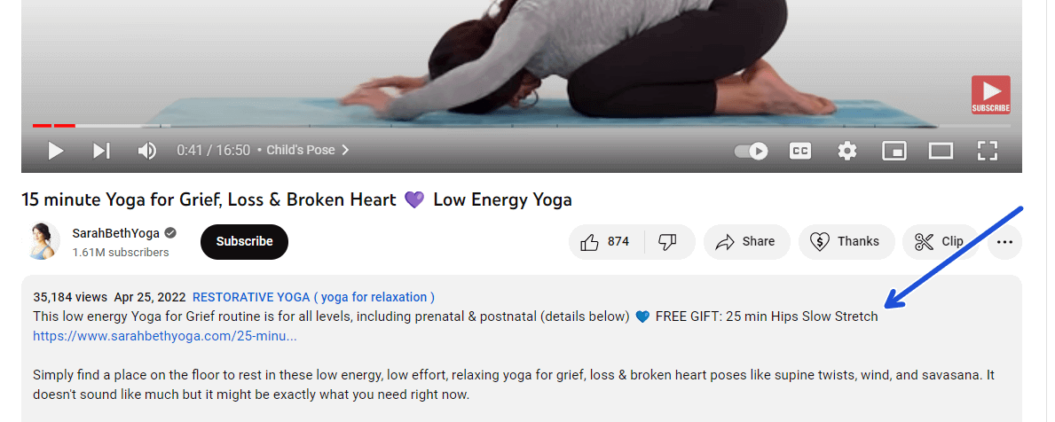 People will have to enter their emails to get your free video. And when they do, you can send them marketing emails before, after, and during your launch.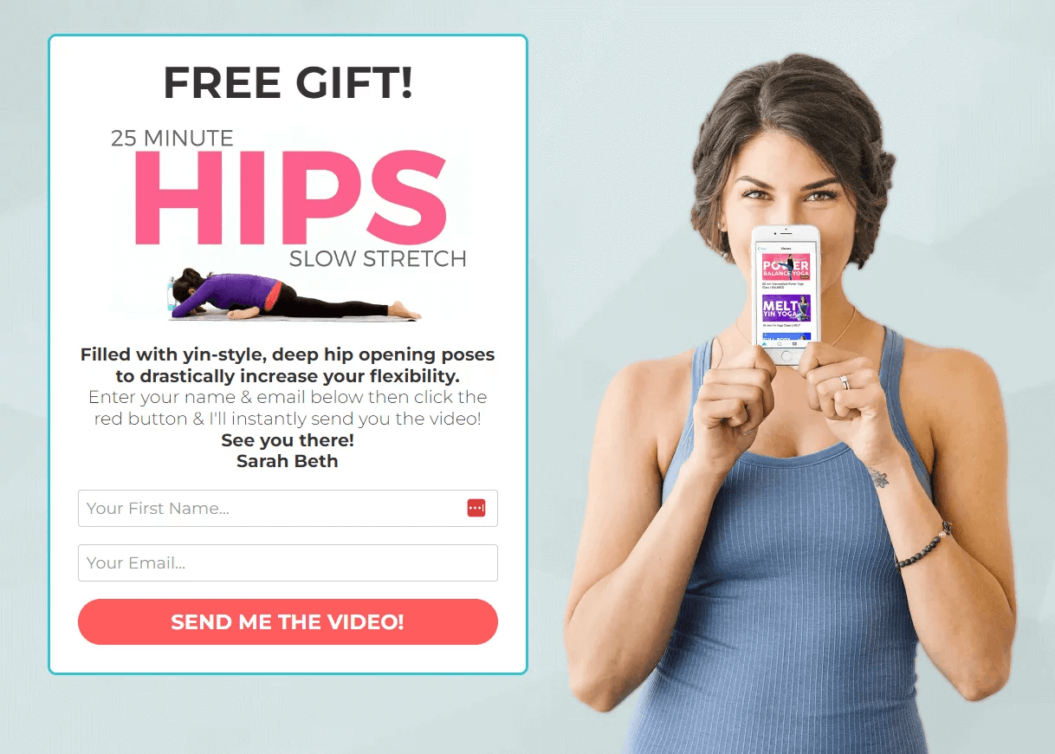 If you don't want to create an entirely new video, here are some ideas to get you started using content you already have:
Webinars – Consider the Dog's Tyler turns live streams into on-demand webinars for website visitors.
Premium videos – Just take any video from your content library and offer that for free.
Tip! Cristobal from Film Makers Academy allows people to choose which video they want. He says this boosts conversion rates and helps them track how many people convert to each category in Uscreen analytics.
That way, his team can understand users' interests and create more videos in the popular categories, or just revamp their positioning so it resonates more with their most common subscriber profile.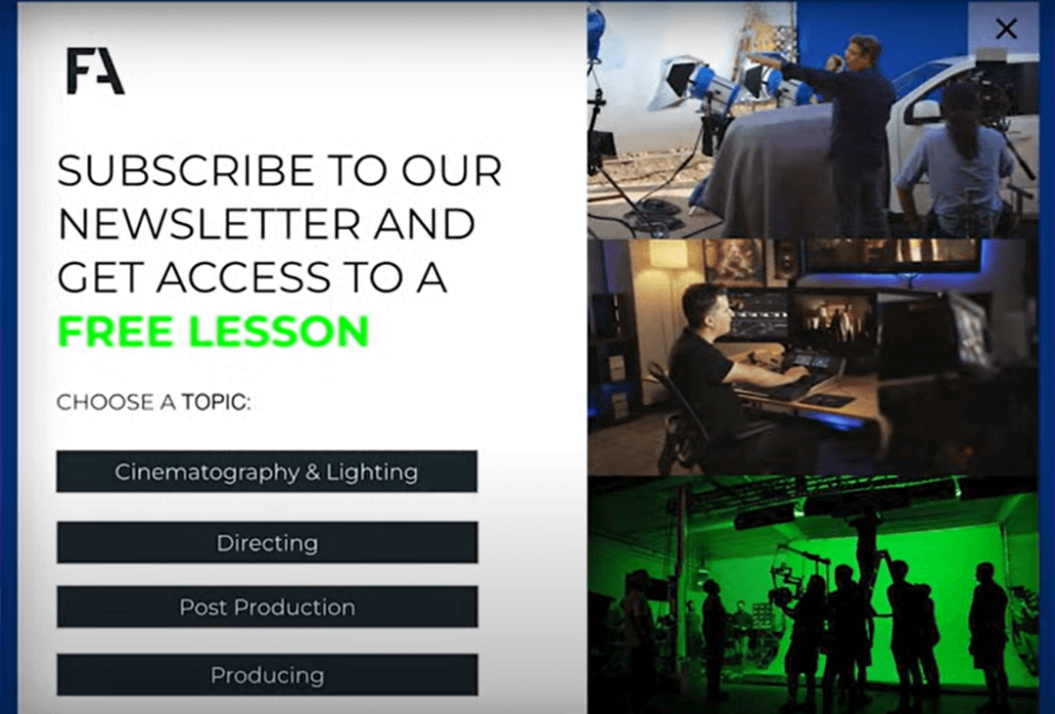 Collaborate with influencers and brands in adjacent industries
Influencers, especially micro-influencers (people with 3,000 to 100,000 followers) can help spread the word about your app — and even win you some app downloads.
Influencer Marketing Hub ran a study to learn how users responded to brand mentions from micro-influencers and they found:
79% of users searched for more information after seeing an influencer mention a brand.
65% visited the mentioned website or app.
46% bought something from the mentioned brand.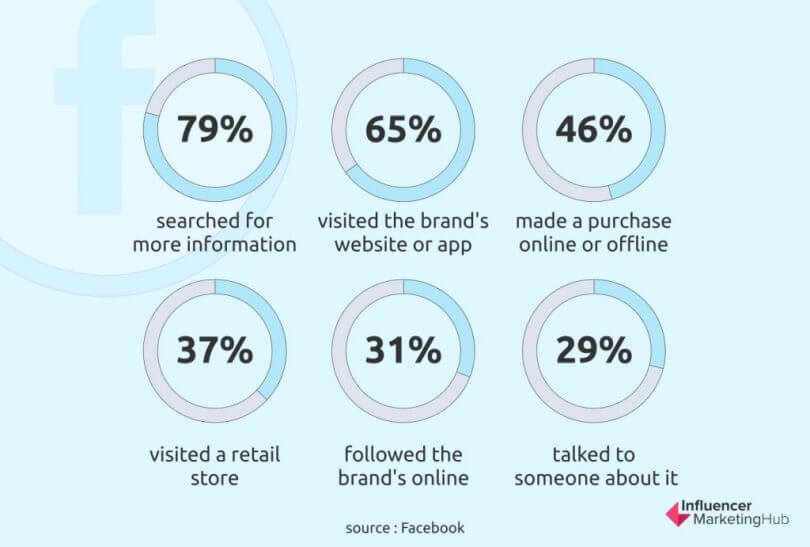 Influencers pass credibility onto any product they mention!
Find influencers whose audience's demographics and interests align with your ideal users'
For video content creators, influencers in your direct niche will likely be competition, so the best way to approach influencer marketing is to find influencers in complementary niches.
For example:
A stay-at-home mom influencer would work great with a mom fitness app.
A dog grooming influencer would work great with a dog training app.
A side hustle influencer would work great with an independent claims-adjusting app.
Think of all complementary markets — where you have some audience overlap without competition. You may look to your ideal users' interests from your market research to find the perfect influencers.
Let's use the mom fitness app example from before, a new mom would be interested in:
Baby care and parenting advice.
Healthy meals for baby and mom.
Self-care and wellness tips.
So, they'd follow any (or all 😄) of these influencers:
Baby and maternity influencers.
Healthy eating mom influencers.
Wellness and self-care mom influencer.
Parenting and lifestyle influencers.
To find those influencers, you could search relevant hashtags or keywords on the social platform you choose — #pregnancy on Instagram, for example. Or use a tool like Hype Auditor to find the top influencers in your desired niche.
If you're looking for smaller influencers, StoryClash may be more useful. It can help you find influencer posts that match a description you choose. I searched 'woman walking with baby', for example, and now I can see several potential mom influencers who may be easier to reach.
Build relationships with ideal influencers
If an influencer actively posts high-quality content, has a good engagement rate, and has an audience who may be interested in your app, it's time to reach out.
Follow them, and comment on their posts for a few days so they can recognize your name when you reach out.
Check their social media bio or website to find an email address.
Email them sharing what you want, why you think they'd be a perfect fit, and make sure to mention compensation. Here's a sample email script:
[Subject] Let's collaborate?
Hi Jennifer,
I'm building a fitness app for moms who want to get fit during pregnancy so they can get back to their pre-baby body faster. I noticed your post from last Wednesday mentioned that you're exercising again during this pregnancy. What fitness app do you use? I'd love for you to try some of our private classes for free and let me know what you think.
If you love it, we can arrange a sponsored opportunity where you get to share the app with your audience too. How do these things work for you? Do you have a pricing sheet I could see, or maybe just a ballpark range?
Also, is this the best email to set you up with a free one-year plan?
Let me know!
Sending you and the little bump love,
Lily Ugbaja
Follow their lead
One mistake brands make when they work with influencers is try to dictate the collaboration.
Ashley DeLeon says, "When I do influencing work for other brands where I'm using their language, I see loads of problems where it doesn't feel natural or organic, and it's not going to speak to people'. And their marketing team says no because of their research… I see the back end of what happens, no one taps those links because the content didn't appeal to them in a real way"
Instead of telling influencers how to market to their audience, try listening to their ideas and following their lead. It's their audience and they know what resonates with them best.
RELATED: How to Grow Your Fitness Business with Influencer Marketing
Optimize your app for all major app stores
App Store Optimization (ASO) makes it more likely for someone to find your app in stores like Apple's IOS App Store, Google Play, Android TV, Roku TV, and Fire TV. If you have free content in your app or offer free trials, you might even get some organic downloads and subscribers from the app store.
Each app store wants people to find the most relevant results for their search terms. To be considered relevant, you'll need to fulfill these app ranking factors:
A keyword-optimized app name.
A keyword-optimized description of what your app is, does, and who it's for.
High download and engagement numbers.
High customer retention rate.
Stellar app reviews and ratings.
High-quality visuals including an icon, and screenshots that show the app in use.
There are so many ways to optimize your app for app store rankings, but here's the simplest route:
In a keyword tool like Ahrefs, enter the URL of a successful app store listing in your niche. You'll see what keywords they rank for.
For yoga, for example, a quick play store search shows that Down Dog Yoga ranks among the top results.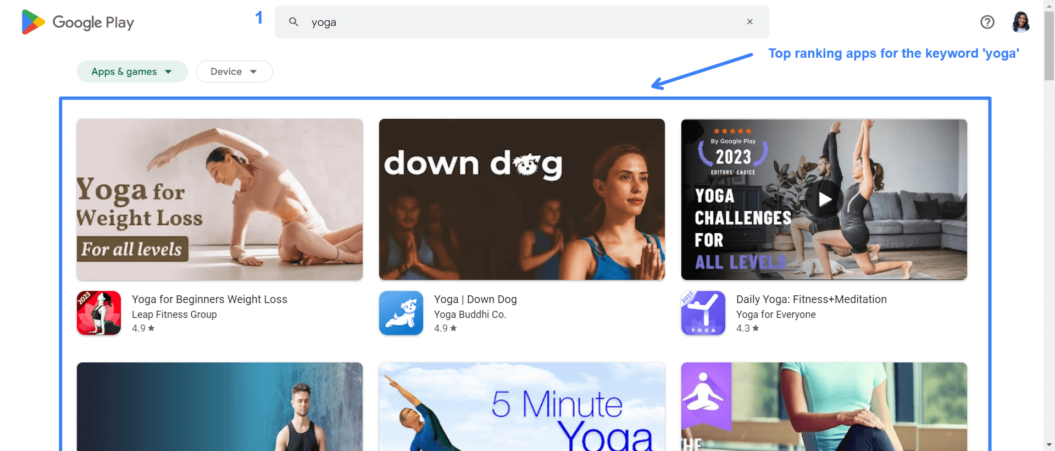 So you'd click into the app listing, and copy the URL that appears in the browser's address bar.

Go into Ahrefs, and add the URL you copied to the search bar. You'll find the keywords the app ranks for in the 'organic keywords' section.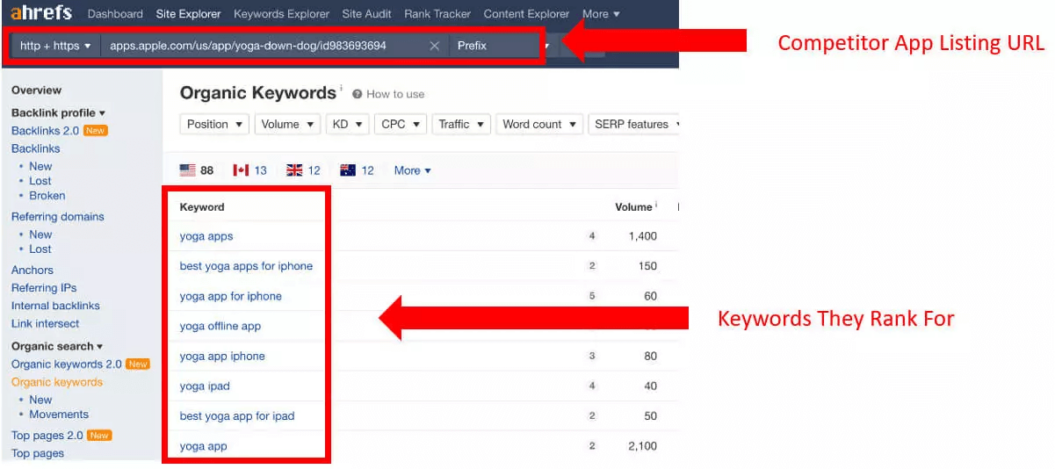 Use the keywords you find in your app name and description.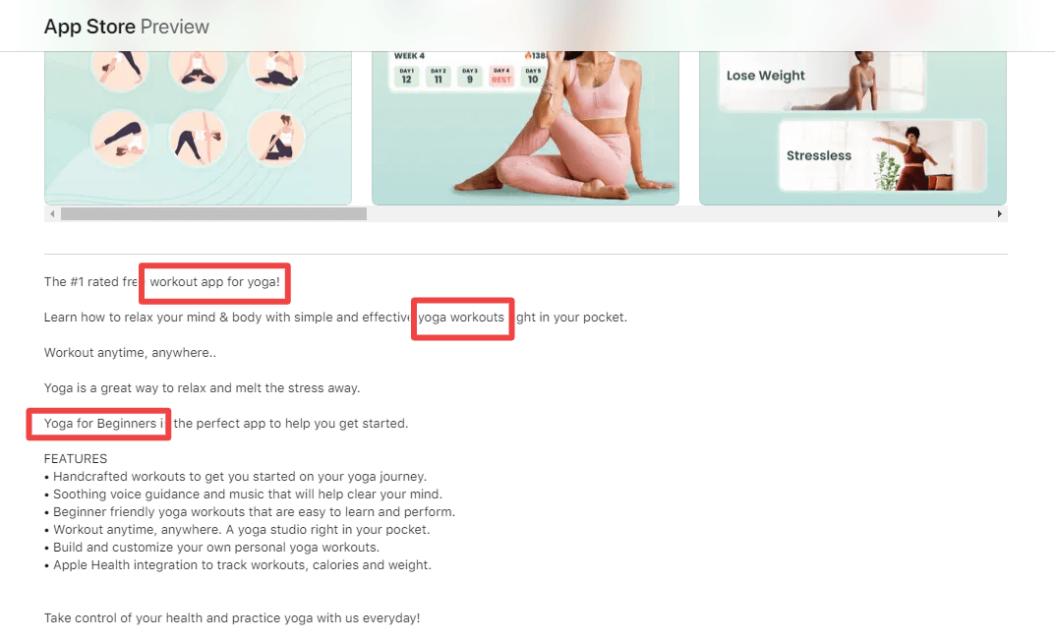 Finally, add an eye-catching icon, and screenshots that show what your app looks like.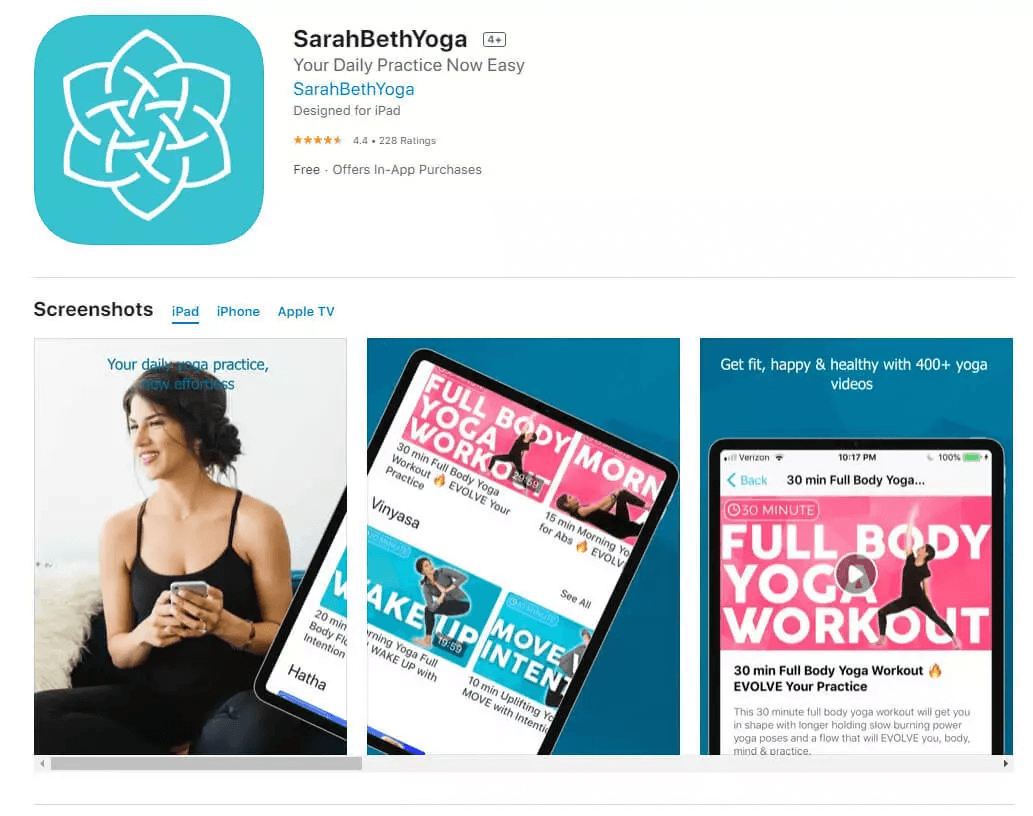 Tip! Remember to add your app to the right app category. That way, it will appear in the 'recommended' section for potential users.
READ MORE: App Store Optimization: A Definitive Guide to ASO
Launch (The Acquisition/Conversion Phase)
Now that you've built up interest for your app, it's time to launch.
Send a few emails announcing your launch to your list
You should already be emailing your list frequently but if you haven't, start sending educational emails to prepare your email list for your launch within 2 weeks.
On launch day, send one email to let people know about your program. In your email, include:
A benefit-driven subject line. e.g. 'Never give up on yoga again ✅
Questions or a story that pokes at users' pain points. e.g a story of how you couldn't fit yoga into your schedule after you had kids, and how that affected your health and wellness
A description of benefits/transformations that happens with your program. e.g a community of moms that motivate each other to keep growing
A testimonial or review from a friend or early user to serve as social proof
A clear call-to-action.
Here's an example of a sales email that follows this format: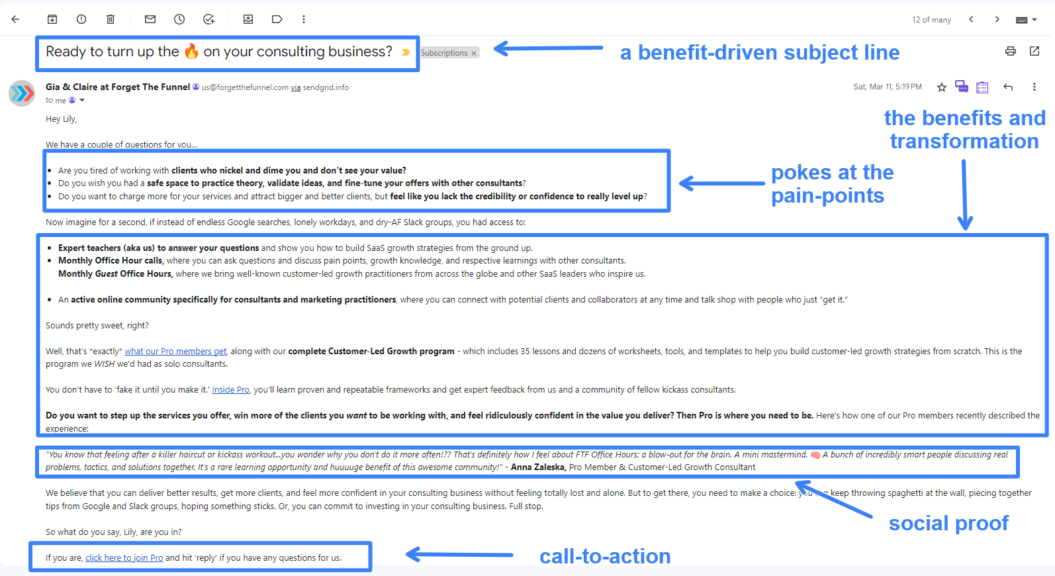 Follow up with subscribers who don't buy.
Every day or every other day of the launch, send more emails with some combination of free tips, personal stories, and results. For example, Gia follows up with a personal story the day after she sends the first email. In that second launch email, she describes her own journey and the challenges she faced on the path to customer-led growth. She also shares more results.
Announce your launch on social media
Just like you did with email, you'll need to announce to your followers on YouTube, Facebook, and other social media.
The best way to do this is with a live stream. That way, you can leverage the engagement you get to win more app downloads.
Go live on your favorite platform and teach like you've always done. Then mention your launch and link to your landing page in the captions or descriptions. Here's an example from Chuze Fitness on Instagram.
Set up paid ads to target and retarget leads
To supplement your organic reach, or just to reach people who interacted with your website or app, use ads.
Most video-based apps would do great with Google Adwords (the ads that show up on Google search), Facebook, and/or YouTube. You could even advertise for your keywords in the app store if you offer some free videos — like these apps.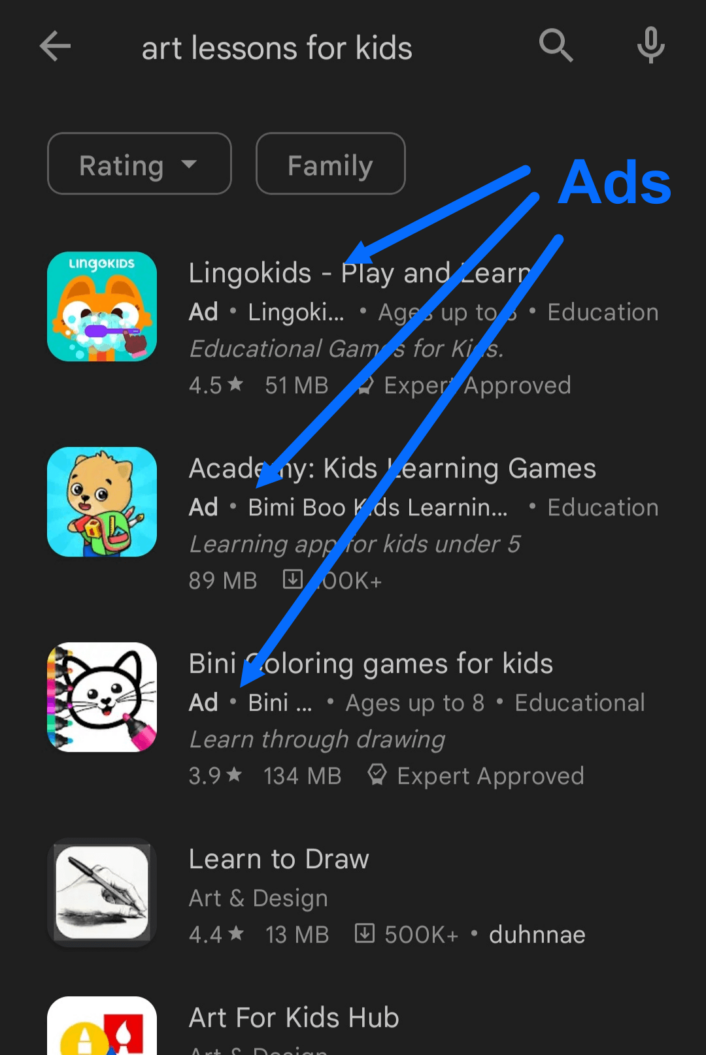 But as always, the best results will come from showing up where your best users are — whether that's on LinkedIn or TikTok.
The process for setting up ads will depend on the platform you choose to advertise on. Use these basic rules to get the most out of your marketing campaigns:
Target hyper-relevant keywords, but don't go too long-tail that there's hardly any view volume. For example, 'art lessons for kids' is a good keyword, but 'art lessons for homeschooled left-handed kids' may not be as great.
Where the platform allows you to segment your audience based on interests or demographic data, filter your targeting to only include your ideal decision-makers. A child may be the one who watches your art lessons, but the decision to buy is often up to the parent.
The ad copy, app messaging, and visuals are just as important as the keywords and audience targeting. Speak to pain points, show a transformation, and include clear headlines and call-to-actions.
Expose people to some free value before you ask for the sale. They may buy on impulse, but that doesn't mean they'll stay the next month. Brooke Cates from The Bloom Method shared an interesting hack, "We learned that some of our highest performing ads are ads that link to blogs. So they propose a question, and then when people click on them, they're taken to a blog where they can learn more before converting to be a subscriber."
RELATED: How to Get Results with Paid Advertising for your VOD
Post-Launch (The Retention/Advocacy Phase)
Acquiring new app users is great, but retaining them beyond the first few months, that's how you grow. These strategies go beyond user acquisition to keep users for longer, and increase word-of-mouth referrals.
Analyze watch metrics to find popular content types
Sometimes, we think we know what our audience wants. The reality is often, they don't even know what they want.
Your users may watch more of your 5-minute quick tip videos compared to the detailed 20-minute ones they ask for. Or prefer to learn more sitting yoga poses compared to lying poses.
When you analyze what people watch in-app, you'll identify the most important topics and content formats for your audience.
If you use Uscreen, you can analyze your watch metrics from the admin dashboard. Just click on the 'Analytics' tab. You can filter metrics like watch time and views by collections (or playlists), authors, countries, and popular videos.

Create paths that encourage easy navigation
As content creators, we're often too close to our app to realize that not everyone would know their way around our content and app's features as we do.
Left to figure it out by themselves, all that valuable content in your app library can feel overwhelming to users. And overwhelm can lead to inaction, and — inevitably — churn.
The Bloom Method's Brooke advises "Create a start here video, and a roadmap so people don't get overwhelmed".
With tools like Uscreen, you can easily organize videos into collections like the ones below using the 'Collections' feature.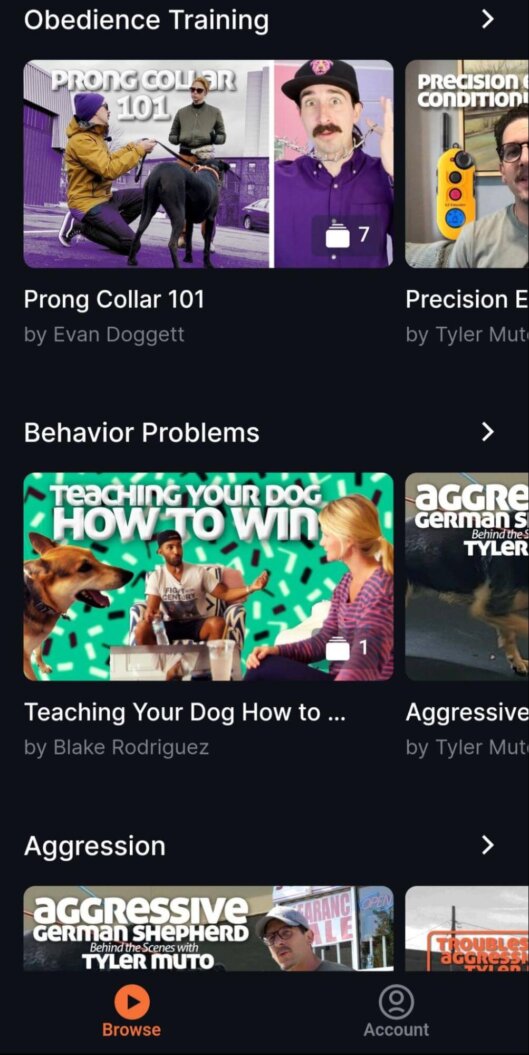 If your app hosting tool doesn't support collections, try creating a text document with links to each video placed in separate categories. Just remember to update it as you publish new videos.
Tip! Invest in a hosting platform that allows your members to create their own paths too. That sense of ownership and control can help keep subscribers engaged.
People would actually pull me aside to excitedly tell me how they use the site, how they structured their own playlists, this is how we do it. And I just thought it was so interesting from a business perspective to have customers so excited to tell you how they customize it themselves.

Datura
Boost usage with push notifications
How many times have you downloaded an app only to forget about it? Push notifications pop up on your users' mobile devices to remind them to use the app.
Create a push notifications strategy, and use that to communicate:
New content.
Upcoming live streams.
Discounts, deals, special offers, and other incentives.
Challenges, and special events.
Community updates.
User progress.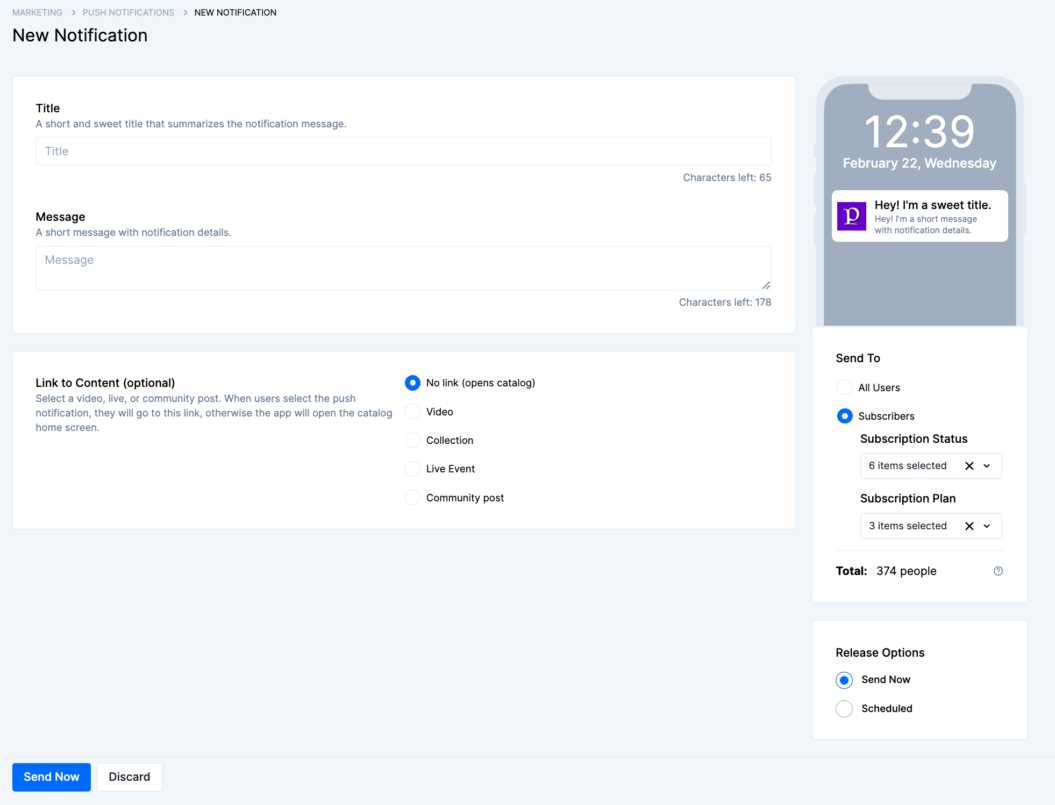 Foster stellar user experience with community
Good customer experience boosts your retention rates and makes people more likely to refer their friends to your app.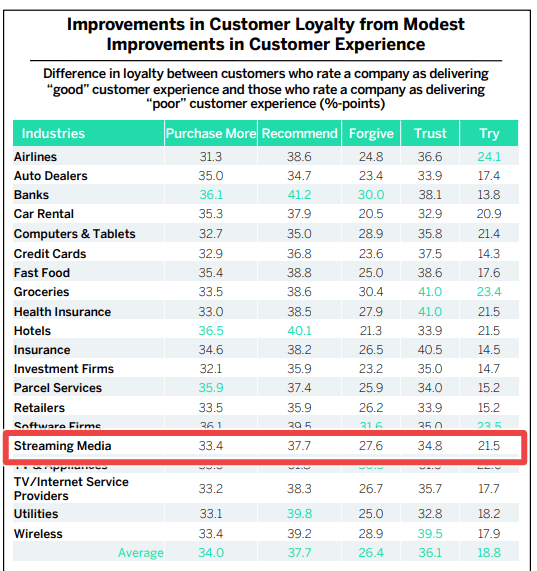 When asked what makes a good customer experience, people say (in order of importance):
Speed of response to queries
Convenience
A person to speak to
Self-support
Appreciation
The Feel-Good factor.
Community satisfies all of those needs and turns members into loyal users. Here's how:
Speed, convenience, and self-support – People often ask questions in the community and they may get a response from another member before your customer support team has the bandwidth to jump in.
A person to speak to – What better way to provide that than with a community of several people to speak to?
Appreciation and the feel-good factor – Members can share their wins in the community and people celebrate them. Members who answer questions in the community get the appreciation they deserve.
You could start a Facebook group to serve as a community for your members. Or use a platform like Uscreen with a built-in community away from social media.
READ MORE: 9 Proven Membership Retention Strategies From the Pros
Give consistently, listen, communicate, and watch your userbase explode
Our creators have tailored marketing strategies for their unique content apps, but all their strategies have three things in common:
Consistently giving away a ton of value for free on the platforms where their audience hang out
Inviting and listening to user feedback
Implementing and communicating changes.
Start by understanding your target audience, their pain points, emotional triggers, where they hang out, and who they listen to. Then show up with the right message, at the right place.
And if you're looking for an all-in-one platform that supports your app marketing plan, check out Uscreen's suite of marketing tools for creators like you.