You wanna hear something crazy?
It costs 5x more to acquire new customers than it does to keep the current ones. And according to Insightsquared, reducing your churn by just 5% can increase your profits by 25-125% depending on your industry, company age and business model.
One of the best ways to increase your revenue and grow your business is to retain the business you already have.
This is a highly-effective marketing tactic called churn reductions (or customer retention), and it is especially effective for SVOD businesses.
Why? Because every customer you successfully retain will bring in months of revenue until they cancel. And if they never cancel, the revenue never stops!
So to help you reduce your number of cancellations, we have completely revamped the Uscreen reduce churn marketing tool to bring you closer to your business goals in 2020. 
You'll love what we've done with it.
We're taking our Reduce Churn tool to the next level
The Uscreen reduce churn tool was first designed and released back in October 2018.
It was created to capture subscribers just as they're about to cancel on your website and:
collect feedback from them about why they are canceling
offer them a win-back discount of your choice to incentivize them to stay
This is what it used to look like in the Uscreen admin area; short and sweet: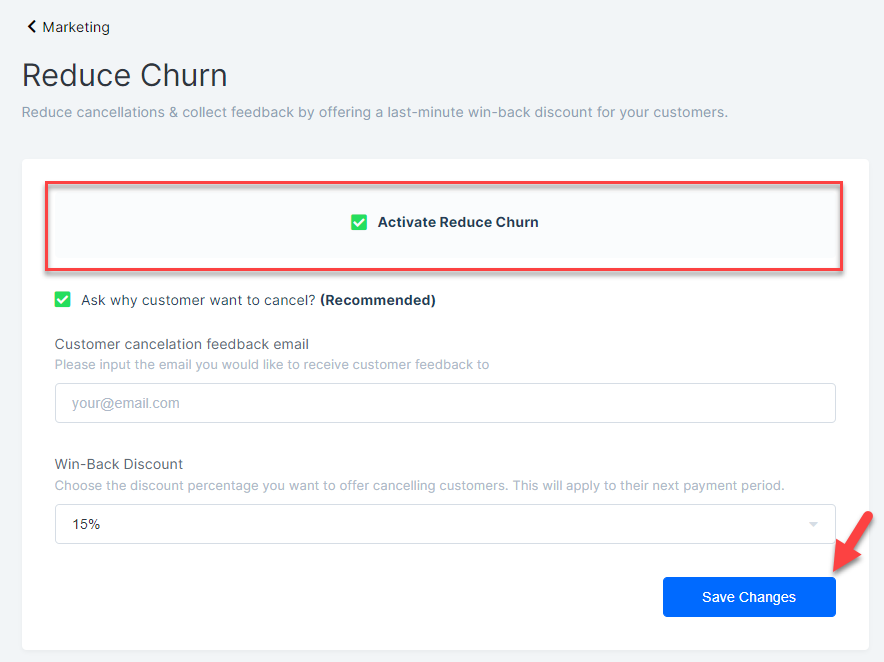 Since we first released it, we found that those who used the tool saw a significant reduction in their churn rates.
It was really working!
So we decided to take this tool to the next level to see just how much more we can help you save.
We focused on expanding the tool by adding more flexibility and functionality to it.
The new Uscreen reduce churn workflow has been expanded into 3 main elements:
The cancellation experience: an improved version of the original tool, which controls the on-site win-back discount offer page and the feedback collection page
The first win-back email: An automated email that is sent out to your users right after they complete their cancellation, reminding them of their win-back discount.
The second win-back email: a final automated email that is sent out to your canceling users right before the expiration of their subscription, giving them one last reminder of their win-back discount.
And let's not forget the aesthetics of it all; we also gave the tool a complete facelift, making it look slicker to both you and your user.
Why this update makes a difference
In the old version of the tool, if a canceling user declined the win-back discount, that was the last they heard of you.
But with the latest version of the tool, we have expanded your on-site retention efforts into a fully-fledged customer retention strategy that includes both immediate action and an automated win-back email campaign.
This strategy will increase your chances of winning back a few users before their final subscription cycle is over.
And according to ActiveCampaign, a whopping 45% of canceled customers that get a win-back email will open future emails you send them.
That's why win-back email campaigns are so effective: they remind your ex-users of why they were interested enough to subscribe to your SVOD in the first place. So they will either take you up on your discount offer immediately or keep you in mind until they're ready to come back in the future.
What this update means to you as a publisher
If you're already an avid admirer of our reduce churn tool, you will truly appreciate the updates we've made to it. And if you haven't used the tool before, we think you'll want to try it out now.
We kept all of the tool's original functions and expanded it to make you a true churn-reduction master.
Here are the changes you'll see in the reduce churn tool in your admin area:
The expanded reduce churn workflow, including the on-site and email set-ups

The ability to set up different automations for the different plans you offer and have them all running simultaneously

The ability to edit the contents of both win-back emails

The ability to save automations as drafts

A complete facelift of the tool in your dashboard
The changes to the tool will not require you to put in any additional time.
Since the tool is already designed with its automation workflows, all you would have to do is activate it in your admin area. You could take a few minutes to customize the email contents if you would like, which is optional yet recommended.
Here's how easy it is to set up a reduce churn automation with Uscreen:
Step 1: Create a new automation
Step 2: Choose the plan you want this automation to apply to, along with the discount percentage of your choice
You can preview the cancelation experience to see what it would look like on your site for those trying to cancel.
Step 3: Draft win-back emails 1 and 2 (optional)
Step 4: Save and activate your automation then… voila! You're all set
What this update means to your users
This change will not have an impact on your everyday users.
For those who try to cancel their subscription, the following will take place:
1. They will first be asked to fill out a cancellation survey
Depending on your web customizations, here's an idea of what this will look like to your users: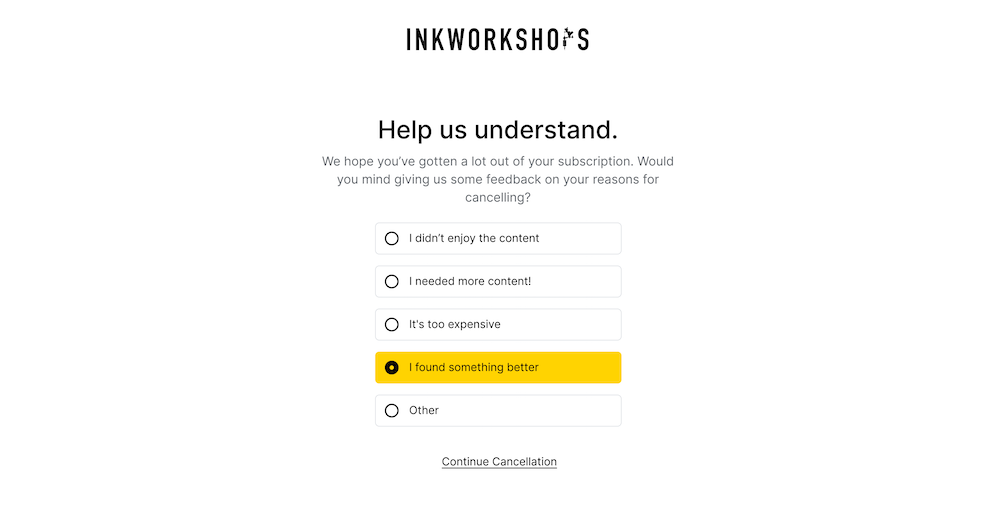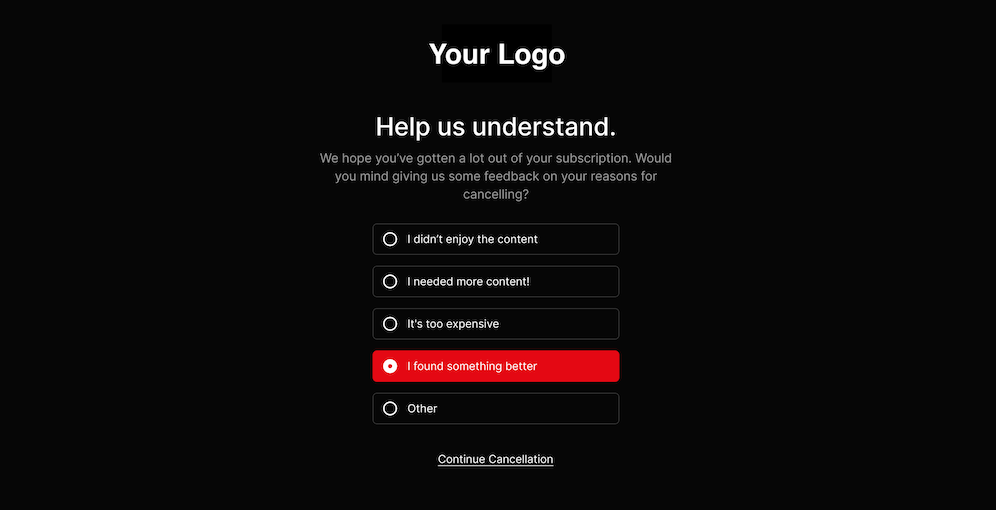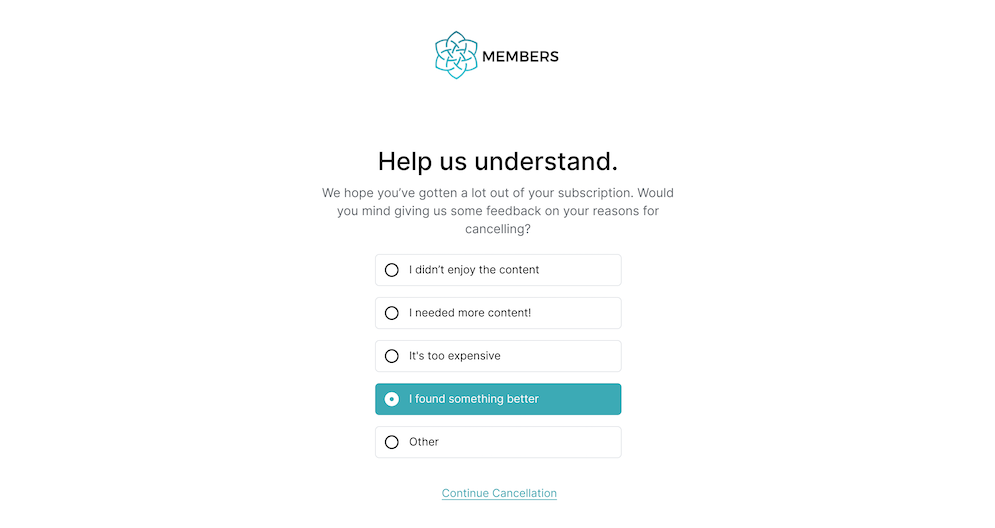 2. They will then be offered the win-back discount you set up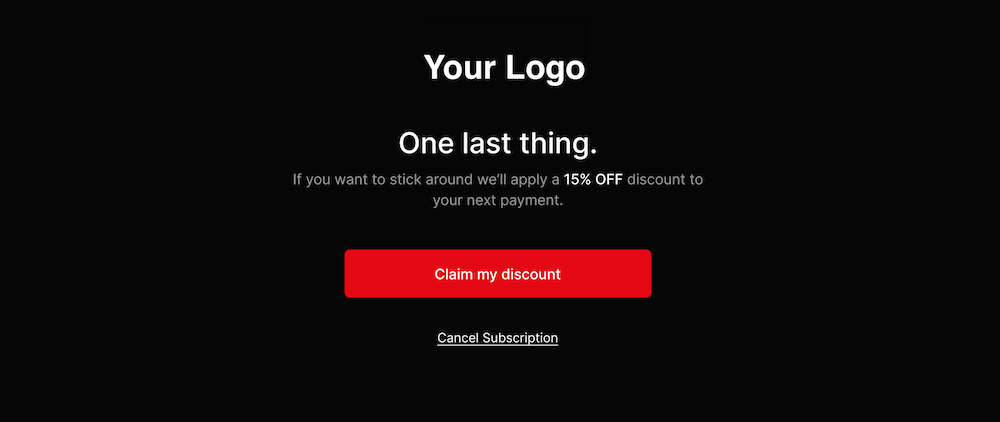 If the user accepts the discount, they are redirected back to their main catalog, no harm no foul (except you now have valuable cancellation feedback).
If they decide to continue their cancelation and do not claim the discount…
3. They will receive their first automated win-back email right after they complete their cancellation. If they do not claim their discount from this first email during their pending cancelation period…
4. They will receive their second win-back email on the final day their subscription is active. Finally, if they do not accept their win-back discount from the final email, the automation will end.
Until next time!
We hope the updates to the reduce churn tool make you eager to try it out yourself. A customer retention effort like this could help you grow your SVOD faster than before.
Do you have a feature you'd like to request for consideration?
The majority of the features we work on developing and updating are those suggested by our users. If you have a feature need you'd love to see in Uscreen, make sure you submit this Feature Request form.
Log in and give it a go