You already have an engaged audience. People like your online content,engage with you in direct messages, and maybe even talk to each other in the comment section.
But it's becoming quite obvious that you are the person solely responsible for that engagement–if you go quiet for a day or two, engagement goes quiet too.
It's the million-dollar question most creators ask us: How can I sustain and scale if I'm the bottleneck? What you need is a community: a place where people come together and talk to each other… without you constantly asking questions that elicit a response.
This guide shares how to distinguish between an audience vs. community, and more importantly, move people through the funnel—ultimately becoming a loyal fan of your brand and helping you monetize your creator business.
We'll also go over the added benefits and longevity for creating a community for your businss (hint: it can be the thing that makes you really successful).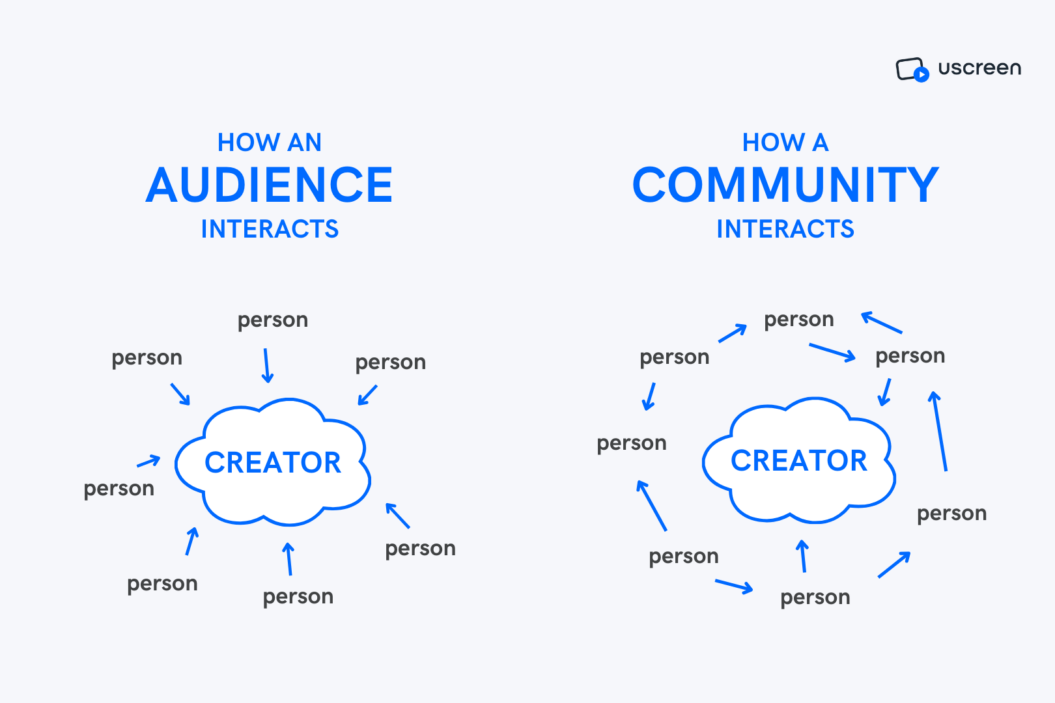 What is an audience?
Your connection with an audience only goes 1 way.
As the creator of an audience, you speak to them with a one-to-many relationship. Viewers stay behind the screen and consume content for information, entertainment, or education. There's not a lot of active engagement or communication involved. They care about your content, but they're watching purely to gain value.
Audiences are easier to grow because creators are focused on putting out new material, rather than taking the time to build connections. But with that growth comes less stability because without those connections, viewers tend to come and go more easily.
What is a community?
An online community is a 2-way street. It's a group of people with common interests and a shared identity who discuss them on a platform you own. As the creator, you facilitate conversations around a shared interest—but you're not solely responsible for them.
There are many-to-many relationships; community members chat amongst themselves on a platform you own. They're the ones asking and answering questions.
A community is how ideas are shared and sculpted by its members," says copywriter Josh Garafolo. "It's less about transmission and more about dialogue and discovery.
There are a lot of important business elements that a community provides, like the ability to get feedback directly from your existing members, test drive ideas, and so on. Plus there's a high demand for spaces like these.
Given what we know about YouTube audience monetization, starting with a low-overhead community (like a Patreon page, for example) might even seem like a safer bet in the short term while you figure out your business plans… 
But believe it or not, we're going to strongly advise against it—and we'll tell you why.
It's simple with Uscreen.
Build, launch and manage your membership, all in one place.
Audience vs. community: the biggest differences
The biggest difference between the 2 is the fact that an audience is a larger group of people who only engage with you (the creator). A community, however, is a smaller group of people who also chat with each other on a platform you own.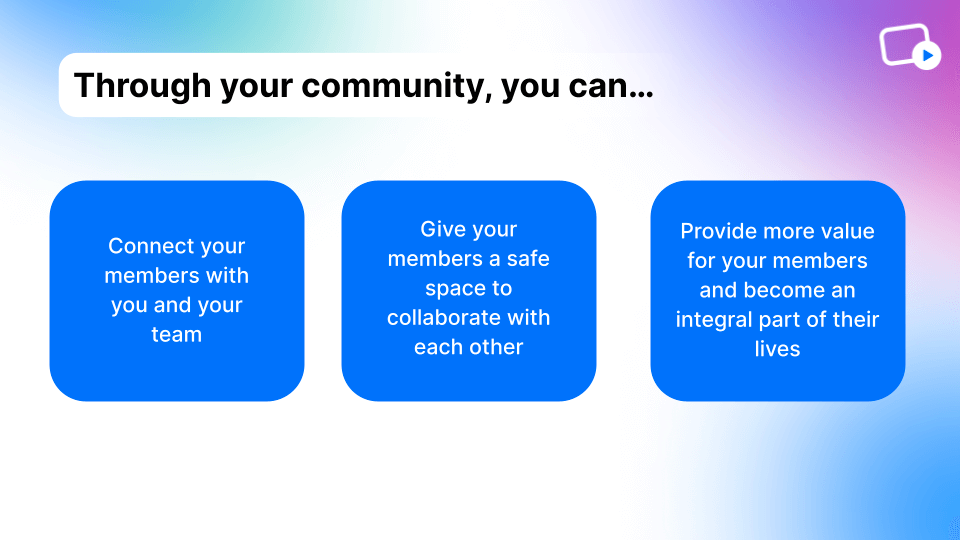 Engagement and loyalty
Instead of being driven by information, community groups are powered by a collective experience. People will join a private community to actively bond with others, engage and connect, and form genuine individual relationships around a shared topic.
This requires a lot more active participation, so great communities tend to be a smaller group made up of superfans who really, really want to be there.
Communication
Creators talk to their audience. That audience turns into an engaged community when people start to talk back. Illustrator Joyce Chou summarizes the concept of community conversations well: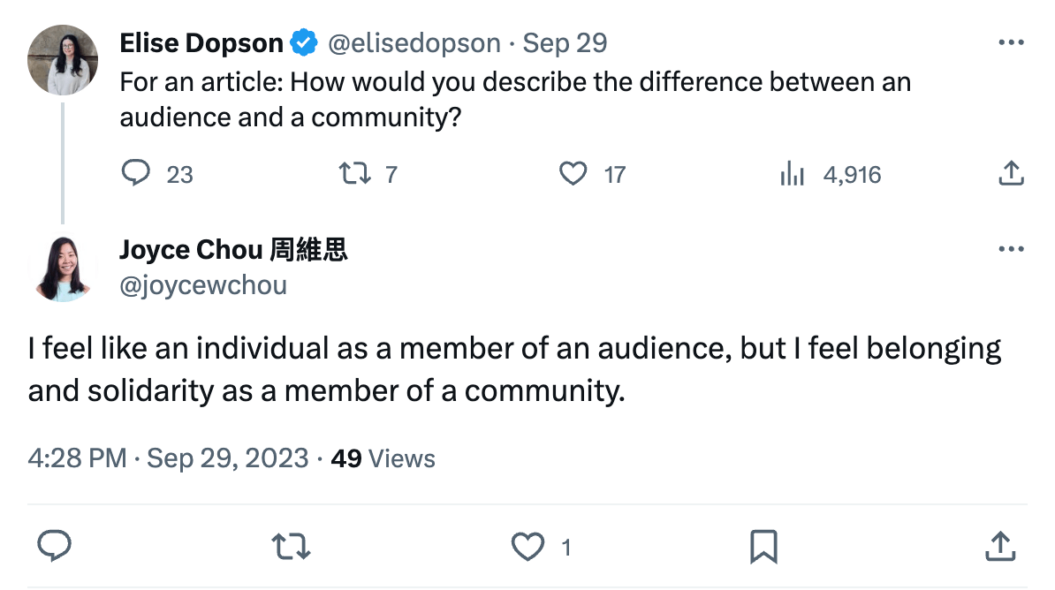 Group size
Audiences tend to be much larger than communities because not everyone is willing to engage in community conversations. These people are passive; they watch and like your content, but they don't have conversations with other people who do.
But what communities lack in size, they make up for in loyalty and stability. And because communities are less about a specific product and more about what members can offer each other, an increase in size means a direct increase in value for you as a creator.
Content production
People in a community have stronger relationships with the creator, so conversations often overtake the need for a constant stream of new content.
Community content is higher in value and more in-depth. That often includes digital products like:
Online courses
Exclusive videos, webinars, or live streams
Ebooks 
Private podcasts
Templates
Workbooks 
With an audience, however, content is the thing that attracts new people—such as Instagram posts or TikTok videos). The more content you make for your audience, the bigger your reach and the larger your audience will get.
Should creators focus on audience or community building?
Almost everyone starts building an audience on their journey to becoming a full-time content creator. And for good reason: an audience is the top of the funnel—the way people discover your content and enter in your sphere of influence.
But building an audience shouldn't be your only priority when trying to monetize your content. Creators who focus on community-building over audience-building benefit from:
Higher engagement with your audience. Members of the community are more engaged than audience members. You're more likely to get feedback, user-generated content you can use in your digital marketing strategy, and get support growing your business from community members than those in your wider audience.
Higher likelihood of people buying premium content. From online courses to live streams, community members have stronger relationships with you as a creator. They're more likely to trust you—a key factor in any purchase decision. 
Less pressure on you, the creator, to start conversations. Communities are a place for people to chat amongst themselves. When people use your community to ask questions, give advice, and recommend tips to fellow members, you're left with more time to focus on monetization strategies that help you make money as a creator. 
Less likelihood of people canceling your premium content membership. All of these things lead to less churn and higher lifetime value per member. Communities are infinitely more sticky than audiences—people are less likely to leave when they feel a sense of belonging.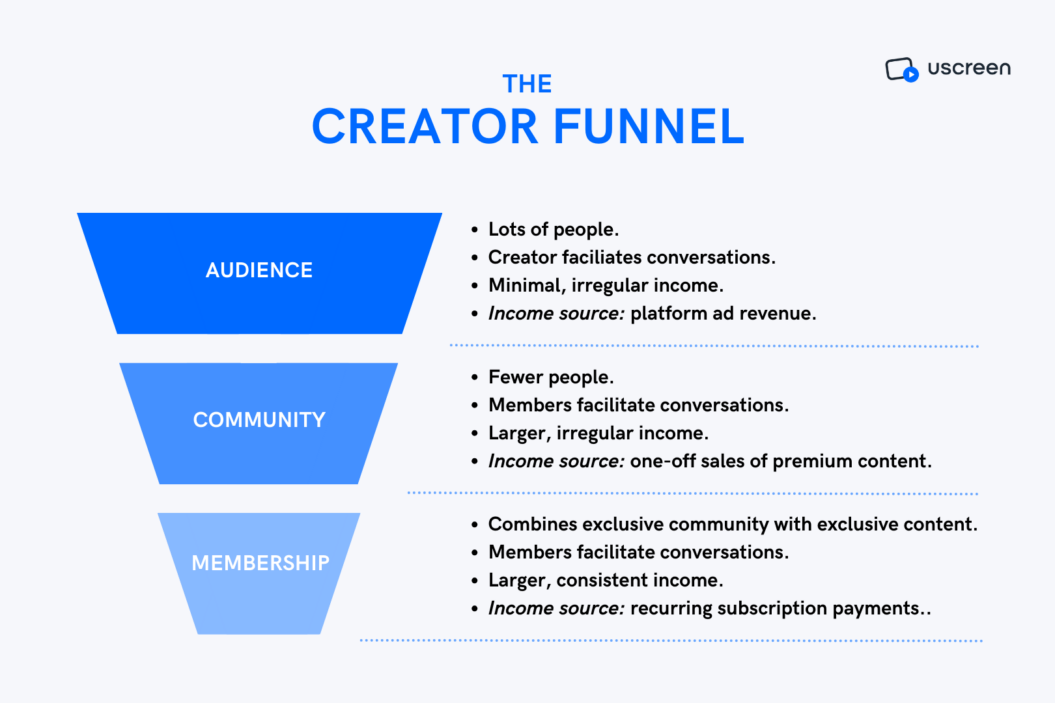 How to turn your audience into a community
By this point, we're on the same page and agree on one thing: a community is more valuable than an audience.
But you shouldn't neglect growing your audience once you decide to build and nurture an online community—that's where your community will continue to grow. The more people you have coming into the top of the funnel, the greater your brand awareness and the more people that will trickle down into your community (and ultimately, support you financially).
Continue doing what you've been doing to grow an audience. Supplement that strategy with one that turns your audience into members of a community.
1. Choose a platform to host your community
The first step in turning your audience into a community is creating a home for it. Social media platforms don't make it easy for audience members to chat with each other.
Many creators choose a free community forum to move their audience away from comments and encourage two-way conversations. That could be:
Each platform has its pros and cons—but the biggest disadvantage to any social media-based group is that you don't own it. A platform's algorithm can change like the wind. The last thing you want is to be penalized and your community to become difficult to find (or worse: closed down).
Platforms like Uscreen, however, allow you to create your own community on a platform you own. You'll have ultimate control over the member experience; you're also not at risk of having your account restricted or shut down completely, losing both your audience and community overnight.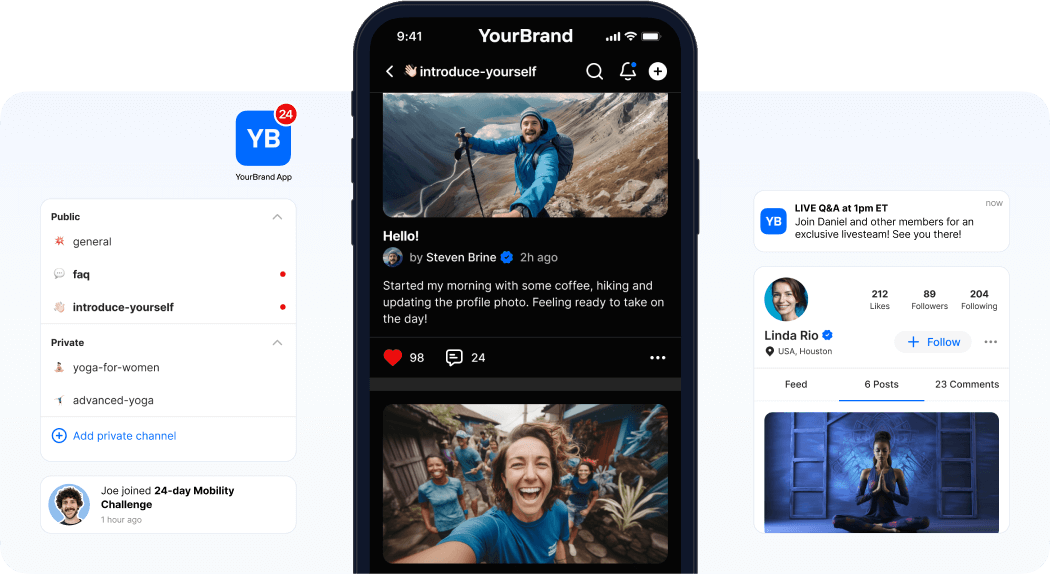 Whichever platform you choose, invite your audience to join your community by sharing it with them. Create Instagram Stories, TikTok videos, and LinkedIn posts that tell people about your community and convince your audience to join.
2. Encourage members to chat with each other
A community provides a gathering place for conversations to happen, which strengthens connections and turns subscribers into loyal community members.
Remove pressure on yourself by encouraging people within your community to talk amongst themselves. Techniques to do this include:
Sharing prompts such as "What did you learn this week?"
Inviting people to share their stories
Asking people to post questions in your community, treating it as a place to ask and answer questions
In the Peak Freelance community, manage this with channels that split conversations into specific categories. There's a channel exclusively for questions—a place for community members to ask questions in a more private space than social media.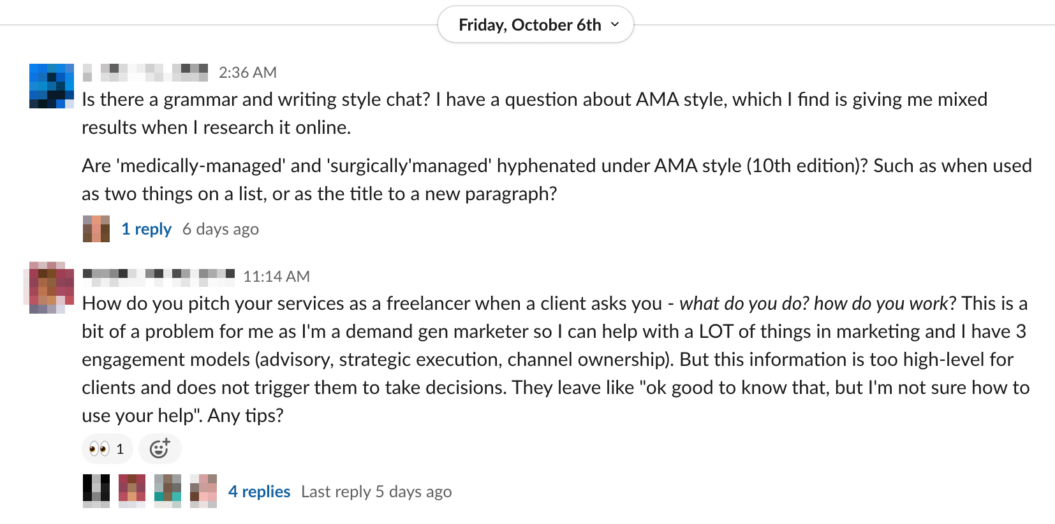 3. Reward community members for engagement
While people who join a community are more likely to engage with your content, sometimes you'll need to give incentives for people to participate—especially if they're one of the founding members. It can feel intimidating to chat in a community that has minimal ongoing conversations.
Give people an incentive to engage in your community with quizzes or competitions. For example, you could post: "Whoever gets the most likes on their comments will win a free online course!".
This incentive can not only improve community engagement, but it's a subtle way to promote your premium content (or paid digital products) without being overly salesly. Community members will come to learn about your premium content—a way for you to monetize your community and supplement income as a creator.
4. Celebrate community accomplishments
As part of your attempts to get people talking in your community, invite them to share their wins. In the Peak Freelance community, we do this with a #wins channel. Freelance writers flock there to celebrate their achievements with other people in the community: 

As the community founder you should celebrate these achievements not just in the group, but on social media. Members will be appreciative of your support outside of the community.
The best part: this strategy keeps community members happy while also filling the top of your content marketing funnel. Your audience will see what community members are achieving and they'll want to do the same, therefore will join your community and more further down the funnel.
Monetize your community with a membership site
There's a lot of risk associated with building a community on a platform you don't own. If you're using your Facebook Page to build an audience and a Facebook Group to start a community, for example, you're putting all of your eggs in one virtual basket.
Mitigate that risk by creating your own membership site. With your own branded membership portal, you can use the subscription business model to: 
Have ultimate control over the member experience
Add various types of content to engage and incentivize people to join (e.g. exclusive videos, online courses, etc.)
Monetize your community by charging a one-time or recurring fee
These are also great incentives to upsell members from your free community offering (like a Facebook group) to your paid membership website.
With an established content library, you can offer your new members whatever value you promised them—online courses, standalone on-demand videos, or exclusive live streams. Then, they can head right over to the community forum to ask other members or community managers questions about the latest video, take part in a weekly challenge, or get involved in any number of other ways.
It's easily accessible because the community is right there on the platform. And when it's both accessible and relatable (because everyone else is watching the same thing) it turns into something that they get real enjoyment out of—and want to continue paying for.
Remember: the criteria of a thriving membership is content and community.
People come for the community, but they upgrade for premium resources. (It's why memberships with active communities experience 2x less churn than memberships without communities.)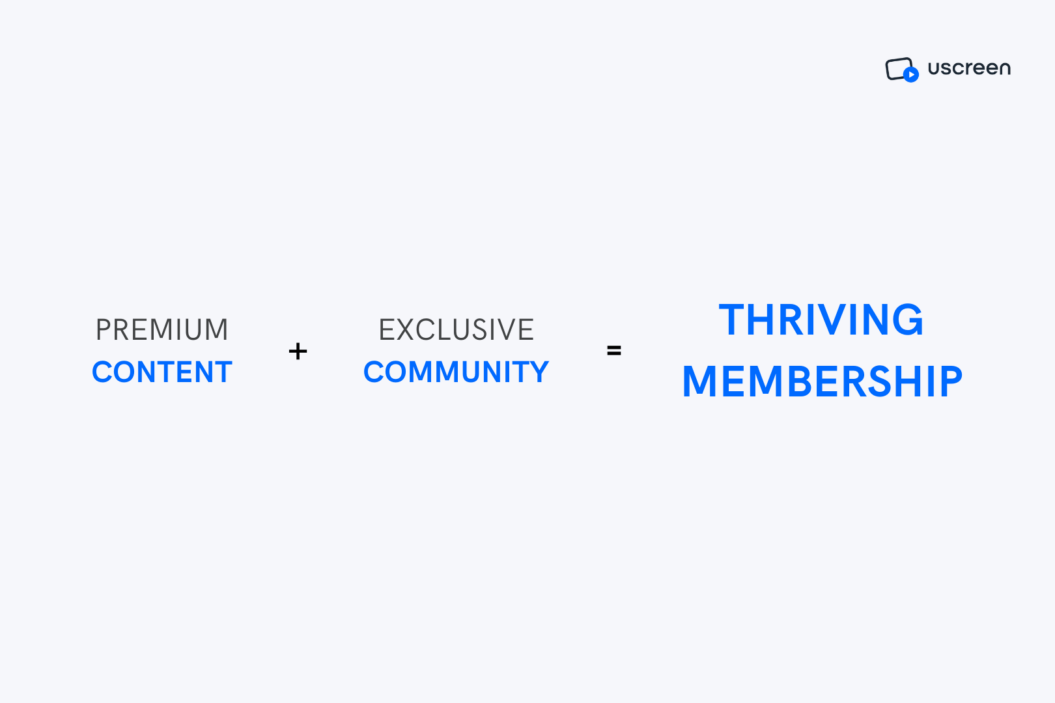 Entrepreneurs on Uscreen get access to a bunch of useful community features to help them build relationships through their membership site.
With your own membership portal, you can:
Engage with community members in real-time during live streams
Prompt community discussions with chats and comments
Create a sense of belonging by allowing users to create their own avatar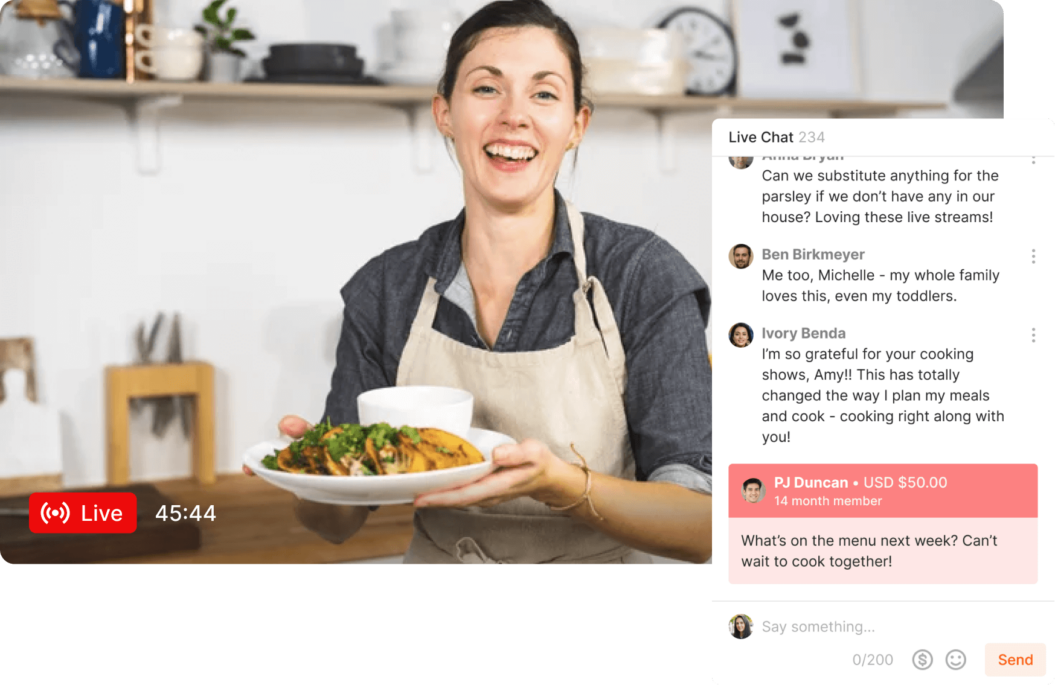 Make more money for your creator business with a membership site
When monetizing your creator business, it's not a question of audience vs. community. What really matters is how you'll attract people to build an audience and encourage them to take the next step.
Audience members become community members, who will eventually pay for premium content and join your paid membership.
Continue growing your audience and use these techniques to turn them into community members. It'll put you in great stead to monetize your creator business by adding premium content alongside your community in the form of a membership site.
Join the creators who make an average of $12,000 each month with their Uscreen membership sites. Start a free trial today.