Do you know what ties all of our $100,000+ a month creators together?
They have at least 6 employees.
This is more than just random correlation. This is proof of something that all high-performing creators know to be true:
If you want your membership business to grow, you need to hire people.
Hiring a team to support key areas of your business can solve so many problems. Like your 'I don't have enough time' problem or your 'I want to grow but don't know how' problem.
So build a team of skilled people to work with. It'll lead to a better platform overall and a better experience as a business owner.
Hiring for Your Weaknesses Makes Your Business Stronger
The bigger your business gets, the more time and special business know-how it'll take to keep it running smoothly.
So if you want to build a successful service, the key is to own your area of expertise – and hire professionals to take care of the rest.
By bringing your own employees on board, you can:
Improve the quality of your service.
Gain a new perspective from people skilled in specific areas.
Meegan Gregg, owner of The BackBody Project, hired a social media specialist to help her build her online presence and grow her business. She loves teaching fitness but admits that she's not a fan of the marketing aspect.
So instead of forcing herself to handle a part of the business she wasn't comfortable with, she chose to hire someone else to do it.
"It's about finding what you want from your business – and if you're feeling overwhelmed and struggling, that's not the lifestyle you're trying to build."
Not only did this make her job easier and more enjoyable, it gave her platform a professional touch. Her business was able to use the best marketing techniques to reach larger audiences and gain new customers, all because she made the decision to delegate.
Prioritizing Your Hiring Needs
To make employees worth your while, you need to prioritize hires based on what your business needs most.
Think about all the different tasks you're currently taking care of on a day-to-day basis. Decide which ones are taking up too much time in your schedule, and potentially even stressing you out.
Be critical with yourself and look for areas where you really need help. For example…
If you feel like you're really rather not spend every Tuesday night in a panic that you still need to write this week's newsletter, you might want to explore a Marketing Specialist.
Ask yourself the following questions:
What tasks do I avoid?
What do I keep trying to do, but don't see any success with?
What tasks take up most of my time that I'd like someone else to do?
What tasks do I actually need to do myself?
To find her first hires, Meegan Gregg started from the beginning and worked backwards.
She thought about what she liked to do and what she wanted out of her business, and then chose employees to take care of the rest and help her grow.
"What is a sustainable lifestyle for you – one that you truly enjoy?" she asked. "Figure that out and then go from there."
She suggests thinking about your perfect morning and your perfect work routine. Which tasks do you see fitting comfortably into your schedule?
And then, decide which tasks don't.
Building Your Team of Employees
While everyone's needs are different, there are some roles that apply to just about every membership business.
These are specialists that focus on key areas of your business. When these tasks are covered, it'll free you up to focus on other things, like generating new streams of income or creating content.
We recommend a:
Content specialist.
Marketing specialist.
Community specialist.
Admin specialist.
The number of people you hire is entirely up to you and what you're willing to invest.
But in the beginning, you can pick and choose the people you hire based on the areas your business needs support in most.
Just one of these employees can make a huge impact on the quality of your service.
Let's take a look at each role…
1. The Content Specialist
The Content Specialist helps or supports the creation of your video content. They'll have skills like content planning, scriptwriting, or video editing.
Chances are you still want to be the person in front of the camera and making the bigger content decisions.
So, this hire should help support you with key areas around creation you can't manage anymore, like taking care of the technical bottlenecks in the video creation process.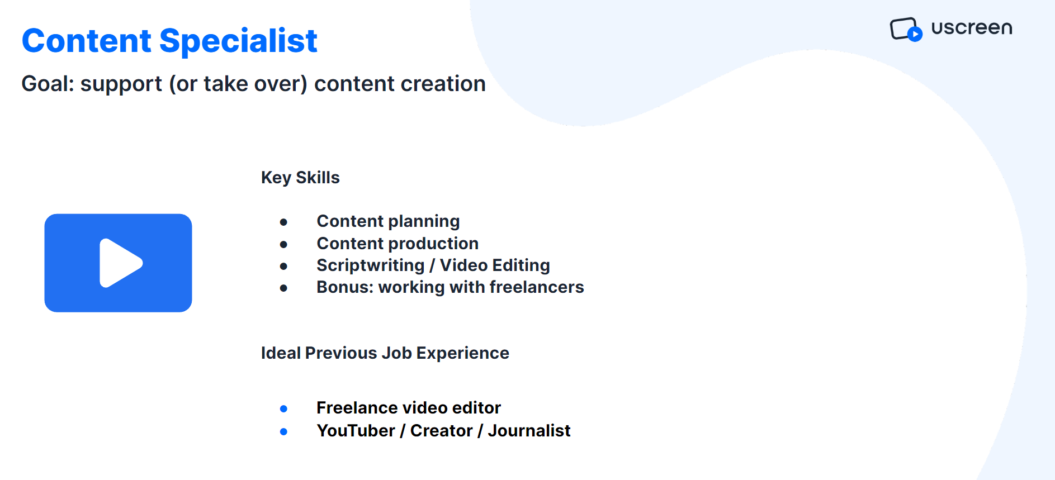 2. The Marketing Specialist
The Marketing Specialist helps with promoting your business. Their focus is helping you to acquire new customers and grow your brand.
They'll be skilled in social media, paid advertising, and email marketing. Long term, you could hire a specialist for each of these, but you can find a generalist with good knowledge of each.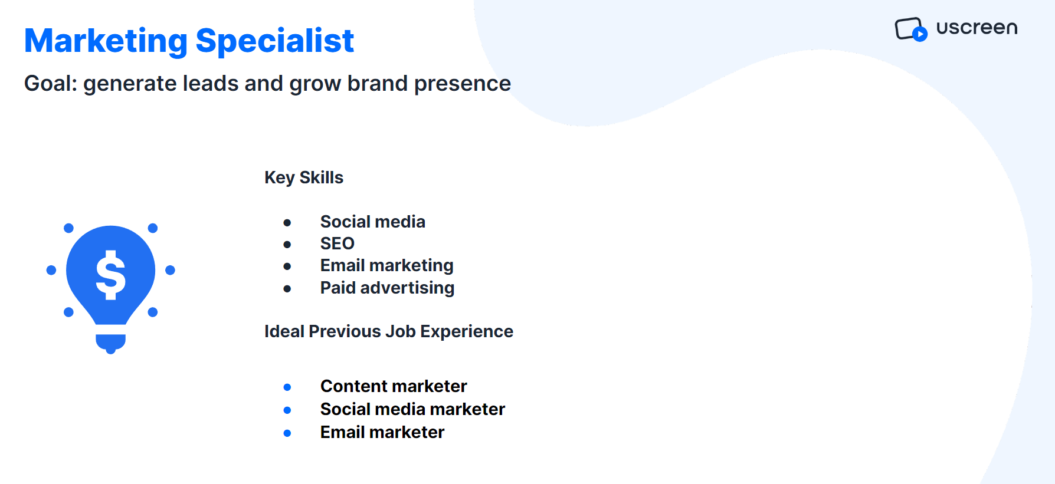 3. The Community Specialist
The Community Specialist helps with maintaining and engaging with your community. They'll be able to speak to customers and strike up interesting conversations on your behalf.
This hire will speak for your brand (or you) to your audience at large, so they'll ideally have skills in communication, social media, or digital marketing.

4. The Admin Specialist
The Admin Specialist can support the day-to-day running of your business. Their focus is organization, coordinating people or projects, and managing important documents.
The ideal Admin Specialist is well-versed in project management tools (Notion, Trello, etc.) and has great communication skills.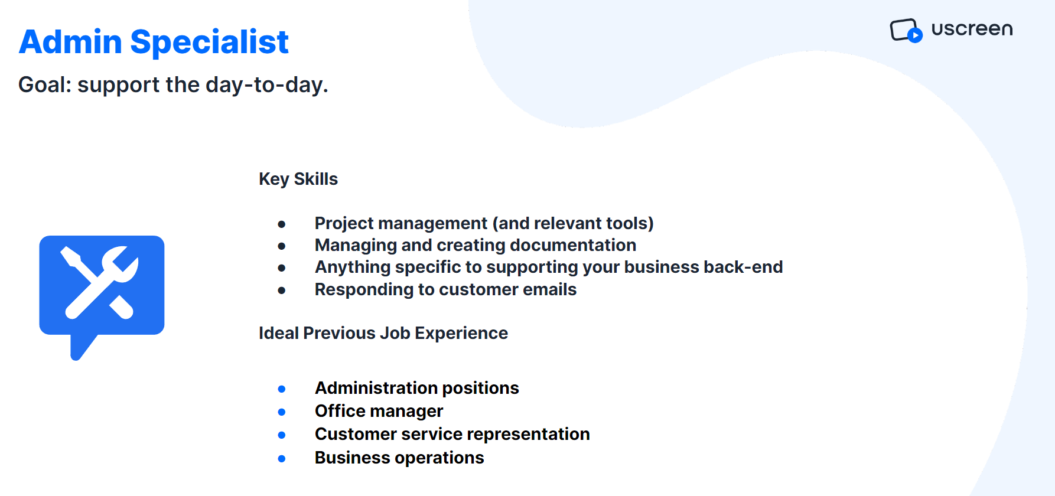 Each of these hires will help you get ahead (or get support) in each key area of your business.
And as your business grows, you can add people with even more specific skill sets.
Strategize How You Hire
Long-term, some business owners choose to employ a full-time hire at each of these specialist positions.
But, just like who you hire, how you hire depends on your business. Budgets and organizational needs factor in, and you may not want a full-time in-house employee for every department.
So consider these options for how you can hire people to make your budget go further.
These are the different types of hire you can make:
Full-time team member: an employee on 37+ hours a week that works just for you. You can look on sites like Glassdoor to find competitive salaries.
Part-time team members: an employee on 10-25 hours a week. You'd pay them a lower amount, but they would also be less available.
Agency: an external company that works on one core area of your business.
Freelancers: external hires that let you negotiate the setup and find a rate that fits your budget. Freelancers are available for all of these specialist positions.
We work with successful creators that use all 4 of these methods to run their business. Treat it as a mix-and-match approach that works well towards your goals!
Hiring Benefits You and Your Subscribers
Will having an expert taking some of the weight off your shoulders benefit you?
Yes.
Will it benefit your audience?
Also yes!
As Meegan Gregg said, "Every business choice you make should come back to providing value for your audience, because they're the ones putting money in your pocket."
And by choosing to upgrade parts of your service with a professional eye, you're giving your audience the best experience possible.
Plus, you're enjoying the content entrepreneur experience the way it should be enjoyed – with financial freedom, flexibility, and the ability to make your business exactly what you want.
Wrapping It Up…
As a creator, it can be super weird to go from working for yourself because you didn't want to have a boss, to becoming the boss.
But hires can make running your business so much easier and alleviate a lot of the pressure on you.
The right hire can absolutely transform your business!
So prioritize what you need to hire for and get started. And, if you want more help and advice from other creators on how to hire, check out our Uscreen Insiders Facebook community.