Digital Marketing
Applying a Marketing Funnel to Your Video Sales Process
Given the dynamics of online marketing today, buyers don't really make a quick dash into and out of your shopping cart like they used to. More often, the buying process is gradual.
That's why you need to have a good understanding of the marketing funnel, an important component of selling products and services via the web.
What's a marketing funnel?
A marketing funnel is a way of looking at the customer journey from top to bottom—from when a potential customer becomes aware of your video-on-demand offerings to when they place their order (and possibly, beyond).
The buying process has stages, which can be metaphorically represented as a funnel.
While some marketers prefer to construct funnel stages with five (or even more) stages, the simple way to understand the model and market your content accordingly is to look at it as just three stages and understand each stage has a smaller population than the one before it.
Top of the funnel (ToFU)—

Your prospect becomes

aware

of your brand.

Middle of the funnel (MoFU)—

Your prospect expresses

interest

in your brand. He or she is in an

evaluation

stage.

Bottom of the funnel (BoFU)—

The prospect makes a

purchase decision

.
How to effectively execute funnel marketing
The key to success in applying the funnel mentality to your marketing is to move prospects to the next stage. If they enter at the top, you try to move them to the middle. If they enter at the middle stage, you try to move them to the bottom.
It's achieved by having a conversion strategy for each stage.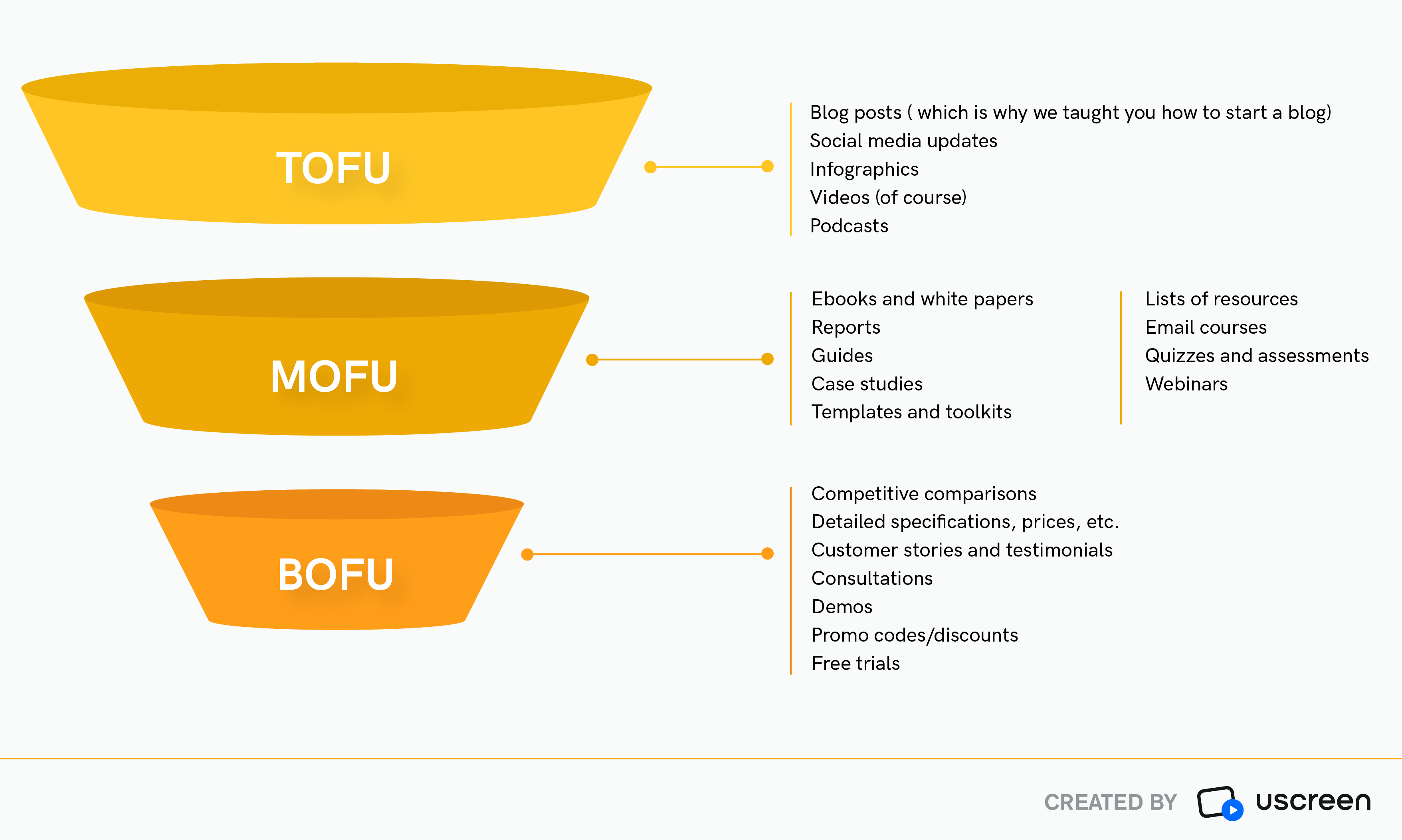 Your conversion strategy for each stage calls for presenting the appropriate content to satisfy the prospect's needs based on their current state of mind.
When discussing the marketing funnel, we will first give you a textbook overview of each stage as it relates to

any

online video business in

any

industry. We'll go over the types of content used in each stage and how they work. After that, we will tell you the tips and tricks that would actually work best for your specific video business, based on what we've seen works best with Uscreen customers. Throughout explaining the marketing funnel, we will consistently use Uscreen customers,

 

Naturally Sassy

as an example.
Top of the funnel content (ToFU)
Top of the funnel content should pull prospects into your funnel.
When a visitor first comes to your video website they become aware of your brand and the challenges your video subscription services address.

Don't succumb to the temptation to sell at this stage of the funnel. Focus on informing and problem-solving.
Generally speaking, examples of top of the funnel content that may work for your video-based business include:
Blog posts ( which is why we taught you how to start a blog)

Social media updates

Infographics

Videos (of course)

Podcasts
All of this content should aim to educate, entertain, and inspire. Also, it should be freely and instantly available without fees or even the need to complete opt-in forms.
A perfect example of a VOD that uses a good combination of blog posts, social media updates and videos is Naturally Sassy. The brand is fully active on all of these fronts, and produces content that is primarily entertaining and useful for absolutely free.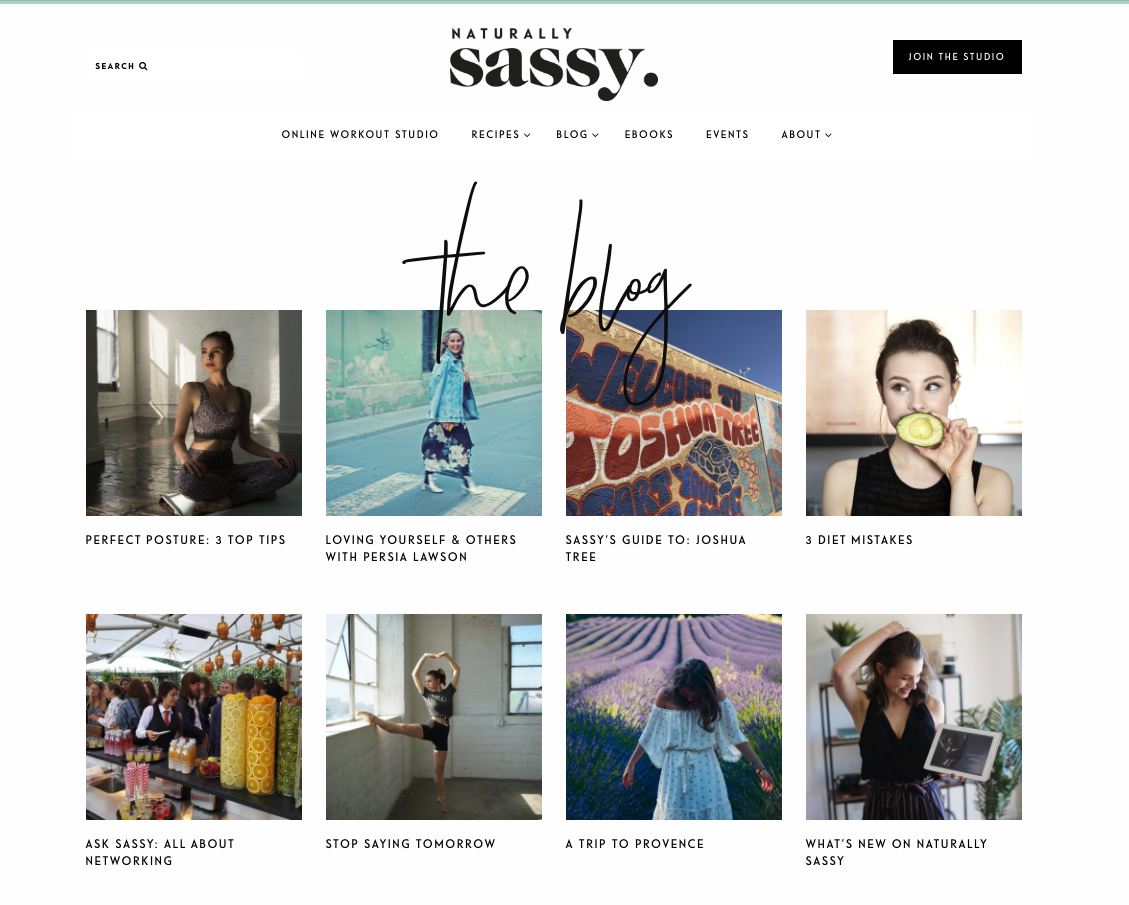 Middle of the funnel content MoFU
In the middle of your funnel, your content should continue to be free. However, you probably will want to qualify the prospect ever so slightly by attempting to extract some information from them as "the price of admission."
The information required may be nothing more than an email address and name. However, you have the prerogative to present fields in your forms requiring additional information. This is the best way to grow your email list and nurture leads.
Remember, this is the consideration (or evaluation) stage. Having information about your prospect should enable you to better answer their questions and serve their needs.  
Generally, you aim to create leads with middle of the funnel content and do so with a form of content commonly called "lead magnets." Lead magnets are the subject of the lesson that follows, so you'll gather additional insights there.
Your middle of the funnel content can be anything you believe is valuable enough to extract a small price, that is, contact information.
For now, let's simply look at practical content types to offer for this stage of the funnel:
Ebooks and white papers

Reports

Guides

Case studies

Templates and toolkits

Lists of resources

Email courses

Quizzes and assessments

Webinars
Take Naturally Sassy again. On her video website, she has also included a 28 Day Sculpt Plan ebook. This captures the attention and emails of those showing interest but are still not so solid on their decision to buy a subscription to her VOD.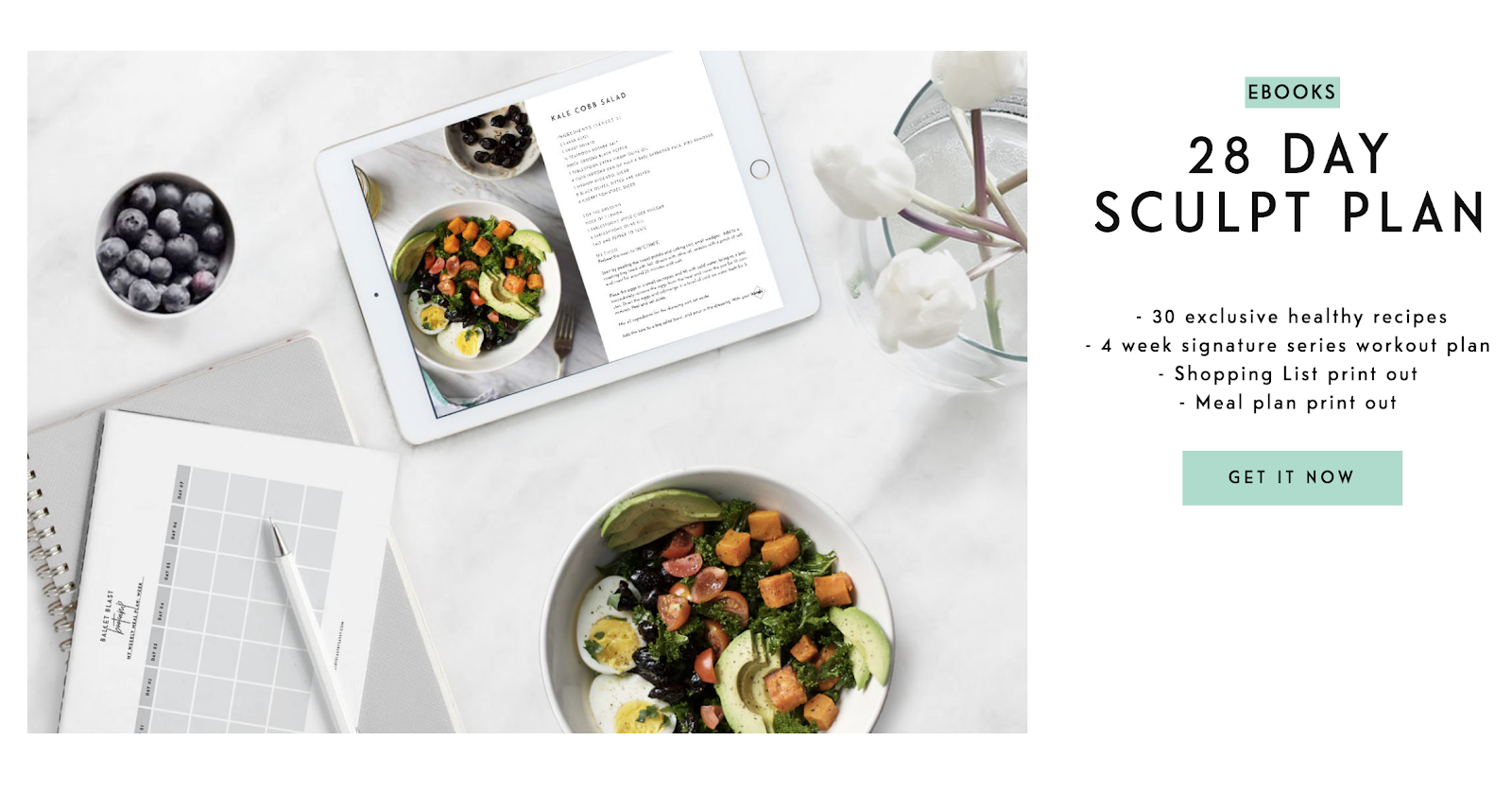 Everything we just explained about the middle funnel so far is the textbook way to execute it.
But honestly, a measurable amount of our customers don't do it this way and it works out well for them too. We've seen a few of our best customers take a much simpler approach to middle funnel content marketing!
Bottom of the funnel content
Your challenge at this stage is to help the prospect make a smart decision.
It's probably safe to say a prospect at this stage has consumed some of your ToFU and MoFU content. BoFU content often includes:
Competitive comparisons

Detailed specifications, prices, etc.

Customer stories and testimonials

Consultations

Demos

Promo codes/discounts

Free trials

OTT app promo codes
You may have noticed some overlap with the MoFU content list presented above. It's not a problem. Your formats may indeed be similar or the same, however, your focus should differ.
Consider the example of two different approaches to a webinar:
MoFU webinar:
Features the benefits of learning a craft or watching your videos.

Outlines what your video products will deliver.

Presents some valuable samples.

Requires joining your mailing list to watch and/or receive additional information.
BoFU webinar:
Indicates what's involved to succeed. E.g. X amount of money, Y amount of time, Z amount of practice.

May help steer the wrong type of customer to another solution.

The call to action is sign-up, try, buy, commit (or maybe opt-out).

Consider the "tripwire" approach, which means an initial sale asks for a small commitment. E.g. One-month trial, $7 getting started booklet, etc.
All of the content types listed for this stage, the most popular form of BoFU content among Uscreen VOD websites are free trials and promo discounts. Honestly, nothing works as well as having someone trying your video content out themselves for free. Naturally Sassy uses a free trial CTA as a key part of their BoFU marketing: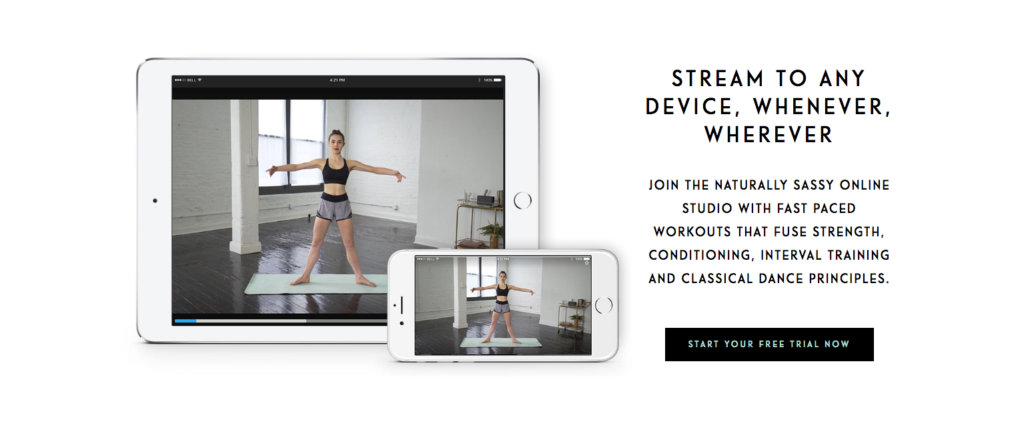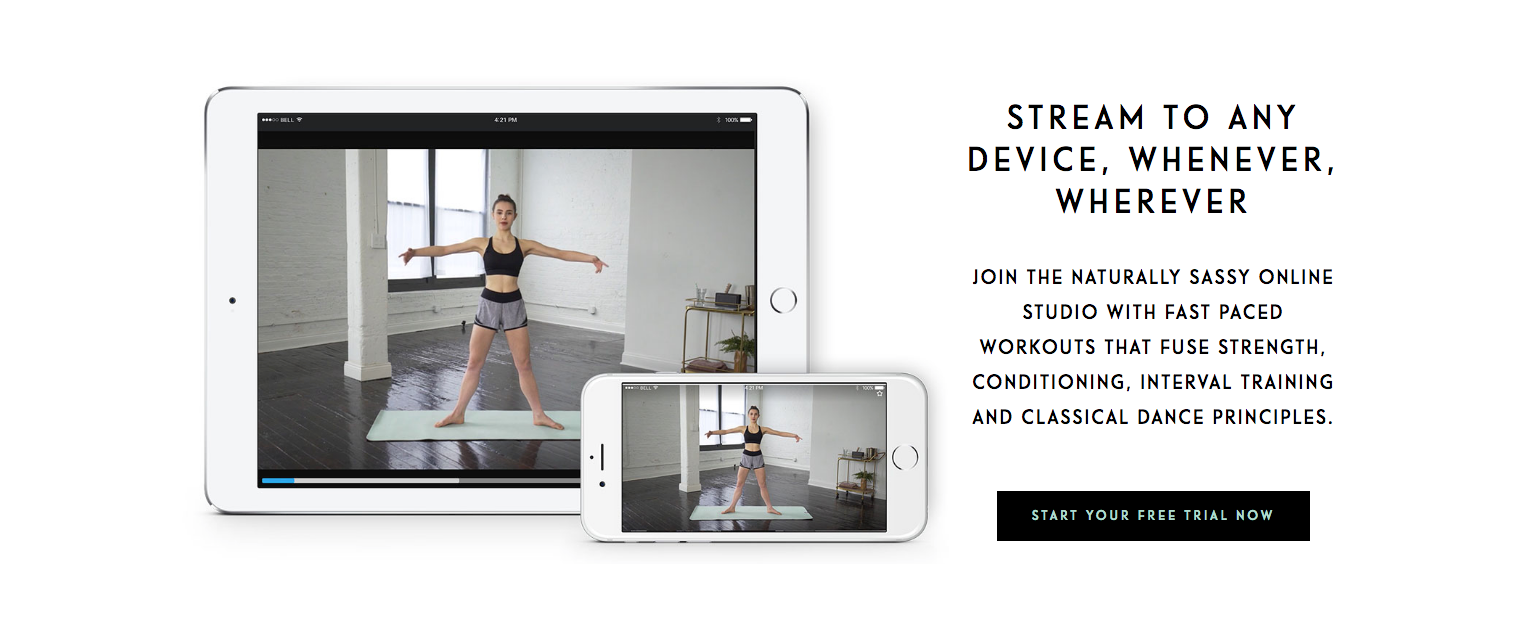 The bottom of the funnel is not the end of the process
It's important to understand a sale is not the end of the line—especially in a subscription-based business model. If you want to grow your revenues, your goals should be more ambitious:
Satisfy the customer with ongoing

value nurturing.

Retain the customer to generate

renewals

and

upsells.

Delight the customer to inspire word-of-mouth

referrals.

Empower the customer to become a willing

advocate

for your brand.
For metaphorical purposes, these important "post funnel" activities are often depicted as an hourglass—instead of a funnel. In other words, connected to the bottom of the funnel, which goes from wide to narrow as it moves vertically south, is an inverted funnel that does the opposite.
Satisfied customers that drip from the bottom of your funnel become catalysts for expanding your clientele.

Retention-based sales and marketing is an important and big topic we won't delve further into here, but it's worth noting the crucial role it plays in a video subscription business model.   
Measure your results
In marketing, intuition has its merits, but can only take you so far. In the age of digital marketing, the most effective marketers make data-driven decisions to perpetually refine their marketing funnel and improve results.
Doing so requires:
Establishing meaningful metrics

Putting the process in place to capture data and produce reports

Taking action based on outcomes. (Including: Expanding what works, aborting what fails, and experimenting with tactics in the middle of the spectrum.)
Uscreen already has an analytics backend feature that collects all these important metrics for VOD owners, but if you will be using another host you video website and OTT apps, just make sure you're collecting all the data that matters.
Here again, we'll refrain from a deep dive on the topic, but briefly present some sound ideas for getting started with metrics to assess the marketing funnel you put in place for your video sales process.
Consider measuring the following, per funnel stage:
ToFU:

Website traffic

Traffic sources

Additional website metrics: time on site, page views, bounce rate

Search rankings, inbound links

Social shares and engagement metrics



MoFU:
Subscriber growth

Conversion rates

Email metrics (open, click-through and opt-out rates)
BoFU:
Lead-to-sale conversion rate

Conversion rates of specific offers

Revenues
Post-funnel:
Retention rate

Average lifetime customer value
Warning: don't allow this stuff to spook you if it's new to you. You may not have tools, or tolerance, or time. However, to improve your sales and marketing, please do understand, you need to measure what matters.
Start small and expand gradually. If you don't measure website traffic, give it a go. When you put email marketing in place, examine the reports. Over time, you'll catch on.
The reason to look at your marketing challenges in the context of a funnel is you must understand the relationship between the awareness, consideration, decision, and post-sale stages; you need to develop content appropriately; and to expand your sales, you need to continuously refine your funnel.