Selling merch is an exciting journey for YouTube creators.
You're at a point where you've built a large and loyal following who wants to connect with your brand in real life.
Luckily, creating and selling custom merch has become easier over the years.
This guide will provide you with the fastest and smartest way to make and sell merchandise on YouTube. It's perfect for expert content creators who are beginners in selling merch items.
We'll discuss:
Why Selling Merch Is Good For You and Your Subscribers
Designing Merch That You Can Be Proud Of
Manufacturer vs POD: How Will You Make Merchandise?
Ready, Set, Launch! Show Off Your Merch And Sell
Promote Your Merch Like a Boss
We've got the know-how and we're ready to share! Are you excited? Let's get started!
Why Selling Merch Is Good For You And Your Subscribers
If you're on the fence about selling merch, here are some reasons why you should go for it.
The most obvious is that it adds another revenue stream for your content. Top YouTube creators like PewDiePie earn an estimated $6 million from his online store each month!
But beyond that, selling merch also:
Turns your subscribers into a walking billboard when they wear your merch out in the real world.
Creates a strong connection with your most loyal and engaged subscribers.
Allows your subscribers to embrace your brand and foster a sense of community.
It might sound crazy, but it's possible (even for a 9-year-old). Ryan Kaji of Ryan World's went from reviewing toys to creating 5000 different pieces of branded merchandise! He reportedly earned $250 million from his custom merchandise in 2020 alone.
Designing Merch That You Can Be Proud Of
Designing merch for the first time can be nerve-wracking! Where do you even start? Should you begin with stickers? Phone cases?
The most efficient strategy is to start with what's already selling. Here are 4 steps to picking the best merch for your brand:
Pick brand-appropriate YouTube merchandise: identify catchphrases, slogans, and visuals you're known for and your fan base has a strong connection with.
Start with best-selling items: t-shirts, hoodies, mugs, tote bags, and hats are the most popular merch, according to sales reports in 2021.
Design mockups: hire an artist specializing in merch design to create stunning mockups.
Poll your subscribers: Use the YouTube poll option and let your subscribers decide which mockups they'll be excited to buy.
If you're getting stuck in the design phase, you can always start simple and use your logo. A great example is the Eh Bee Family's merch shop. They have dozens of items for sale with just their logo.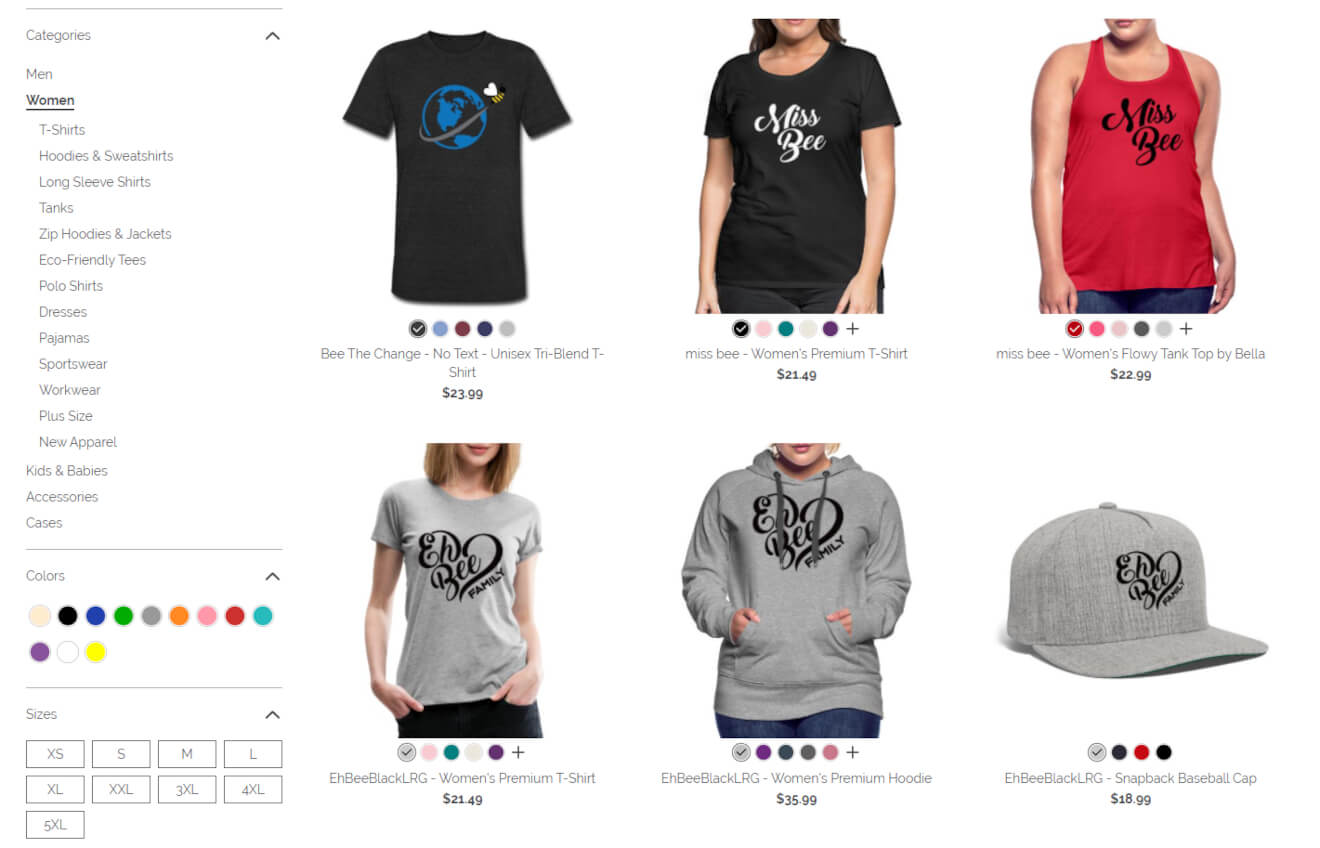 Depending on demand, you can always add new designs and types of products later on.
Manufacturer vs. POD: How Will You Make Merchandise?
This is the part where it gets tricky. Now that you have the best designs, how will you print and ship them?
There are 2 options available for you:
Work with a manufacturer.
Pick a print-on-demand (POD) service.
Let's explain how it works and which one is better based on your goals.
Manufacturers: Best For High Quality, High-Volume Orders
Manufacturers can either be located locally or overseas. They get your specific requirements for creating the products, and they'll make it for you.
Working directly with a manufacturer is the best option if you want more flexibility and control over your merch design. Though it's worth noting that most times, they require high-volume orders.
This option works great if:
You already have an idea of how many orders you'll get per month.
You require high-quality, highly customized merch.
Selling merch is a long-term plan for your brand and revenue streams.
Now, since this guide aims to launch your merch store in the fastest and most efficient way possible, we recommend starting with a POD (print-on-demand service).
What Is a POD Service?
A print-on-demand service is a process where suppliers only print your custom merch as the order comes in.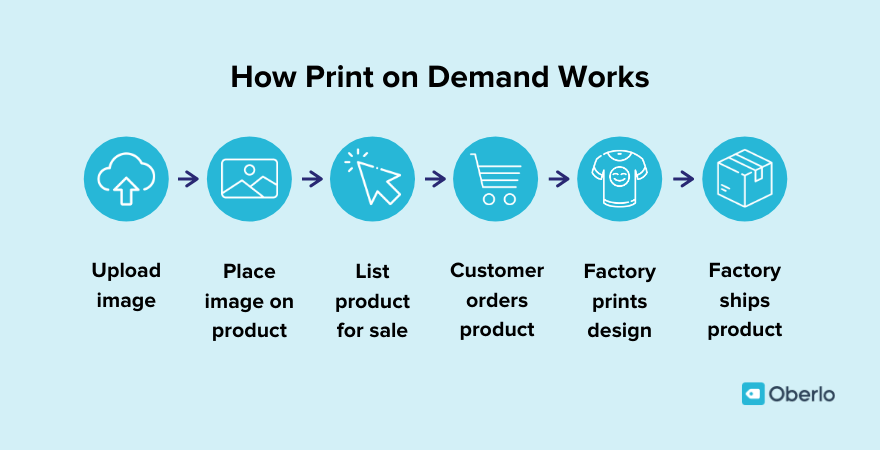 Here's how most PODs work:
You upload the design to their e-commerce site.
The site creates stunning mockups that look like the real thing.
You set the price for each item.
The POD prints the merch and ships it to your customers when they order.
You may have to pay a subscription fee to access the site, but it's free to print the shirts. The POD service takes the operational cost, and you keep the profit.
For example, if the shirt sells for $30 and costs $24 to print, you'll make a $6 profit.
It's the ideal solution for testing out selling merch. The downside is that your designs are limited by the POD you choose and the options it offers.
For example, do you want to offer collared shirts because it fits your preppy branding? If the POD only has a V-neck shirt, then that's what you'll get.
There are dozens of PODs out there. Here are a few popular ones to narrow down your options:
A few tips when choosing the best POD:
Order samples to wear and test to make sure they provide high-quality merch.
Test a few PODs before committing to one option.
Choose the best one that meets your revenue goals and quality requirements.
Ready, Set, Launch! Show Off Your Merch And Sell
The easiest way to start selling your merchandise is to link to your shop in every YouTube description.
But to take it to the next level, you can also use YouTube's Merch Shelf.
What is a YouTube Merch Shelf?
The Merch Shelf is a digital carousel to showcase your official branded merch under your YouTube videos. It displays up to 12 products on desktop (3 on mobile). But you need to be eligible to take advantage of this feature.

Here are the requirements according to Google's Support page:
Your Youtube channel is approved for monetization.
You're based in a country where the YouTube Partner Program is available.
If your channel is a music channel, it has to be an Official Artist Channel; otherwise, you'll need to have more than 10,000 subscribers.
Your channel's audience is making content geared toward adults (it helps to avoid posting videos set to 'Made for Kids').
Make sure to read the complete list of requirements. The Merch Shelf is one of the easiest ways to promote your merch store.
There are other more straightforward ways to start promoting if you want to skip the Merch Shelf or while you're waiting to get approved.
Finding the Right (Affiliate) Partners Makes All The Difference
As a YouTuber, you're most likely an affiliate for the products you already use. Now, it's time for you to find affiliate partners for your merch.
The concept is the same: you can work with partners to promote your merch to their audience. They get a link, and when someone buys from their link, they get a commission for every sale.
Ecommerce stores like Shopify and even a few PODs have built-in affiliate programs. If you're planning to use an affiliate program, this is a must-have feature to consider when choosing a POD.
Before launching an affiliate program, you should:
Have a clear idea of how you're going to recruit affiliates.
Have assets that your affiliates can use to promote your merch on social media.
Have a solid commission strategy, so your affiliate partners are happy.
Promote Your Merch Like a Boss
Some creators might find it lame or too salesy to plug their merch. But there's a way to stay classy while boosting your merch sales.
For one thing, start with something that comes naturally. As you gain more experience (and confidence), you can try even more ways to promote your merch in your videos.
BYOM (Be Your Own Model)
The first and easiest way to do it is to wear shirts, hoodies, or hats when recording your weekly videos.

For example, Guy from Coin Bureau wears his branded hoodie and links to the description.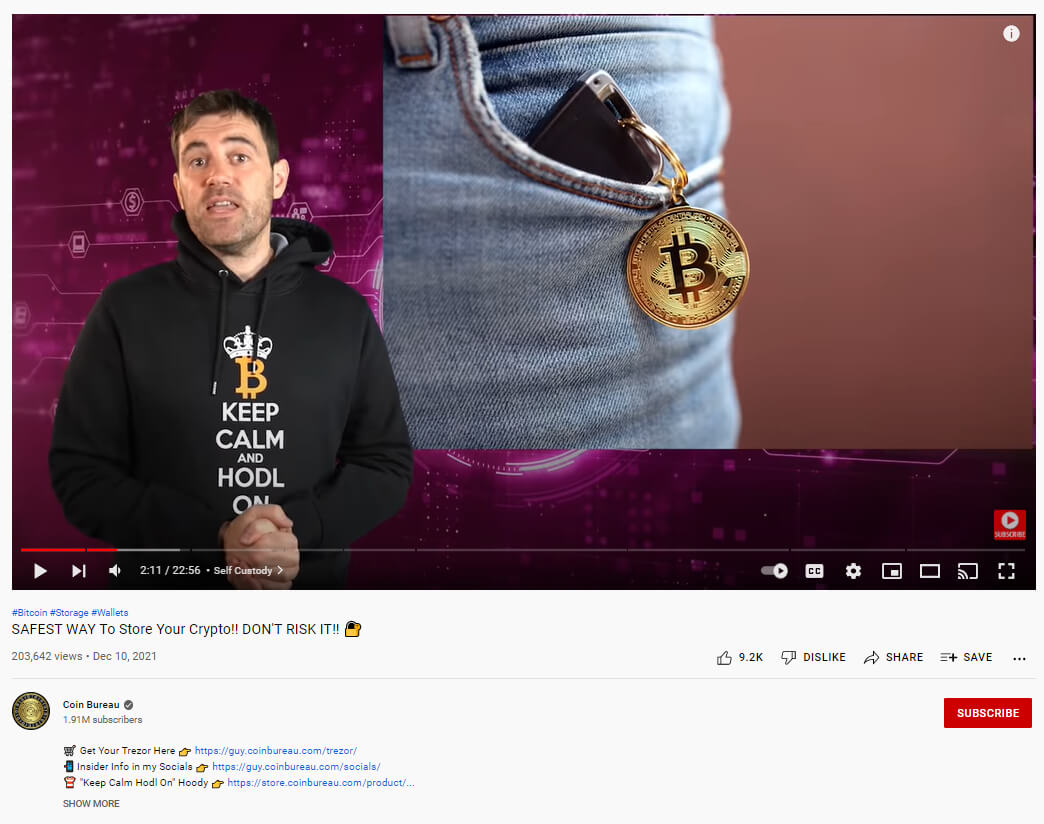 If you're not comfortable wearing your merch all the time, you can also display them in your background when filming your videos.
Lastly, you can briefly mention your merch as part of your outro. Let your viewers know that they can have a mug or a shirt with their favorite quote from you.
Engage Your Audience with SVOD
Now, the next step is to build your merch empire.
First, let's talk about AVOD (Advertising Video On Demand). YouTube is an AVOD platform, which means you earn money from advertising played on your videos.
SVOD, on the other hand, means that your subscribers have to pay a monthly or yearly subscription to access your content.
This is great because you have complete control of the content and the revenue. We're talking beyond the ability to sell merch. With SVOD, you'll be able to:
Build a platform where your fans can pay a recurring subscription fee or pay-per-view model to access your videos.
Own the platform, meaning you keep 100% of the profits.
Create a shoppable video if you choose Uscreen as your platform provider.
A shoppable video is an interactive feature where you can showcase products (like your merch) that viewers can click and buy while watching the video.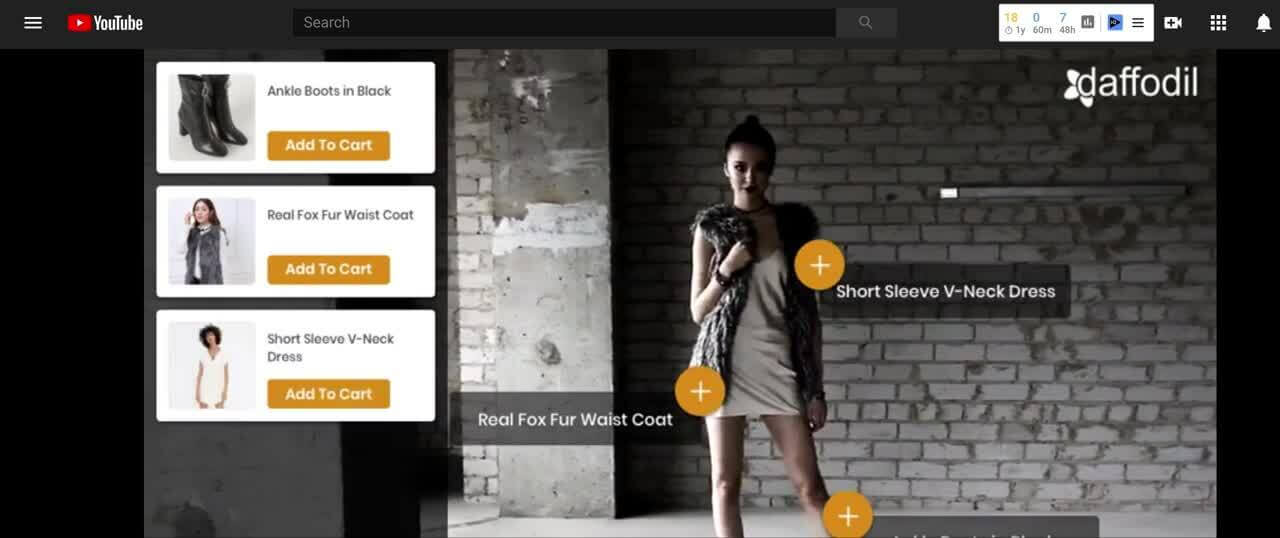 This means that viewers can click your merch right in the video. They'll be directed to your e-commerce shop to complete the purchase. It closes the gap between discovery and purchase.
How to Promote Your Merch Using Uscreen's Shoppable Video
First, you'll need an external e-commerce store where all your merch is listed as items for sale. Most PODs already have e-commerce stores, so this should be an easy one.
You can upload your merch-focused videos and start adding links for each item. You can also add photos and a short product description.

You now have 2 levels of monetization once you add SVOD and shoppable videos.
First, you'll get revenue from the recurring subscriptions to access your videos.
Second, you'll also earn from your merch sales when viewers decide to buy while watching your videos.
Genius, right? If you want to learn more about how shoppable videos work on Uscreen, read the article:
Wrapping It Up
That's it! You're now ready to start your merch empire. To recap, here are 3 action items:
Pick a brand-appropriate design for your merch.
Choose the best POD that meets your design and revenue requirements.
Start promoting your merch in your videos.
Selling merchandise on YouTube is thrilling. When combined with the latest e-commerce tools like Uscreen's shoppable videos, the possibilities are endless!