Memberships are our thing.
We've developed a constantly evolving platform to empower you to do what you love, earn deserving income, and build strong relationships, on your terms, no compromises needed.
And the best thing you can do for your membership is launch a community that'll add value to your offering all while elevating your end-user experience.
In fact, our most successful creators have an active community and see that engaged members are 2x more likely to stay compared to non-engaged members.
Their membership platform and personalized community go hand-in-hand.
So today, we're proud to bring to you the best Community tools that'll keep your membership profitable and growing.
Why Community Matters For Your Membership
At the core of your video membership are die-hard fans who want to pay for your awesome content.
They're a group of like-minded people who want to connect with you and each other.
Afterall, it's a basic human need: to feel heard, understood, and like you belong somewhere!
Which is why having a safe space for your members to bond over your content is crucial. It'll help you:
Keep existing members for longer: members will get more value and extend their membership period.
Increase word-of-mouth marketing and in turn, sales: it's like having your own brand ambassadors!
Create strong connections and a supportive culture: members will have direct access to each other and you'll have direct access to them, making it easy to address their needs. 
Simply put, your content helped you build an audience, but your community is what'll make them stay.
Your Community is waiting…
Have fun with your Community today!
Uscreen's Community Tools: The Best Way To Grow Your Video Membership
Having a built-in community, like the one Uscreen offers, will boost retention and revenue for your membership platform.
Let's dive into the tools that'll improve your bottom line.
1. Nurture A Supportive & Engaged Community
We packed our product with engagement tools that are designed to make your community a fun place to interact and be seen.
Fuel collaboration and support with User-Generated Videos & Rich Content.
Personalize your community by encouraging members to post their own videos. Support different content formats like images, and interactive polls!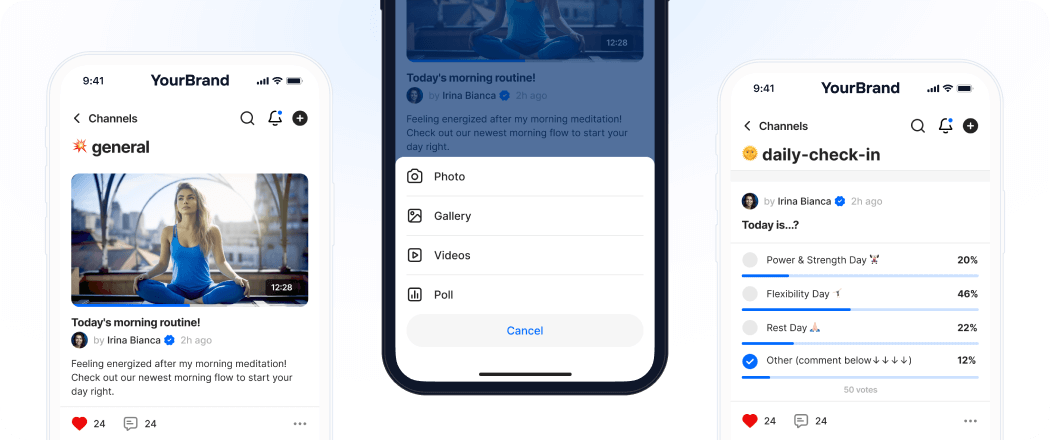 Directly link to your video catalog on community posts.
Increase your video catalog views, and the conversations around them, by bringing them in your community tab. Members and admins can attach any video from their catalog in community posts!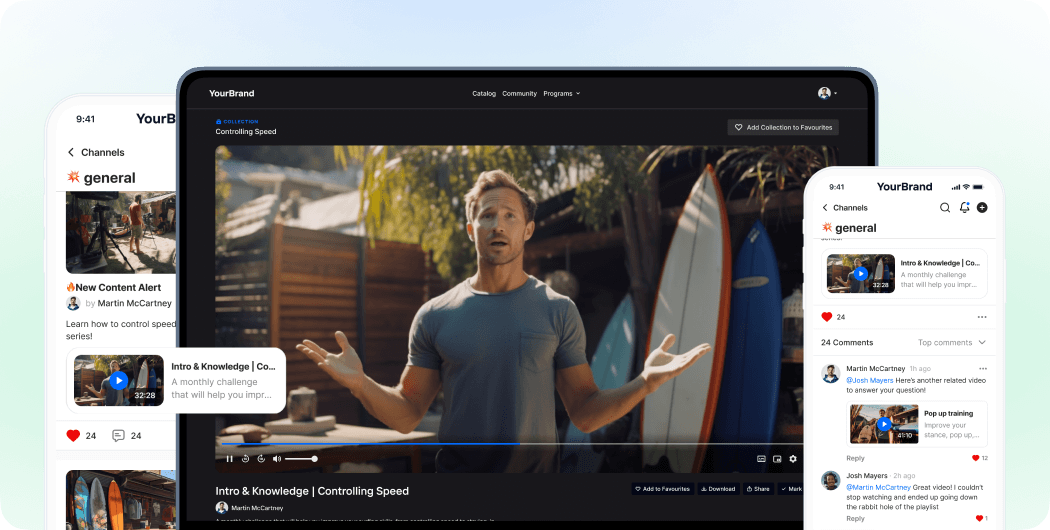 Motivate and inspire members with Community Challenges!
Motivate your members and put your content front and center all while engaging members for a longer period of time.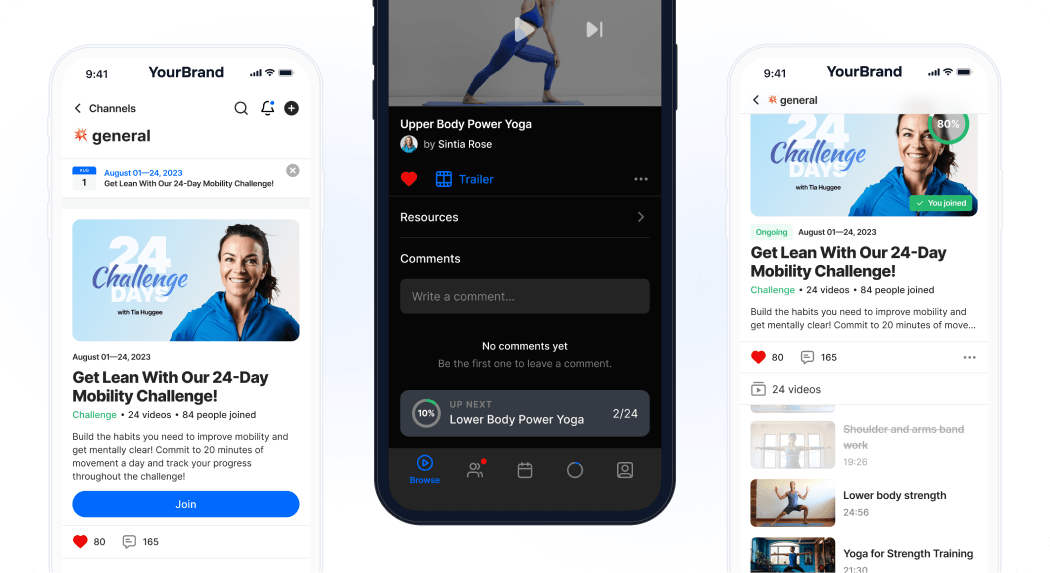 Build a stronger connection with members through Livestreams
Fun fact:
Uscreen customers who host regular live streams generate 2.5x more revenue compared to non-live stream users!
So make sure to leverage livestreams to excite members and promote your community!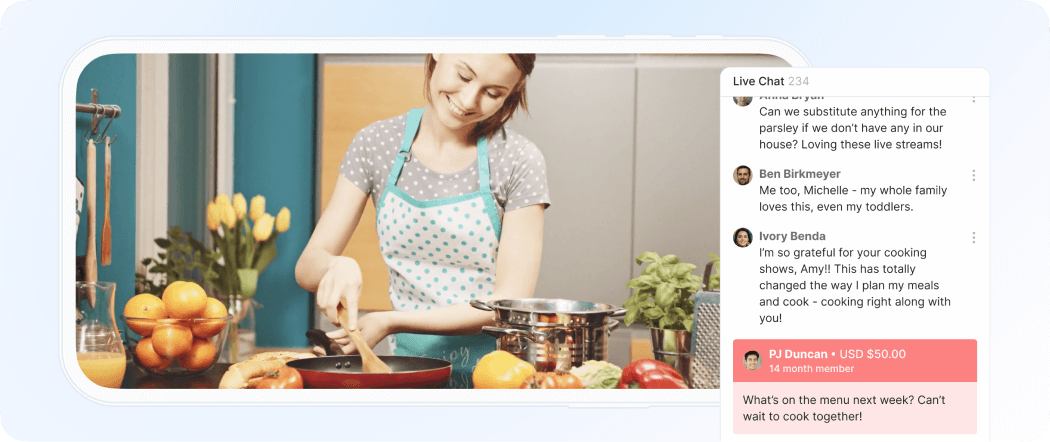 Now let's look at your experience as a community manager…
2. Refine & Enhance Community Management
Fostering an engaged community may seem complicated or time-consuming, but, our tools make it easy for you to manage your community on an audience and content level.
Segment and focus community interactions with Public & Private Channels
Creating different channels for different groups, interests, or topics helps you build knowledge bases that members can refer back to with a click of a button. Set up different member access levels (i.e. read-only, read & comment, etc) for more versatile channels.

Customize community accessibility to meet your goals
Use your community to attract and convert new audiences or, double down on exclusivity and limit access to specific subscription plans; perfect for upselling existing members!
Get inspired with your very own AI Assistant – Coming soon!
Use our built-in AI Assistant to help you generate editable posts and/or post titles. Saving you time and energy when creating your weekly posts.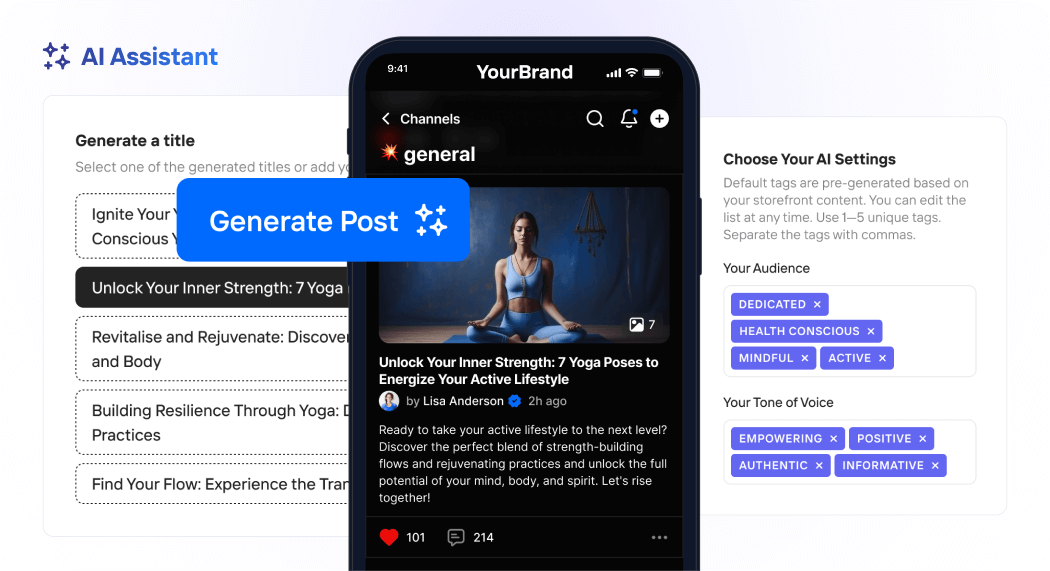 So far we've covered community engagement and management, time to talk about accessibility
3. Build Powerful Habits on Mobile
Part of what makes a vibrant community is how people can integrate it into their daily lives.
You need your membership and community to be hosted in one place and have it be accessible on mobile, to maximize engagement within your community.
Uscreen community owners find that members who engage with each other the most use apps more frequently, watch more videos, and stay longer on their platform.
Have your video library & community in one place
With Uscreen you can build a branded mobile app putting your valuable content & community directly in your members' pockets. That way, they can watch your content, curate their own playlists and interact with other members anytime, anywhere.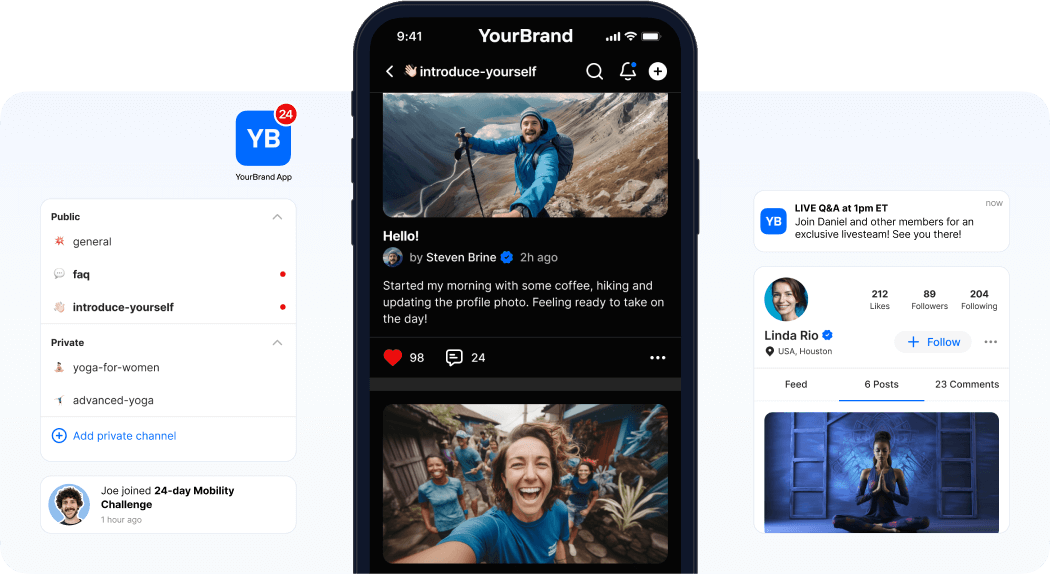 Reach your members directly with Push Notifications
Keep members coming back with Push Notifications and their own in-app Notification Center.

Wrapping it up
Launching and growing your built-in community is the best thing you can do for your membership.
You'll…
boost retention & revenue
improve engagement with your content
create a safe space for connections and support
become an inseparable part of members' lives
…making your native community the biggest value add to your membership after your content.
Trust us, we're too obsessed with memberships (and your success) to lead you astray.
If you want to see our Community tools in action, check out our very own premium platform Membership+!
Simply use your Uscreen log-in details and see how we use our own advice.
Experience our Community on Membership+
We use our own Community tools in our Membership+. See it in action!