To set a membership price that's both affordable to users and fairly rewards your effort and worth you need to answer:
What will my pricing model be?
What will my pricing strategy be?
In this article, we'll help you answer both questions by breaking down all of your options. Plus we'll cover some helpful tips for setting up your membership pricing!
Let's dive in…
What Is a Membership Pricing Strategy?
A membership pricing strategy is a plan for how much and how frequently you will charge for your membership.
Netflix charges $9.99 per month, for example. The plan they followed to settle on that price ($9.99) and frequency (monthly), is their pricing strategy.
And while Netflix is a subscription rather than a membership, the concept is the same: you're paying for access at a set frequency.
💡 Pro-tip! How do you differentiate a subscription from a membership? With subscription pricing, a customer consents to a recurring payment in exchange for access to a service.
Memberships give access to content, instructors, exclusive perks, add-ons, and a community so your pricing needs to reflect that.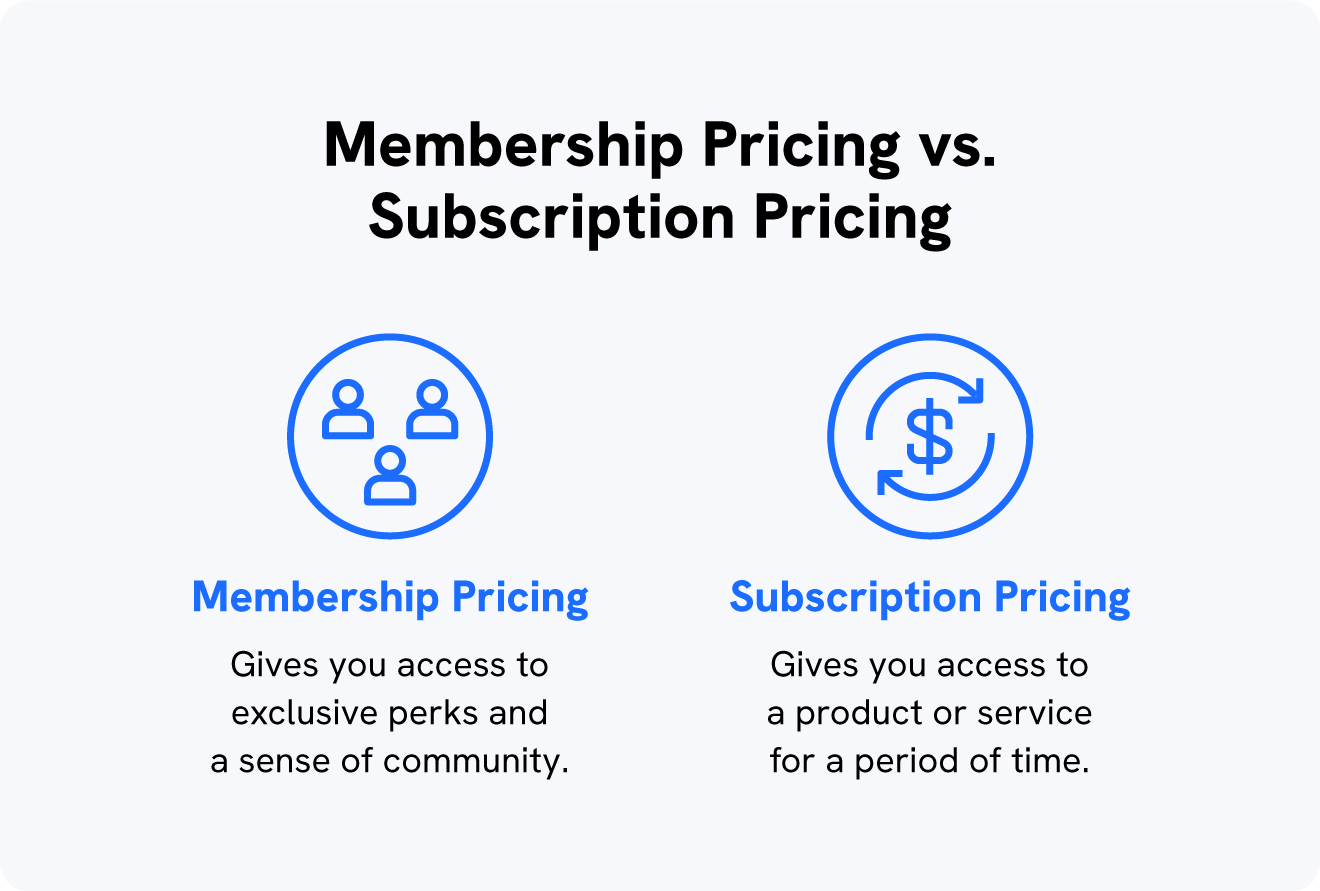 When you set the right price for your membership you'll attract and retain more members. That means more money in your pocket.
2 Reliable Membership Pricing Strategies
There are two types of membership pricing that we recommend: value-based pricing, and competitor-based pricing. Here's how to figure out your best price with each one.
Value-based Pricing
Your membership program is more than just a product, it's an experience. Value-based pricing considers more than the labor, production, and additional costs like hosting and marketing. It's based on the perceived value that members believe the program brings them, and that's why it's great for maximizing profits.
To achieve value-based pricing, look at who you're building your membership for, and what they're willing to pay. For example, a pro-makeup artist may be willing to pay $50 per month for makeup tutorials, whereas a hobbyist may draw the line at $15 per month.
To understand what your audience is willing to pay, use the Van Westendorp's price sensitivity meter. Use tools like Outgrow to survey existing members (or your followers on social media) with the following questions:
At what price would the product be so cheap that you would question its quality?
At what price would you start to think the product is expensive?
At what price would you consider the product a bargain?
At what price would you think the product is expensive but still acceptable?
You can then plot the responses in percentages on a graph to find your range of acceptable prices.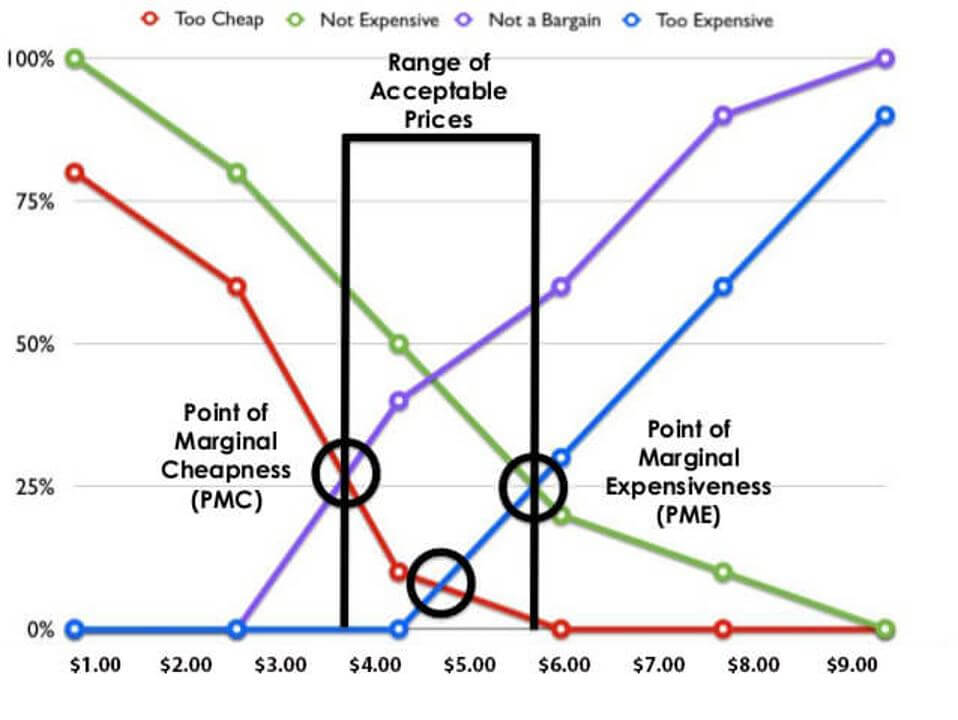 Note: We created a handy survey form for you. Just make a copy, tweak it if you need to, and send the survey to your subscribers.
Competitor-Based Pricing
If your audience is too small to run a meaningful survey, competitor-based pricing is a good place to start.

The competitor-based membership pricing strategy takes into account what your competitors are doing and how they're pricing their memberships.

Make a list of successful competitors and membership services within your niche. Some ways to find these competitors:
Ask your members who they were considering or subscribed to before you.
Search Google and online communities like Quora using keywords like 'best [your niche] classes' or 'best [your niche] videos'.
Once you've found your best competitors, check out their pricing pages and reviews to see:
What features they are offering
How many pricing packages they have
What customers say about their pricing
If they offer free trials or freemium options?
These answers will help you get the full picture when checking out competitors' pricing.. For example, if a competitor charges $9.99 per month for their yoga classes, but they don't offer the integrated community that you have, your program should cost more to reflect that added value.
Use the information you gather from competitor research to learn what to charge.
3 Membership Pricing Models To Use
A membership pricing model is how you will charge your members. Some people use fixed pricing, others use tiered pricing, or a mix of memberships and one-off purchases.
Each pricing model has its benefits for different content niches, content types and business models.
To figure out how to price your membership website or app, start by looking at your goals and the type of content you offer.
Fixed Pricing Model: Keeping it Simple
The fixed pricing model is simple. You set a recurring flat rate for your membership and all the perks that come along with it.
This is a good strategy to use since potential customers can easily understand how much they will be paying and what they'll be getting for it, plus it's simpler for you to manage. Here's an example from GYMBOX.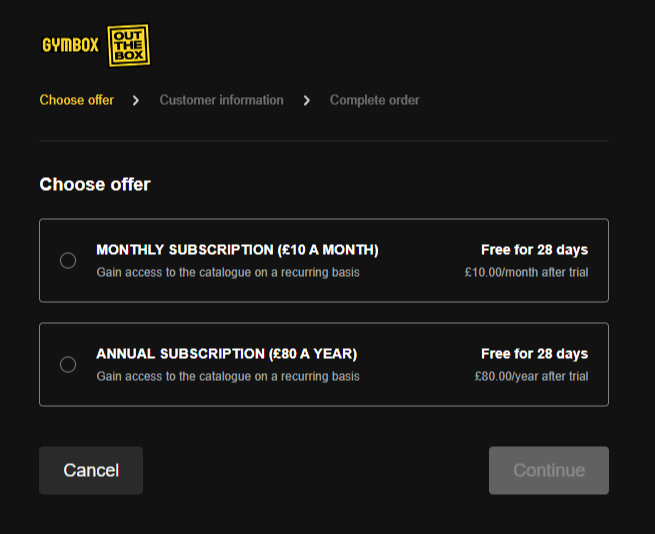 While they offer 2 different payment periods – monthly, or annually – they have a fixed price for their membership, offering the same access and perks for both options.
A benefit to this strategy is that if you add new features or perks, you can still raise the price to new fixed pricing.
💡How You Can Do It
If you run a fitness membership site, you can charge people $15 a month to access it. If they pay annually, they get a 20% discount — so they pay $145 per annum. On both plans, they'll get exclusive workout videos, weekly workout plans, and a community forum to share fitness tips. The only difference is that they get a discount if they choose the bigger upfront payment.
The fixed pricing strategy is for those who offer one membership option with basic features and for those who want a hassle-free pricing option.
However, with fixed membership pricing, you could lose potential revenue and potential customers.
That's because if you price it too low for the number of features you have, you can miss out on charging customers that can afford to pay more for your membership.
And if you price it too high, some people might miss the benefit of joining your membership site, be it because you're offering too little for the price, or because they are only interested in some of the features.
And that brings us to tiered pricing.
Tiered Pricing Model: Something for Everyone
The tiered pricing model gives you the flexibility to offer different pricing packages to prospective members.
This way, you can target people who want both the simplest package and the ones who would rather pay for more features and perks.
💡How You Can Do It
If you create educational content for kids, you can divide your pricing packages into 3 pricing models, with each of them offering different perks. It would look something like this:
Little learners ($7 per month): offers fun educational content for younger kids.

Big learners ($10 per month): offers video content and structured online courses for older kids.

Family Plus ($14 per month): offers access to content for all ages and multiple learner accounts.
With tiered pricing, you'll be maximizing your potential earnings and have the opportunity to upsell premium packages to current customers who are looking for more features.
But it's important to limit your pricing packages keeping them at around 2 to 3 options.
Having too many memberships tiers can lead to customers feeling indecisive and looking somewhere else for a different membership site. 
Here's a great example from one of our customers, Clara Roberts Oss. She keeps it simple with just 2 pricing tiers for each billing window:
A monthly membership that offers access to some content and perks.
An upgraded monthly membership that offers access to all content plus livestreams, workshops, retreats and summits and perks.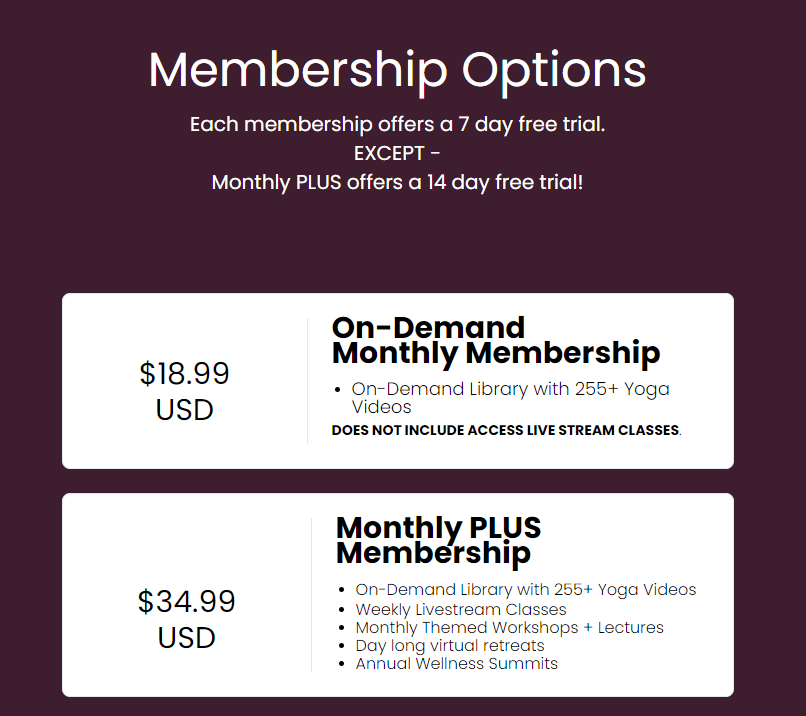 She does similar for the annual plan as well.
Pro Tip! If you go this route with higher prices than your competitors, you might worry that potential members will feel even your lowest pricing tier is too pricey.
You can add a freemium tier to make your content more accessible. Some of our customers allow prospective members to create a free account where they can watch some of the videos on the site for free forever.
Memberships & Once-Off Purchases: Doubling-Up
This membership pricing model is a great option because it allows you to sell your membership and individual videos, bundles, or collections.
This model could be a no-brainer if you want to offer your audience access to pieces of your content without the upfront commitment of a membership.
It's also a great way to let non-members test drive your content, allowing you to then upsell them to a membership plan if they enjoy it.
💡How You Can Do It
You'll have to figure out the pricing for your recurring membership fee, and then decide how to price your individual videos, bundles, or collections. For example, you could use a tiered membership model, and then have a fixed price for once-off purchases…
Tiered Membership
Basic ($20 per month): gives limited access to content & perks.
Pro ($35 per month): gives full access to content & perks.
Once-Off Purchases
Individual Video ($49 once-off)

Collection of Videos ($199 once-off)
Here's an example of what this looks like, from FaderPro.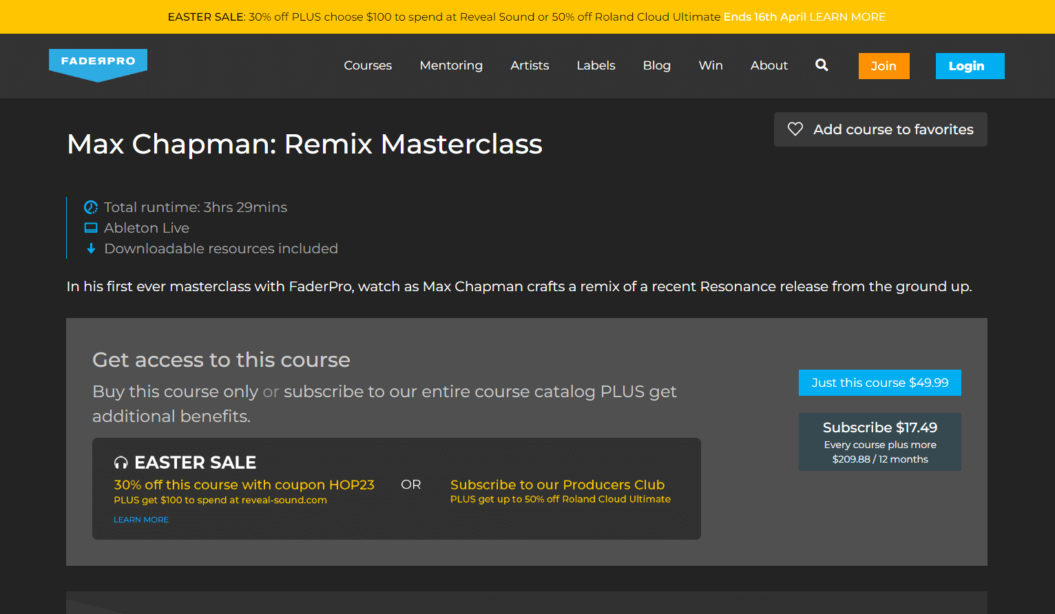 In addition to a recurring membership, FaderPro also offers content that's available as a onetime purchase.
For some niches, this is the pricing sweet spot, where new customers can choose the pricing and commitment level that works for them, and your membership site avoids missing out on any potential revenue.
Tips for Setting Your Membership Site Price
Once you've settled on the perfect pricing strategy for your membership, use these tips to make your prices appeal to users — and boost your membership signups.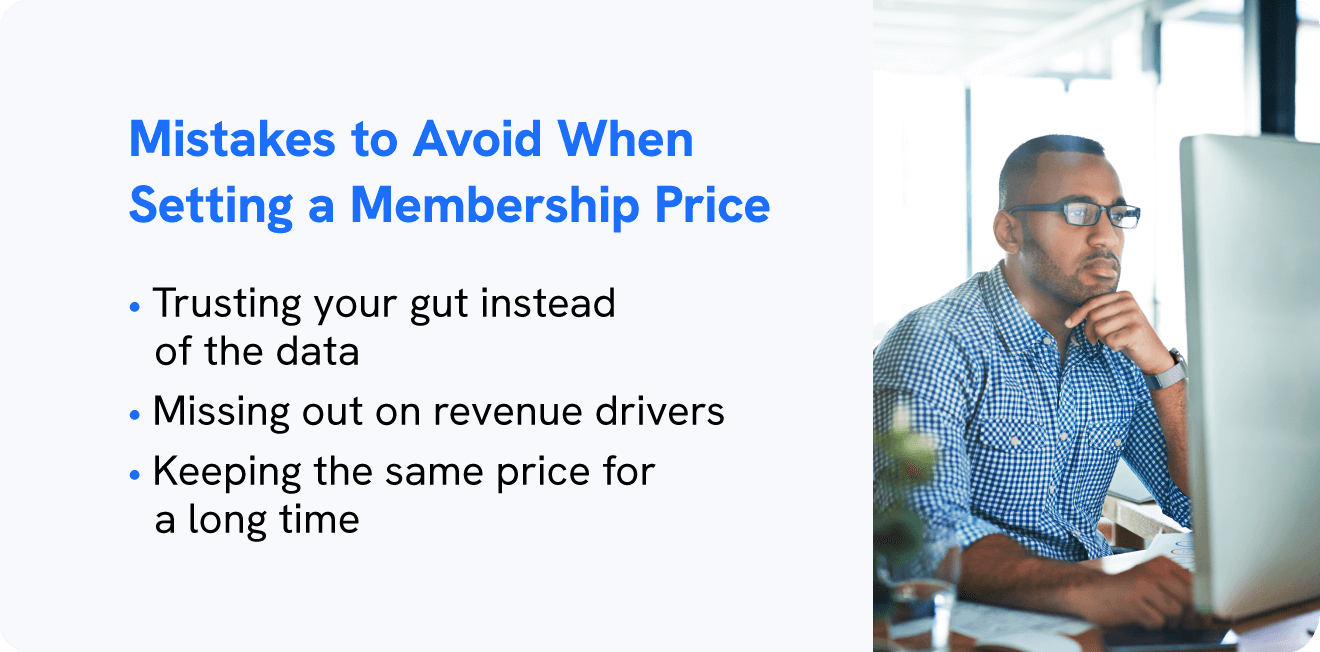 Let's go over some tips:
Offer free trials: our data shows that free trials convert at a rate of 65%, so include a free trial of 7 days or 14 days for your potential members to get a feel for your membership service. You can also offer a couple of free benefits like training materials and resources.
Keep your pricing simple: offer only a small amount of pricing options that are easy to understand. Also, make sure to clearly outline all of the features and benefits.
Consider showcase offerings: use a showcase offering in which you highlight the most expensive or best package you have, in hopes that people will settle for the middle package.
Use charm pricing: even though there's just a 1 cent difference, $19.99 seems much smaller than $20. Charm pricing makes it seem like you're selling at a lower price than you are.
Limit the number of choices: the Paradox of choice explains that when we're faced with too many options, it becomes overwhelming to pick. Stick to a simple pricing offering — like annual and monthly, for example — to make it easier for people to convert. You can offer upsells when they checkout.
New member promotions: create new member promotions where you'll include a benefit or exclusive perks to members that join within a certain time frame.
Trust the data instead of your gut: do some research, look at your competitors, and talk to your best customers to find out the best way to price your membership.
Pay attention to revenue drivers: pay extra attention to your membership pricing as you look at platform improvements and features to add since you could be missing out on potential revenue.
You can also mix and match these tips and pricing strategies to create one that fits your membership like a glove.
Your membership pricing should be a focal point of your strategy to make sure you're bringing the biggest value to both your current and potential customers.
Wrapping This Up
Coming up with a membership pricing strategy is key to bringing value to your members — and also to your bottom line.
Luckily for you, with these strategies and tips, you should be ready to come up with a price that highlights what your membership is worth.
And if you're still choosing a membership platform, consider signing up for Uscreen's free trial and see everything that we offer.