You're a creator that already sells premium content online. But your current monetization streams are leaving a lot to be desired.
The good news is: there are profitable and sustainable ways to earn a full-time income from your premium content—including a new membership site.
I've been there; debating whether the membership model is the right fit for my content (or if it's worth the investment to set up). I decided that it was. Now, my membership site Peak Freelance is thriving with a handful of revenue streams that help us monetize the community.
This guide shares 9 techniques to make money with a membership site—each of which is a proven strategy used by creators who want to strengthen their relationship with their audience and build a thriving community that supports them financially.
What is a membership site?
A membership site is a way to bring together your exclusive content and online community and monetize your audience. Members get access to both elements in exchange for a recurring membership fee.
Pilates instructor Lottie Murphy, for example, has a membership site where people can watch on-demand Pilates videos and participate in a community of people with shared interests in exchange for £19.99 per month. 
It's a smart way for the creator to capture a community of people that pay for premium content on a platform she has ultimate control over.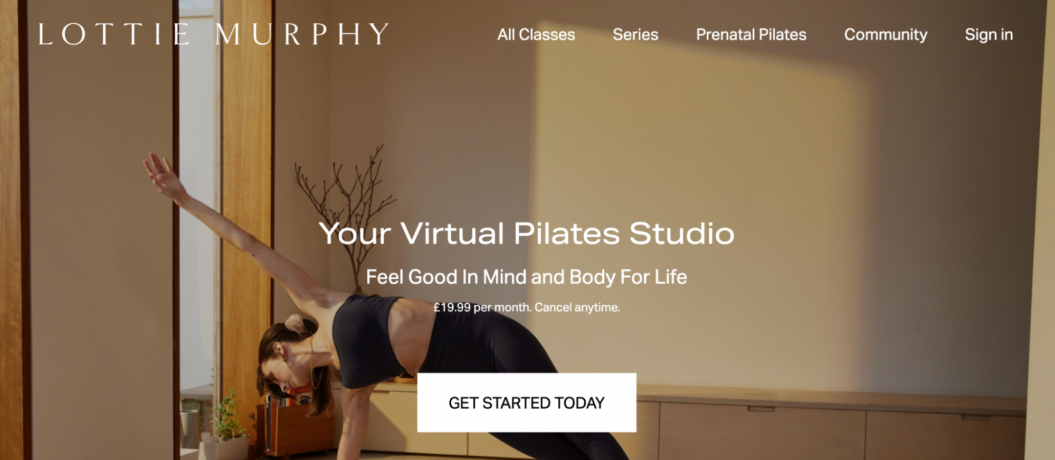 The benefits of monetizing a membership
Before we dive into the strategy you can use to make money from your own membership site, let's briefly cover why so many entrepreneurs choose this online business model:
Consistent revenue from recurring payments. People who join your membership site pay a recurring fee to gain and maintain access. Whether it's a monthly, quarterly, or annual subscription—all of which give you time and peace of mind to focus on what truly matters: creating content and nurturing relationships. It's no surprise that this consistent revenue is the #1 reason why creators start a membership site.
Strengthen audience engagement. People have more skin in the game when they're paying for something. In the case of your membership site, paying members will be more engaged in a community that they pay to be part of. More engagement means that members are more likely to stick around. Plus, a strong community of like-minded members adds another layer of value to your premium content, making it easier to sell your membership.
Various ways to make money. There are several ways to monetize a membership beyond charging a fee for access. For example, you could opt to host a free membership site and bring in revenue from brand sponsors and affiliate links. You could also make certain content available for one-off purchases, or limited-time rentals.
It's simple with Uscreen.
Build, launch and manage your membership, all in one place.
How to make money with a membership site
Build a membership app
1. Set up recurring subscriptions
Did you know that 15% of consumers are already paying for subscriptions to access creators' content? If you're giving away your content and community for free, you could be losing out on thousands each month—especially when the average price of an online membership is $60 per month.
Set recurring payments that gate your content and community forums behind a paywall. The most popular subscription model is monthly payments, but you could give people discounts for committing to a longer length.
Studio Bloom, for example, offers 3 different payment options where people get better discounts the longer they commit. Those who pay for an annual subscription (instead of monthly) save $108 over the course of the year.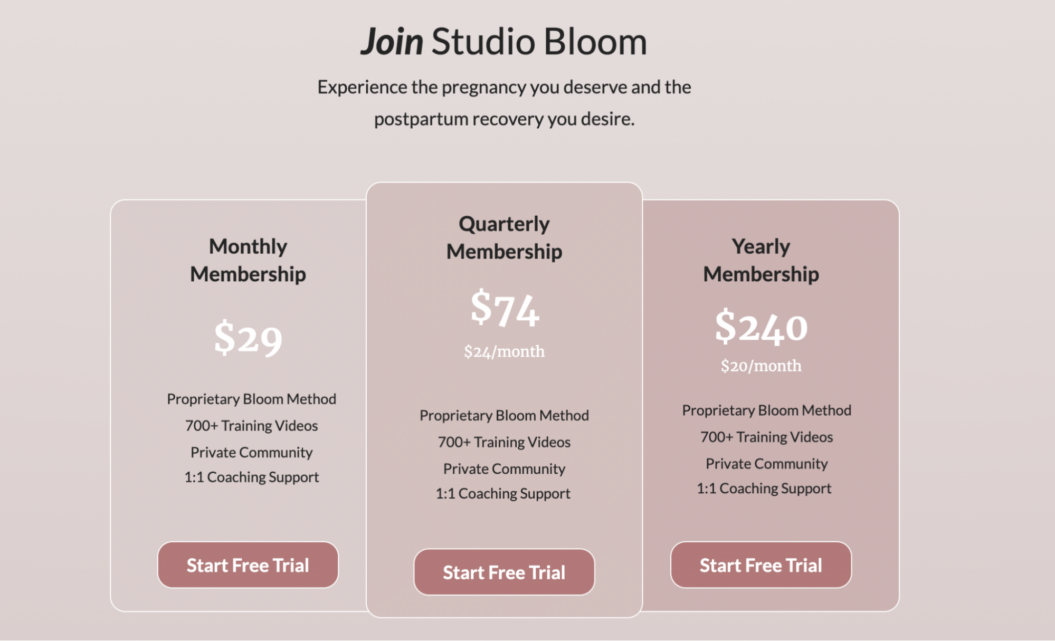 You could even join the 82% of memberships that offer more than one subscription option using tiers. These tiers—sometimes referred to as membership levels—give people access to different aspects of your content and community.
Perks for higher tier members could include:
Priority support
Exclusive access to live streams
Free digital downloads
Coaching calls
Ad-free experiences
Take the headache out of managing subscriptions by building your membership site on a platform like Uscreen. It's an all-in-one platform that handles everything, from an easy to use landing page and website builder, to built-in marketing tools, to payments and billing.
You get to focus on what you do best: growing a community and creating great premium content.
2. Build a thriving community
An online community is an important part of any membership site. People might come for the content, but they stay for the community.
Simple techniques to engage community members include:
Setting community challenges, such as a 4 week follow-along fitness program.
Offering rewards to encourage participation, like coupons, digital downloads, and shoutouts.
Celebrating member achievements both in the community and outside of it
Asking people to participate in Q&A sessions or suggest experts you can invite to host a live stream
Should you choose to build your membership site on Uscreen, you'll get access to incredible community features to engage members.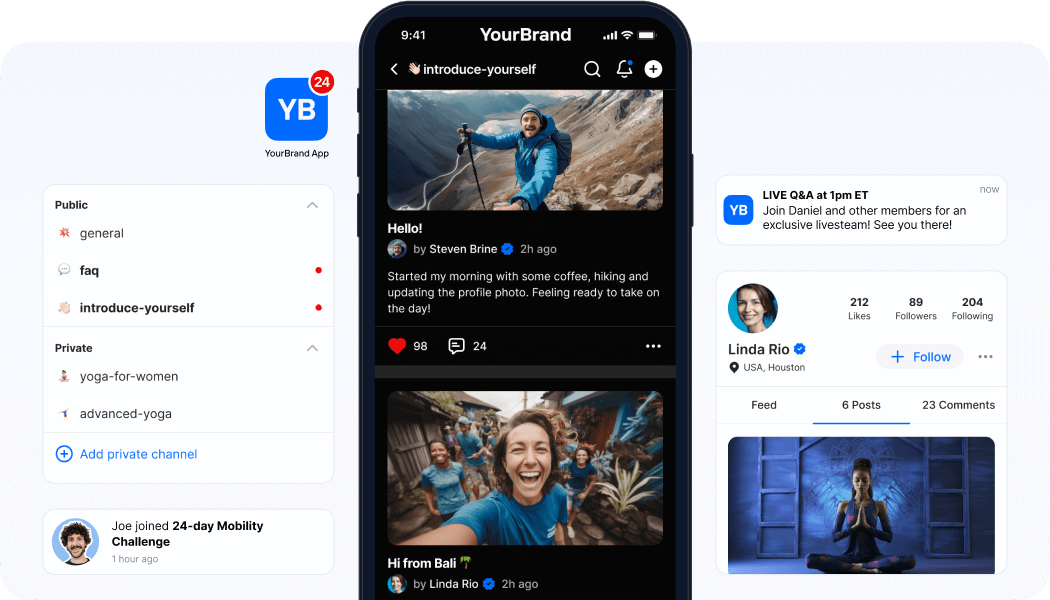 From chat sections beneath your live streams to customizable avatars and member profiles—these things might seem small, but they often have the biggest impact on helping members feel involved.
And remember: when people feel a strong sense of belonging in your membership site, there's no reason for them to leave.
It's simple with Uscreen.
Build, launch and manage your membership, all in one place.
3. Host exclusive live streams
Live streaming is a great way to build an online community and member relationships since you can interact with members in real-time. Whether you're playing a game or giving a tutorial, host them exclusively inside your membership and give people another reason to join.
Creators who build their live streaming platforms with Uscreen make an average of $12,000 every month.
Get more mileage from your live streams and webinars by saving them as on-demand replays in your membership site catalog. New members can see previous streams and get up to speed with content they might have missed. Anyone who attended can also go back and watch the replay if they'd like.
Get It Done, for example, uses the membership portal to live stream fitness classes—all of which are gated behind a paywall. Members need to start a monthly subscription to catch up on previous videos.
Susannah Davda also uses this strategy to monetize The Shoe Community. She hosts regular live classes on topics related to starting and running a shoe brand.
"If you miss a live session you will have access to previous masterclass recordings," Susannah says. "The Shoe Community has proved very popular with shoe founders around the world as it provides an ideal space to get together to help sort out each other's problems and lend support."
4. Offer digital products
It's not just live streams that people can get members-only access to through your membership portal. Unlike free content given to your wider audience, digital products are a type of premium content that people can only access by joining your membership program.
Not only can it attract new members, but you can keep existing members happy with a constant stream of high-quality gated content that they can't find elsewhere.
Online courses are the most popular type of digital product—studies show that almost one-quarter of membership site owners plan to add on online courses within the next year. A membership platform like Uscreen makes it easy to host and organize your course modules and resources.
Depending on the type of membership site you run, other digital product ideas include:
Worksheets
Templates
eBooks
Podcasts
Software or applications
At Peak Freelance, we offer courses and templates that can be bought on their own or as part of an All Access membership. Lots of people join the membership for this type of content—since it's a cheaper monthly fee than buying each digital product individually.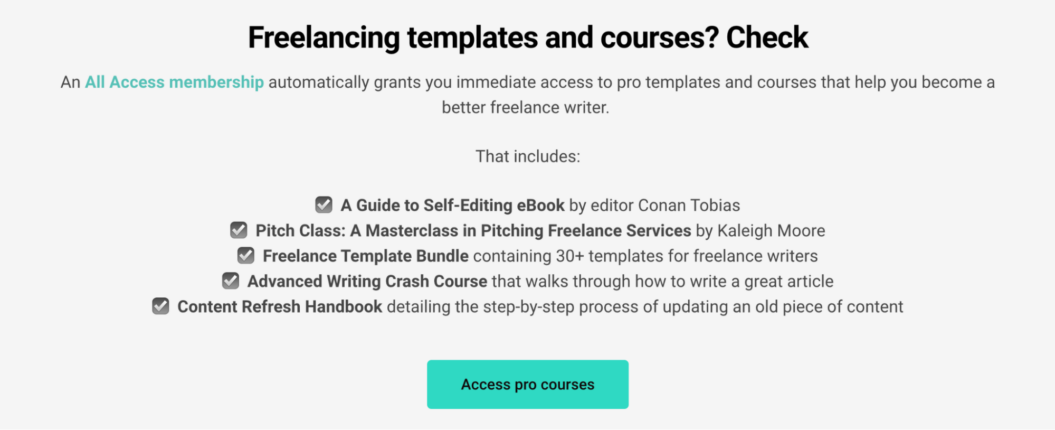 5. Sell coaching services
Most membership monetization strategies prioritize passive income. With live streams and digital products, for example, you only have to create the content once, yet you can sell it infinitely.
Some creators shy away from services—where you trade time for money—for this reason, but they're a great additional revenue stream to add to your existing membership site offers. It's the most popular income source for membership site owners because it helps your audience get better at the goal your community shares.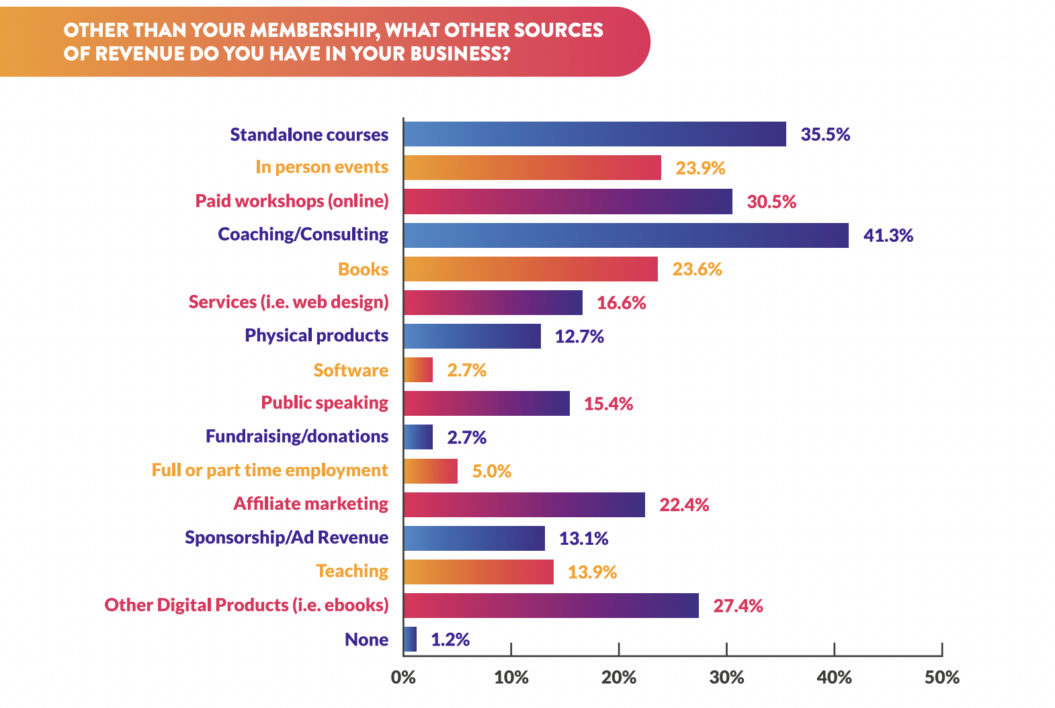 The strongest benefit of coaching is that you can get a lump sum of cash upfront (depending on how expensive your coaching is) and build stronger relationships with your members through 1:1 support.
Both of these things help you earn money by trading your time, but also going above and beyond to help members—a strategy that pays off in the long run when coaching clients recommend you to their own network.
Members who take your coaching sessions are also more likely to stay subscribed because they're getting maximum value from your community.
Jay Clouse, for example, offers quarterly 1:1 coaching sessions (worth $1,500) when people join Creator Science's VIP membership plan.
It's an incentive for people to join the higher ticket membership tier, achieve a goal the community shares, and build a stronger relationship with the creator behind the membership.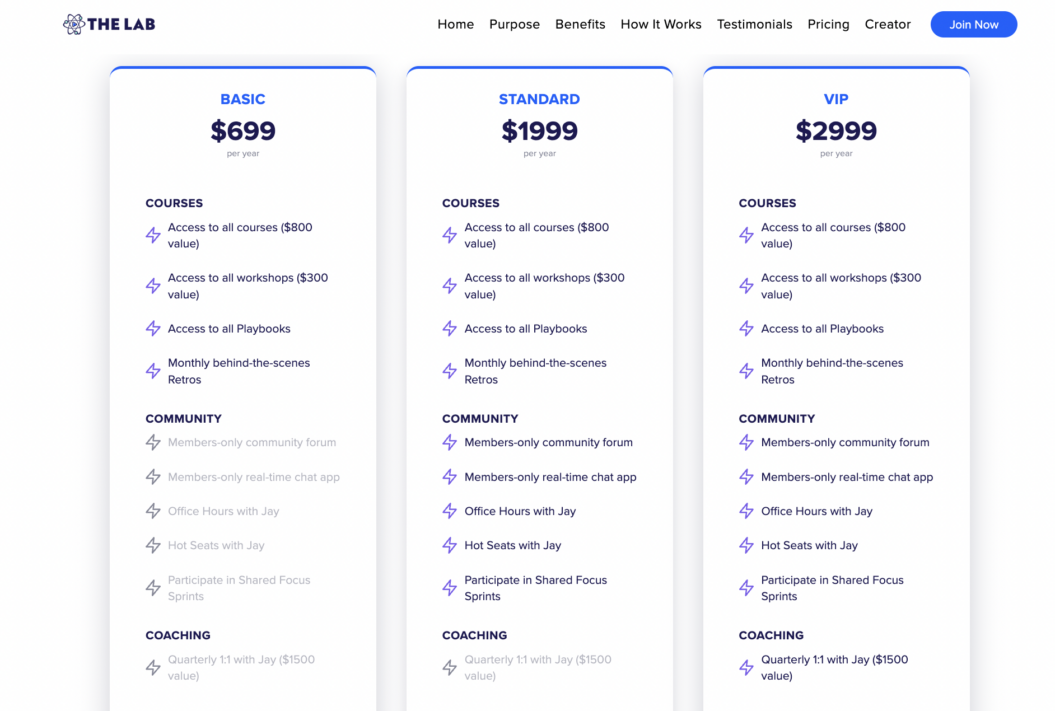 6. Find brand sponsors
Asking your members to pay for something isn't the only membership site idea you can use to monetize your community. In fact, 77% of creators on platforms like YouTube, TikTok and Instagram depend on brand sponsorships rather than monetizing each piece of content directly.
Find a brand you already use and pitch them to sponsor your membership website. It's often easier to make the ask when you know how the product or service works, its most valuable functionality, and that it's genuinely useful for your members.
At Peak Freelance, we offer email list and private podcast sponsorship opportunities for brands who want to reach our community of freelance writers. This slide in our sponsorship deck outlines the types of brands we work with to make sure every enquiry is a great fit.
It helps us make sure:
All sponsors get value from supporting our community (and therefore, would likely sponsor it again).
All members get value from the product or service we're promoting. Because of this, members are also likely to trust our recommendations more—they know we won't promote anything just for a quick cash grab.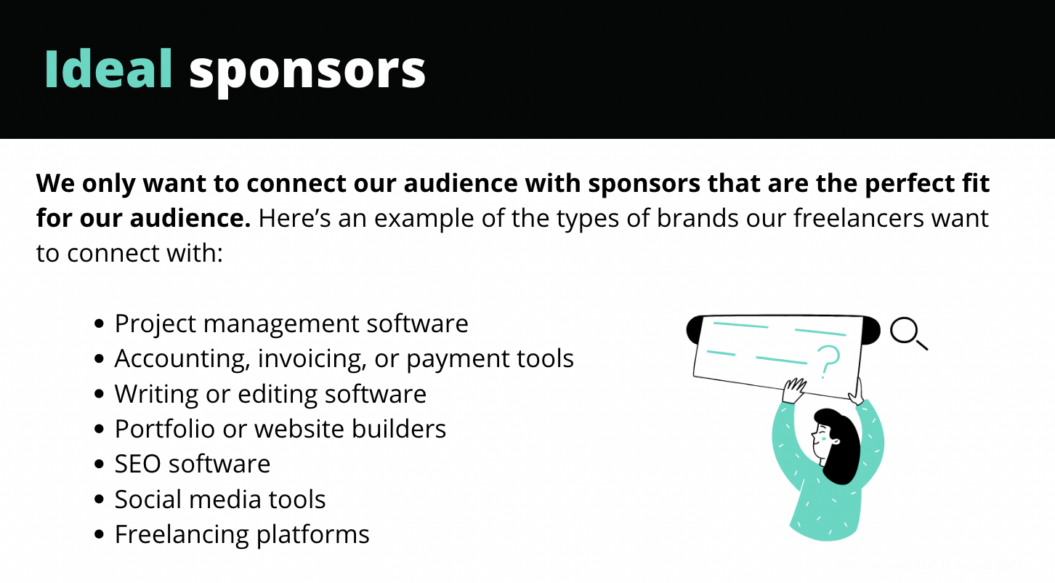 7. Use affiliate links
Affiliate links allow you to earn commission (between 5% and 30%) when a member buys a product or service you've recommended.
Maximize income potential by prioritizing high-ticket items that your members would buy, or becoming an affiliate for a subscription software.
Unlike a typical eCommerce affiliate program, most SaaS affiliate programs pay recurring commissions for as long as your referred member subscribes to their software.
For example: At Peak Freelance, we're affiliates for Freshbooks (accounting software), Authory (portfolio builder), and Harlow (a CRM for freelancers). They're all great tools our audience would genuinely love and use, so it's natural and easy to "sell" them to our members.
Get more affiliate sales from members by:
Hosting a tutorial on how to use the product
Showing people how to do something using the product (e.g. a live stream on how to build a portfolio using Authory)
Doing an "ask me anything" with someone who works for the brand (e.g. if you're a fashion community and affiliate partner for ASOS, invite someone from the ASOS team to answer questions about working in the industry, how they landed their role, and what advice they'd give to someone who is just starting out)
How much money you'll make from an affiliate marketing strategy depends on how big and engaged your members are. For context: If you're on a 20% commission rate and have 100 people who buy a $50 per month product, that could end up being $1,000 monthly profit for your creator business.
8. Reduce member churn
Not every monetization strategy has to focus on getting new members.
One report found that 84% of memberships have a churn rate below 10%. But when membership owners reach out to churned customers, around 15% of ex-members restart their subscription—and continue supporting the creator.
Whether you're surveying members, putting them into an automated email marketing series, or personally reaching out, don't wait for people to cancel their membership before doing so.
Whenever you spot these signs of potential churn, contact members and try to target and re-engage them before they cancel their membership:
Lack of engagement
Long periods of inactivity
Failed payments (most often due to insufficient funds or an expired credit card)
Let's put that into practice and say you have an active member whose most recent payment had failed. Instead of waiting for them to involuntarily churn because they forgot to update their payment details, email them to make them aware of the issue and quiz them to find out if they want to stay subscribed.
If they're on the fence, remind them of the value they're getting from a membership. A short note like "update your credit card in the next 7 days and keep unlimited access to our community and exclusive content" could be enough to make them do so.
Uscreen's built-in marketing tools—like our Reduce Churn feature—and plugin integrations allow you to achieve your marketing goals all under one platform.
9. Build a membership app
As a membership site owner, your ultimate goal is to make your content and community "sticky".
This happens when people create habits around your membership. It becomes top of mind for them in their daily routine—something they can't go a long period of time without, nor get the same experience elsewhere.
Membership apps help to do this by giving people an all-in-one place to find content and community.
With an app, members can:
Access content on-the-go via their iOS device, Android phone, or smart TV
Make in-app purchases (such as upgrades to the next tier)
Download videos or live streams to watch offline without internet access
Receive push notifications when new content or community threads are posted
Create their own personalized video playlists
The best part: apps aren't as expensive to develop as you might think, especially when you're using a tool like Uscreen. And it's an investment that pays dividends.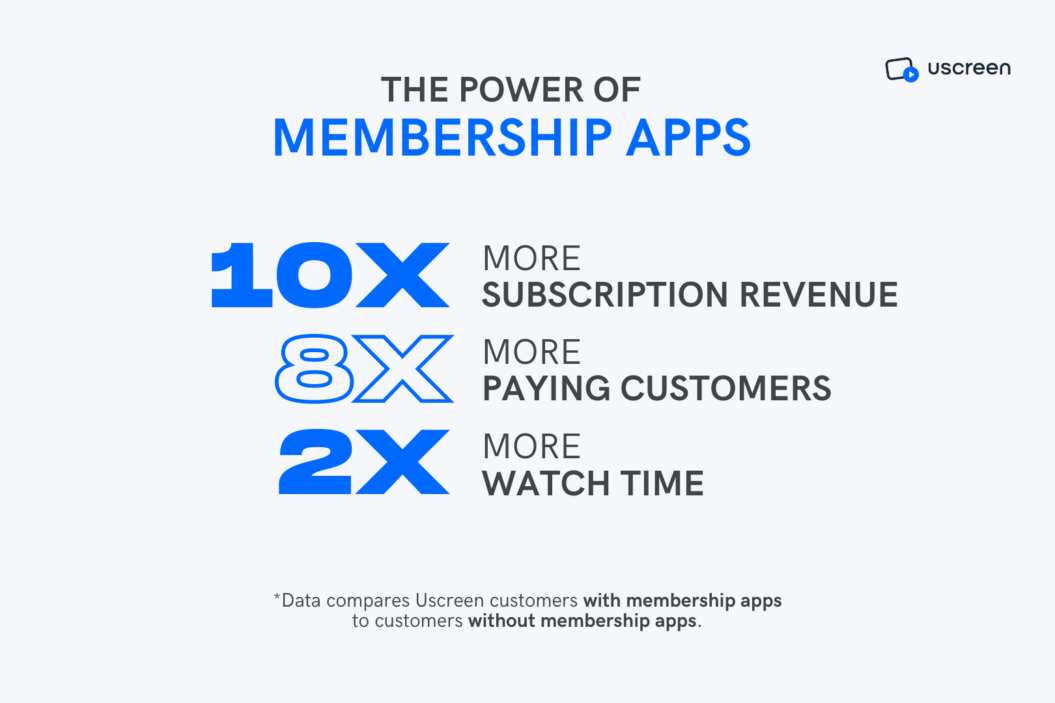 Research shows that Uscreen creators with membership apps:
Get 10x more subscription MRR than those without
Have 8x more paying customers than those with a membership website only
Have double the watch time than web-based memberships
Monetize a successful membership site with Uscreen
Modern creators are using a range of monetization methods to make money with their membership site.
My overarching advice is to explore indirect ways to monetize your membership site," says Dr Mark Farrell FIA, founder of Pro Actuary. "The key lies in understanding your audience's needs and tailoring your monetization strategies to cater to those needs effectively.
Uscreen helps you build a membership site that monetizes both the community and content aspects of your creator business—leaving you with more time to create new content and cultivate relationships with your audience.
It's those two things that turn an average membership site into one that people pay to be a part of.
Start your free trial today and see why thousands of creators build their membership apps with Uscreen.
How to make money with a membership site FAQs
How do I monetize my membership site?
Simple ways to monetize a membership site include restricting access to premium content behind a paywall, using affiliate links, and finding brand sponsors who pay to access your community.
How do I get people to join my membership site?
Promote your membership site on social media
Direct people to sign up for your email list
Host live streams or webinars
Offer a free trial
Share content and testimonials from existing members
Can you make money with a membership business?
It's possible to make a full-time income with a membership business. The average creator on Uscreen, for example, earns around $12,000 per month from their membership site.
How do I start a paid membership business?
Outline your goals
Define your ideal member
Find a shared vision or common interest
Choose a membership site platform
Set up a paywall
Create premium content
Build a community
Promote your membership site