Making a membership website is key to earning more money and keeping customers as a content creator.
The question is, where do you start?
If you're looking for a no-nonsense guide to creating a profitable membership website, you're in the right place.
In this guide, we'll cover everything from choosing a platform to planning your content.
What is a membership website?
A membership site allows people to access premium content or services after paying a monthly or annual subscription fee. Gated content on a membership site is usually delivered as video lessons, podcasts, PDF files, articles, or forum discussions.
Membership versus subscription website
Membership and subscription websites are similar in that they both make money by charging a fee to access exclusive content and services.
The big difference between the 2 revolves around member engagement and interaction.
Membership websites prioritize networking and interaction among members. A membership website aims to build and nurture a community around a specific topic or niche.
Subscription sites are more straightforward. In a subscription business model, subscribers pay a monthly or annual fee and get a service in return. There aren't many opportunities to interact with other subscribers.
While both business models can help creators make money, membership sites are the best way for creators to achieve long-term success.
Here's why.
What are the benefits of having a membership website?
More creator entrepreneurs than ever are adopting the membership model because it's a reliable source of income and offers a better experience than subscription sites. Let's jump into a few great perks of having a membership website:
Earn recurring revenue
Paid membership websites offer predictable revenue because members pay a monthly or annual fee. A 2022 industry report found that an overwhelming majority (81.5%) of creators enjoy the stability of recurring revenue.
Build a community around content
Membership sites are an excellent way to build an online community of like-minded individuals who collaborate with and respect each other. This feeling of belonging to a community strongly motivates people to stay subscribed.
Establish credibility in your niche
Running a membership site with paying members signals that you know your stuff. Credibility helps you get more members, and as a side benefit, can help you land speaking gigs and consulting work.
Now, let's look at how you can create a membership website and build your own community.
How to create a membership website in 5 steps
1. Validate demand
Validating demand refers to confirming there is a genuine market need for your membership idea.
You might be the best tin-foil hat salesman in the world, but if no one wants to buy tin-foil hats, the quality of those hats and your sales skills won't matter. That's why validating your membership site idea is important.
Other memberships already existing in the niche are a good sign of demand, and it's healthy for a business to have competition.
Open up your laptop and start researching other sites in your niche. If you're a fitness instructor, head to other fitness membership sites and explore what makes them successful using these 4 steps:
Look at their product pages and understand their offering, features, and prices.
Learn what topics they create the most content about. What questions do they address?
Check out reviews of their products. What do they do well? What do they do poorly?
Sign up for their email list and analyze their messaging and product updates.
However, some creators occupy a very specific niche, which means there may not be a lot of other comparable platforms to research. In that case, you can validate demand by looking at your current audience. If you're making videos on YouTube, and your subscribers are consistently asking for more, you know the demand is there.
AdjusterTV Plus is one of those memberships with a small niche and very few similar businesses.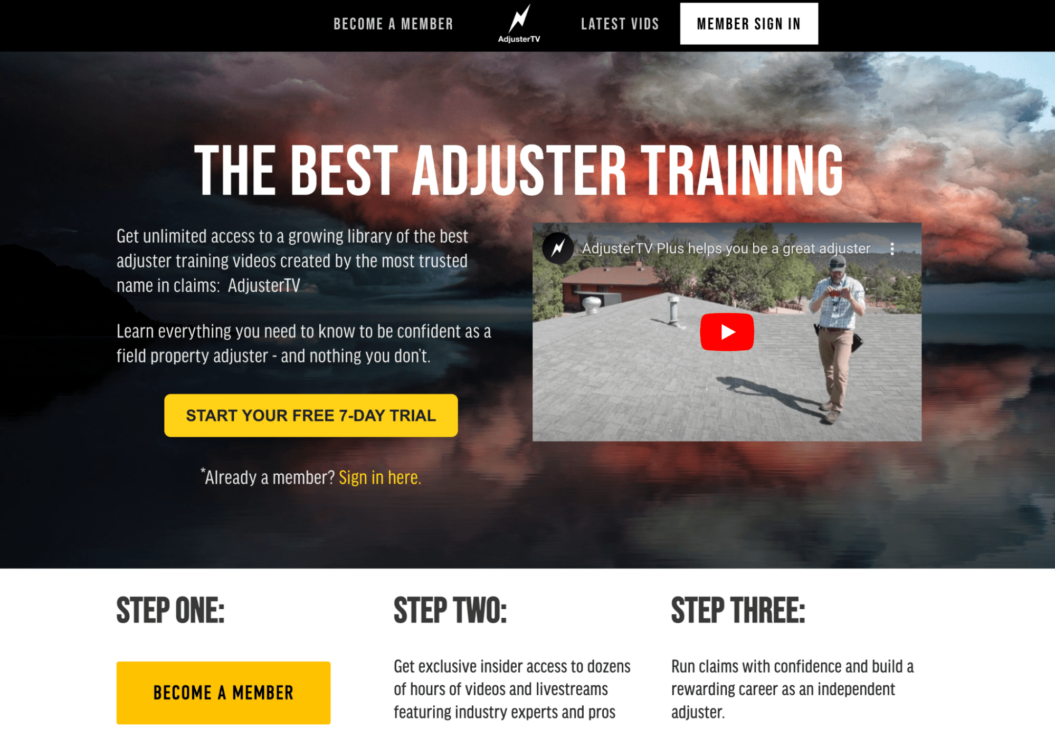 Founder Matt Allen started with a YouTube channel. When his viewers started asking for more in-depth videos, he saw an opportunity to monetize that demand with a paid independent insurance adjuster training membership.
💡 PRO TIP: Write down every membership offer you see while researching. Choose the ones you want to include in your own packages. Start with fewer offers, see how your customers respond, and then add more after your launch.
2. Define who your customer is
Your audience is the foundation of your membership, and knowing who they are and what they want can help you offer more of what they want. That is why you want to define who your customer is. This will also influence your membership pricing strategy so you can make more sales.
To learn about your target audience, research different online forums and communities where they hang out. Then ask yourself the following questions:
What topics does your audience talk about online?
What are their common challenges?
What questions do they ask each other?
What skills do they want to learn?
What are their values?
Sending surveys and scheduling 1-on-1 conversations to find these answers are 2 of the most valuable investments you can make in your membership's future.
Filmmaker's Academy is a platform providing learning resources for filmmakers, and they're positioned that way because of what they learned from a customer survey.
They started by presenting their content in a masterclass format but soon discovered that framing it as a resource platform made the membership more appealing to their audience.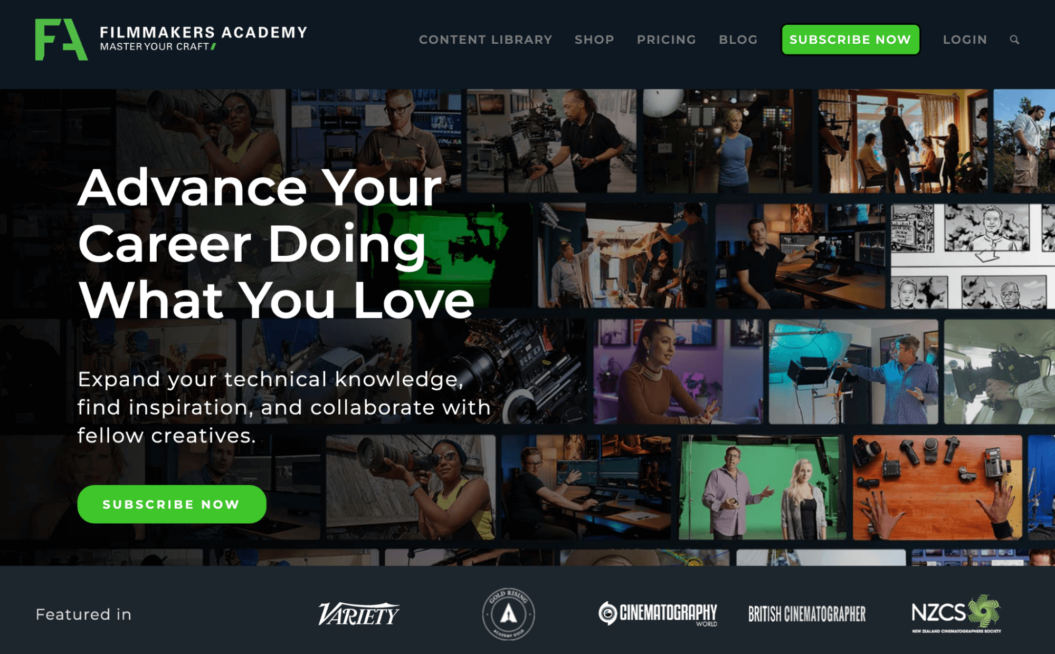 They also discovered that most of their audience identified as professional filmmakers rather than hobbyists. That extra knowledge of their customer base means that Filmmaker's Academy can tailor their membership marketing, content, and community to their member's needs.
Knowing your target audience goes beyond validating your offer – it's also a content hack. The information you learn about their wants and needs makes it easier for you to create relevant content for members and show you understand their problems.
💡 PRO TIP: Consider a community area for your membership site.
There are many options available, such as:
Memberships with a community area see a lower churn rate (6.06%) than those without one (10.46%).
3. Plan your members-only content
Planning your content before getting membership software will help you determine what features you need.
Having that knowledge will save you time by eliminating the membership platforms that don't offer your most essential features, and it will save you money by making sure you choose the right plan.
There are 2 types of membership content: active and passive.
Active: You need to put time into running the program. For example, you'd host Q&A's, webinars, coaching sessions, and other interactive events. They're an active part of the membership because the trainers hosting these events need to be there.
Passive: You don't have to show up often. Elite Guitarist, for instance, uploads new lessons to its membership content library. That's it! There are no live sessions. Instructors show up, record the lesson, edit, and upload it to the Uscreen platform.
One important note – a passive membership still requires work. It just draws on your resources differently than an active membership. Creating valuable content consistently is where you want to focus your time and energy, instead of in-person interactions.
Too many membership owners dive into running the business without a content plan, so brainstorming and scheduling a content calendar will prevent a mad scramble to get something out and leave you more time to be present for your members and yourself.
To help with planning, Membership Geeks 2022 Online Membership Report found the top 5 deliverables a membership provides:
Community (71.80%)
Online courses (69.90%)
Live calls (59.10%)
Workshops/webinars (56.80%)
Templates (49.40%)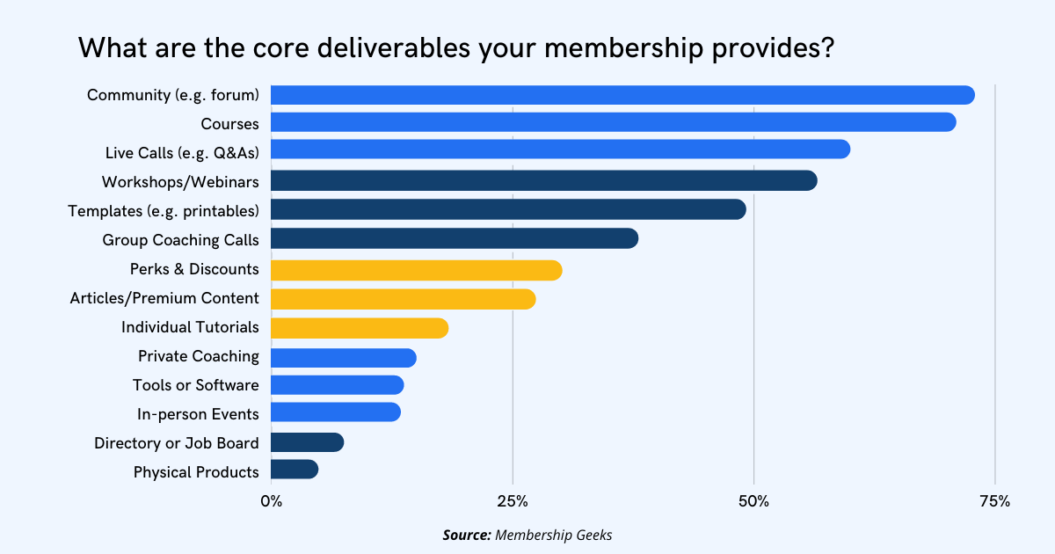 Ask yourself:
How much active time can you realistically spend interacting in the community, live streaming, or doing other special events for your members?
Can you commit to a daily community check-in and one live stream a month?
Is it a self-directed membership with little interaction between you and members?
Only you know the answer that'll fit your business, and a balance of the 2 types will keep you from burning out.
4. Build a beautiful membership website
Here's where we get to designing your website, and it's easier than you might think if you're using the right tools.
With Uscreen, you can choose from a collection of best-in-class website theme templates to customize.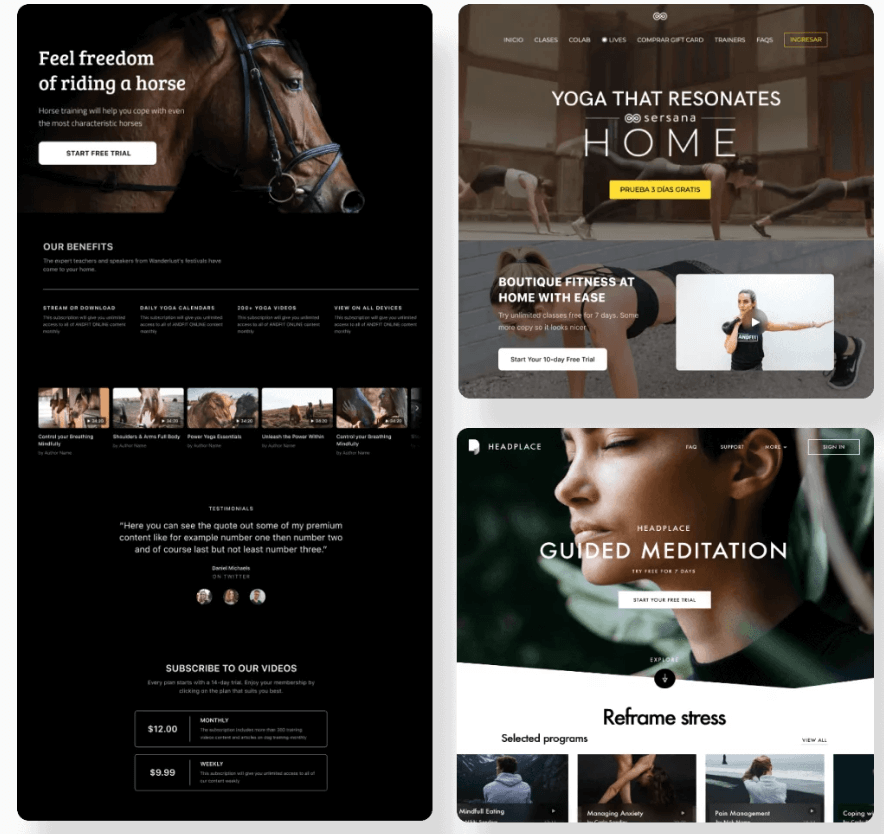 If you have an existing website, it's easy to add your Uscreen catalog as a sub-domain and seamlessly integrate it into your existing offering.
Either way, you want to include these 4 elements at a minimum when building your site:
Homepage: Tell visitors about the offer and encourage them to sign up.
Sign-Upp Call to Action: Show visitors pricing plans and a way to join.
About Us: Share your story and connect with potential members.
Contact Us: Give people a way to get in touch with you.
These elements will give your membership website credibility and a professional look. If you plan to have your own apps in the future, you'll also want to ensure you have pages dedicated to your terms of service and privacy policy.
Then, use the content management system to upload and organize your videos in a way that's intuitive for your audience.
Some of our successful customers, like Kara Duval, have a "Welcome" category that guides new members into the catalog, which is especially helpful as she adds more content over time.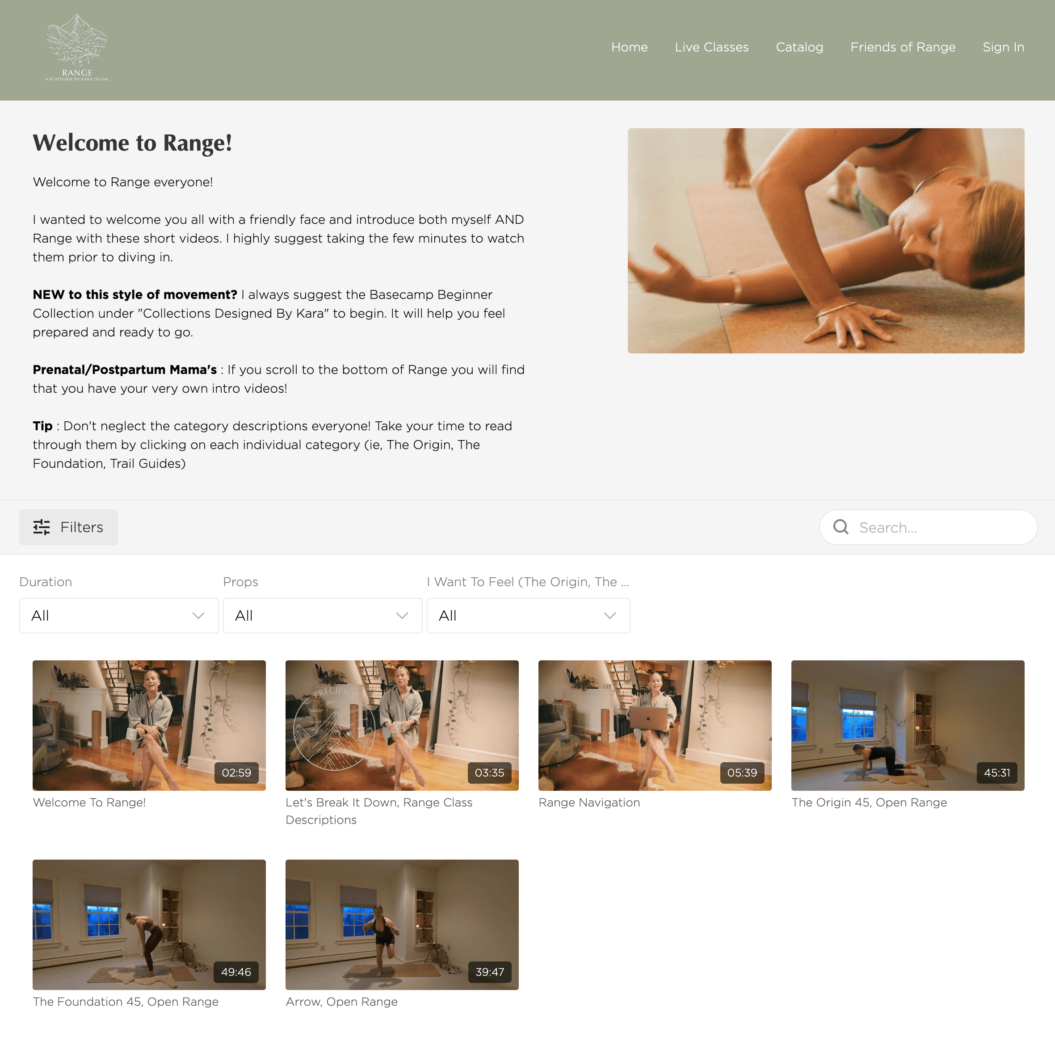 5. Grow your membership site through strategic marketing
You've done the research, validated your ideas, and built a membership site. Congrats! After creating buzz around your launch, new subscriber numbers may start to dwindle. It's normal.
Your goal is to find where your target audience hangs out the most and start engaging with them there.
Data shows that the 4 primary sources of new members are:
Content marketing (27.4%)
Email marketing (25.1%)
Social media (15.1%)
Referrals/word of mouth (11.2%)
Overall, a healthy email list is critical to the success of your membership site. The more subscribers you have, the more active members you'll have in your group.
Around 91% of memberships with fewer than 500 subscribers on their email list reported having fewer than 250 current members. In contrast, 65% of memberships with over 1,000 active members have more than 10,000 email subscribers on their list.
💡 PRO TIP: Talk about your membership regularly throughout your marketing channels. In addition to selling, make sure to offer content that adds value for your followers. Share behind-the-scenes content, tag students, go live — show fans what it's like to grow a membership and take them with you.
Best membership website builders
Let's look at some of the top membership site platforms to choose from.
Uscreen
Best for: Selling video memberships.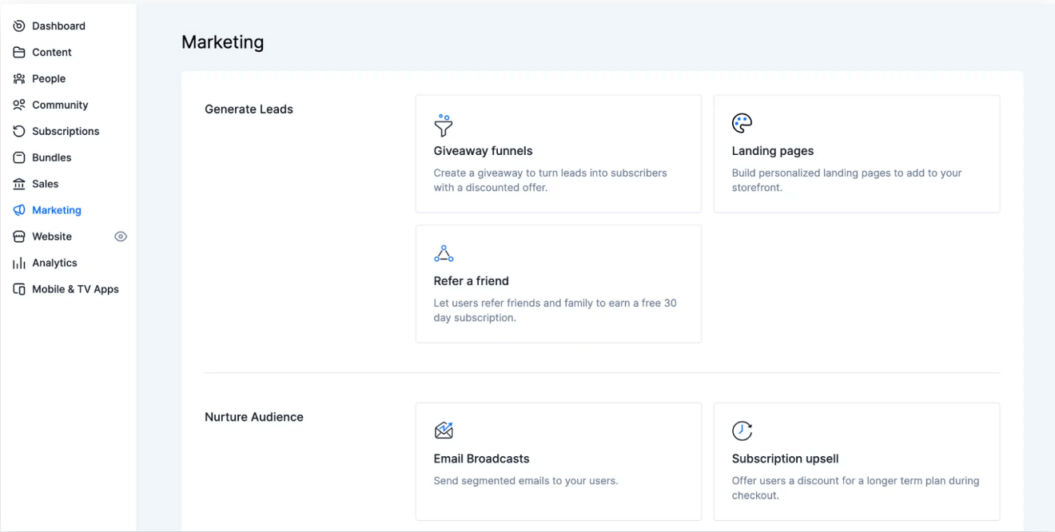 Uscreen is a membership software where you can host your videos online. It also gives you complete customization tools for creating a video membership site and analytics tools for monitoring its activity.
With Uscreen, you can maintain your video library in one place and deliver content to members on demand.
Uscreen offers a "Netflix style" functionality that lets people binge through video content categories. You can also get branded membership apps so students can watch content on more platforms, like Roku Box, Amazon Fire, and Apple TV, iOS, Android TV.
Other features include:
The ability to build your own website with a custom domain name.
High-quality video player with media controls.
Easy to manage member profiles.
Tiered membership options.
A complete suite of marketing and membership upsell tools.
The ability to schedule content releases.
Easy to set up recurring payments.
Popular checkout options like PayPal, Stripe, and credit card.
Integrations with Mailchimp, Hotjar, Profitwell, LinkedIn, and more.
Uscreen's comprehensive analytics tools provide valuable insights into member behavior, which helps you optimize your content strategy and sell more memberships.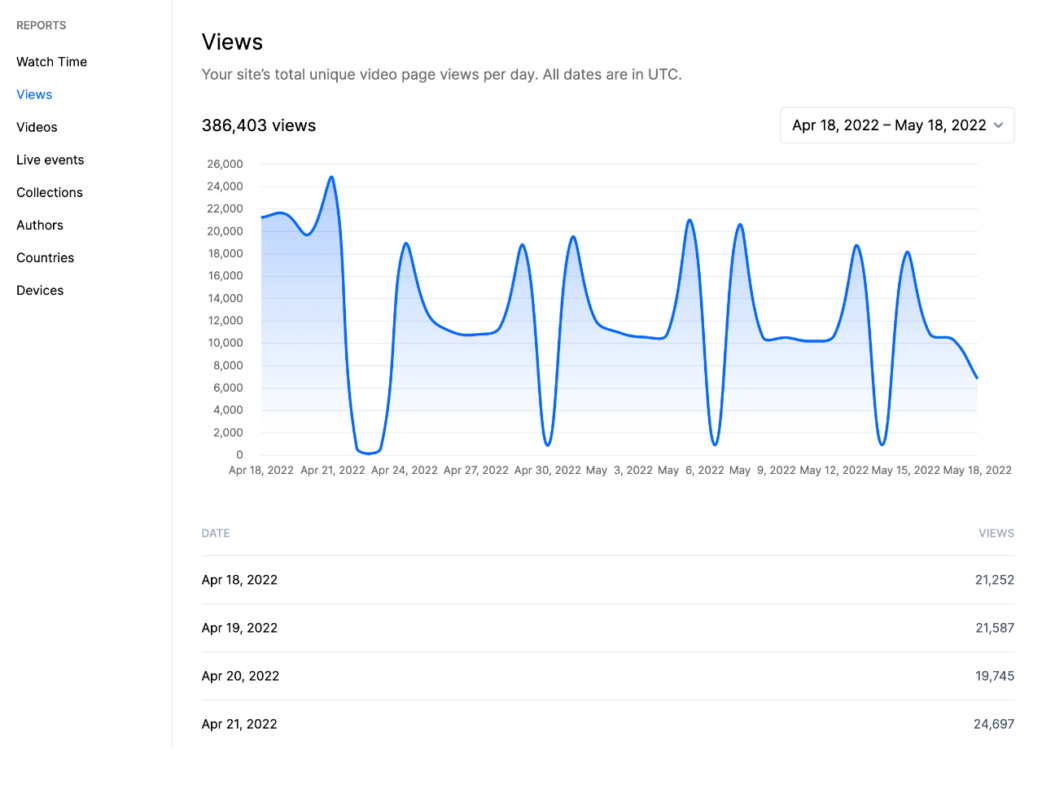 You can also integrate with Google Analytics to track visitors and better understand leads on your membership website.
Free trial: 14 days
Pricing: $
MemberPress
Best for: WordPress users.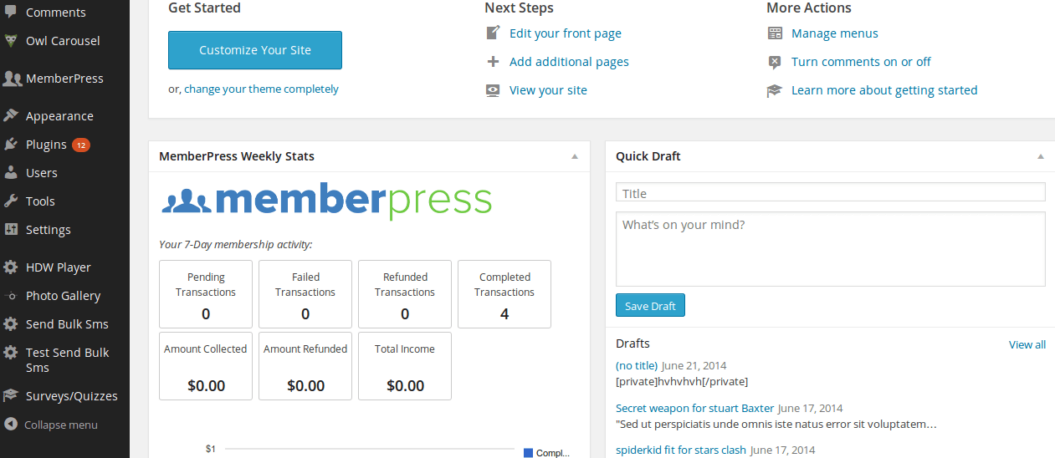 MemberPress is a WordPress membership plugin. It uses all of WordPress's native functionality, allowing you to easily set up landing pages and access add-ons for membership site SEO, sales, and more.
The plugin offers a wide range of customization options so you can tailor the membership experience to your subscribers. You can also easily add different membership levels with varied pricing and content access.
Say you're an ecommerce brand selling on WooCommerce, you can integrate MemberPress into your WordPress website and start a membership program.
Features:
Content access control.
Drip content.
Flexible payment gateways.
Customizable registration forms.
Coupon system.
Email integrations.
Detail reporting.
Wix
Best for: Simple membership websites.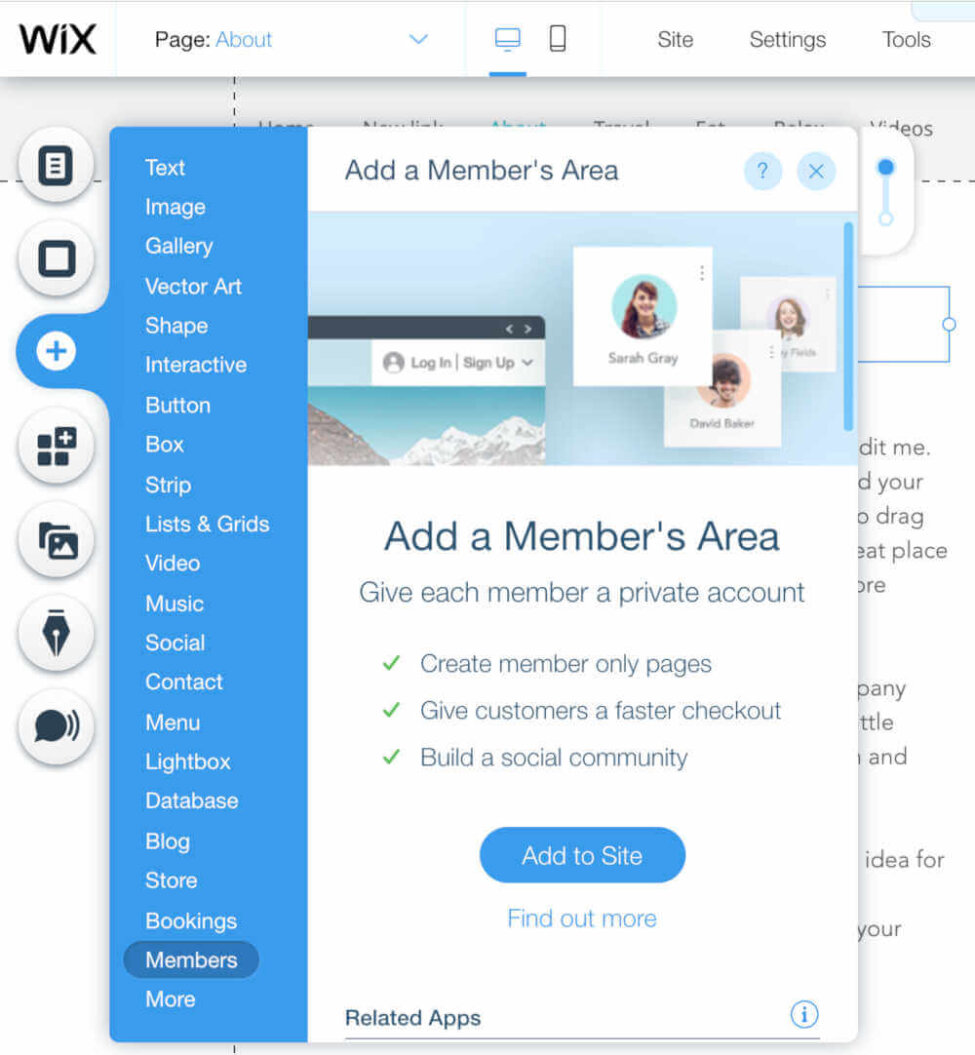 Wix offers a user-friendly solution for creating a feature-rich membership website. It provides a drag-and-drop website builder, letting users with no coding experience design visually appealing membership websites.
You also get access to the Wix App Market. Here you can find many plug-ins to help collect leads, analyze traffic, engage with visitors, and customize your membership site.
Features:
Designated area for creating members-only web pages.
Affordable pricing plans.
Automation capabilities.
Wix Ascend CRM for member management.
Design flexibility.
Squarespace
Best for: Websites with no customization.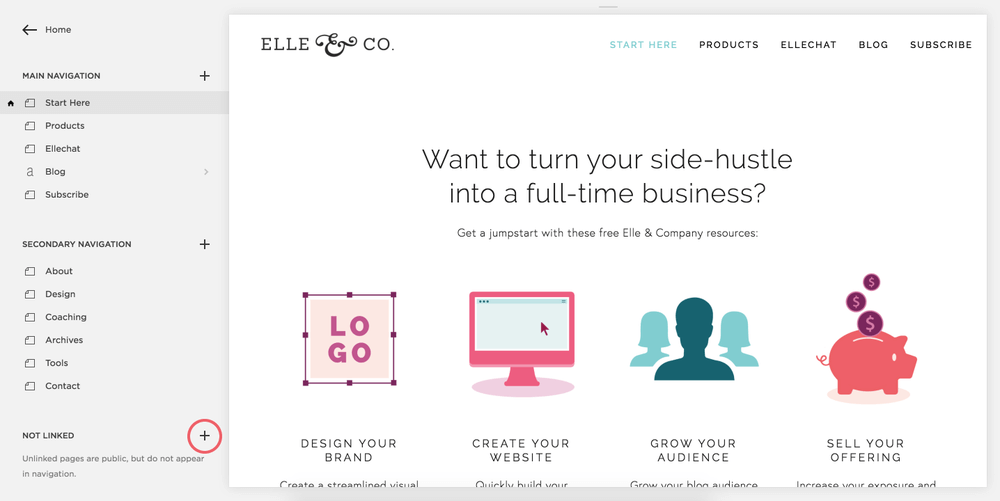 Squarespace Members Area is a feature that allows people to create members-only areas on their Squarespace website. The platform handles everything from web design to billing, making it a good choice for new creators without lots of existing know how.
Squarespace doesn't allow for much customization. So, if you want to create a tailored experience, you're better off with another platform like Uscreen.
Features:
Customizable access based on membership tiers.
Flexible pricing.
Member analytics.
Member management hub.
Seamless integration with Squarespace Commerce.
Kajabi
Best for: Course creators.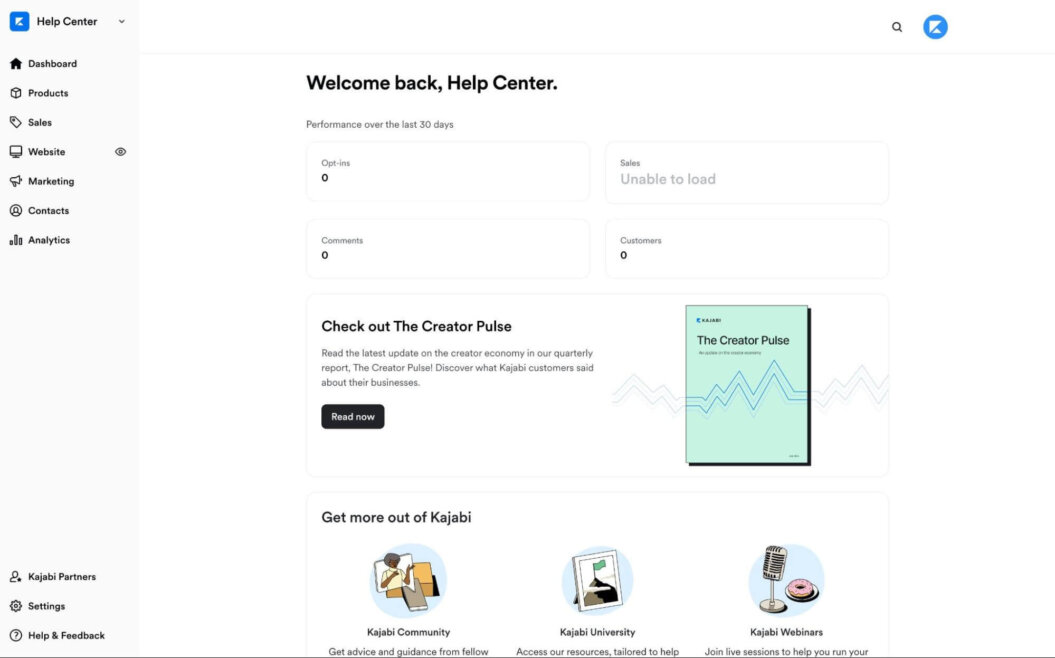 Kajabi is a membership website builder designed to help creators build and market digital products. People who use Kajabi are often selling online courses and coaching memberships.
Features:
Customizable website templates.
Built-in email marketing.
Advanced automation.
Secure payment gateways.
Optimized for mobile.
Course progress tracking.
Overall, Kajabi handles the technical aspects of selling exclusive content, so you can focus on building your business.
Wild Apricot
Best for: Nonprofit organizations.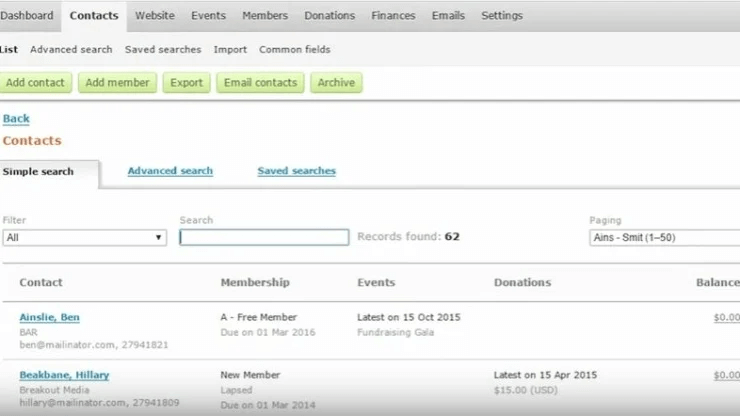 Wild Apricot is a membership management platform made for associations, clubs, and nonprofits.
Wild Apricot offers seamless tools to communicate with members, register them for events, and build a nonprofit website. You can also customize membership levels and automate renewals to free up time and resources to focus on what really matters: your mission.
Features:
Event management.
Member directory.
Mobile app.
Robust reporting.
Automation capabilities.
Sub Hub
Best for: Established membership organizations.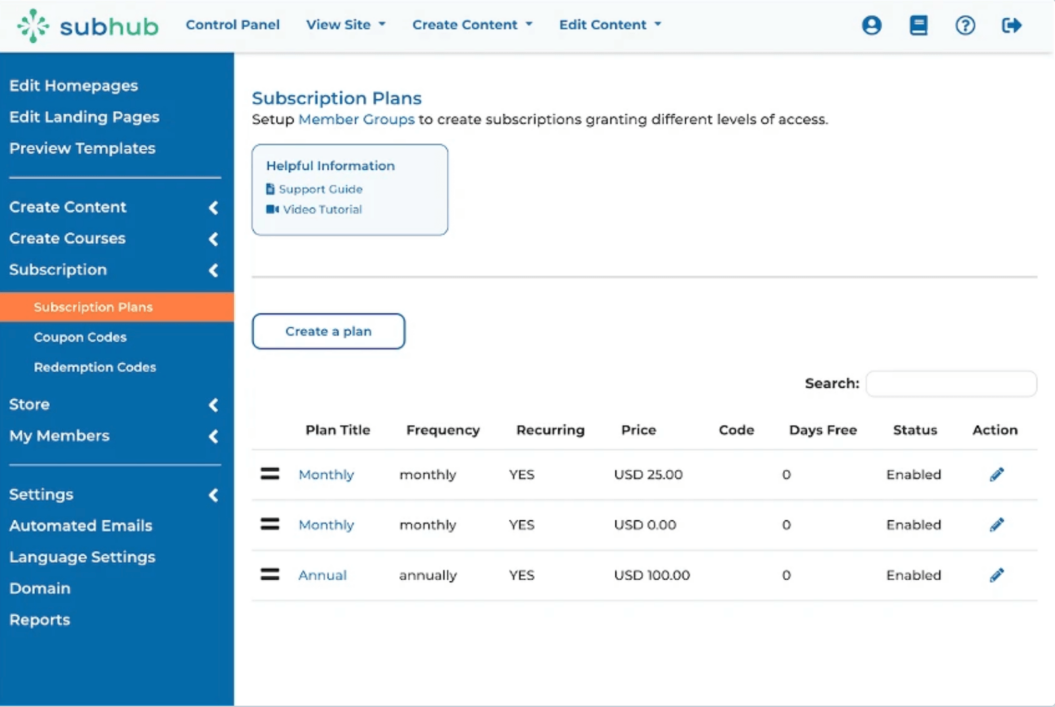 Sub Hub is a veteran in the membership software industry. But, their prices are a bit high. It's a good builder for organizations with more resources and money.
Sub Hub offers membership-focused features and tools for admins to easily manage their site. They also have payment gateways for international organizations.
Features:
Enhanced privacy and encryption.
Customizable packages.
Simplified subscription management.
Multi-platform integration.
Membership website examples
Sarah Beth Yoga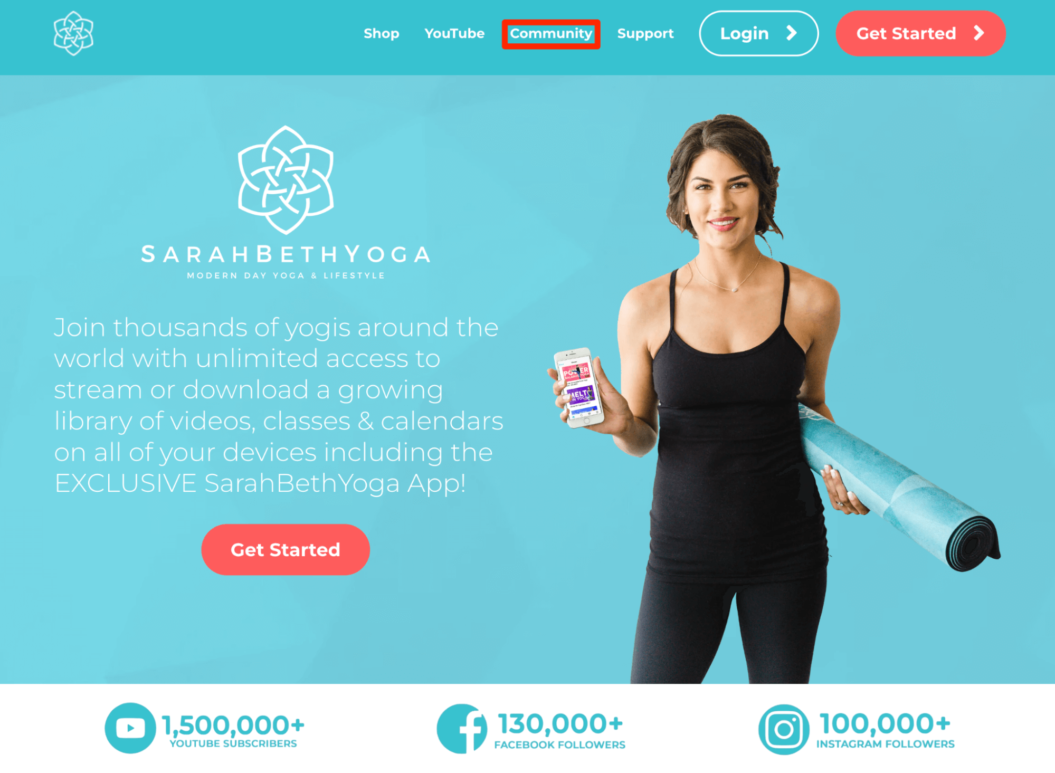 Sarah Beth Yoga is an excellent example of a membership website. Sarah unites thousands of yogis worldwide, from all skill levels and backgrounds, providing access to a library of yoga classes.
You can find classes that cater to all different styles of yoga, from Vinyasa to Hatha, and Restorative. Members also get access to monthly challenges and a mobile app for iOS and Android, so they can access personalized recommendations and offline downloads.
When you sign up for a membership, you also get access to the private SBY Community on Facebook.
Here, members can connect and communicate about all things yoga, plus:
Comment on each other's posts.
Make new friends.
Most importantly, have fun!
Elite Guitarist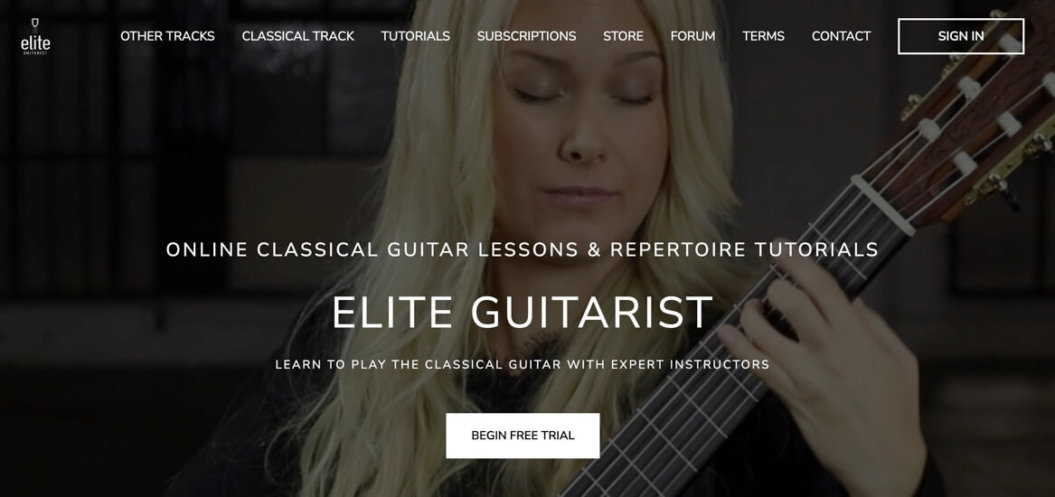 Another good example comes from Elite Guitarist.
In theirmembership, Elite Guitarist includes:
Video lessons with step-by-step guidance, close-up shots, and performance demonstrations to help members grasp each concept.
Sheet music and tabs so members can follow lessons and practice.
Technique and theory lessons to gain a deeper understanding of music.
Online community where members can interact with fellow guitar enthusiasts and instructors.
The brand offers classical guitar lessons and repertoire tutorials through hundreds of hours of expert instructions—a fantastic selling proposition if you want to learn to play classical guitar online.
SquashSkills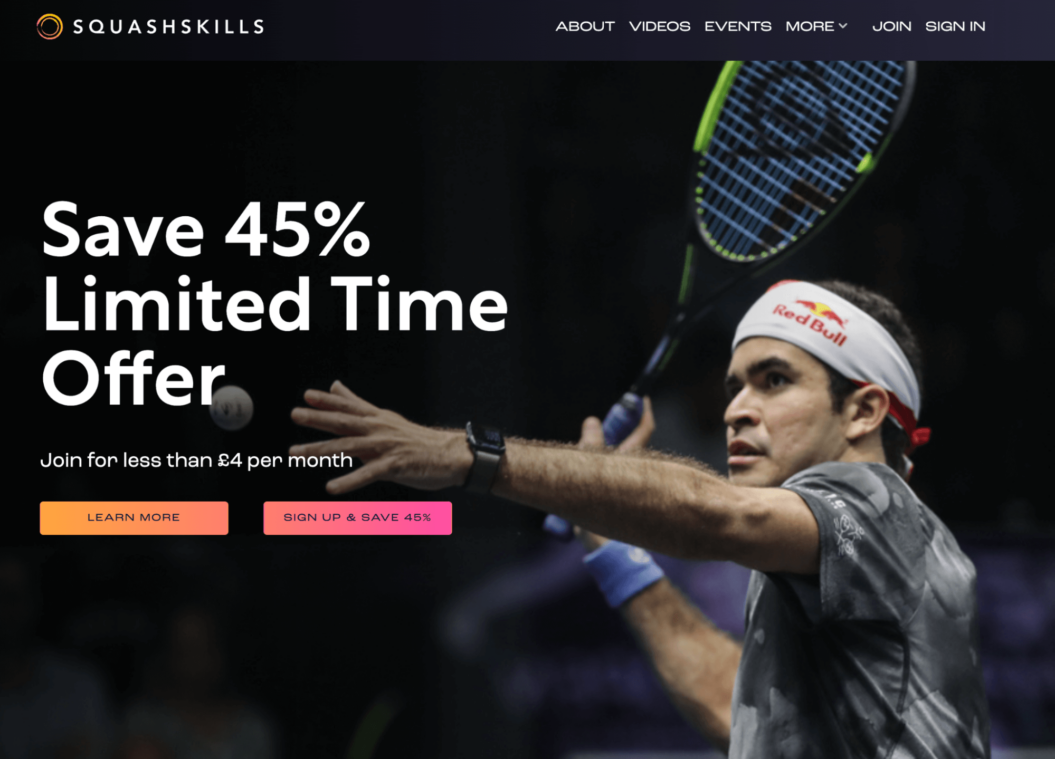 SquashSkills is an online membership site dedicated to squash coaching resources for players of all levels. The website features an extensive library of high-quality video lessons covering techniques, tactics, fitness, and conditioning, taught by renowned instructors and professionals.
The SquashSkills membership website also includes:
Personalized training programs tailored to individual skills and goals.
Solo practice routines.
The ability to connect with top coaches for feedback, advice, and support.
Informative articles, interviews, and resources to supplement video lessons and programs.
Memberships include monthly and yearly subscription options, granting full access to the platform's content and features. A free membership trial is available for non-members to explore the resources before committing.
Sqadia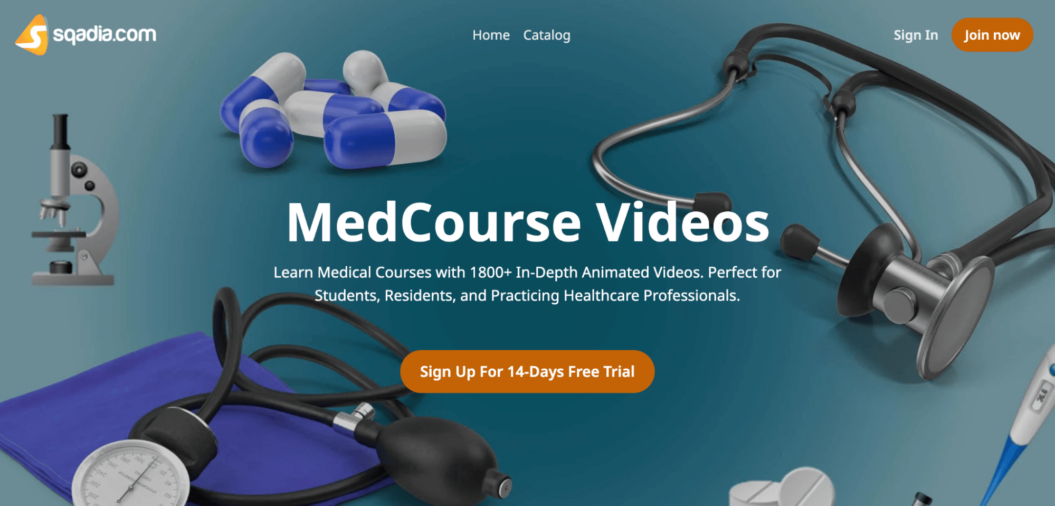 Sqadia is a membership website focusing on medical and healthcare education for students, professionals, and institutions around the world. Their goal is to provide high quality learning through innovative technologies and approaches.
Sqadia offers a range of features to help people improve their medical knowledge, including:
A vast collection of video lectures covering subjects like Anatomy, Biochemistry, Pathology, and more.
Courses delivered by experienced medical professionals and educators.
Quizzes and assessments to improve knowledge retention.
A mobile app so people can access Sqadia's content and features on-the-go.
Sqadia is committed to staying up-to-date on the latest developments in medical education. Continually adding new content, updating existing courses, and addressing any concerns through its support team.
FaderPro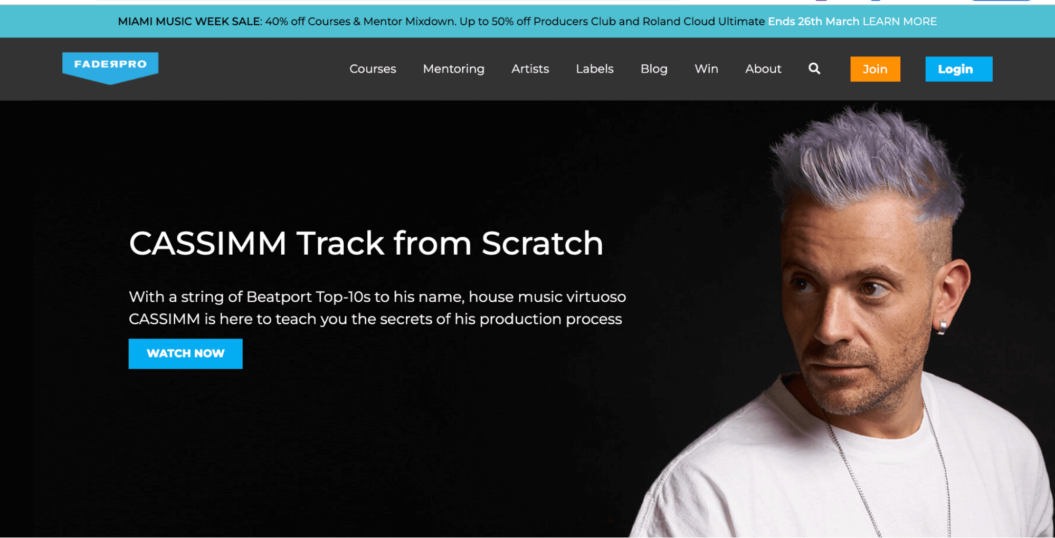 FaderPro is a learning suite for music producers and DJs. The membership providers expert-led video courses and educational content for both beginners and advanced musicians.
Some highlights of FaderPros membership website are:
Masterclasses with world-renowned electronic DJs like Nicky Romero.
A deep curriculum that spans music theory, sound design, mixing and mastering, and mastering software like FL Studio.
A supportive community of like-minded individuals to get feedback on work as they grow.
With the FaderPro membership, you also get early access to new courses, automatic entry into giveaways and contests, and 30% off Roland Cloud to manage your music.
Build your new membership website today!
If you're looking for a great online business opportunity, the membership model is your bestoption. With the right tools and resources you can get your own membership site up and running in no time and start generating a steady income stream.
The best membership platform to do that is Uscreen. It's an all-in-one membership website builder that can handle hosting, marketing, and payments, plus all the
Ready to get started? Sign up for a free trial with Uscreen!
It's simple with Uscreen.
Build, launch and manage your membership, all in one place.
Membership website FAQ
How do I create a membership website for free?
To create a membership website for free, use a platform like WordPress with free plugins like BuddyPress, which offers basic membership features without any cost.
How do I create a successful membership site?
Create a successful membership site by offering valuable, high-quality content, maintaining consistent communication with members, and ensuring a smooth user experience. Regularly update and expand your content, and implement a fair pricing model to attract and retain members.
Do membership sites make money?
Membership sites can make money through subscription fees, advertising, sponsored content, or affiliate marketing. The income potential depends on the niche, content quality, and size of your audience.
How much does it cost to run a membership website?
The cost to run a membership website varies, depending on factors like hosting, domain registration, premium plugins, and themes. Basic costs can start from $3-10 per month for hosting and around $10-15 annually for domain registration, but expenses can increase with additional features and customizations.