Meet In the Lab+
In the Lab+ is the streaming membership branch of In the Lab, a global basketball brand co-founded by Navin Ramharak, COO. The platform began in 2017 as a social media-based brand, offering free basketball content online as well as in-person training camps.
Two years later, Navin and his co-founders saw the opportunity to turn the audience they'd built into an online video membership platform.
At the time, memberships were an emerging business model for creators – but it turned out to be a huge success.
We weren't sure what to expect, so we had a lower price point and people started signing up like crazy. That, and knowing how to make content, really allowed us to get where we are today with you guys on Uscreen, actually building a consistent base of customers. They want to watch.

Navin Ramharak
Now, In the Lab has grown into an online empire that includes everything from educational and entertaining content to an extensive branded apparel line, with the In the Lab+ membership platform at the center of it all.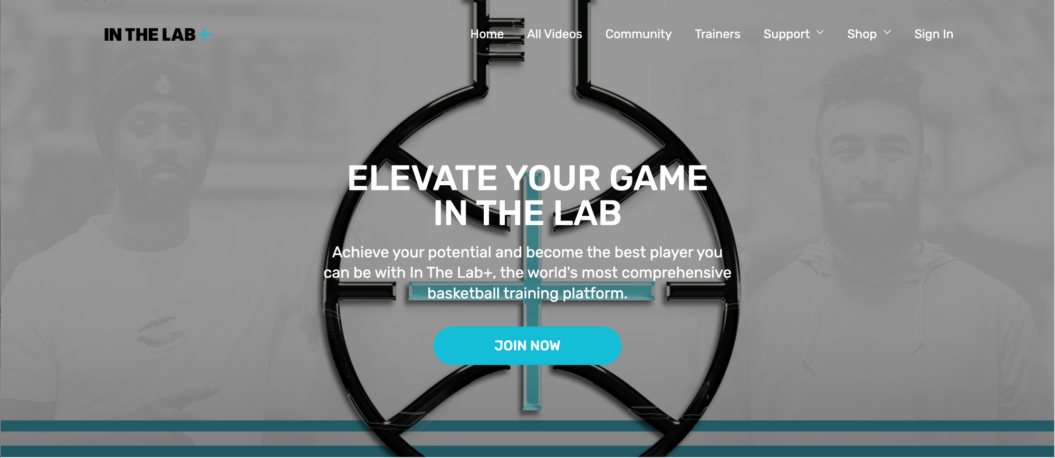 The challenge: turning In the Lab+ into an all-in-one online destination for athletes
Navin had a vision for In the Lab+. He was inspired by basketball brands and culture of the early 2000s, and wanted to build a business with the same vibe – an all-inclusive one-stop-shop destination for athletes that offered everything basketball, including lessons, coaching, merch, and more.
His goal was to create a platform that provided valuable training content, and an even more valuable community.
The solution: building a community-focused brand on a platform that understands the heart of the business
To create his hub, Navin knew he needed a platform that understood the ins and outs of membership culture, and how to use it to build recurring revenue.
After some trial and error, he found Uscreen, and got to work creating a training and lifestyle platform that would become a part of everyday life for his audience.
Migrating to Uscreen helped In the Lab+ build their membership at their own pace
In the Lab+ started their membership platform with Vimeo. Navin did all the research and looked at lots of options, and ultimately decided on a well-known name with a good reputation.
In theory, it should have worked.
But he soon realized Uscreen offered more of the functionality and core features he needed to run a successful membership business.
"That's what intrigued me the most about Uscreen – you just want to be the best at this. That's all you do. And I was like 'Well, that's where we need our support from," he said.
Navin was impressed by Uscreen's value for the price, and the affordable starter plans caught his eye first. He knew starting on a basic tier would help In the Lab+ ease into the membership model as they worked their way up.
He also appreciated all the functionality that just seemed obvious to him, like the clean and simple back end, content organization capabilities, and built-in community page where they can provide membership updates and build culture from within.
We've never had that before. Uscreen is always listening and implementing ideas – that was huge for us.

Navin Ramharak
Plus, Uscreen offers premium white-labeled mobile & TV apps, which was a priority for Navin. Now, they're a huge part of In the Lab's success.
Apps helped In the Lab+ grow their business and add a new level of legitimacy to the brand
From a value standpoint, the apps make sense because people can take the basketball training programs with them to practice, or download any of the platform's educational and entertainment content to watch on the go.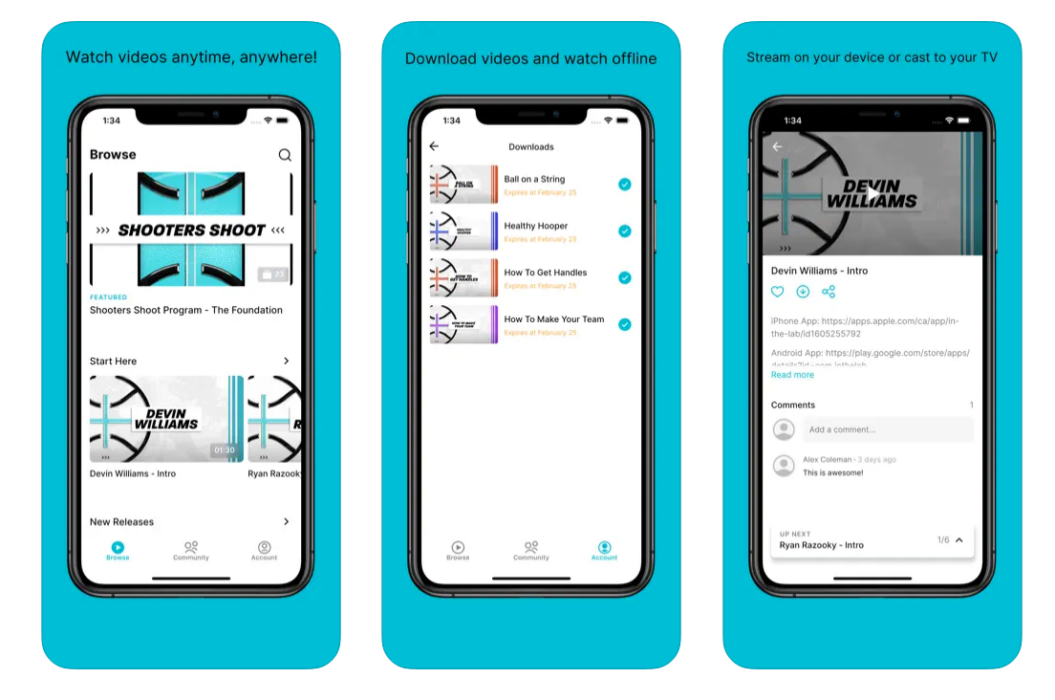 It helps drive home the fact that In the Lab+ provides exactly what athletes need to help them achieve their goals – easy access to lessons, and easy access to the wider community.
To get better, you should be able to do it right – that's the whole point of this.

Navin Ramharak
And from a growth standpoint, having an app means they can reach more members.
As they branch out into the global market, they've found places where the basketball community is much smaller, with fewer educational resources available for athletes, and computer access is unreliable.
Apps, however, are more universal and downloadable – so the apps are In the Lab's way of opening up their premium basketball community and training for anyone, anywhere, at any time.
Trustworthy collaborations and partnerships give In the Lab+ a unique edge
Featuring well-known basketball stars gives In the Lab+ serious street cred – but more importantly, it becomes a valuable selling point and creates uniquely personal connections with their audience.
Dev, my partner is a big differentiator. He's a unique individual – everybody likes him and everybody wants to work with him, so we have that shining star at the top that people relate to. He motivates people, and he's that real face of the brand that a lot of other brands don't actually have.

Navin Ramharak
To create hype and prominently feature these well-known faces, coaches get their own themed content collections in the Uscreen library. Plus, they regularly promote new collaborations with teasers and free content giveaways. Navin describes how introducing coach Ryan Razooky reeled in a ton of new business:
"He made almost an entire shooting program for free and gave a seven day free trial, and people wanted to get to know him better," Navin said.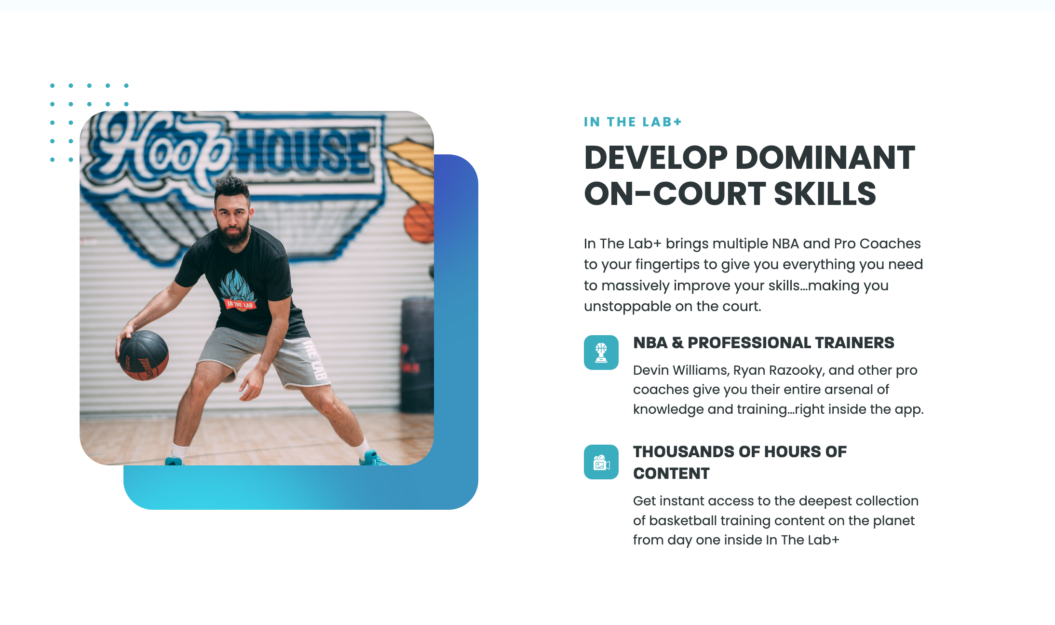 Not only did Ryan's giveaway help the initial launch, it also shows how collaborations help In the Lab+ reach a wider audience by expanding their visibility.
Ryan has his own massive fan base, so we got a lot of new people that maybe don't know In the Lab or don't know who we are, but they're fans of Ryan and they want to learn more.

Navin Ramharak
By recognizing the power of personal brand connections, In the Lab+ was able to offer a truly exclusive experience.
The built-in community page helps In the Lab+ crowdsource content ideas and keep their fans involved
In the Lab+ hired their own community moderator to interact directly with members and gets discussions started. The moderator gets members involved with direct feedback, and asks what everyone wants to see next. Plus, at least twice a month, coaches Ryan and Devin hold live streamed Q&A sessions with the community.
By keeping everyone in the loop and giving members live access to their own coaches, In the Lab+ builds relationships that matter, and keeps enthusiasm high.
"People are more excited because they get to see Devin or Ryan's face directly and ask them a question, which they'll answer right there," Navin said.
Getting content ideas directly from the source – the members who will be consuming it – is the best way for In the Lab+ to deliver exactly what their audience wants. Plus, their members feel even greater loyalty when they're part of the building process – it makes them feel even more connected to the platform overall.
The results
In the Lab+ has seen incredible success because they prioritize quality, community, and culture as much as the training itself.
Their focus on creating the best content, choosing a platform that can grow with them, and providing features with the user experience in mind is exactly the stuff that sustainable membership businesses are made of – and the approach paid off.
In the Lab+ apps make up nearly 79% of the platform's viewing hours and watch time, and they've nearly 2Xed their viewer count in the past year alone.
They've even been able to build multiple streams of income by creating a community around the brand. Because their brand culture is so strong, the In the Lab apparel line is thriving as well.
That financial security means Navin can focus on growing the membership by experimenting with new types of content and adding value everywhere.
And it's working! The 5 star testimonials speak for themselves: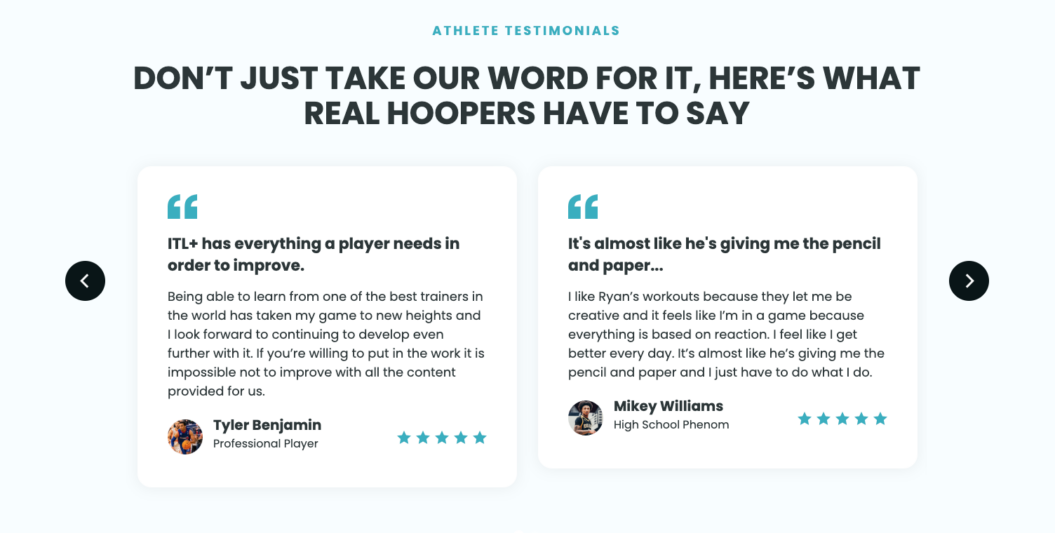 So what's the secret to Navin's membership success? How has In the Lab+ gained – and retained – this dedicated audience of superfans who are more than willing to help build up the brand with him?
We asked, and the answer is simple.
A lot of our jobs as creators and what we do is to make people feel seen. And I think that's something that gets swept under the rug. So if you can make them feel seen and appreciated, they're going to want to do it naturally.

Navin Ramharak
It's simple with Uscreen.
Build, launch and manage your membership, all in one place.