Social Media Marketing
How to Use Facebook to Grow Your Video Website Audience
Marketing on Facebook: is it worth the effort or not?
Some SVOD website owners say they're getting excellent results from Facebook, others claim Facebook marketing doesn't work.
What makes the difference?
About two-thirds of adults in the USA are Facebook users. The problem is they're there to talk with friends and family, not to buy something.
How can you reach them in a way that turns them on to your website, not off?
In this section of the Uscreen Video Business School, we'll unpack three Facebook activities that can pay off big for your video on demand website – and we'll outline a marketing strategy for each.
Don't skip over this information. Facebook offers a huge advantage to those who know how to use the tools the platform provides.
Three Facebook Marketing Activities Perfect for Most SVOD Website
We're going to cut right to the chase here, so hold on. There are three primary ways you can leverage Facebook to get more business.
Here they are:
You can use Facebook for brand building

You can use Facebook to draw qualified prospects to your SVOD website

You can use Facebook advertising campaigns to reach a wider audience
Those three activities – brand building, prospecting, and advertising – aren't just good ideas, they're essential parts of every successful marketing strategy.
We'll cover the basics of each one-by-one.
Don't worry. You don't have to invest a whole lot of time or money to see results. Once you do start getting a handsome return on your investment, though, you may want to step up the pace.
Let's get going.
First: It's Vital to Understand These Terms
Every user of Facebook joins by creating a personal Facebook Profile. That's where it's all about YOU as an individual. Your photos, your friends, your interests.
Once you have a Facebook Profile, you can create a Facebook Page to highlight your business, organization, or yourself as a public figure.
Facebook Groups center on common interests. Right now, Facebook doesn't allow Pages to be members of Groups. That means you have to participate in Groups via your personal Profile rather than as your business.
It's important to know that Facebook rules and opportunities are constantly changing. At one time, Facebook Pages were a great way to get traffic from Facebook users, but the algorithm doesn't support that any longer. Business users typically find it's necessary to buy ads if they're to get their messages seen on Facebook.
Ads can certainly be valuable, and we'll cover them in this section. It's still possible to draw attention to your SVOD website on Facebook without using ads, though.
Let's look at one way to do that.
How to Use Facebook for Brand Building
Every booming business is great at something, but nobody is best at everything. You probably wouldn't go to a pizza parlor when you wanted a good steak or turn to a news website to watch a movie.
For SVOD websites, the method of delivery is a big part of what sets them apart.
There are thousands of scuba diving schools, for instance, but how many can you name that offer online videos to "educate and inspire divers around the world"?
GUE.tv stands out in that regard. We'll use them as our example, but you should follow along in each step and apply it to your own business.
You'll need both a Facebook Profile and a Facebook Page for this method.
STEP ONE: To get started, pull just one thing (other than video streaming) from your skillset. What is a specific part of your niche where you can claim expert status? Who would be interested in learning more about that topic?
DiveGUE, for instance, can offer a ton of advice about underwater buoyancy, and they know it's an important topic to anyone who wants to learn how to dive.
STEP TWO: Create content related to the topic. Host it on your SVOD website platform, but also post a link to it on your Facebook Page.
For example, DiveGUE filmed a video about buoyancy – then used their Facebook page to offer it as a free-to-view bonus (see the screenshot below).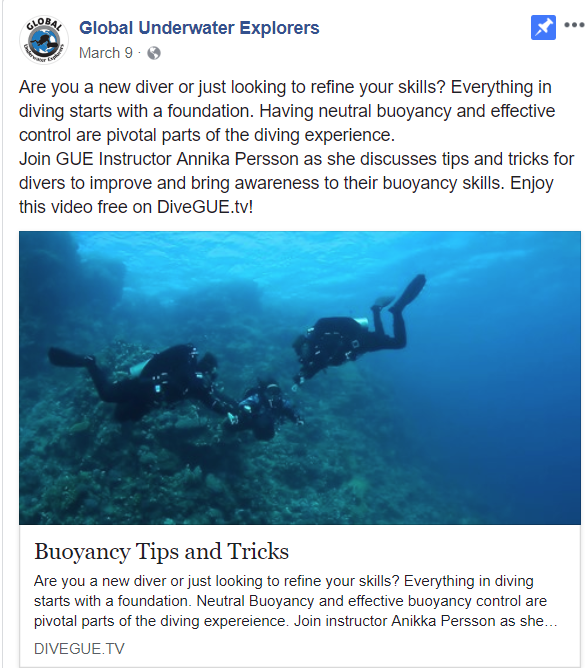 So far, DiveGUI has received 304 Likes and 105 Shares on that post. Chances are high it helped them build their list of subscribers.
STEP THREE: Get the word out.
Many excellent SVOD businesses know it's important to create videos and offer them as "bait" to draw attention to their website. The problem is they stop there. That's like building a new home, then renting an apartment to live in.
After identifying a topic your best prospects will want to know more about, then preparing content to answer their questions, you have to go find those prospects and let them know where they can get answers to their questions.
NOTE: The hang-up here is that Facebook doesn't presently allow Pages to join Groups. You'll need to join under your personal Profile. Just make sure your business is highlighted on your Profile and that you mention it appropriately in your posts. For an example, see the Todd Kincaid Profile screenshot below.
Here's how to use Facebook Groups to get the word out:
Join Facebook Groups where your niche is discussed and your ideal prospects hang out. Look for people asking questions about your topic, then answer those questions and mention the content you've created.

Participate in five to ten of those Groups consistently. Don't push your SVOD website. Focus on adding value to the discussions. Share tips from the content you've created. Mention stories about students you've already helped.

Ask questions. "Hey, we've been thinking a lot about buoyancy as a foundational skill lately. What tips do you have to help divers get better at buoyancy control?"

Show genuine interest in the members of the Group and their development in the skills related to your niche. Help celebrate their accomplishments.

Take notes on the other topics they're concerned about. Use those notes to prepare more content. After you've continued this track for a few months, you, your Facebook Page, and your SVOD website will be seen by Group members as a go-to spot for valuable information.
Note that you don't have to create and grow your own Facebook Group to use this strategy. There are plenty of people already discussing your niche. Go to them.
You may want to start your own Group at some point, but don't fall for the "build it and they will come" idea. The time you spend trying to develop your own Group can be leveraged best in the beginning by going out there and talking to them in the places they already frequent.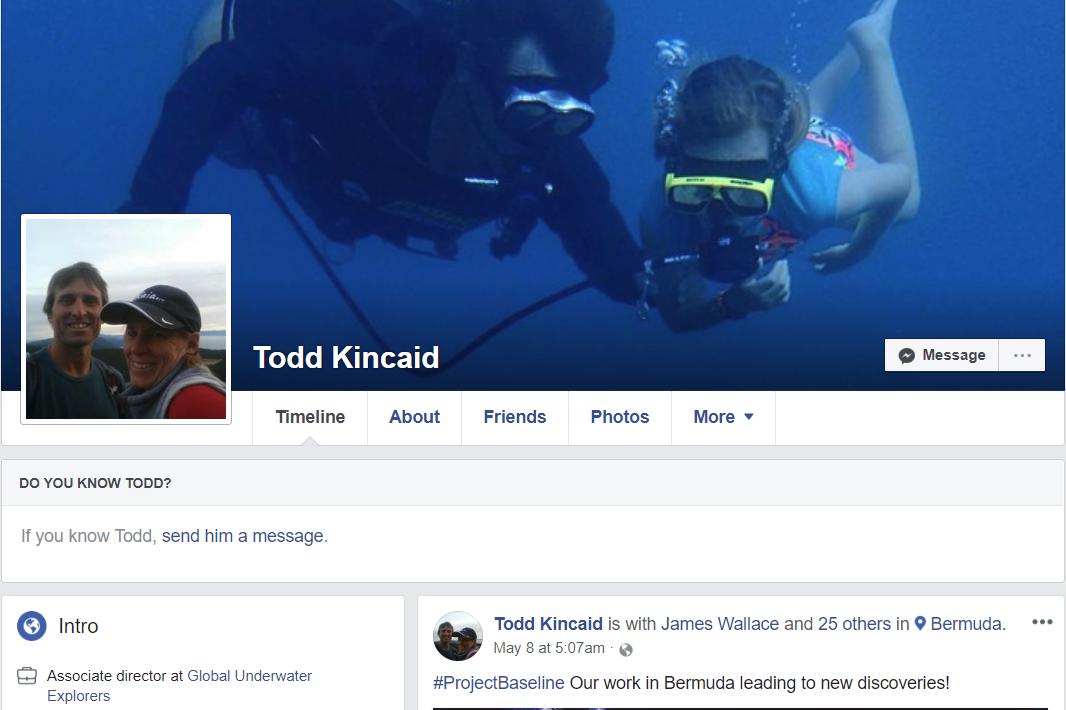 Todd Kincaid is the associate director at DiveGUI. Note how he uses a dive-themed cover photo for his Profile and lists his Global Underwater Explorers (GUI) affiliation in his Intro (see the screenshot above).
How to Use Facebook to Draw Prospects to Your SVOD Website
This is part of the work recommended above, but building brand and attracting prospects are two distinct needs for an SVOD business.
Brand building comes first because it's where the "know, like, and trust" part of marketing begins. Your Group presence will grow in stages:
First, you're the new kid on the block. Don't get pushy and don't toot your own horn too loudly. Just be helpful. Make friends. It will quickly become apparent to Group members that you know what you're talking about.

After a while, you've become a solid member of the Group. Members are beginning to tag you when a difficult question arises. You're seen as a font of wisdom in your niche. At this stage, you can step up your recommendations a notch. Members will thank you for sending them to your valuable and appropriate content. Suspicion is gone.

Finally, you'll be getting more and more attention from the Group. At this stage, you could readily start your own Group focused on your particular niche and others would follow you there.
Once expertise is established for you and your business, then you'll see traffic from Facebook to your SVOD website increase. One of the great things about Facebook is that you can use "pixels" to accurately measure how much traffic you're drawing.
Here's the Facebook instructional page for that: Using Facebook Pixels.
Drawing prospects to your SVOD website is part of your ongoing activity in relative Facebook Groups, but it does take a little extra finesse.
Here are three best practice tips:
Read the rules for each Group carefully and be sure to follow them precisely – even when others don't. Respect the Group and the Group will respect you.

Some groups are touchy about members dropping links. You'll have to read the rules, feel out the group, and proceed cautiously. One thing is for sure: every Group loves helpful members. Providing tips and expert advice is always appreciated.

Mention your SVOD website tactfully. Even if you can't (or don't always) link to it, you can mention it where appropriate. Once your brand-building work is underway, prospects will naturally seek you out.
The bottom line here is that once you've established yourself and your brand as experts in the niche, Facebook users will gravitate to you. Think of yourself as the Pied Piper rather than as a cattle driver. Your job is to attract attention more than to promote yourself.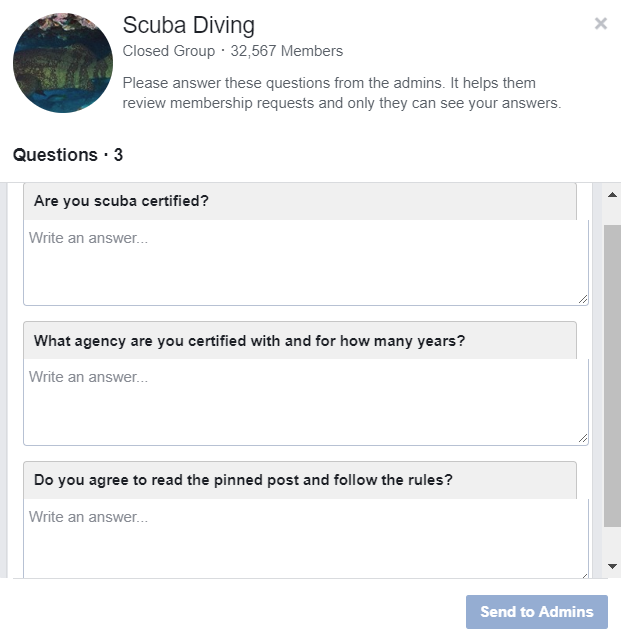 The Scuba Diving Group on Facebook (see the screenshot above) currently has 32,567 members. In the last 30 days, it has received 1,667 posts. Could DiveGUI benefit from participation here? This would seem a no-brainer Group for their SVOD website – IF they follow Group rules.
How to Use Facebook Advertising Campaigns to Reach a Wider Audience
Finding and getting active in appropriate Facebook Groups is like organic search engine optimization on Google. It takes time and effort, but you don't have to pay per click.
Just as Google Ads, though, can send traffic to your SVOD website in a hurry, Facebook Advertising can be beneficial when you set up your campaigns correctly.
Advertising tools and rules change frequently. To get the latest information on what's available and how to use it, go to the Facebook Business page and follow the ad creation links. Tactics may change, but your fundamental strategy should remain constant.
Here are our top three strategic tips for Facebook Advertising:
1. Target your ads to your ideal customers
Begin by drawing on your knowledge of your best prospects. Check the Video Business School section on audience personas for help.
Fit your ad to your desired audience. Which attributes matter most? Is your preferred audience best defined by age, geography, or interests? There are Facebook targeting options to cover all of those and more.
You can select your core audience, upload a custom audience, or even develop a lookalike audience from the information you already have. For current information, go to the Facebook Ad Targeting page.

2. Enter softly and wait for results to appear
You don't want to invest your entire advertising budget on one campaign. Many SVOD website owners opt for budgets of $25 per day or less.
Before you can make wise decisions about effectiveness, you have to wait for your ad to reach a large enough audience. Don't even think about making a change until your campaign has reached at least 1,500 members of your target audience.
3. Stress the benefits of your products and services, not the features
Yes, this tip is straight out of Advertising 101, but it's all too easy to forget the basics in the rush to get an ad live. DiveGUI fans aren't just learning about buoyancy control in that free video, they're finding out how to stay safer, reduce fatigue, and enjoy diving more.
Find out what your best prospects want, promise those results in your ads, then deliver them in the content your ads take the prospect to.
Facebook for Marketing – Our Final Tip for SVOD Websites
The only way to know for sure whether Facebook will work for you is to try. If you'll use the process we've outlined above, your odds of succeeding are high.
One final thing, though: you must monitor the action and adjust as needed.
Those who fail at Group activity tend to be sporadic and pushy. You want consistent interaction that's led by a helpful attitude.
Those who fail at ads often throw a bunch of time or money into a campaign, let it roll until the money is gone, then complain about the results.
That's not you.
Know your key performance indicators and monitor them. Set up tracking to observe results.
For Groups, determine which ones are providing the most and best prospects. Tally your interactions to find out which approaches and topics work best for you. Don't focus on what you like best. Focus on what gets the best results.
For ads, let each rendition stay live long enough to reach the minimum audience level you set, then compare results across the ads in our campaign. Which are working best? Why are they working best? How can you use that data to inform your next campaign or your tweaks to the current campaign?
Learning to use Facebook for marketing can take time. You'll probably be tempted to give it up at first, but keep trying for at least 90 days. You may be amazed at the ROI before the time is up.
Either way, you'll definitely find out whether or not Facebook is right for you and your business. You won't have to depend on someone else's experience, you'll have plenty of your own.