iOS video streaming apps are the best way to deliver your content to an English-speaking audience.
They have over 50% of the app market share in America, Canada, and the UK. This means the number of people you can reach through iPhones and iPads stretches into the millions.
But learning how to create an iOS video streaming app can be a little, well…tricky.
It's hard to find a jargon-free guide that isn't targeted at developers. Which is exactly why we put this straight-talking guide together!
At Uscreen, we believe creating video streaming apps should be painless. So, we've outlined the simplest ways to create your app to help you find the right solution for your business.
What Is An iOS Video Streaming App (And Why Do You Need One)?
An iOS video streaming app is a downloadable application for iPhones and iPads that enables users to stream video on demand content directly to their device.
In other words…
It's all of your OTT video content, in one interactive app, that your customers can use on their mobile device.
iOS video streaming apps are used by content creators – both big and small – to connect with audiences on their preferred device.
Companies like…
…all have apps ready and waiting for their customers to download from the App Store.
Better still, Apple's customers are the perfect people to launch an app for.
Research shows Apple customers are 65% more likely to be early adopters of new technology, with a higher percentage of streaming music and video.
They are also more likely to spend money on mobile apps and services, with the App Store generating up to 93% more income than its closest competitor.
Simply put, creating your own iOS video streaming app enables you to reach the largest native English-speaking audience, which is more likely to download your app and pay for your content.
Not a bad business proposition, right?
Now that you know the whys, let's take a look at how to create an iOS video streaming app for your business…
How To Create An iOS Video Streaming App: The 2 Easiest Ways
There are two main ways we recommend you go about creating your app.
We've judged each of the methods based on how much investment of time and money you'll need to get the app up-and-running.
Hopefully, this means you'll find a solution to fit your budget and deadlines!
1. Hire A Developer
Cost: High
Time: 6 to 12 weeks for delivery, depending on requirements
This method provides you with the most flexibility, and you have total control over the finished product.
You can work with your developer to:
Create your preferred look and feel
Optimize for your type of content
Revise the app an unlimited number of times
App developers are pretty easy to find, especially using freelancing websites like UpWork. Just make sure they have some video streaming apps in their portfolio!
It's worth keeping in mind that this flexibility and control come at a cost. And, it's a pretty steep one.
Using the tool How Much To Make An App we estimated that a regular no-frills iOS App would cost between of $29,700 and $42,400, depending on how much design bells and whistles you ask for.
This price quote provided by How Much To Make An App is before you factor in video-streaming elements, such as video players, CDNs and hosting!
There are also ongoing costs for method 1 that go beyond just building and launching the app.
You will always need to have a developer on call to help with bugs, operating system updates, app changes, and maintenance since you won't be able to fix these things yourself. This could cost anywhere between $500 and $1500 a month depending on the hours you sign for in your retainer.
If you have the budget to create a standalone app, this is a great method to choose. But there is another option which provides almost as much flexibility, at a much more affordable rate…
2. Lease An App
Cost: low
Time: approximately 45 days for delivery
Leasing is the best-of-both-worlds approach because it allows you to cost-effectively create a fully-customized app in just 45 days.
This method requires you to lease the OTT services of a company – like Uscreen – that already has frameworks in place to help you create your own iOS video streaming app.
Here's how it works:
You set up a Uscreen account and place an order for your app
You set up your Apple Developer account (don't worry! Our team will help you with that too)
You provide us with your app requirements – the assets needed to build your app
We build your app and have it available for you to test in 4 weeks
We submit your app for approval in the App Store*
After it's published, you launch it to your customers and celebrate! ?
*We cannot control how long Apple takes to approve your app.
For the duration of your lease, we help you to run your app and provide maintenance, support, and updates when you need them.
The reason why leasing an app costs much less than developing your own is pretty much the same as why renting a house costs much less than buying a piece of land and building it yourself.
And while you might forgo some design flexibility in your app by leasing, all Uscreen apps are designed beautifully and specifically for video streaming–so you are guaranteed an awesome-looking iOS app with your own branding.
Curious to see what our iOS
apps look like?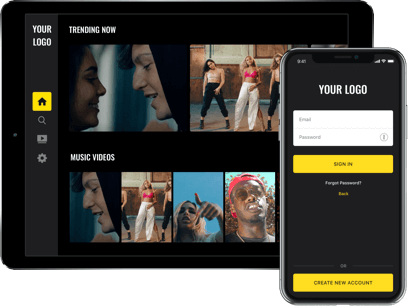 If you feel an iOS video streaming app is the right choice for your business, we recommend you try our service for 14 days for free to see what we can help you achieve.
Wrapping This Up…
iOS video streaming apps help you to reach the largest native English-speaking audience in the world. Better still, they're more likely to buy your content and stream it on their device.
There are two ways to create your app:
Hiring a developer: to help you create a unique app from scratch
Leasing an app: to affordably create your app with full support and customization
If you'd like to learn more about Uscreen and what we can do for your video business, you can check out our OTT solutions right here!