What can we say, we're huge fans of VidSummit!
We learned a lot from this year's VidSummit, and wanted to share the most impactful takeaways to help you take your VOD business to the next level in 2020 and beyond.
A few weeks ago was the annual VidSummit conference in LA.
Uscreen has been a part of the conference for the last couple of years and has even provided all the live streaming and on-demand replays of the sessions from this year. We're super proud to be a part of this amazing movement.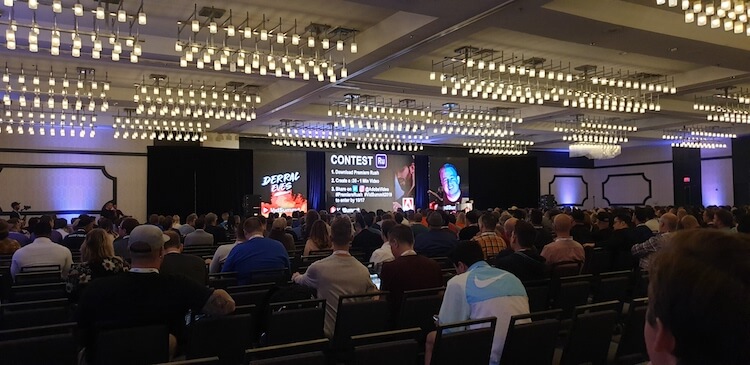 Over the two and a half days of the conference, there were 5 high-level themes that seemed to come up over and over again:
YouTube Search

Building outside of YT

Data

Mental health

Story
Let's dive into them:
Tip #1: Search
YouTube is a search platform first. A video platform second.
Everything on the platform is shown to you based on search and behavior.
If you're just throwing up videos on YouTube and hoping it'll do well because you think the content is great…it's not going to do well. You have to do more than that.
Optimize your videos for search. Promote your videos so they get discovered and get more views so that it will show up in search results even more.
And this goes for every platform. Each platform has an algorithm and it feeds off of whatever clues and data you make available.
It's always better to err on the side of too much data rather than too little, so it's better to:
Give robust descriptions to that YouTube video

Create compelling thumbnail images for that Facebook video

Write engaging captions for that Instagram video

Create a killer call to action for that LinkedIn video
All of that is data that the platforms will take into consideration to help you get found more. It matters!
Tip #2: Look beyond YouTube to build and scale
Obviously, if you're creating videos of any kind, you should likely be sharing them on YouTube. It's the second largest search engine and social media platform in the world. That's a unique blend of functionality and an incredibly unique opportunity.
With close to 2 billion monthly active users, it's tough to tell anyone to skip out on YouTube when there is so much potential upside.
However, even the world's top creators will tell you that YouTube is just the tip of the iceberg. There are massive opportunities on the rise all over the internet.
For example, on Facebook they're beginning to experiment with paying top video creators on the platform. And with over 2 billion monthly active users, you shouldn't listen to anyone telling you Facebook is over-saturated when there is more opportunity than ever.
Another example is Instagram TV, or IG TV. Because there are a billion users on the platform, you can create vertical videos for IGTV which is native to the app and easier to consume which means no more having to turn your phone sideways to get the full scope of the horizontal video and a massive young audience on the platform. Facebook has double the monthly active users which means Instagram still has tons of growing to do.
LinkedIn video is another example of a huge opportunity on the rise. Video on LinkedIn is only a couple years old, the platform seems to be seeing a resurgence in popularity, and we're seeing a push towards higher quality content on the platform.
It also represents a unique B2B business opportunity for anyone who wants to capitalize on consumable video content, not to mention LinkedIn only has 303 million monthly active users so there's TONS of room for growth.
But building beyond YouTube doesn't just mean looking at other platforms for video.
There were also a lot of speakers at VidSummit emphasizing the idea of leveraging YouTube to build an audience and create multiple streams of income.
Sure, you can get some money from adsense revenue on YT, but if you're not collecting email addresses or building your audience up on other platforms then what happens if you get demonetized? You've got to diversify and be prepared for the worst.
If you do the hard, consistent work early to build and prepare the way, then when it's time to scale things will go much smoother.
Create a vision for what you want, plan, and then execute and build more revenue for yourself.
Tip #3: Data data data
This came up heavily in one of the last keynotes given by Derral Eves, the founder of VidSummit, and Mr. Beast.
If you're not familiar with Mr. Beast, he's got one of the fastest-growing channels on YouTube and has had quite a few videos go viral in the last year or two. In fact, one of the stats shared was that Mr. Beast does not have a single video on his channel with under 10 million views.
And he loves data. So it was really cool to have him take the stage and walk through some of his best practices when it comes to data, reading his analytics, and then optimizing the details of the videos to help them reach more people.
Here are some quick tips they discussed:
Using hashtags in your video description to help discoverability
Using hashtags in your video description to help discoverability

Keep your video titles under 50 characters

Start with the punchline – if your video is about giving away $10,000 show a clip of that at the beginning, not the end and then leave people hanging so they'll watch to see the rest at the end

A stronger opinion = a higher clickthrough rate

You should create multiple versions of your thumbnails and titles and get opinions from other creators on what stands out the most to them

When testing thumbnails, screenshot the homepage and slap your thumbnail in there to see if it stands out

Aim to have patterns in your thumbnails

Blur irrelevant space in the thumbnails to draw focus to the subject that actually matters
Data isn't going anywhere. It's here to help us and the more we have, the better off we'll be as we learn to best read and leverage that data to our advantage.
Tip #4: Mental health
Mental health is a hot topic right now.
Most of the major keynote speakers at VidSummit made some mention or reference to mental health. They even had a dedicated session on the main stage to talking about mental health and addressing it as creators.
The content creation game can become an anxiety-filled rat race to the bottom rather than a fulfilling career that brings contentment and happiness. In the past, mental health has been the dark skeleton in the closet that we try as hard as possible to keep hidden.
But we can't anymore. It's too important and it's becoming such a big topic of national discussion that we need to embrace the conversation.
And not only that, we need to embrace whatever it means for us as creators. It means taking a break and being okay with missing a scheduled upload if need be.
It means delegating work that we're not good at so we don't pull our hair out stressing over something that someone else can do a million times better.
It means putting our personal health above the needs of our audience. If you have kids then you might know a similar dynamic.
It's so important to take care of our children, but if we're not taking care of ourselves first, it's much more difficult to care for our children.
It's the same with your audience. Prioritize mental health. Talk about it. Don't avoid it. The conversations are happening so be a part of them.
Tip# 5: Story
It's just as important as ever.
Introduction, conflict, resolution.
Peter McKinnon's keynote was a masterclass in storytelling.
He wove through all of these narratives throughout his talk and was able to tie them all together in a nice bow at the end and brought the audience to their feet.
Your content is always telling a story, it's up to you to craft it and make sure that it's a good story.
Just providing value is great, but if you're not crafting a story out of it and directing the narrative where you want it to go, you're missing out on an opportunity to not only reach more people but to reach them more effectively.
Chalene Johnson talked about much of the same in her keynote.
She's got more of an infomercial background, but the reason she is one of the best infomercial sellers of all time is because of the stories she is able to tell. She even broke down her process of selling/storytelling:
Hook

Problem

Anecdote

Solution

Possibility

Unique selling proposition

Social proof

Price juxtapositioning

Price reveal

Urgency

Call to action
That's her formula every time and she's generated tens of millions of dollars with it.
Tell a compelling story and people will listen. Even if you're selling something.
Congratulations to the VidSummit team for host yet another killer conference. We can't wait for next year!
Which of these 5 things (building beyond YouTube, Search, mental health, story, and data) are you going to hone in on for 2020? Let us know in the comments!