If you've been searching for an OTT platform then you have, without a doubt, seen ads about how MAZ Systems compares to other OTT platforms.
They're usually ads that say things like: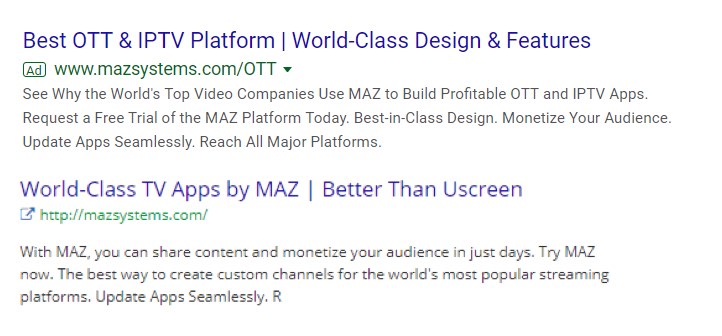 While MAZ's ads advertise the best OTT platform (even better than Uscreen), they fail to tell you that it's not actually an OTT platform.
So how do you know what's just advertising and what's real, factual information?
Well instead of using comparative adjectives, like better, faster, awesomer… we're simply going to compare what Maz Systems offers to what Uscreen offers in platform and features.
No opinions. Just facts.
Let's jump right into it. 



No time to read this article now? Download a free PDF version of this blog post (all tips and links included).

MAZ Systems only gives you apps, not an OTT platform
Maz Systems isn't actually a direct alternative to Uscreen as an OTT platform. It only really offers one fraction of what Uscreen offers: apps.
However, since MAZ advertises itself as a direct alternative to Uscreen, we worry people looking for a full OTT platform will think Maz can give them everything Uscreen can. Which is definitely not the case.
Maz only offers to build you video streaming apps for mobile and TV. You have to take care of the rest, including figuring out where you're going to host your videos, setting up the proper streaming protocol, building and launching a video streaming website separately, syncing up your audience databases… the list goes on and on.
Uscreen, on the other hand, provides you with an all-in-one VOD and OTT platform that you can use to run your entire video streaming business from start to finish.
Uscreen provides you with:
A video streaming website

Mobile and TV apps for video streaming

Video hosting and streaming

Robust built-in marketing tools

Third-party integrations

Video metrics and analytics

Live streaming

An integrated user database between web and apps

A content management system

Advanced analytics

… the list goes on
Uscreen is basically the full VOD package. We make it so you don't need to use other tools or services to run your VOD business.
Maz Systems is a great service to use for building apps for mobile and TV. But that's literally all they do. For all your other VOD business needs, you would have to find multiple online services and tools and integrate them to create a makeshift VOD management system you can adequately run your business with.
What Uscreen can do for you (that Maz can't)
Now that we've gone over how Uscreen is very different than MAZ, let's take a closer look at what you can do with Uscreen running your OTT business.
Looking for a more visual,
side-by-side comparison?
Learn more

1. Launch both video streaming website and apps
As you already know, MAZ only helps you build apps for mobile and TV.
Meaning you have to figure out another way to build and launch a video streaming website to go with your apps.
We understand this struggle, along with the necessity of having a VOD website to go with your apps.
That's why Uscreen automatically guarantees you a VOD website for your video streaming business, regardless of which plan you signed up for.
You can design, launch and manage this website straight from your Uscreen admin area, without needing to write any code at all.
And when you're ready to launch OTT apps to add value to your VOD services, you can easily do so in your Uscreen admin area as well.
Wait … why do I even need a website anyway?
So you might be asking: "why is it so important to have a video streaming website? Aren't apps the big trend now?"
You're right, they totally are.
But websites are still the online non-negotiable core of any business you can think of. And it's especially true for VOD businesses.
OTT apps are a complement to your video streaming website, not a replacement.
Having a website makes your VOD service easily discoverable online because people still expect to find you on Google. Your own website has a much higher chance of ranking in Google for the keywords you want to rank for than your app does.
In analyzing our 1.1 million OTT app subscribers for OTT content trends, we found that even though OTT usage is clearly on the rise, web still has the largest single percentage of viewers with 39% of Uscreen subscribers streaming through their browsers.
We've also found that subscribers are more likely to sign up for an OTT service app using their desktop (or laptop) browser. Although m-commerce is growing, many people still feel safer making payments from their computers than their phones.
So simply put, having ott apps without a website is like having delicious vanilla icing without a cake to pipe it on.
2. Video hosting and streaming, hassle-free
Your video content needs somewhere to live.
As mentioned before, MAZ doesn't take care of that for you. And finding somewhere to host your content is a whole thing on its own.
But unlike MAZ, we fully host all of your videos, encode them and deliver them using three major CDNs around the world.
This means that with Uscreen, no 3rd party provider is required to host your videos: we include complete video hosting & CDN delivery at no extra fee.
3. Synced Audience: have all your audience in one place
One of the biggest disadvantages of having separately-built and -hosted VOD website and OTT apps is ending up with inconsistent audience databases.
How does that happen?
Well, let's say you have OTT apps for iOS, Android and Roku, which you had MAZ Systems build for you.
And let's say you also wanted a video streaming website, but because MAZ only builds apps, you had to commission a savvy (and expensive) developer to build you that website using, say, WordPress (something you should never ever do).
Now because your apps and website are each built on two separate platforms, they will each have inconsistent lists of users. You will always have gaps, duplicates, and errors between the databases extracted from your apps and from your website.
And the only way to keep them synced is to manually consolidate them on a regular basis.
This also means that you will have incomplete and contradicting user analytics from web and apps, so your analytics will not be of much use to you.
Since Uscreen allows you to launch both your website and OTT apps in one platform, your user database will always be synced and up-to-date in one single place.
By not needed to manually integrate user databases between your apps and website, you can avoid a number of technical errors, guaranteeing 100% accuracy in your data.
It also means that when someone signs up for your VOD service on your streaming website, they will automatically have access to use the OTT apps, and vice versa.
And finally, we've made it a point to give you full access to and ownership of all of your audience data. Unlike all other OTT platform alternatives, we don't make you jump through hoops to get your hands on them.
Our platform allows you to export all your customer data with one-click on your dashboard.
This means you can use marketing tools outside of Uscreen, or leave our platform altogether and take your audience with you.
Suggested read: Who really owns your online audience?
4. White-labeled design for websites and apps
White-labeled OTT apps
All apps launched through MAZ Systems have a clearly-positioned "Powered By MAZ" on them.
At Uscreen, we do things differently.
We create your apps to be yours, entirely.
So we make all our OTT apps 100% white-labeled: this means that the only branding that ever appears on your apps are yours.
All our apps have a minimalistic design aesthetic, and are personalizable to your brand and the look and feel you're after.
White-labeled VOD website
VOD websites created on the Uscreen platform are not only white-labeled but are also highly customizable.
We basically let you design your video streaming website yourself.
Uscreen has a library of over 12 editable themes and we're constantly adding more to it.
We also provide theme editing features to ensure your video-on-demand website is SEO friendly and can be optimized for your target keywords.
Once you choose a theme and install it on your website, Uscreen allows you to customize everything about your theme to make it completely yours.
And if you want to take it a step further with your design, you can add custom CSS or edit with the built-in HTML code editor.
5. Content management and cataloging
Content management plays a huge role in your video business.
How you interact with a platform, upload videos, and optimize pages for your audience can affect both your and your audience's experience.
With Uscreen, you can upload videos in bulk, host them on your VOD and OTT service, and add your text descriptions and tags to make videos easy to find.
There is also the option to upload attachments, like PDFs and infographics, as supporting material.
6. Organize your content library with categories and tags
One of our simplest yet most popular customization features is the ability to categorize and tag your videos.
This makes your users' experience better because you know where all of your content is and you can control how they browse your library to find the content they're looking for. It makes finding the videos they want, on the topics they care about a lot easier.
We also allow your viewers to filter your content by duration, author, intensity, difficulty, or literally anything you want–which is a feature exclusive to Uscreen.
This enables your audience to seamlessly browse and find the videos they need and view the content most relevant to them.
Take a look at how easy it is to navigate the filters and categories on the Uscreen-hosted VOD website, Callanetics website:
MAZ Systems does not give you the option to categorize, filter, tag or bundle your content, depriving you of guaranteeing a personalized experience for your users.
7. Deliver secure and smooth live streaming
We've taken a slightly more robust approach at Uscreen because we wanted to ensure you have the complete package.
Uscreen allows you to perform live-streams through your website and apps without the need for a separate live-streaming tool or platform. You can get it all done within Uscreen.
You can grow your community using our unparalleled streaming capabilities on the web, mobile apps or TV apps.
8. Robust built-in video marketing tools
You aren't just making videos; you're running a business.
So the OTT platform you choose to run your business on should give you the tools you need to grow that business into a VOD empire.
Since MAZ isn't really an OTT platform, it doesn't offer any marketing tools at all.
The Uscreen platform, however, packs a comprehensive suite of video marketing tools and advanced analytics, so that you can access the insights you need to grow your audience and revenue.
With Uscreen you are able to:
Reduce churn rates and win back subscribers

Create and send abandoned cart emails

Offer promotional coupons

Set up and send out "Try again for free" email campaigns to try and gain back lost customers

Use community management tools to increase engagement and connection with your audience (coming Fall 2019)
… as well as use our 1,000+ app integrations to add any external tools you need to help market your business more effectively, which we'll talk about in the next section.
Uscreen also offers a full video analytics suite that goes beyond Maz Systems' basic data, which includes:
Top video analytics

Total and specific watch times per video

Engagement rates

Top devices used to stream

Data filtered by authors, videos and fate sort range

Subscription analytics for churn, LTV, and MMR

Royalty tracking data
Basically, Uscreen is a one-stop-shop for all of your OTT business growth needs.
9. Connect to tools beyond Uscreen
As mentioned before, Uscreen is an all-in-one OTT platform built to give you everything you need in one single place.
But there are more tools and apps out there than can ever be stuffed into one single platform. Things like:
Marketing tools

Productivity tools

Analytics platforms

Collaboration tools

Communication platforms
So while Uscreen doesn't have every single tool, app, and service in the platform, it still allows you to connect with 1,000+ of them so you can run your business better, including:
Zapier (which allows you to connect to over 1000 other apps)

Google Analytics

MailChimp

Facebook

Mixpanel

Google Tag Manager

Chartmogul

Wistia

Rewardful

Twitter

LinkedIn Pixel

Refersion

Hotjar
And we are regularly adding more integrations for you to choose from.
This means you can create the workflows and systems you need to effectively run your business.
Don't be fooled by the marketing hype
Researching the right OTT platform can be a difficult task, mainly because everyone markets themselves as the best.
That's why we here at Uscreen avoid calling ourselves the best, and instead do everything we can to show you what we got so you can make your own opinions and conclusions.
In this Maz Systems alternative blog post, we stayed away from calling ourselves faster, better or awesomer.
Instead, we showcased what we have to offer as a full OTT platform in comparison to MAZ systems.