Thanks to a worldwide pandemic, musicians have been put through the ringer over the last couple of years, being forced to stretch their creativity and find new ways to put their content in front of followers.
Live streaming concerts did just this, and even kept audiences growing.
What started as a temporary replacement for the lost income of in-person shows has now become a permanent fixture thanks to the many benefits for content creators.
Learning how to live stream with the tips in this post can lead to more recognition for your work and greater success.
So, Why Are Musicians Live Streaming Concerts?
Live concert streaming opens up new outlets for musicians to engage with their audiences.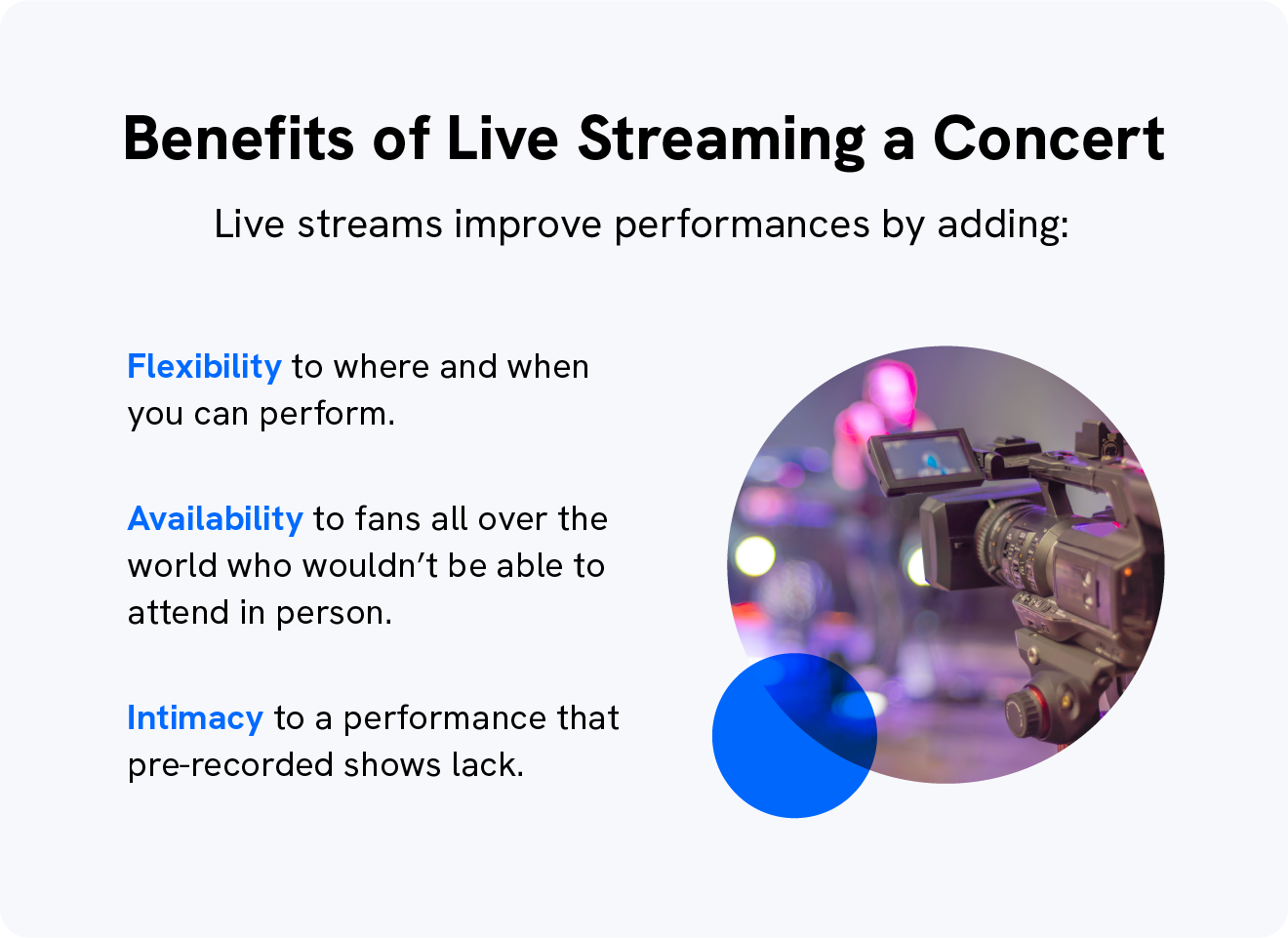 The limitations of in-person events make online concerts a natural substitute or add-on to a traditional performance.
Live streams add 3 main benefits to a concert.
Flexibility
Having the capability for live concert streaming free's the performer from the confines of a physical venue.
If an in-person show needs to be canceled, you can still take it online to please fans and make some money.
Availability
Virtual concerts make your work accessible to a much larger group of people.
For example, the Pickathon Music Festival grew its audience from 11,000 digital viewers to over 200,000 in just one year. Only 3,500 people are able to attend the festival in-person. 
Small musical acts who have trouble going on tour and filling a venue can share their performances with fans who are scattered across the country (and world!).
Large acts who have expensive ticket prices and sold-out shows can give all of their fans a chance to see their live-streamed performance.
Intimacy
While musicians have commonly shared their recordings of past performances, they lack the intimacy of live shows.
There's a reason why fans will pay top dollar for a show ticket when they can just listen to the band's albums for free at home.
Seeing an act unfold before your eyes, knowing anything can happen next, creates memories that can last a lifetime.
And What Do You Need To Live Stream a Concert?
Live streams require special equipment to deliver a quality performance.
You may need to upgrade your current recording equipment to deliver a professional experience to your viewers.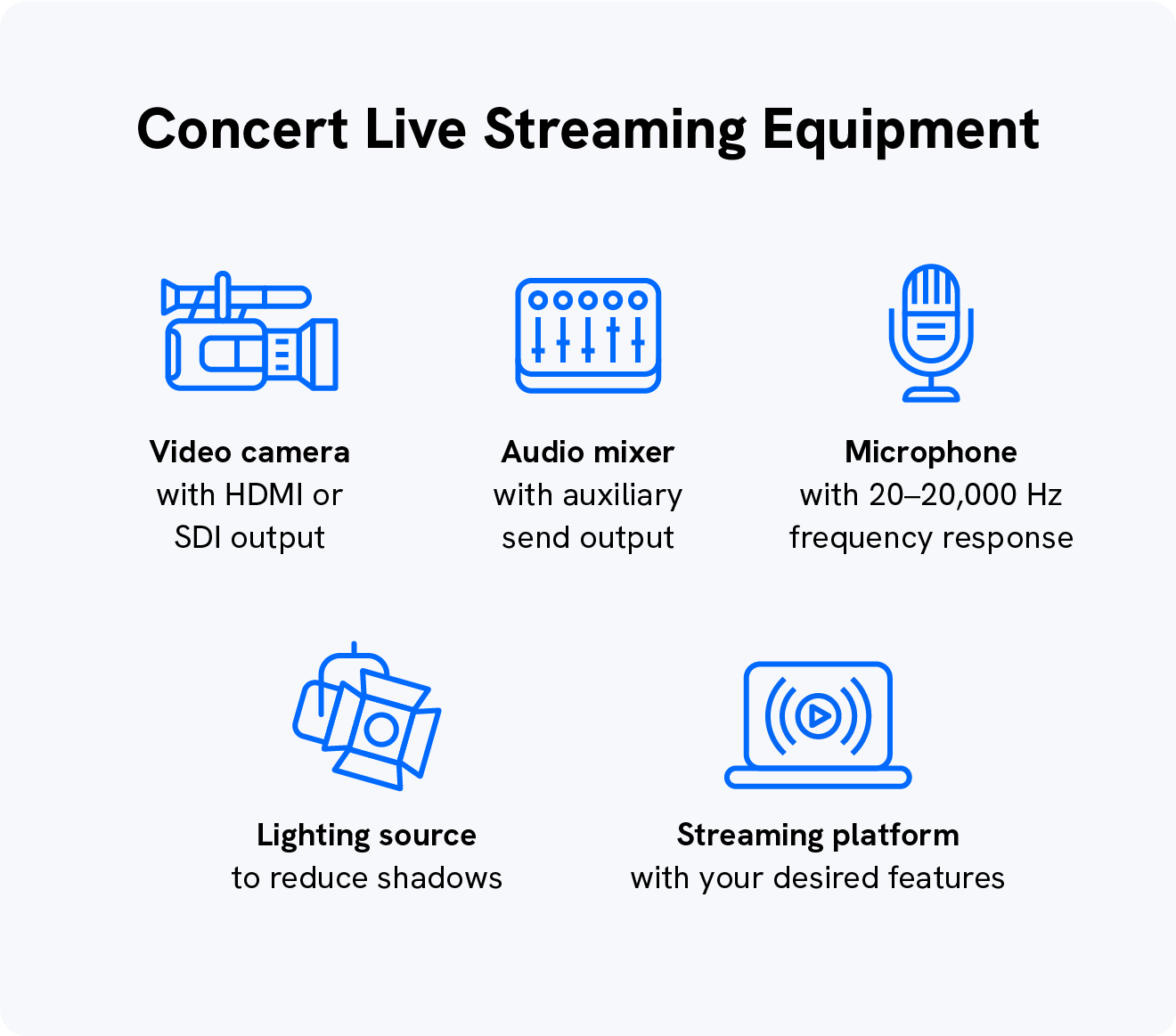 Let's take a deeper look at why this equipment is needed.
Video Camera
Your video camera needs to have HDMI or SDI output to produce a high-quality picture.
You'll also want the camera to have a "clean" setting. This means it removes the user interface elements from the picture it's delivering.
Webcams have come a long way as far as picture quality is concerned. Many of the webcams that are made for live streaming can be purchased for less than $200.
Audio Equipment
Preserve the quality of your sound with a proper public address system.
A good audio mixer is able to balance the sound of multiple instruments along with the vocals so the listener receives a clearer performance.
For your microphone, look for ones with a frequency response between 20 and 20,000 Hz. This will cover the full range of your singing.
Getting a microphone with a cardioid pattern can prevent ambient noise from being picked up, as it isolates your voice from nearby sounds.
This is especially important for spaces with poor soundproofing or lots of people.
Lighting
Depending on your recording setting, you may need to invest in some extra lighting to ensure you look good on camera.
If you're in a private room performing to a webcam, a simple ring light may be enough to light your face.
Live concert streaming from a physical venue may require extra measures. Mood lighting for an in-person audience will make for a lackluster picture for your remote viewers.
LED lighting panels and softbox lighting can do wonders to enhance your image on a computer screen.
Streaming Platform
The platform you choose to host your concert will play a big part in the quality of your stream and your overall revenue.
When selecting the platform for your online concert, look for one that:
Supports high-quality video and audio streaming.
Provides a live audience chat.
Has ways to monetize the stream.
Some platforms provide free concert streaming while others come at a cost.
Examples of the best live streaming platforms for musicians include:
Uscreen: we provide HD live streams to mobile and TV apps. You can put your stream behind a paywall and activate a real-time chatbox.
YouTube: its live streams can be supported through advertisements or viewer donations. It also has a live chat feature for viewer interaction.
Facebook and Instagram: viewers can tip performers with Stars that are worth $0.01.
Twitch: initially designed for video game streams, the platform is now used by musicians due to its quality audio/video streams.
Crowdcast: musicians can stream their concert to their social media profiles.
When you have time, explore each option further to find the best fit for your goals.
Well, How Do You Promote a Live Concert?
Getting the word out about your concert is almost as important as getting the equipment right.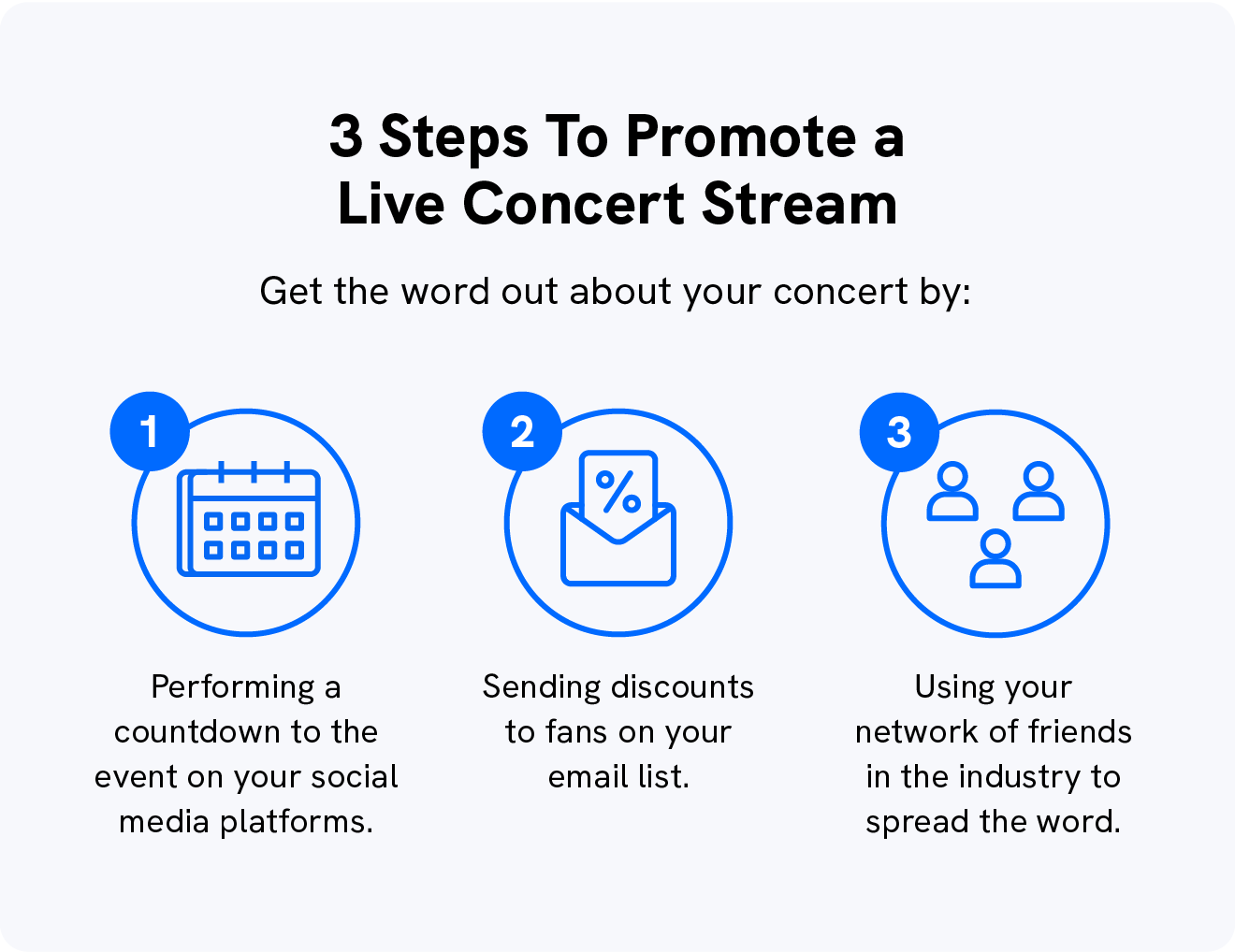 Let people know about your live event by:
Gather an email list of your fans and send discounts for early bird purchases.
Use your network of friends in the industry to promote your concert to their fans.
The success of your live show largely depends on what you do before the camera turns on, so take the time to fully prepare.
Any Advice on Engaging Viewers During the Performance?
Make your stream extra special by talking directly to your remote audience.
Pre-recorded videos often cut out the interactions between songs because they know viewers mostly want to hear the song.
A live streamed concert needs to make the most of those moments to fill dead air.
If you find yourself in a moment where you're lost for words, go to the live chat for inspiration.
Call out comments that are funny or insightful. Thank viewers who make donations, if applicable.
Doing this makes the experience unique and gives viewers a reason to come back.
Wrapping It Up
Experimenting with different ways to deliver your content can be a great way to increase your sales.
Live streaming concerts is one of the best ways to engage your fans, wherever they're located in the world.
If you're ready to take your performances to the next level, learn more about how Uscreen can help you make it happen.
It's simple with Uscreen.
Build, launch and manage your membership, all in one place.
Live Streaming Concerts FAQ
Have more questions about live streaming concerts? We have answers.
Where Can I Stream Concerts for Free?
The following platforms have options for free concert streaming:

YouTube
World Concert Hall
LiveList
MTV Live
United We Stream
How Much Does It Cost To Live Stream a Concert?
Costs for live streaming a concert vary greatly based on the production needs of the event. 

It can cost less than $1,000 to live stream an independent show, or it can cost over $5,000 for events with greater demands.

How Long Can You Live Stream on Facebook?
Facebook allows streaming from a variety of devices for up to 8 hours.