Your YouTube channel is growing, you have a set content strategy, and you've started building a tight-knit community. But now you're looking forward to your next accomplishment: getting your channel verified.
After all, that check mark next to your channel name is an achievement in itself,o bringing credibility to your videos.
But how exactly do you get that YouTube recognition many creators want to have?
Lucky for you, we'll show you how to get verified on YouTube, including how to increase your chances of getting it and how to avoid losing it.
We'll be going over:
It's simple with Uscreen.
Build, launch and manage your membership, all in one place.
Let's jump right in.
So, What Does It Mean To Be YouTube Verified?
Being YouTube verified means letting the platform and the people watching your videos know that you are a real and official person.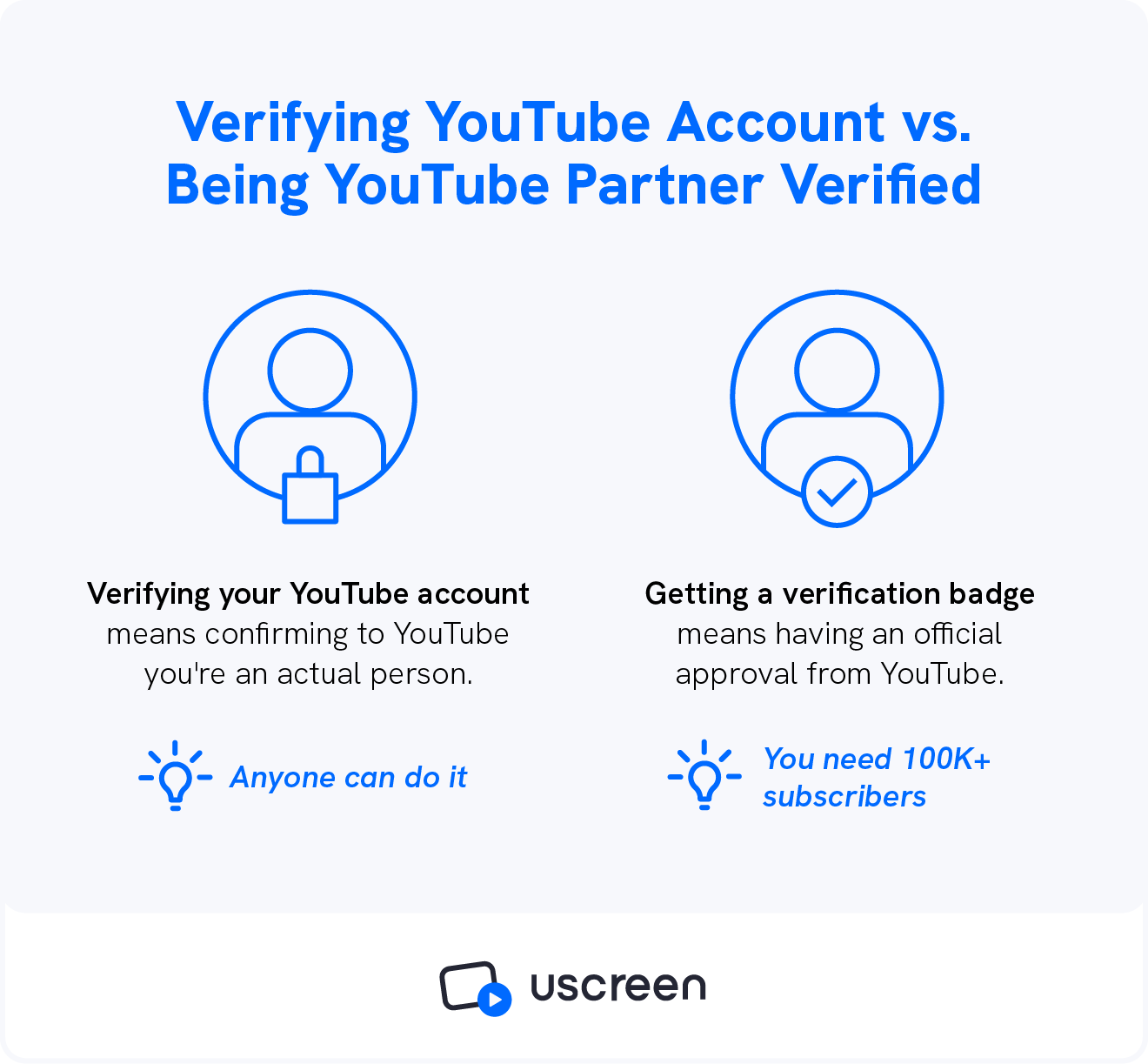 There are two types of YouTube verification:
Verifying the account: this process is available to anyone, and it allows you to verify your information for safety reasons, so YouTube knows you're an actual person instead of a bot.
Verification badge: this is an official seal provided by YouTube that adds either a checkmark or a music note next to your channel name that shows you're the official creator or public figure.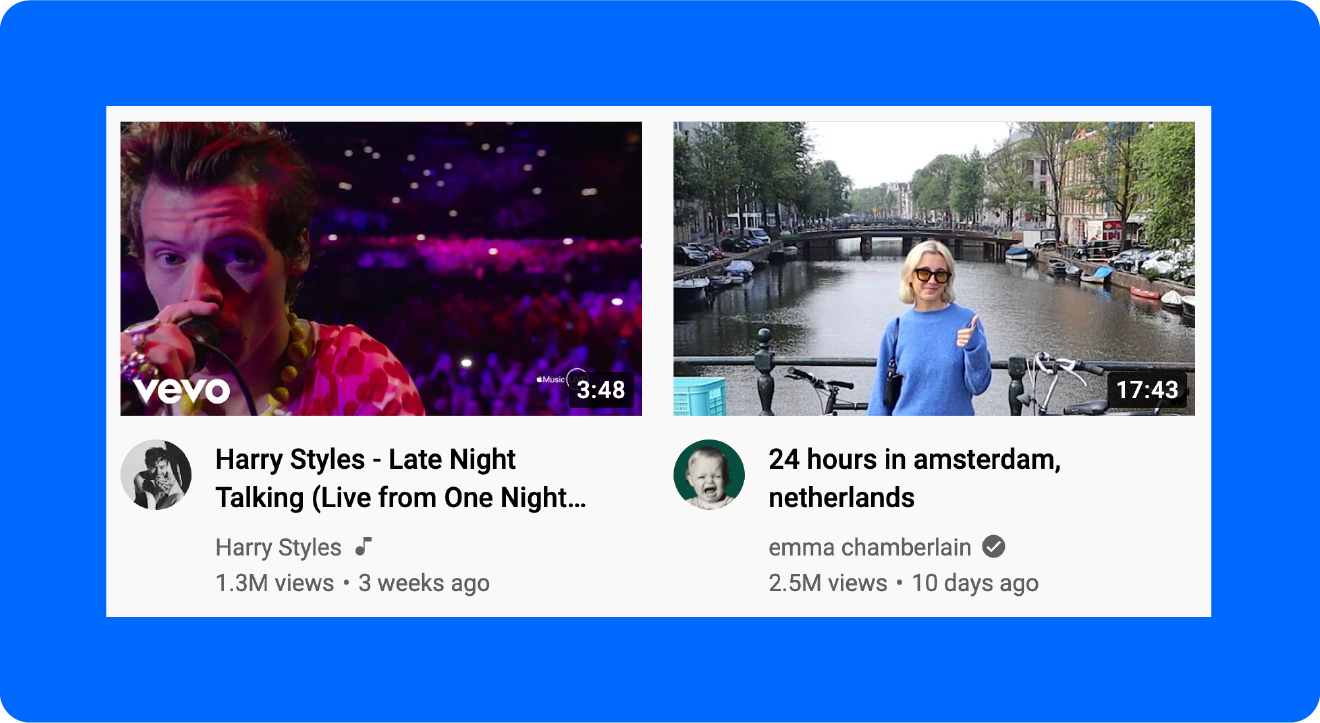 Anyone can verify their account with YouTube, and it's an important step to take when starting a YouTube channel. It allows users to use custom thumbnails, live stream, and post videos longer than 15 minutes.
A verification badge, on the other hand, does have requirements and an application process. That's why we'll be focusing on how you can get a YouTube verification badge and how to keep it.
Let's go over the requirements.
But, Who Can Be YouTube Verified?
Getting your channel verified on YouTube is like being part of a special club. And like any special club, you need to check a couple of boxes to be able to join.
Before applying for a channel verification, you have to meet the following requirements:
Have at least 100K subscribers.
Be authentic and represent the real person or entity you claim to be.
Have an active and complete account.
If your channel checks all of these boxes, you'll be able to start the process of verifying your YouTube account.
Keep in mind that if you're an artist or band, you'll have to meet different requirements to get an official artist channel:
Own or manage a YouTube channel that represents an artist or band.
Follow YouTube's Community Guidelines, Copyright Policies, and Terms of Service.
Have at least one official music video released on YouTube and that's distributed by a label or music distributor.
Meet one or more of the following: be part of the YouTube Partner Program, work with a YouTube Partner Manager, have music distributed by a YouTube music partner, or be part of a label network.

Then, you'll be able to apply to get a music note next to your channel name.
Now let's take a look at how to get verified on YouTube.
Cool, How Do I Get a YouTube Verification?
After meeting the requirements to verify your YouTube channel, you can start the application process.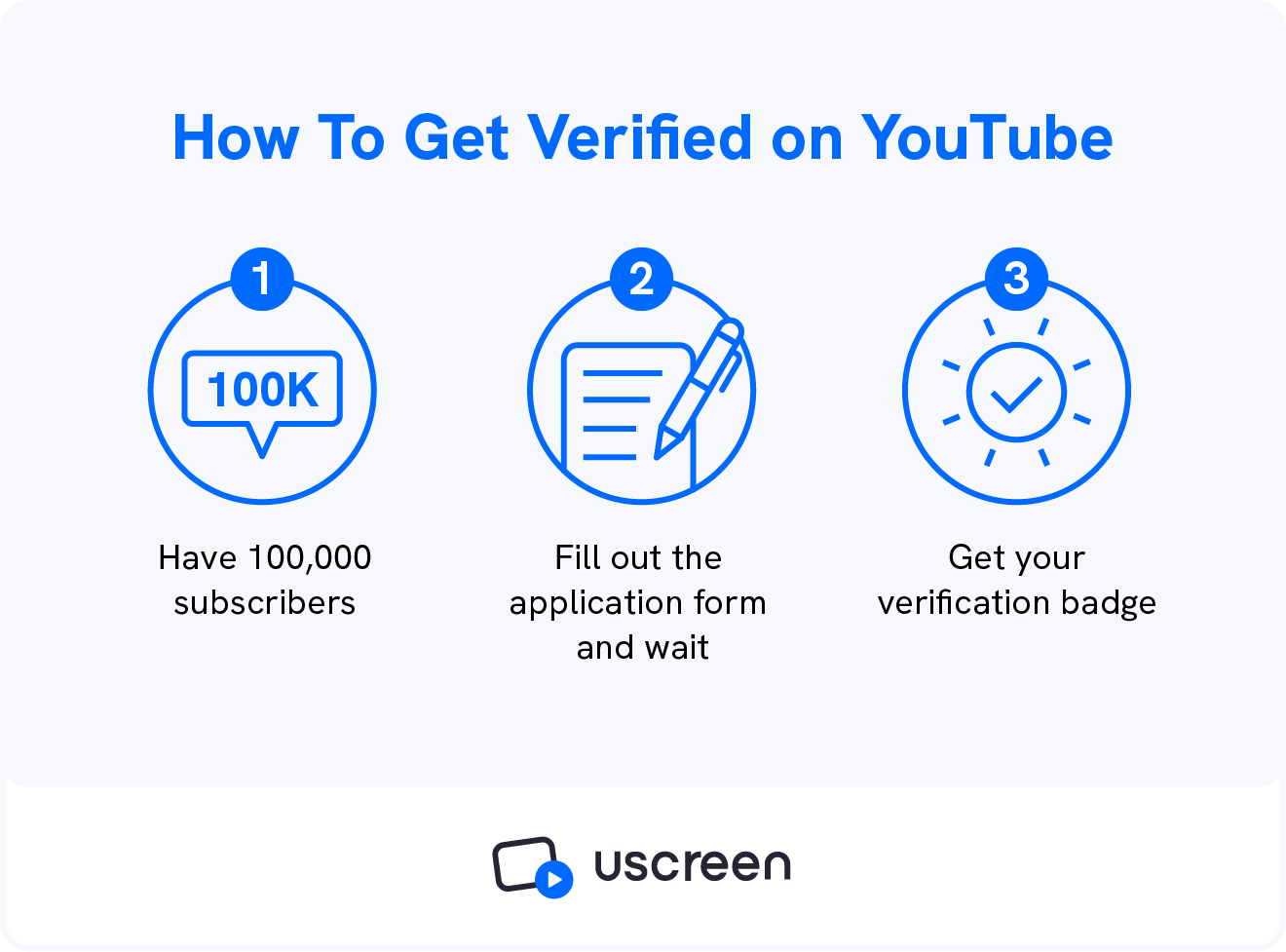 Follow these steps to get your YouTube channel verified:
Step 1: Go to the Application Page
The first thing you have to do is go to YouTube's support page where you'll find the application to apply for your channel verification under "Apply for channel verification."
If you're eligible to apply, you'll be able to click on "Apply now." Ensure that you're logged in the correct account you'll be verifying in order for this to work.
If you still need to reach 100,000 subscribers, follow our tips below to increase your channel credibility and check the application page when you're able to apply.
Step 2: Fill Out the Application Form
After you click on "Apply now," you'll be taken to the application form to get your channel verified.
Fill out the application form with your channel name and channel ID.
To find your channel ID, you can click on "If you don't know it, you can find your channel ID here" under the application form field. Or you can go to your YouTube account settings, and select "Advanced settings" to find your channel ID.
Step 3: Submit the Application
Once you complete the application, you'll be ready to submit it. After submitting the form, you will have to wait until YouTube verifies your channel. This can take a couple of weeks, and they might ask you to provide more information.
That's all you have to do to apply to get your channel verified — the hardest part will likely be waiting until you get your check mark next to your name.
If your application is approved, you'll be able to see the check mark next to your name.
Now, if you're worried about not getting your YouTube verification, let's go over what you can do to increase your chances of getting it.
So, How Can I Improve My Chances of Getting Verified?
There are several ways to improve your chances of getting verified.
If you still need to reach the 100K subscriber benchmark to apply for YouTube badges, you can still improve your channel credibility by:
Engaging with your subscribers: talk to your subscribers both on- and off-screen, including answering questions, asking questions, and liking comments.
Creating a professional looking channel: make sure your channel has a profile picture, banner, and an optimized channel layout.
Ensuring your thumbnails are consistent: create a clear brand for your channel, including having consistent video thumbnails.
Choosing the right channel name: choose a channel name that represents your brand and that you'd want to stick with for a long time.
This way, you'll build your channel credibility by letting people know your content creation is professional. Plus, this will increase the chances of getting more subscribers.
If you already have 100K subscribers and you're planning on applying to get a verified YouTube channel, here's how you can increase your chances of getting approved:
Create high-quality videos: frequently publish videos that are engaging and high quality.
Share authentic content: create content that's authentic to you and your brand.
Encourage engagement: reply to comments and ask subscribers questions so YouTube knows you have a loyal audience.
Have a strong brand: have a strong brand with a high-quality profile picture and banner.
This will help YouTube verify your channel more easily since you'll have a more recognizable brand.
💡How They Do It
Jade Beason is a creator coach that is close to achieving her next YouTube milestone: earning her YouTube verification badge.

She's building her credibility by having a professional-looking channel with consistent thumbnails. She's also posting videos every week and engaging with her subscribers in the comments regularly.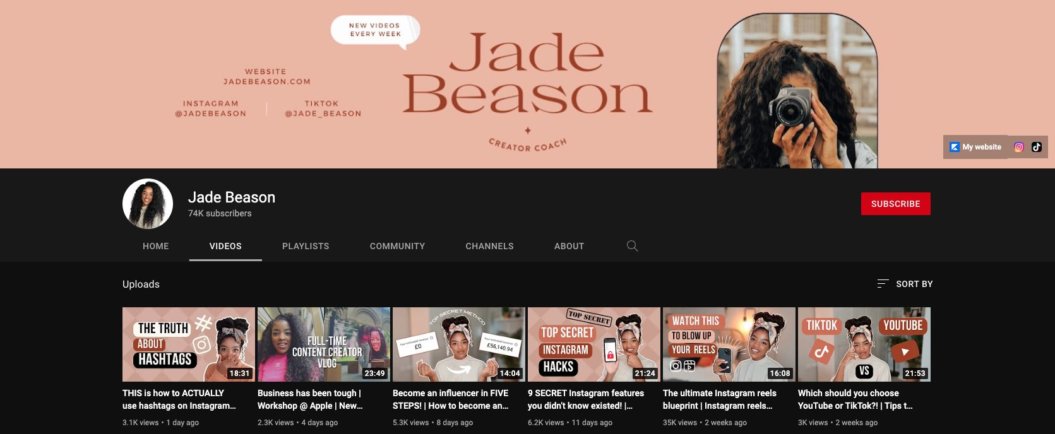 And, How Do I Keep My Verification Badge?
When you receive your verification badge, you might think it will be yours forever, but you can actually lose your YouTube verification badge.
There are some things to keep in mind if you want to have the check mark next to your name for a while. To keep your YouTube verification, you have to:
Continue following YouTube's guidelines: this includes not violating their Terms of Service or Community Guidelines.
Keep the same channel name: if you change your channel name, you will lose your badge and have to reapply.
Respect copyright rules: similar to following YouTube's guidelines, you should also ensure that you're complying with copyright laws.
Keep in mind that having your YouTube channel verified only gives you the official YouTube badge. If you want extra features, awards, or endorsements from YouTube itself, you can check out the YouTube Creator Awards program.
Wrapping It Up
There you go! A full guide on how to get verified on YouTube to help you reach your next YouTube milestone.
If you're still working toward your YouTube verification badge, there are ways you can make money without YouTube while growing your audience.
Our favorite way to monetize videos online is by creating your own video-on-demand platform that lets you host exclusive content and create your own membership site.
Want to see how it works? Check out Uscreen!
It's simple with Uscreen.
Build, launch and manage your membership, all in one place.
How To Get Verified on YouTube FAQs
Still have questions about getting YouTube verified? We've got the answers.
How Do I Check if My Channel Is Verified?
To check that your YouTube account is verified for security purposes, click on your profile picture, then "Settings," then click on "Account." After that, click on "Channel status and features." 

If your account is verified, you'll be able to see a green box that says "Enabled" in the "Intermediate Features" box. 

If you still need to verify, you can click "Verify Phone Number" inside that same box. You can also click on this link and verify your account. 
How Many Subscribers Do I Need To Get Verified on YouTube?
You need 100,000 subscribers in order to get verified on YouTube and get your badge.