Finding the perfect track for a product is no easy task.

But it gets even more complicated when it comes to finding music that you can actually use without breaking any copyright laws.
And what is the difference between royalty-free and copyright-free anyway? Well that's what we're going to cover today. Let's dive in.
What is royalty-free music?
Many video-on-demand creators face the issue of finding music that they can put on their content without them being demonetized or receiving claims. This is why for video-on-demand and live streaming, you always have to use royalty-free music; aka songs that you have the right to use. This "right to use" can come in a variety of forms and the most common one is buying it from a specialized website.
One of the biggest misconceptions about royalty-free music is that it is free. Even though it can be the case with some websites, many others charge licensing fees to use the tracks. What you are paying are the royalties, the right to use a certain song on a video. These royalties are paid to artists, record labels, or website owners, depending on where you are buying the track.
Most websites offer royalty-free music for a price that can go from single-use licenses to all types of subscriptions. What you will be paying for, though, is not the ownership of the track (the copyright), but the royalties. Later on, we will analyze some of our favorite sources for stock music.
This is why most royalty-free music sites have terms of agreements, which we really recommend you read carefully. Generally speaking, once you buy a track, the content you've created during your active subscription or paid the license for, will be cleared of copyright forever.
Keep in mind, that once your subscription is over, many sites don't allow you to use the downloaded tracks on any other content aside from the one already published during the active period. If you do so, you may be facing copyright issues.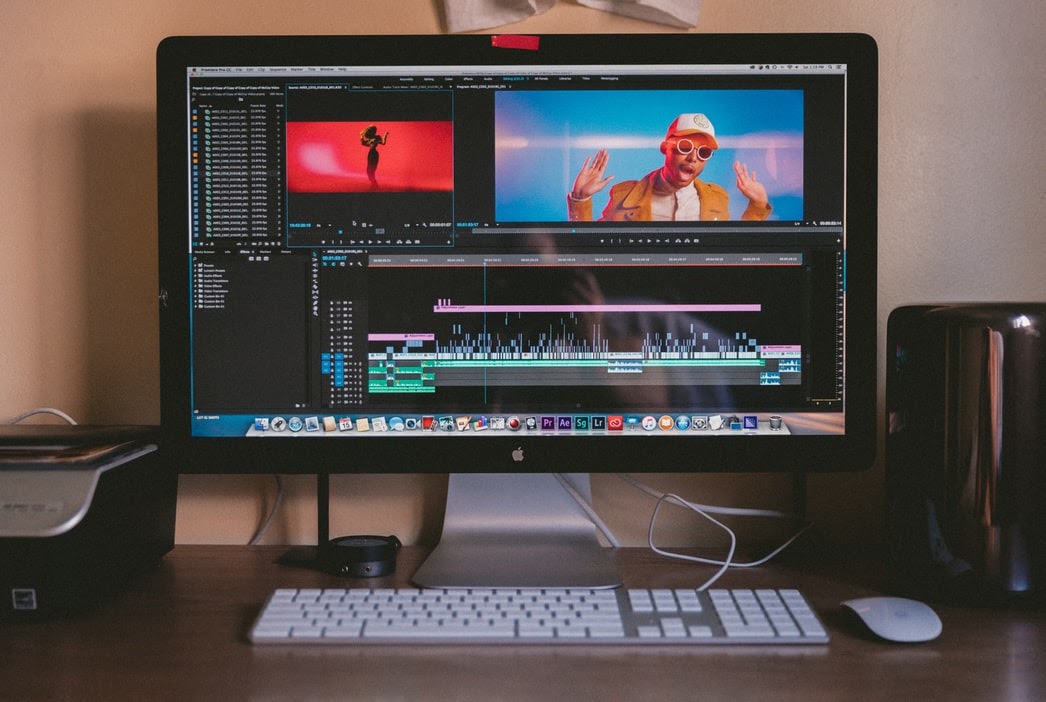 Why is royalty-free music important?
For all types of online content creators, royalty-free music is a must, especially when it comes to video monetization. Even if your video is not on YouTube, this is something you have to pay attention to.
The bottom line is that you can't just use any type of song out there, as you will be infringing copyright laws. This is why some pay-per-view and video-on-demand creators reply on Spotify playlists, which they link to on the description of their videos. But let's admit it, this can be very annoying for the viewers as it requires extra effort. Your best viewing experience will have background music directly on your videos, which is where royalty free music comes in.
Not using the right type of music can be counterproductive for both the creators and viewers. So consider royalty-free music as an investment for your platform, especially if you are planning to make a living out of your content.
What is copyright?
In general, copyright is a legal means of protecting an author's work. Copyrights provide creators with exclusive intellectual property (IP) rights over their content. Once someone finishes a creative work, whether it is a painting, stock photo, a book, or a song, they automatically become the copyright owner of that piece. This means that the piece can't be used without the consent of the creator.
In the case of a song, if you want to use it, you would need to ask for permission from the creator first and/or give attribution. Attribution is basically giving credit to someone's work. Some creators have a format, which usually includes the name of the artist and a link to their website. This is also the case of some royalty-free music sites, that allow users to use their music for free but including attribution.
But even if they don't have a specific format of how to credit an artist, you should include the attribution not only to avoid any copyright claims but also as a form of respect to someone's creation.
One way to have copyright-free music without giving any attribution is producing it yourself, which is no easy task for those who aren't musicians. This way you will own the copyrights to the track and will be free to use it as you want.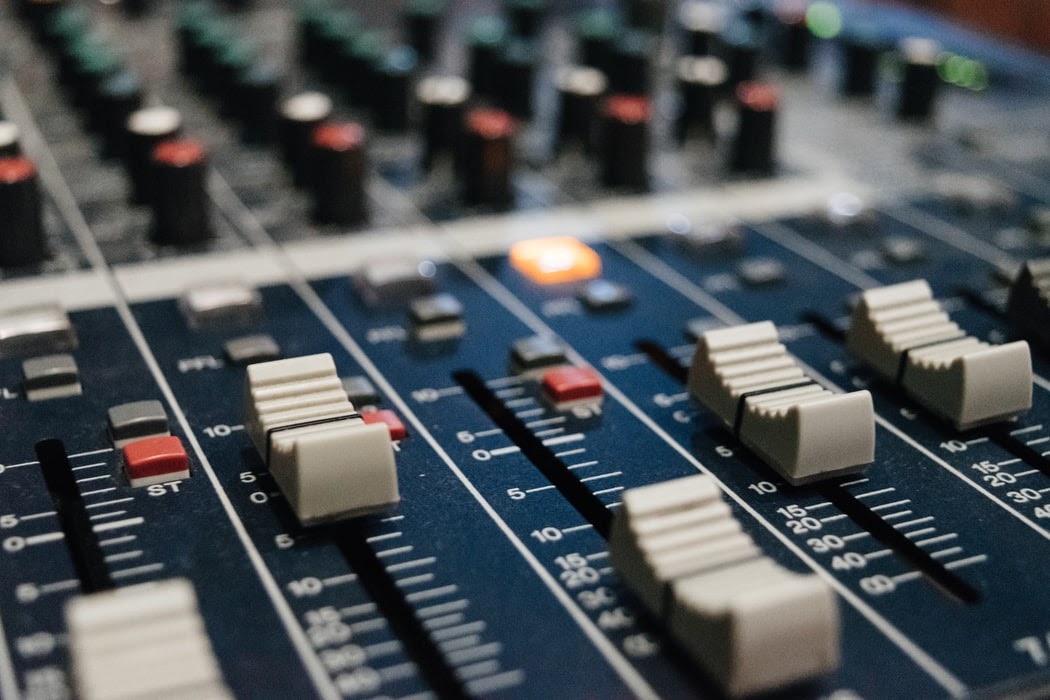 What's the difference between royalty-free music and copyright-free?
Now that we've defined both terms, let's get to the differences as copyright-free and royalty-free are two terms that tend to get confused. Finding actual copyright free music is nearly impossible, as any tune out there has been created by someone and that person owns the copyright.
What you can find though, are libraries with public domain music and creative commons music. However, in order to use the music you're almost always required to include the attribution. This is the case of the YouTube Audio Library or Soundcloud, which we will get into in a bit.
The great thing about royalty-free music sites is that you will be accessing high-quality original music, which sometimes is not the case of the free ones. As a content creator, you will want to include music that is easily editable as well as original as possible.
Where can you find royalty-free music?
A quick search through the internet will show you tons of options, but we've rounded up some of our favorite music licensing platforms.
1. HookSounds
HookSounds is a royalty-free music site created by artists. The selection of tracks is extremely curated, as they have high standards of originality and exclusivity.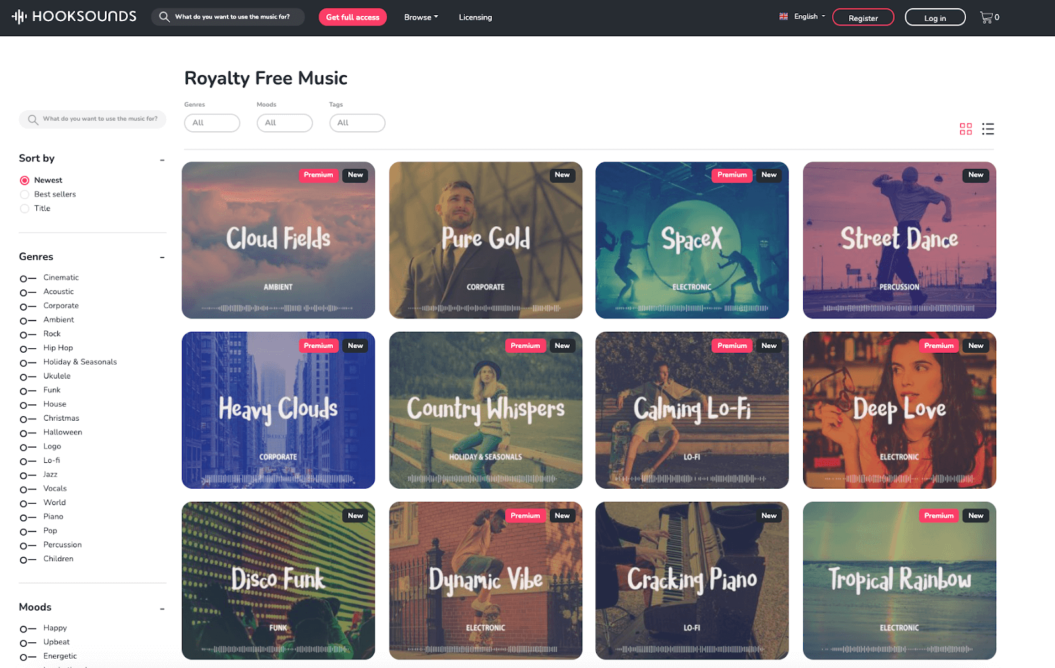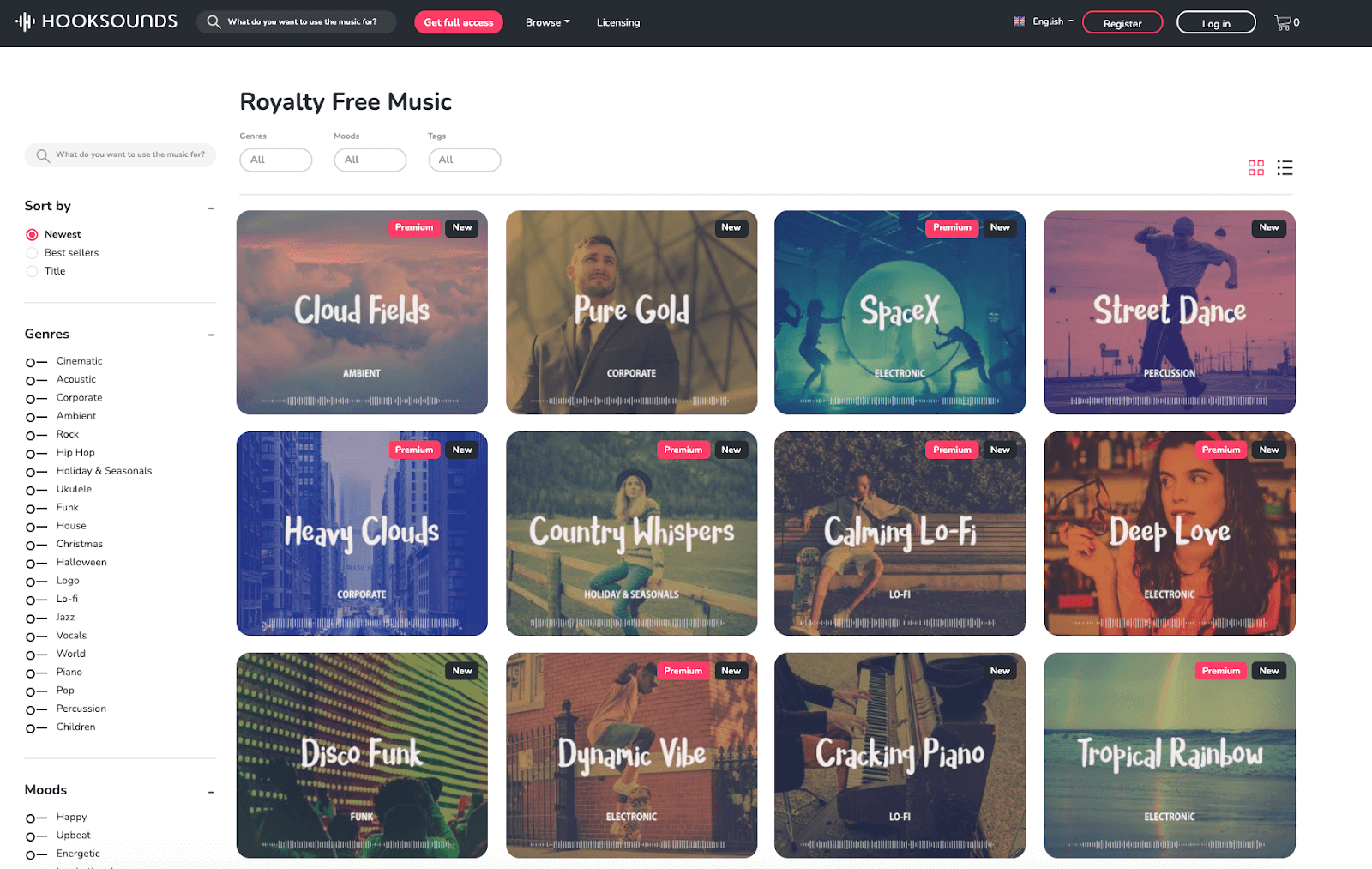 There you will find more than 3000 tracks as well as sound effects, and you can choose to pay single licenses (for one time uses) or subscriptions, both annual and monthly. Be sure to check their license page to see which one works better for your needs, keep in mind that both the Premium and Business ones cover video-on-demand platforms as well as YouTube and other social media sites.
Our favorite thing about HookSounds is its custom request feature. Business subscribers can request for tracks specially made for them, just by submitting a reference or a description of what they want. This is a great way for video creators to have exclusive music.
Uscreen users have a 25% discount on subscriptions at HookSounds with code USCREEN25.
2. YouTube audio library (free)
If you are looking for free background music, the YouTube audio library is a good choice. There are tons of options, which can make it feel a bit overwhelming, but the good news is that you can use it by only giving credit.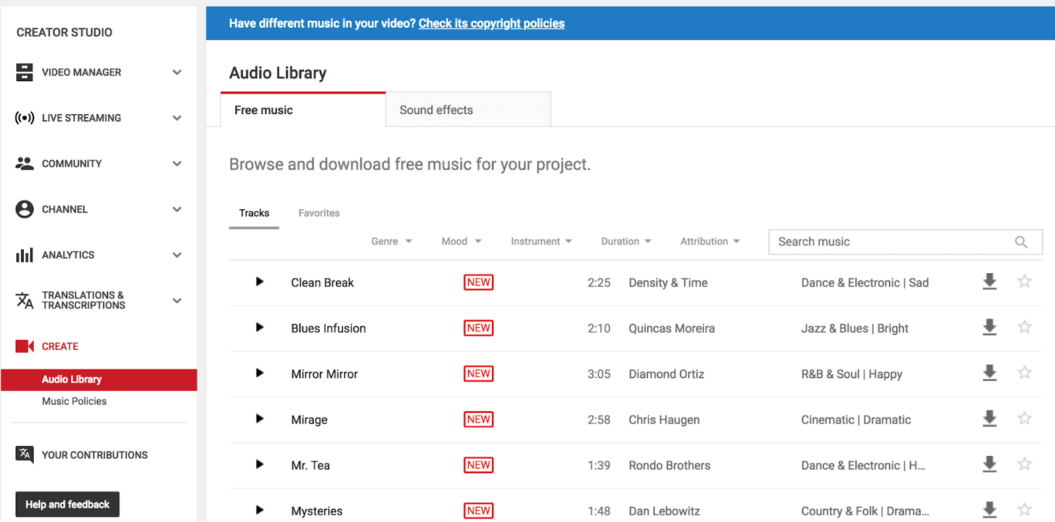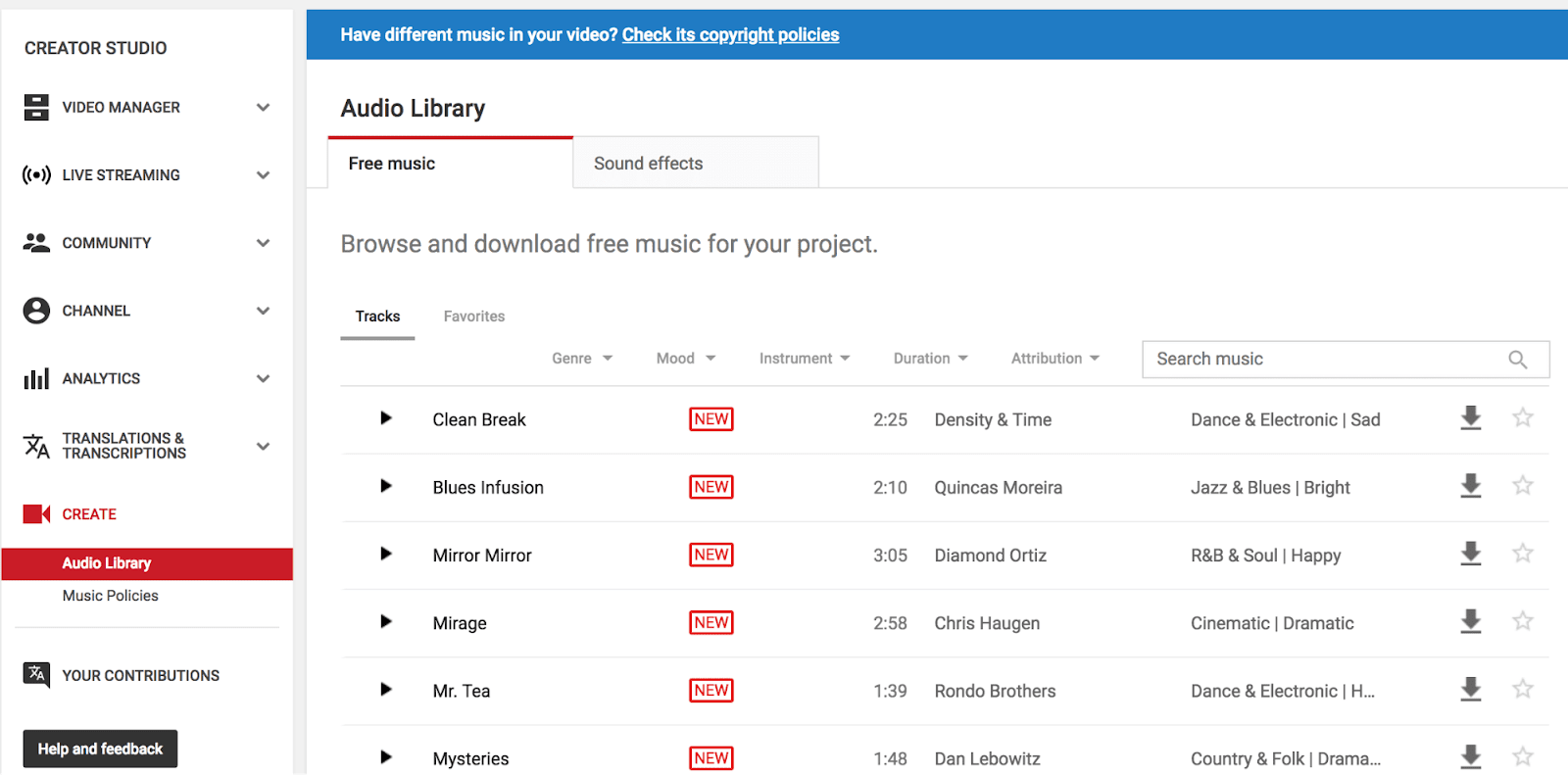 3. Epidemic Sound
As one of the biggest names in the royalty-free music industry, Epidemic Sound is one of the top choices when it comes to looking for stock music. Their website is pretty cool and like others, they have two types of subscriptions: Personal and Commercial. They have single-use licenses as well, but the prices are higher compared to the subscriptions.
Their music library has more than 30,000 songs (they offer sound effects as well!).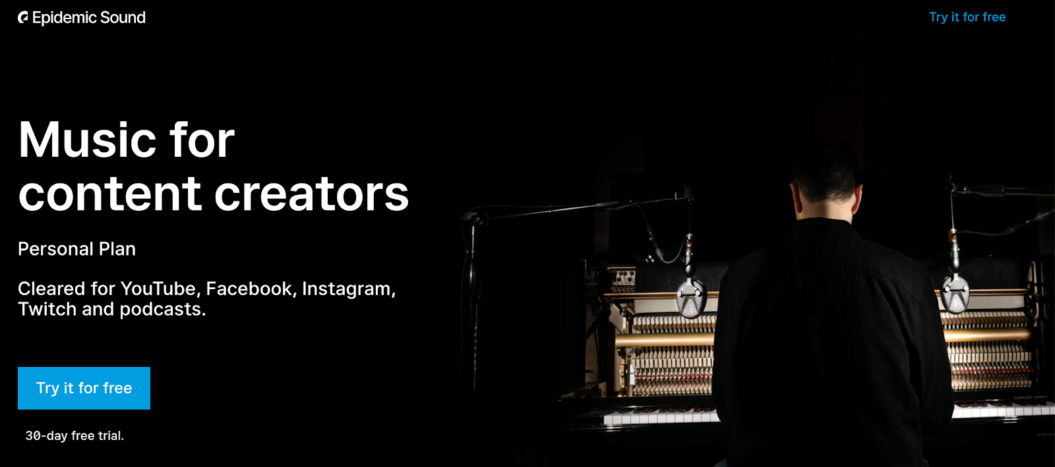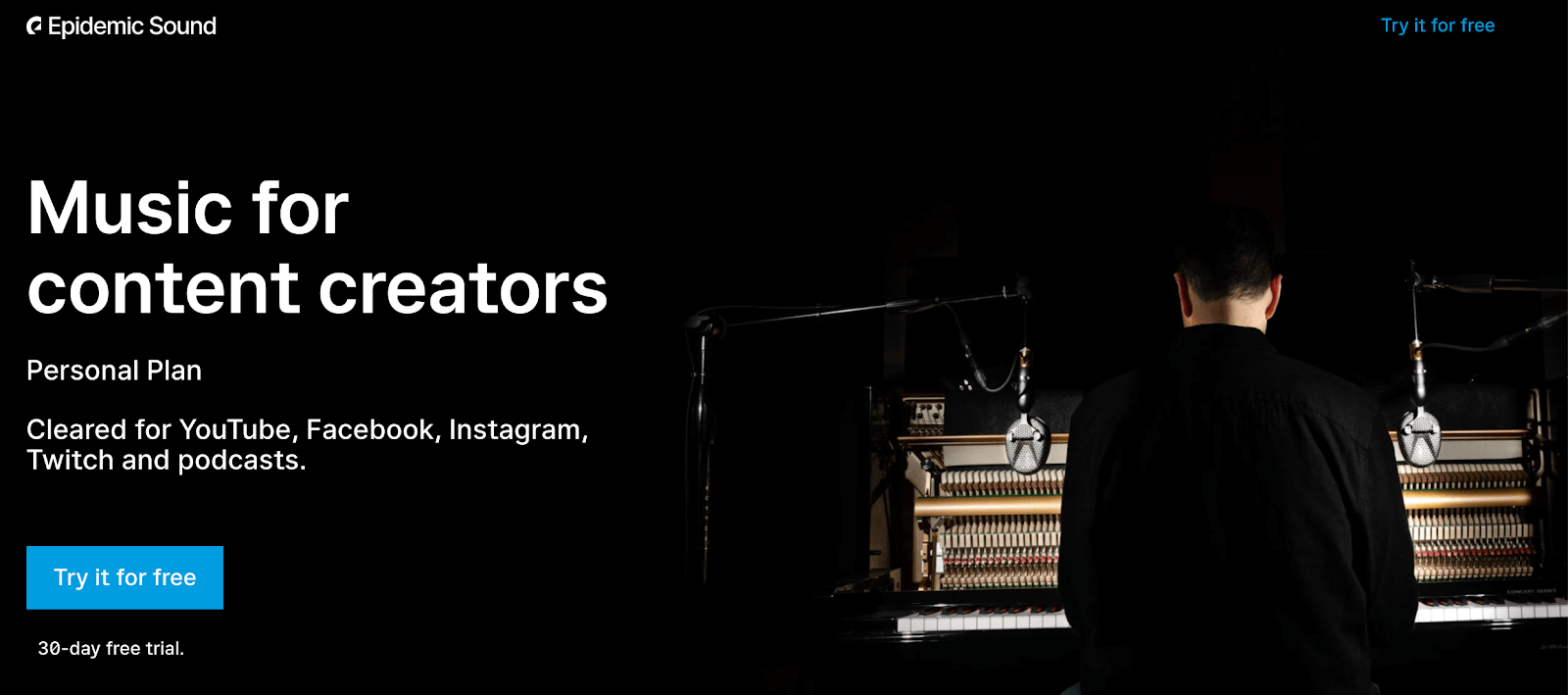 4. Bensound
Bensound offers a wide variety of subscriptions and licenses, as well as a free license for those willing to give credit to the site. It can get a little tricky to navigate through the library and there aren't many music categories, but the reality is that Bensound was created by a single artist who still runs the site.
Bensound offers several subscriptions, which can get a bit confusing, especially when it comes to pricing (all of the prices are in euros). Even though their four licenses cover YouTube and social media, only their Extended license and TV/Radio Ad license cover video-on-demand platforms.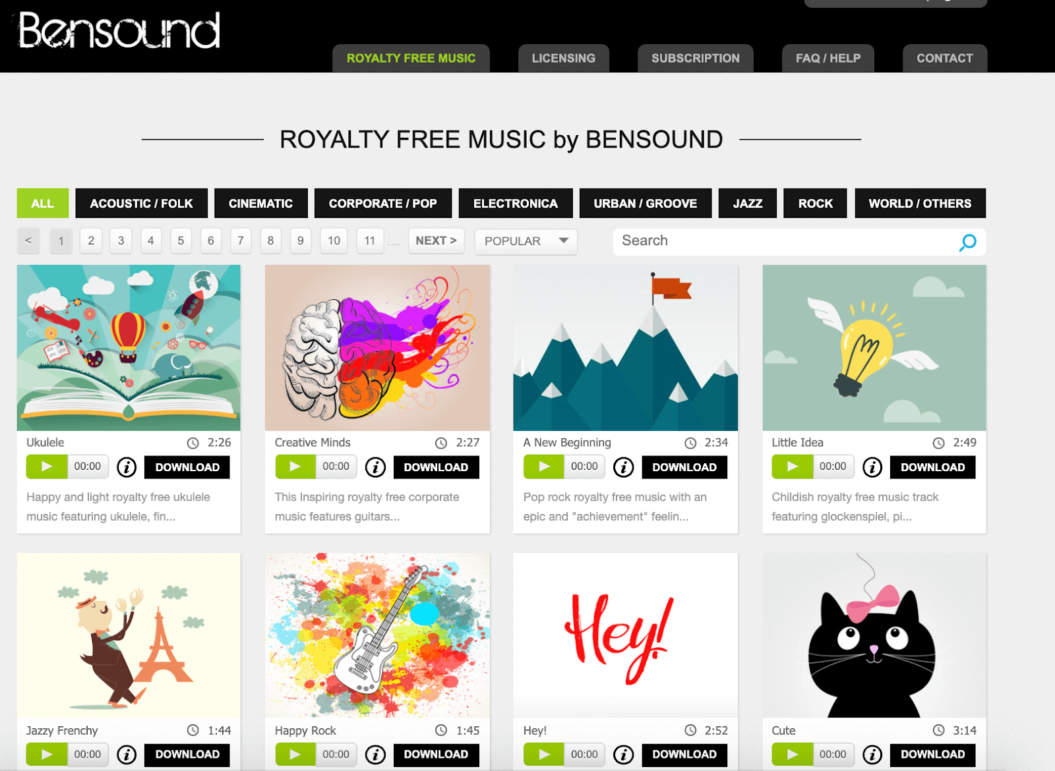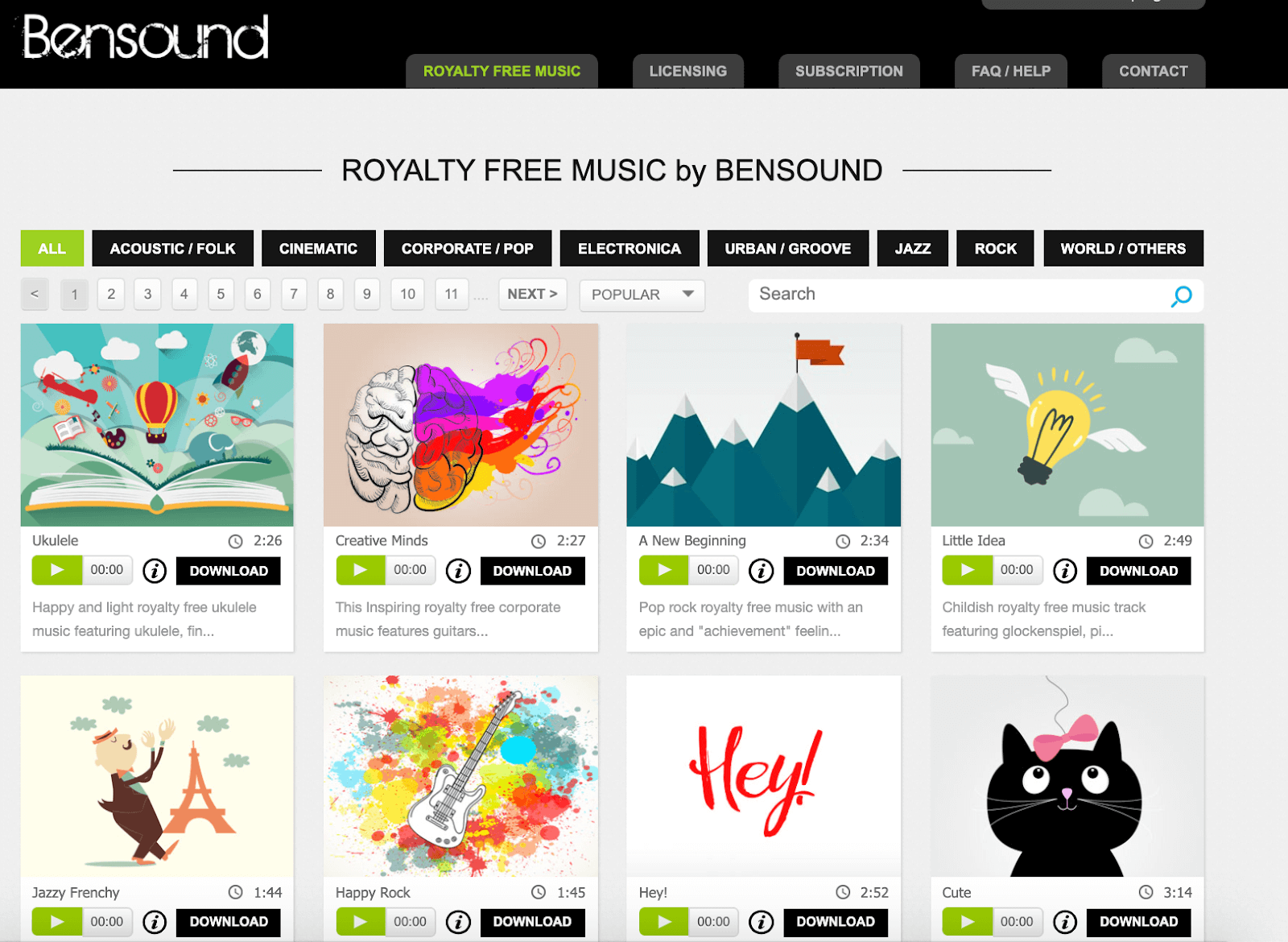 5. Soundstripe
Soundstripe has a pretty easy-to-navigate music library, with a lot of tracks and very detailed filter options. One of their latest features goes beyond music and is their video library. Just like with music, they offer a variety of ready-made videos that you can use on your creations.
As for the pricing, they have three different plans and single licenses, as well as an enterprise API option. The difference between the three plans is what they include (music or music and sound effects, and team accounts), but, according to their FAQ, all of the three cover all types of content. Their plans can be paid annually or monthly.


6. Artlist
One of the main differences between Artlist and other royalty-free music sites is the fact that they offer just one subscription which covers everything. Artlist currently only offers annual subscription plans.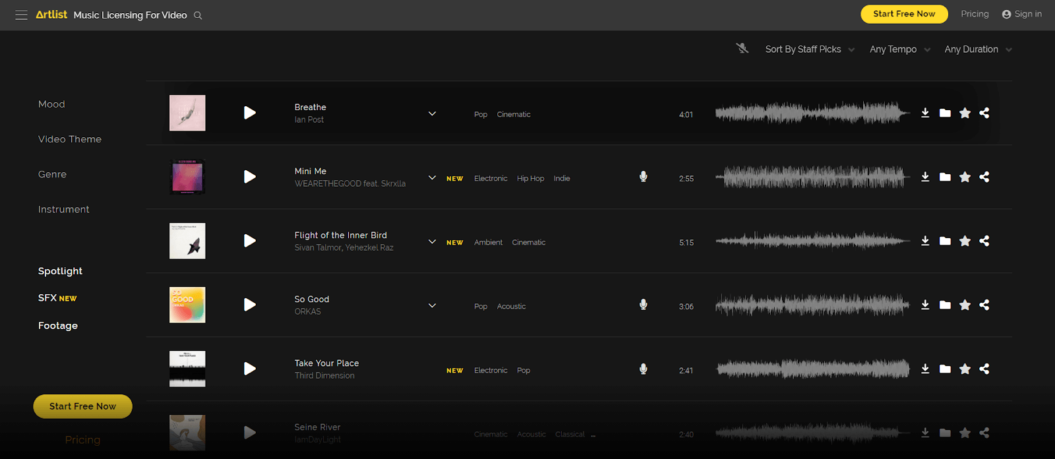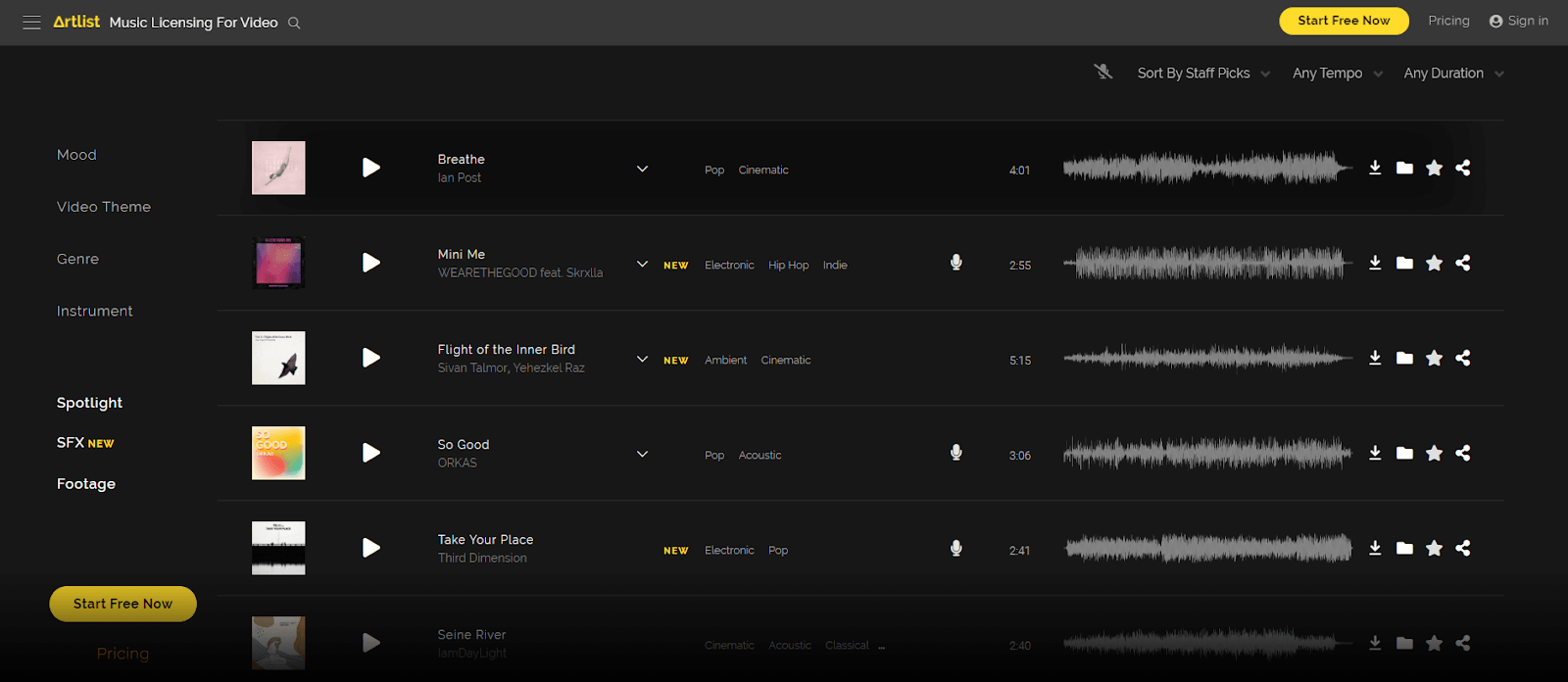 With over 8000 songs in their library, they offer a pretty cool filters system, including a Video theme one. This allows you to get track recommendations depending on the type of video you will be recording, including sports & fitness, food, and travel.
Frequently Asked Questions about Royalty-Free Music
What is a royalty-free license?
A royalty-free license is a fee you pay in order to have permission to use a song. The license fees can be a one-time fee (meaning that you pay only for a certain track), a subscription or, in the case of some free services, the obligation of including credits when using the song. 
Usually, once you buy a royalty-free song, you will be sent an invoice or a certificate that indicates that you now have the right to use it. This is particularly important in case you receive any copyright claims, to prove that you are legally allowed to use the music on your content. YouTube, for example, allows you to upload the invoice when receiving a notification of this kind.
Does royalty-free mean free for commercial use?
No, and this is a very common misconception. Royalty-free doesn't necessarily mean the song (or image, or video) is for free, especially when it comes to commercial purposes. 
In fact, many services clearly state that their product can't be used for free for commercial content, such as monetized videos. If this is the case, then read carefully their terms of agreement to see what their requirements and exceptions are.
Can I use royalty-free music on YouTube?
Of course you can! Depending on the royalty-free music provider you use, be aware of their conditions. Some websites, like HookSounds for example, allow you to use their music for free only on videos that won't be monetized (this is, that you won't be earning money from it whether it is from ads or a sponsorship), while the YouTube Audio Library lets you use any of their tracks only by giving proper credit. 
Can I use 30 seconds of copyrighted music?
Unfortunately, this is not true and it is one of the biggest misconceptions out there, which can lead you into some trouble. There is no actual law that states it is acceptable to use a track for a certain amount of seconds. 
Any use of copyrighted material without permission is, according to U.S. copyright law, copyright infringement. So stay on the legal side and go for royalty-free music.
What happens if I post copyrighted music on social media?
It depends on the platform you are going to post. For example, Facebook and Instagram have strict copyright protection and restrictions, and if you post a video or a story with a copyrighted song, it will most likely be taken down. 
The same applies to Twitch streamings, for which you will have to use royalty-free music, even if it is to just play in the background. So just like on YouTube, we advise you to go for royalty-free music no matter the platform you are using.
Final thoughts
Each creator has its own requirements and needs, so finding the perfect fit when it comes to music will require a bit of time. Thankfully most of these websites allow you to listen to the tracks for free, so you can check beforehand the quality of the music before deciding on where to buy a subscription.
Final advice: take your time, check as many as you can and decide on the one that feels the best for your needs.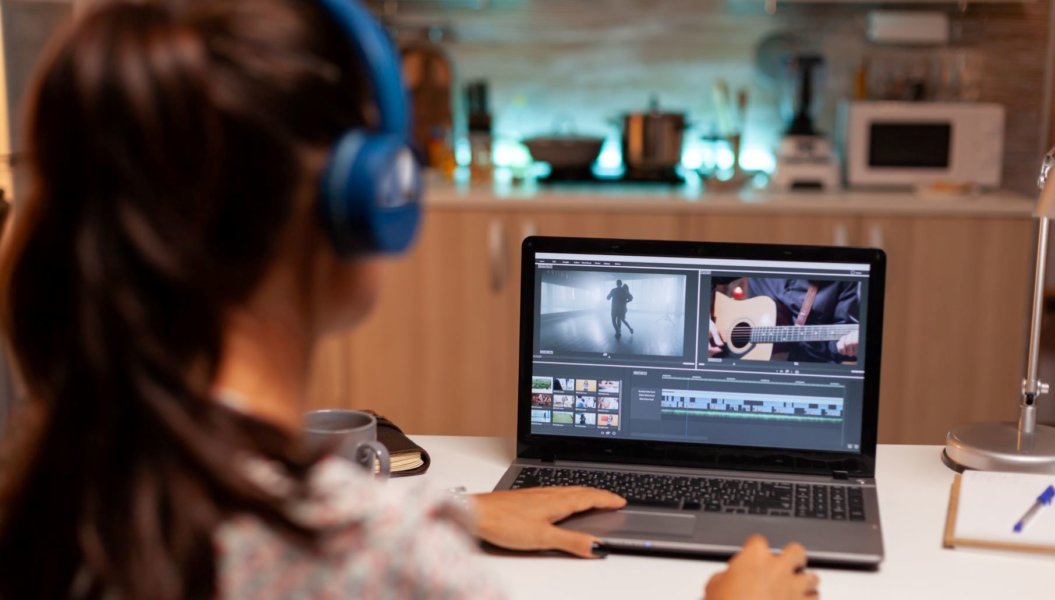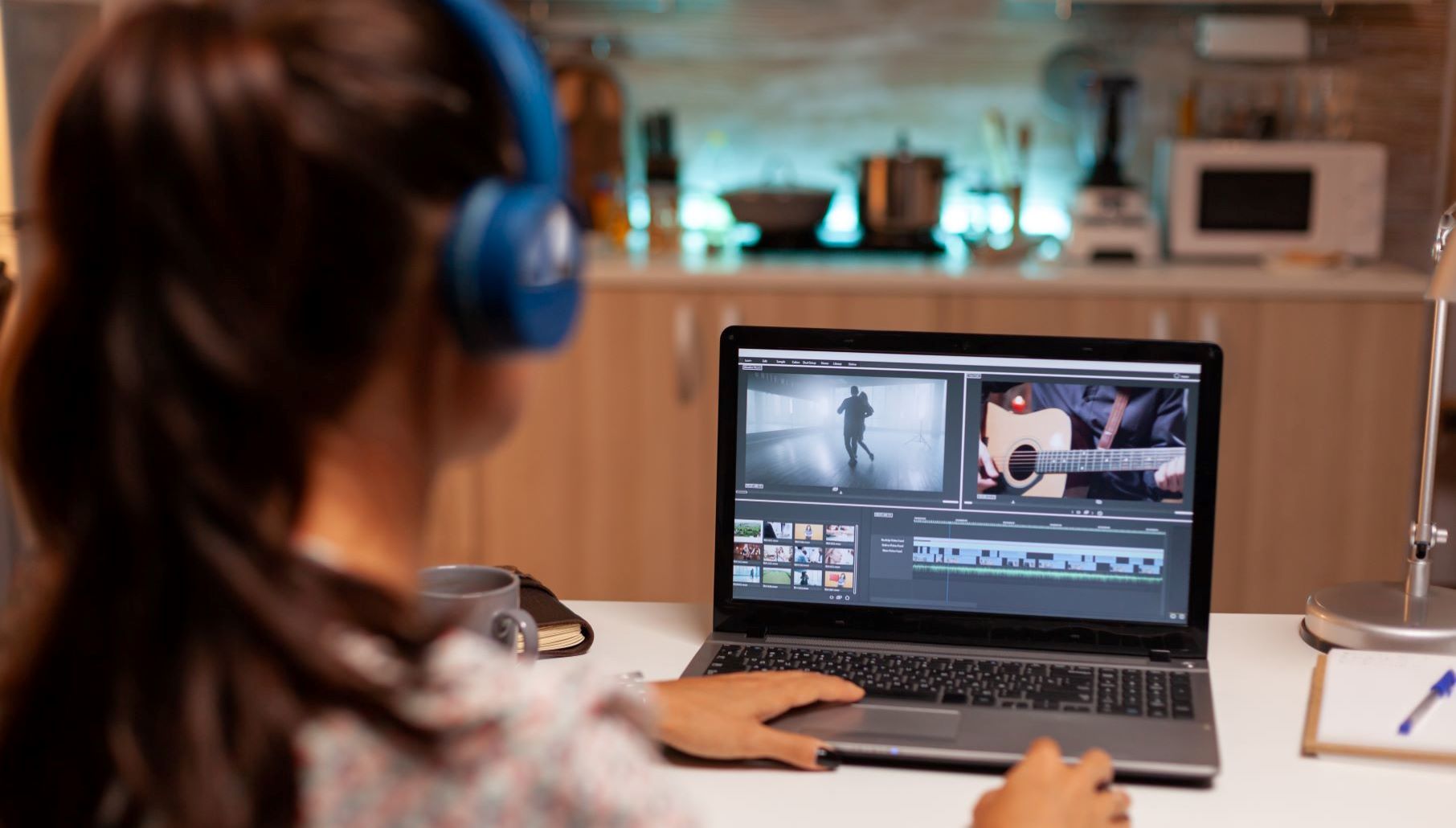 Music Licensing Guide fo Video Streaming Services