The world has made some major changes since the days of Jack LaLanne's fitness videos and the thirty four year run of his television show. While the technology may be different, the sincere and passionate interest in fitness has increased on an almost exponential level and keeping up with the ever-changing consumer viewing demands have become just a rigorous. Today's fitness videos are being watched on smartphones, tablets and laptops and everything is streaming online.
The newer crop of fitness experts have already recognized and embraced that the age of the DVD has passed. While it was excellent for the Jane Fonda era, the methods that today's viewers are looking for is accessibility on whatever device is at hand, at the moment.
The trends for viewing videos is also making a shift. Ooyala, one of the major companies that monitor and report on video streaming statistics is showing that the peak time for viewing varies by both time of day and device, and this makes fitness online video streaming the 'perfect storm' for opportunity.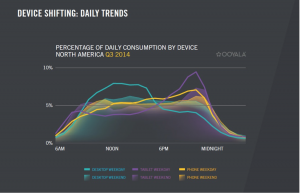 Making the Choice to Online Streaming
Just as record albums moved to cassettes and then DVD's, the DVD industry has been experiencing a downtrend in purchase. Transitioning to online streaming is the next step in net evolution and if planned and executed correctly can be more cost effective and bring about a better bottom line.
Consumers are more receptive to online streaming because of the convenience to use the technology of choice. Whether they are in front of the computer or laptop or viewing via their tablet or smartphone, the timing and choice is theirs, and appeasing the customer is what it's all about, especially in the fitness industry.
A few Online Video Stats of Interest:
*ComScore is one of the largest internet companies that does net analysis. They are reporting that online video engagement is at 45.4% and increasing. Internet users are viewing a minimum of one video per month.
*Cisco analysis is projecting that by the year 2017, net video traffic on a global scale will be as high as 69%.
*Ooyala has reported that smartphone and tablet views alone more than doubled in video viewing year-over-year, at a rate of 114%. Tablet viewers spent 68% of their time viewing videos that exceeded ten minutes.
*SocialMedia Today is reporting a 65% retention rate for online video.
This last statistic is probably one of the most important because everything that is successful on the internet is based on 'retention'. For a fitness video, this can be a key winning factor as your business is all about gathering a loyal following; ergo, retention.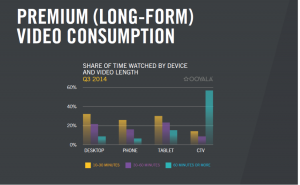 Fitness Viewers Easily Convert to Video Streaming
As a fitness professional, some of the important factors that you know about your audience is that they are very active, are time sensitive and are rarely in a single location (barring work) for a long period of time. This has historically been considered a 'problem' when it came to viewing fitness DVD's, as it required a lengthy stationary time to devote to their fitness regimen; interrupting their day and schedule.
Online video streaming has been the answer to the DVD problem, as a video can be viewed at any location, using a smartphone, tablet, computer or television. The technology meets the needs of the consumer and creates a 'win' for everyone.
Before You Jump to Free Video Sites:
Depending upon the route that you take, you can spend between $2,500 and $25,000+ creating your fitness video and this is now your 'proprietary baby'. After you have spent time, effort and money on the video, the last thing you should be thinking about is uploading it to a 'free' hosting site where anyone can pirate your production. This is actually not only taking a step backwards, but could potentially destroy your business.
Free online services do not offer the security and protection that you will need for your investment. And, as a knowledgeable business person you need to remember that there is always a 'price to pay' for free. While some of the free online sites do offer plans that they indicate will include profitability, the percentages of these that experience success are very small.
Align Your Video Marketing Plan with a Reputable Company
The transition from a DVD-based marketing and sales plan to video streaming should include partnering with a reliable and reputable company, such as Uscreen. The benefits for you will be the safety and security of your valuable videos combined with various e-comm options. Analytics features can track what chapters and videos your clients feel are the most valuable (highest video count) and this will help to form your future releases.
You have a major investment in the direction of your fitness company and best business practices should include making your videos accessible for all clients, at any time and on any device, in a secure method that will ultimately improve your bottom line.