OTT services are taking the world of online business by storm. And, for good reason.
They're allowing content creators – like you – to build stable, scalable and super profitable businesses around their videos. All while reaching a larger, more engaged, audience.
But knowing what an OTT service is, and how it really works, can be a little, well…confusing.
So, in this article, we'll to show you why OTT services provide a great business opportunity for all content creators, and why many savvy creators have already made the jump.
Here goes…
Before We Start…
If you're not sure what OTT is or want to get a better grasp of the concept, I recommend you check out the articles below before you read the rest of this article:
But if you already feel like you've got a good idea of what OTT is and how it works, let's jump on over to the next section…
OTT Services: The Present (And Future) Of Video Content
Over-the-top services are part of a rapidly changing video content industry. One which is predicted to be worth $83.4 billion by 2020. (A startling jump from its $20.1 billion in 2017!)
Every single day Cord Cutters cancel their cable subscriptions in favor of OTT services like Netflix, Hulu, Roku, and Amazon Prime. A phenomenon which is expected to reach 40% of America's population by 2030.

If this layout looks familiar to you, there's a good chance you'll be part of that movement:
Although these statistics talk about what's to come in the new few years, there's one fact that can't be ignored:
OTT services aren't just the future of video, they're also the present.
50% of Wifi connected homes use OTT services for up to 100 minutes a day. Meaning, streaming through OTT apps and devices has become the new normal.
This usage has created a brilliant business opportunity. And, it's not just the streaming giants who are seeing – and seizing – it.
Independent content creators are building their own OTT services and becoming the "Netflix" of their own industry. Which, thanks to services like Uscreen and Vimeo, has never been easier and more affordable to do: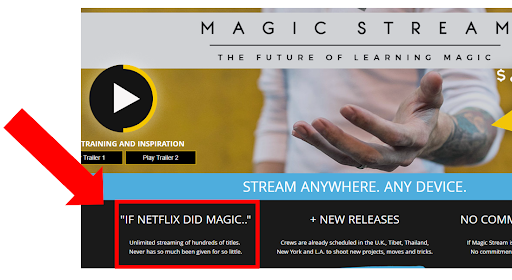 These OTT services – which work as subscription-based "hubs" – are allowing creators to build entire businesses around their video content.
In fact, the average Uscreen user earns $5,700 a month (recurring) from their platform, and many have seen their customer base double with the addition of apps. Why?
Because now you can create the content your audience wants, on the platform they need it to be on, without sacrificing creativity or profit.
How OTT Services Are Transforming Online Businesses
OTT services have brought about a kind of renaissance for content creators. Especially those who want to have video at the core of their business.
They give you the ability to create a standalone platform, away from third-party hosts like YouTube. This means you have complete control over how you generate income. You can set prices and charge the rates you feel comfortable with, without needing to adhere to advertiser guidelines.
You can also create an end-to-end service which looks and feels how you want, without having to hire a developer to create it for you. And, it's at least 10,000% less stressful than creating your own DIY website.
But the major benefits can be seen in income stability and audience reach.
Building a business around an OTT service provides a more stable and consistent income than any of the previous options open to you. Your videos become a product which can be subscribed to, and generate income based on customers you acquire.
Like how you pay a flat monthly fee to the "big players" in OTT, your customers could pay that to you, too.
You can also reach a larger audience – and earn more money – by being able to create highly-accessible videos which are tailored to the needs of your audience.
No matter what you create, whether it's online courses or Netflix style entertainment, you can provide users with the opportunity to watch on the device of their choice. Let me share a few examples:
Yoga classes:

Smart TV apps so users can take part in front of their television

Fitness programs:

Downloadable smartphone videos which can be taken to the gym

Sewing course:

Tablet-focused videos people can take into their creative space
Apps and videos can be created for the platforms your audience needs access to you on. And, you can double down on those channels and improve them.
Fad Or Fortune: Are OTT Services Here To Stay?
In this article, I've really built OTT services up to be a great way for content creators to build a business. Which often begs to questions, "is it too good to be true?"
It feels like there should be some catch. So let me address those fears if you have them.
Firstly, OTT services going anywhere in the future. Streaming has become a staple of our lives, and as they grow in popularity, so will the need to have them on the devices we choose.
There are also people, like my 14-year-old sister,who have grown up only using OTT video services. Her favorite shows are on YouTube, which she plays through her Smart TV and phone, and if she wants to watch "normal" TV, it's through an on-demand app like BBC iPlayer.
The audience need for OTT services is always going to be there and grow as the next generation becomes part of your target audience.
However what needs to be considered is this is like growing any other business. It requires lots of hard work, trial and error, and elbow grease. You need to create a product people want in order to survive.
You'll also need to market and reach your audience so they know your video content exists and can be streamed.
But, if you can crack that code your potential growth – both financially and creatively – has no limits.
Wrapping Up…
OTT services offer a great business opportunity, and why so many creators are turning their attention there. They give you the ability to create a standalone product, for recurring income, and have the potential reach to thousands more people by expanding to their favorite devices.