Digital Marketing
How to Find and Nurture Your Online Community
Gather your tribe, grow an online community, attract more followers – however, you want to phrase it – getting in front of people who want to know more about your products, services, and offers isn't just a good idea: it's essential to business success.
You may have attempted to start an online group before … and failed miserably. Don't worry, you're not alone. There are way more flops than there are successes at building an active community. It's not an easy thing to do, but it is possible.
Look at it this way: the more difficult a task is, the fewer people who will do it. That means community-building is a project you can use to position your VOD brand ahead of most competitors … but you first must learn how to do it yourself.
That's what this section is all about. We're going to walk step-by-step through the fundamentals of attracting your own "hungry crowd" – a key component to getting your content talked about, shared, and sold.
Even if you have an active membership VOD site, you still need this information
You may already have subscribers to your VOD channel. In this section, we'll focus on finding, qualifying, and bringing more paying customers into that group.
Think of it like this: you have friends at work, friends from school, and friends from the community at large. They're all friends — but they're not all in the same place. That's how it is with your online community. Some members will be on social media, some on forums, some on your email contact list, etc.
You're communicating with people in many locations. Those are staging areas for your VOD membership. They are the seeds for growth.
Be advised, though: the solution we offer here probably won't jive with the standard advice you've heard everywhere else. We're not talking about theory, but about proven tactics that build your brand and bring in business.
Begin by identifying your best prospects
It's better to draw a hungry crowd than a huge crowd.
You'd be amazed at how many VOD aspirants think their audience is "everybody."
But, if you try to reach everyone, you'll end up speaking to no one. Don't skip right past the work of identifying your best prospects. You're better off putting your offer in front of 100 people who like, want, and need your videos than investing time and money getting the word out to 10,000 people who could care less.
TIP: Carving out a niche is like going on vacation. Hawaii and Florida are both fine places, but you can't go to both at the same time. Choosing one means not choosing the other. Audience selection can feel like you're putting limitations on your business, but that's not the case. You're sharpening your business … and that's a good thing.
Next, find out what those people most want to know about your topic
Go to your audience before you ask your audience to come to you.
Notice we didn't begin this section by advising you to set up a Facebook Group, a YouTube Channel, or a Pinterest Board. You may or may not need a presence on those platforms. Once you've identified your best prospects, find out where they are currently congregating – then go there to listen and learn.
How do you find them?
Let's consider another SVOD example: Tawzer Dog. The header to their Uscreen site calls out their best prospects: "pet industry professionals." Look closer and you'll see the subgroup they're targeting within that general niche is dog training. Here's a screenshot from their Uscreen channel (below).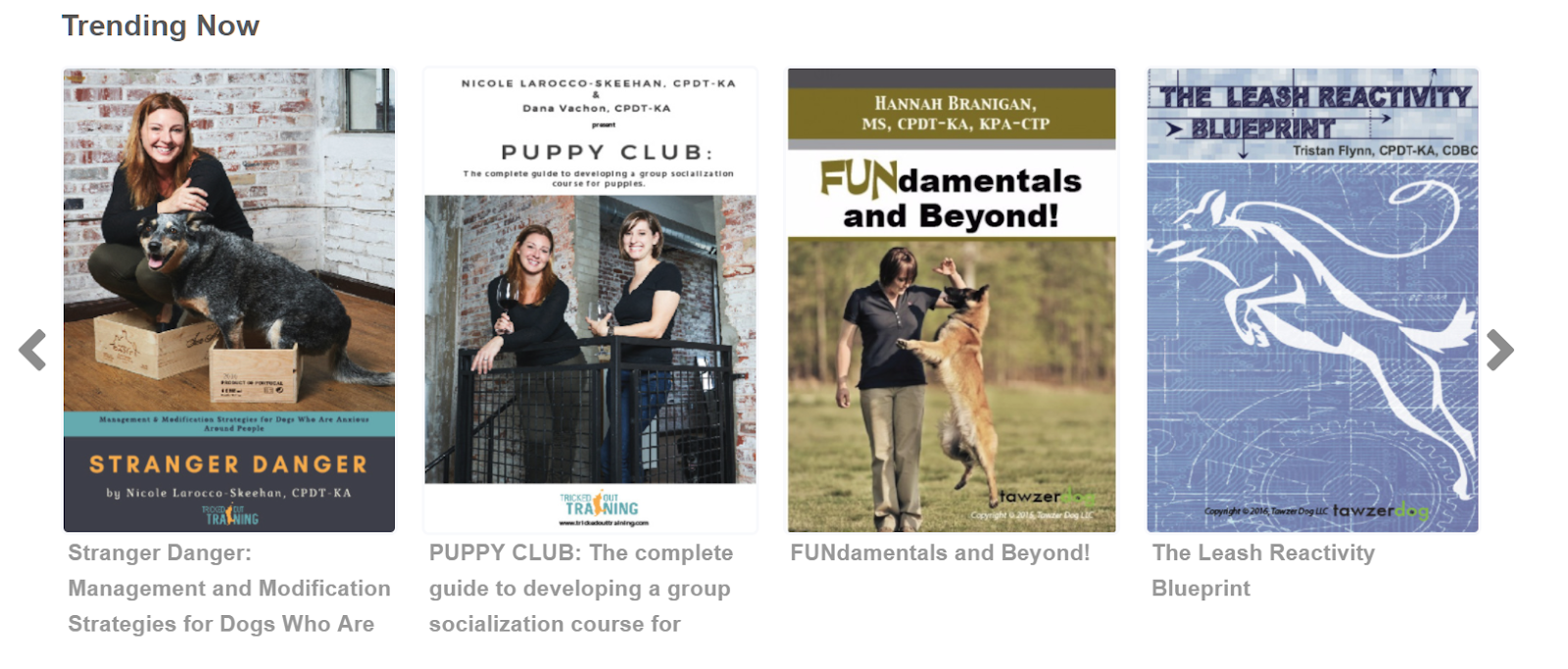 There are two primary ways to find out where your prospects are hanging out online. The first way is to ask them. That's an obvious solution, but many businesses fail to do it. You're different, though. You're building a solid online video presence.
Every chance you get to speak with a prospect, ask a question like this: "Hey, can you recommend online groups or platforms where people interested in [your niche] get together to share what they're learning?"
The second way is to use search engines. If you were heading up the community-building effort for Tawser Dog, which search terms would you use to locate prime prospects?
Here are some possibilities:
Dog training forums

Groups for dog trainers

Pet industry professional associations
And don't forget that Google isn't the only search engine. You can search directly from within Facebook, YouTube, LinkedIn, and other social platforms.
Once you've located people who are talking about your niche, your job is not to teach – not initially – but to listen. You want to pay close attention to the terminology they use to talk about your topic, you want to find out what they love to talk about most, and you especially want to make a list of their struggles and questions.
TIP: Quora.com is an excellent site for customer research. It's a question and answer site that can serve up nuggets of information in a hurry.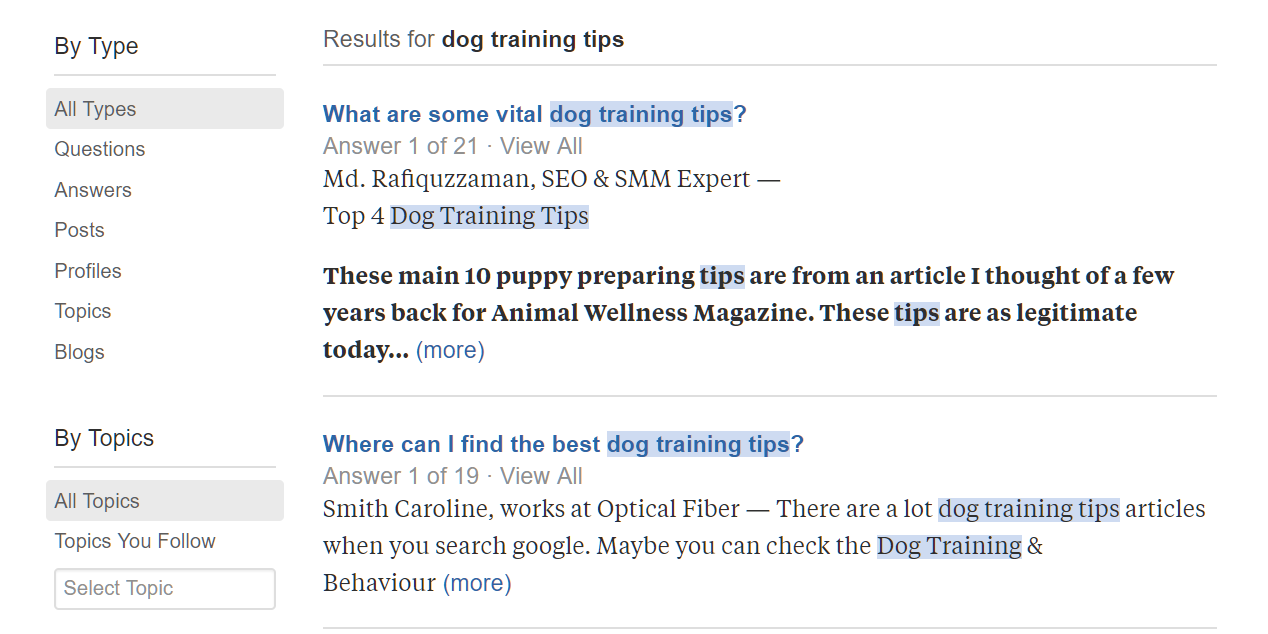 Then begin answering questions and directing prospects to your content when appropriate
The most important thing you can do on social media is to be kind and helpful.
You've determined who most needs what you provide. You've found out where those people gather online, and you've gone to those places with the aim of observing and listening. Never ever drop links or post-marketing hype. Your aim is to build a reputation for being knowledgeable and helpful.
Use the information you've uncovered to create solutions to the most pressing problems and answers to common questions. Once you have those in place, rather than post a full response on someone else's platform, you can let them know where to get the information they're seeking – on your platform.
For instance, let's say Tawzer Dog is active in the Dog Training 101 Community Forum on Facebook and a question about using "bridges" to create a training language comes up. That's an excellent opportunity to post something like this: "That's a complex topic. Check Angela Steinker's intro to the different types of bridges here: Creating a Training Language."
That link takes prospects to a film on the Tawzer Dog YouTube channel, then those who want the entire training are directed to the Tawzer Dog on Uscreen. Given that Dog Training 101 has over 47,000 members, chances are high the right approach can draw interest from qualified prospects.
Do you see how that works? Simple, right? You're not pushing your products on anyone. You're simply being helpful. There's one HUGE warning here, though: always read and follow the posting guidelines for the group or forum or website you're posting on. You're their guest, and if you disregard the rules you can get banned. That's never good publicity.
TIP: Don't just watch your prospects, watch your competitors too. Note how some of them think the groups are perfect places to spam people with marketing messages. Then note how well that works. Learn from the good examples and from the bad examples. You're on a fact-finding mission to become expert in every facet of your niche.
Your community may not be where you think it is
Meet your prospects where they are, then invite them to where you are.
Building an active and engaged social media channel is a major challenge. The most popular social media groups are built around topics, not around specific businesses. When you're launching your VOD business, community-building should certainly be part of your strategy, but probably not in the way you think.
The essence of community is one-on-one communication. There may be thousands of people at an event, but you'll find them gathered in small clusters making personal contacts. It's the same on social media, even though that doesn't appear to be the case.
You are looking for individuals, and your job is to get your ideal prospects to identify themselves. Your primary community should be your email contact list. That is the most personal communication method you have. (Yes, telephone calls, text messages, and direct messaging can be part of your strategy, but those are extensions of your email contact list, not replacements for it).
In other words, your community consists of all the people who are interacting with you concerning your topic. Some of those could be from Facebook, some from YouTube, and some from LinkedIn – but ALL should be on your email contact list. We'll talk more about this in the Email Marketing section.
Here's the vision we want you to adopt: your community isn't limited to one or two social media platforms, and your goal shouldn't be to develop a huge social media platform. Those entities are owned by someone else.
During the launch and build phase for your VOD or SVOD business, you need a place to present the information your prospects are seeking. Your own website and your Uscreen channel are the best places for content to reside.
Most VOD businesses will also want to maintain a YouTube presence – but the goal there is not to build a huge YouTube audience, but to send qualified prospects on to your email contact list and Uscreen site.
Most will want a Facebook presence. Again, though, that should never be considered a final destination on your path to sales. It's a place to post information that will point others to your Uscreen where prospects can be converted into buyers.
Think of it this way: Your VOD is your stage. It's where you present your work to paying customers. Everything outside your Uscreen "auditorium" is for building buzz about the show going on inside and attracting those who can benefit from your videos.
Building your online community – rules of engagement
People must first hear about you and listen to you before they can believe in you.
Sales doesn't begin with the checkout procedure, and it doesn't end there. From the first time a prospect hears about your SVOD business to when they purchase your work and then tell others about you, there's a string of events that occur: Hear, Listen, Believe, Buy, Tell. Those create a circle.
Community is important at each step, and just like any other form of interpersonal communication, there are rules of conduct that tend to bring about the best results. We'll close with a list of pointers critical to both social media platforms and your own website or Uscreen channel.
Talking with people is better than talking to them. Communication is a two-way street. Listen as much or more than you speak.

Where appropriate, point people to the next step on your path to sales. That may mean sending them to your Facebook page or YouTube channel instead of directly to Uscreen. Learn more about that in the

"Understanding the Marketing Funnel" section of this course.

If you don't have an answer for a problem, but you know where that answer is, then point the person you're speaking with there. Your aim is to be helpful to everyone, not to be the solution for everyone.

Maintain an active presence in those places where you're willing to participate. You can set up listening posts in areas of strategic importance, but if you join a discussion, be prepared to follow up and be available.

Earn your expert status and stick to your topic. Avoid getting drawn into politics, religion, or any other divisive argument that doesn't directly apply to your area of expertise. Know what trolls are and how to deal with them. When you're doing business, keep focused on business.

Don't be a shotgun marketer – spraying messages in every direction. Know your best prospects and focus on making sure they know who you are, what you offer, and how to find you.

Support others. Help others. Be kind to others. Keep it simple: find the people who most need what you have to offer, then serve those people.
Setting up any e-commerce business can get complicated. That's especially true of a video on demand product. That's why we created Video Business School. By working through the steps in each section, you can be sure all the bases are covered.
There's just one more thing you should know. It's the biggest secret of all.
SVOD producers can sometimes look at the competition and feel unworthy – like their work could never be THAT good.
That's not true, though. Here's what it takes to rank among the top performers in any field you choose: ten percent more effort.
Don't stop learning. Don't stop trying. Don't stop working. Whether your passion is dancing, dog training, or digital photography – you can be among the best.
The ten percent rule always pays off.