"Nobody likes training. Nobody. You do an excellent job, but still … people hate training."
This is what a senior human resources manager actually said when asked about employees' opinions of training programs.
It's no news that employees usually associate the term "corporate training" with long and boring lectures and PowerPoint presentations.
But what is it exactly that makes training an unpleasant experience? And, most importantly, what is it that employees really want and need out of corporate training programs?
To help you create an engaging employee training program that will motivate your employees by supplying them with what they need, we've summarized the results of three important surveys that have asked real employees what they truly think about their training programs.
Here are the results:
1. People want the skills to do a good job.

In a survey conducted with 1,001 office workers, the company Skillsoft found that, in general, employees want to become better at their jobs, develop as people and progress in their careers–and they believe training should help them achieve these goals.
The problem is that although 63% of employees want to use training to do their jobs better, only 5 to 20% of what is learned actually finds its way back into the workplace after the training has been completed.
At the root of this problem is the way training is defined.
Compliance training, for example, is labeled as mandatory and employees see it as just another box that needs to get checked off. This negative perception of training can easily be changed by simply highlighting the benefits training offers to employees and creating an employee-centered program that puts the needs of employees first.
2. Employees want specialized training.
In a survey conducted with 1,000 American employees, the market research firm Harris Interactive and Glassdoor found that 72% of respondents value training programs for specific skills more than pursuing a degree.
Also, the survey found that 63% of employees interviewed believed that alternative ways of acquiring new skills, such as webinars, massive open online courses, and certificate programs, could help them receive a salary increase.
3. Employees want to attain personal development goals.
Skillsoft's survey found that a significant percentage of employees want and need more development opportunities. Most importantly, it found that when companies fail to provide this type of support, workers invest their own time and money to acquire new skills and qualifications–and then move on to look for better opportunities elsewhere.
The exact numbers tell the story: 10.3% were working toward a professional qualification with the support of their company; 10.8% were doing it with their own resources; and 18% were learning a new skill on their own time.
This goes to show that one of the keys to giving employees what they want–and keeping them loyal to your company in the process–is dovetailing company objectives with employees' personal development goals and long-term plans.
4. Workers want lifelong work training.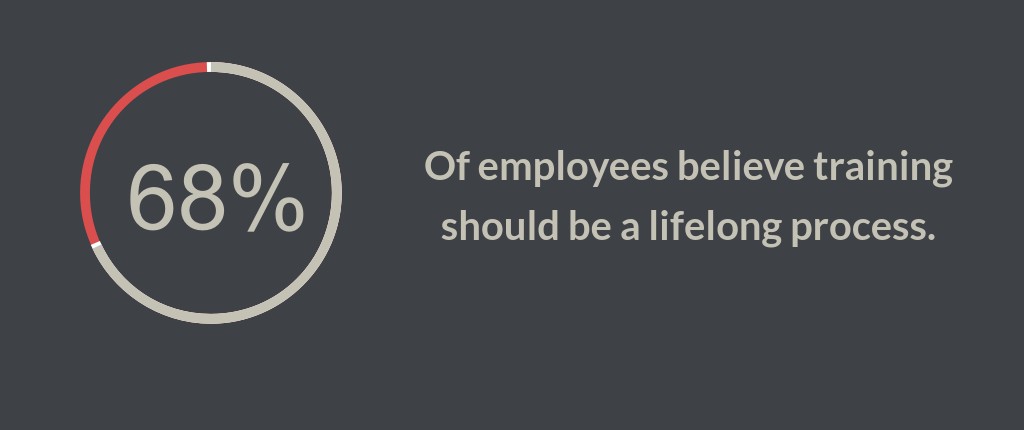 While most training occurs only at certain points in a person's career–when one is newly hired, promoted or assigned a senior manager position–Skillsoft's survey revealed that more than two-thirds of employees (68.2%) believed that training should be a lifelong process.
With the current pace of change across a wide range of industries–especially tech-related ones–access to training should be a constant, regardless of the number of years an employee has been with a company or the seniority of his/her role.
Here, again, we see that one of the barriers to this necessary change is the way training is defined. Not only is training treated as mandatory, it is also used in connection with disciplinary action.
Instead of highlighting the potential benefits of lifelong training, employers often treat training as a punishment doled out only to those who have in some way failed to do their jobs well.
In cases where an employee is underperforming, the most effective solution may not have to do with training at all. It may be more related to the work environment, motivation and incentives.
5. Employees want to learn soft skills.
In today's rapidly changing work environment–where hyper-connected employees enjoy more flexibility and can work from anywhere, anytime–workers are demanding more soft skills related to these new workplace trends.
According to Skillsoft's survey, employees want more training on how to manage virtual teams, as well as time management skills and the ability to communicate more effectively via video conferencing.
This makes a lot of sense since the application of self-management and interpersonal skills–tailored specifically to an online environment–are essential to those who don't have a typical 9-to-5, onsite job.
Similarly, BizLibrary's survey on the same topic found that the training topics most demanded by employees were related to communications, leadership, and business skills.
The report also highlights that the contribution of soft skills to the economy will increase by a factor of six in the next 10 years.
6. People want training that fits their learning styles.
Research has shown that different people learn in different ways. In line with this finding, Skillsoft's survey found that about one-third of respondents preferred experiential learning involving hands-on activities. In contrast, 19% favored a traditional classroom setting, while 17% said they learned best by looking at graphics, reading, or watching demonstrations. A full 25% preferred taking courses on their own time and at their own pace, outside of office hours.
The findings also point to the fact that people prefer different degrees of engagement with peers; while some said they would like more opportunities to discuss topics and share experiences with other classmates, many also said they favored a self-paced approach with the option of receiving some mentoring on the side.
One of the ways to address this difference in learning styles is to adopt a blended approach to learning, which means combining virtual classrooms, in-person training, and mobile learning to ensure that all types of learners are engaged in the training process.
7. Employees want shorter online videos.
According to BizLibrary's survey report on the state of employee learning, employees who participated in training programs that were comprised largely of online videos (particularly short videos, or what is called "micro-learning") reported better results in comparison to training programs involving online classrooms, in-person learning or traditional distance learning curriculums.
When asked which delivery method best-helped respondents to prepare for the future, improve their job performance, and learn new skills, a majority favored short online videos.
The report also found that when compared to classroom training, online videos were rated 10% more effective at teaching new skills.
When compared to traditional slideware eLearning, online video was seen as more effective by a margin of 11.7%.
And when measured against classroom training in preparing employees for the future, online video was rated as 13% more effective.
In its conclusions, BizLibrary's gives a few recommendations to those seeking to improve their training programs. It found that while virtual classroom training may be seen as necessary for workforces that are based across different cities or countries, it is not as effective as providing them access to online micro-video content.
It also recommended moving away from old-fashioned eLearning and focusing less on in-person classroom training.
Others have come to the same conclusion. Experts in the field such as Christopher Pappas foresee that both mobile training and micro-learning are two e-learning trends that will explode in the next years–due not only to their convenience but the fact that employees, especially millennials, love them.
8. Employees want more technology-based training

According to BizLibrary's survey report, 55% of those interviewed preferred technology-enabled learning over instructor-led learning in the form of traditional classrooms or virtual classroom environments that mimicked onsite learning.
With so many employees opting for training using technology, it is to be expected that the entrance of more millennials into the workforce will only accelerate this trend.
Some of the things you might see in a near future include more social learning and virtual collaboration elements, simulations, eLearning games, emotionally centered online training experiences, and training courses that incorporate avatars, characters, and appealing graphics and images.
All of these techniques not only increase motivation and excitement by appealing to the senses, but they also incorporate compelling storytelling, and teaching strategies, which research has shown time and again is more effective in getting a message across than pure information without a narrative.