Tell me if this sounds like you.
You've got an idea for an online school or eLearning business.
You've outlined the skills you want to teach, and you've even got an idea of who your ideal student is. But, you've hit one major roadblock…
You don't know how to make money from it.
Sound about right?
If so, you're in the right place. Today you're going to learn how to change all of that.
In this article, I want to show you the two best online education business models you can follow. So, no matter who or what you want to teach, you'll have a clear idea of how to turn your idea into income.
Here's what we'll cover…
What You'll Learn
The "night school" and "academy" eLearning business models

The major pros and cons of each

How much you can earn with each model
The "Night School" eLearning Business Model
Night School is a classic eLearning business model.
Its name is rooted in the night classes you can take at your local community college. You know, where you go to learn languages or pick up skills to help in your job. The simple business model which drives these traditional courses can provide a profitable blueprint to sell courses online.
This style of business model is all over websites like Udemy, where customers pay for access to a course which teaches them a specific skill.
Let's say you're going on holiday to Germany and you want to be able to understand the basics before you go so that you can blend in like these two cheeky chaps here:
You could head over to Udemy, search for "learn German" and find a course which teaches you the basics you need.
From there the process you saw earlier kicks in: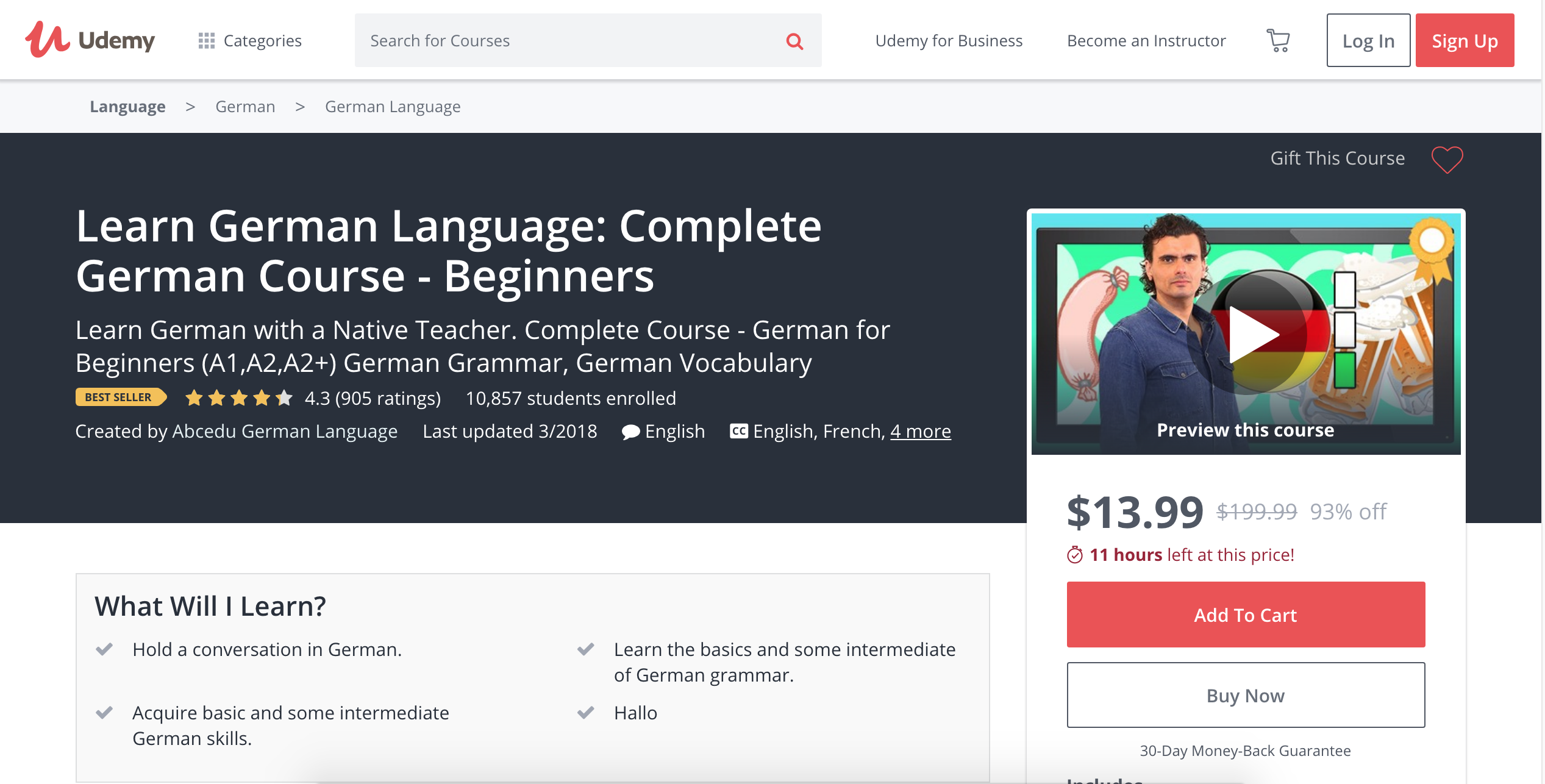 You log in. Watch your video lessons. Take tests. Contact your tutor when you have trouble. And, by the time you get to Berlin, you'll hopefully be able to order a Schnitzel without offending anybody.
It's pretty simple. But what kind of eLearning business is this model best suited to?
Who Is The "Night School" eLearning Business Model For?
This type of eLearning business model is flexible and can be adapted by any type of online school or teaching business.
It's been the default model for the majority of online eLearning businesses over the last few decades, but it's the best fit for:
New businesses:

If you're testing products and your audience's reaction to them, this can be a great way to generate cash flow and get feedback.
High-ticket businesses:

If you want to sell one-off products at a $2000+ value
Online course-only businesses:

If you only want to sell one-off courses, without all of the frills and support of a "school" environment
Basically, if you like to go deep into a specific skill or ability, this type of eLearning business model is for you. Which can be done across multiple topics in one niche, as you'll see in the next section.
How Do You Make Money With It (And How Much)?
The key to making money with the night school eLearning business model is to create standalone courses which solve your customer's major problems.
These courses can differ in value and depth, but they guide your customer to a specific endpoint. Let me show you what I mean.
One business who does this brilliantly is Ramit Sethi's; I Will Teach You To Be Rich.
The business is grounded in one "umbrella" niche, which is financial success. But for each of the barriers his customers have to getting there, he has a course to help them get through it.
This includes topics like mental frameworks and having better conversations: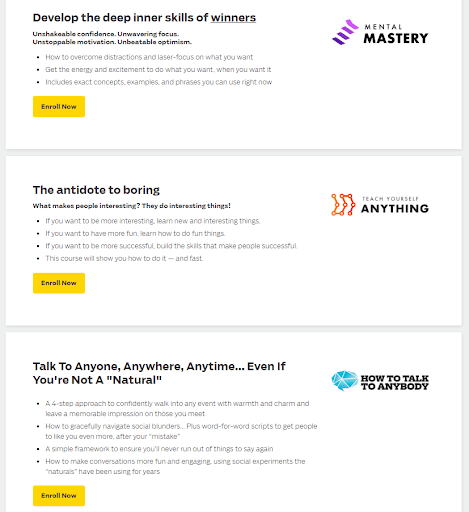 The starting retail cost of these courses is around $350 and work there way up to $2000-$2500 range. Which, as you can imagine, is really lucrative.
This is easily adaptable to any business niche, too. Let's say you're going to start a business around videography; you could focus on pain points like:
How to create

the perfect YouTube video

How to

edit videos in Final Cut Pro

How to sell your videos to a TV channel

How to find, source and

add music to your videos
Each of these would become a standalone course and retail at a different value, depending on the depth and demand for the course content.
With this business model, you could be looking at the $2,000+ range a month with a brand new business.
The 5 Pros And 5 Cons Of The Night School Model
Before you make your decision to choose this online learning business model, I want to break down the five pros and cons of choosing it.
Pros:
Lucrative:

You can create a broad spectrum of products and retail them at high-ticket prices

Specific:

You can create products which solve problems and cause transformation.

Low overheads:

You can create courses in cheap (or free) formats like PDFs.

Outsourceable:

You can easily build teams to help you manage your workload.

Evergreen:

When you create a course you can sell it for years to come.
Cons:
Time-intensive:

You'll need to invest lots of time and effort into creating high-quality courses which generate results.

Complicated:

Each course requires its own unique sales funnel.

Launching:

You'll have to consistently launch (and relaunch) your products to make sales.

Non-recurring income:

You have to sell people multiple times to keep your cash flow high.

Marketing:

Requires a constant stream of new leads to make sales.
The "Academy" eLearning Business Model
The academy business model has been part of a renaissance for eLearning.
Instead of creating an online course business model, as you saw with night school a second ago, you create a comprehensive school where students learn all of the skills they need to achieve their desired goal.
Let's look at this in real-world terms first.
When a student enrolls into an academy – say, a soccer school – they don't focus just on one aspect or skill. Instead, they come away with a well-rounded education in:
How to pass, dribble and shoot the ball

How to eat the right foods and how much water to drink

How to recover from a tough game

How to communicate with teammates

How to apply for college scholarships
If it sounds like I have an overly intimate knowledge of soccer academies it's because, a) I'm British and, b) I spent a year coaching in an American one. (Did somebody ask for blue steel?)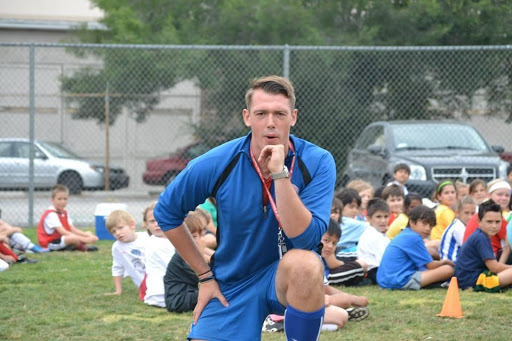 But, I digress…
In the online world, the Academy eLearning business model works a little like a Netflix subscription.
For a monthly recurring fee, students get access to your entire library of lessons and courses. They can pick and choose what they learn, and when they learn it, and build their education.
The academy can also come with lots of different community features, like:
Live Q&As

Coaching calls

Facebook groups
Depending on how you choose to run your business. As long as they pay their monthly subscription, they can have access to all of it. When they cancel, they lose it.
Because this eLearning business model relies on a subscription system, it has the potential to be profitable, scalable and much more manageable than the night school option.
But, who does this business model work for, and is it the right choice for you?
Who Is The Academy eLearning Model For?
The academy business model can work in any broad niche with multiple skills to teach. But it works best for:
Niche experts:

Who want to teach a wide range of skills in a specific niche

Health and Fitness pros:

Who want to share up-to-date advice to their clients

Creatives:

Who want to teach different artistic practices or disciplines

Enterprise experts:

Who want to provide training to corporations
If you want to cover a broad topic and provide depth in the areas, you think matter, without creating multiple standalone courses, this is for you.
How Do You Make Money With It (And How Much)?
The academy eLearning business model is based on a subscription service to get access to both short and long-from training videos on a topic.
The price point is usually affordable – between $9.99 and $49.99 per month – and on a recurring basis. These prices can vary depending on the package someone signs up for.
Let's look at this online education business model in action so you can see what I mean.
Magic Stream teach people how to perform incredible magic tricks with their online academy.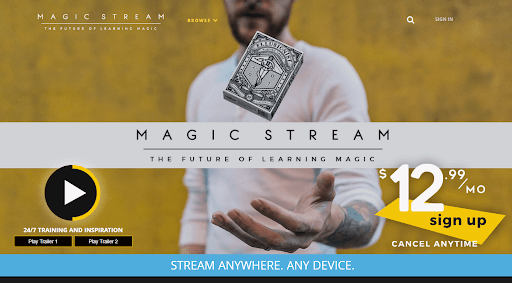 For $12.99 a month students get access to hundreds of hours of training material covering lots of different topics.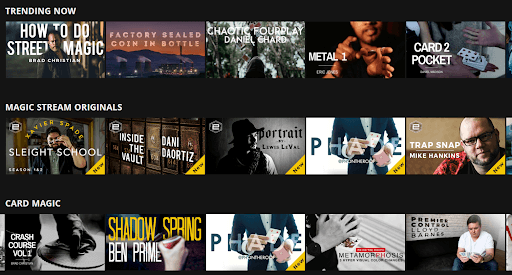 Behind each of these thumbnails is an intense training video which teaches you a specific skill. Instead of a "course" style, this is individual sessions or walkthroughs.
Running the business this way allows them to create a comprehensive library of content to help magicians learn a wide range of skills.
This is an attractive offer for a would-be magician who finds their product. For a small investment, they can get lots of value.
But that may be causing you a few worries right now. Because $12.99 per sale doesn't sound anywhere near as lucrative as the $350 courses you saw in the last section, does it?
Well in the short term you probably could make more money with the Night School model. Over the long term, however, the academy model wins. Why?
Because you have a constant source of recurring passive income which has the potential to grow infinitely.
Let me explain…
Let's say you launch your academy and you make ten sales of $13.00. That's a pretty modest $130 for your troubles, right?
Well, that's $130 which you will get paid every month from those customers. And, if you pick up an average of 10 new customers (absolute worst-case scenario) every month, here's how your income will look over a year.
Month #1:

$130 (10 subscribers)

Month #2:

$260 (20 subscribers)

Month #3:

$390 (30 subscribers)

Month #4:

$520 (40 subscribers)

Month #5:

$650 (50 subscribers)

Month #6:

$780 (60 subscribers)

Month #7:

$910 (70 subscribers)

Month #8:

$1,040 (80 subscribers)

Month #9:

$1,170 (90 subscribers)

Month #10:

$1,300 (100 subscribers)

Month #11:

$1,430 (110 subscribers)

Month #12:

$1,560 (120 subscribers)
That's a pretty quick increase in recurring income. This is what you're guaranteed each month, save for a complete mutiny or catastrophe. And that's before you look at the compound effect, where you've earned a total of $10,140 over the year.
At the point of launch, those $350 courses look deceptively lucrative. But over the long game, you can earn more money for less work with the academy model. In fact, the Uscreen customers who apply this business model earn an average of $5,700 per month!
The 5 Pros And Cons Of The Academy eLearning Business Model
Before you decide to choose this model, let's take a look at the major advantages and disadvantages of using it:
Pros:
High-retention:

Customers are "hooked" to your service because they want the new content you release

Attractive pricing:

You can bring new customers in with a low-cost but high-value offer

Passive income:

You can make money without being there at the point of sale

Scaleable:

Easy to grow or shrink to your desired business size

Simplicity:

You only need one sales funnel leading to one offer
Cons:
Content creation: You need to periodically create new content
Lower initial earnings:

It can take time to build momentum

Hosting:

You'll need a more expensive platform to run this

Innovation:

Your content needs to hit a broad range of topics to keep people hooked

Zombie-accounts:

The ethical question of people paying who aren't using your service
Which eLearning Business Model Should You Choose?
By now you should have a clearer image of the two major online education business models, and which one is going to be a better fit for your business.
If you're still not sure, here's a little recap:
You should choose the Night School model if you want to go to depth on topics and create high-ticket offers for your customers. Launching products doesn't phase you, and you prefer the big payout they provide.
You should choose the Academy model if you want a long-term profitable online course business which is easy to manage and has high levels of customer retention. You want to create one offer and deliver as much value to people as possible, and you'd prefer to keep customers for the long-term.
Now before you go, it's important to note you can change business models whenever you want. It's not uncommon for people to create three or four courses and then bundle them together into an academy-style product.
But an academy model should probably be the overall end goal for your business, if not now, then in three to five years.
Wrapping This Up…
Phew! That was a lot of information. Well done for making it to the end!
You can sign up for our video business school, where we'll share even more about how to start a profitable online learning business!