Most freshly hired employees are revved up for their new positions—that is, until they get to the orientation session.
Their enthusiasm slowly fades away as they sink into their chairs and watch that cheesy, low-quality training video from the 1980s.
Others who are a bit more fortunate—but not by much–have to go through a generic training process that doesn't really address their concerns, yet costs the company thousands of dollars every time it is conducted.
Does this sound like good business sense?
The answer is obviously no—although many companies operate this way year in and year out.
What is needed here is a jump to the digital age and a brand new perspective on corporate training. Digitally-minded managers will quickly recognize that not only is video training much more engaging than a text-based manual, it is also more cost-efficient than having to repeat the same instructions over and over again to different people.
If you're eager to learn how to train your employees with video and exploit the many benefits of this content format, then this guide is for you.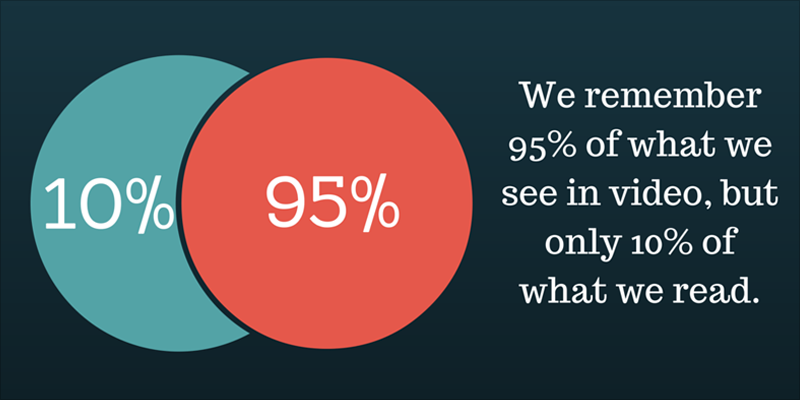 The Benefits of Video-Based Training
According to studies conducted by WR Hambrecht + Co., employees will only remember 58% of the material you covered half an hour after you've completed your training session. A mere 7 days later, that number will drop to 35%.
On the other hand, 95% of information relayed in video format is retained three days after being viewed, while only 10% of text-based information is retained in the same time frame.
That's a big difference. But the benefits of training employees with video don't stop there.
Besides stimulating the working memory of learners, video-based training is also more convenient for most employees. It's now easier than ever to deliver training through smartphones and tablets so that sessions can be viewed from anywhere, at any time.
Video also facilitates an emotional connection which cannot be forged through the use of manuals, pamphlets or lectures. Not only does it allow employees to get a better sense of the company's culture, values and mission, it enables you to deliver the same exact message to every new employee. Videos can then be stored in a shared library where they can be consulted at any time in the future.
Interactive video-based training, in which different scenarios are presented, is even more effective. By allowing learners to interact with the content and process it in the form of short and relevant stories, engagement is substantially increased. Video also facilitates the explanation of "how-to-do" procedures in real-life settings, which increases retention and job performance.
It comes to no surprise then that a survey conducted by the Aberdeen group revealed that companies that used video were more successful in attaining their objectives than those that did not use video.
In short, using corporate training video pays off in the long run.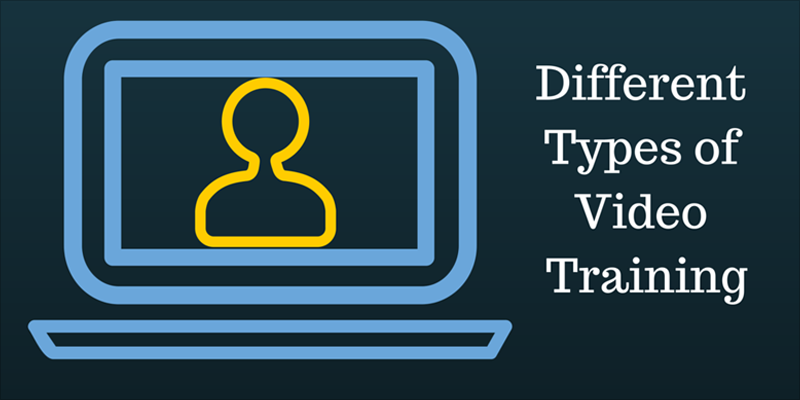 Different Types of Video Training
Training your employees with video is not only the most logical solution, it is also the most versatile. There are a variety of training programs you can implement through video, such as:
 – Orientation training
• Every new employee must go through this training, which entails learning about the regulations, rules and procedures of an organization.
 – Safety training
•This type of training is designed to prevent accidents on the job and damage to machinery.
 – Promotional training
•When employees are promoted, they must pass through this type of training, which enables them to excel in their new positions.
 – Retraining
•With the fast pace of innovation and change, it is necessary to retrain employees on a periodic basis and keep them up to date with new developments in their fields.
 – Internship training
•Companies and organizations offer this type of training to interns who aspire to add practical skills to their theoretical knowledge.
 – Remedial training
•This is used to correct ineffective methods and techniques and help employees overcome their shortcomings.
To give you an even clearer idea of how this can be applied in your organization, here are some specific ways in which video training can be used to educate employees:
•How to deal with customer requests and complaints
•How to navigate and use the company's intranet site
•How to use specialized software or applications
•How to process product returns
•How to handle emergency situations or suspicious activity
•Product features and benefits
•Operating procedures for ISO 9000
•Instructions for product assembly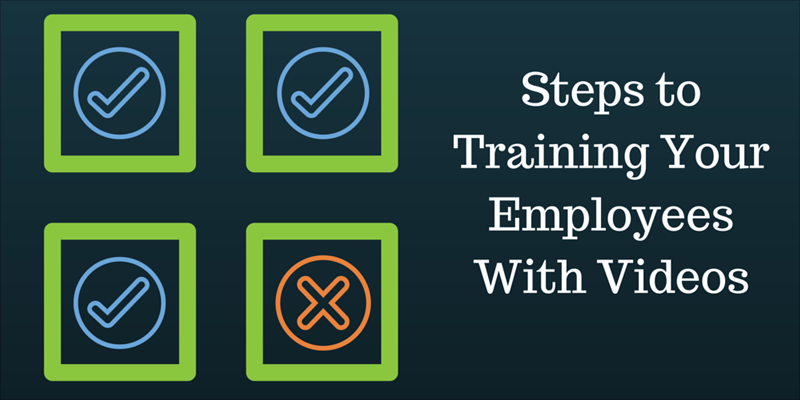 Steps to Train Your Employees with Video
Now that you've seen the many benefits of implementing corporate training videos, here are the actual steps you need to follow to create your own program:
1. Analyze your audience's needs
First things first: You need to determine who exactly is going to watch your video and what they need to learn from it. Are they new employees? Are they experienced professionals in need of retraining? To help you detect and bridge the gap between your employees and their desired performance, determine which of the following needs they have:
•Skills: The person doesn't have the expertise or experience to perform a specific task.
•Knowledge: The person doesn't have the adequate contextual knowledge to carry out a specific task.
•Motivation: The person needs motivation to do their job properly and complete tasks without taking shortcuts or using inefficient methods.
•Transition: The person needs training to adequately understand how to use a new system or process.
To help you detect these needs beforehand, conduct a short survey or questionnaire. Then, based on the information you receive, create a list of topics to cover, along with the specific tasks related to each of them. Also, define a list of prerequisite skills or knowledge so that both you and the participants are on the same page.
2. Define your goals
Next, establish the objectives you want to reach with your video. Remember, as with any viable plan, these should be comprised of "SMART" goals that are:
S-pecific
M-easurable
A-ttainable
R-ealistic and
T-ime-constrained
Then, create a storyboard or outline of your video, with a column for visuals, another for the estimated duration and a third column with the audio such as narration, sound effects or music.
3. Write a script
Now that you have all the information you need, create a script with everything that will be stated by the narrator, along with action directives. At this point, you should also create all the images, graphics and animations you will need in your video. Remember to also keep your video short and sweet (see graph below) since this helps with retention and facilitates the editing process. An ideal video length is between 6 and 10 minutes.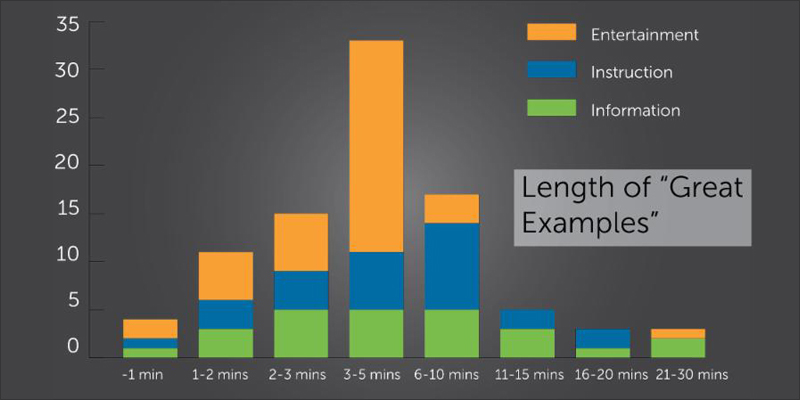 Breaking up your teaching material into bite-sized pieces is sometimes called "chunking" and is one of the most effective ways of training your employees with video without overwhelming them. Just make sure that when you "chunk," you do it based on real-world step-by-step procedures needed to complete a specific task, rather than abstract objectives. So organize content based on what employees need to know first, second, third, etc.
4. Choose a subject matter expert
In this step, you should choose an expert on the topic who will either narrate the video or speak directly into the camera. Subject matter experts (SME) are not always the most charismatic or skilled presenters on camera, so you want to make sure you do one of two things: 1) Choose someone the audience can connect with or 2) Hire a professional actor to host or moderate the session so that the expert can impart his/her knowledge without feeling the pressure of having to act for the camera.
5. Record your video
You can establish a shoot date and location based on the needs of your organization. For some, an office or home setting might be the ideal location, while for others, it might be necessary to shoot out on the field where the action occurs. Just make sure that your SME is comfortable with the arrangements and that he/she has had time to review the script and training objectives.
6. Keep it interesting and simple
Once you edit your video, make sure that you keep it simple and don't overdo it. Adding needless special effects will only detract from your message, not add to it. At the same time, though, you do want to make your video engaging from beginning to end. You can do this by ensuring the SME makes eye contact with the viewer and uses conversational, easy-to-understand language.
7. Upload your videos
After going through all the hard work of creating top-quality videos, you want to make sure you upload them to a secure and professional-looking video publishing platform such as Uscreen. Once you've placed your training material on Uscreen's intuitively designed video consul, they can be properly protected behind a gateway or pay wall and distributed to designated users.
Uscreen also allows users to track their progress throughout the course and take a test at the end to make sure they have acquired the necessary skills and knowledge to succeed in their positions. Besides giving users the option to download videos for offline viewing, the video platform allows learners to stream video from their laptops, mobile devices and tablets so that they can learn on the go–anytime, anywhere.
All in all, the benefits of training your employees with video far exceed the time and resources needed to execute a high-quality video production. In the long run, your most grateful employees and managers will thank you for it.