This is by far the most exciting update in Uscreen history!
We've always wanted to create the most intuitive and self-optimized video distribution platform out there.
Why?
Because we want to enable everyone to build their own video-on-demand website, where they can distribute and monetize their video content regardless of their knowledge of coding.
So after two years of listening to Uscreeners' feedback, monitoring user behavior and messing around with the platform ourselves, we built a huge new update that we're super excited to tell you all about.
This update comes down to three things:
New templates: so you have even more new ways to design, brand, and layout your video website
New template editor: so you can have an easier time designing your video website
New marketing tools: so you can continue growing your online video business, one subscriber at a time
New Video Website Templates
We're in the process of releasing all-new, beautifully designed website templates to bring out the best in your video content. These templates were designed and built in-house, with the single goal of helping you sell more videos and enhance viewer-experience.
By the end of 2018, you will be able to pick from a total of 10 new templates. This month we're releasing the first 3 new templates.
With all of these new templates comes some very important improvements:
High-converting Homepages
All of the new templates have homepages that are optimized to convert your traffic into paying subscribers. Here are the new template homepage highlights built to help you sell more:
CTAs: Bolder and better located, we've enhanced the call-to-action buttons to better turn more of your visitors into subscribers.


Showcase content: Show off your best content right at the top, so visitors can instantly get a taste of what you have to offer.


Testimonials: We've added a designated place for social proof–because there's no better proof of value than a proof that others would recommend your platform.


Available devices: If your video streaming service is on more than just the web, let people know all the devices on which they can enjoy your content.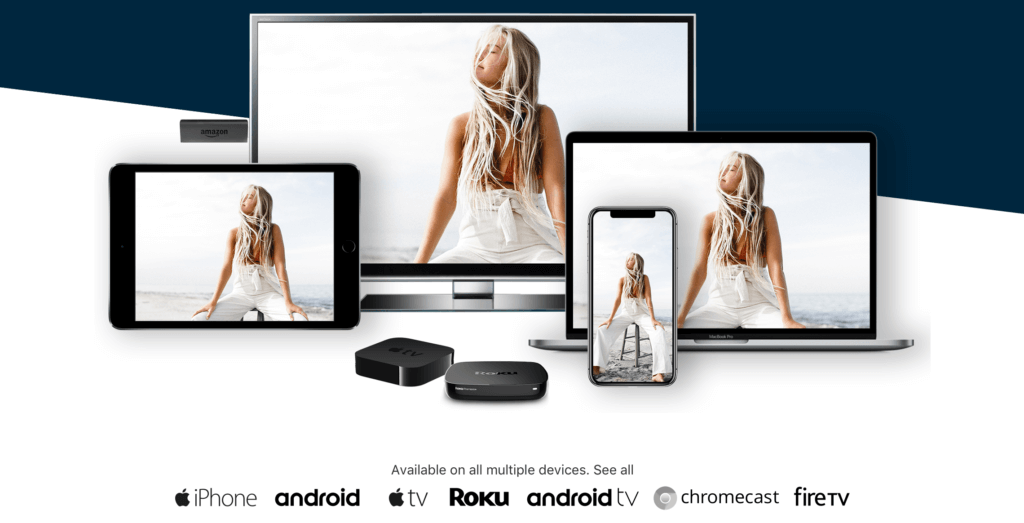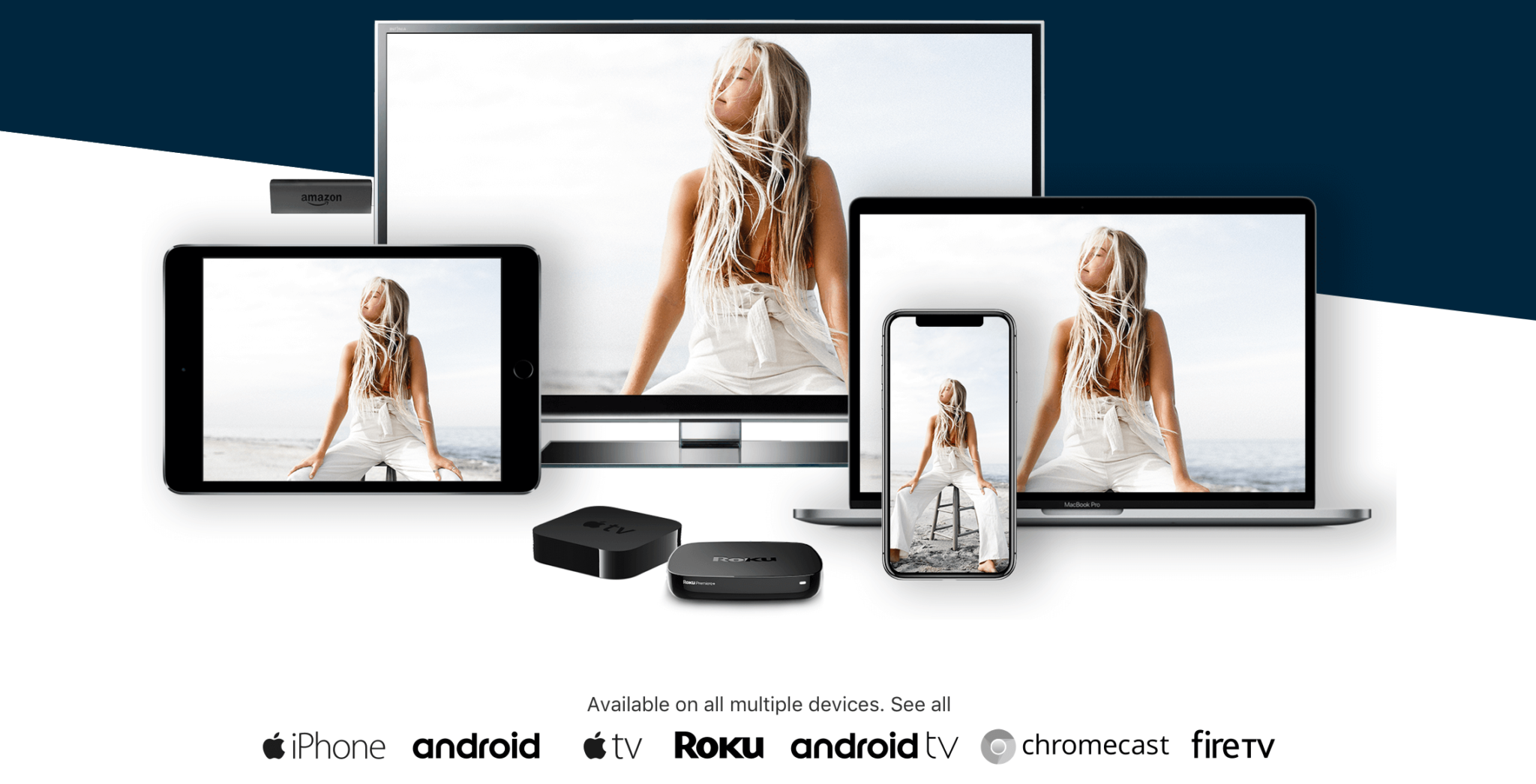 Social media: Embed live social media content right on your homepage to drive traffic back to your accounts.


…all on the homepage of our new templates, designed to convert more subscribers for you.
New Membership Experience
Your sales homepage and your subscribers' homepage are now two separate things.
Once a visitor on your website signs up for your online service and becomes a user, they will no longer see your sales homepage when they first sign in. Your sales homepage is where you display your prices and what you have to offer, and it's intended to convert visitors into paying subscriber. Once that happens, your sales homepage's job is done (for that particular subscriber).
With these new templates, an existing subscriber's homepage will be a catalog page, directly listing all of the video programs they have access to. This will create a less confusing experience for your users and will grant them a sense of belonging and exclusivity.
We also added a search bar and content filtering feature at the top of the catalog page so users can find exactly what they're looking for in a matter of seconds.
Finally, we completely redesigned the end-user dashboard, where your members can access their personal profiles, update their passwords and modify their billing information.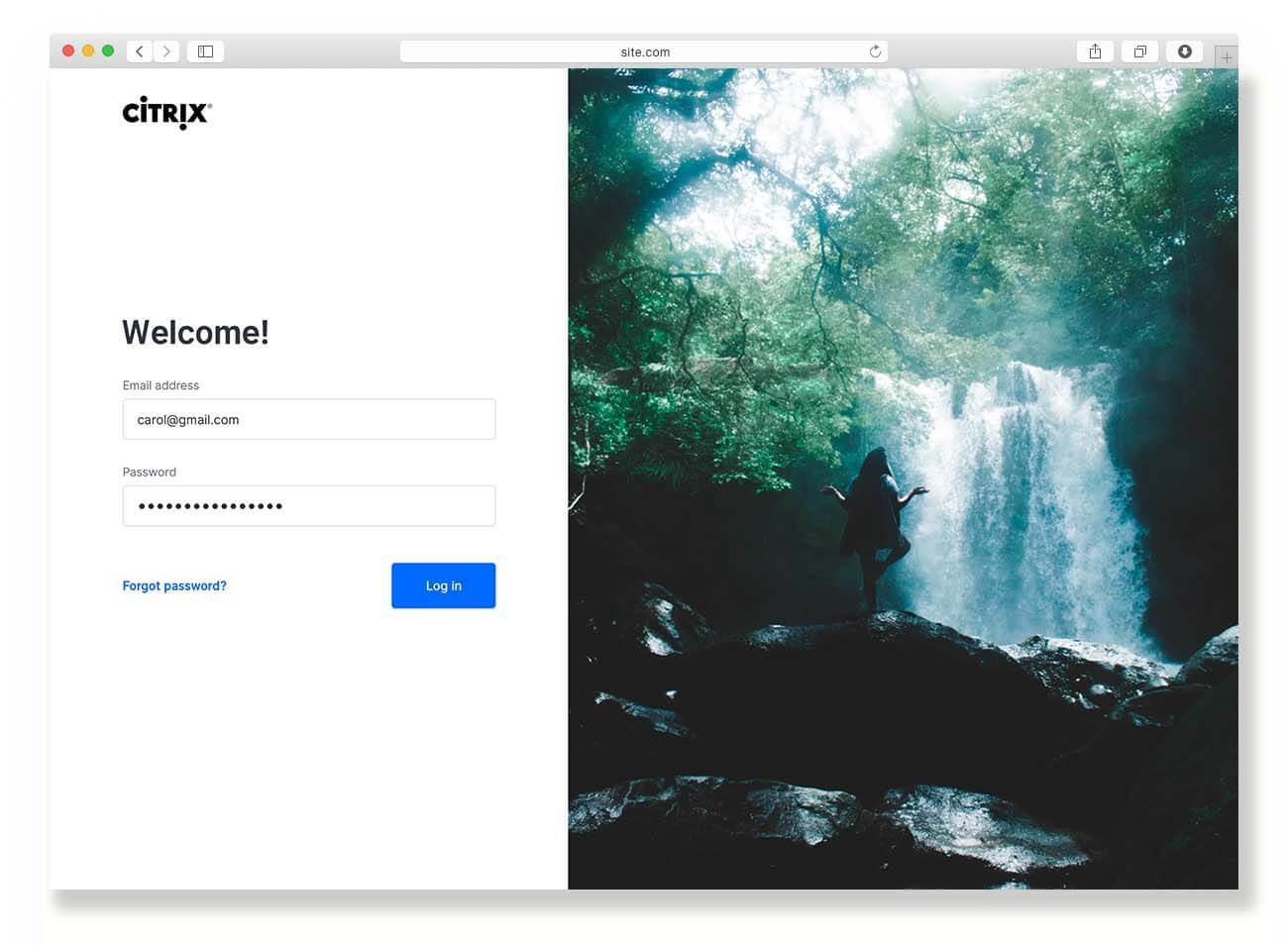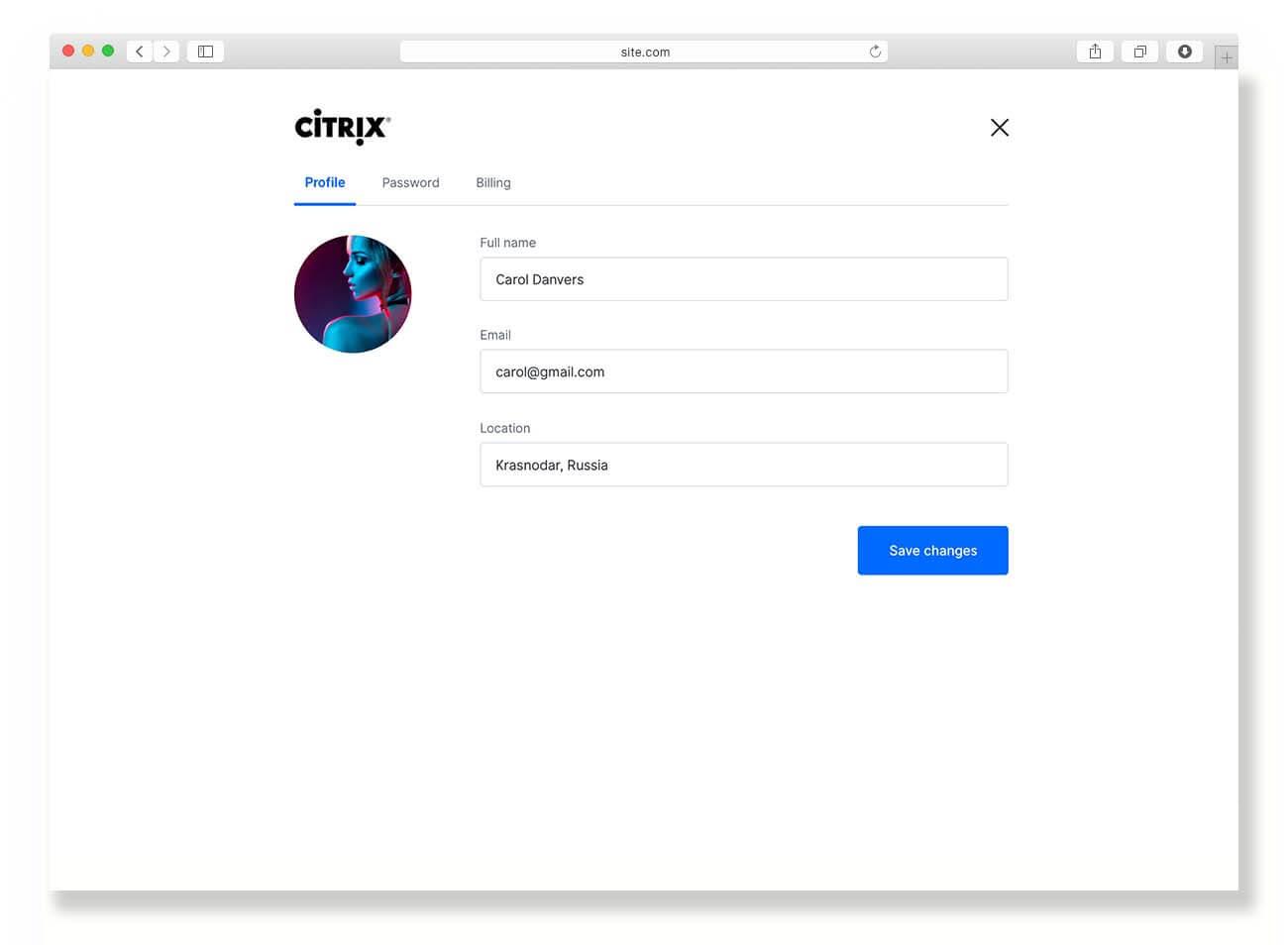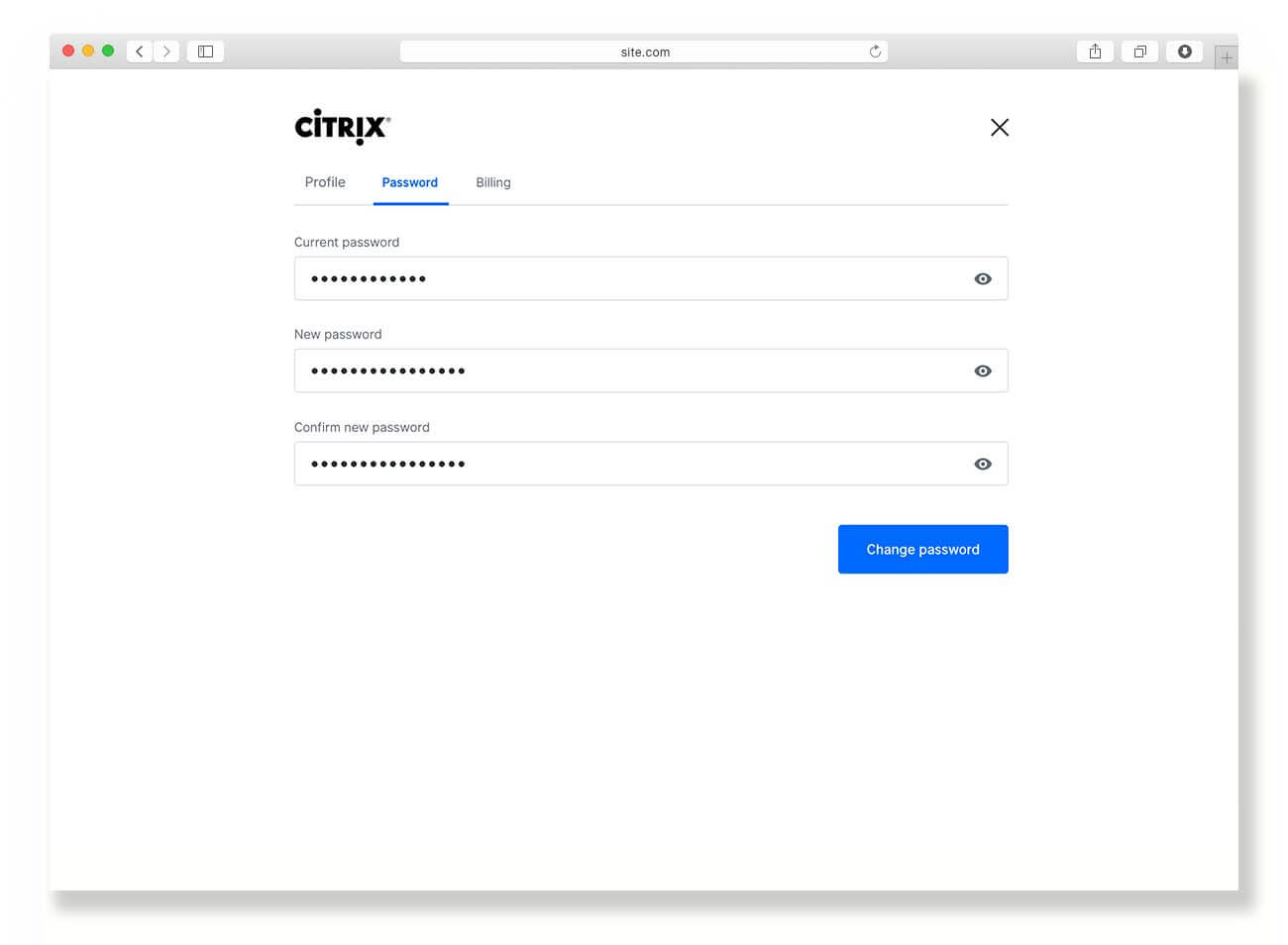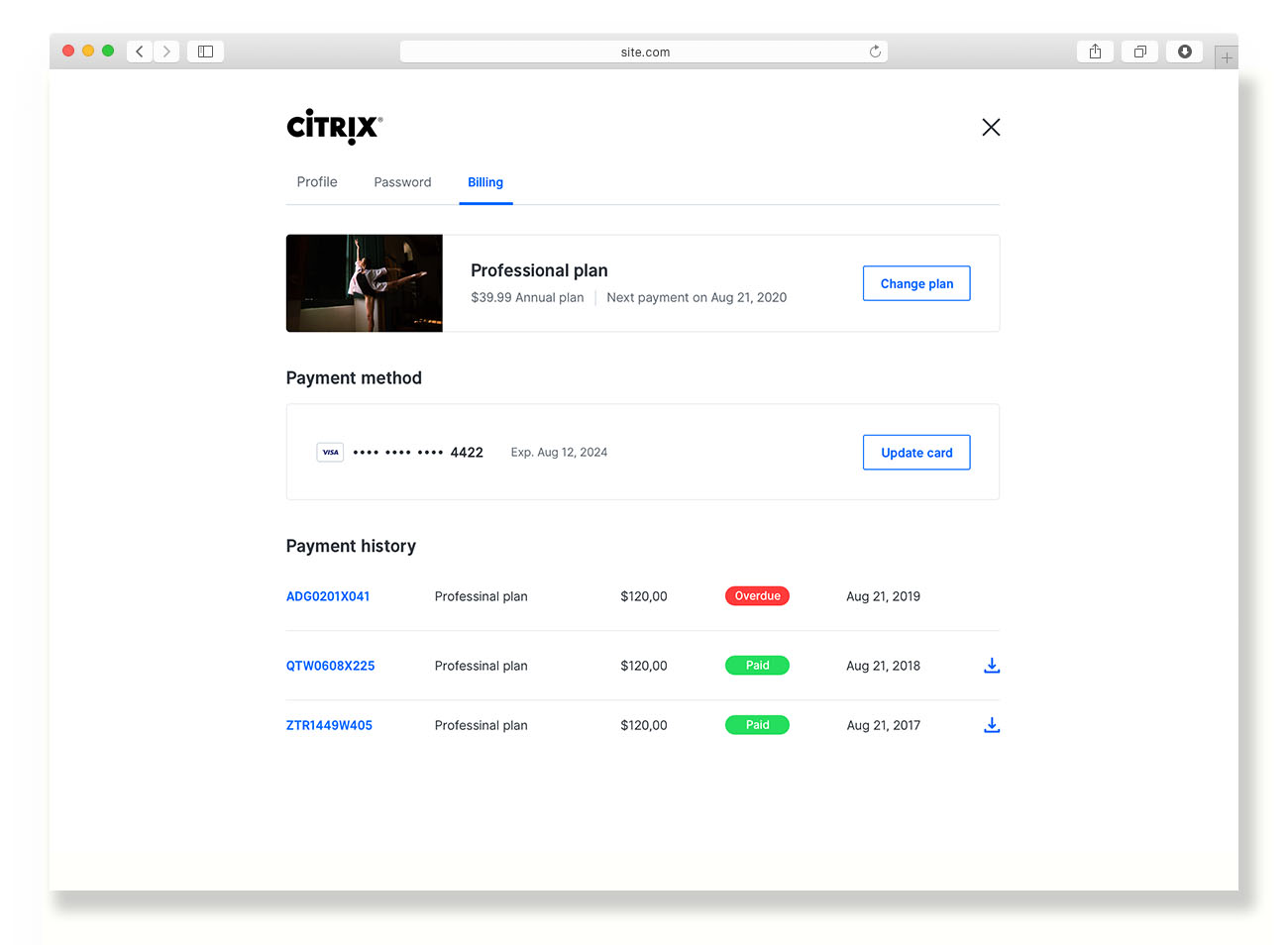 Video Player Face-lift
Our HTML5 video player now looks slicker than ever before. We increased its size by 25%, so viewers can enjoy more of your video on-screen.
We've also optimized the listing-style of the videos on the right side of the player and displayed the length of each video.
Finally, we now give you the option to allow your subscribers to download your videos to their desktop. This feature is totally optional.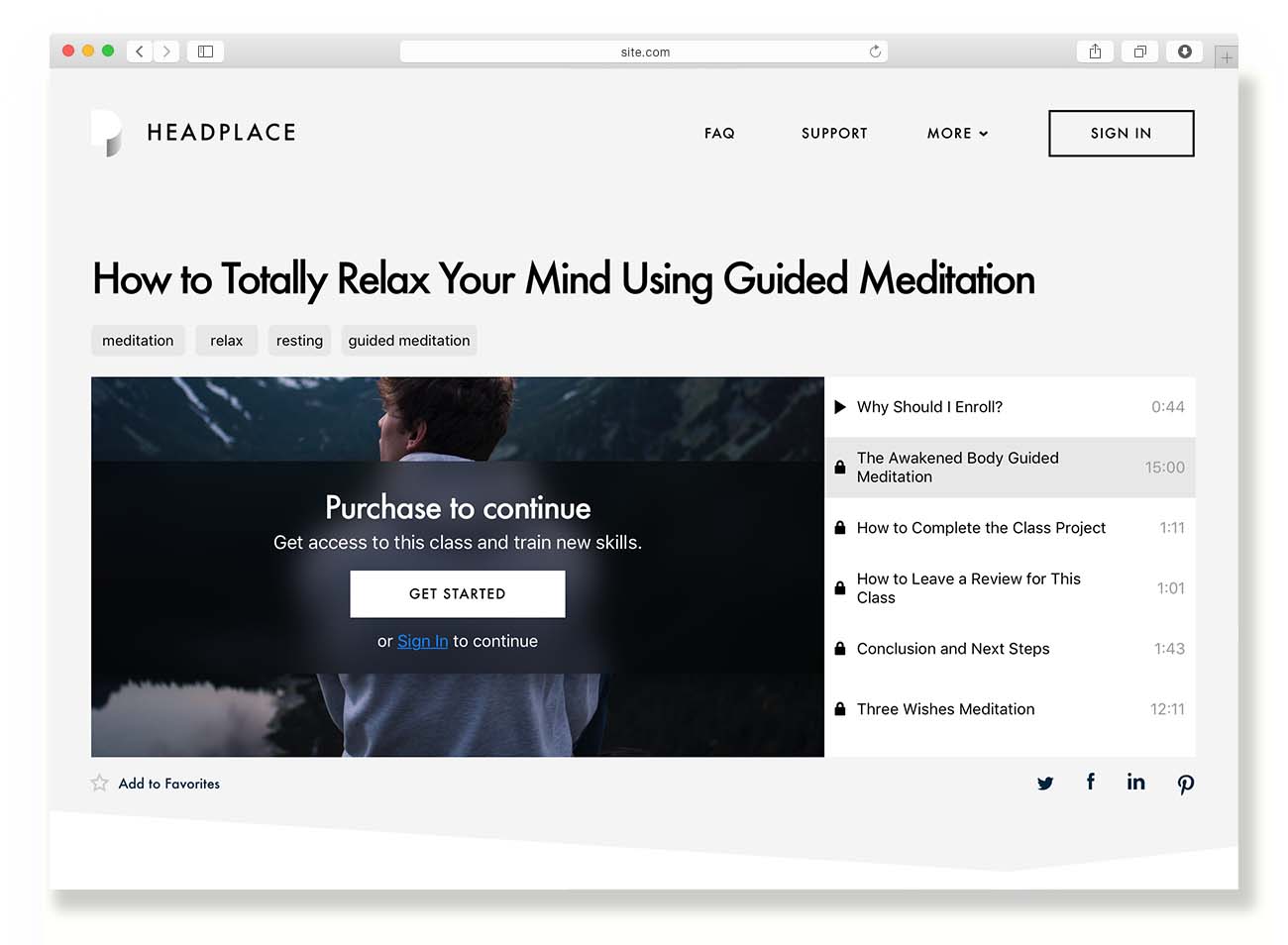 Uniform Templates
All of our new templates are now built in a uniform way so, simply put:
All of the templates work in the exact same way and share the same learning curve. Once you've learned and understood the flow of one template, you've understood them all

Switching between the new templates is now really easy. Because they were all built in the same way, updating your website with a new template will now require minimal effort. The new template will just update itself with all your assets in all the right places, with minor tweaks and edits needed from you.
Black and White Colors Schema
While all common pages (such as checkout and membership experience pages) look the same across all templates, you have the ability to choose between a black or white background for these pages to match the template you chose to go with.
Checkout Page
Checkout pages are another important contributor to conversion rates. If your checkout page isn't optimized to convert your leads, then what's the point, right?
We worked really hard on this one especially. The checkout pages for all the new Uscreen templates are now slicker and better organized, specifically designed to see your subscribers' payment process all the way through.
We've found a better way to organize the packages you offer, so no matter how many you have, your subscribers will not feel overwhelmed while checking out.
And last but not least, we added the SSL secure seal right next to the complete order button on the checkout page to ensure that all data passed between the web server and browsers remain private and integral. Displaying this seal tends to increase conversion rates by 5% on the checkout page.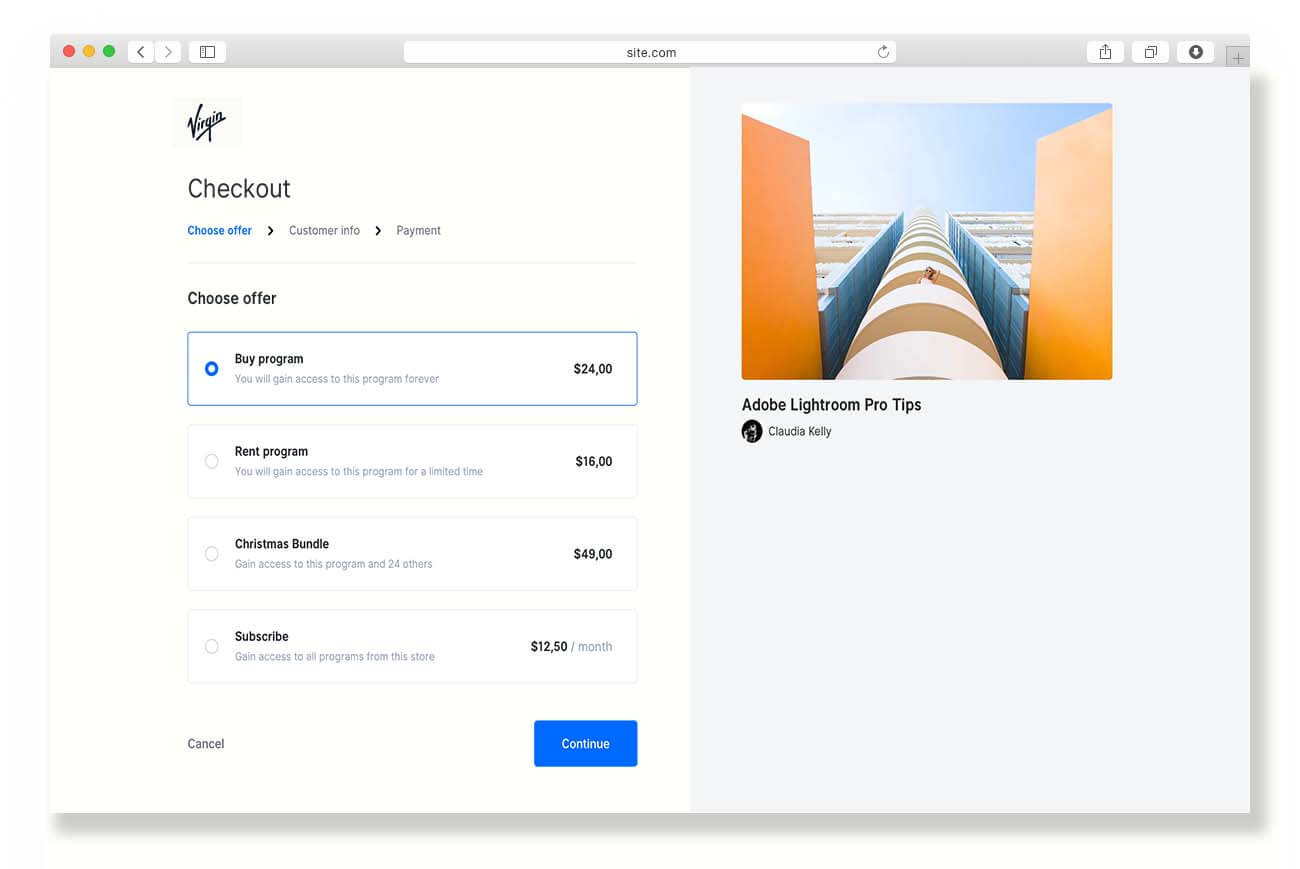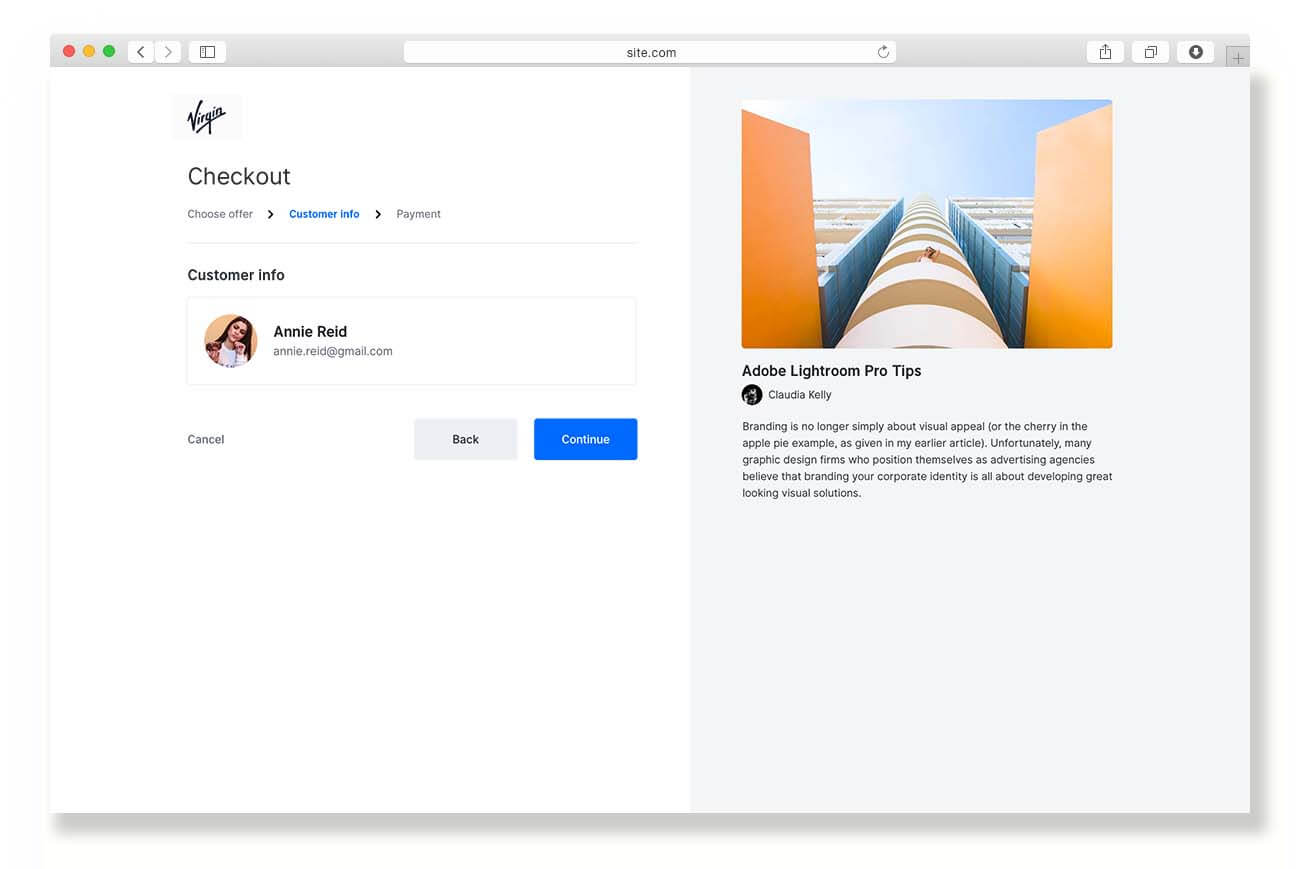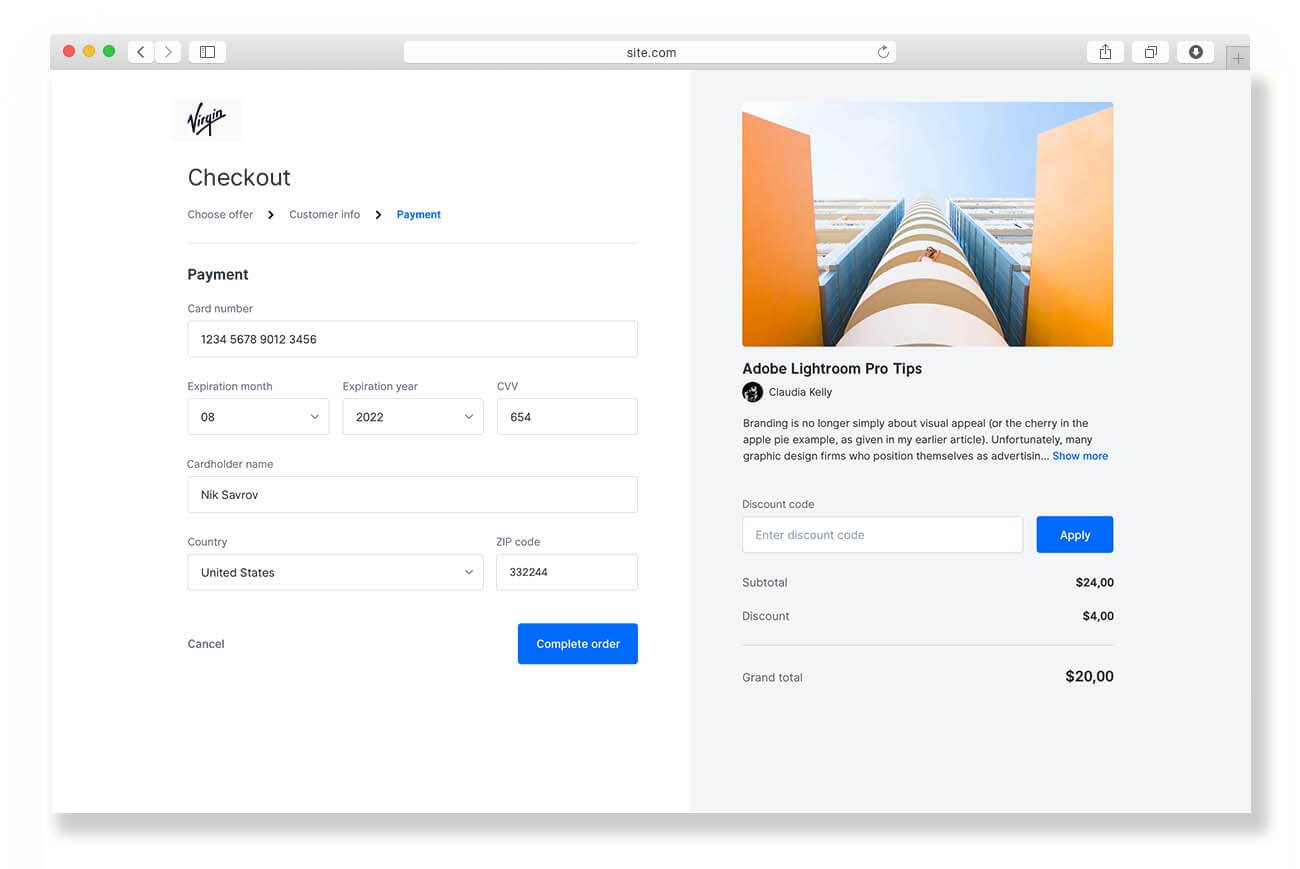 Now let's talk about the template editor…
New Template Editor
The new template editor is designed to streamline your website customization process. After choosing the template you want to work with, this new template editor will make it so easy to customize your chosen template into your own brand and style, so you can bring to life whatever it is you have in mind.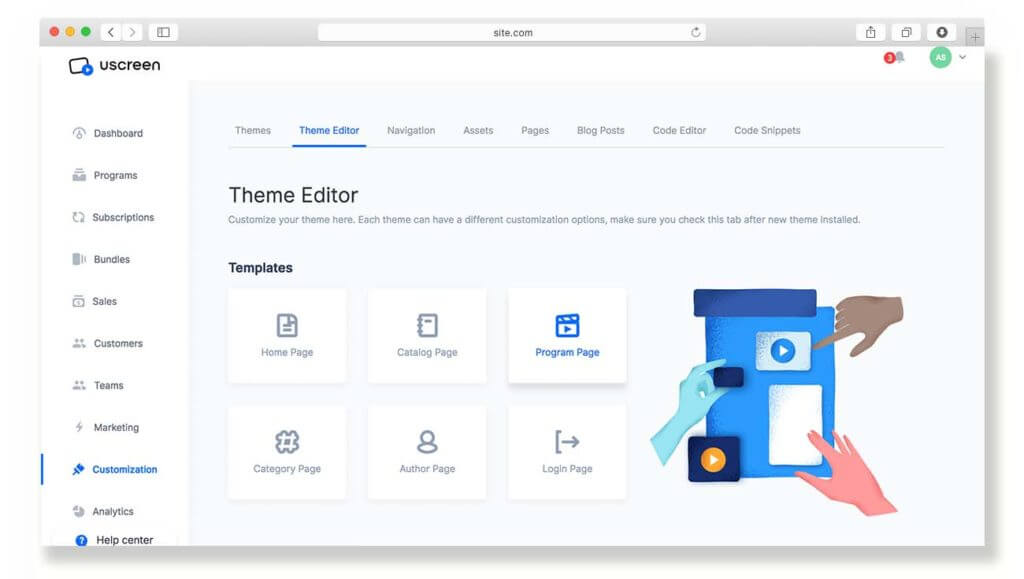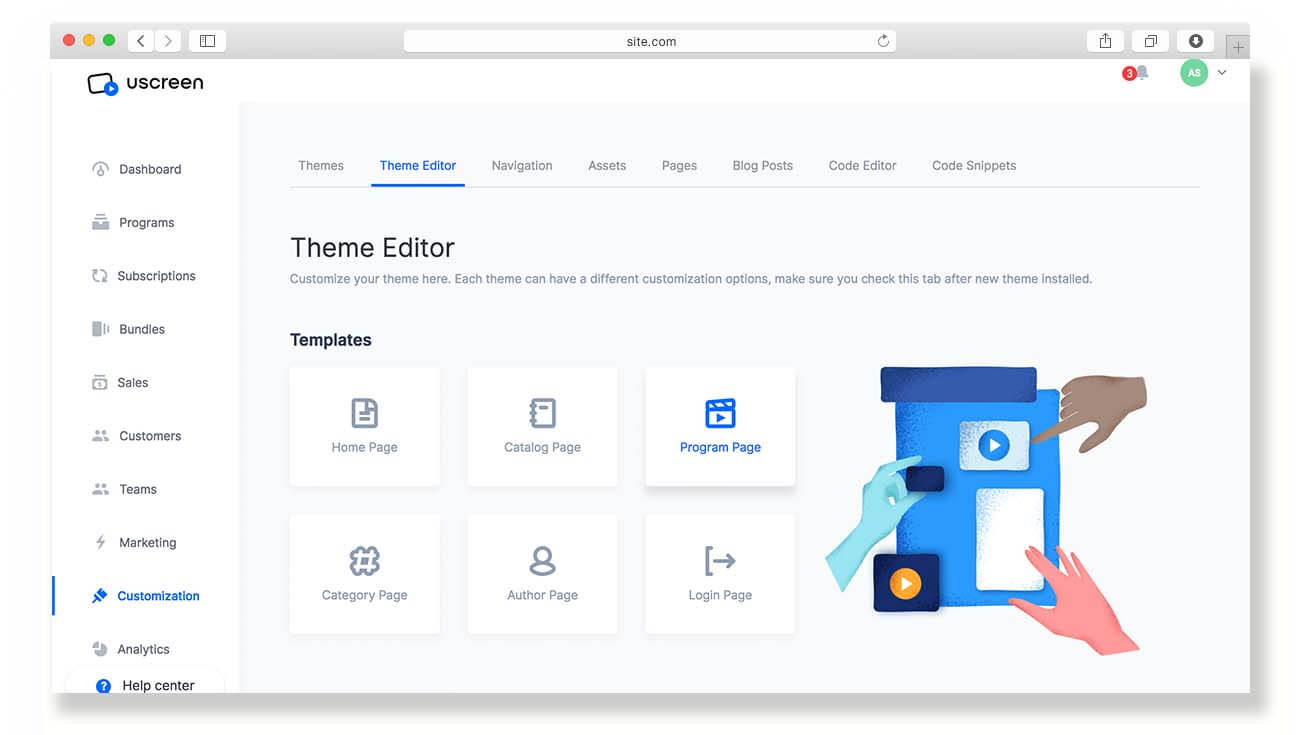 Real-time preview
No more guessing. No need to keep refreshing. You can preview your edits and changes in real time. You can also instantly see what they will look like on mobile devices, both phones, and tablets.
Individual page editor
You get to edit each and every page separately, so you can do what's best for each page.
Editing blocks
You can now edit your page(s) in pre-determined blocks, so you have more control over how each part of your page will look like.
Easier navigation set up
Organize the links to your pages however you want in the navigation menu to help your subscribers navigate around your website with ease.
Code editor
At the end of the day, you can change anything in the template you want in your video website template using HTML. The new templates are built in Liquid language, and you can find all the developer documentation you need to modify your sites' complete behavior.
Marketing Tools Update
We want nothing more than to watch you succeed, and there are some essential video marketing tools you need to help you convert subscribers and reduce churn. Here is our brand new Marketing tab, with four tools (some old, some new) to help you take your marketing to the next level: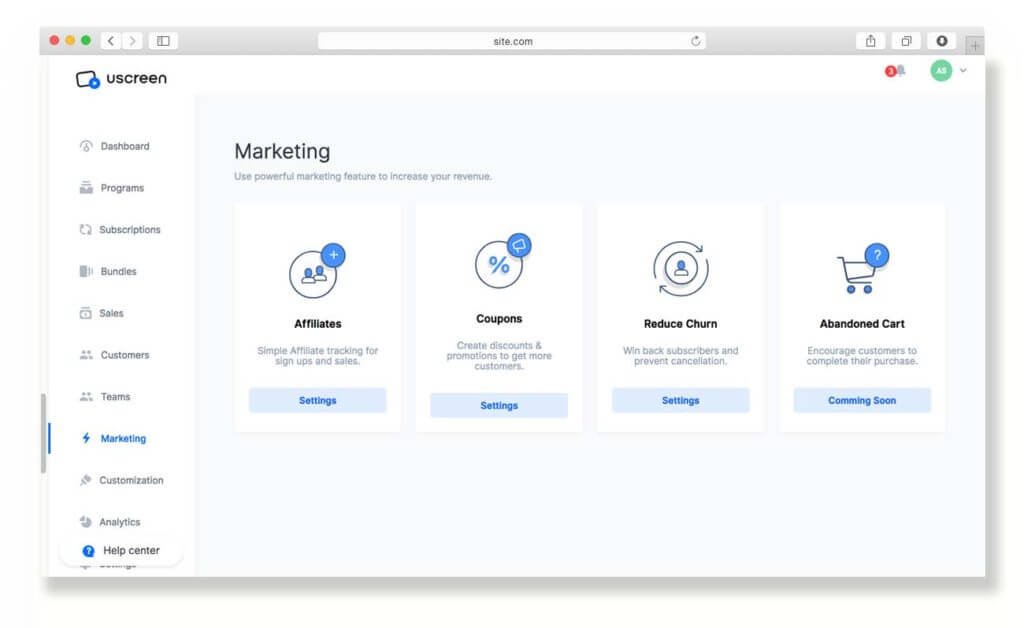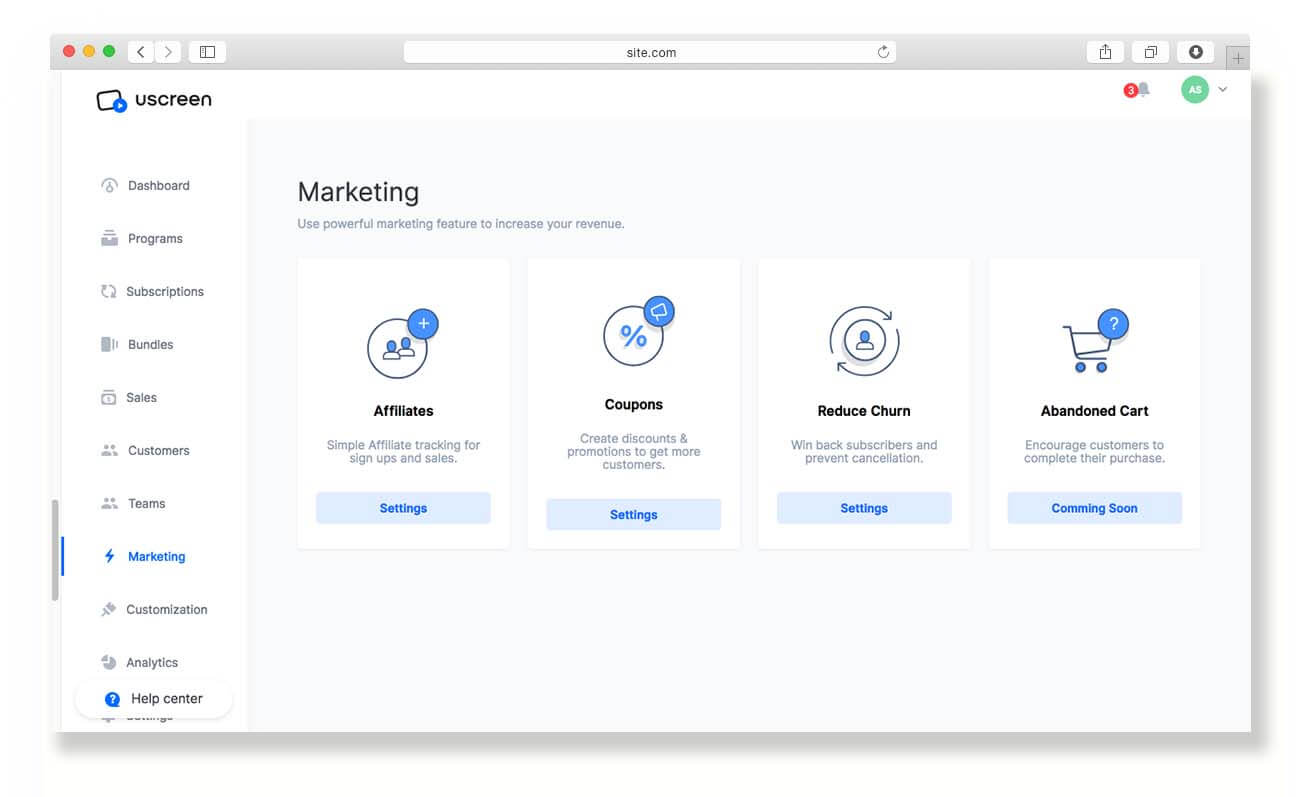 1. Affiliate marketing:
Did you know that 90% of people believe brand recommendations from friends, and are 4x more likely to buy when referred by friends?
Word-of-mouth marketing is a solid inbound marketing strategy, and we've built a tool to help you carry out your affiliate marketing.
This allows an affiliate to send you a sale to your subscription or specific program and then you can pay them royalties or commission for the sale. This tool enables you to create unique links and track sales from affiliates.
2. Coupons
While this feature is actually a few months old now, it's still one of our favorites so far.
We know for a fact that coupon codes are one of the handiest tools to attract new and repeat customers. Incorporating them into your video business marketing strategy can allow you to up your overall sales, increase engagement on video streaming apps, and get people to consume content that may be underperforming.
Learn more about our coupon tool.
3. Reduce churn NEW!
Sometimes the best way to make more money is to keep the subscribers you already have – this is called reducing churn.
To help you reduce your number of cancellations, we created the win-back discount tool. This is meant to capture subscribers just as they're about to end their subscription and offer them a last-minute discount to reconsider your service.
You get to choose the percentage of discount you want to give out.
This is also the perfect opportunity to collect feedback on your subscription service and better understand your users' needs – a feature you can enable through this tool.
4. Abandon carts NEW!
As it turns out, about 67.45% of online carts are abandoned before the customer completes a sale. That's a lot of lost potential!
And just like reducing churn, trying to capture almost-subscribers who are changing their minds at checkout is a great way to grow your business.
Now while it's likely impossible to convince all cart-abandoners to complete their purchase, it's worth putting in the effort to persuade some of them.
This tool helps you do that: when enabled, it will be set to automatically email anyone who has abandoned your website mid-sale, asking them to come back and offering a one-time discount. You are in control of both the contents of this email and the discount percentage you want to give them to help them convert.
And that's a wrap.
If you're still not a Uscreen user, sign up for your 14-day free trial to get invited to our monthly product update webinar. You'll get to see all the new features in their full glory, and learn how to use them to increase engagement and subscriptions.