Uscreen Spotlight is a special monthly feature article showcasing our most successful clients to share their journeys through the realm of online video streaming.
Who would have thought that live concerts streamed online would ever be a real and successful thing!
It was hard to imagine for sure, and no one from the music and live entertainment industries had anticipated that it would actually work this well.
But COVID-19 (being the massive curve-ball that it has generally been) gave the music industry no option but to try live streaming concerts on for size.
Early adopters like alt-rock band Blue October took a leap of faith moving their performances online, and have shown us that it's not just possible, it's really profitable.
Mike Swinford, manager of the alt-rock band Blue October, explains how they did it.
Mike has 30 years of experience in the industry managing bands and helps artists navigate the business side of music. He's here to talk with us today about Blue October streaming concerts online on their VOD platform, Get Back Up TV.
Uscreen: Hey Mike! Thanks for chatting with us today. First off, who is Blue October? And what is Get Back Up TV?
Mike: Blue October is an alternative rock band originating from Houston, Texas. The band was formed in 1995 and they've since released 10 studio albums on both Universal Records and their own Up/Down Records label.
Their music focuses on difficult topics like relationships, substance abuse and mental health struggles, which has created a deep personal connection with their loyal fan base for over 25 years. Many of the band's fans have also battled these issues so they relate to singer Justin Furstenfeld's lyrics and experiences, and find a personal connection with Blue October for this reason.
The band recently launched its very own VOD platform called Get Back Up TV, where their fans can view loads of free content and also pay to access their live-streamed concerts, past shows videos and films. We recently premiered the band's long-awaited documentary Get Back Up on there, which is where the platform gets its name.
The phrase comes from the lyrics from their song "Fear," and it's about someone who has fallen but gets back up to face the challenges their life has put in front of them.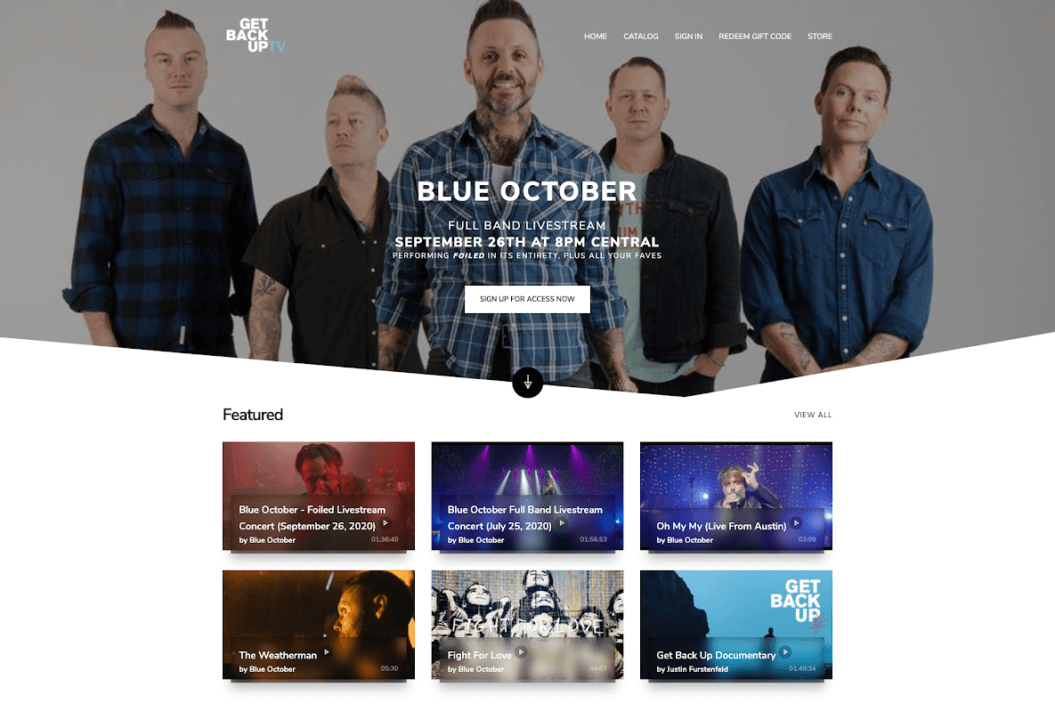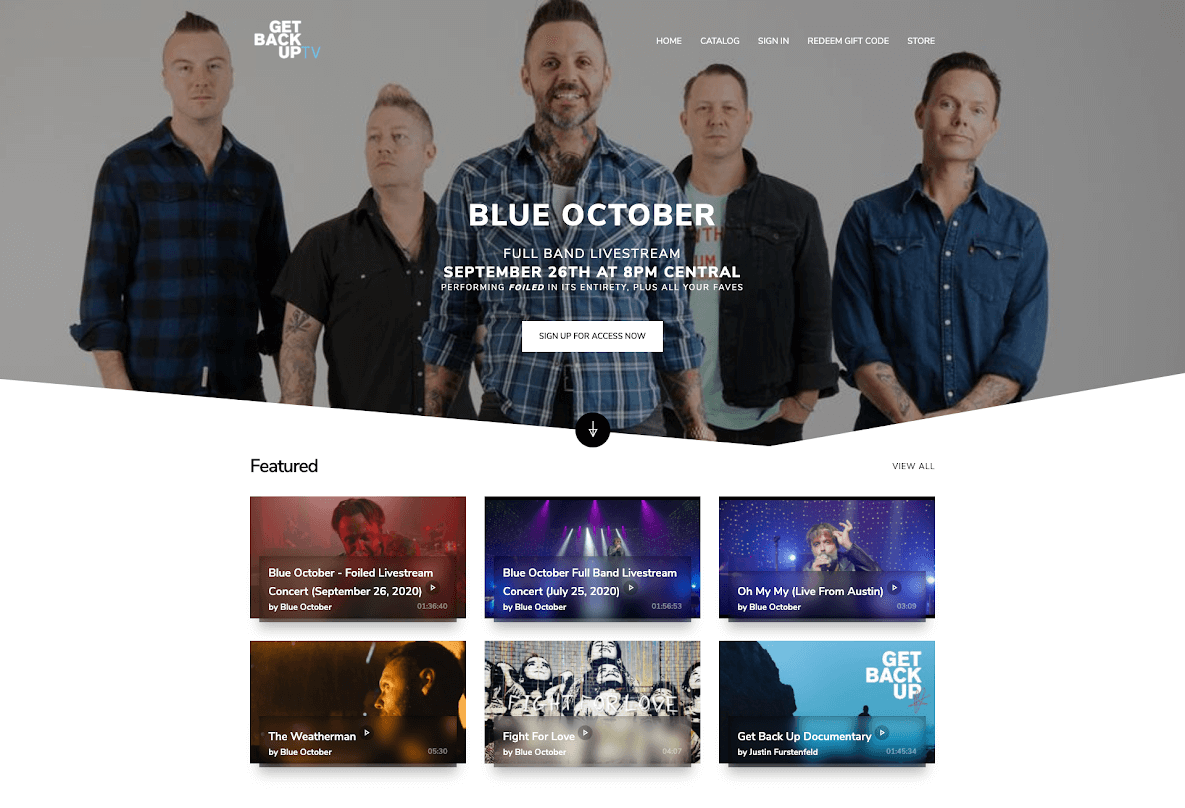 Uscreen: That's certainly a powerful name. Why did you decide to go online? Had you ever explored video-based options before you started using Uscreen?
Mike: We had talked for years about a fan club or subscription system, but between recording albums and touring, there just wasn't time to really dive deep to get something like that going. We look around at what our peers are doing to learn and grow within our industry but also never saw anyone launch any type of subscription service we thought was truly meaningful to fans.
Then COVID happened.
We had a full 2-month tour planned of documentary screenings and live Q&A sessions across the country, which was highly anticipated by our fans.
The documentary is about Blue October's lead singer Justin Furstenfeld, who struggled with substance abuse and addiction. With the band's help, he found treatment, got sober and got back up from a hard time in his life.
On March 13, the first day of the tour, we had to cancel the entire thing. Cancelling that tour cost us $2-3 million in revenue. So we asked ourselves, how do we make that up? We can't go on tour, what else can we do?
Uscreen: So COVID prompted your move online. What was that like? Walk us through your journey from in-person events to going online.
Mike: At first, we started experimenting with live streaming acoustic shows on a platform called Stage It, a music platform for artists playing from home. The system was built on Flash and didn't work well on mobile devices. 
But the acoustic shows were successful monetarily so we realized, there's something here to investigate on a different platform.
At the same time, by April we decided we had to self-release our documentary, Get Back Up. We tried to get it on Apple, iTunes and Amazon Prime but we hit a ton of roadblocks.
That's when it clicked that we could build our own video streaming platform to do both: launch our film and stream live concerts and shows. We decided the platform was more than just Blue October: it's Blue October live streaming concerts, the Get Back Up documentary and music videos from their whole career.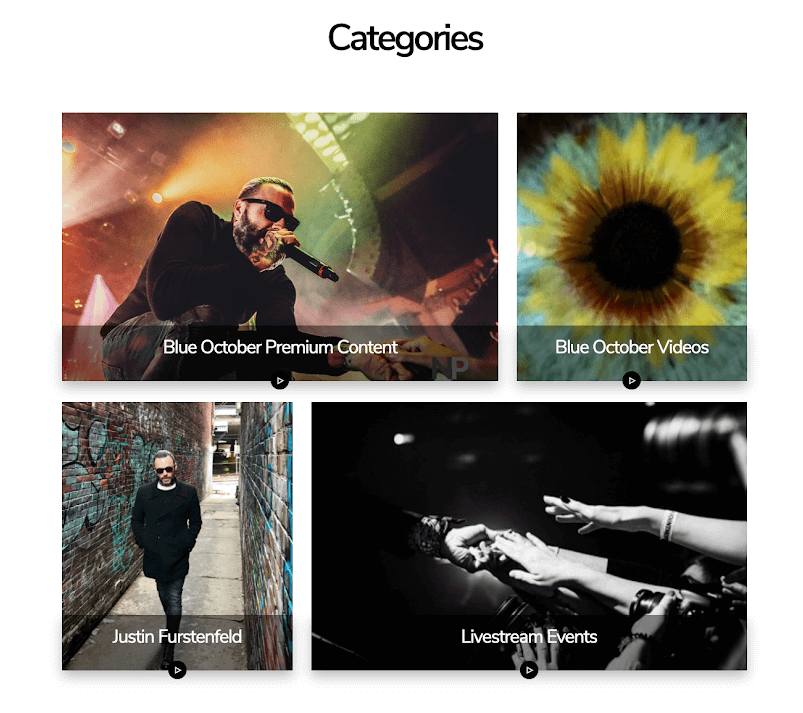 It's also a motivational platform for live streams with Justin Furstenfeld, who's now a motivational speaker and recovery advocate. We needed a platform that would let us do all of that.
When I first started researching, I didn't know what OTT was. I googled Netflix-type platform and ultimately, I found Uscreen. The Uscreen interface was intuitive from the start and we got it up and running in 7 days. It's a platform we felt we could run ourselves.
Uscreen: I love how your concept of what Get Back Up TV evolved once you realized one platform could be more than live concerts. So how did you launch the platform?
Mike: We started by releasing our documentary as a premier event on May 21st. Instead of just releasing the film to buy or rent, we sold tickets for 4 live stream premiers throughout the day. For each event, Justin went on live to welcome everyone to the premier, then we played the film and finished with a live Q&A session.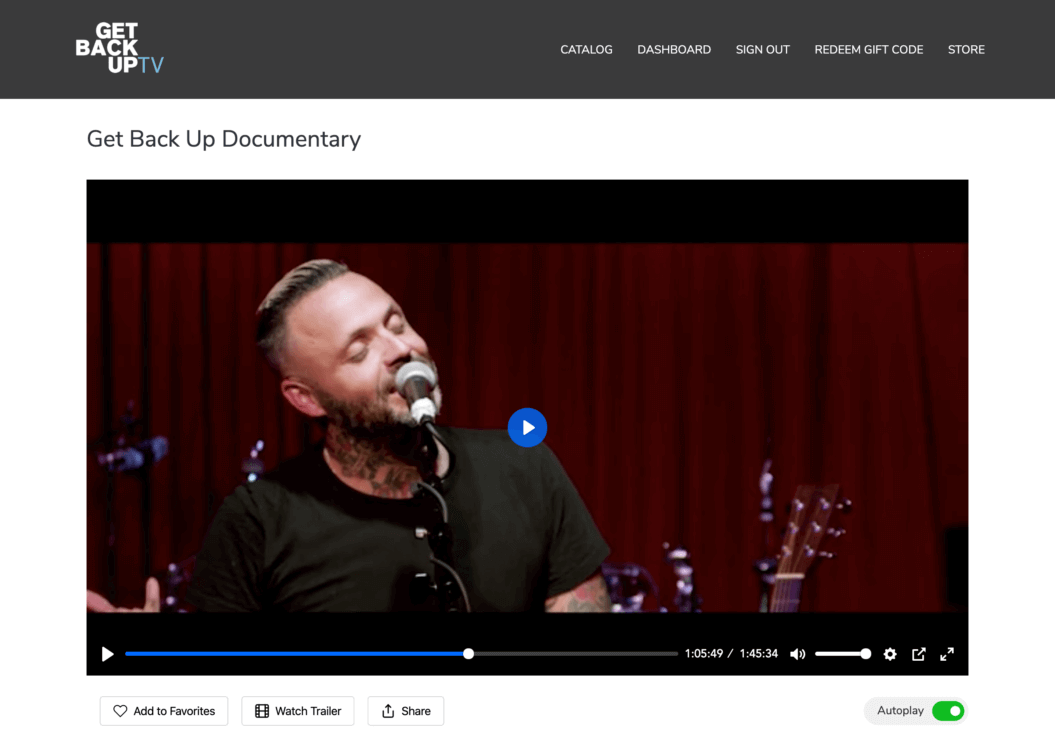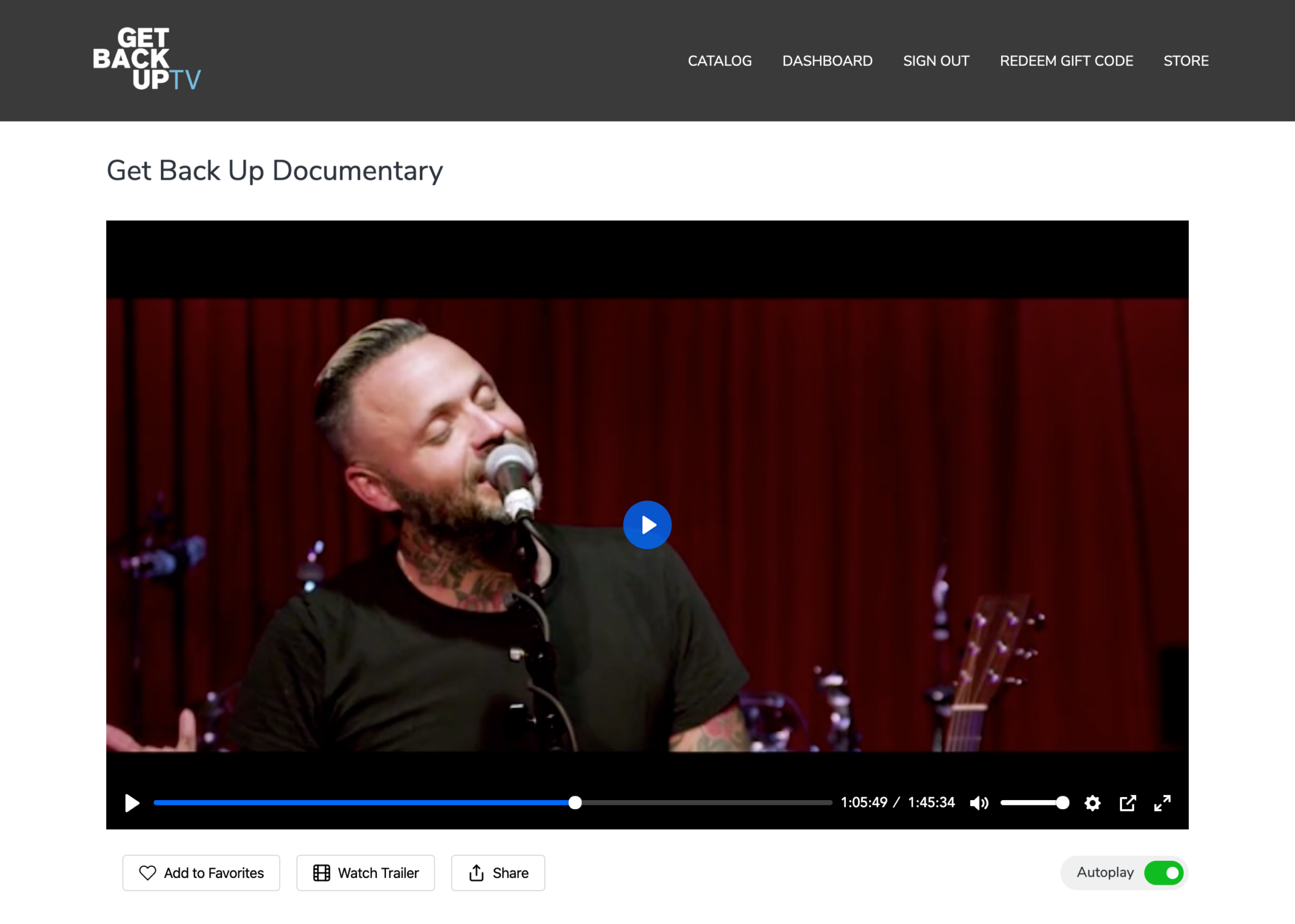 We saw it as an interactive theatrical event, which is a completely different experience from renting a film. 1900 fans watched that show, and they came to see Justin. Offering a VOD platform like Get Back Up TV really helped us connect with our community.
We had been underserving our community by not focusing enough on video content.
Before, we had only seen YouTube as a marketing tool. But now we realized we have a much bigger voice. It's made the community much more interactive with us and each other.
Uscreen: We often hear that starting a video platform really strengthens the bond between creators and their fans. Now that you've launched, what's your biggest takeaway from the transition to video?
Mike: We went in asking ourselves, "How do we replicate the live experience?" The truth is, you can't. And you never will. And you shouldn't even try. Because it's a different experience.
But it's just as cool. Without a noisy venue, you hear nuances in the music you've never heard before.
What you can do is make it high quality, with lighting, set design and audio and video equipment. We don't just produce live stream concerts, we're now in the video business.
We had another live concert show on September 26th, where we played a complete album and 2171 people attended! We're even planning a Christmas special!
Uscreen: That's such an important lesson. Where do you see the live entertainment and music industry going from here? What does the future look like for you and others in the industry?
Mike: COVID was the catalyst for this online move, but even if physical touring returns, video and live streaming concerts are here to stay.
It's impossible to reach your full audience by touring. You might have fans in a town or country where you'll never play. But they would pay to access a live stream concert of their favorite band. And fans who attend in-person shows might want to watch live streams, too.
U.S. promoters are already planning to include live-streamed shows in touring deals with artists, which gives promoters broadcasting rights.
But why would you let a promoter in one city or country monetize your show for the entire world? Artists should take charge of their own video streaming business.
Uscreen: We're seeing a lot of people who want to do what you've done but don't know how. Do you have any advice for them?
Mike: After COVID hit, we saw many artists do free live streaming performances and we thought: why would you do that?
In the music industry right now, we see many musicians undervaluing their art. You wouldn't put on a concert for free. You have to put it behind a paywall.
There are tons of bands that should be building their own systems like Get Back Up TV.
They have the depth of content and fanbase to do it, they just need the vision.
Artists need to know this is an option for them. You don't need a network, there are no time slots. If you want to be online, you can be online.
If you're an artist who wants to monetize in the music industry, video and live streaming has to be part of your future.
Live Streaming vs VOD: Which
One Will Save Your Business?