Your premium platform is growing, and your members are happy and engaged. Bravo! Now, you're dabbling with live streaming to provide next level value to your members.
But there's a challenge…
Your live stream views are low, and you've already worked out the best time to go live and effective ways to promote your streams.
The truth is, there is something fundamentally deeper that you need to figure out. In this article, we'll look at:
Let's get into it!
Low Live Video Views: Your Quick Troubleshooting Guide
Low live stream views are a source of headaches for a lot of content creators and live streamers. But, unlike a headache, you can't just take an aspirin to make it go away. You need to get to the root of the problem!
Live streaming for your premium membership platform is a little different to doing it on social media channels. And, it's more than just having a different streaming software!
Getting people to turn up for your live stream videos depends on a few different factors – from communication to understanding metrics – so getting a holistic view will definitely help.
Let's troubleshoot some common reasons for low views on your premium platform.
Problem: Low Initial Interest
The first step to increasing your live stream viewers is creating interest with potential viewers. You can do that by making sure you're properly promoting your upcoming live streams.
When there is high interest, you can predict that there will be a higher number of viewers.
So, how do you know if there is low interest in your scheduled live stream?
Here are some indicators you want to watch for:
Low email open rates: if you sent an email to your list, few people have opened the email, and even fewer people click the link to the live event.
Low impressions on social media: few people have seen your promotion post for the live event.
Low engagement: many people saw the posts without liking or commenting on them.
Luckily, there are a few easy fixes you can make!
Quick Fix: Prepare ahead of time.
Once you've a scheduled live stream, how much time do you spend preparing for it?
Do you go live at the last minute, or do you plan your streams strategically?
The time you need to promote will differ from target audience to target audience. And, for your premium audience, it will be different from on your social platforms like Facebook live.
In my experience, 2 weeks is a good starting point, and you can begin to refine from there. This should give you plenty of time to create the assets and schedule all of your promotions.
As they say, if you fail to plan, you plan to fail. The same thing goes with your live streams.
Another quick fix: make sure your promotion is clear.
Make sure the promotion is clear with complete details, including:
Clear title
Names and photos of host(s) and guest(s) (if there are any)
Date and time
Clear call-to-action
Countdown (if possible with your platform)
Here's a great example from TashaK Live that you can implement. It clearly states the time in EST, a clear topic that works as a teaser, and the link to the YouTube live stream.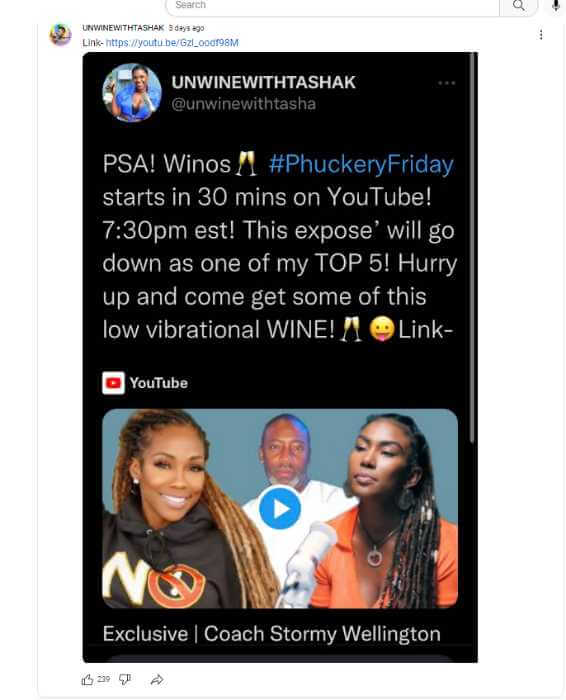 Their YouTube account links to their premium platform using Uscreen, where members can access a video library of their live talk shows.
Problem: Low Viewership
Let's say you did everything right with the promotion, and as a result you have a lot of people expressing interest in your live event.
But…
Only a few people actually showed up and watched.
Quick Fix: Optimize for your live audience's time zone.
First things first, review the geographics of your audience and compare their time zones to the time that you usually go live.
This might sound like an obvious fix, but if you've been taking on new members fast, it's possible that this data has changed without you knowing.
Keep a close eye on this data, and continue experimenting with the day and time for each live event until you see the sign-ups steadily increasing.
If you're using Uscreen for your premium platform, then you're in luck! It's so easy to see a comprehensive view of your analytics.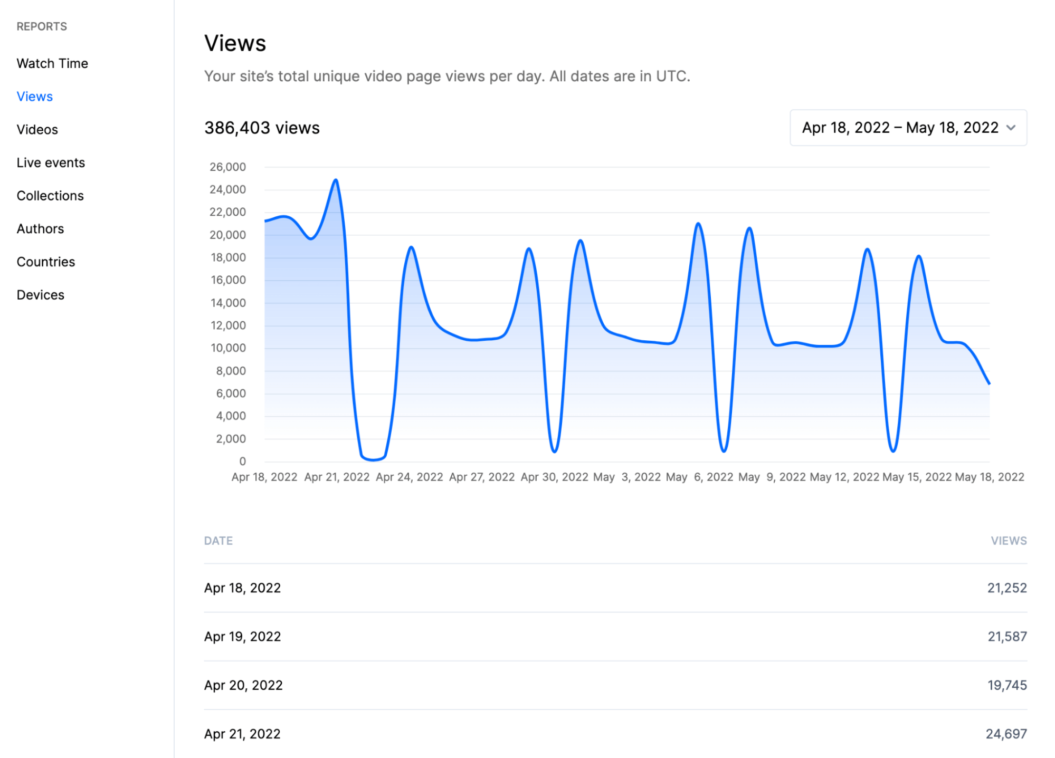 For example, since I'm from the Philippines, I assumed most people watching my live streams are from the same country and timezone. But after checking my data, less than 4% is from the Philippines: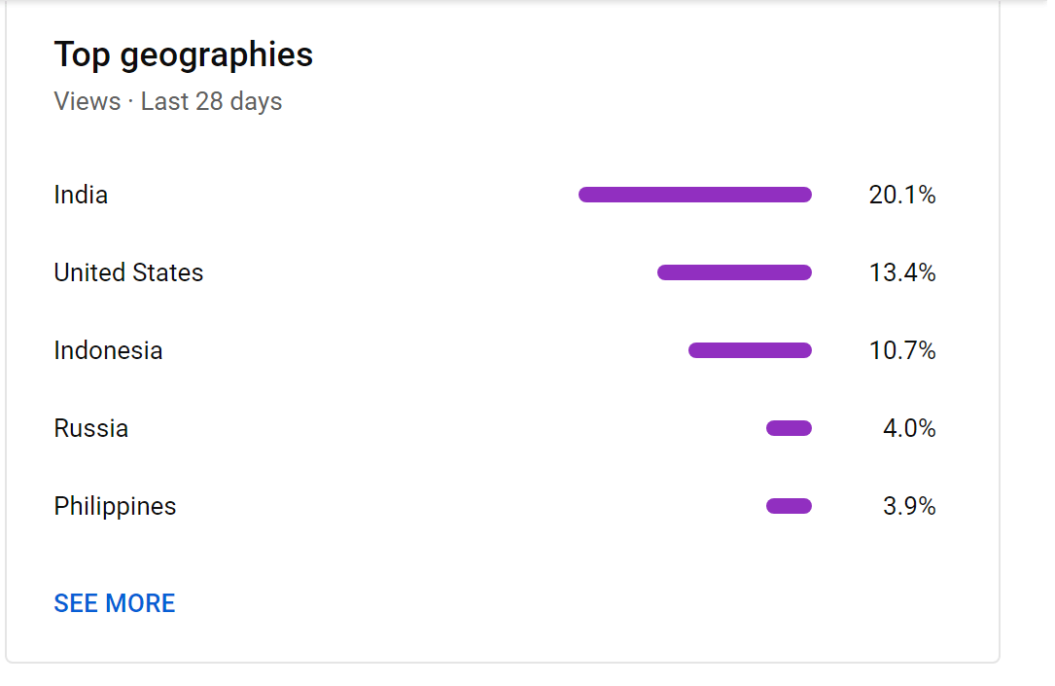 The biggest segments of my audience come from India and the US. I can get more people from the Philippines to watch my streams, or I can adjust the time to make it work for viewers in India and the United States.
Easy peasy.
The next thing you need to work on is the reminders.
Your members still need last-minute reminders even if you've promoted your live stream ahead of time. They often intend to show up, but have completely forgotten about it as the days tend to get busy.
So, make sure to time your reminders perfectly, and find a balance between sending too many and too few
It will take some trial and error to figure out the best time to send out your reminders.
In the past live streams I've produced, I saw a 50% increase in live viewers when we sent a reminder an hour before the live stream.
You know your audience best, so take time to experiment with the timing, and measure your results.
With Uscreen, you're even able to use push notifications.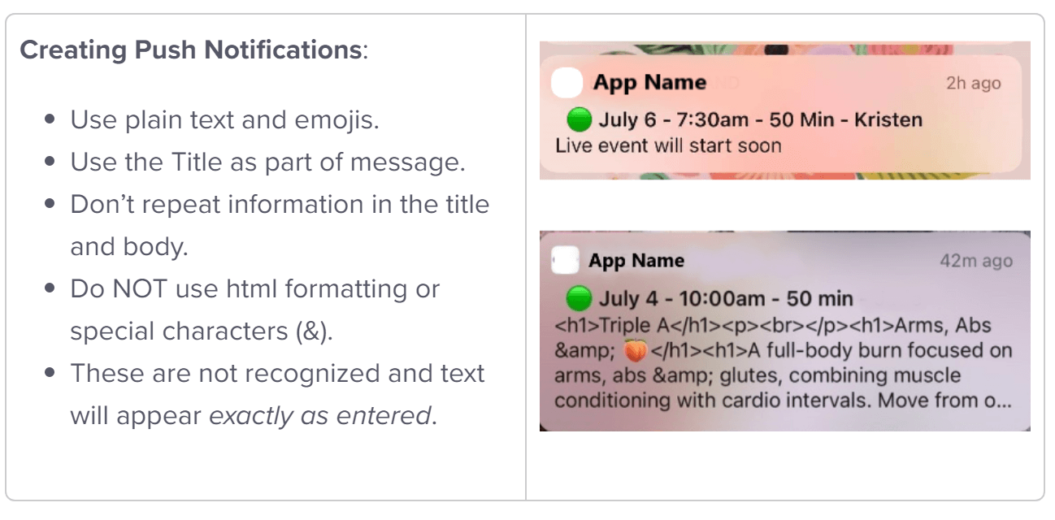 Studies show that sending push notifications increases conversions by 8X. Once you've timed the push notifications, it's time to spice things up.
Bonus Tip: add a benefit to showing up for the live show.
With Uscreen, you can build a video library of your live content. Your members can skip your live streaming video and catch the show on replay.
That's totally okay!
But you have to reward those who show up when you go live. Attendees should know they're getting an experience they can only have when they show up to your stream!
Some live streamers like to use giveaways and surprises. But, Q&A sessions or real-time interactions with you can be worth an awful lot more!
If you've performed these quick fixes and see a significant increase in your live views, you're in the right direction. All it took was a bit of tweaking! Now, give yourself a self-five.
However, if you're still experiencing the same problem, it's time to take a step back and look at the issue from a 30,000-feet view.
The Real Reason Why Your Viewers Watch Your Streams
You need to know why people are tuning into your live stream. Is it because they know and trust you? Or is it because of the topic itself?
Most of the time, it boils down to 2 reasons:
They are living vicariously through you: for example, if someone wants to travel to Japan, they may consume a ton of live streams featuring Japan. It's a great way to explore an idea from a safe space.
They want to replicate your results: if you're teaching online, your viewers are motivated to learn from you and, ideally, get the results you've achieved.
Note that you usually have these 2 types of viewers. And, for both of them, your content needs to be high quality and "worth" showing up for.
You're asking your audience to give up a chunk of time from their day to tune into your live. So, what's going to be worth that ask?
For both of these groups, the basics of good video quality need to be in place. (No sketchy webcam footage, please.)
For viewers who are living vicariously through you, they watch your live streams mainly to be entertained. They are your most avid fans.
And while they are less likely to pay to join your premium platform, they are the ones who share your live broadcasts on Facebook, LinkedIn, Twitch, and TikTok.
The second type of viewer wants to replicate your results. They are motivated to pay for a premium and access exclusive video content because they see the value in it.
Take Filmmakers Academy, for example.
You can pay $79 per month to access the entire library and community of other creatives, so people can produce their own films (without going to film school).
On average, film school costs about $35,000 per year, so members can clearly see the value in signing up.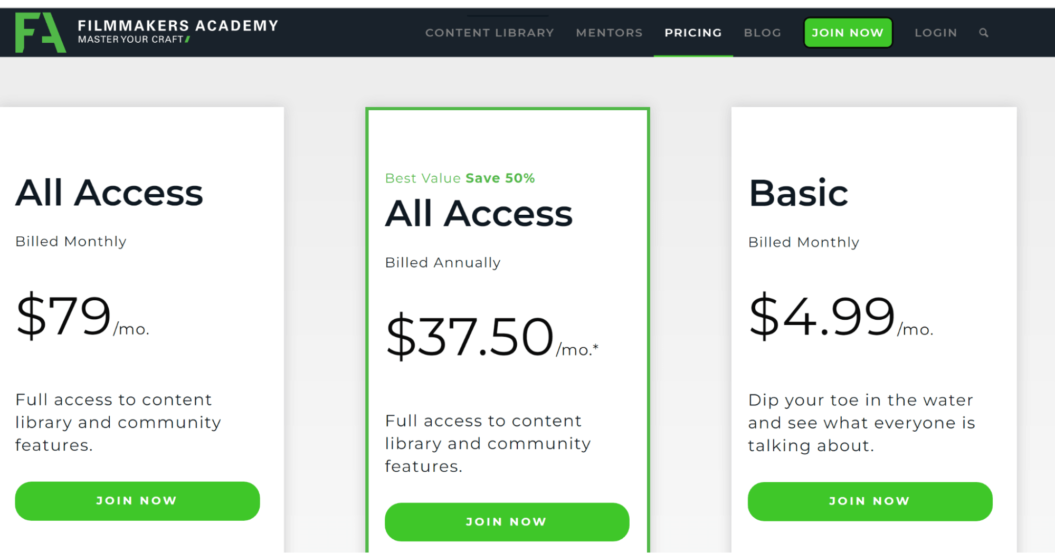 When you understand your audience's motivations, you can segment your viewers and create the right offer during the live stream.
Create a Compelling Offer
You've identified your 2 types of viewers and their motivations.
Now it's time to be clear and specific about what to cover in your live streams on social media platforms, and what should stay within your premium platform.
They should work hand in hand. If you're already getting lots of views from streaming platforms, you need to leverage that to get people to your premium platform.
How? Follow the 80-20 rule in your public live streams.
80% of the live stream should entertain and attract viewers, while the remaining 20% can be a soft pitch to join your premium platform for more in-depth information.
Take Street Science, for example, a live science show that covers fun science experiments you can do at home.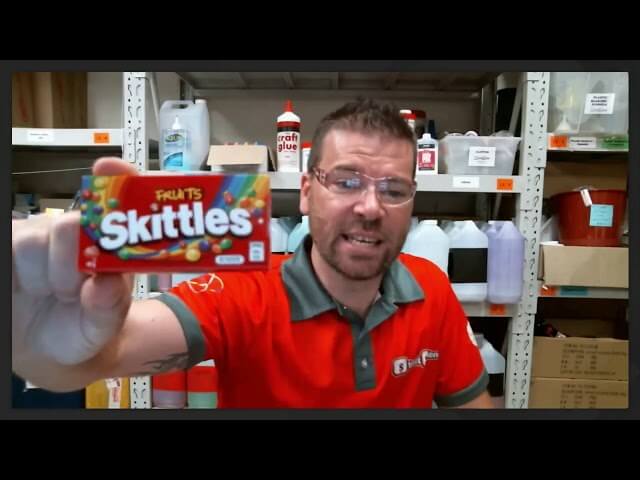 Street Science broadcasts free live science shows on their YouTube channel, so anyone can access them. Some schools even broadcast the streams in their classrooms!
The public live streams offer a full science class, but at a much bigger scale because they can reach thousands of students at once.
At the end of the live stream, they invite viewers to sign up for their paid premium platform hosted on Uscreen, so they can offer smaller live classes.
Because they limit the live class to 20-30 students, they can provide much more engaging sessions for $29.99 per month. (This is also a great value-add for their pricing!)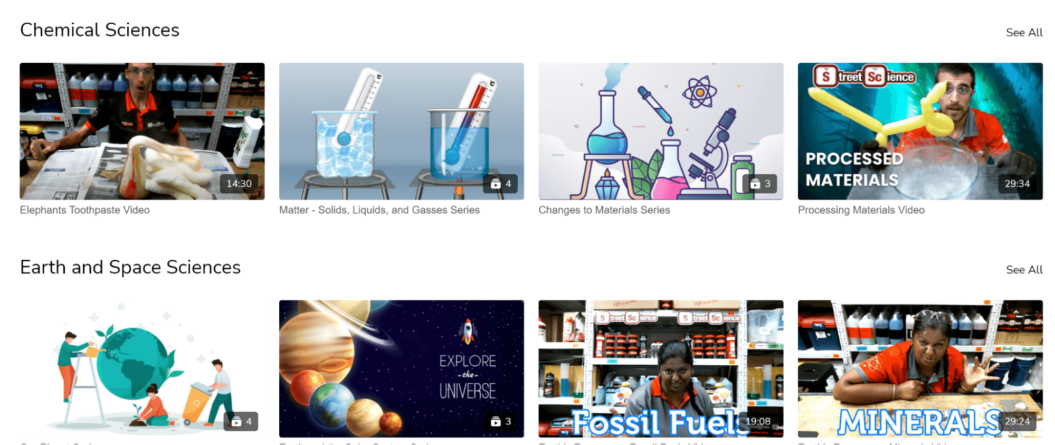 As you can see, offering a more intimate live class is compelling for their audience. Viewers can ask more questions and get more assistance in real time while performing the science experiments.
Viewers who love science experiments will keep watching the free content on YouTube and share it with other enthusiasts. But, homeschooling parents who need a science curriculum are more likely to pay for the exclusive live streams.
Now, it's your turn! Ask yourself the following questions:
What's your audience's motivation for watching your live streams?
How will you create a compelling offer for those who want to replicate your results?
How can you pitch your premium platforms to those who are already watching your free live streams?
Asking these questions allows you to think about your followers' journey and create an offer that fits them well.
Wrapping It Up
A consistently low amount of live stream viewers on your premium platform is a common problem that just needs some troubleshooting.
Sometimes, all it takes is tweaking a few small things, like changing your live stream schedule, and sending well-timed reminders.
But, if you're still seeing a decline in views, it's time to consider your follower's motivation in consuming your content and look at their journey as a whole.
This allows you to create a compelling offer to the right audience who want to watch your live streams on your premium platform.