Whether you're a fitness instructor recording home workouts or a fitness influencer looking to create public, high-quality content, a great camera is key.
But it can be nerve-wracking to find the best camera to record your fitness videos.

There are so many different factors to consider! You have to think about price, image quality, and extra accessories.
This is why we've created a list of the best cameras depending on your budget and goals.
In this blog post, you'll learn:
Let's get into it!
Why Your Camera Choice Matters
As an online fitness instructor who's hosting live or pre-recorded workouts, a good quality camera is a must because you:
Can provide high-quality audio and video workout sessions.
Will have a more polished and professional-looking production.
Will be able to show your personality and build rapport with your students.
All of this will help you give the best online fitness experience that your audience wants!
You want to stand out from the sea of online workout videos, and you need to pick the right camera to help you do that!
What To Consider When Choosing the Best Camera
Now, before hitting that "buy now" button on Amazon, let's spend some time thinking about your strategy.
While you can get cheap cameras nowadays, if you're serious about your fitness brand, you'll need to invest in a good camera that will last and fit your goals.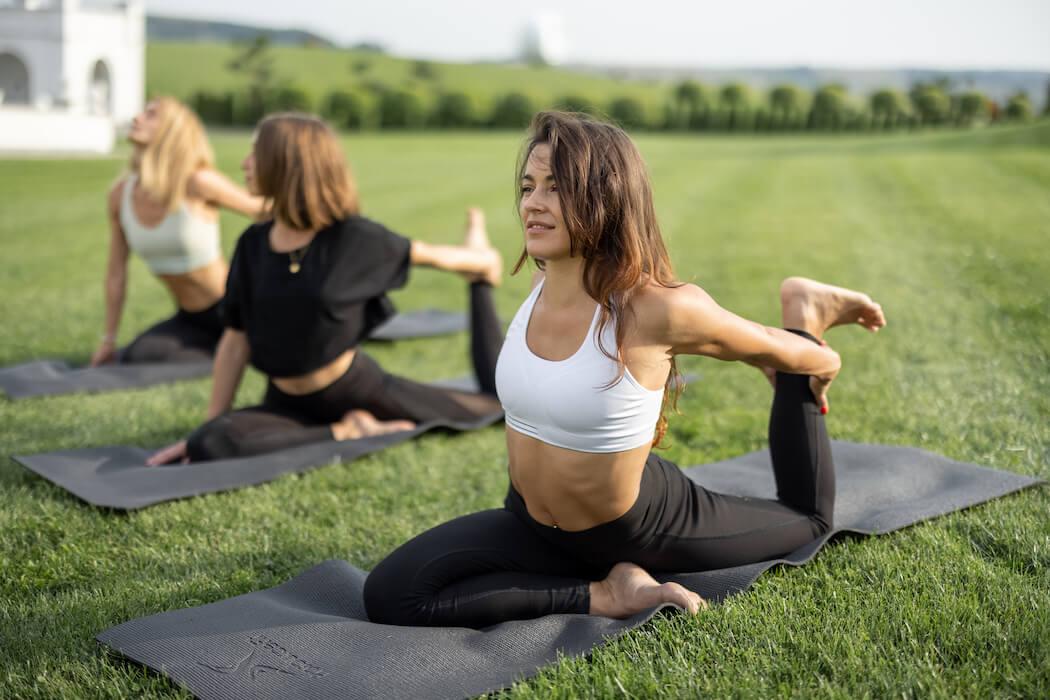 Your priority features will change depending on your goals. Plus, it depends on where you are in your journey as a fitness instructor.
A few questions to ask yourself:
Are you live streaming your workouts or recording them? Or do you want to do both?
What kind of workouts will you be recording?
Are your video workouts part of your revenue stream?
Will you be vlogging and need cinematic and slow motion features?
For example, if you're primarily live streaming, you'll want to choose a camera that's easy to connect with your laptop, has a wi-fi connection, and works well with most live streaming software.
Finding the Perfect Camera for Filming Workouts
Everyone's idea of a perfect camera is different. But there are a few specific features and specifications you'll need to know.
Here are the qualities of a great camera to capture your video workouts:
1. Video Quality
First and foremost, you want a camera capable of capturing high-quality video, which means you should look for a camera…
with at least 1080p resolution or full HD
that has a wide-angle lens to capture all the action
with built-in stabilization
…because this will help ensure that your footage is smooth and steady, even if you're moving around a lot.
Here are more specifications to look for when talking about video quality:
Resolution: the higher the resolution, the sharper and clearer your video will be. 4K resolution is the highest standard today.
Megapixel: the number of megapixels refers to the detail the camera can capture. Nowadays, high-end smartphones have 8 to 12 megapixels.
Frame Rate: the number of frames per second (fps). A higher fps results in a smoother video, but most of the time, 30 fps is sufficient for recording workout videos.
Autofocus vs. Manual Focus: with autofocus, the camera automatically adjusts the focus as you move around. Manual focus gives you more control over what's in focus but can be tricky to use if you're moving around a lot.
2. Battery Life
Another important consideration is battery life because you'll want a camera that can last through an entire workout session.

Here's how to know if a camera has a good battery life:
Check the battery life rating: most cameras will list how long the battery lasts on a full charge.
Take into account recording time: if you're recording for an hour, but the camera only lasts 30 minutes on a full charge, you might need an extra battery pack.
Check the battery capacity: this is usually listed in milliamp hours (mAh). The higher the mAh, the longer the battery will last.
3. Portability and Durability
If you're recording workouts outdoors, choose a video camera that…
is comfortable to wear or carry, as you'll likely be wearing it for extended periods
is durable and weather-resistant in case you drop it or it gets wet while working out
has batteries that are going to last
…so you can get your money's worth for a few years instead of buying a new camera every couple of years.
You may also want to consider accessories, such as a gimbal. If your camera doesn't have a stabilization system, you'll need to put your phone on a gimbal to capture smooth and stable videos.
For instance, a gimbal will come in handy if you're recording a workout with a lot of movement and from different angles.
4. Easy to Use
You'll also want to choose a camera that's easy to use. You want to focus on providing amazing workouts to your students instead of fiddling with the camera controls.
Look for a camera with:
A large touchscreen display that is easy to see while working out.
Shortcut buttons for transferring and sharing data.
Automatic features that make recording and sharing your workouts easy.
Besides easily controlling the camera itself, it's also essential to understand compatibility with other tools and software, especially if you're editing your YouTube videos.
Here are a few questions to ask:
Is the camera easy to connect with your laptop or desktop?
Does it work with the most live streaming platform if you want to live stream?
Does the camera come with its editing app or software?
The good thing about knowing which features you need is that you'll be able to determine the camera's price range and stay within your budget.
5. Price
Of course, price is always a consideration when choosing any type of camera.
The good news is that cameras are available at every price point, so you can find one that fits your budget.
Let's divide the price points into 3 categories:
Budget-friendly: these are "point and shoot" or action cameras that cost between $200 to $500.
Mid-range: if you're looking for more functionalities, you'll most likely need a DLSR (digital single-lens reflex) camera, which can cost between $600 to $900.
High-end: an expert may need a DSLR camera with interchangeable lenses, which can reach up to $5000 depending on the lens type and how many lenses you need.
This is why it's crucial to understand your strategy and long-term goals. You may end up spending thousands of dollars for a fancy camcorder only to realize that you need a webcam because you will mostly be streaming your classes at home.
Top 9 Cameras for Recording Workouts for Any Budget
Choosing a camera can be nerve-wracking. You want to ensure it fits all your recording needs without going over budget.

However, before running to the nearest store, see if your existing phone can do the job. Smartphones nowadays are a lot more sophisticated.
For example, as a video creator, I discovered that my phone could shoot 4K videos. I postponed buying a camera because my Android OnePlus Pro 7 has all the features. It's perfect for doing Facebook Lives and shooting TikTok videos.
But if you're ready to invest and take your filming to the next level, we've listed the top 9 best cameras.
Budget-friendly Point and Shoot Cameras
These cameras are under $300 but can get the job done –whether you're live streaming your classes or recording outdoor workouts.
1. DJI Osmo Pocket ($239)
The DJI Osmo Pocket is perfect for recording workouts on the go. It's lightweight and easy to carry. It literally fits in the palm of your hand.
One interesting feature to note is its Active Track feature. The camera automatically tracks a person's face and movement, so you're always within the frame.
2. AKASO Brave 4 Pro ($109)
The AKASO Brave is another excellent action camera for those on a budget. It records up to 30 fps and has a built-in stabilization system to keep your videos smooth and steady.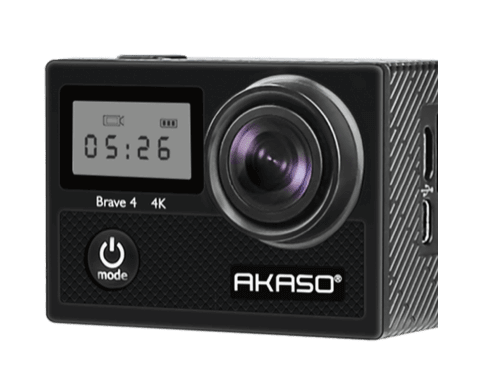 Plus, it's water and dustproof, perfect for recording outdoor workouts.
3. Logitech Brio ($150)
The Logitech Brio is usually the webcam for professionals who want to look great in video meetings, but it's also the perfect webcam for fitness instructors.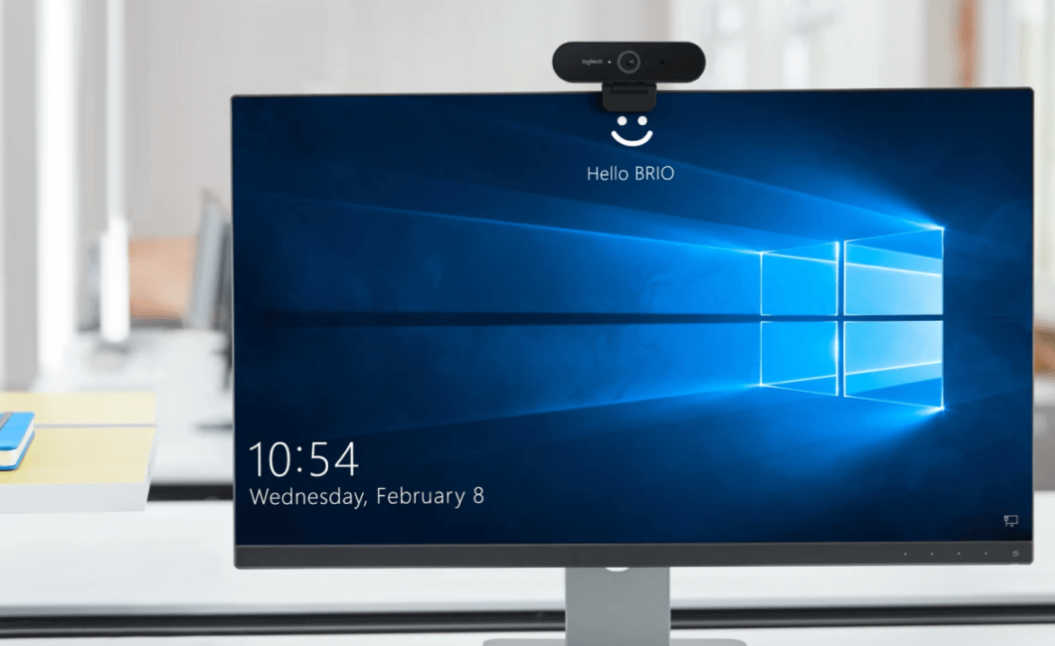 If you're live-streaming a workout in your home office, you can mount it on a tripod, and you're all set. With its auto focus feature and wide-angle lens, your workout will look great even in low light.
And if you want to switch to one-on-one coaching, you'll just prop it on your computer. It's a low-cost solution if you want to put off investing in a high-end camera.

Mid-Range All-Around Cameras
Now, if you're willing to shell out more than $500 for a camera, you'll be able to score some big brand names, such as Apple and GoPro.
4. iPhone 11 ($599)
iPhones have the best cameras for a smartphone. In fact, when we asked the Uscreen community, most of them recorded their videos using their iPhones.
It can record in 4K and auto image stabilization. Of course, the downside is that it's more fragile and has lower battery capacity than action cameras.
You can also opt for newer iPhones if you're about to upgrade your phone anyway. iPhone 13 is the latest model, which can cost up to $1000.
Overall, the iPhone is an excellent option if you're looking for an easy-to-use camera that produces high-quality video footage.
5. GoPro Hero 10 ($500)
The GoPro Hero 10 is small and lightweight, making it easy to carry to the gym. And its wide-angle lens allows you to capture all the action, even if you're moving a lot.
Plus, the Hero 10 is waterproof and scratch-resistant. If you want to edit your videos later, the GoPro App makes it easy.
If you want to live stream, it's also possible through their app. However, note that the steps are more complex than going live from a webcam or your phone.
While it may be a bit more complicated, you get the best of both worlds because you'll get to record amazing outdoor shots and stream indoors!
6. Canon EOS Rebel T100 ($480)
Now, let's include DSLRs because they are the go-to option of most professionals and experts. It provides more flexibility and control over how you want your video and photos to look.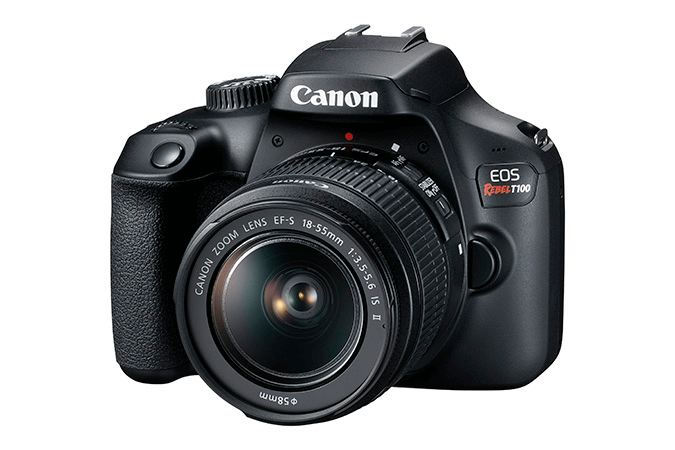 6. Sony ZV-1
The Sony ZV-I is the perfect camera for fitness videos and other video needs. With its large sensor and fast autofocus system, you'll be able to capture crisp, clear footage of your workouts.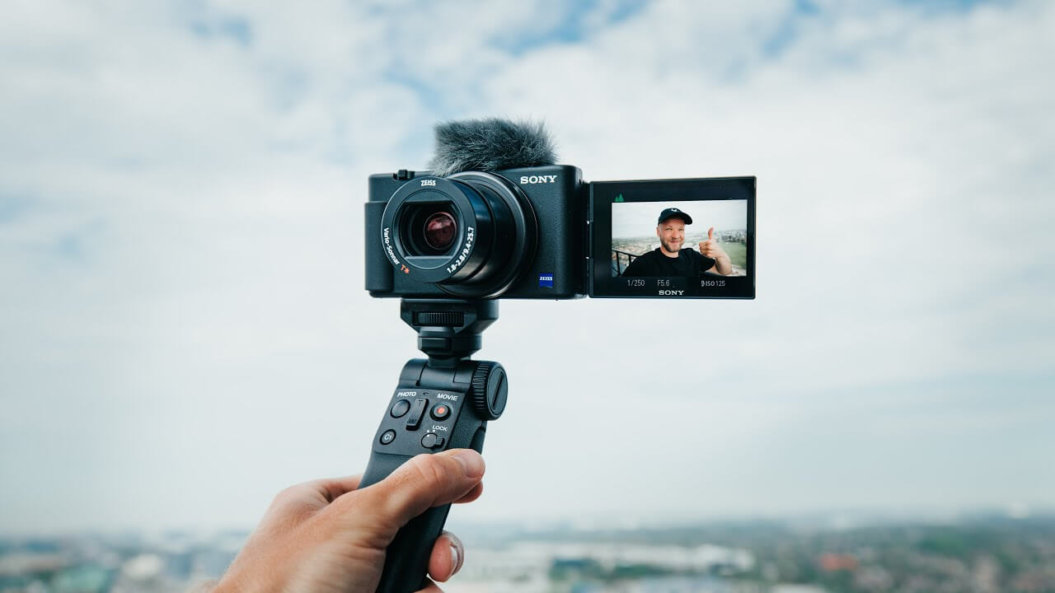 The camera's wide-angle lens gives you a great field of view, easily including your entire body in the frame.
And with built-in stabilization, you'll be able to shoot smooth, steady footage in the gym or during a hike. This is a favorite camera for YouTubers of all sizes!
High-End Cameras for the Professional Videographers and Photographers
While many fitness instructors use their cell phones to shoot videos and take pictures, many are now switching to high-end cameras that offer better quality images and videos.
This is especially true for those looking to make a career out of fitness and become professional videographers or photographers.
7. Nikon Z6 $1600
If you only need one camera for your fitness business, Nikon Z6 may be the best choice. It has all the great features, such as the ability to record 4K videos, excellent autofocus, and a lens system to support future upgrades.
+Finley Robinson from B•TRIBAL•FIT recommends using a Nikon Z5 or Z6 because it also doubles as a great photo camera.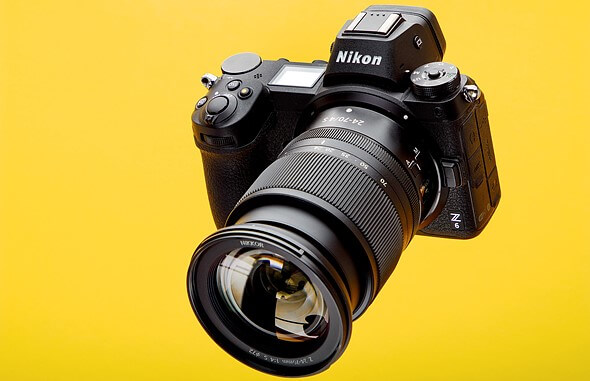 He said that this camera "will help give you a full range of options for the visual part of your business. Social media content, 1080p filming options, and even live streaming."
8. Canon EOS R5 Full-Frame Mirrorless Camera $3899
The Canon EOS R5 is the company's latest high-end mirrorless camera. It's got a 45-megapixel full-frame sensor, 8K video recording, and in-body image stabilization.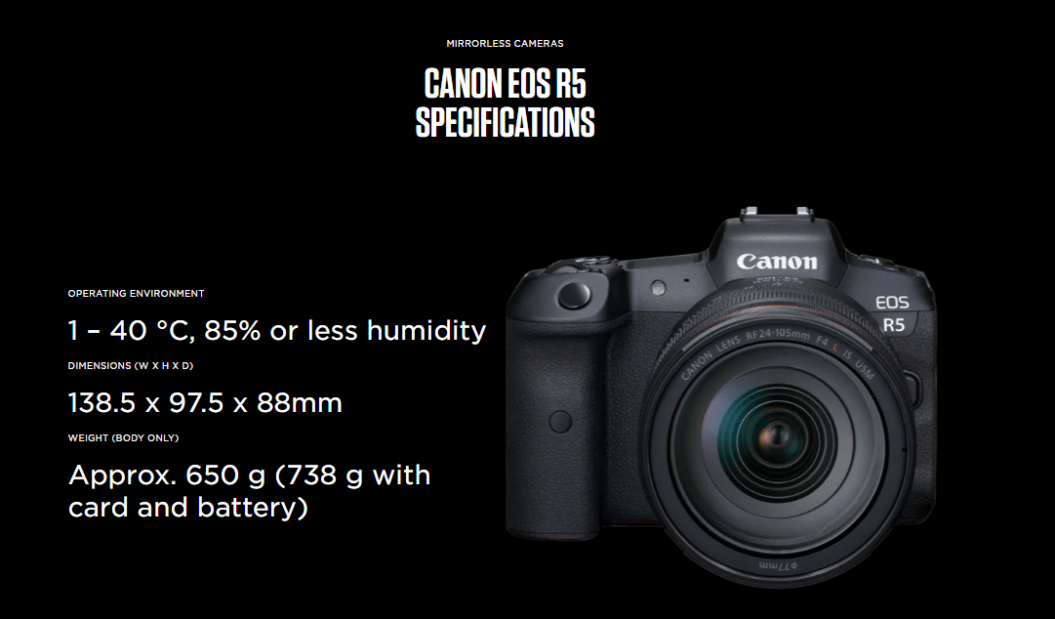 With a stunning lens ecosystem, you're sure to find the perfect lens for your needs.
This camera requires a hefty investment and is geared toward fitness instructors looking to take their online business to the next level.

Make More Money From Your Workout Videos with Uscreen
Speaking of taking it to the next level, you'll need a trusted platform where you can upload all of your workout videos and monetize them.
Remember when we asked you earlier what your long-term goal is?
If your goal is to build recurring revenue from all the videos you're creating, Uscreen is the best fit for you because you'll be able to:
Create a video library of all of your workouts.
Charge for a monthly or yearly subscription.
Host paid live fitness classes and then save them later for on-demand access.
Bundle and sell workouts without a subscription.
Bad Yogi is a great example of a fitness studio that offers a variety of subscription models.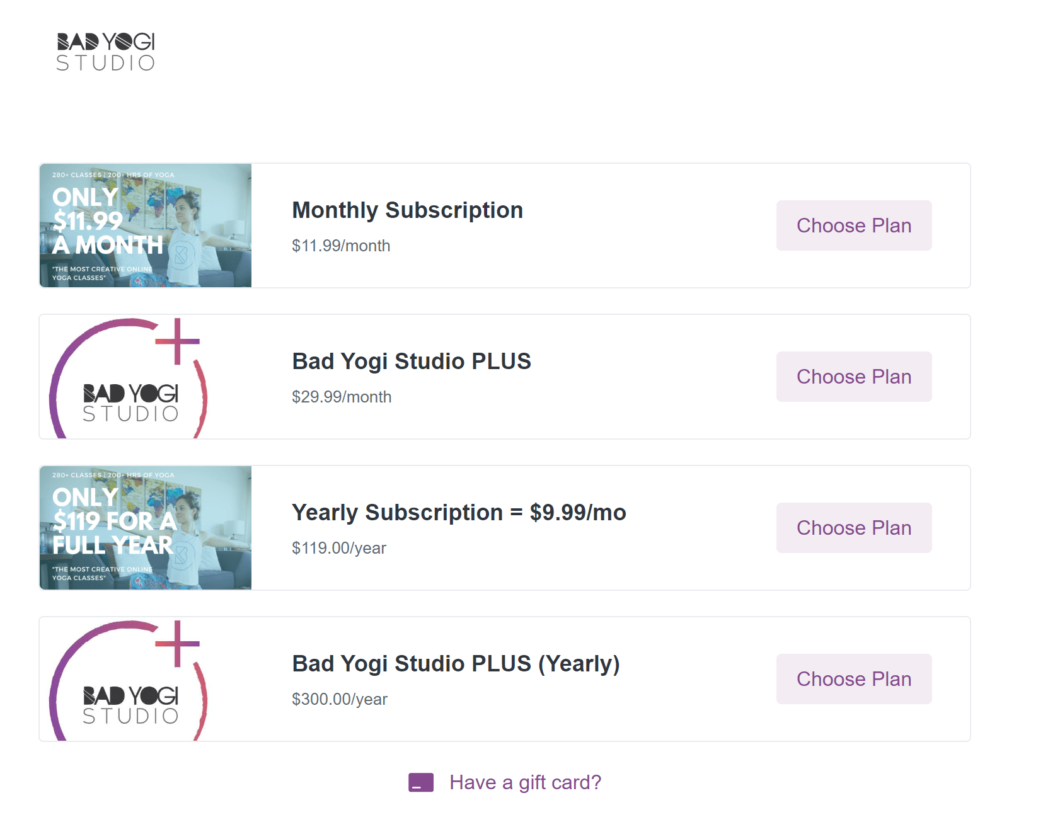 By creating a premium fitness platform, you'll be able to future-proof your income and have full control over the money you make and your audience.
Wrapping It Up
Phew! While we narrowed the camera choices to 9, it's still quite a lot to think about!
In summary, here are a few things to remember when choosing the best camera for recording workouts:
Think about your goal and long-term strategy.
Prioritize the features that you need based on your goals.
Decide on a budget and check the different options within that price range.
Once you have the best camera, start recording your workouts and monetize them with Uscreen.