The global demand for video is on the rise. Since 2016, the time spent watching video has increased by 249%, from 3.5 billion minutes watched to over 12 billion minutes watched in 2020.
Although video was projected to grow quickly, the COVID-19 pandemic dramatically impacted our relationship with this type of online content. Without the ability to meet in-person, society quickly became more reliant on video to stay connected with friends, family, colleagues, and audiences alike.
Now more than ever, video consumers are craving authentic and engaging content. Whether your videos are used for educational, entertainment, advertising, or fitness purposes, it's essential that everyone, regardless of ability, has equal access to the same information.
As digital technology becomes more rooted in our society, video creators must ensure their content is both accessible and inclusive. Ultimately, this will help you not only be in compliance with major laws and standards, but also attract and engage more viewers.
Tools for Video Accessibility and Compliance:
There are 5 major tools video creators can include in their videos that will help them be accessible and compliant: closed captions, live captions, audio description, and transcripts.
1. Closed Captions
Closed captions are a textual representation of the audio within a video. They assume viewers cannot hear the audio so they're wonderful accommodations for the deaf and hard-of-hearing.
They are mostly made up of speech, but they also include non-speech elements like speaker identifications and sound effects – which are critical to understanding the plot of any video!
Captions are typically noted with a "cc" icon, which can be found in most video players that support captions.
2. Live Captions
Live captions are similar to closed captions, but they are used for videos happening in real-time, like a live webinar or meeting, fitness class, or virtual classroom.
They make sure your live events are accessible to the deaf and hard-of-hearing community, as well as make said events more engaging.
Live captions can be created in two ways: with automatic speech recognition (ASR) or by a human stenographer.
3. Audio Description
Next, we have audio description. It's an audio track that clearly narrates the relevant visual information shown in a video. It's a great accommodation for blind and low-vision viewers.
Unlike captions, audio description assumes the viewer cannot see the video. So it describes the most important visual information that is key to understanding the video.
There are two types of audio description: standard and extended. Standard audio description places descriptions into the natural pauses of a video. Extended audio description, on the other hand, intentionally pauses the original video to add descriptions. This is particularly useful for videos without many pauses, like a university lecture.
Here's an example of standard audio description:
4. Transcripts
Transcription is the process in which speech or audio is converted into a written document.
While closed captions are time-coded to sync with a video, transcripts are just the text with no time information.
They are particularly great for audio-only content like podcasts, but can also be useful for complementing captioning.
While transcription is great to make videos more accessible, it's not enough on its own … so it shouldn't be used as a substitute for captions.
5. Accessible Video Player
Last but not least, you want to use an accessible video player.
This means that the video platform should support video accessibility tools, like captions, transcripts, and audio description.
The video player should also have accessibility features such as keyboard navigation, speech recognition, etc.
An example of an accessible video platform would be Zoom, which supports captioning, keyboard navigation, and much more. 
Accessibility Guidelines and Standards:
There are a number of laws, guidelines, and standards regarding web and video accessibility that ensure equal access for all viewers.
A good example would be:
The Americans with Disabilities Act (ADA).
The Rehabilitation Act.
The Federal Communications Commission (FCC) standards.
It's not enough to have video accessibility tools; they must also be accurate to be in compliance with the major laws and standards. While it's possible to tackle video accessibility manually with added time and resources, we recommend using a professional vendor for your video accessibility needs, like 3Play Media.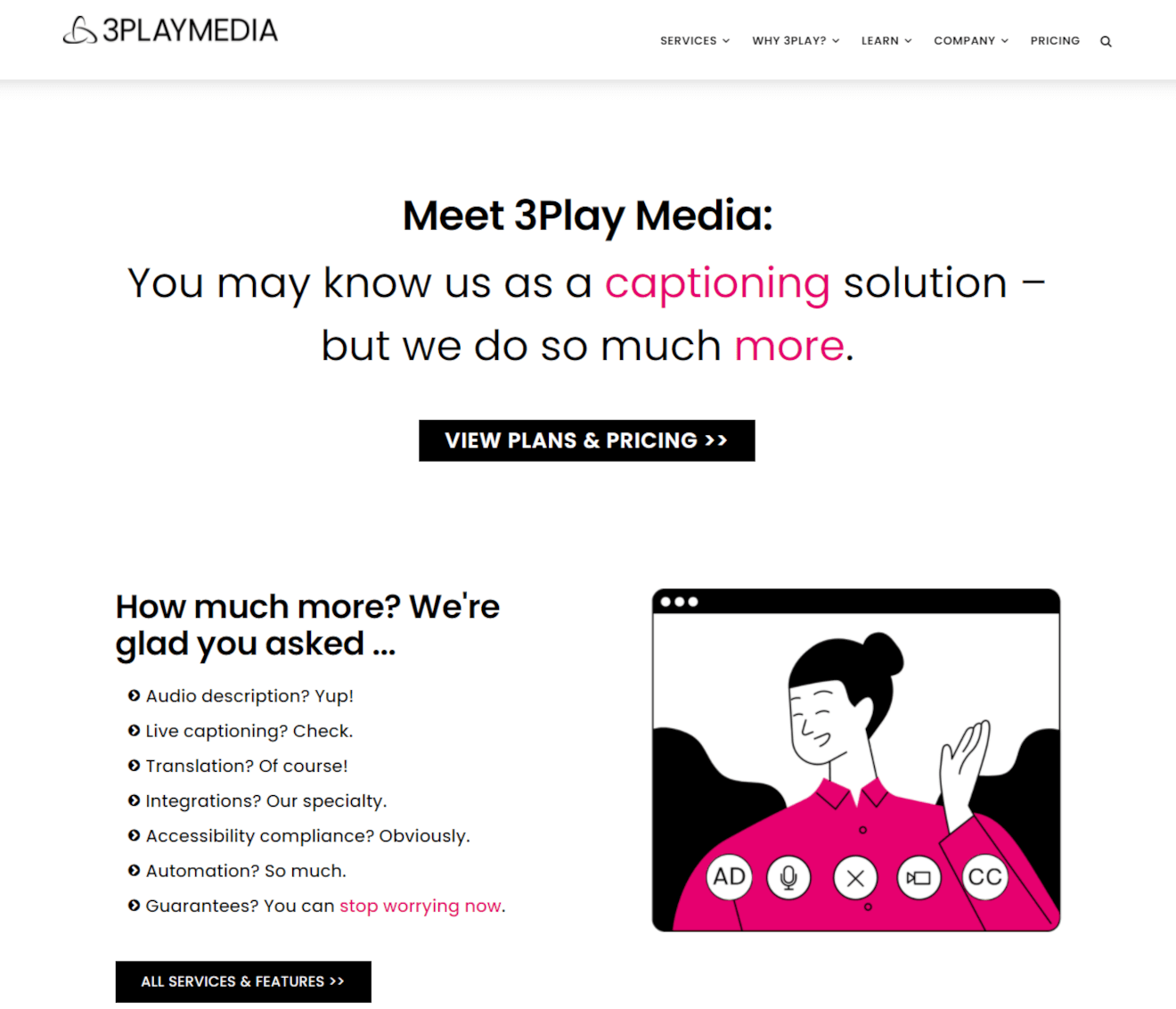 There are many benefits to working with a professional video accessibility vendor, such as guaranteed accuracy, robust features and tools, seamless integrations for simplified workflows, and customer support.
Not all vendors are created equal, so we recommend doing your research before partnering with a vendor. Many times, vendors will offer cheaper prices while sacrificing quality. Whatever vendor you choose to work with, it's important to make sure the service is both affordably priced and of the highest quality.
At 3Play Media, we take an innovative approach to video accessibility and provide customized workflows for our customers. We offer closed captioning, live captioning, audio description, transcription, and subtitling services so you won't have to look anywhere else! Additionally, we've helped over 5,000 customers achieve compliant and accessible videos.
Why Video Creators Should Care About Accessibility:
There are many reasons why you should invest in video accessibility. Although accessibility is an important factor by itself, there are other strong benefits that may influence your decision as well.
Broaden your reach
Making your videos accessible has the power to expand the number of viewers. There are over 1 billion people with disabilities worldwide. This is the number of people you exclude every single day that your video content isn't accessible.
There's a common misconception that people with disabilities don't like to or want to engage with video content, but that's far from the truth – they enjoy videos too! Unfortunately, 71% of people with a disability leave a website immediately if it's inaccessible. When videos are made accessible, you give more people a chance to like your content.
The more people who engage with your content, the more likely it is that they'll turn into customers. Disabled working-age Americans earn an estimated $490 billion of after-tax disposable income.
Improve Video SEO
Adding video accessibility tools like captions and transcripts has been proven to boost SEO. Since search engines can't watch video, captions help search bots crawl the text to search for specific keywords.
A study by Digital Discovery Networks showed that YouTube videos with captions had 13.48% more views within the first two weeks.
Increase Brand Awareness
According to Hubspot, 54% of consumers want to see videos from the brands they support. Brands that utilize video have seen a 54% increase in brand awareness.
Now more than ever consumers also want to support brands that value inclusivity and accessibility, making accessibility another tool to help your brand stand above the rest. A study by the Journal of the Academy of Marketing Science shows that captions by themselves improve brand recall, verbal memory, and behavioral intent.
Ensure Compliance with the law
Providing accessible video content is not only the ethical thing to do, but it also ensures your brand both complies with legal requirements and avoids legal action.
In the past year, there was a 23% increase in accessibility lawsuits (3,550 cases in 2020 in comparison to 2890 in 2019).
Every year, more and more companies are being sued for failing to provide captions and audio description for their viewers. In 2010, Netflix was sued by the National Association of the Deaf (NAD), who claimed that the streaming service violated the ADA due to a lack of captions. Instead of battling in court, the company decided to caption 100% of its content and now provides audio description, too. Smart move, Netflix.
Offer A Better User Experience
Video accessibility also gives viewers more flexibility on how they prefer to view content – whether it be watching videos in a sound-sensitive environment, multitasking, or perhaps they just have different learning preferences.
A study by Verizon Media found that captions are essential for watching video as 80% of viewers, disabled or not, are more likely to watch an entire video with captions.
Captions aren't only used by people who are deaf or hard of hearing. As you can see, most people who use captions don't even have hearing loss. So, providing captions benefits all!
Video Accessibility is the Future:
Video is going to continue to be an essential part of the way we communicate and share information – especially as our society becomes more reliant on technology.
No matter what type of video content you create, be sure to make sure it's accessible to all viewers!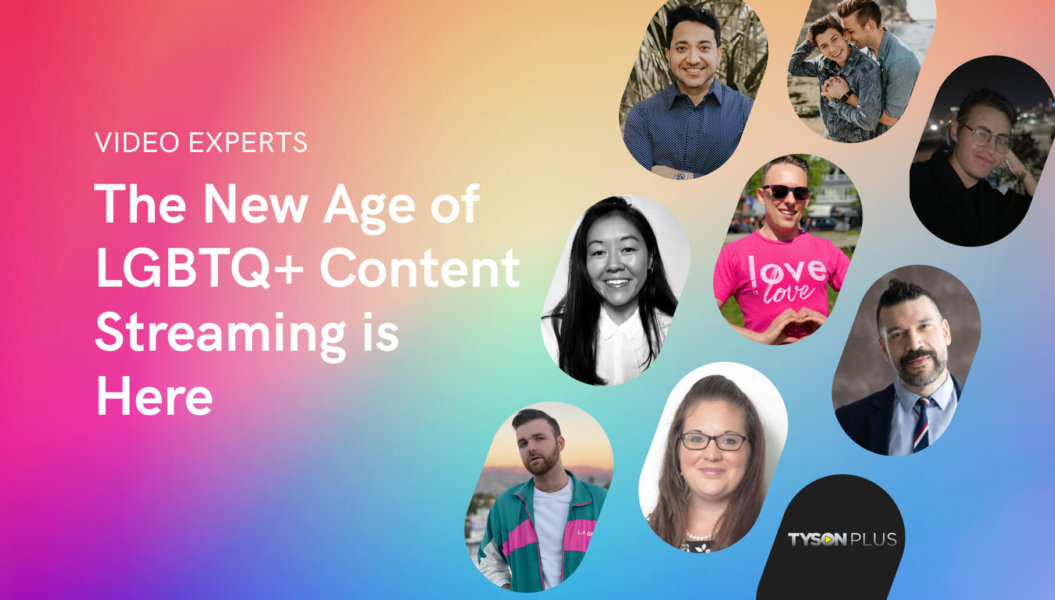 The New Age of LGBTQ+ Content Streaming is Here